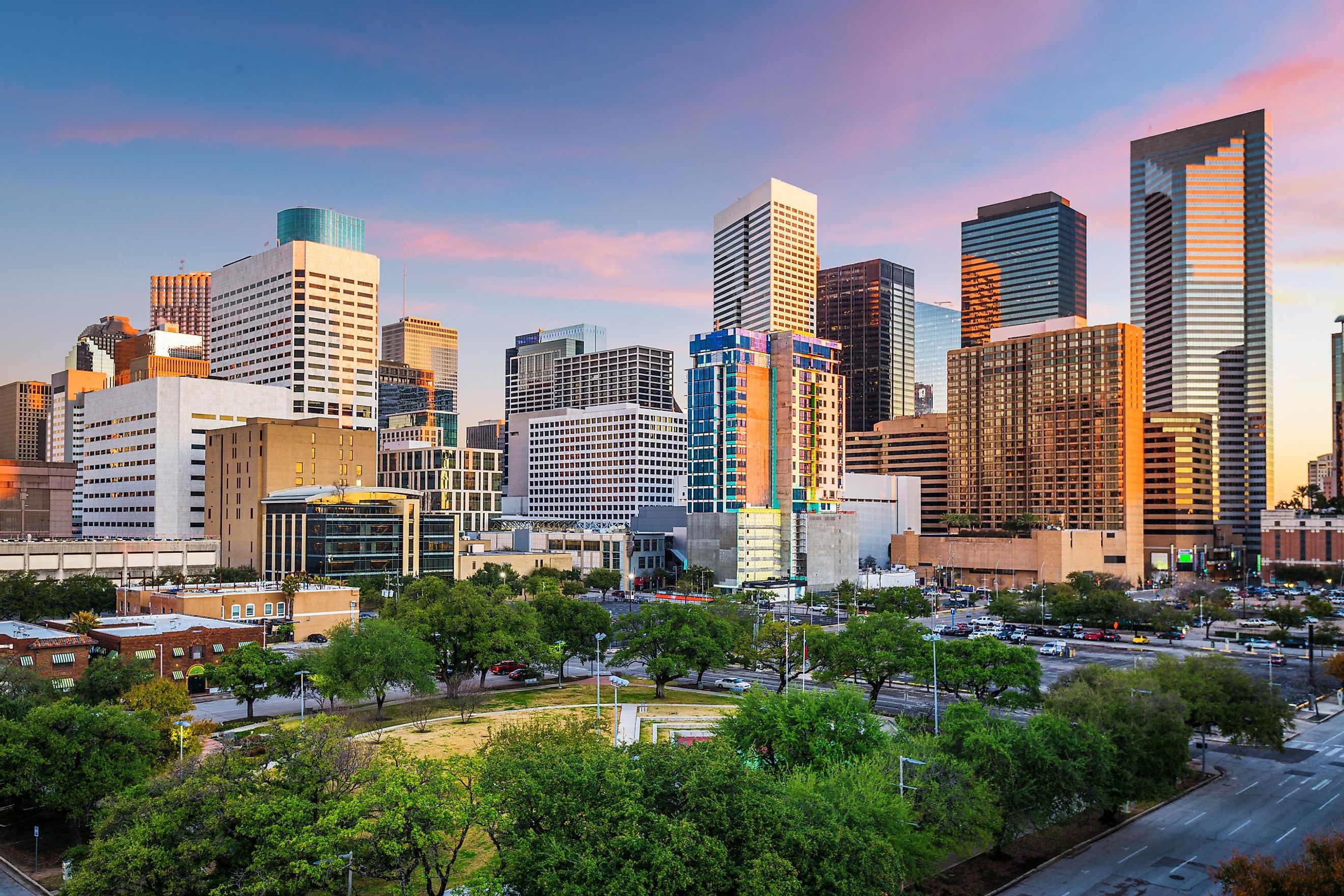 With many nicknames such as "Bayou City" and "Space City," Houston is a city of many talents and opportunities. Located in Southeast Texas, this city houses a large population of more than 2 million, making it the most populous in the state and one of the most in the country. With so many people, Houston is full of rich history, economic opportunities, and amazing tourist attractions. For example, it is known as "Space City" because NASA's Johnson Space Center is located in Houston, and "Houston" was also the first word spoken by humans on the moon. Parallelly, the city is filled with modern charm with major shopping malls such as The Galleria, sports centers like the Toyota Center, and even Theatres such as The Houston Grand Opera. With so much filled throughout the bustling urban hub of Texas, Houston is truly one of the most interesting cities in America.
Geography Of Houston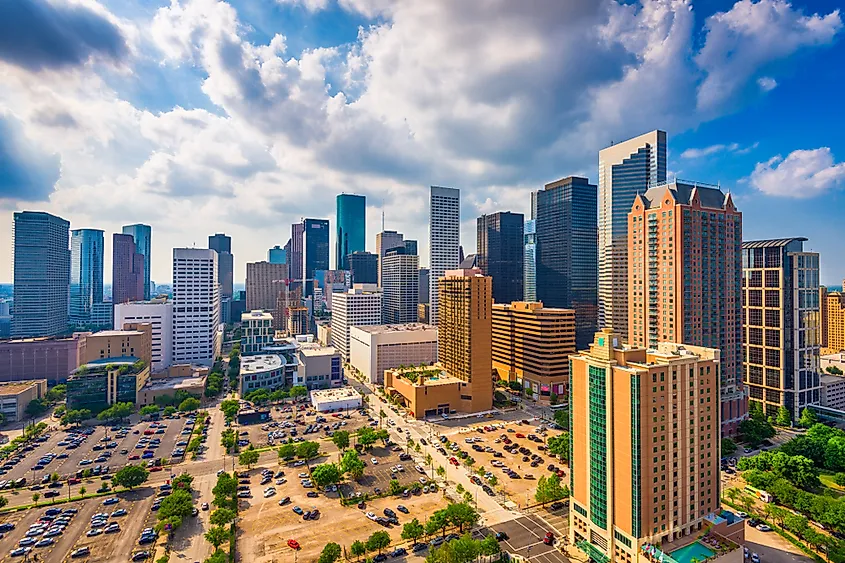 Houston is perfectly located along the southeast coast of Texas, just off Trinity Bay and the Gulf of Mexico. Thanks to this, the city boasts an array of geographical features ranging from urban skyscrapers in downtown to waterside parks along the bay. With a massive area of 671 square miles, Houston is the ninth-largest city in America and spans three counties; Harris, Fort Bend, and Montgomery. While the majority of the city's area is land, about 22 square miles is covered by water which can primarily be found in Lake Houston, which is located in northeast Houston. That being said, Houston was initially much wetter as the land it has been established on is classified as a gulf coastal plain, which means it was flush with forests, marshes, and swamps. Surprisingly, this can still be seen in some underdeveloped areas, where the flat terrain has led to flooding and sewage issues.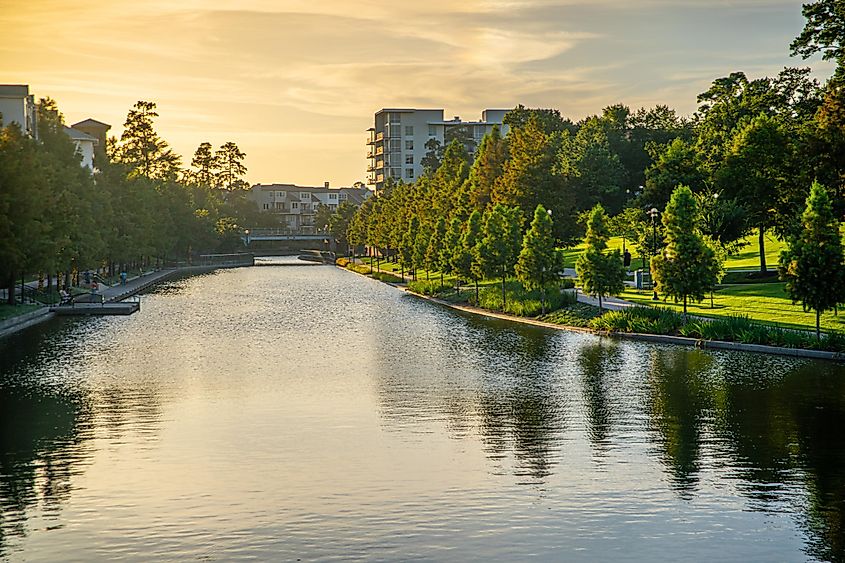 Due to its location along the coast, Houston sits at a relatively low elevation of 80 feet. This is significantly lower than the state average elevation of Texas which is 1,700 feet and the national average of 2,500 feet! As the city has a flat topography with the highest point being only 150 feet in elevation, this has led to many alarming problems. In particular, extensive groundwater pumping led to the elevation dropping even further, due to which the city had to shift to surface water sources like Lake Hudson for water.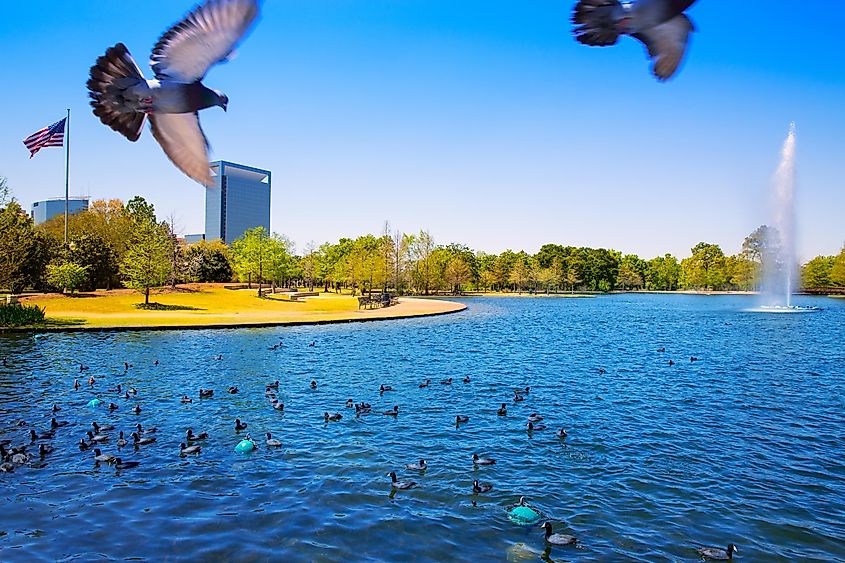 That being said, this relatively flat land and massive open area also played a major role in the quick development of Houston. Notably, the city is divided into individual wards which are used to differentiate various types of urban sectors. For example, the suburbs can be found in west and north Houston while the southeast is filled with industrial projects. However, without proper zoning laws, the urbanization of Houston has been slightly haphazard and unlike many other major cities, Houston has 6 business districts within the inner city. Combined, these give Houston an interesting cityscape which is filled with unique skyscrapers spread across wards with residential suburbs scattered throughout.
Climate Of Houston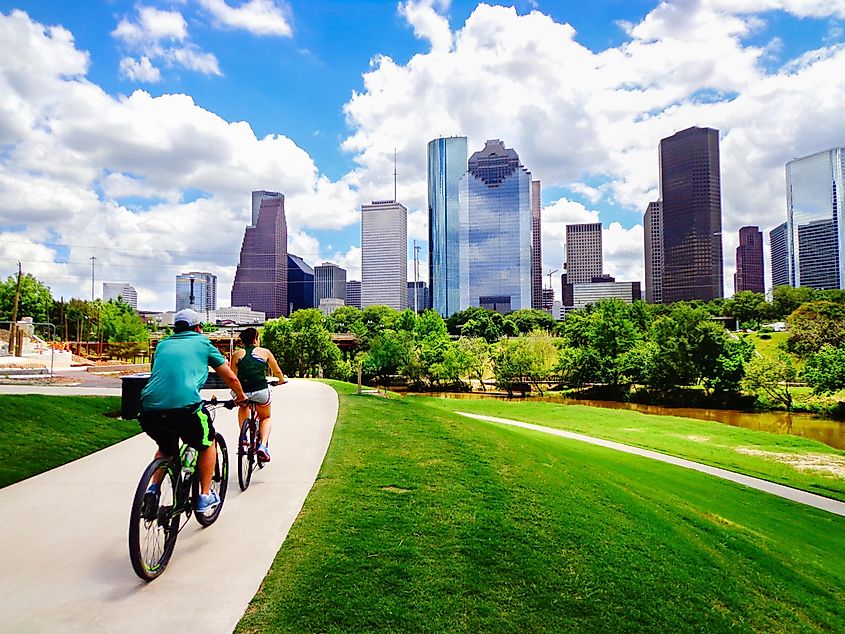 According to the Koppen Climate Classification, Houston is located within a humid subtropical climate, which is often found in Southern United States. This climate zone indicates hot and humid summers, while winters tend to be mild and cool. To this end, Houston has a long hot season that lasts for more than 3.5 months between the months of June and September. The hottest month in the year is August, during which time the temperature averages range between 94°F and 77°F, making it one of the hotter cities in the country. On the other hand, as winters are much milder, the cool season is significantly shorter and lasts for approximately 3 months between November and February. Out of them, the coldest month is January with average lows reaching 43°F, making it an ideal time to visit the city.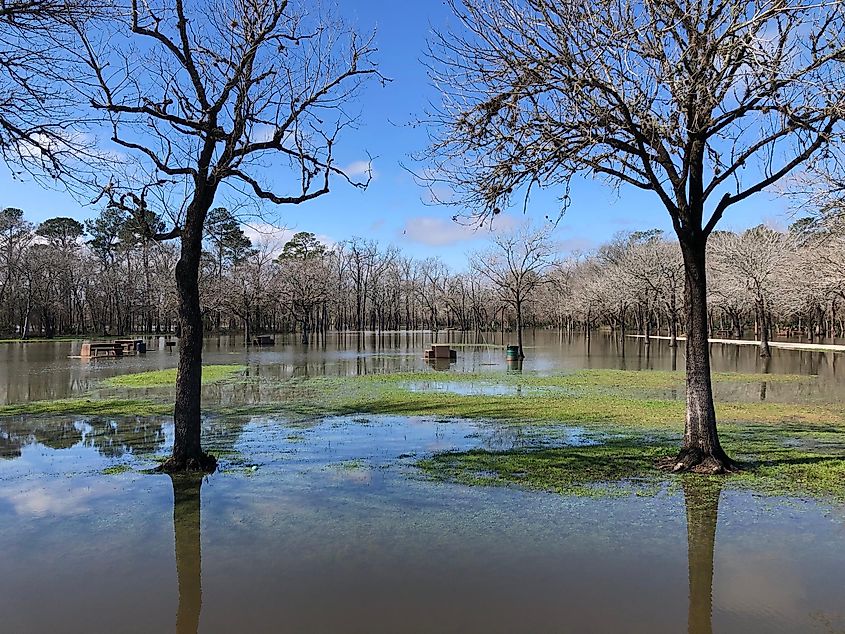 In terms of precipitation, Houston gets rain approximately 90 days out of the year. This is completely in the form of rain as the city does not get cold enough for any snowfall. In total, Houston gets 53 inches of rain per year, which is significantly greater than the national average of 38 inches. Although, even with more rainfall throughout the year, thanks to its humid subtropical climate, Houston gets an average of 204 sunny days in a year, which is ideal for ample sunlight.
Brief History Of Houston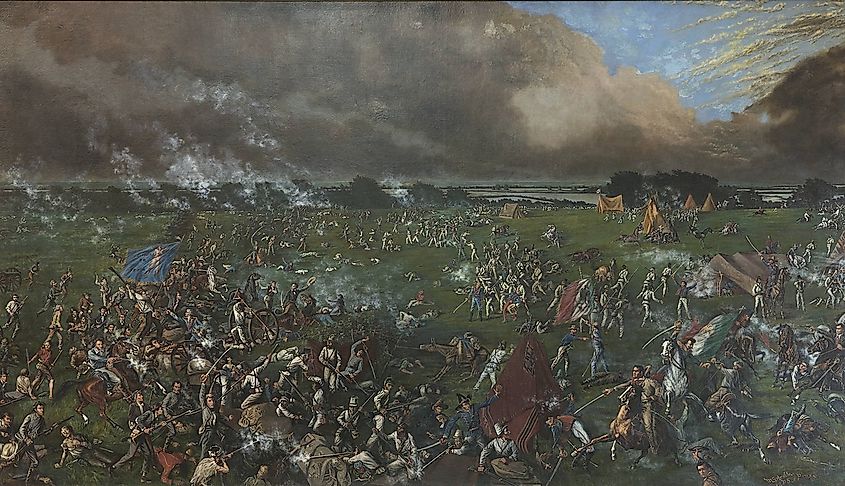 Part of Houston's charm is its rich history which is filled with unique inventions, advancement, and political events that have made it the urban hub it is today. In terms of the earliest records of human inhabitation in the region, it was believed to have been home to the Karankawa and Atakapa, two groups of indigenous peoples. These groups lived here for at least 2,000 years, although it wasn't until the 1800s when Texas gained freedom from Mexican occupation that the city began to properly form. Specifically, in 1836, a few months after the Battle of Son Jacinto, the Allen brothers; Augustus Chapman and John Kirby Allen spent $10,000 to purchase a league (2,214 acres) of land as a new town site. Named after the first president of the Republic of Texas, Sam Houston, the city got the name Houston and bolstered by the Allen brothers, began growing. With a combination of smart advertising and promises in the Texas Congress, Houston won the ballot to become the next seat of government which boosted the population to 1,500 inhabitants by May 1837. By this time, the town had also developed into an independent platform for economical activities.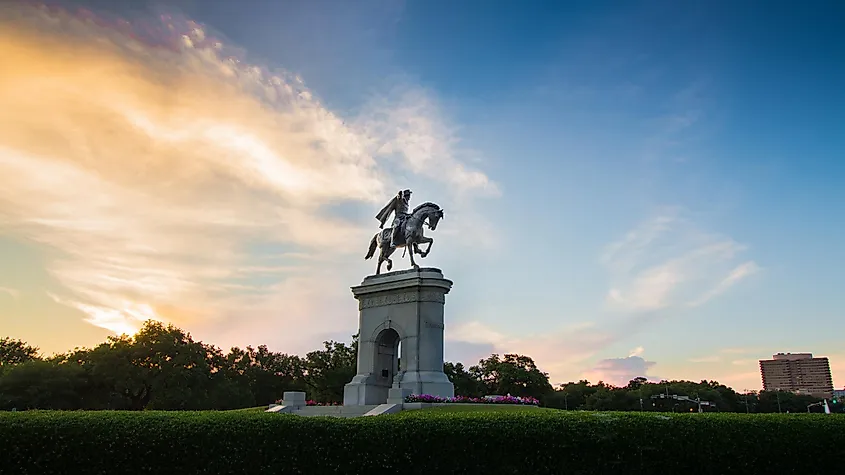 These significant developments cemented the town as an important center but the Allen brothers continued to push it forward. This was visible in the following decade wherein Houston got its first steamboat visitor, fire brigade, and immense infrastructure developments. That being said, the city also faced harsh issues such as drunkenness, prostitution, profanity, etc. during the time, which began to become a problem early on. Moreover, by 1850, there were 115 men for every 100 women, which got progressively worse each coming year until 1860. While these problems were hampering growth and life in the city, Houston still managed to flourish overall and in the 1850s, developed railroads that connected it to many nearby towns. Thanks to this, when the civil war began in 1860, Houston played a major role in backing the Confederacy as a military logistics center, and headquarters for many wartime activities. This further solidified its importance in the state and by the end of the war, Houston had received the First National Bank and various building approvals to treat the local yellow fever outbreaks.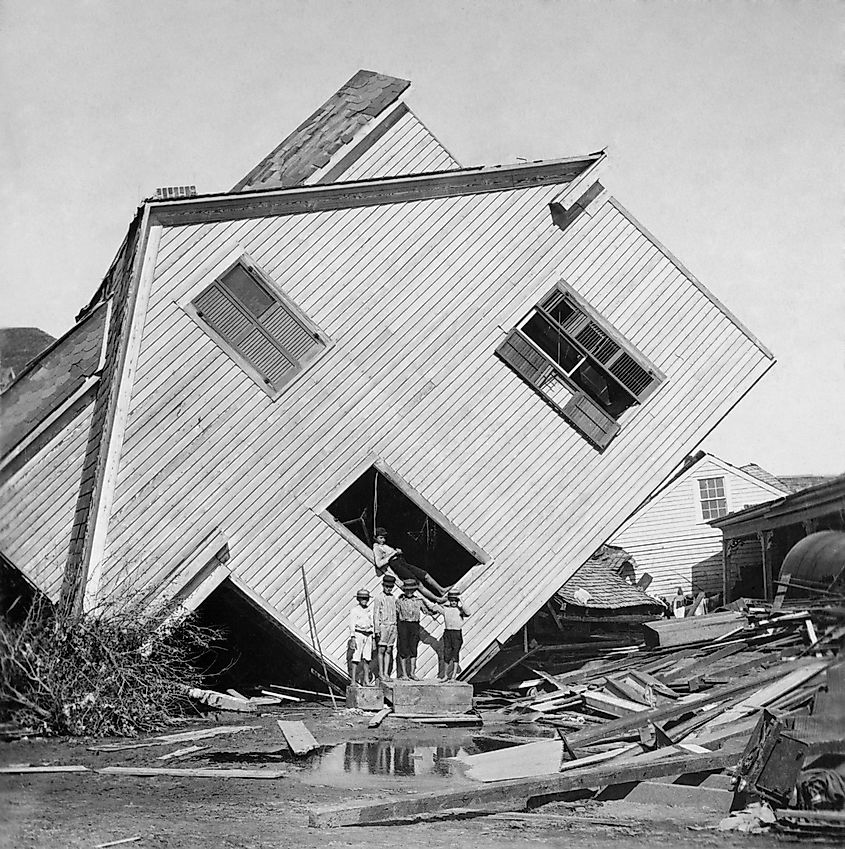 With constant growth, the next few years were more or less monotonous until 1870 when Congress declared Houston as a port. This pushed the city's economy into a new direction taking complete advantage of its prime location near the Gulf of Mexico. Bringing in and increasing the amount of money through trade, the city advanced further with the very first telephonic exchange all the way back in the 1880s, as well as electric lighting in 1882. Moreover, the famous cityscape it now has also begun to form with the establishment of Sam Houston Park in 1899. However, things came to a sudden halt for Houston in 1900 when the city was struck by the massive Category 4 Galveston Hurricane which cause hundreds of millions in damage. At the time, approximately 58,0000 people were residing in the city and many faced substantial losses in income and property. Thankfully, as the hurricane's center just missed Houston, the city managed to stand strong and rebuild within the following years. Thus, up until 1929, many significant buildings such as the Houston Zoological Garden and Museum of Natural History were constructed making Houston a major hub in the nation. While things dipped down again in the 1930s and 1940s due to events such as a major flood, The Great Depression, and the second World War, Houston's position was never majorly affected.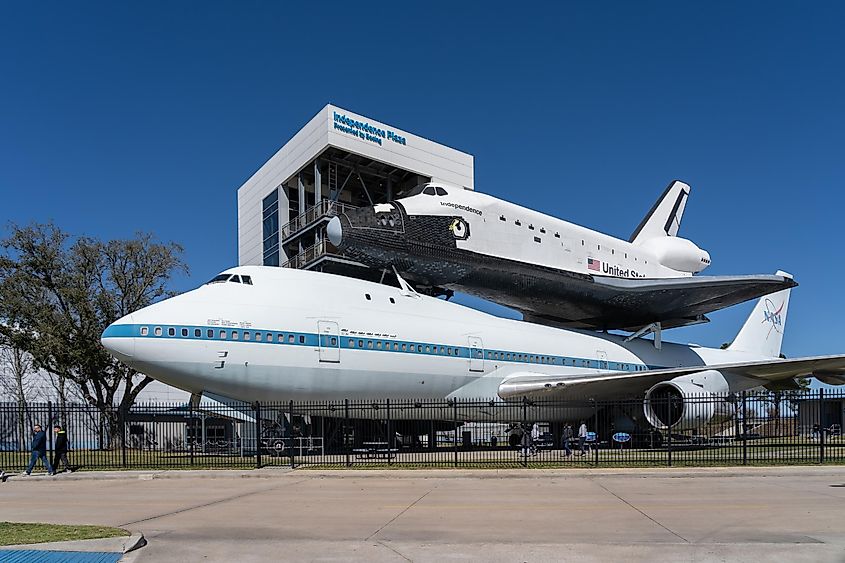 Thanks to this, in 1953, Houston became the site of the first public broadcast TV station and two years later, also constructed the Grand Opera and Houston Ballet. With such a rich population, history, and integrity, Houston was chosen as the NASA base for the first mission to the moon. This was a significant moment in American history and cemented Houston's position as the "Space City." With the successful completion of the mission in 1969 and the first word spoken being "Houston," the city had gained the importance it still holds today. Since then, Houston has become a major city for America's interstellar growth thanks to the establishment of the Johnson Space Center. Moreover, while many disasters and issues have hit the city, it has always fought back and by the 20th century, was the economic hub of Texas, and a major cultural and economic center for America. Predominantly, the city is known for benign at the forefront of inventions and advancements such as electricity, telephones, TV, and even space exploration for the past 2 centuries.
The Population And Economy Of Houston
Based on the most recent 2020 Decennial Census, Houston, Texas has a population of 2,305,580 which makes it the fourth most populous city in the United States. Even with the massive population, thanks to its large area of more than 670 square miles, the city has a population density of 3,598 individuals per square mile, which is much lower than other major cities. Due to the immense economic opportunity in Houston, the population is also quite unique with a younger median age of 34.8 and a higher percentage of foreign-born individuals at 28.8%. In terms of racial composition, while Hispanics and Latinos were the largest racial group in 2020, the recent 2021 census estimates indicate that White people have overtaken them making up 46.8% of the total population. Following them are Hispanics or Latinos who make up 44.5%, then Black/African Americans at 22.6%, and Asians who make up just under 7%, as well as many other smaller groups.
Being a major urban hub and important port city for the country, Houston has a bustling economy with the involvement of various industries. Although, due to prevailing issues such as income inequality, Houston has a median income of $55,499, which is lower than the state average of $66,963. Parallel to this, Houston's housing rates sit equal to that of Texas at approximately $200,000, which leads to prominent income disparity. This is visible in Houston's high poverty rate of 19.4%, which is significantly higher than both the state and national average.
Attractions In Houston
Johnson Space Center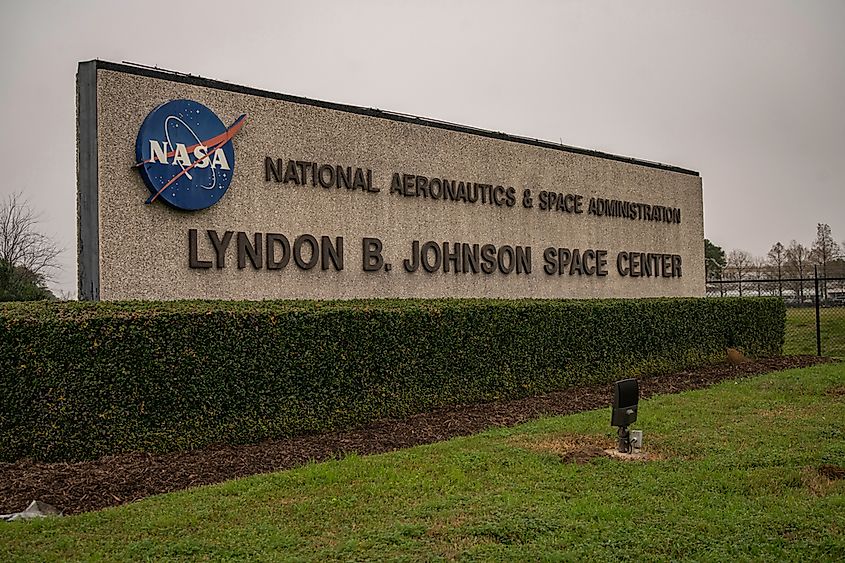 One of the primary reasons for Houston's nickname, "Space City," Lyndon B. Johnson Space Center is NASA's center for human spaceflight. The site was constructed in 1961 and since then has been used for human spaceflight training, research, and flight control. In total, this technologically rich complex houses 100 individual buildings in a total area of 1,620 acres within the Clear Lake Area in Houston.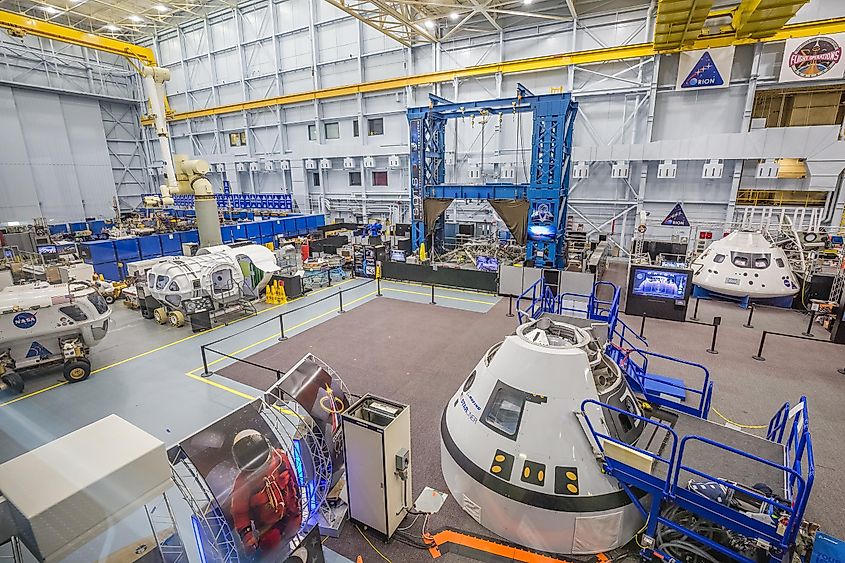 However, what truly made this space center so prestigious is its major role in the Apollo Program. This is because it was used as the Lunar Receiving Laboratory, which is the site where astronauts returning to earth were quarantined. Thanks to this, it put Houston on the map as a major part of America's space exploration and a pivotal part of space programs as a whole. It is to this end that people visit the site to check out the many artifacts and memorabilia present for visitors to check out. So, if space is your thing, the Johnson Space Center is a must-visit.
The Houston Museum of Natural Sciences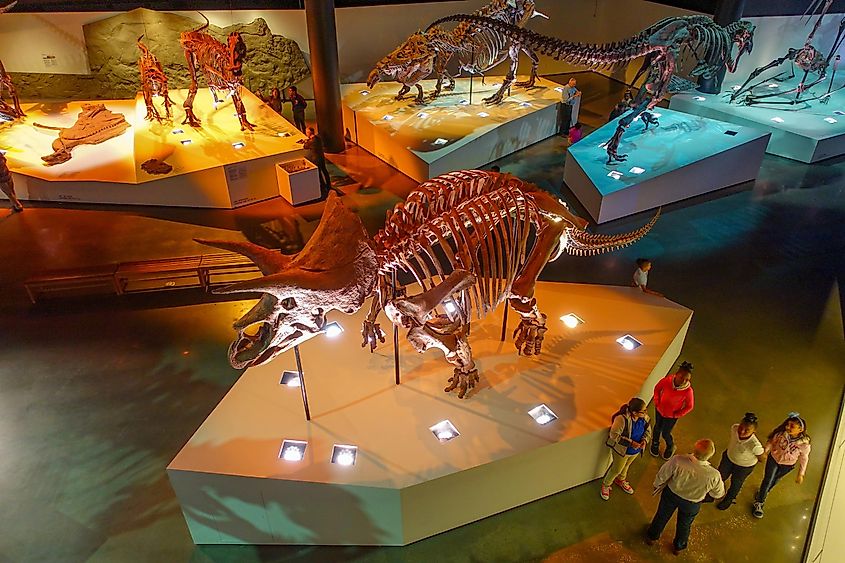 Located in central Houston, the Houston Museum of Natural Sciences (HMNS) is a famous natural history museum in the city. It was established in 1909 and since then, has become one of the most famous museums in the Country, ranking within the top few non-Smithsonian museums. This popularity is primarily due to the museum's wide range of facilities and exhibits which offer visitors a vast array of artifacts to enjoy. Some of the most famous are the Foucault pendulum, Cullen Hall of Gems & Minerals, Burke Baker Planetarium, and Cockrell Butterfly Center. These amazing exhibits are each designed to show off a unique theme or style of artifacts, such as the Burke Baker Planetarium which is an 8k planetarium with science and astronomy shows. Similarly, the Cockrell Butterfly Center is a butterfly zoo that houses hundreds of live butterflies in a massive three-story glass building. Thus, the culmination of all these makes the Houston Museum of Natural Sciences an amazing place for anyone to enjoy.
The Galleria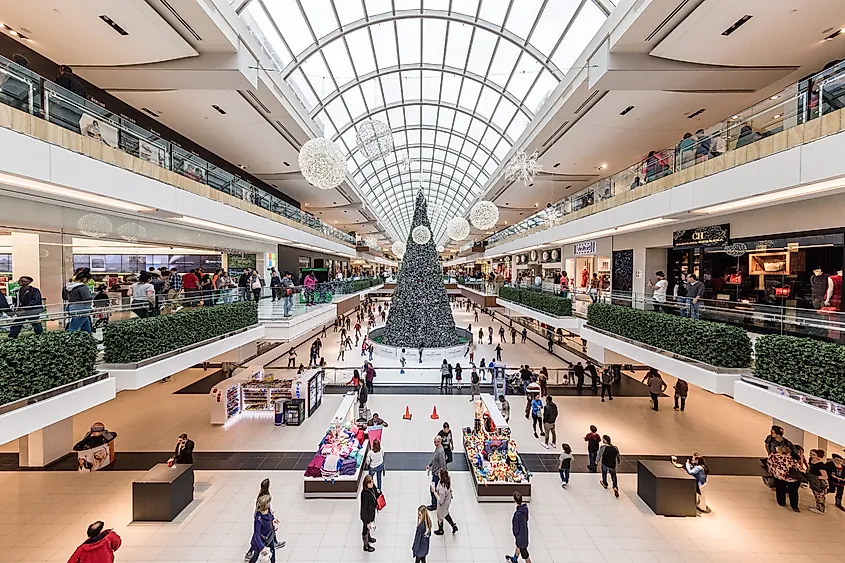 If you are planning on shopping anywhere in or around Houston, The Galleria is a place to check out. This massive shopping mall is located in the Uptown District of Houston and has an area of more than 3 million square feet, making it the seventh-largest mall in the United States. Filled with retail stores, eateries, a health club, and even two Westin hotels, it is an urban wonderland for anyone who wants to see the luxurious side of Houston. Moreover, if shopping isn't your thing, the mall has an array of attractions such as an indoor skating rink with a large skylight for a fun family day out.
Combining it's warm sunny climate, productive history, and plethora of attractions, you can probably see why Houston is such a major city in America. While the city may face some issues such as income inequality, the Houston's advancements make it an ideal place to live in or visit. This is true no matter what your interest as there is something for everyone here. For example, if you are a nature lover, check out the bay side views or spend your day at the local zoo. Similarly, history buffs can enjoy a limitless supply of museums, stories, and exhibits. So, be sure to take some time out on your next trip to visit the continuously progressing "Space City."