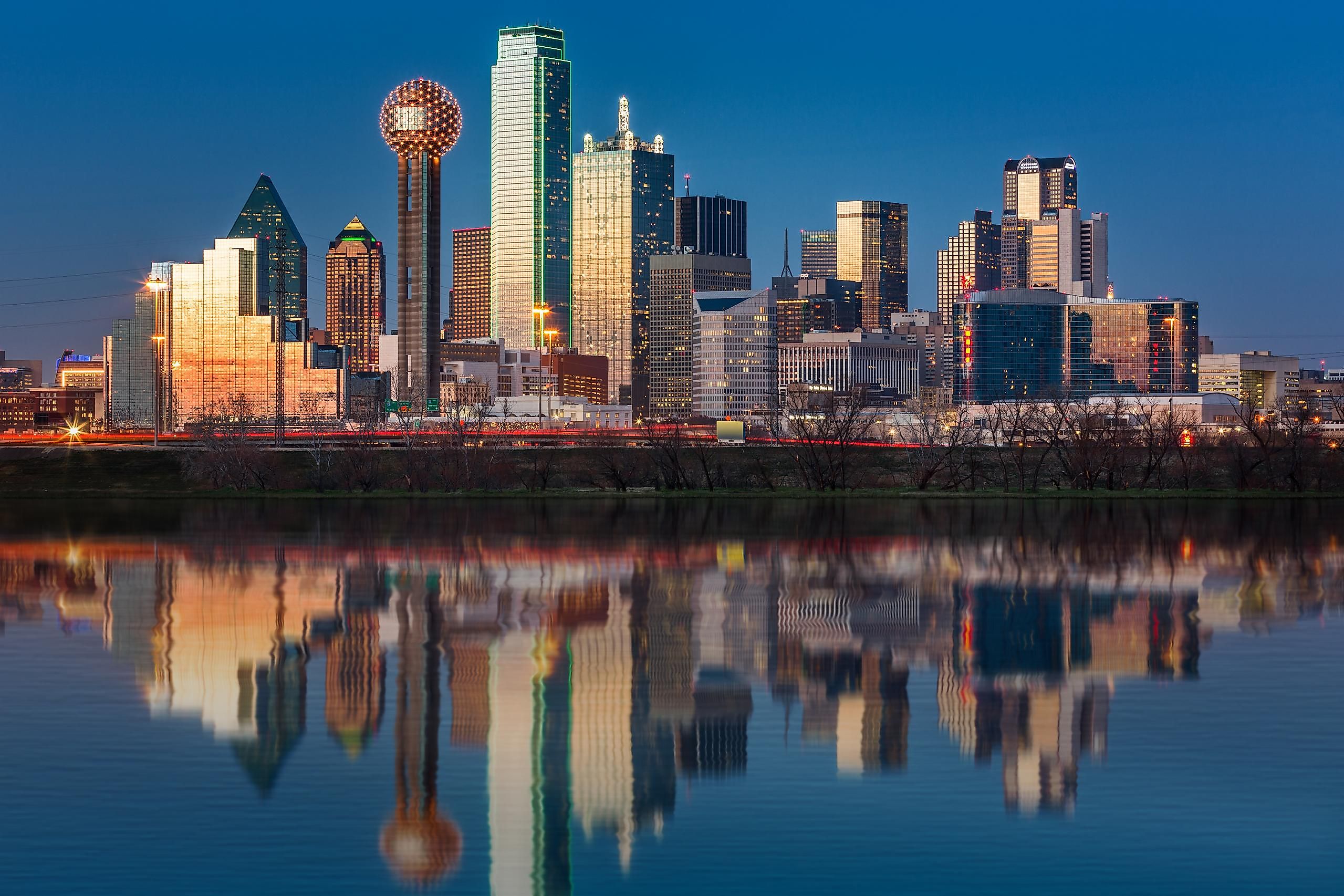 In a strategic location where the three forks of the Trinity River meet, the City of Dallas, Texas, has long been an important economic center for the area. Today, it is also crossed by four Interstate highways and has become a hub of commerce, technology, and transportation. Dallas is home to a diverse population as a quarter of its residents are of African descent, more than a third are of Hispanic origin, and less than half are of European descent. As such, it also boasts a cosmopolitan mix of arts and culture from all over the world. 
Geography And Climate Of Dallas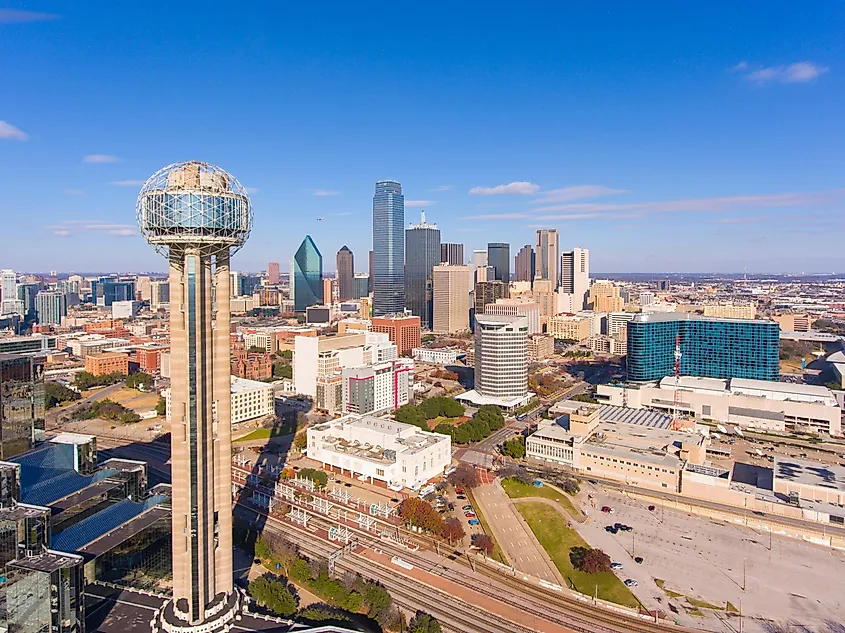 Dallas sits in the northern part of Texas, at coordinates of 32.8 degrees latitude by -96.8 ° degrees longitude, and covers an area of 385 square miles (997.1 km²). The surrounding land is largely prairie with treed areas along the waterways. It is mostly flat but with some gentle hills, so elevations range from around 450 feet (137m) to 550 feet (168m) above sea level.
With over 1.3 million people as of the most recent census, it is the third-largest city in Texas and the tenth-largest city in the United States. It's the anchor of the Dallas, Fort Worth, and Arlington metropolitan areas. With a population of 6.1 million people, one-quarter of all Texans, it is the fourth-largest metropolitan area in the country. 
Dallas experiences warm temperatures throughout the year, with an average yearly temperature of 66.3°F (19.1°C). On average, temperatures peak in August with a norm of 85.6°F (29.8°C). Even the coldest month, which is usually January, is relatively warm, averaging at 45.9°F (7.7°C), with only occasional frosts. Precipitation is slightly higher in the summer when humid maritime air moves in from the west. Storm activity like severe thunderstorms and, occasionally, tornadoes can occur and contribute to summers being wetter than winters. According to the Koppen Climate Classification System, Dallas is classified as a Humid Subtropical Climate (Cfa).
Brief History Of Dallas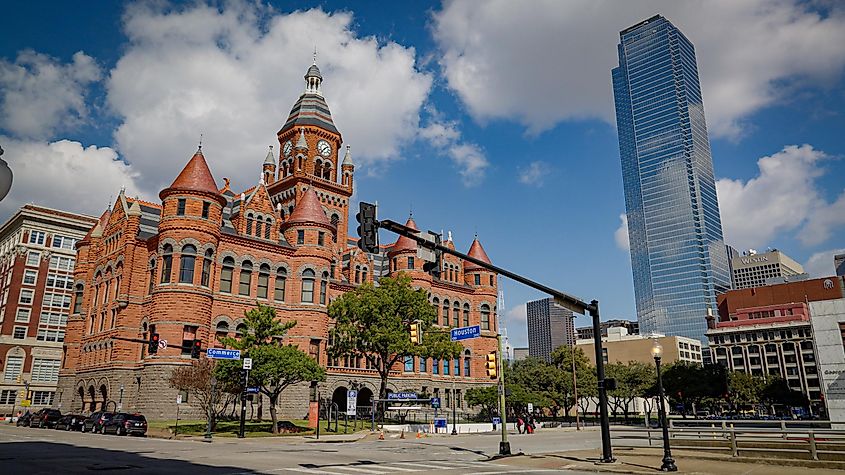 The area surrounding what is now the city of Dallas had long been the homeland of the Caddo by the sixteenth century when the Spanish Empire claimed it as part of New Spain. Like the rest of Texas, it was then swept up in the tumultuous colonial era events. After the Mexican War of Independence in 1821, it became part of the Mexican state of Coahuila y Tejas. But with further conflict, it became part of the independent nation of the Republic of Texas until the United States annexed the land in 1845.
It was while Texas was an independent nation that, in 1941, John Neely Bryan set up camp in what is now downtown Dallas, but then was chosen as it was near a ford on the east bank of the Trinity River. The trinity river is not navigable, so the importance of the only natural ford was undeniable. It was the only safe place to cross the river in that area and where existing trading routes already met. At first, growth was slow, but gradually, Dallas developed, mainly through Bryan's persuasiveness, into the commercial center for the surrounding area. A farmer, lawyer, and tradesman, Bryan would eventually become Dallas's first postmaster, justice of the peace, sheriff, and ferry operator.
The origin of the name for Dallas was not recorded, but likely candidates are Joseph Dallas, a neighboring settler, or a member of the prominent Dallas family, which include a former United States Secretary of the Treasury, the Vice President shortly after the town founding, and a U.S. Navy commodore.
By the 1850s, Dallas was a proper town with multiple shops and stores for supplies and groceries, an insurance agency, a weekly newspaper, a factory, two mills, and a three-story brick hotel. It was formally incorporated by town charter on February 2, 1856. During the 1850s, many of its industries were enhanced by the arrival of tradespeople skilled in woodwork, tailoring, brewing, and music when the nearby La Réunion colony dissolved. 
As it lacked a water link to the sea, transportation to and from Dallas continued to be crucial for its survival, and in the 1870s, it became one of the first rail crossings in Texas. As such, it became a center for the cotton industry and in the trade of leather and buffalo hide. By 1880 the population had more than 10,385.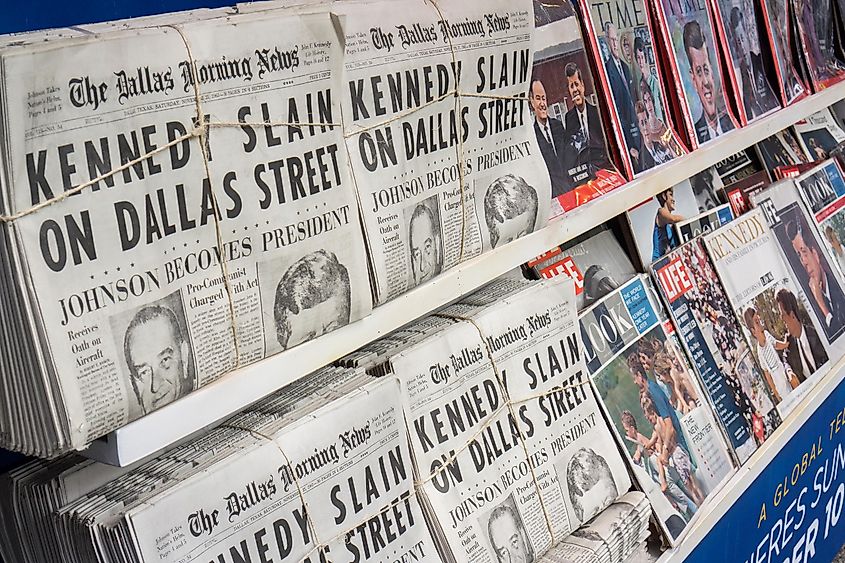 Further population booms occurred after the discovery of oil in East Texas in 1930 and after World War II when the economy turned to transportation and electronic manufacture and assembly. Perhaps the most well-known event in the history of Dallas was the 1963 assassination of President John F. Kennedy in downtown Dallas, quite near to where Bryan had first settled. In 1993 Dealey Plaza was declared a National Historic Landmark District due to the historical importance of that event.
Attractions In Dallas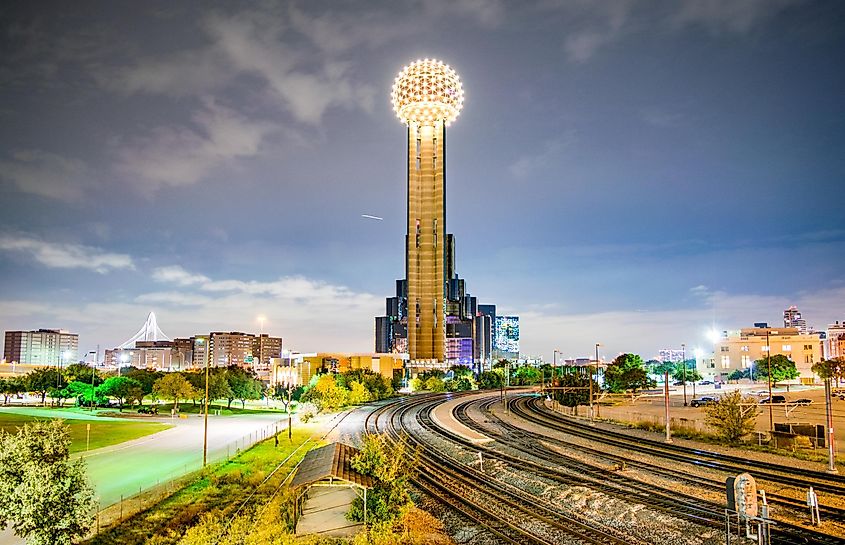 Due to its size, history, and variety of arts and culture centers, many popular attractions exist in and around Dallas. For sports fans, Dallas is home to the world-famous Dallas Cowboys professional football team. For nature lovers, there are quiet horse trails fewer than 13 kilometers from downtown. For history and architecture buffs, the Fair Park National Historic Landmark District is the largest example of Art Deco art and architecture in the world. Old City Park also hosts a museum of cultural history called the Dallas Heritage Village, which includes architecture.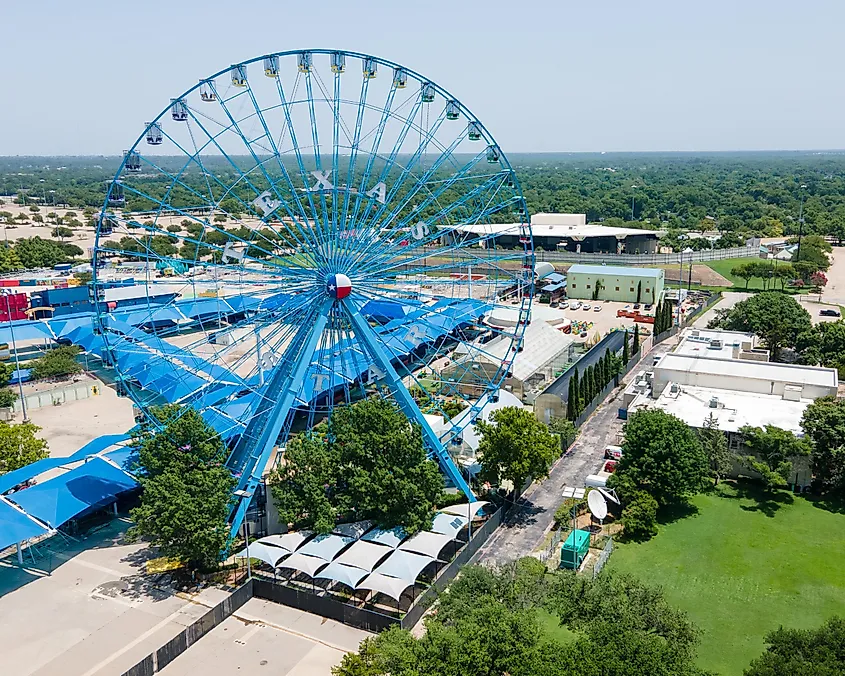 One of Dallas's most popular events is the annual State Fair of Texas at Fair Park, which has been running since 1886. Estimates are that it brings over $3.5 million to the local economy every year. Another unique attraction is the Reunion Tower GeO-Deck, a 170-meter-high observation and walkway. Shopping and dining enthusiasts will love the tax-free shopping for international travelers at North Park Center and the large array of trendy restaurants at Trinity Groves. Finally, visitors can catch a show, ballet, or opera at the AT&T Performing Arts Center, Wyly Theatre, Winspear Opera House, or Meyerson Symphony Center. 
Though landlocked, Dallas has nevertheless long maintained a strategic transportation location. From its founding at a natural river ford, through railroad crossings, and now multiple highways and an international airport, many industries rely on Dallas as an anchor for their business in northern Texas. Because so much passes through Dallas, it has also been a collecting point for people from all over the world, resulting in a diverse economy and population.