13 States with the Most National Parks
The United States is a naturally-rich country with countless landforms, endless coastlines, as well as national and state parks. Managed and protected by the US government, National Parks preserve natural resources and offer recreational opportunities for global tourists. Thirty states plus Hawaii and Alaska are home to national parks, sharing a grand total of 63 national parks in the US.
California takes gold with nine, followed by Alaska with eight, Utah with five, and Colorado with four. Florida, Arizona, and Washington boast three national parks each, while Hawaii, Montana, Nevada, Wyoming, South Dakota, and Texas are proud owners of two.
California - 9 National Parks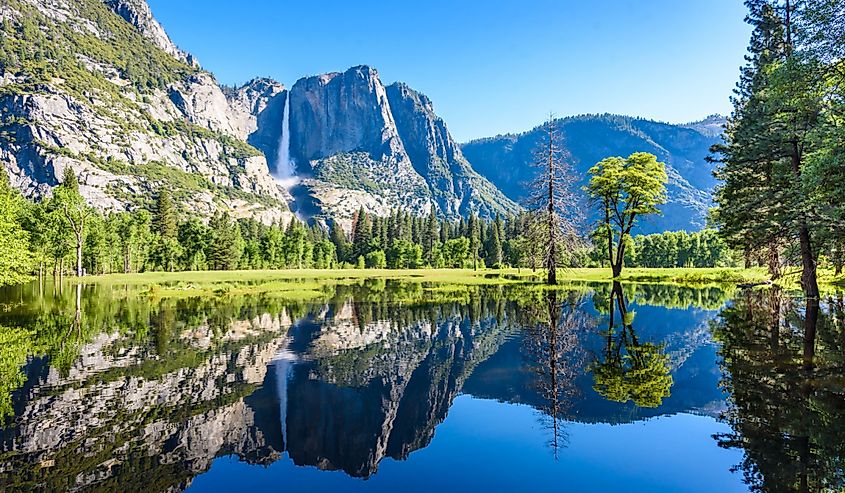 California is an explorer's paradise with the most national parks out of all the states. There is a variety of wildlife, natural features, and even difference in climate throughout the immense landscape for all kinds of adventures. The third largest state houses nine national parks, including Channel Islands, Kings Canyon, Lassen Volcanic, and California Redwood National Park, known for its oxygen-breathing giants.
There are also Pinnacles, Sequoia, and Yosemite National Park, the last of which is the fifth-most visited national park in the US. California shares the unforgettable features of Death Valley National Park with Nevada, while the Joshua Tree National Park with its namesake natural attraction is the largest national park entirely within the Golden State.
Alaska - 8 National Parks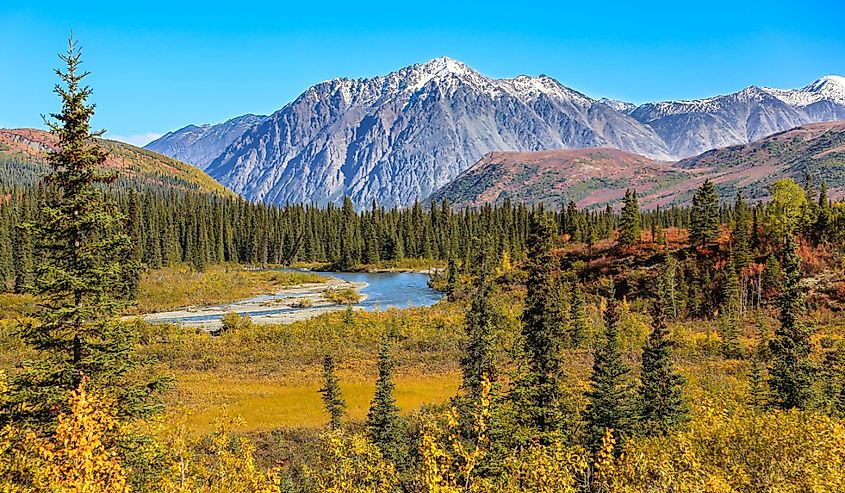 The largest state has eight national parks with wilderness like no other in the country. Alaska's sweeping and dark landscape is ideal for a one-on-one with nature, and catching sight of the Aurora Borealis. The Denali National Park is home to North America's tallest mount by the same name, while the Gates of the Arctic and preserve is the second-largest national park in the US.
Then there is Glacier Bay, Katmai, Kobuk Valley, and Lake Clark National Park. Seven out of the ten largest parks in the US are in Alaska, such as the country's largest, 13.2 million-acre Wrangell St. Elias, which spans into Canada. The Kenai Fjord is the smallest National Park in the state at about 669,650 acres.
Utah - 5 National Parks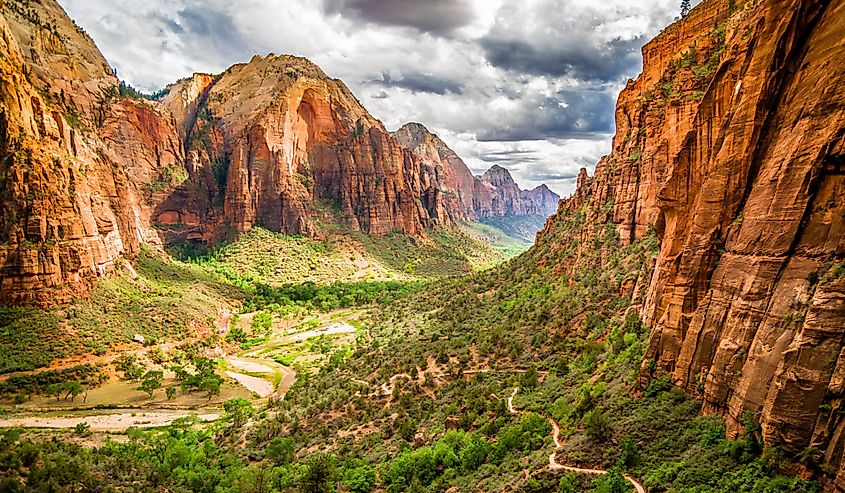 The 13th largest state in the US takes bronze with the "Mighty Five" national parks. These natural preserves sprawl across the wildly-picturesque southern Utah, including the largest protected area, the Canyonlands.
Zion National Park is a climber's paradise with stunning stratified rock walls and is among the nation's few parks that receive over five million visitors. Then there is Bryce Canyon National Park with crimson-red hoodoos, Capitol Reef National Park with unique pinnacles, and Arches National Park with unforgettable sandstone arches unlike anywhere in the world.
Colorado - 4 National Parks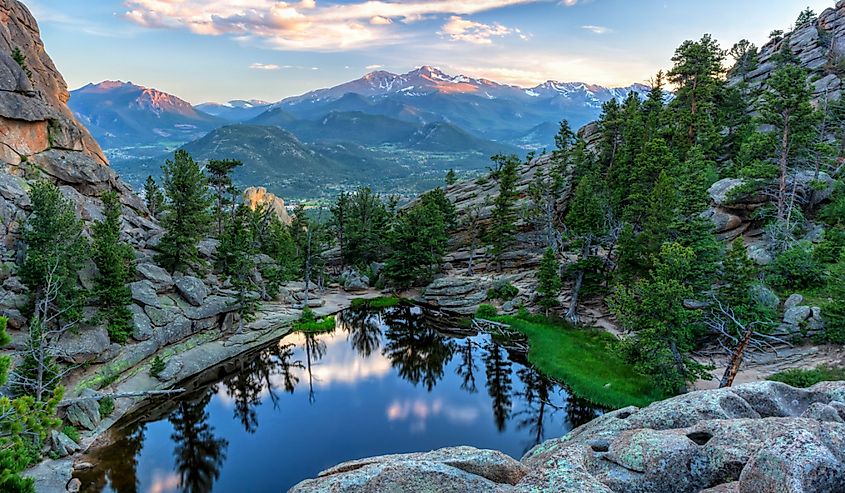 The state famous for mountain ranges also boasts four national parks. Rocky Mountain National Park, bisected by the Continental Divide is the largest of Colorado's National Parks spanning over 265,807 acres. The smaller national parks are nonetheless beautiful, such as Great Sand Dunes with the tallest sand dunes in North America.
The 52,485-acre Mesa Verde is a World Heritage Site and International Dark Sky Park. It protects the cultural heritage of 26 Pueblos and tribes with 4,000 sacred archeological sites. The stunning Black Canyon of the Gunnison National Park is home to some of the steepest cliffs in North America that protect parts of the Gunnison Rivers.
Washington - 3 National Parks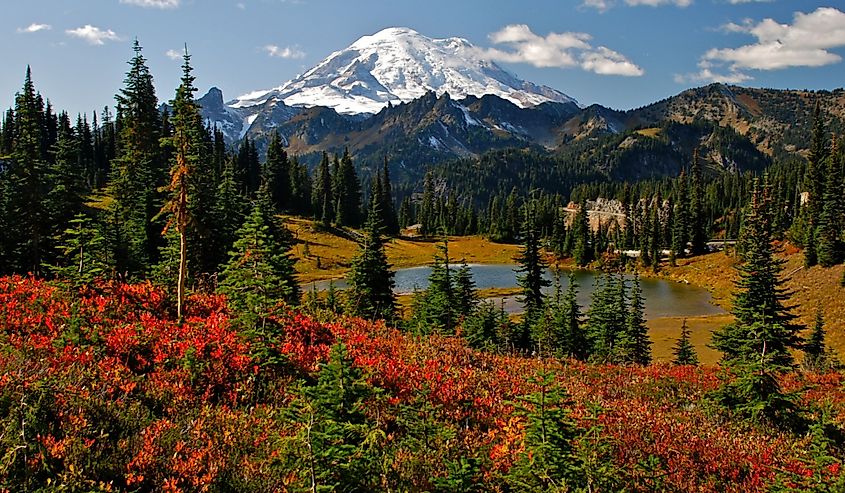 Washington State's three national parks cover 1,663,810 acres out of 5,572,000 acres designated for parks and wildlife in the state. The 13.1% of land in Washington, designated for parks and wildlife makes up 2.2% of the US' total designated area.
Olympic National Park is a renowned destination for wilderness and skiing. There is also the North Cascades National Park and the Mount Rainier National Park with an active 14,410-foot high volcano. According to data from the Bureau of Economic Analysis, state residents enjoy a total outdoor recreation value added per capita of $1,621.
Florida - 3 National Parks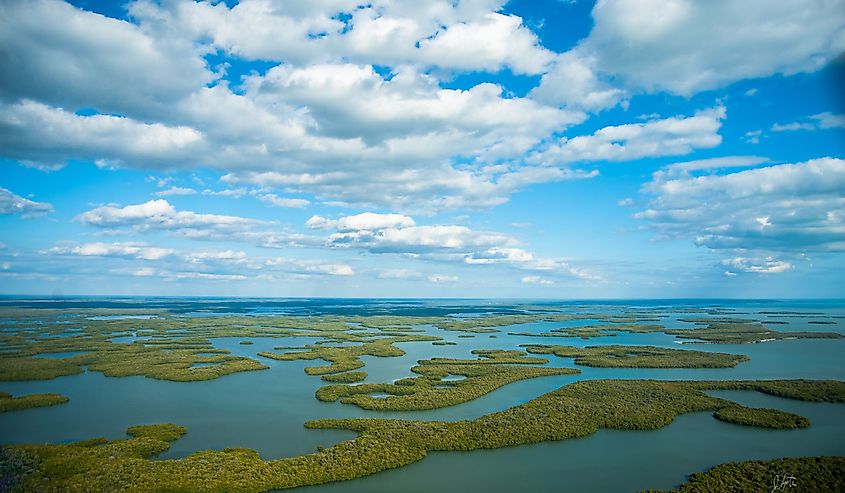 Florida is the proud home to three very unique national parks contributing to the 3,920,000 acres or 11.4% of state area designated for parks and wildlife and 1.5% state share of total US parks and wildlife area. The 1,508,938-acre Everglades designated a National Park in 1947 is a world-renowned getaway for hikers and naturalists. It is home to immense wetlands and woodlands, with countless plants and animal species, including endemic and endangered.
The 172,971-acre Biscayne National Park which is primarily water, opened second in the state in 1980, followed by the 64,701-acre Dry Tortugas founded in 1992. The latter comprises an island with a 19th-century fort and surrounding clear waters replete with marine life. The atmospheric island is the destination for historians, snorkelers, and scuba divers who love to explore the rich underwater habitat. Florida is also known for its endless coastline, and a high recreation value added per capita of $2,285.
Arizona - 3 National Parks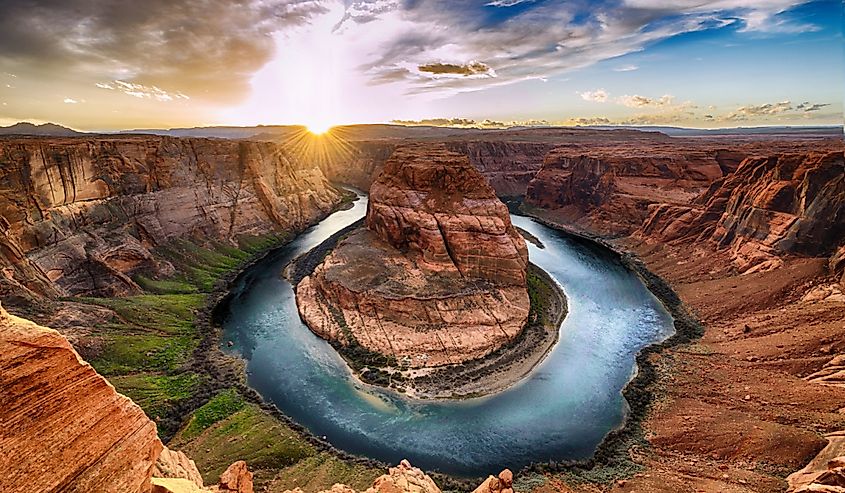 Arizona is the last state to house more than two national parks, with some real winners. Established around the largest and one of the oldest canyons in existence, Grand Canyon National Park just turned a century old in 2019. The 277-mile long and 18-mile wide canyon is one of the world's seven natural wonders. Spread over 1.25 million acres and visited by millions of sight-seekers, the park is popular for climbers and hikers, with myriad recreational options all around the canyon.
The Petrified Forest National Park opened in 1962, most known for its buttes and mesas over a 221,390-acre spread, while Saguaro National Park, established in 1994 spreads over 92,867 acres. Arizona's 10.6% or 7,704,000 acres designated for parks and wildlife make up 3.0% of the total US parks and wildlife area, with much thanks to the immense Grand Canyon.
Hawaii - 2 National Parks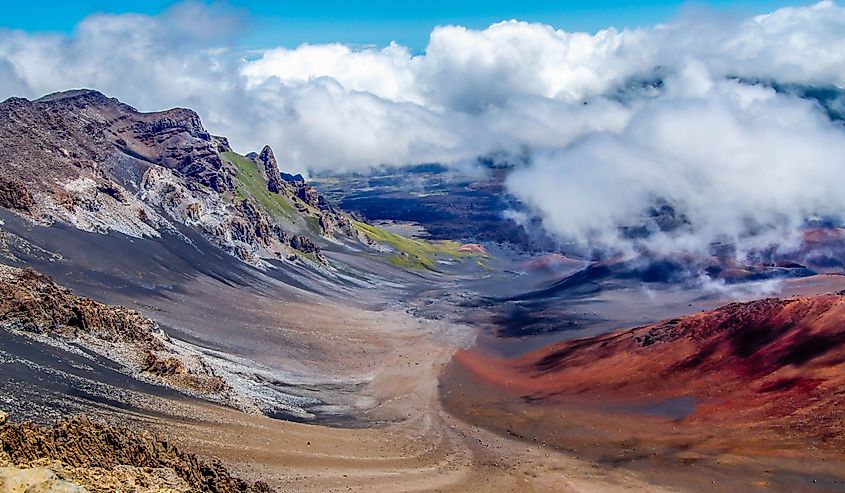 Hawaii needs no fan-fare introduction for the palm-laden beach paradise and volcano-covered landscape where diverse sights and hot weather speak for themselves. The state is home to two bucket-list national parks contributing to the state's 17.7% total proportion designated for parks and wildlife.
There is the eloquent Haleakala National Park established in 1961 covering 33,264 acres, and the Hawai'i Volcanoes National Park opened in 1916 spreading 325,605 acres of horrifying beauty. With only 0.3% state share of total US parks and wildlife area, Hawaii boasts incredible total outdoor recreation value added per capita at $3,890.
Montana - 2 National Parks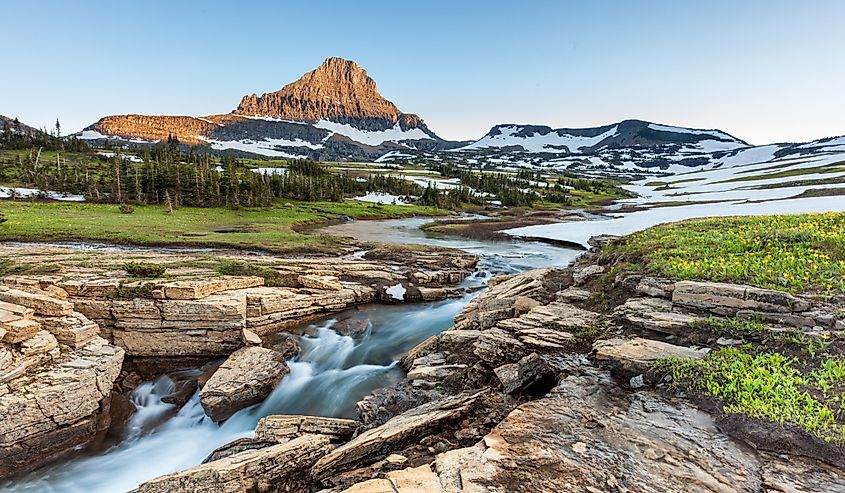 The "Treasure State" is home to the Rockies and a share of the renowned Glacier National Park's total spread of 1,013,126 acres. Established in 1910, the Canada-US park is, unfortunately, fading away from climate change effects. The Glacier still welcomes about 3 million visitors a year, but the increasing temperatures pose a threat to the sacredly-unique ecosystem, turning the park into a "last chance" tourist destination. The 26 rapidly-melting glaciers in the park may disappear altogether in a few decades, along with hundreds of animal species and thousands of plants.
Montana is also home to the immense, nation's eighth-largest Yellowstone National Park opened in 1872, sharing its 2,219,790-acre spread with Idaho and Wyoming.
Nevada - 2 National Parks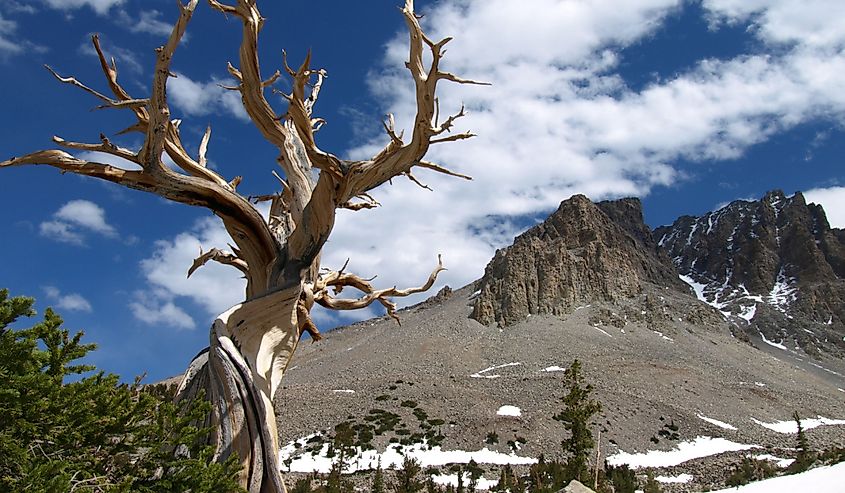 Nevada is home to two national parks, including the country's fifth-largest, Death Valley National Park. Established in 1994, it spreads over 3,408,395 acres between Nevada and California. The 77,180-acre Great Basin National Park founded in 1986 has a fan base for its ancient bristlecone pines, mysterious subterranean passages, and opportunities to stargaze under some of the US' darkest night skies.
Wyoming, South Dakota, and Texas - 2 National Parks (Each)
Wyoming has a share of Yellowstone National Park and the full alpine spread of the 310,044-acre Grand Teton with pristine lakes and peaks (est. 1929). 
South Dakota is home to Badlands National Park's 242,755 acres (est. 1978), and the 33,970 acres of Wind Cave National Park (est. 1903).
Texas houses the 801,163-acre Big Bend National Park established in 1944 and the 86,367-acre Guadalupe Mountains National Park founded in 1966.
In Conclusion
The United States is a naturally-gifted and giving country with some of the most beautiful and unique national parks open for the world to see. While exploring all 63 may prove too much for the busy world today, the national parks are definitive bucket list items, for when in the state.
New River Gorge National Park is the newest, established in West Virginia on December 27, 2020. The former national monument White Sands National Park in New Mexico became a National Park on December 20, 2019, and Indiana Dunes formerly known as "National Lakeshore" became "National Park" on February 15, 2019.