Sheer cliff sides, winding canyons, and red rock deserts as far as the eye can see, the US State of Utah's five National Parks boast unique landscapes, rock formations, and collections of activities for the family-friendly and adventure-seeking alike. Each of these national parks in Utah tells its own fantastic story.
Arches National Park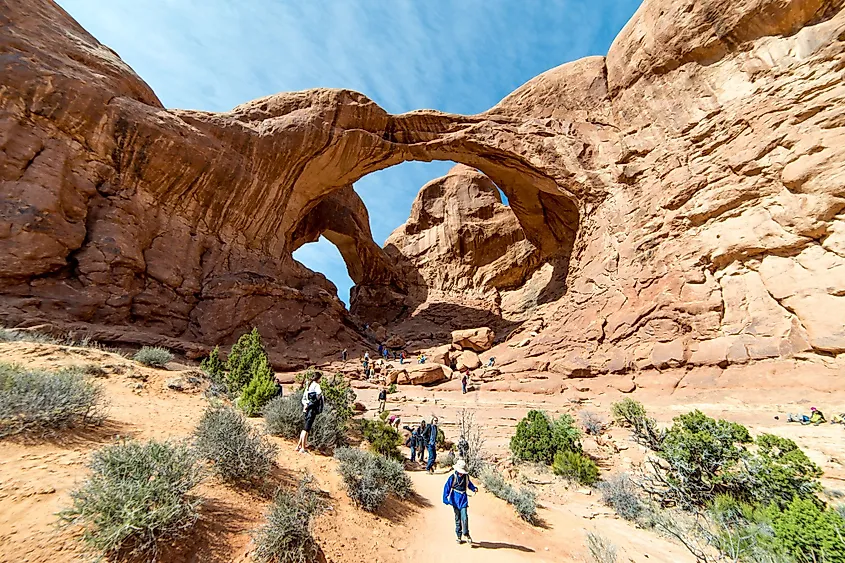 Arches National Park, home to the world's biggest concentration of natural sandstone arches, is located 6km north of Moab. Rust orange arches, soaring spires, and cascading fins sprinkle this landscape of extremes. The park is located on the northern extremity of the Colorado Plateau, resulting in hot and dry temperatures and sometimes temperature swings of up to 40 degrees in one day! Visitors are welcome to enjoy the various vistas, hiking trails, and camping opportunities the park offers. Of these, the most notable include a moderate 2-mile hike through a winding maze of shattered fins known as the Fiery Furnace; or the Double Arch, which is the tallest, and second-longest arch in the park. 
Canyonlands National Park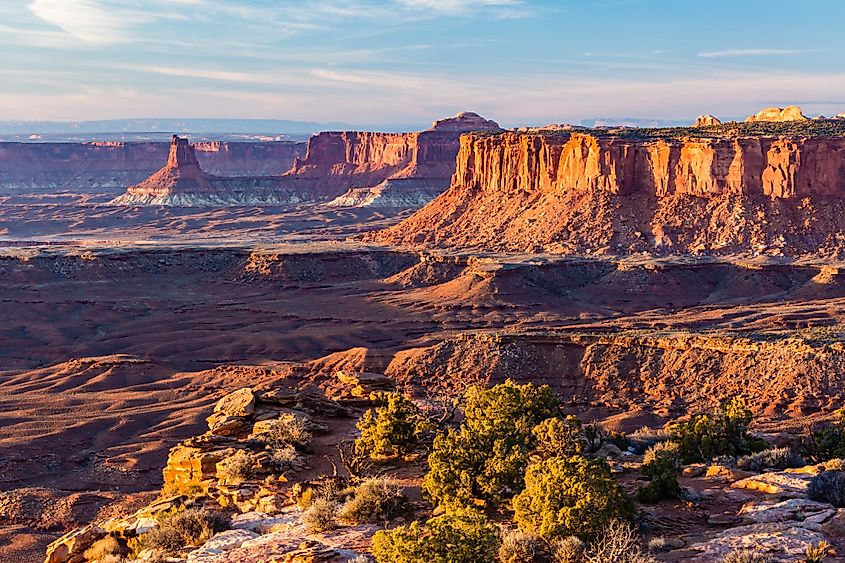 Located close to the Arches National Park, Canyonlands National Park is home to countless canyons carved out by the slow, enduring sculpting of wind and water. Divided into four regions, the park offers sightseeing and adventure opportunities that suit any traveler. The first and most accessible district, Islands in the Sky, features a paved scenic drive and a variety of hiking trails for those wanting to explore on foot. The second region, The Needles, is home to less-explored backcountry routes and some of the most breathtaking landscapes on earth. The least accessible and most isolated district, The Maze, is chock-full of offroading adventure perfect for the seasoned explorer. Finally, the Green and Colorado Rivers wind through the park's heart, creating a stark contrast between the dry, hot desert and the green, shady riverbanks teeming with life.
Capitol Reef National Park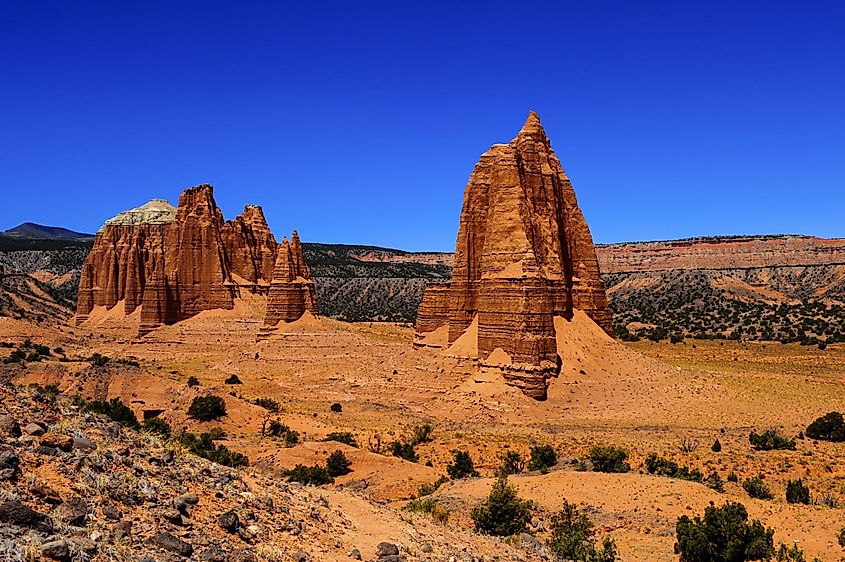 As its name suggests, Capitol Reef National Park is home to impressively sheer cliff sides, soaring monoliths, and rocky ridges that hinder travel, akin to ocean reefs. Located a few minutes west of Torrey, in the center of southern Utah, Capitol Reef National Park is open year-round for visitors. The park's most accessible section is the Fruita section which features a paved scenic drive, a campground, countless hikes, and more than 2,500 fruit trees! Today, visitors can stroll through the orchards and snack on fresh fruit directly from the trees. The southern corner of the park houses the 100-mile Waterpocket Fold, a protuberance in the earth's crust that has eroded into winding canyons of folded earth. A geological feature 50 to 70 million years in the making, this wrinkle in the earth's surface exposes a striking landscape unlike any other.
Bryce Canyon National Park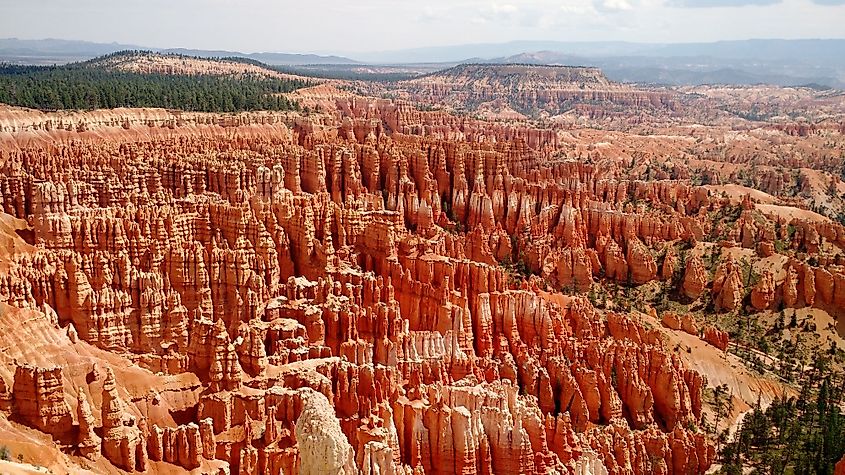 Bryce Canyon National Park is a 37-mile circuit that dramatically unveils sweeping sandstone rock walls, hauntingly beautiful hoodoos, and spires that work their way up to the clouds. Situated along a high plateau, the Bryce Canyon National Park is a full 18˚F cooler than its neighbor, Zion National Park. With the gain in elevation comes a landscape like no other – including the largest concentration of hoodoos anywhere on earth! Each year, the park sees over two million visitors that come to bask in its eerie, iron-rich beauty, usually between March and October. Of these visitors, some are comfortable exploring its vast backcountry, while others find delight in its numerous dining options, comfortable lodging, and an endless array of recreational activities.  
Zion National Park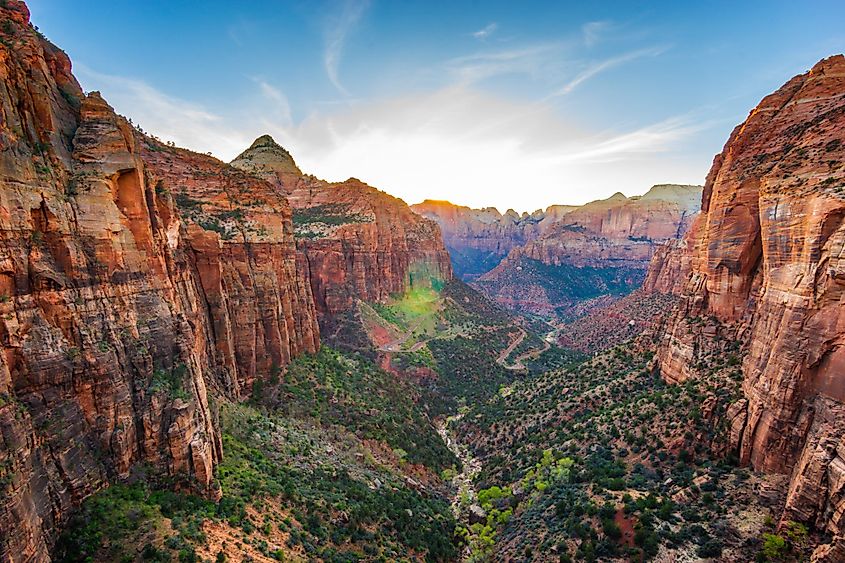 The oldest and most well-known National Park in Utah is, of course, Zion National Park. Located in southwestern Utah, near the city of Springdale, Zion is home to chiseled canyons that follow the horizon, rainbow-colored layers of rock, and high mesas that are anything but ordinary. Today, it is the 4th most visited national park in the United States, with over 4.5 million visitors each year. Of these park-goers, some enjoy the wide variety of hiking options – which include iconic hikes such as Angel's Landing, Observation Point, and Emerald Pools – while others don their climbing gear and scale the tallest sandstone walls in the world. Others still wind and rappel their way through canyoneering routes that are not for the faint of heart. But do not fret; Zion National Park has a plentitude of experiences for the bon vivant and thrill seeker alike!
Each inviting in its own way, Utah's National Parks are the perfect option for a nature-steeped vacation. From towering arches to mystical hoodoos to canyons that stretch on for miles, you're sure to find an eclectic mix of natural beauty and undeniable history within these national treasures.