The Most Visited National Parks in the United States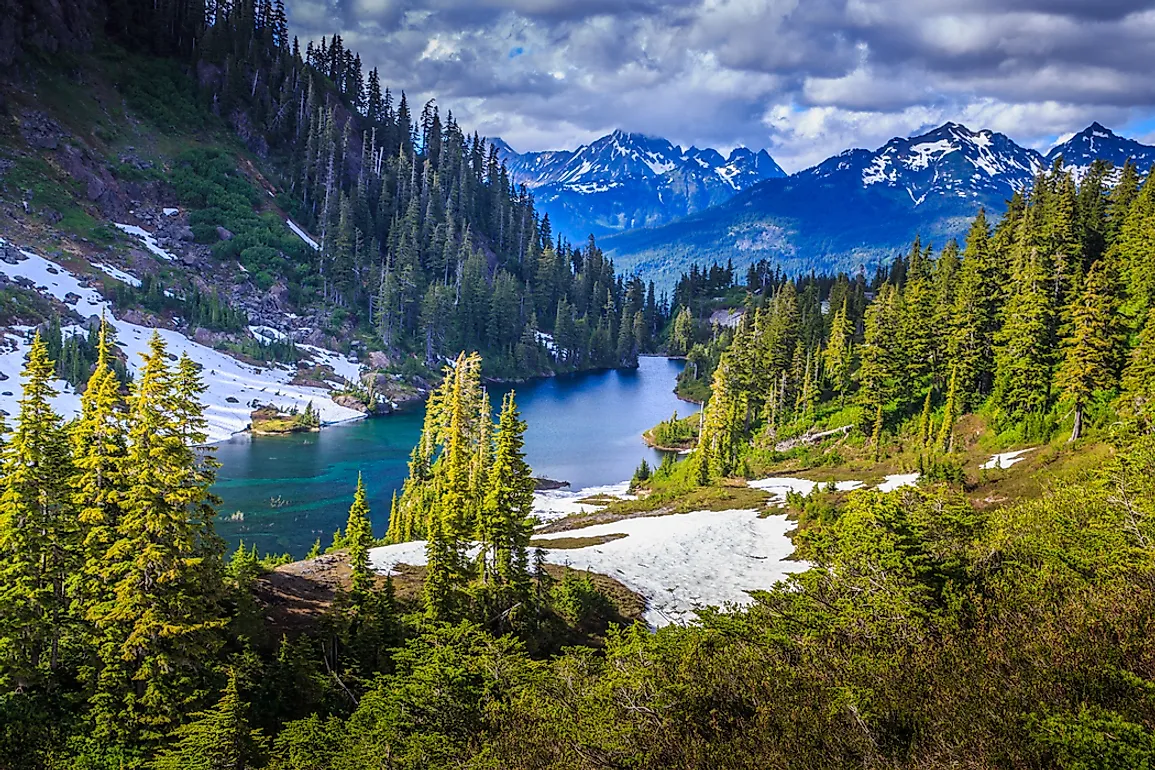 Great Smokey National Park is the most visited national park in America.
Zion National Park is Utah's first national park.
Yosemite Falls, in Yosemite National Park, is the highest waterfall in North America.
In a country as vast and geographically diverse as America, it's no wonder it's home to over 400 national parks. Of all these options to choose from, here are the most visited parks within the US. Whether planning to camp under starry skies, take a scenic drive or chase thrilling outdoor adventures, these parks are sure to please.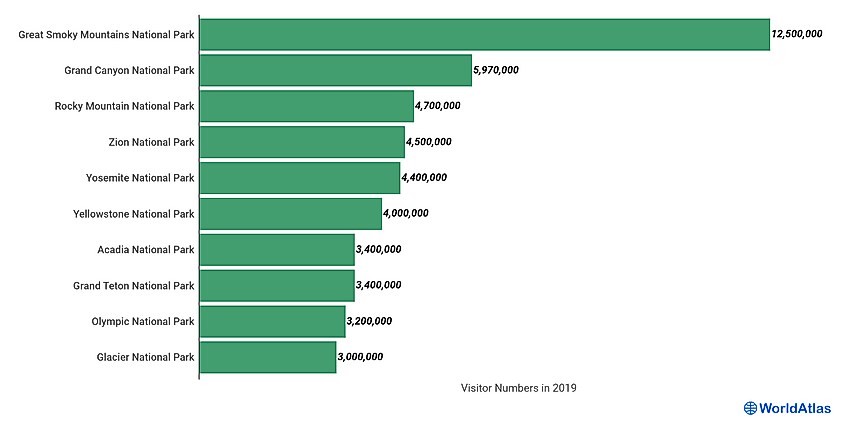 1. Great Smoky Mountains National Park, Tennessee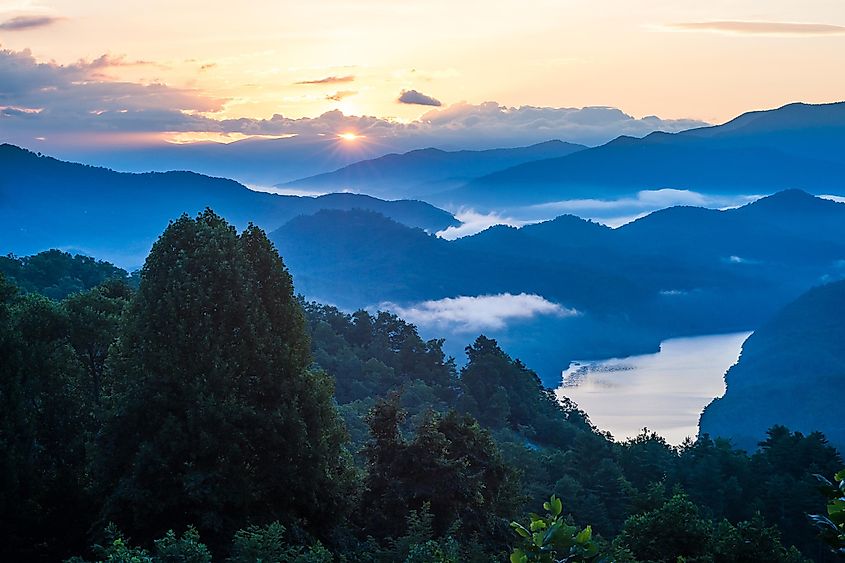 Straddling the border of Tennessee and North Carolina, Great Smoky Mountains National Park is America's most visited national park. This national treasure draws in 12.5 million visitors with its cascading waterfalls like Grotto Falls and Laurel Falls, herds of wildlife, and 800 miles of hiking trails to explore. It is home to the Blue Ridge Mountains, part of the Appalachian mountain range, and has 71 miles of Appalachian hiking. Other attractions include Cades Cove Loop Road, providing a scenic 11-mile loop drive with historic buildings from the first settlement in the early 19th century, and the Synchronous Firefly Festival is a popular natural springtime occurrence.
2. Grand Canyon National Park, Arizona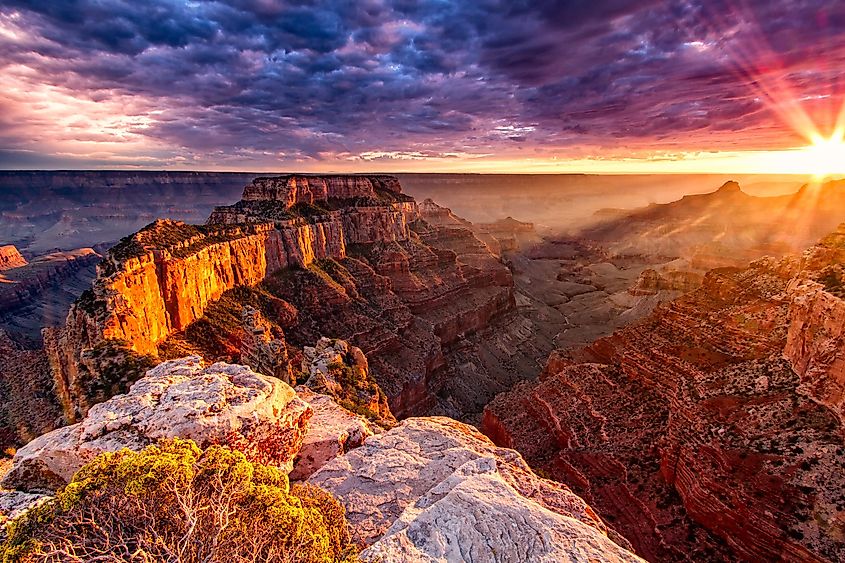 Known as one of the most recognizable natural wonders in the world, almost 6 million people visited the Grand Canyon in 2019. Carved by the Colorado River forces over millions of years, the result is a massive colorful ravine over 1,900 square miles large and a mile deep. The South Rim's easy accessibility, paired with its proximity to the towns of Williams, Tusayan and Flagstaff, make it popular with tourists. Adrenaline-seekers prefer the remote aspect of North Rim for its river rafting, mule rides, and hiking trails. Both sides have camping sites and lodging available, but be sure to book well in advance, because they are in high demand.
3. Rocky Mountain National Park, Colorado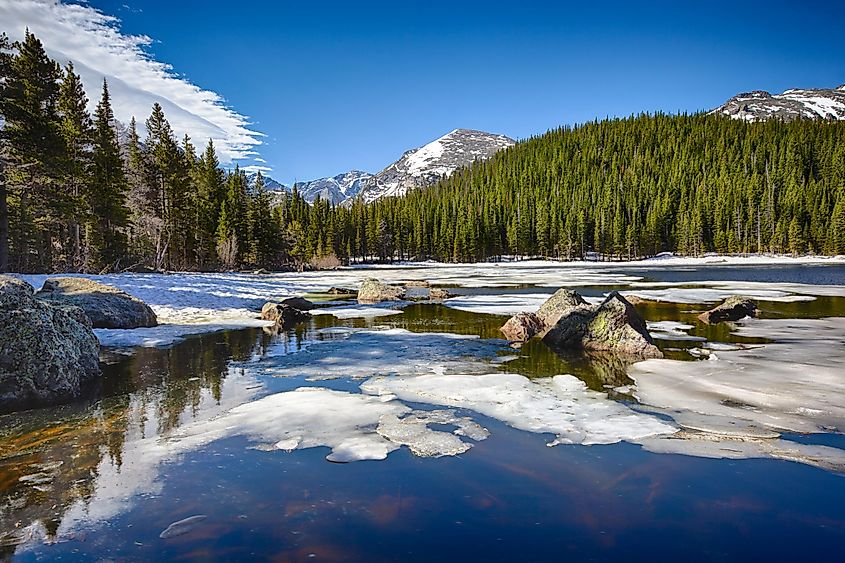 The epic scenery, jagged peaks, and clear mountain lakes of Rocky Mountain National Park drew in 4.7 million visitors in 2019. Its 415 square miles of terrain offer 300 miles of hiking trails and plenty of rock climbing and fishing opportunities, with 124 named peaks to admire. Bighorn sheep are an iconic sight in this mountain range, and they are the official symbol of this national park. Reserve your spot at one of the park's campgrounds and experience the Rocky's majestic nighttime skies.
4. Zion National Park, Utah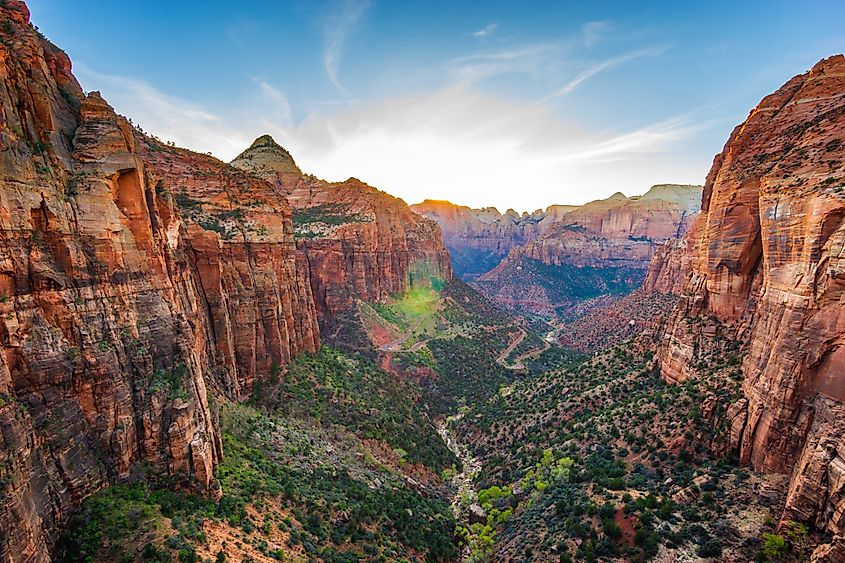 Situated along the Colorado Plateau, Zion National Park is Utah's oldest national park, the first if its "Mighty Five." Carved over millions of years by wind and water, the park is easily recognizable by its reddish Navajo sandstone cliffs. Many of its 4.5 million visitors descend on the park for its challenging hiking trails. Zion's Angels Landing trail is known as one of the world's most dangerous hiking trails in the world. The trail was cut out of the Angels Landing rock in 1926, and making it to the top allows for stunning views of the park.
5. Yosemite National Park, California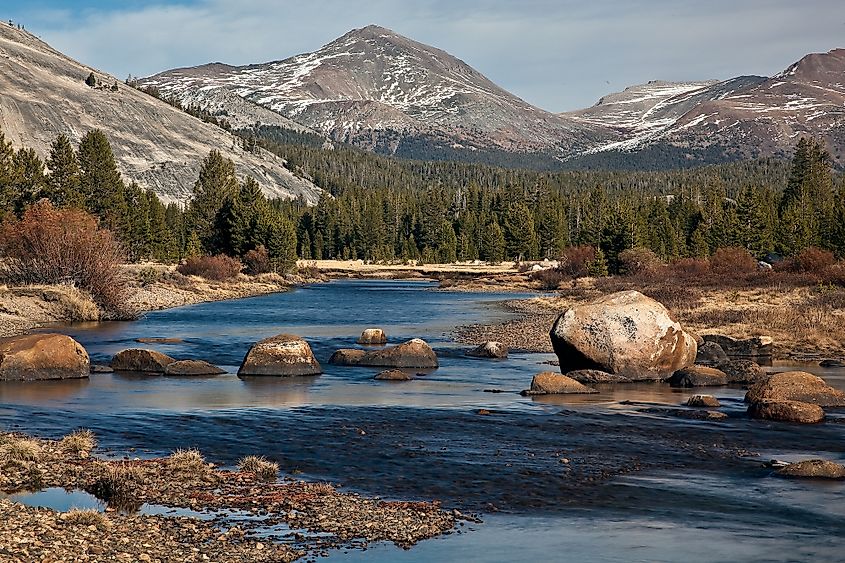 With 1,200 square miles of waterfalls, granitic rock formations, and natural wonders to explore, it's no surprise Yosemite National Park attracted 4.4 million visitors last year. SIy is bursting with plenty of outdoor activities and wildlife to experience. Yosemite is home to Yosemite Falls, the highest waterfall in North America and quite a sight to behold. Few granite monoliths can compete with El Capitan, the largest in North America. Another top Yosemite attraction is Half Dome, a rock formation known for its unique shape resembling a rock dome cut in half. 
Whether on a family vacation or seeking an epic adventure, America's national parks are among the world's most renowned. So grab your backpack, lace up your hiking shoes and get ready to make some unforgettable memories in the great outdoors. 
The Most Visited National Parks in the United States
| Rank | Park Name | State | Visiors in 2019 |
| --- | --- | --- | --- |
| 1 | Great Smoky Mountains National Park | North Carolina, Tennessee | 12.5 million visits |
| 2 | Grand Canyon National Park | Arizona | 5.97 million visits |
| 3 | Rocky Mountain National Park | Colorado | 4.7 million visits |
| 4 | Zion National Park | Utah | 4.5 million visits |
| 5 | Yosemite National Park | California | 4.4 million visits |
| 6 | Yellowstone National Park | Idaho, Montana, Wyoming | 4 million visits |
| 7 | Acadia National Park | Maine | 3.4 million visits |
| 8 | Grand Teton National Park | Wyoming | 3.4 million visits |
| 9 | Olympic National Park | Washington | 3.2 million visits |
| 10 | Glacier National Park | Montana | 3 million visits |
| 11 | Joshua Tree National Park | California | 2.9 million visits |
| 12 | Bryce Canyon National Park | Utah | 2.6 million visits |
| 13 | Cuyahoga Valley National Park | Ohio | 2.2 million visits |
| 14 | Mount Rainier National Park | Washington | 2.2 million visits |
| 15 | Hawaii Volcanoes | Hawaii | 2 million visits |
| 16 | Death Valley National Park | California | 1.7 million visits |
| 17 | Arches National Park | Utah | 1.6 million visits |
| 18 | Hot Springs National Park | Arkansas | 1.4 million visits |
| 19 | Haleakalā National Park | Hawaii | 1.4 million |
| 20 | Shenandoah National Park | Virginia | 1.4 million visits |