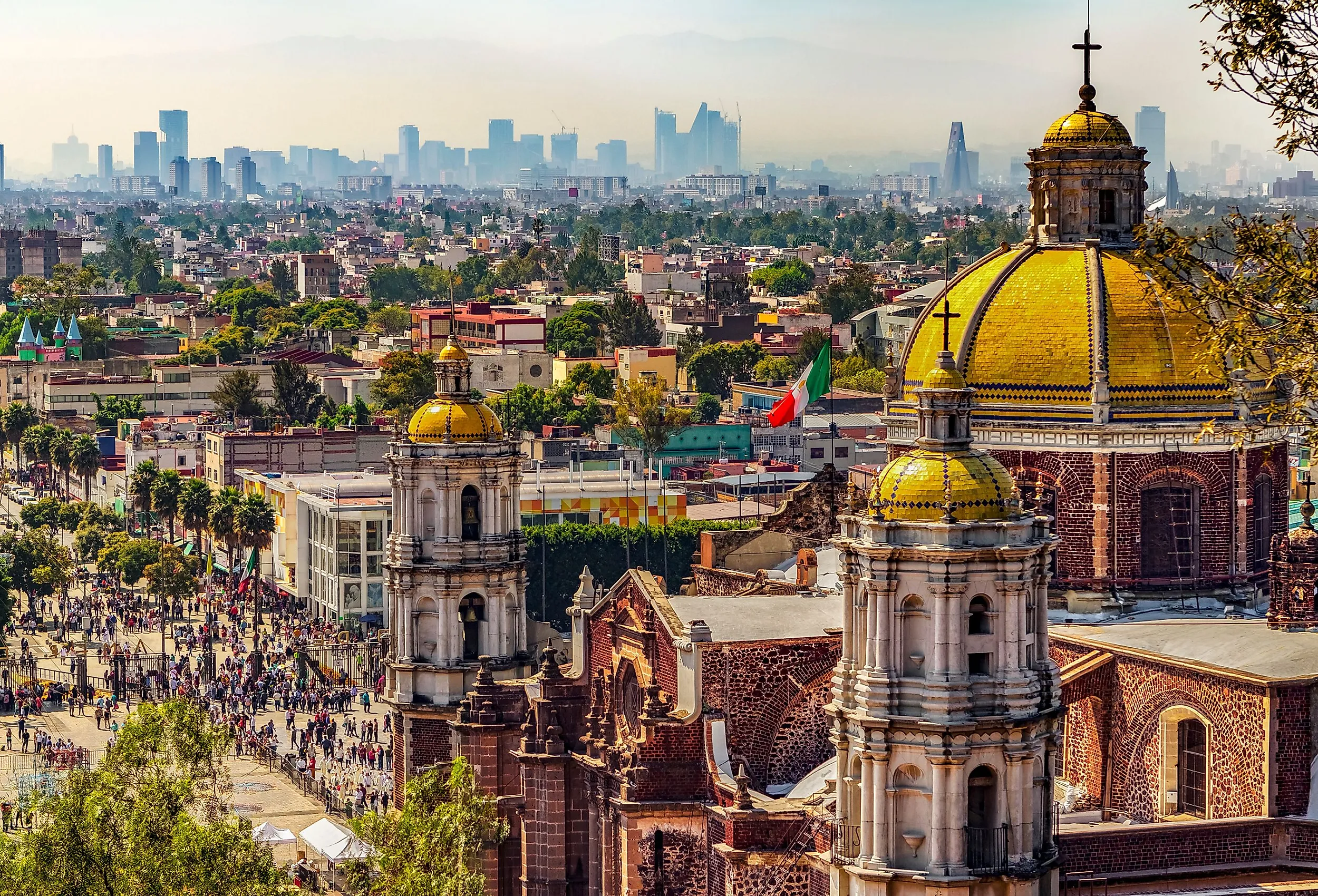 The 10 Largest Cities in North America
North America's megalopolises are vibrant cityscapes and economic powerhouses with rich histories and cultures, and large populations. While economic stability is prevalent in most, those adjusting to the high populace face overcrowding and a substantial poverty rate. The US, Canada, and Mexico frequently change ranks with growth spurts and timely challenges. These ten most populous cities (metropolitan areas) in North America continue to attract new residents with exciting opportunities and seek balance to adjust to the growing demand.
1. Mexico City, Mexico - 24,700,000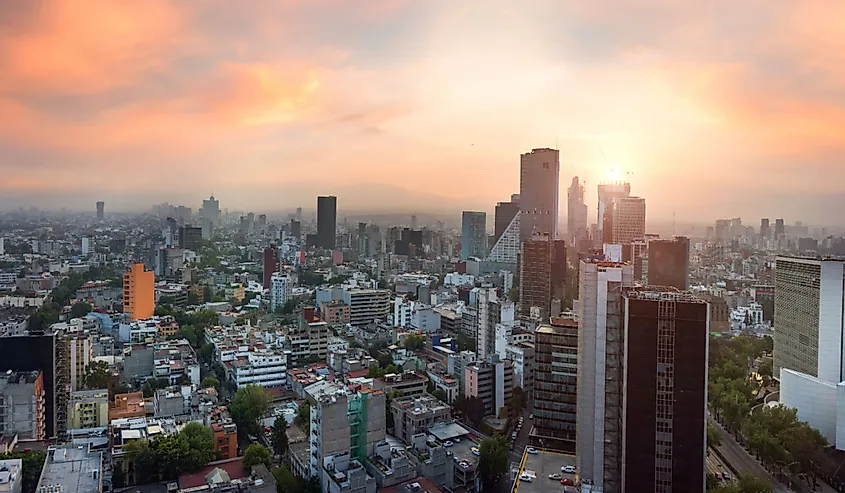 The "alpha" global city in North America, first settled by a Spanish colony as "New Spain", is home to over 20% of Mexico's total population. Mexico City grew by 0.76% since last year with projections to reach 25.5 million by 2035 according to the UN. The Greater Mexico City along the high plateaus of the fruit-bearing Valley of Mexico at 7,350 feet above sea level produces most Mexican products. It is a "federal entity," not part of the 31 states, and a political, cultural, and educational hub, as well as one of the most important financial centers in North America.
Mexico City is home to a number of immigrants from Canada, the United States, South and Central America, Europe, the Middle East, and the Caribbean. Residents are a median age of 35 which is ten years higher than in 1995. Its central location attracts businesses and migrants from less-developed areas for jobs. The well-established capital also has a high level of income disparity with distinct classes, and racial gaps, and in 2020 a poverty rate of 33%, but this is significantly lower compared to the national average of 44%.
2. New York City, United States - 23,000,000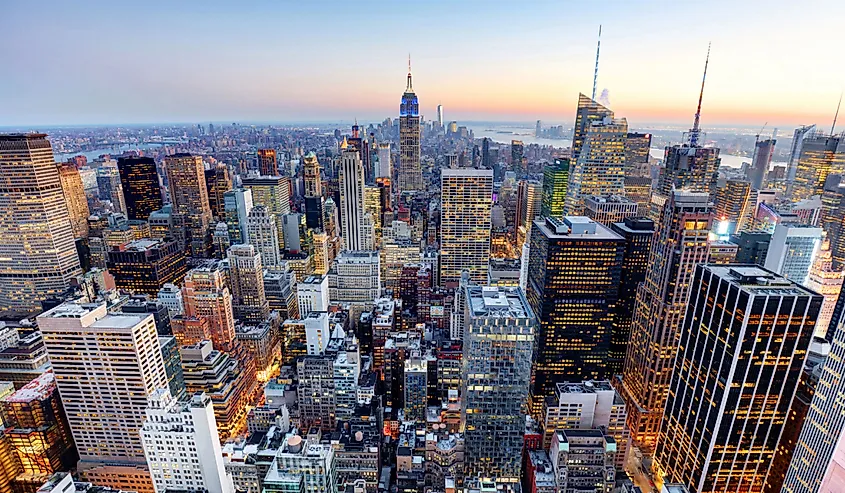 New York City is most known as a major economic power and global hub for entertainment, media, education, art, technology, science, and research. It is home to the United Nations headquarters and the second-largest, growing population in North America. The "Big Apple" was not always synonymous with opportunities and envied lifestyle, with about a million leaving in the 1970s from a stunted economy and crime. The aptly-nick-named city is home to 41.33% Whites, 23.82% Blacks, and 14.29% Asian residents. There are 5.63% of two or more races, 14.43% other, and Native American along with Native Hawaiian or Pacific Islander together at less than 1%.
NYC is central in global finance with one of the world's highest gross metropolitan products of 1,993 billion in 2021. The city with an amazing cosmopolitan feel, driven by media, culture, and tourism, is home to Times Square and followed from the deepest corners of the planet on TV and films. It is also one of America's worst-hit cities by climate change and is learning to strike balance between pleasing the high number of tourists and ever-growing residents. There are city-sized boroughs of New York City, such as Brooklyn (which was once considered a city) and Queens with respective populations of 2,300,664 and 2,272,771. Projections indicate that the Bronx will grow the most with a 14% increase from 2010 to 2040, and Manhattan by 6.7%.
3. Los Angeles, United States - 17,500,000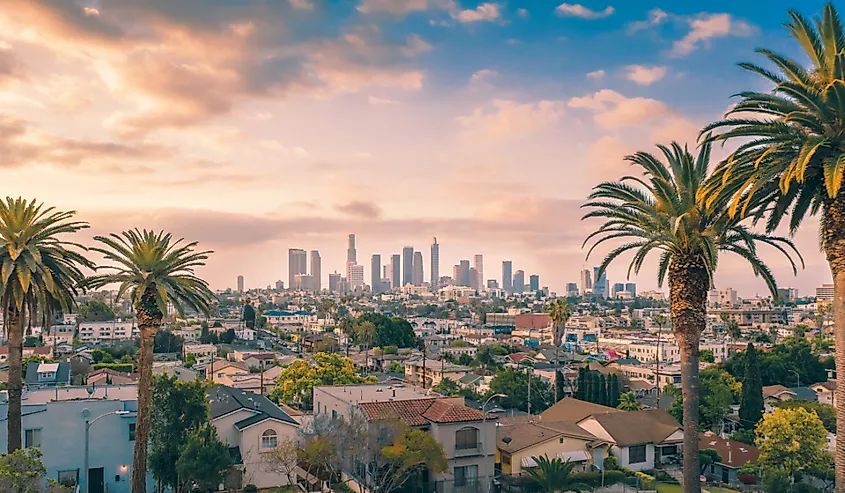 Los Angeles has an incredible multicultural ring with people from over 140 countries speaking 224 languages and ethnic communities such as Chinatown, Little Ethiopia, and Little Tokyo right in LA's heart. The metropolis is a huge financial and business center within Southern California's vast, diversified, and dynamic economy. Citrus fruit-growing remains relevant, while manufacturing turned high-tech, along with craft and fashion industries with products like jewelry, clothing, toys, and music. Together with the services and movie industry, LA alone can compete for the highest gross national product with most countries in the world.
There are over 40% of Latinos, including 31.9% Mexicans, 6% Salvadorans, and 3.6% Guatemalans, most concentrated within East Los Angeles. The 3.2% of Filipino and 2.9% of Korean populations live mostly in Koreatown and Historic Filipinotown, while many of the 1.8% Chinese people occupy the city's outskirts. There are also 0.9% Japanese, Thais, Cambodians, and Middle Eastern populations of Iranians and Armenians through Tehrangeles and Little Armenia, respectively. Following substantial immigration, Latinos and Hispanics outnumber the historically-large African American population within South Los Angeles, with once-black neighborhoods like Compton becoming Hispanic.
4. Chicago, United States - 9,850,000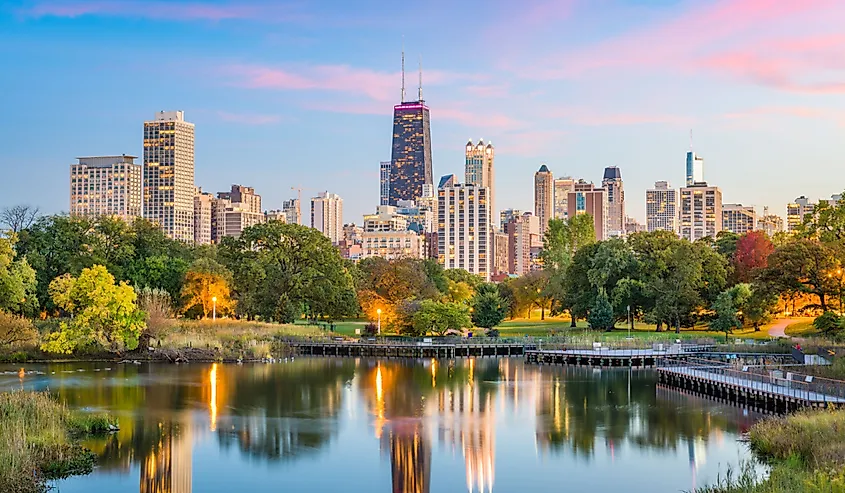 In 1970, the fourth largest city was home to mostly rich, non-Hispanic whites, with only 31.7% remaining in 2010. Today, the Windy City boasts a diverse ethnic make-up with 47.73% Whites, 29.22% Blacks, and 28.9% Hispanics. There are also 6.84% of Asians, 0.34% Native Americans, and 0.04% Native Hawaiian or Pacific Islander, while 5.28% are more than one race, and 10.55%, are other. The median age is 34.8, with 34 years for males and 35.5 years for females.
Chicago's ethnic distribution roots historically to the racist allocation policy, forcing the black population into cheaper reaches of the Chicago South Side. The trend persists to this day, mostly sans the racial aspect, where the northern side of the city is home to the historically-affluent white communities. There is a clear class distinction with a high average household income of $90,713 contesting the number of poor on the streets and the poverty rate at a high of 20.52%.
5. Washington DC, United States - 8,750,000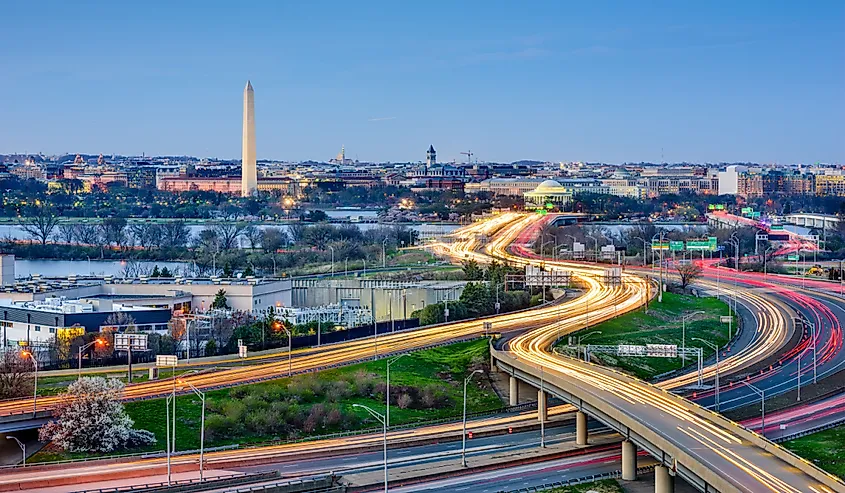 During its "go-go years," the District was wracking-up numbers of 2.5% annual growth, before the last half-a-decade-worth of chaos around the world. DC is finally rebounding and continuing to grow thanks to migration. Over 3,000 people came to live in the city in 2022 for a 0.5% unadjusted growth rate, compared to a 0.3% decline from 2020 to 2021, while total births minus deaths added 245,080 people.
Like many other cities around the US, DC's biggest outlier is in losing people to immigration. Virginia gained over 26,000 people for 0.3% growth, and Maryland lost 9,950 people. The greater DC Area ranks 53rd largest in the world, with a population density of 11,535 people per square mile and an overall area growth rate of 1% since 2021. There are roughly 41.07% Whites, 45.39% Blacks, and 4.1% Asians living in DC among other ethnicities.
6. Boston, United States - 7,850,000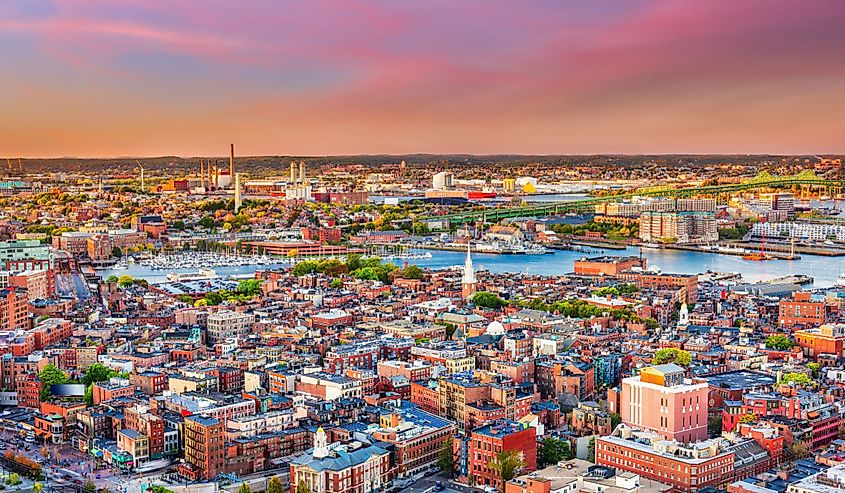 At the turn of this century, the Boston area was losing its young population for jobs and cheaper housing to the south and west. It grew in the turnaround decade from 2010 to 2020 by 9.3%, which is almost twice that of Massachusetts. The city sees newcomers from the Caribbean (Haiti), Central and South America, as well as China and Vietnam, while Ireland remains one of the largest sources of immigration, albeit slower than in the past. Boston is the epicenter of high-tech, including software design, computer architecture, data processing, and biomedical technologies.
Boston also became a world leader in equity fund management when banks connected with investment companies and global financial institutions. The non-Hispanic whites dipped from 47% in 2010 to 44.6% in 2020, and Blacks fell from 22.4% to 19.1% in the same decade. The Asians grew from 8.9% to 11.2%, and Hispanics increased from 17.5% to 18.7%. Boston Greater Area places 59th most-populated in the world with a density of 15,058 people per square mile and net growth from last year of 0.8%. Universities also contribute to the economy, along with many medical schools and hospitals for robust health care.
7. San Francisco, United States - 7,800,000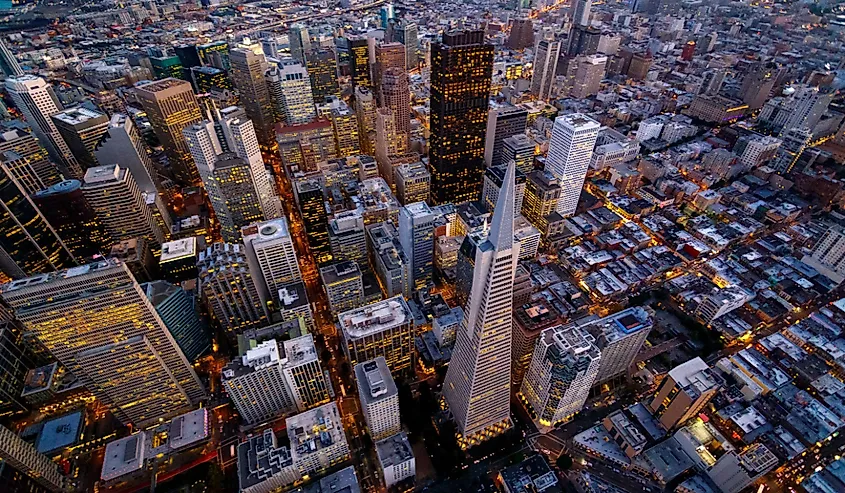 The Greater San Francisco Area is the 60th most populated city in the world and nearly three times the density of Los Angeles. With an 18,790 people per square mile population density in the city center and 0.79% growth from last year, space is running out. San Francisco is small, with tightly-packed districts facing the state's objective of under "housing and policy practice review". San Francisco is also the hub of the San Jose-San Francisco-Oakland metro area with 8.7 million.
San Francisco experienced a 2,400% population boom from 1848 to 1849 with the California Gold Rush, and grew steadily since, except for a decline between the 1960s and 1980s. The Chinese are the largest minority group at roughly 21.4% spread mostly through Chinatown, Sunset, and Richmond districts. Filipinos comprise 4.5% of the population for one of the largest Filipino communities outside of the Philippines, living throughout Crocker-Amazon and SoMa. The median age for the area is 38.3 years, with an average household income of $160,396, and a poverty rate of 11.25%.
8. Toronto, Canada - 7,650,000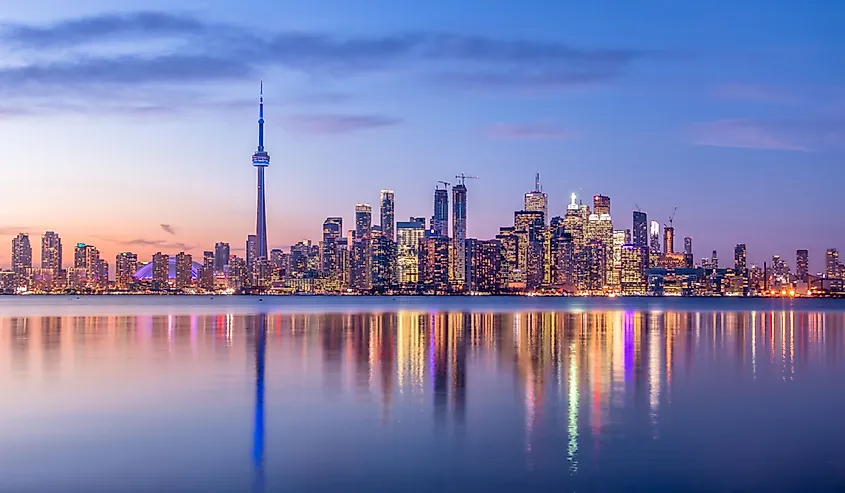 The area was home to the Huron-Wendat and then Iroquois when Europeans first arrived. Mississauga displaced Iroquois by 1701, while the French constructed Fort Rouille in 1750. Following the American Revolutionary War, a large influx of British settlers secured 386 square miles of land with the Toronto Purchase in 1787. It was the real start of the town, with York proclaimed the capital of Upper Canada six years later. The US controlled the remains of the town after the battle of York in 1813, and two decades later the city of Toronto emerged with 9,000 residents, including escaped African American slaves. The city grew during the Great Irish Famine with the single largest ethnic group of Irish in 1851, while most immigrants arrived in the following decades including Italians, French, Germans, and Jews, followed by Poles, Russians, and Chinese. The name stayed from the Iroquois word for "place where trees stand in the water" (tkaronto).
The Greater Toronto Area faired well through the economic crisis, coming out strong and growing faster than the national average. With most staying close to the city for work, projections estimate that Toronto may continue to grow. The white population takes a slight majority at 50.2%, with another quarter of East and South Asians including 10.8% Chinese, 1.4% Korean, and 0.5% Japanese, along with 5.1% Filipino, and 2% West Asian. There are also 8.5% Blacks, 2.8% Latinos, 1.1% Arabs, and 0.7% Aboriginal people, while two or more races comprise 1.5%, and 1.3% are another race.
9. Philadelphia, United States - 7,550,000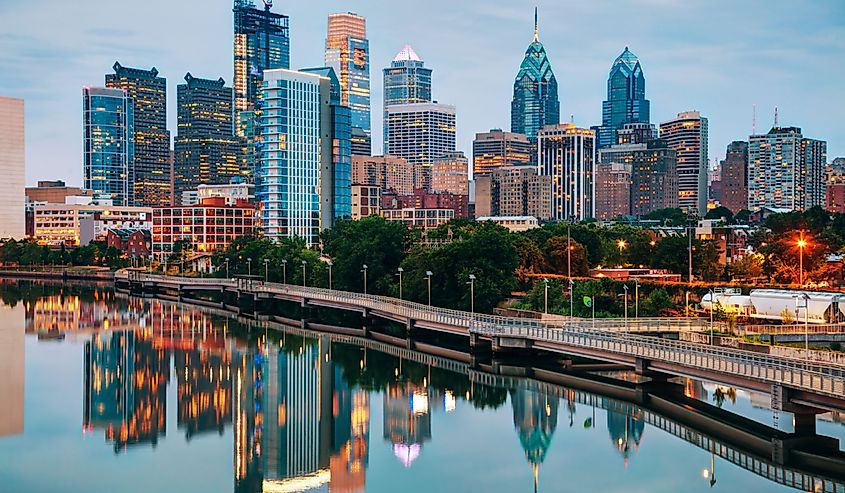 Founded in 1682, over half a century after New York City and Boston, Philadelphia outgrew both populations by 1770. Philadelphia made the largest leap in 2010 since the 1950s' of a 5.1% increase. Philadelphia is the 69th largest in the world in land area at about 134.2 square miles and one of the densest in the US at 12,465 people per square mile in 2020. Its unique ethnic makeup comprises 41.36% Black, 39.33% White, 7.42% Asian, and 7.27% other races.
People who love socialization move to the "Athens of America" for concentrated culture and history. It is the second largest city on the East Coast, enough to support the enormous population, while its Center City houses the second-largest downtown residential population in the US after Manhattan. The 62nd most populous in the world, the city for "Eds and Meds" lost 0.22% since last year, but is growing steadily at an average rate of 0.47%. Philadelphia's average household income is $68,379, with a poverty rate of 27.51%, and a median age of 34.6 years.
10. Dallas, United States - 7,350,000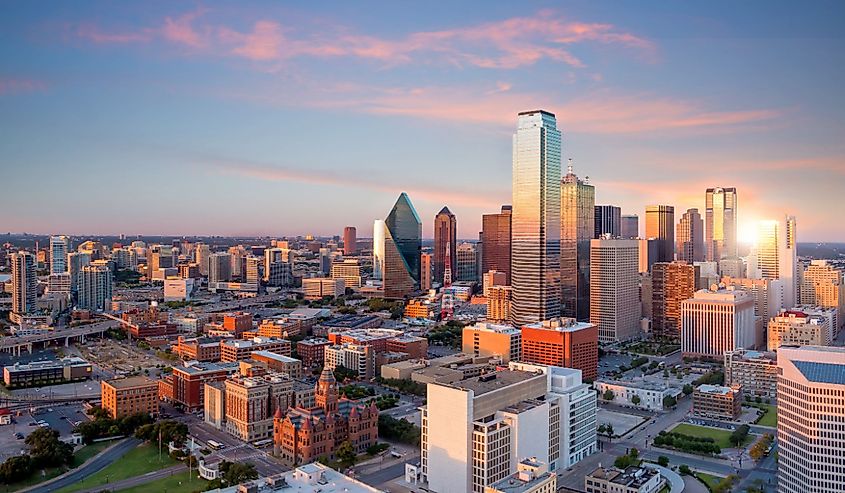 The North Texas city is a crowded hub of the world economy with two dozen fortune 500 companies and growing almost three times faster than the average of other metro areas nationally with projections to reach 10 million in the 2030s. It is also the 64th largest in the world, with a population density of 4,121.7 per square mile. The bustling city center, surrounding neighborhoods, and suburban outskirts hack up on average $86,393 per household, contested by the city's 22.69% poverty rate.
The largest single ethnicities include 57.75% Whites, 24.30% Blacks, 3.61% Asians, and 7.60% other races. Dallas is one of the fastest-growing cities in the US, with a steady growth rate of 0.77% and a recent 4.59% increase in population since 2020. Many come for the "big Texas" feel, with vibrant arts, sports, and great weather. It is an exciting and attractive place on par with New York and LA, despite rising rent prices, and long-distance drives.
North America grew from roughly 313 million at the turn of the century to present-day 376 million, and a 0.42% increase since last year. Growing cities have additional responsibility in terms of environment, urban sprawl, and traffic on highways which they must sustain by implementing policies "that work for the people who live there".
| Rank | City | Country | Population |
| --- | --- | --- | --- |
| 1 | Mexico City | Mexico | 24,700,000 |
| 2 | New York City | United States | 23,000,000 |
| 3 | Los Angeles | United States | 17,500,000 |
| 4 | Chicago | United States | 9,850,000 |
| 5 | Washington DC | United States | 8,750,000 |
| 6 | Boston | United States | 7,850,000 |
| 7 | San Francisco | United States | 7,800,000 |
| 8 | Toronto | Canada | 7,650,000 |
| 9 | Philadelphia | United States | 7,550,000 |
| 10 | Dallas | United States | 7,350,000 |