World Facts
Largest Cities in North America By Population
New York City has the largest metropolitan area in North America by population, followed by Mexico City, Los Angeles, and Chicago.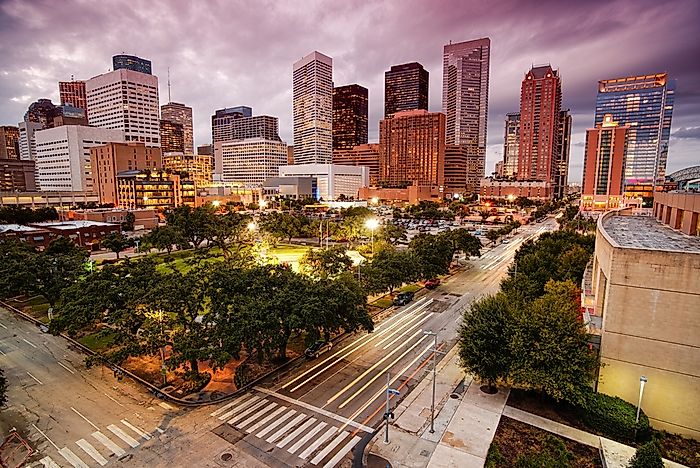 When talking about notable cities in terms of having significantly sized populations, many of those in North America are worth taking a look at for their socioeconomic importance. Such cities are recognizable far beyond the borders of the continent, not only standing out in terms of size of the populous, but for their important cultural and economic contributions to their respective countries as a whole. Over the years, cities in Canada, the United States, and Mexico have frequently interchanged in size rankings due to a variety of factors influencing population growth.
The North American continent has an estimated regional population of 529,000,000. Looking more closely at this population of more than half a billion people, we have identified some of the largest, most important cities found on the continent in terms of population. In this article, the city populations listed are those of metro areas, not necessarily city proper populations within the bounds of city limits.
New York, United States

New York City of the United States has long been regarded as one of the most important cities on the continent and in the world as a whole. With a metropolitan population of 23,723,696, New York is known globally as "the city that never sleeps", and as a place where dreams come true. While we may not take that flattering hyperbole literally, it is undeniably a fact that this city offers endless career opportunities, and it's safe to say that career growth is among the primary drivers behind the choice made by massive numbers of people to reside in and around New York City. People all over the world gamble that their luck will be better in New York, in the hopes of finding a career path that will eventually allow them to stay in the city permanently, and enjoy the bountiful fruits of the 'Big Apple'.
Mexico City, Mexico
Mexico City closely follows New York as the most populous metro area in North America, with a population of 22,000,000. The population of Mexico City continues to grow, at an annual rate of 1.8%. Most Mexican industrial products are produced within its surrounding area, making it a logical point of relocation for the job-seeking migrants who continue to pour into in this city from all around the country.
Los Angeles, United States
Los Angeles has over time come to rival its cross-country counterpart as one of the largest metropolises in North America. The metro area is home to Hollywood, the country's show business and entertainment heart, as well as internationally important financial establishments. Its location also makes it an important link between the contingent United States and another world across the Pacific. For many, L.A. means unbounded opportunities, prompting local inhabitants to stay and newcomers to continue to arrive in hope of achieving their own "California Dreamin'.
Notable Mentions
Chicago, Illinois of the United States and Toronto, Ontario in Canada are also among the cities recognized as being some of the largest in the continent. The metropolitan populations of these giants are 8,759,312 and 7,165,061 respectively. It is important to note that these sums are for the populations of these cities' respective metro areas. However, if we regard the city proper alone, Toronto is actually larger than the Chicago in terms of the population living within city limits.
Looking at shared characteristics seen in each of the cities mentioned above, economic stability is a common denominator among them all. These cities have become so large due to the fact that their economies are highly competitive in both national and international markets. Looking at these North American cities, we see that, as a city's economy grows, more people are drawn into it, promoting the metropolitan population to grow right alongside it.
Largest Cities in North America By Population
| Rank | City | Country | Metro Area Population |
| --- | --- | --- | --- |
| 1 | New York | United States | 23,723,696 |
| 2 | Mexico City | Mexico | 22,000,000 |
| 3 | Los Angeles | United States | 17,500,000 |
| 4 | Chicago | United States | 8,759,312 |
| 5 | Washington | United States | 8,300,000 |
| 6 | San Francisco | United States | 7,610,000 |
| 7 | Boston | United States | 7,350,000 |
| 8 | Philadelphia | United States | 7,300,000 |
| 9 | Toronto | Canada | 7,165,061 |
| 10 | Dallas-Fort Worth | United States | 6,500,000 |
| 11 | Houston | United States | 6,150,000 |
| 12 | Miami | United States | 6,050,000 |
| 13 | Detroit | United States | 5,700,000 |
| 14 | Atlanta | United States | 5,450,000 |
| 15 | Guadalajara | Mexico | 4,950,000 |
| 16 | Monterrey | Mexico | 4,625,000 |
| 17 | Tampa | United States | 4,300,000 |
| 18 | Phoenix | United States | 4,300,000 |
| 19 | Montreal | Canada | 2,075,000 |
| 20 | Seattle | United States | 4,050,000 |
| 21 | Santo Domingo | Dominican Republic | 3,625,000 |
| 22 | Denver | United States | 3,500,000 |
| 23 | San Diego | United States | 3,250,000 |
| 24 | Cleveland | United States | 3,075,000 |
| 25 | Orlando | United States | 3,050,000 |
| 26 | Guatemala City | Guatemala | 3,025,000 |
| 27 | Minneapolis-St. Paul | United States | 3,025,000 |
| 28 | Puebla | Mexico | 2,975,000 |
| 29 | Port-au-Prince | Haiti | 2,800,000 |
| 30 | Cincinnati | United States | 2,725,000 |
| 31 | Vancouver | Canada | 2,475,000 |
| 32 | St. Louis | United States | 2,350,000 |
| 33 | Salt Lake City | United States | 2,275,000 |
| 34 | Charlotte | United States | 2,250,000 |
| 35 | Portland | United States | 2,250,000 |
| 36 | Havana | Cuba | 2,225,000 |
| 37 | Toluca | Mexico | 2,200,000 |
| 38 | San Juan | Puerto Rico | 2,150,000 |
| 39 | Pittsburgh | United States | 2,075,000 |
| 40 | Las Vegas | United States | 2,075,000 |