World Facts
The 10 Biggest Cities In Pennsylvania
Philadelphia is the biggest city in Pennsylvania.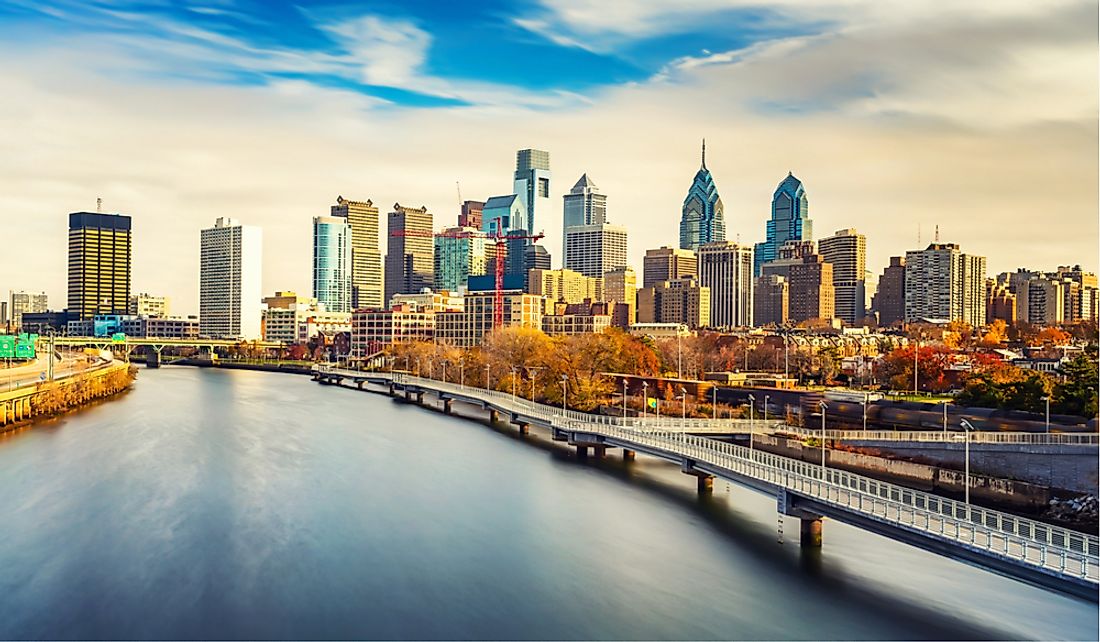 The US state of Pennsylvania is located in the Mid-Atlantic and northeastern regions of the country. The state has an area of 119,283 square km that makes it the country's 33rd most extensive state. With a population of around 12,807,060 people, it is the country's 5th most populated state. Pennsylvania has 67 counties that include numerous municipalities in the form of townships, cities, or boroughs. Philadelphia is the most populous county of the state while Cameron with a population of only 5,085 people is the smallest county. Pennsylvania has 56 cities classified as first, second, or third-class cities on the basis of their population. Philadelphia is the only first-class city in the state.
Five Most Populated Cities In Pennsylvania
1. Philadelphia
Philadelphia is the most populated city of Pennsylvania. It has a population of 1,580,863 individuals. It is the country's sixth largest city. The city is coterminous with Philadelphia County. It is the hub of culture and economy in the Delaware Valley. Philadelphia was founded by the English in 1682 to serve as the capital of the Pennsylvania Colony. It later played a very significant role in the American Revolution and served as the meeting place for the Founding Fathers of the US. Today, Philadelphia is a major economic hub and a top study destination. It has a greater number of outdoor murals and sculptures than any other city in the country. It is a major tourist destination and home to many firsts in the country.
2. Pittsburgh
With a population of 302,407 individuals, Pittsburgh is the second most populated city in Pennsylvania. It is the county seat of Allegheny County. It is the country's 63rd biggest city in terms of population. Pittsburgh is located at the confluence of three rivers, the Ohio, Allegheny, and Monongahela rivers. The city is nicknamed as the "Steel City" by virtue of its over 300 steel-related businesses. It is also called the "City of Bridges" as there 446 bridges in the city. Pittsburgh also has a thriving manufacturing sector and has the most stockholders per capita in the country. A large number of technology firms like Facebook, Google, Nokia, Apple Inc., Uber, etc., have their offices in this city. Many prestigious educational and research institutions are also based in Pittsburgh.
3. Allentown
Pennsylvania's third biggest city, Allentown, is home to a population of around 121,283 people. It is the country's 231st largest city. It is located on the Lehigh River and serves as the county seat of Lehigh County. Allentown was founded in 1762.
4. Erie
As the name suggests, Erie is located on the south shore of Lake Erie. It is Pennsylvania's fourth most populated city and houses 97,369 individuals. Erie is the county seat of Erie County. The city has a diverse economy. Manufacturing, healthcare, higher education, tourism, other service industries, and technology are the biggest sectors of Erie's economy.
5. Reading
The city of Reading is the fifth largest city in the state. It has a population of 88,423 individuals. Reading serves as the seat of Berks County. Reading is nicknamed "The Pretzel City" because of the large number of local pretzel bakeries located in the city. Cycling in and around Reading is a major attraction for tourists and professional cyclists.
The Capital of Pennsylvania
Harrisburg, the capital city of Pennsylvania, is not its largest city but its 10th largest city. It is home to a population of 49,192 individuals. Harrisburg also serves as the county seat of Dauphin County.
The 10 Biggest Cities In Pennsylvania
| Rank | City | County | 2012 pop. est. | Area (mi2) | Pop. dens. (p/mi2) |
| --- | --- | --- | --- | --- | --- |
| 1 | Philadelphia | Philadelphia | 15,47,607 | 142.7 | 10,844.6 |
| 2 | Pittsburgh | Allegheny | 3,06,211 | 58.3 | 5,248.9 |
| 3 | Allentown | Lehigh | 1,18,974 | 18.0 | 6,600.9 |
| 4 | Erie | Erie | 1,01,047 | 19.3 | 5,241.3 |
| 5 | Reading | Berks | 88,102 | 10.1 | 8,689.4 |
| 6 | Upper Darby | Delaware | 82,779 | 7.8 | 10,578.8 |
| 7 | Scranton | Lackawanna | 75,809 | 25.5 | 2,968.5 |
| 8 | Bethlehem | Northampton/Lehigh | 75,103 | 19.5 | 3,861.1 |
| 9 | Bensalem | Bucks | 60,497 | 20.9 | 2,890.4 |
| 10 | Lancaster | Lancaster | 59,360 | 7.4 | 8,071.8 |
About the Author
Oishimaya is an Indian native, currently residing in Kolkata. She has earned her Ph.D. degree and is presently engaged in full-time freelance writing and editing. She is an avid reader and travel enthusiast and is sensitively aware of her surroundings, both locally and globally. She loves mingling with people of eclectic cultures and also participates in activities concerning wildlife conservation.
This page was last updated on January 16, 2019.
Citations
Your MLA Citation
Your APA Citation
Your Chicago Citation
Your Harvard Citation
Remember to italicize the title of this article in your Harvard citation.