Mangroves are coastal trees that thrive in hot, humid, weather with roots submerged in a muddy mix of soil or sand and saltwater. They thrive along shores and estuaries of tropical and subtropical areas like those in Indonesia, Brazil, Malaysia, India, Panama, and Florida in the US. A group of them living together in one area is called a mangrove forest. These forests make up one of the world's most biologically diverse ecosystems. They provide habitat for thousands of species—from fish and mollusks to various types of reptiles and birds. Among the thousands of animals thriving in mangrove ecosystems, here are some of the most fascinating ones.
10. Proboscis Monkey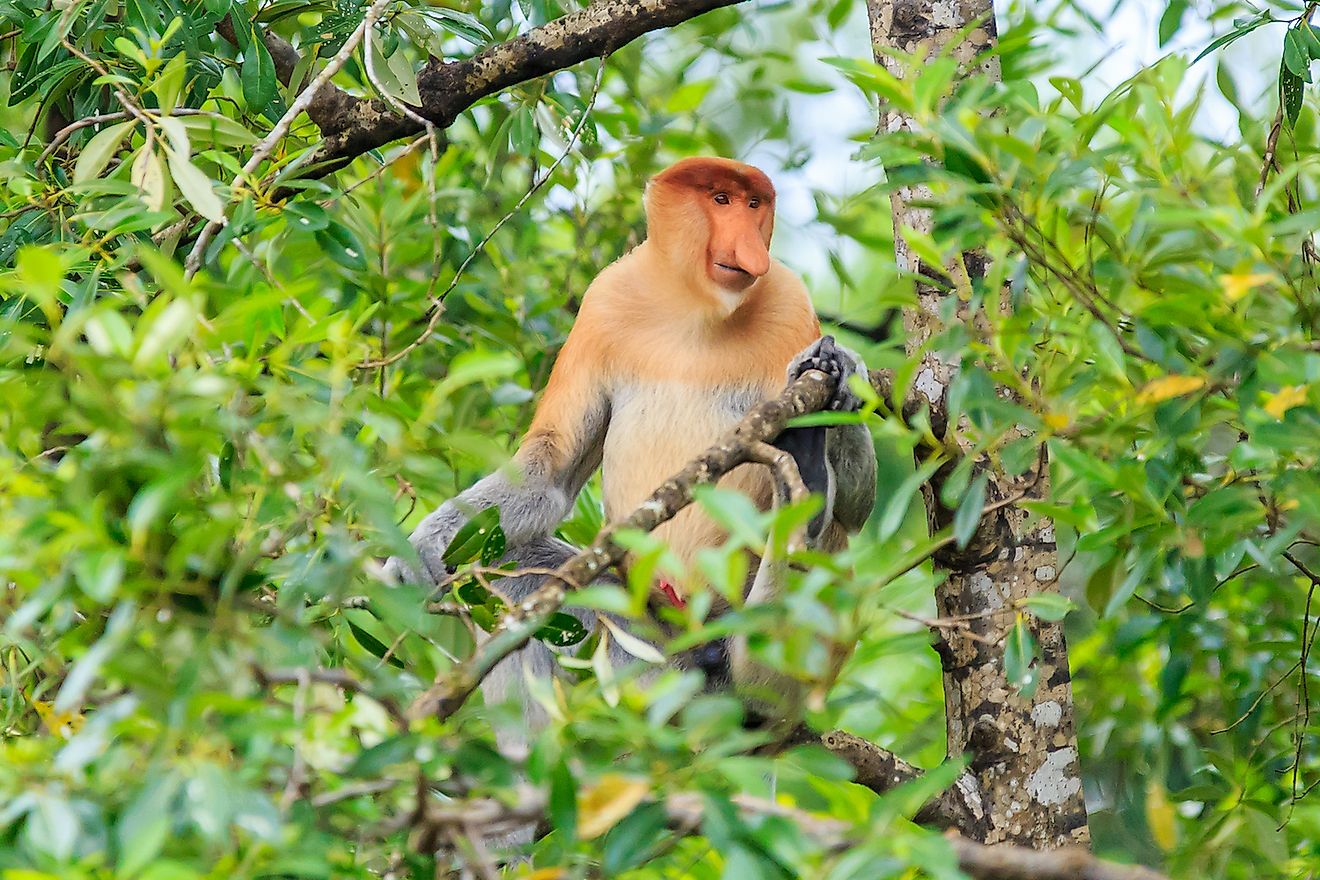 Also known as the long-nosed monkey, these primates inhabit the mangrove forests of Borneo in South East Asia. They are best known for their distinctly pendulous long noses that they use to attract mates. Many scientists believe that their large noses act as an echo chamber that allows their calls to travel farther and their sound to be louder and bolder. Only males have this bizarre appendage. Aside from their distinct noses, Proboscis monkeys also have webbed feet that allow them to swim away from predators when in the water.
9. Cuscus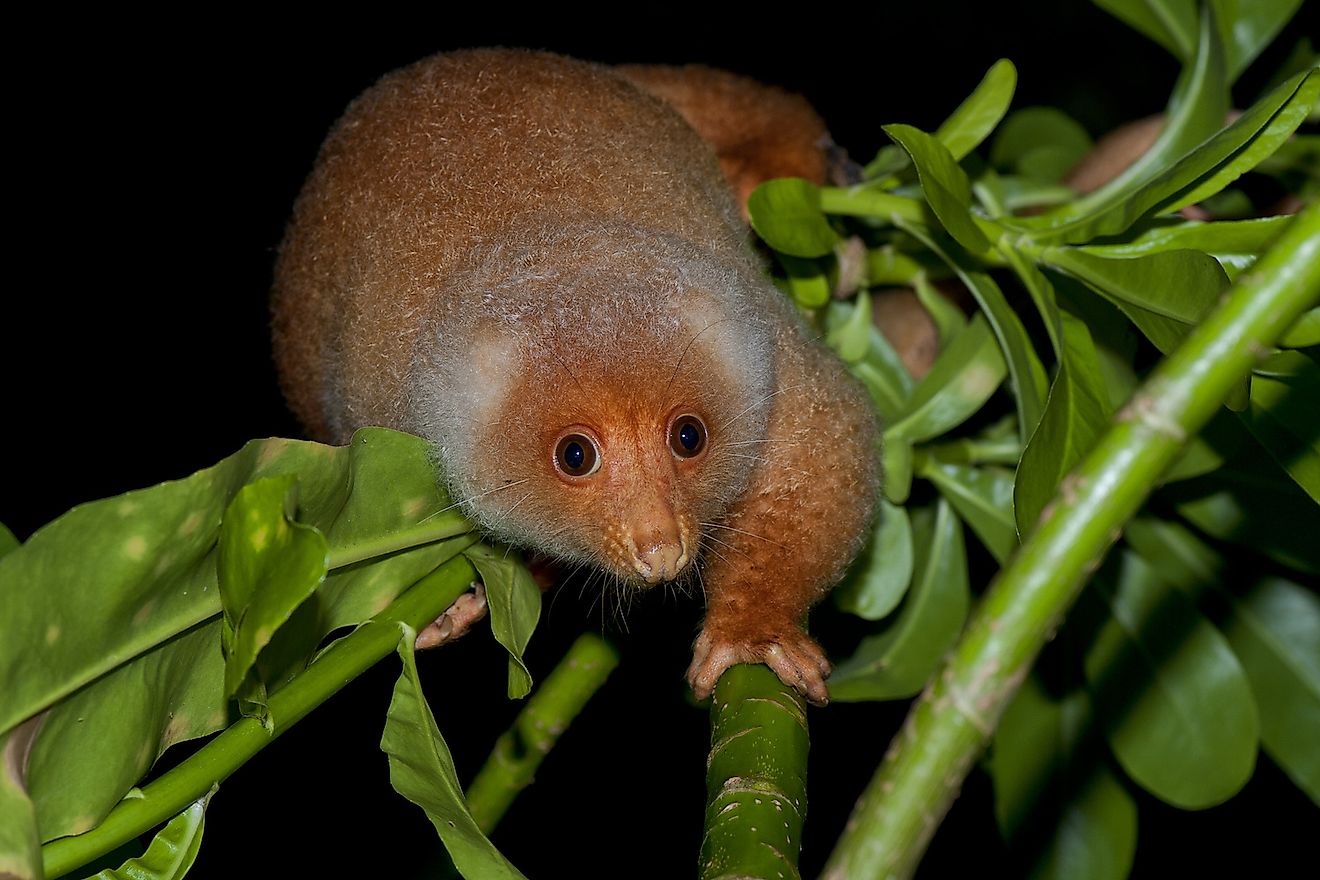 These fuzzy marsupials live in the dense canopy of the rainforests and mangroves of Papua New Guinea and Australia. They are around the size of a house cat and are protected by beautiful thick wooly fur all over. Their big round eyes can be yellow, orange, or pale blue. Their fur can be white or cream all over or a mix of these two with spots spread throughout its body. Like monkeys, they have opposable fingers and toes that help them climb trees.
8. Dugong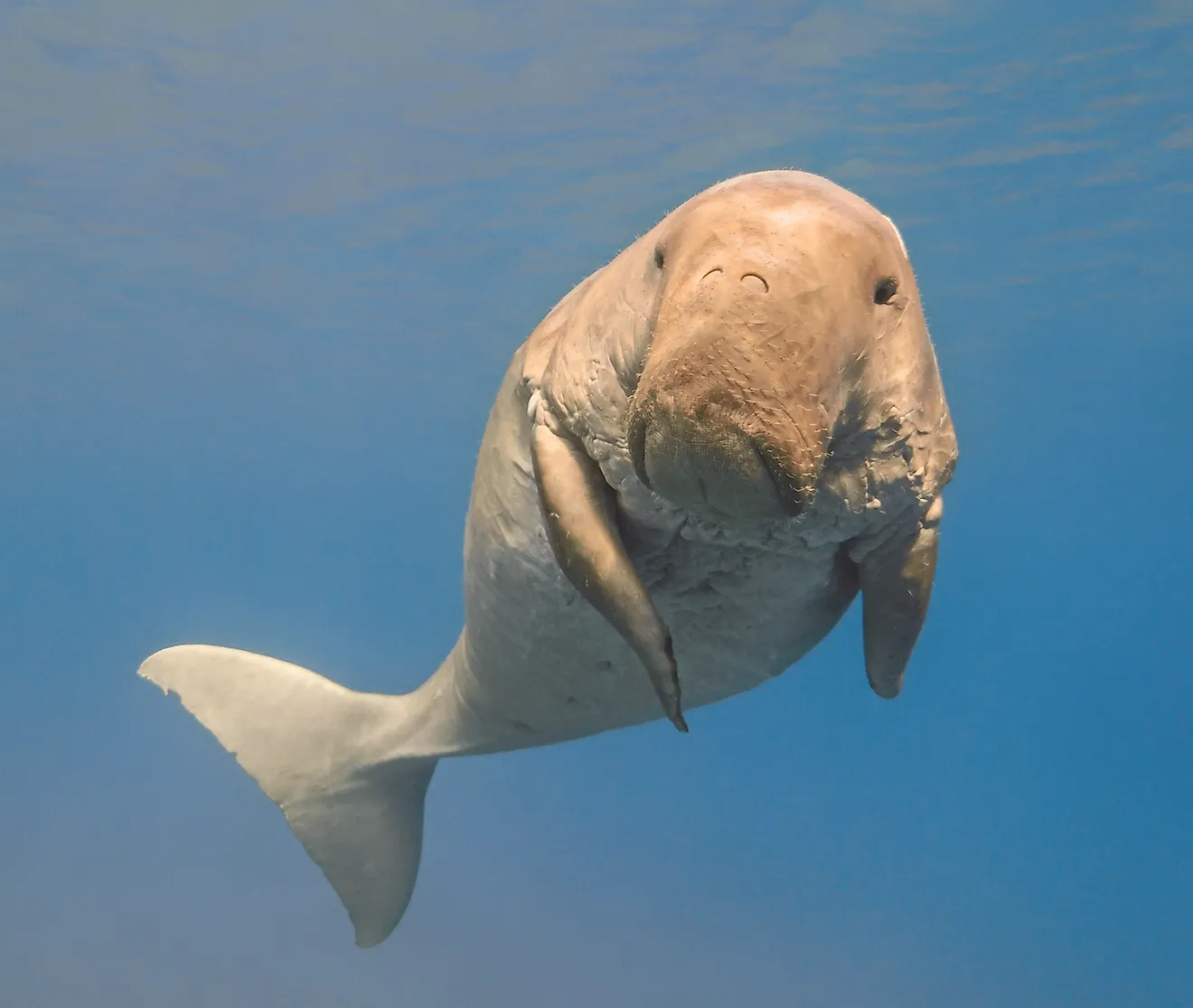 Also known as sea cows, these marine mammals spend their days grazing on the seafloor. They voraciously gobble up grass hence are also referred to as the ocean's vacuum cleaner. They are found in and around mangrove channels and shallow seas in coastal areas. Their large flexible snouts have powerful whiskers that allow them to uproot seagrass. They are shy and elusive, often avoiding humans. They are also endangered, only a few of them exist in the world.
7. Boat Billed Heron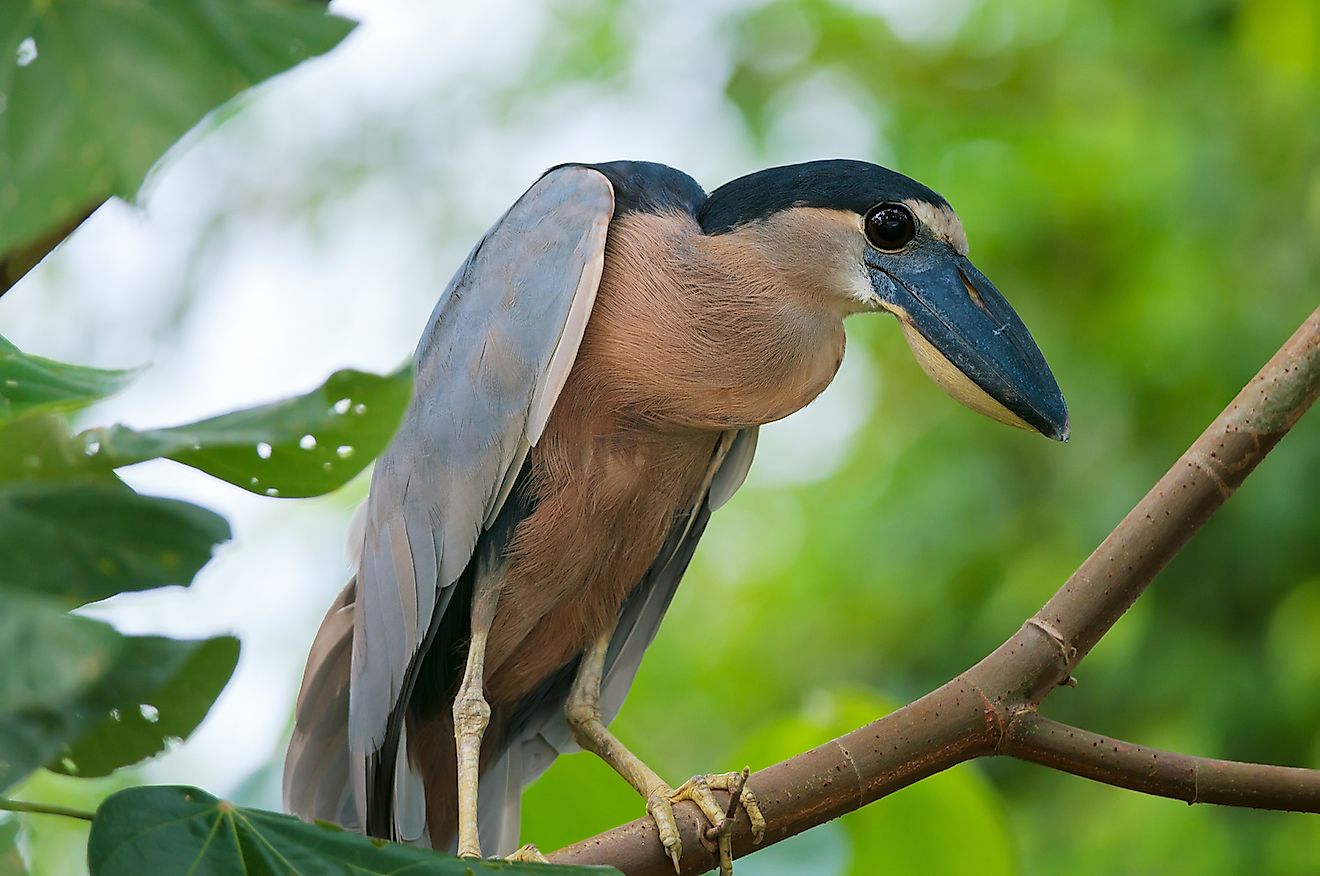 These peculiar looking bird found in many mangrove forests are known for their huge black bill that can grow to around two inches wide. Most have a beautiful long and sleek black crest that looks like hair brushed backward. They communicate through their raucous calls that can often be heard reverberating around mangrove forests. Their feathers never molt, instead, these grow continuously and eventually turn into a powder that covers its other feathers with a water-proof coat.  
6. Roseate Spoonbill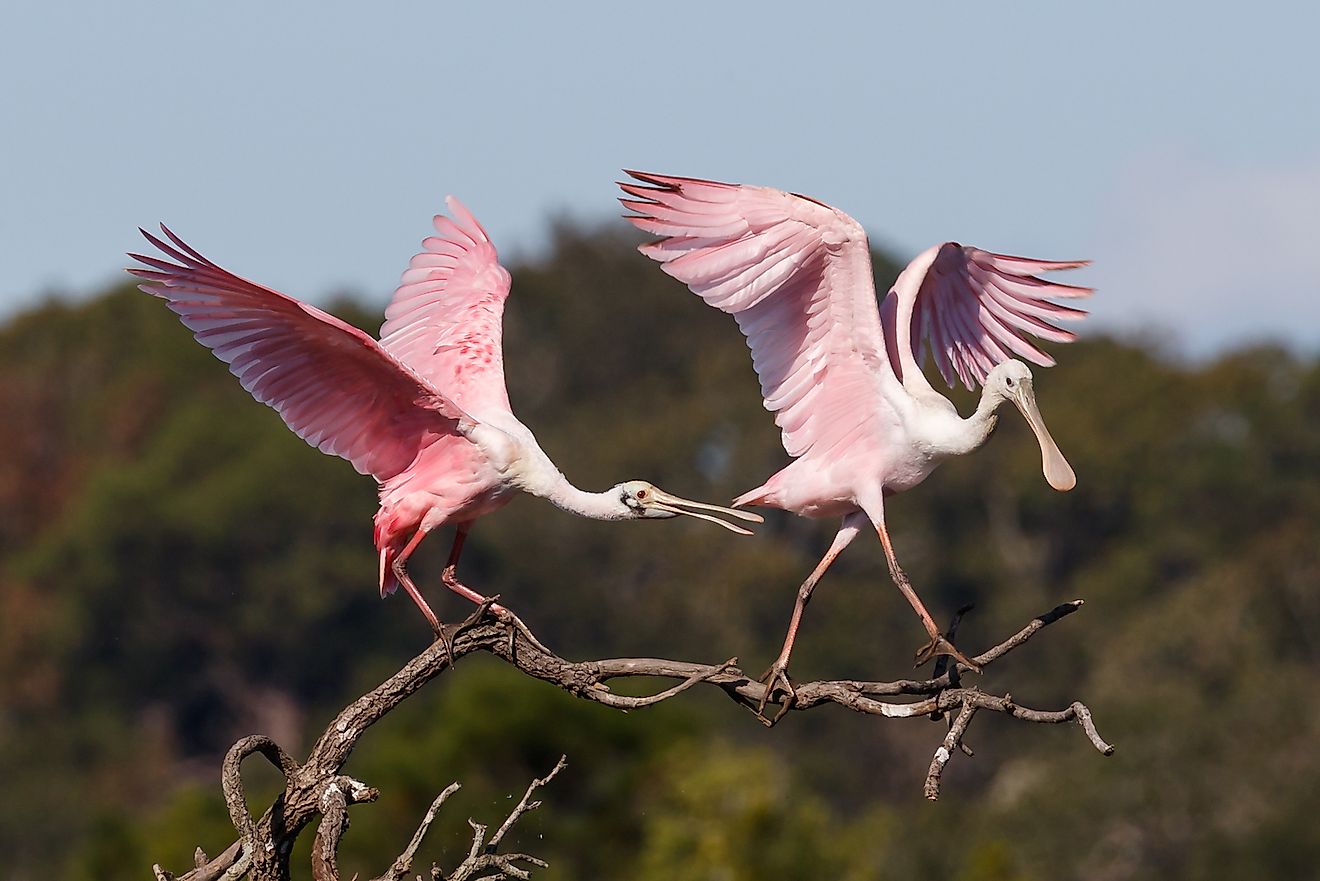 These majestic pink and white birds inhabit the mangroves of South Florida, coastal Texas and southwestern Louisiana. They have a distinct spoon-shaped bill, hence the name, and sport exquisite looking light pink pelage that looks even more stunning when they spread their wings.  They use their spoon-like bills to scoop up insects, tiny mollusks, and plants from shallow waters. Scientists believe that they get their coloring from their steady diet of crustaceans.
5. Hoatzin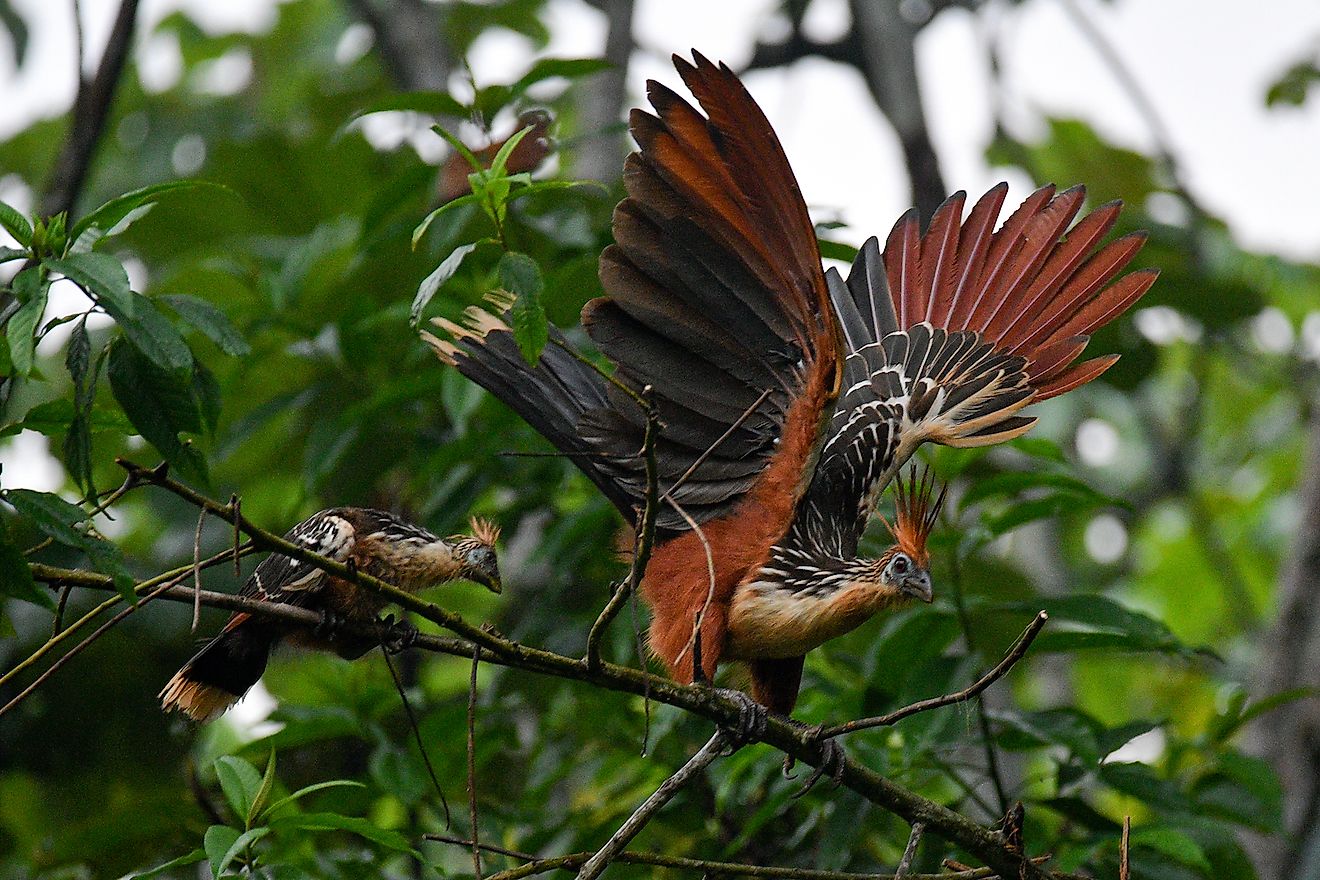 The hoatzin, found mostly in the mangroves of the Amazon, looks like a bizarre mash-up of different bird species. It has a distinct spike-like crest and a blue mask-looking feature around its eyes. From afar it looks like a rooster, but up close it looks like a cross between a turkey and a cockatoo. And their distinct features don't end there, they're called flying cows because like the four-legged herbivore, these birds have specialized rumens or foregut compartments instead of a stomach.
4. Mudskippers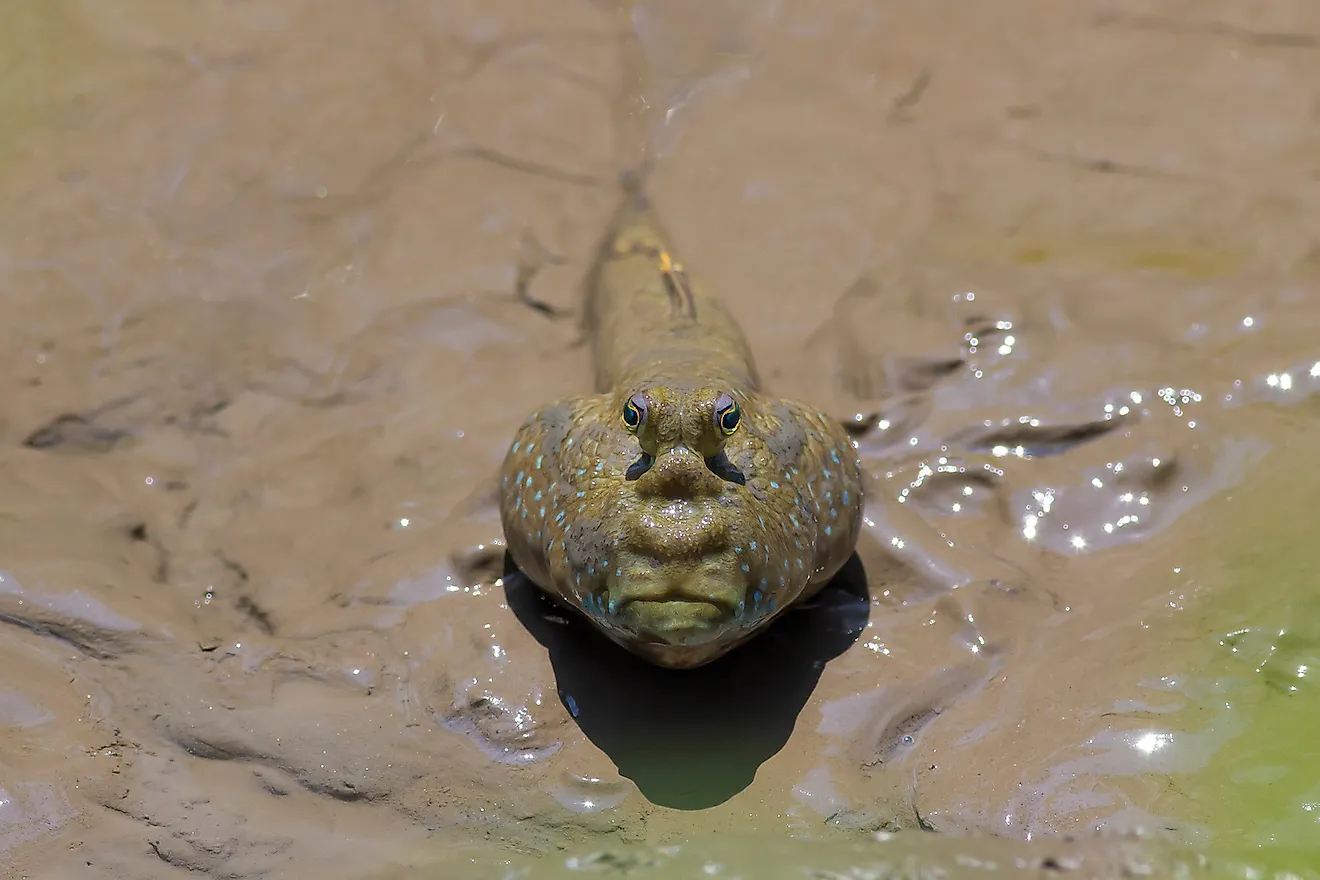 These peculiar-looking google-eyed amphibious fish look like they've been stuck between stages of evolution. But don't let their odd appearance fool you, they have many tricks up their sleeve. Aside from looking like fish that can walk out of the water they can also jump high above the mud. They do this mostly to catch a female's attention. And there's more, aside from walking and jumping they can often be seen rolling on the mud too. They do this to keep themselves from drying out under the sun. Scientists have even recently discovered a few of them climbing trees.
3. Horseshoe Crab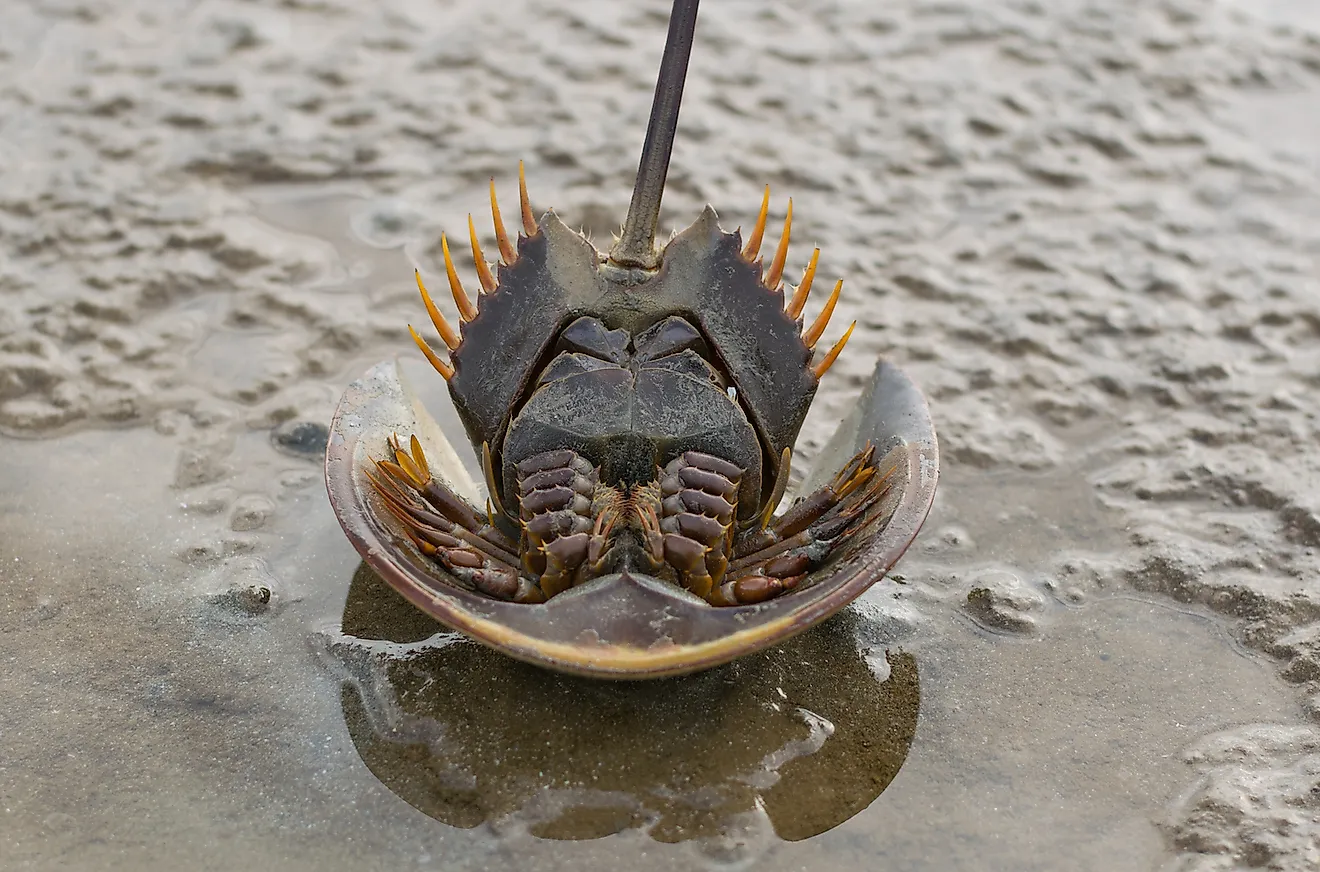 These ancient-looking anthropods have been around for more than 300 million years. They look like prehistoric crabs or some alien species hovering close to the ground. Despite their name, they are more closely related to spiders or scorpions than to crabs. They have a pair of compound eyes on top of their shells and underneath is the mouth attached to its 10 legs. Contrary to popular belief, their tails aren't used to attack. These ferocious-looking telsons are used to flip their bodies over when they are pushed on their backs.
2. Crowned Sifakas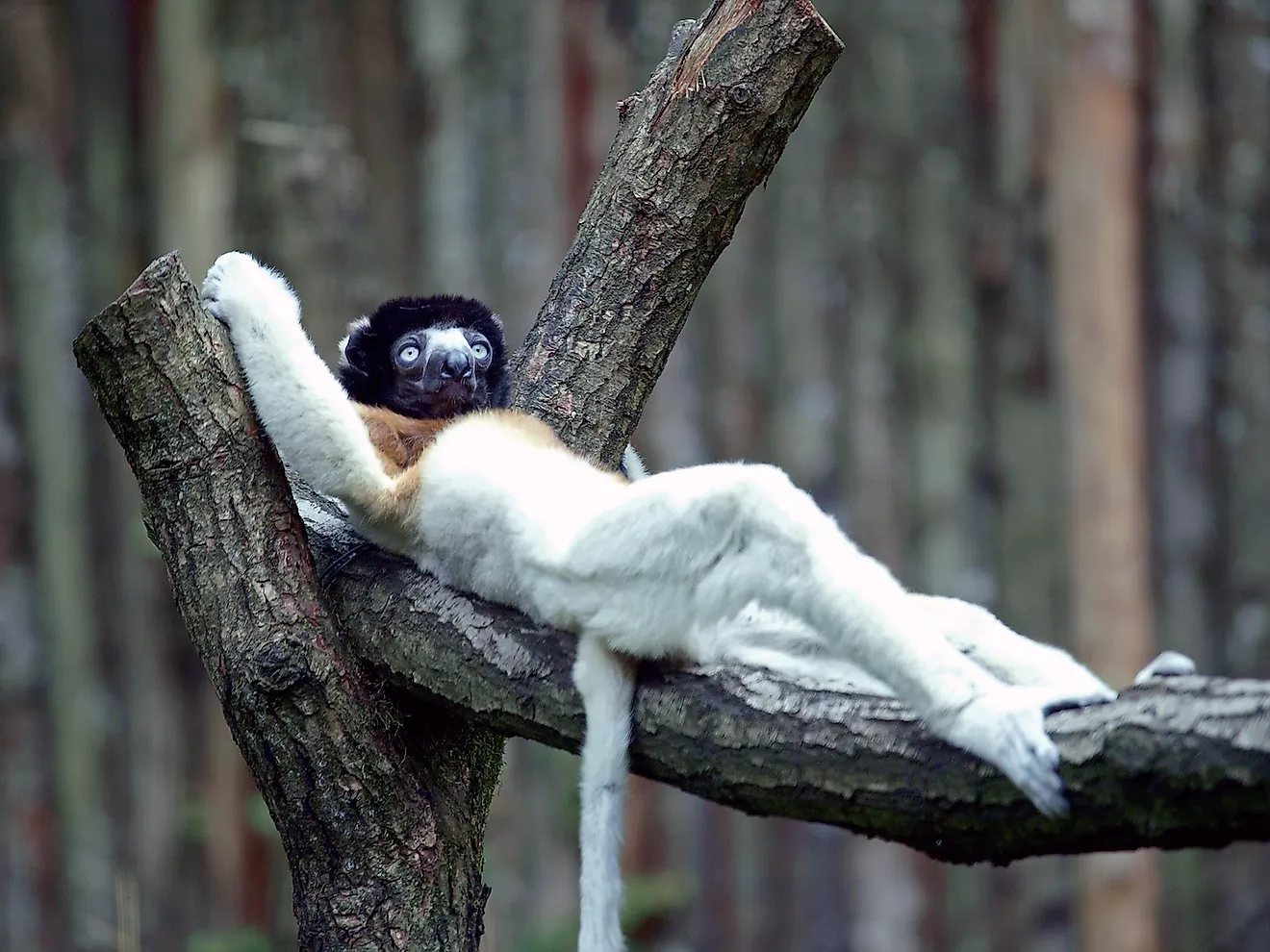 Lemurs are some of the most endangered species of animals on Earth. About 94% of its species including Sifakas are on the brink of extinction. These species of lemurs, found in the mangroves of Madagascar, have a thick fury coat that covers its entire body except its face. It has a pair of big and striking blue eyes. The body is mostly white which fades to brown in some areas. They have powerful legs that help them cling to trunks of trees.
1. Fishing Cat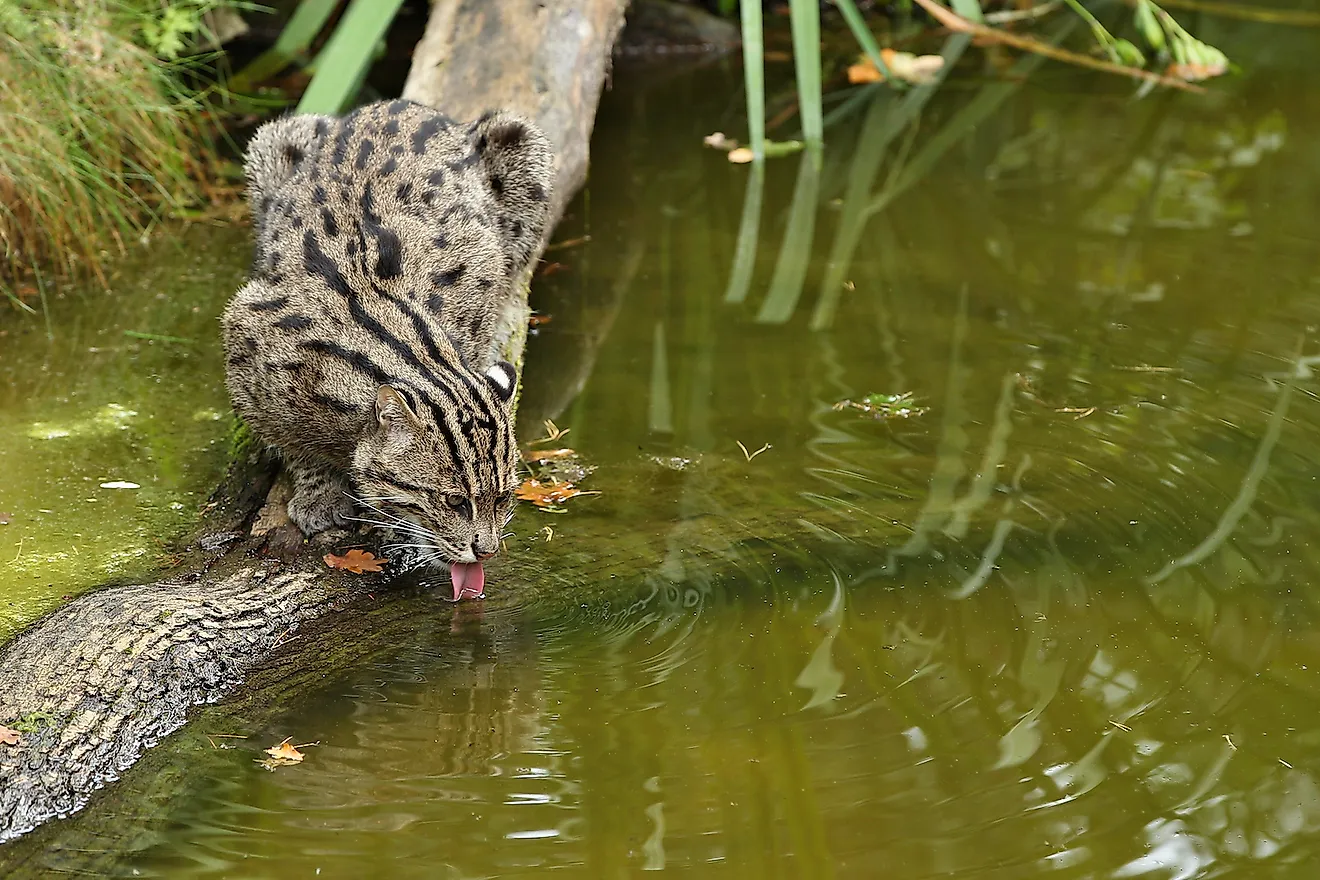 Another fascinating animal found living in mangroves of South Asia are the fishing cats. Called such for their ability to wrestle fish out of the water, they spend their days half-submerged in swamp waters hunting for their meal. They are often seen sitting quietly beside the water waiting for their next catch and unlike their domesticated relative, they are known to dive, face-first into the shallow waters when they spot prey. Their toes have partial webbing too which helps propel their bodies in the water.