Florida Landforms – Map & Description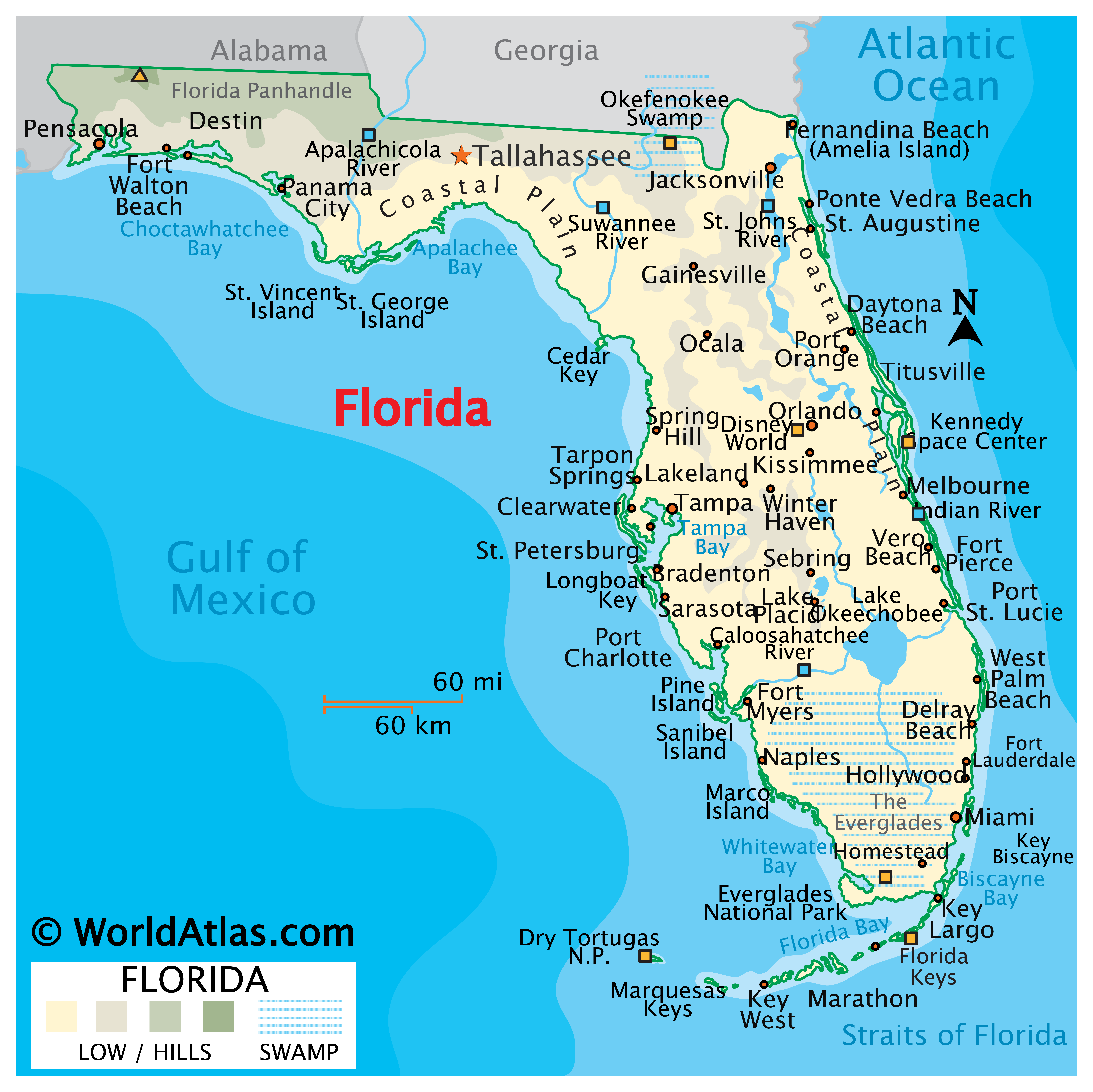 The Florida peninsula is a diverse collection of islands, marshes, springs, swamps and hundreds of small lakes, rivers and ponds.
The land is divided into four main regions; the Gulf Coast/Atlantic Ocean coastal plains, the upland (hilly area) of the north and northwest, the swampy Everglades of the far south, and the Florida Keys.
The coastal plains generally consist of flat land, fronted by barrier islands, sandy beaches, coral reefs and sandbars. The low rolling-hills of the uplands area stretch across the Florida Panhandle. Here, the state's highest point, Britton Hill, rises to 345 ft.
The swampy Everglades (averaging about 8 ft. above sea level) is the largest subtropical wilderness in the United States. This protected area is dissected by countless bays, channels and small lakes, and includes thousands of tiny islands. It is officially designated as an International Biosphere Reserve, World Heritage Site, and a Wetland of International Significance.
The Florida Keys is an archipelago of about 1,700 islands, extending southwest from the southeastern tip of the Florida peninsula, on to the uninhabited Dry Tortugas in the Gulf of Mexico.
Its largest inland body of water is Lake Okeechobee, a very shallow (only 20 foot deep) lake that drains into the Florida Everglades. Significant rivers include the Apalachicola, Caloosahatchee, Indian, Kissimmee, St. Johns and Suwannee.
Note that the St Johns (a north flowing river) moves so slowly that is spreads out quite wide along much of its route.
For a look at the mostly flat topography of Florida