Holland Lake is a beautiful 413.5-acre lake situated in Missoula County in the US State of Montana. The lake has been named after its first settler, B.B.Holland. The lake offers a lovely day-use area and a sizable campground and acts as a key trailhead for access into the Bob Marshall Wilderness Area. It also provides outstanding fly fishing in a beautiful natural setting surrounded by the stunning Swan Range. Particularly during summer weekends, recreational boating and waterskiing are pretty popular on the lake. Holland Lake is an ideal location for spending a tranquil day because it is still less crowded than other neighboring lakes.
Geography Of Holland Lake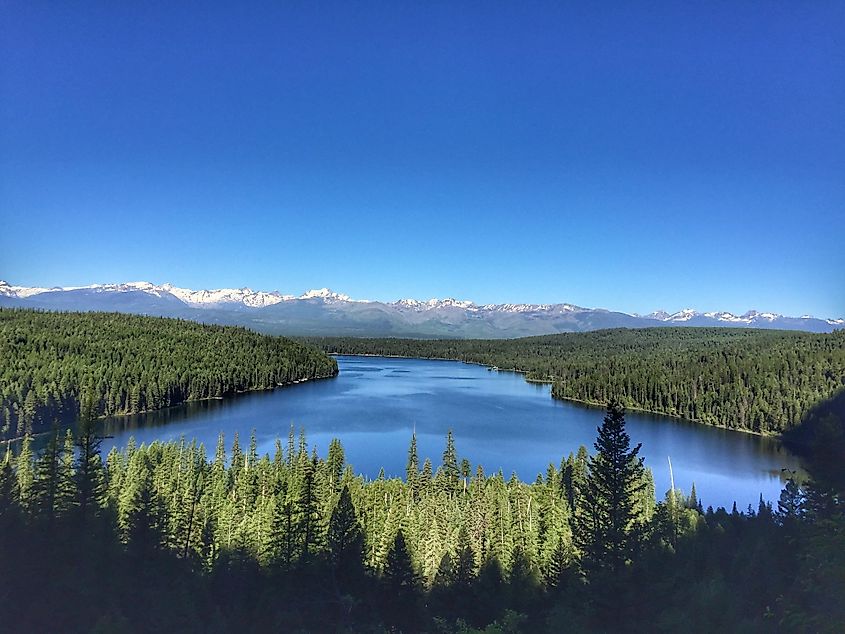 Holland Lake is a 413.5-acre lake located in Montana's Missoula County. Holland Lake is placed in the Seely-Swan Valley on Montana Highway 83, south of Condon, Montana. It sits at the foothills of the Swan Range, a stunning section of the Kootenay Mountains that border the Mission Mountains, and provides a stunning background for Holland Lake. Holland Lake has a length of 2.82 km and a maximum width of 760m. On average, Holland Lake is 18m deep and reaches a maximum depth of 48m. The lake is 32km north of Seeley Lake and is a part of the Flathead National Forest. Holland Falls is visible along one of Montana's top hiking paths, which passes by the lake's edge.
Fishing In Holland Lake
Fishes such as rainbow trout, whitefish, and cutthroat trout are found in Holland Lake. Additionally, the lake contains a significant amount of bull trout, kokanee salmon, yellow perch, longnose sucker, and largescale sucker. Kokanee and west slope cutthroat trout are routinely stocked into the lake by the Montana FWP. The laws governing fishing in Montana are subjected to change yearly, so one must check the current rules and restrictions before going fishing at Holland Lake. Local laws determine when you may fish, the largest fish you can catch, how many fish you can keep, and more.
Recreational Activities In Holland Lake
Boating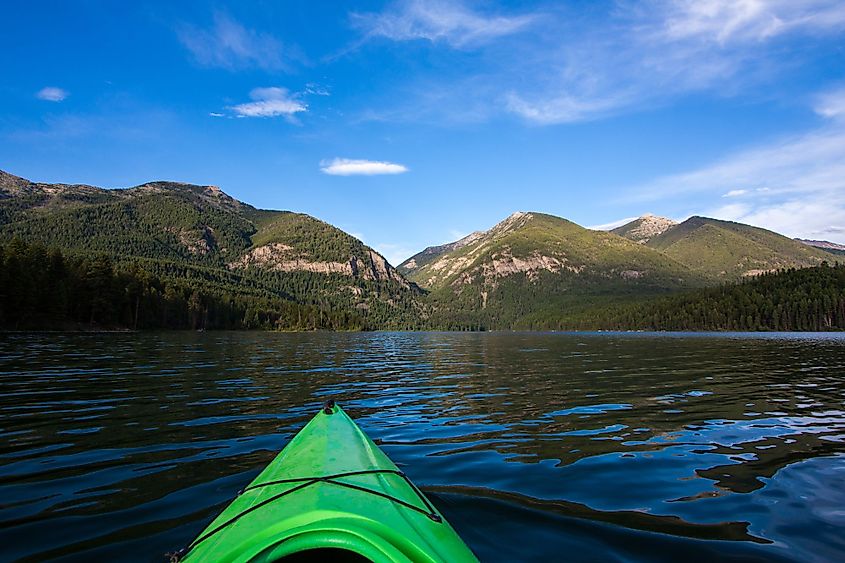 The Holland Lake Campground is close to the access point to Holland Lake, where one may launch a boat. From dawn till dusk, one can visit the remote boat launch location. One must use the neighboring Seeley Lakeboat Rental, Invert Sports, and Heritage Outdoors companies to rent a canoe, speedboat, kayak, and pontoon boat for boating at Holland Lake.
Swimming
Holland Lake is a fantastic place for swimming, whether you're a day-tripper or staying overnight at the campsites. Splashing around in the water is extraordinary because the lake gives stunning views of the Swan Range. 
Camping
The Holland Lake Campground offers 41 tent or RV campsites right near the lake. Some locations are first-come, first-served, while others may be reserved. The campsites have parking areas, campfire rings with grills, and tables, and those locations are all close to the common restrooms. Although there is a dump station approximately a quarter of a mile from the campground, it should be noted that there are no sewer or electrical hookups.
Hiking
Close to Holland Lake is the popular Holland Falls National Recreation Trail. The route begins right at the end of the parking lot. From here, one must continue straight for 500 ft to a trail intersection and follow the signs for Trail #416. This 1.6-mile track gains 750 ft in elevation. It proceeds along Holland Lake's shoreline and gradually ascends to the base of the falls.