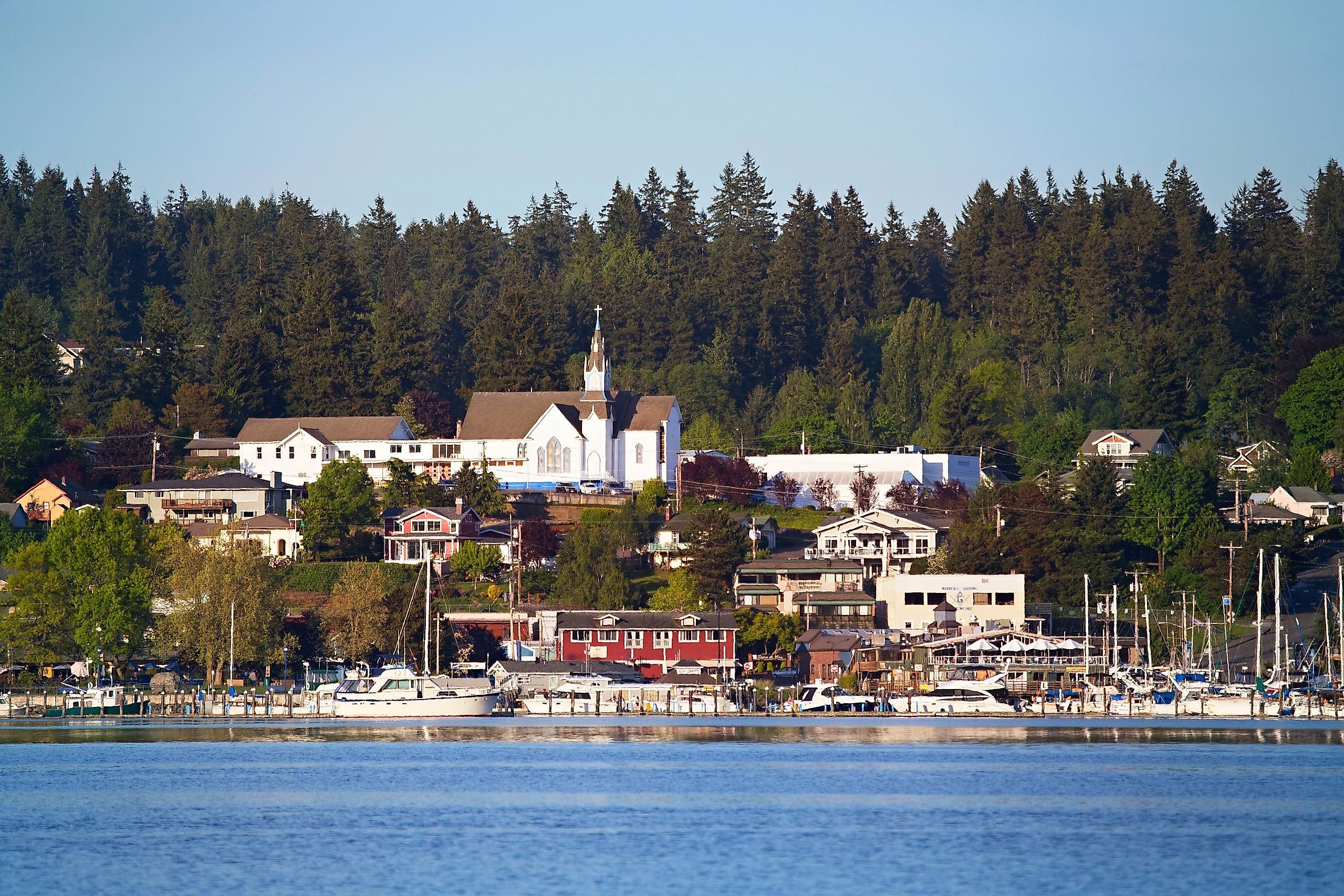 9 Best Small Towns in Washington For A Weekend Escape
Perhaps due to its close location to popular travel destinations like California and Oregon, many overlook Washington State as a place to go for leisure time. Though it's underrated by many as a tourist destination, there are plenty of towns and cities in Washington that have as much to offer as their counterparts to the south, and those that discover these places tend to go back time and again. From sandy, dog-friendly beaches to snow-capped mountains, and tiny railroad towns to sprawling cities along the scenic Columbia River, here are some of the best towns in Washington to spend a few days. 
Cle Elum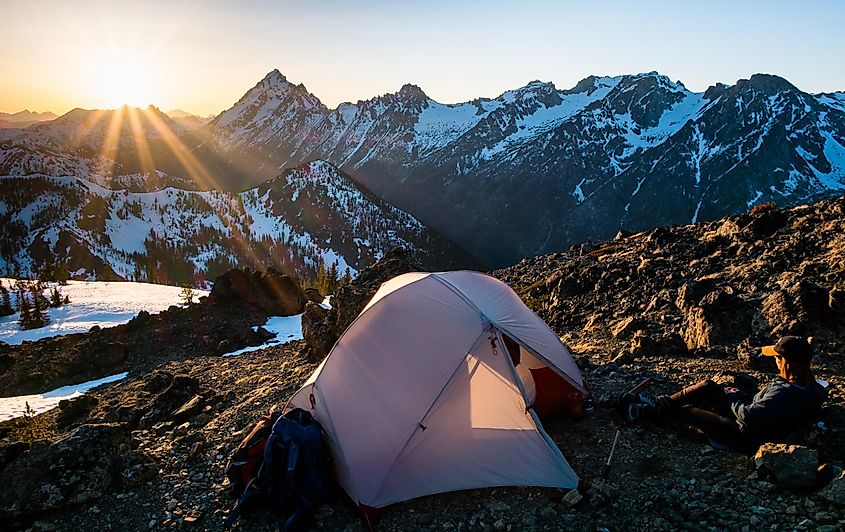 On the banks of the glacial Cle Elum River is a town also called Cle Elum, which comes from the Kittitas word for "swift water". The rapidly-flowing water is a major draw to the area for whitewater rafting and boating, but there are also areas where it forms calm pools perfect for swimming and fishing. Other outdoor activities abound, such as sightseeing, touring, walking, or biking along the former railway bed now called the Coal Mines Trail. Also popular is hiking the Swauk Forest Discovery Trail, renting an ATV or snowmobile, and horseback riding.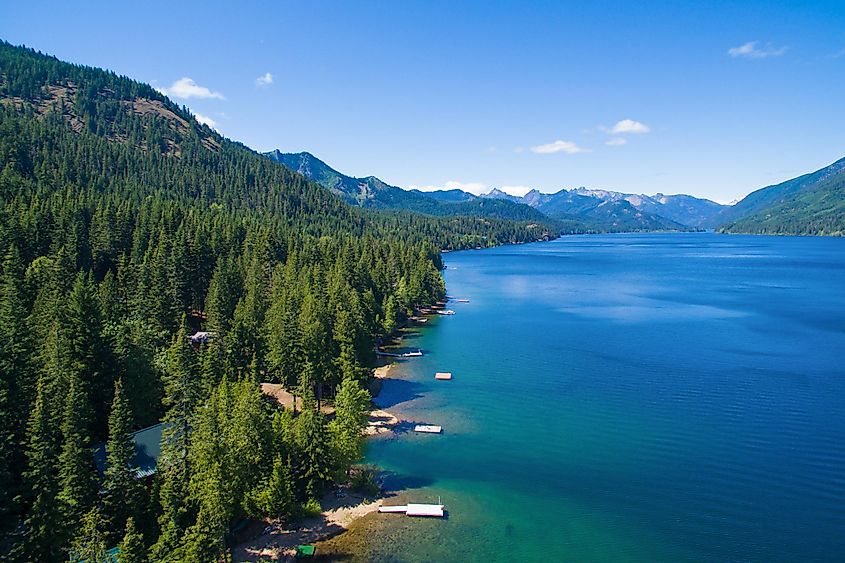 During rainy days or cooler weather, visitors explore the shopping and restaurants in town, which feature the Cascade Mountains as a backdrop. Many people stop at the European-inspired Swiftwater Cellars Winery, built where locals have long made wines from wild huckleberries and blackberries. The town has also beautifully preserved the history of the area with the quirky Telephone Museum, as well as showcasing local art and architecture at the Carpenter House Museum. 
Coupeville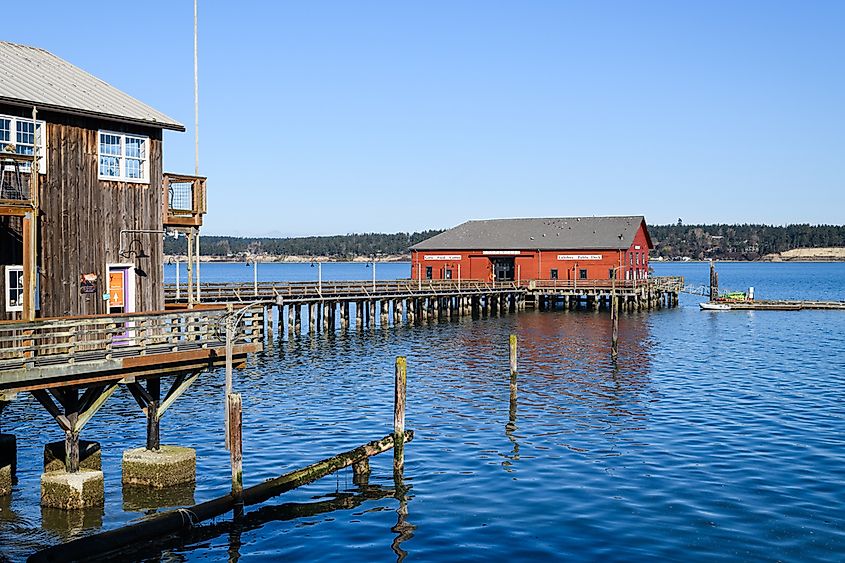 Dating back to the 1850s, Coupeville is one of the oldest towns in the state. Many of the buildings still date to that time, as they have been maintained by Ebey's Landing National Historical Reserve. These old buildings now house boutiques, bakeries, art galleries, and restaurants offering local food wines. Often featured in pictures of the town are the old wharf and its red clapboard building, which is now a gift shop and restaurant. The wharf also hosts interactive exhibits and skeletons of local marine mammals.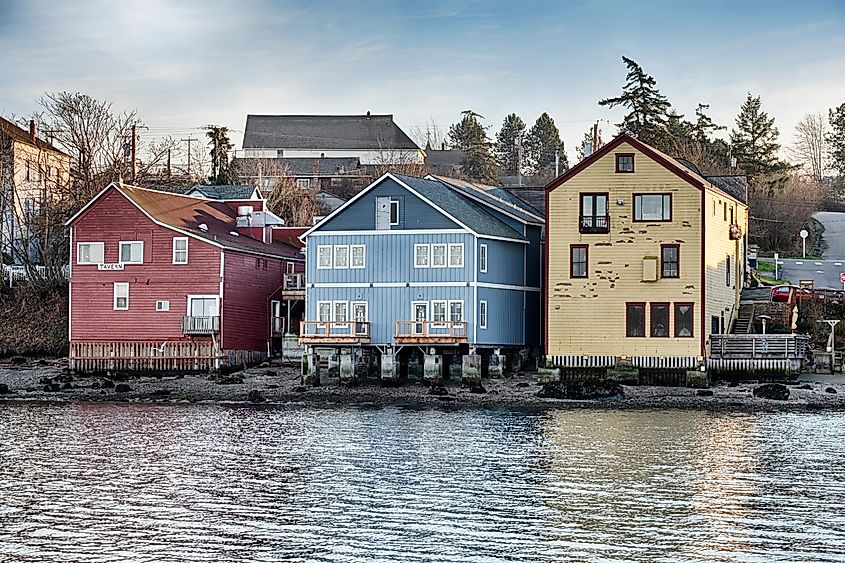 A short drive away is Fort Casey Historical State Park, which was a strategic defense position for protecting the entrance to Puget Sound. The unobstructed views are still home to the cliff-side gun batteries and the Admiralty Head Lighthouse, built in 1903 on the site of a previous one from 1861. A little further out of town is Double Bluff State Park, famous for its gorgeous views and dog-friendly sandy beach.
Elbe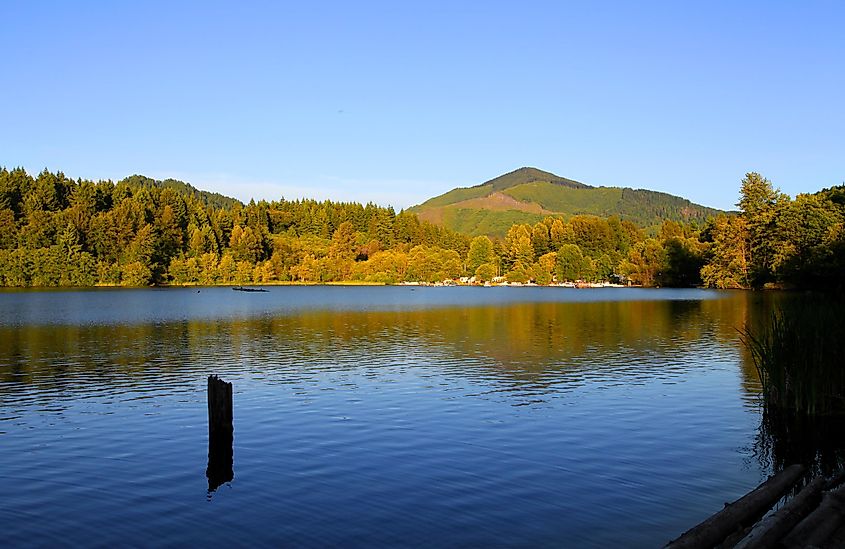 On the quirkier side of choices for a destination is the tiny town of Elbe. It has fewer than 50 residents but offers experiences found nowhere else. With a strong history as a railroad town, Elbe has fully embraced that past and boasts truly original accommodations using old railway cars. The rooms at the Hobo Inn, for example, are each in a converted train caboose. It is made up of one of the largest collections of cabooses in North America, brought in from all over the world. And it includes all the comforts one would expect: heat/AC units, refrigerators, hairdryers, coffee makers, and alarm clocks. Even a jacuzzi tub!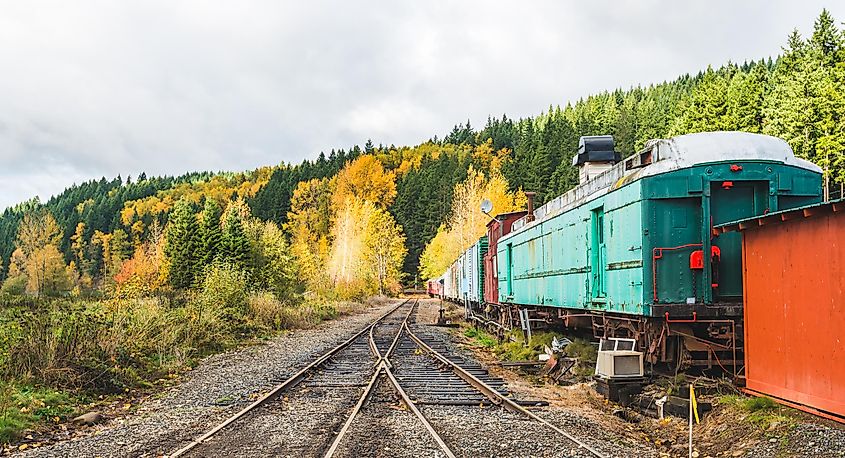 Nearby is the Mount Rainier Railroad Dining Company which serves great food out of a spruced-up brightly-painted old railroad car. Lastly is the popular Pizza Express, which is also in a 1910 train car with a fresh coat of green paint. For those ready for adventures out of town, Elbe happens to be just over 10 miles from Mount Rainier National Park, and many visitors head for the fishing at Alder Lake.
Maryhill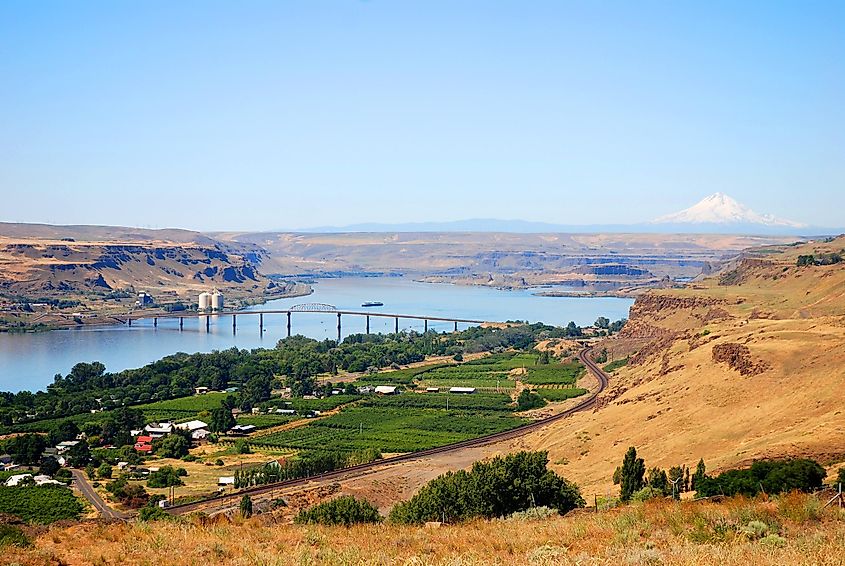 Maryhill is a lovely town but stands out because it contains a full-size replica of the ancient Stonehenge monument in England. Sitting high on a hill to take advantage of 360-degree views, it took 11 years to complete and was built as a memorial for the locals who died fighting in WWI. 
Perhaps not as massive, but still impressive, is the 4,000-seat outdoor concert amphitheater at Maryhill Winery. Inside is a 20-foot bar and an array of carefully prepared artisan foods.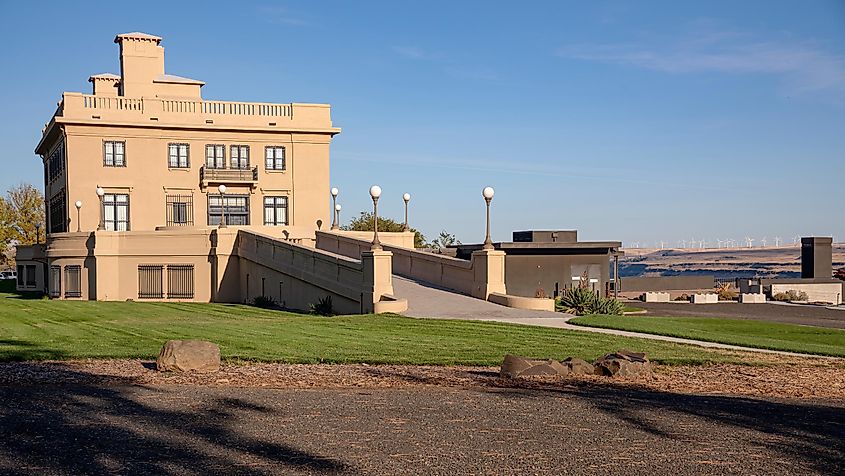 For a completely different experience from wine and monuments is the Maryhill Loops Road. Once the site of the internationally-celebrated Festival of Speed, a large gravity sports festival, it has long been considered one of the best places in the world for skateboarding. Including its hairpin turns, it features a total of 25 curves in all. It is open to cars just twice a year. Otherwise, only non-motorized traffic is allowed. 
Port Angeles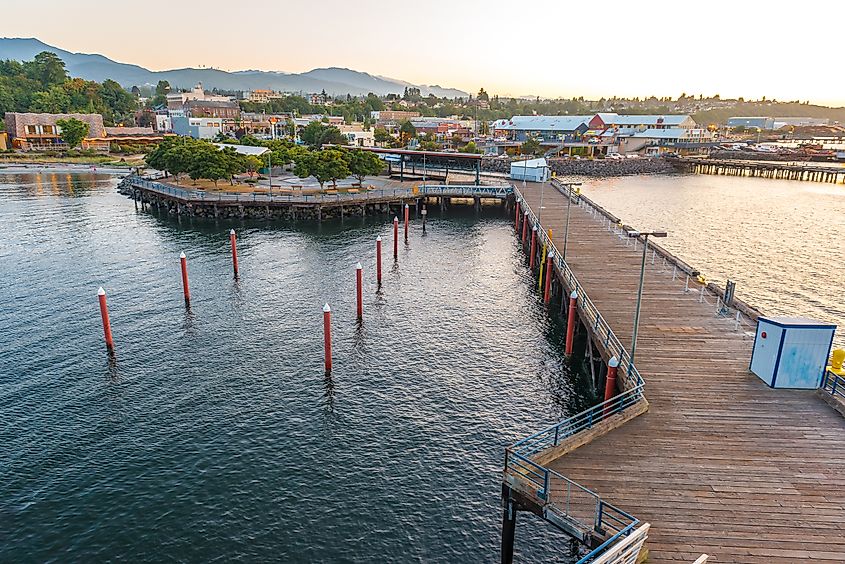 Visitors looking for laid-back community should try Port Angeles. With 20,000 residents it has a larger population than others on this list, but it still maintains a small-town feel. It sits directly across the Salish Sea from Vancouver Island, Canada, and most of its attractions make use of its stunning natural setting. It is one of the major stops on the Olympic Discovery Trail, which crosses the Olympic Peninsula on the north side of Washington State.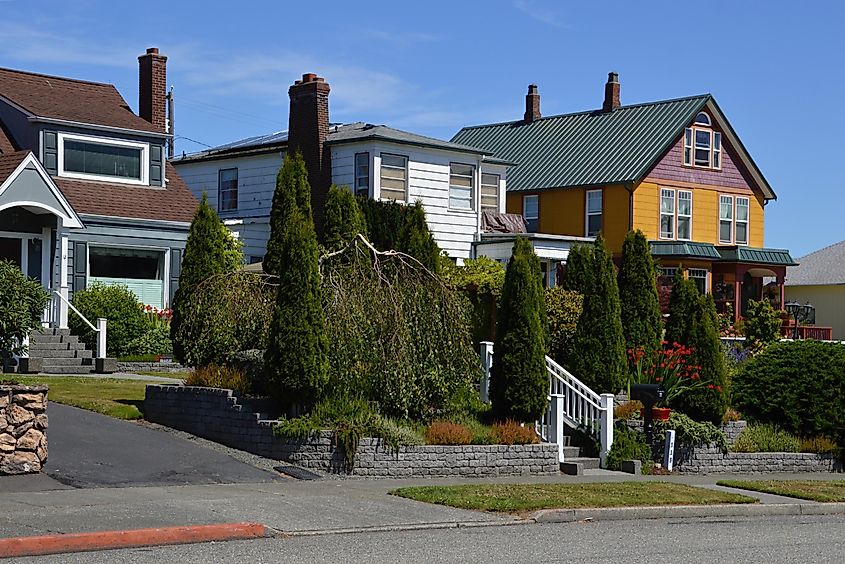 Due to its size and amenities, Port Angeles also serves as a popular base year-round for explorers of the Olympic National Park. The park covers almost a million acres of diverse ecosystems at vastly different elevations. Its many natural phenomena include mountains, ancient rainforests, and an untouched coastline. 
Poulsbo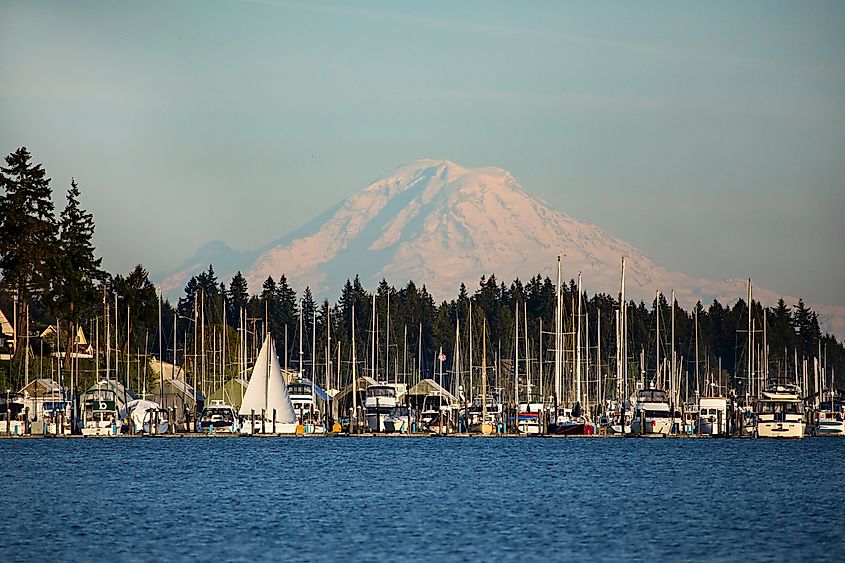 The town of Poulsbo is known as the "Viking Town'' and lives up to its name. Not only was it founded by a Norwegian immigrant named Jørgen Eliason, but as word got out of how similar it was to their home, it attracted waves of Scandinavian settlers as time passed. For a taste of Norwegian culture visitors head for the 12-foot-tall Viking statue. They also make sure to sample the famous Poulsbo Bread and the craft beer at Valhöll Brewing. For even more on the history of the town and the people that shaped it, the Poulsbo Historical Society maintains three popular museums. Another top draw is the SEA Discovery Center and its interactive exhibits on local marine life.
Seabrook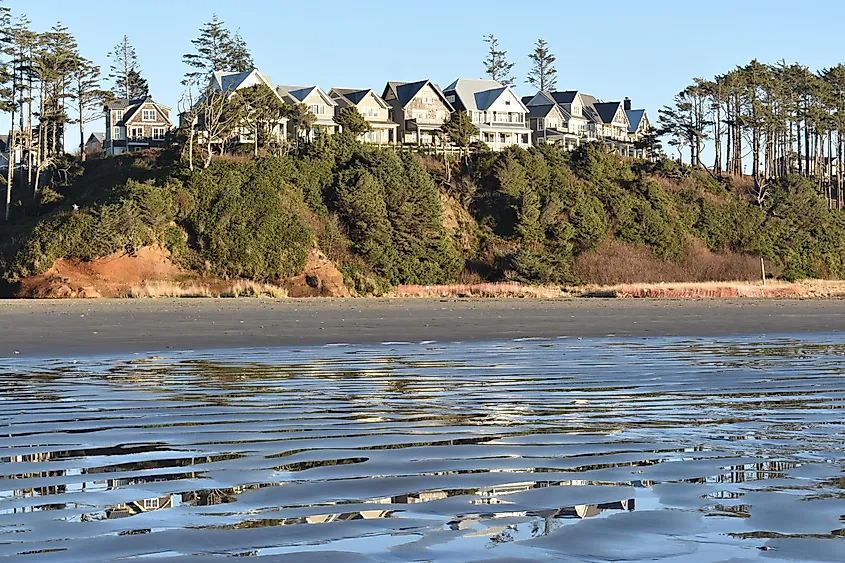 A two-hour drive from Seattle is the town of Seabrook. Though there are many places to stay, the town's vacation cottages are especially popular.  Modeled after Seaside, Florida, where the Jim Carrey movie "The Truman Show" was filmed, it is set up as a series of town squares surrounded by homes. With everything from bookshops to spas a short distance away, visitors and residents travel mainly by foot or bike rather than a car. Oyster shell paths lead around town and to the large stretches of dog-friendly beaches. This emphasis on sustainability is woven into every part of the planning process for the town's development,
Local businesses encourage visitors to try surfing, razor clam digging, or hiring adventure guides. The Farm District is popular with families and features orchards, horses, and a playground with a zipline.
Stehekin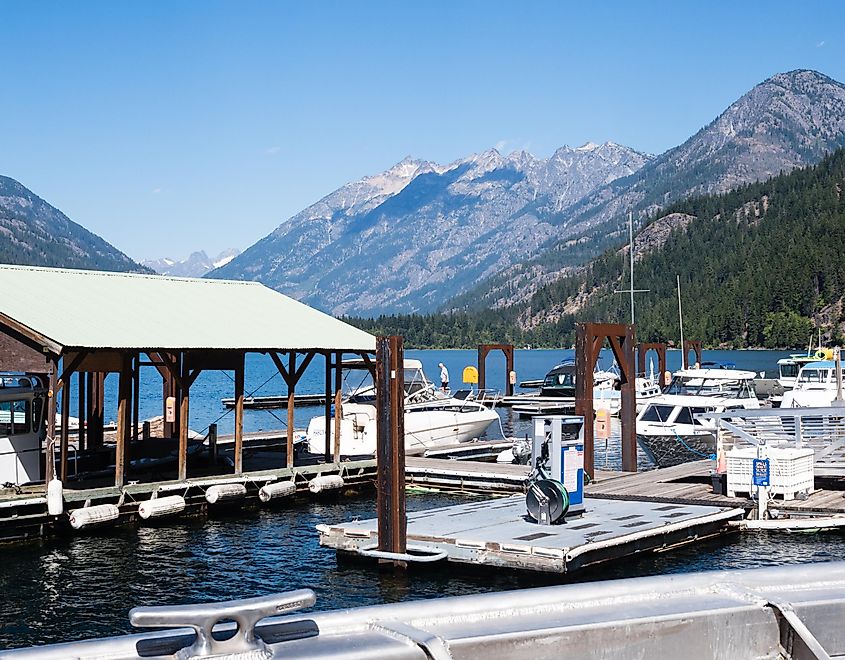 Those who want to take a break from the modern world head to the tiny community of Stehekin, which is not accessible by car. To keep it pristine, no roads lead to the town at all. The most popular way to get there is by boat which, depending on preference, can take between 1.5 to four hours. A quicker option is the one-hour flight. Those with more than a weekend can choose to go on foot with a group of other nature lovers, either hiking or on horseback.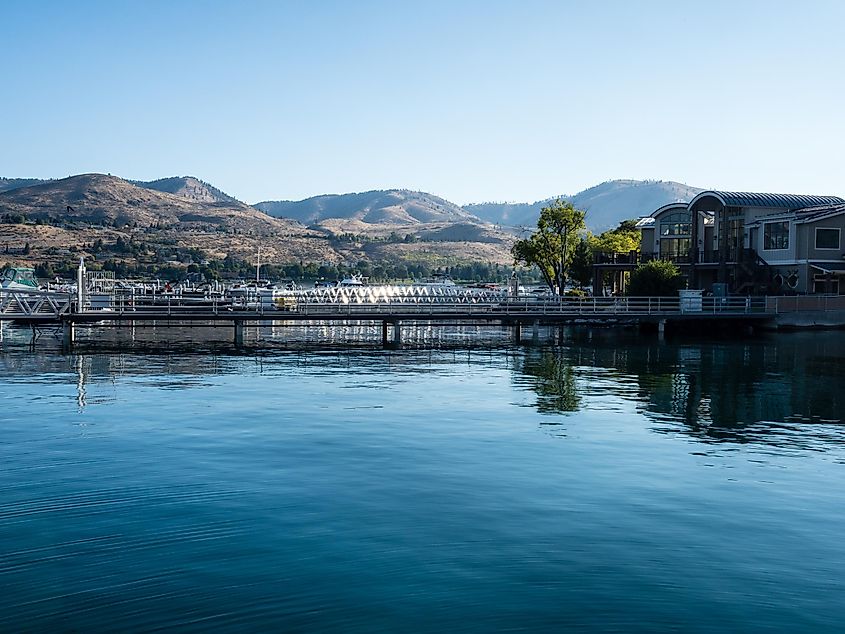 There are fewer than 80 permanent residents, so other than this tight-knit community the area is virtually untouched. Ways to explore the wilderness include biking, hiking, kayaking, and more. The biggest draw for many is the Rainbow Falls which is a total of 119.5 meters tall. For the feel of a different life visitors is welcomed to the historic Buckner Orchard and Homestead which maintains over 300 apple trees. 
Westport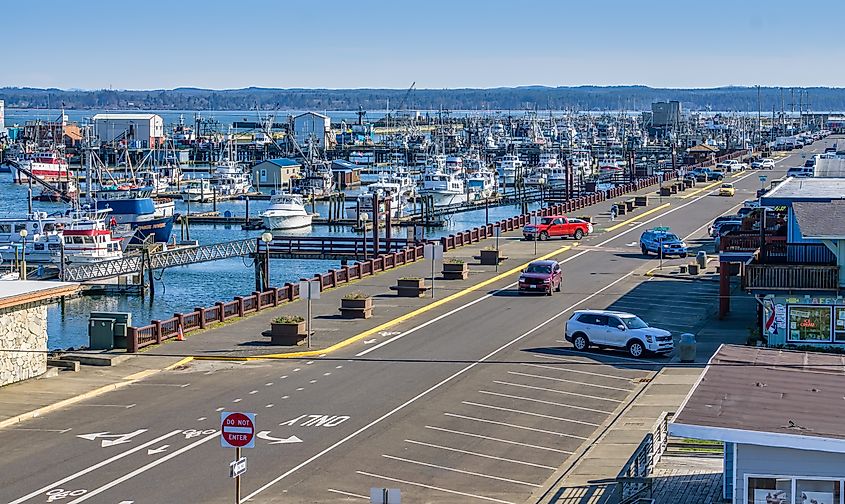 As a coastal state, Washington has its share of picturesque lighthouses, but the tallest is found in the town of Westport. At 107 feet tall, the Grays Harbor Lighthouse now houses an information center and offers guided tours. And it's not the only lighthouse on this stretch of coast. Westport sits on the tip of a peninsula, so the coastal area is vast. It includes approximately 18 miles of beaches. Of course, fishing is popular here, and local restaurants serve dishes with fresh local catches. Westport is also known for its world-class surfing, with enthusiasts coming from all over to experience it. A unique experience is to join in on digging for razor clams. Local businesses in town will provide everything needed and guidance on harvesting some of these incredibly sought-after delicacies.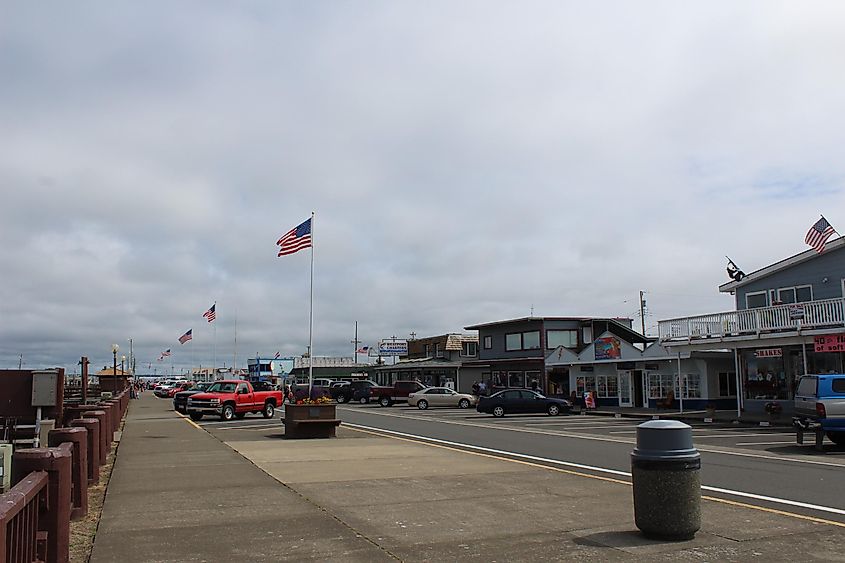 Despite being overlooked by many travelers, the towns and cities in Washington State are so diverse that they cater to almost every taste. Outdoor enthusiasts and adventures will never run out of places to explore. And even the smallest towns offer creature comforts for those not interested in more rugged vacations. What they all have in common is an emphasis on celebrating the incredible natural surroundings they sit within, whether that's an ocean coastline, rolling hill, craggy mountain, or old-growth forest.