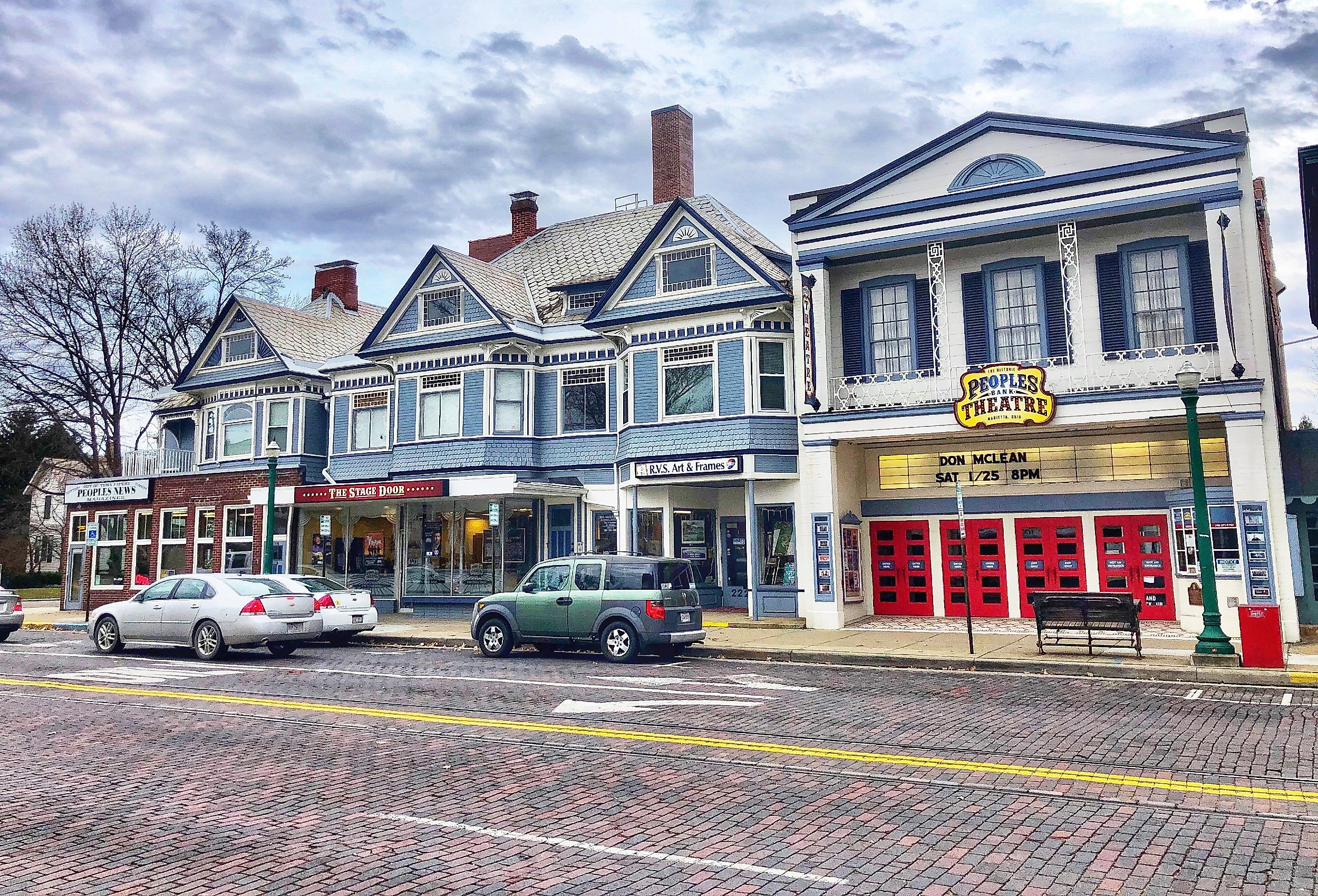 14 Prettiest Towns In Ohio
When planning to visit the Buckeye State, you may think of visiting the big cities like Columbus, Cleveland, Cincinnati, and Dayton, but Ohio, the 34th-largest and 7th-most populous Midwestern US State, houses numerous adorable small towns that are some of the most favored tourist destinations in the country. Encircled by rolling hilly terrains, lush forests, and pristine water bodies, these pretty towns attract hordes of tourists with their beautiful main streets, magnificent outdoors, historic architecture, quaint boutiques, art galleries, entertainment venues, local eateries, and vibrant celebrations.
Yellow Springs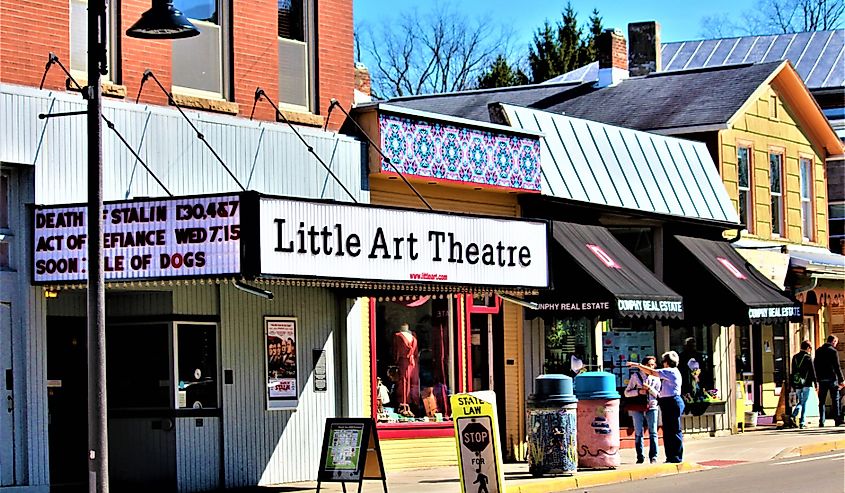 Named after an adjacent natural spring whose waters have high iron content and believed to have healing properties, Yellow Springs is a small village located in southwestern Ohio's Greene County, approximately 25 miles east-northeast of Dayton. Home to just 3,697 inhabitants, Yellow Springs, is a place where art and nature meet, offering a fascinating experience for those visiting this tiny hamlet. The town's colorful downtown is lined by eclectic art galleries, specialty stores, cozy cafes, and the historic Little Art Theatre, all of which attract many tourists besides Antioch College students.
The Yellow Springs Street Fair, a biannual one-day festival, exhibits various locally-made items, music, and delicious food. Close to Yellow Springs is the 1,000-acre Glen Helen Nature Preserve, where hikers can explore over 20 miles of publicly accessible trails, lush old-growth forests, and stunning waterfalls. The adjoining John Bryan State Park, which surrounds the Clifton Gorge, offers hiking and biking trails, camping facilities, besides fishing and canoeing activities along the Little Miami River.
Put-in-Bay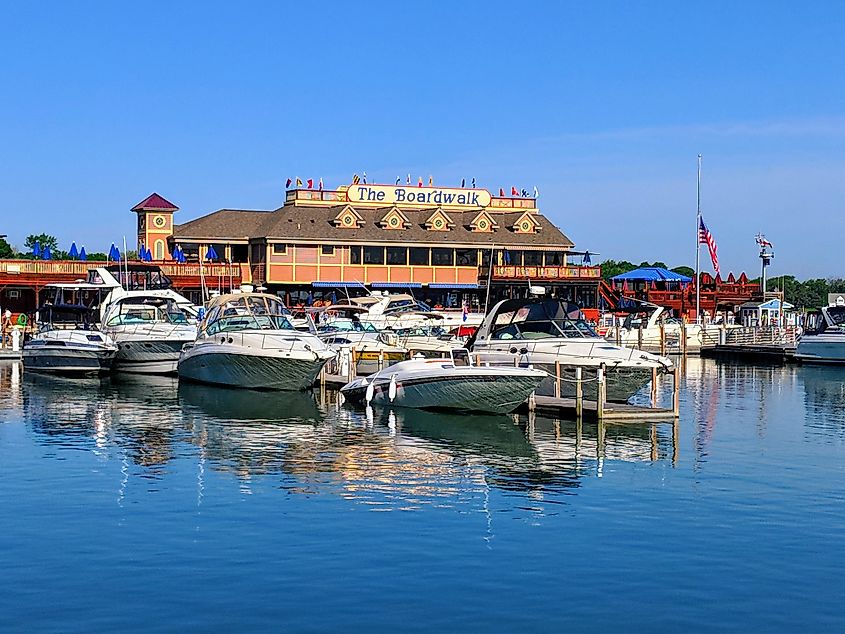 A renowned summer resort and recreational destination, this small resort village is on South Bass Island in Ottawa County's Put-in-Bay Township, about 15 miles northwest of Sandusky. Affectionately called the "Key West of the North," a huge number of visitors travel via ferry boat, private boat, or propeller-driven aircraft to this tiny island village mainly between April and October.
Put-in-Bay's downtown is filled with retail stores, restaurants, pubs, and various entertainment spaces. Some of the town's must-visit attractions include the Perry's Victory and International Peace Memorial – commemorating the naval victory in the War of 1812; Perry's Cave, Crystal Cave & Heineman's Winery, and the Lake Erie Islands Historical Society Museum.
Marietta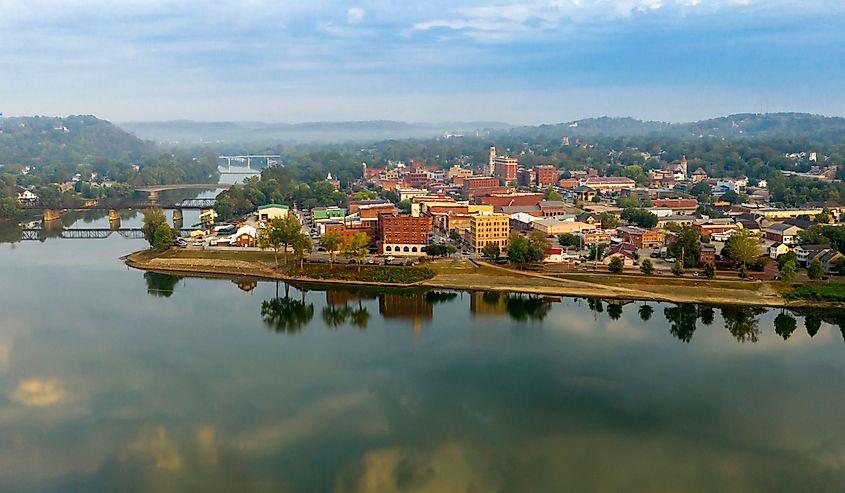 Named after Queen Marie Antoinette of France, in honor of the French help during American Revolution, this charming town sits at the meeting point of Ohio and Muskingum Rivers in the state's southeastern portion. Visitors can learn more about Marietta's glorious past by touring its museums, including the Campus Martius Museum, The Castle, Mound Cemetery, Ohio River Museum, and the Historic Harmar Village.
Lining the brick streets of the downtown are well-preserved Victorian buildings, the Peoples Bank Theatre, which hosts live performances, specialty shops like Dad's Primitive Workbench or the Antique Mall of Marietta, and eateries like Marietta Brewing Co. Nature lovers can explore the nearby Wayne National Forest and participate in various recreational activities. Marietta also hosts various annual events like the Ohio River Sternwheel Festival, Marietta Invitational Regatta, and a Marietta Civil War Reenactment.
Granville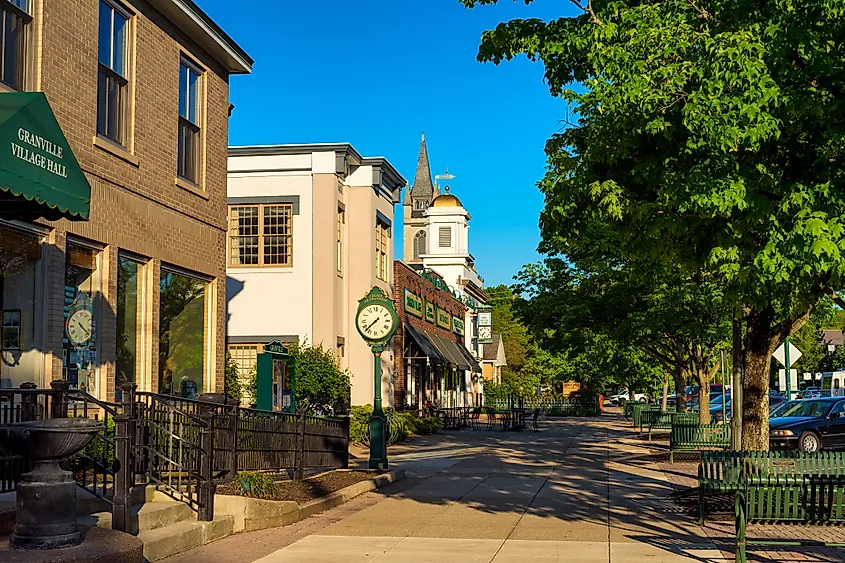 Granville is a quaint Licking County village located along the western boundary of the Appalachian Plateau in east-central Ohio, about 35 miles east of Columbus. Placed on a hill overlooking this New England-style community is the Denison University campus, a scenic amalgamation of Gothic and Romanesque architecture. Tourists must browse the town's charming boutiques and shops, like Cedar & Thread, Green Velvet of Granville, Kussmaul Gallery, and the Pub on Broadway.
History buffs would not want to miss the Robbins Hunter Museum, Avery-Hunter House, Bryn Du Mansion, Granville Historical Society, Newark Earthworks, and Alligator Effigy Mound. Outdoor enthusiasts can spend quality time at local parks like Sugarloaf Park, and Opera House Park, and other nearby attractions like the Dawes Arboretum and Thomas Evans Trail & Bikeway.
Geneva-on-the-Lake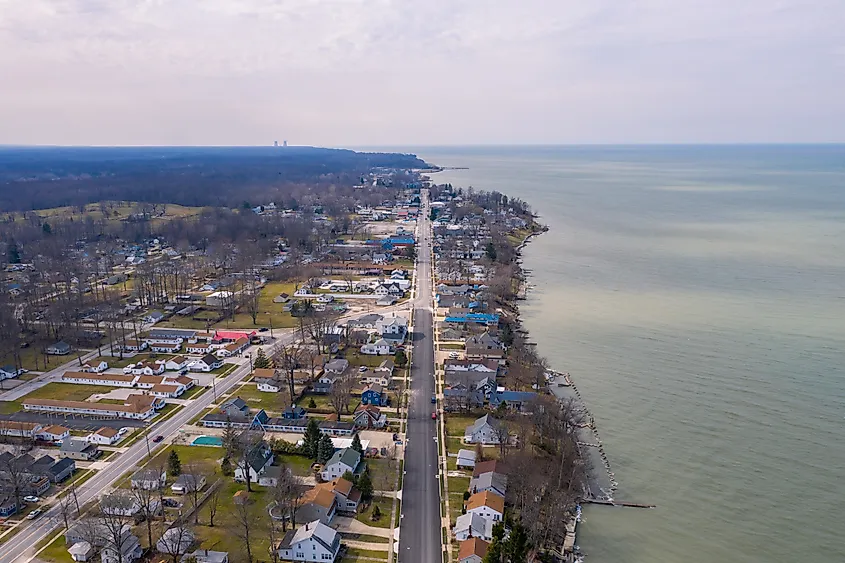 Situated along the southern shores of Lake Erie, this small resort town is a part of the Ashtabula Micropolitan Statistical Area, about 50 miles northeast of Cleveland. The town's principal tourist attraction is a section of the State Route 531 highway called "The Strip," lined with arcades, parks, and restaurants. All year round, the Lodge and Conference Center at Geneva State Park provides visitors a place to stay, taste delicious wines, and witness panoramic views of Lake Erie from an outdoor or indoor pool. "Thunder on The Strip," a biker rally held annually on the weekend after Labor Day, draws thousands of motorcyclists from all over the country to this famed lakeside getaway.
Marblehead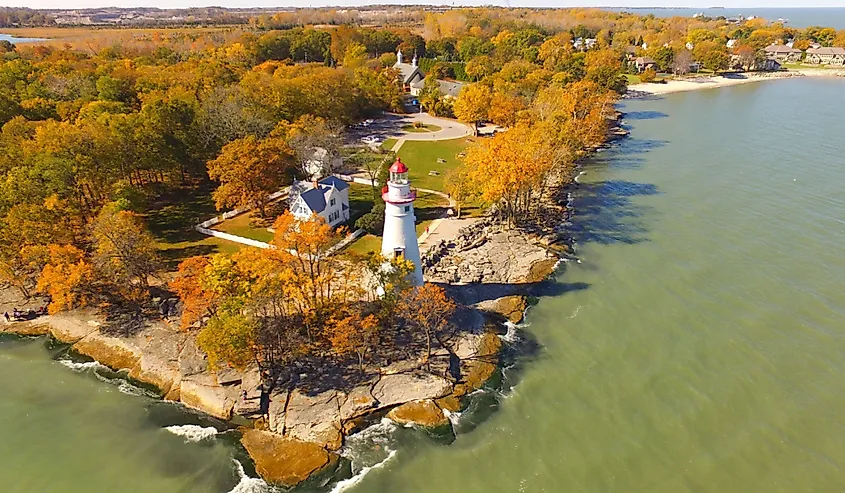 Located at the edge of Marblehead Peninsula, this enchanting village forms a part of an area regionally called "Vacationland." In addition to historical attractions, Marblehead boasts breathtaking views of Lake Erie and offers quality sports fisheries, ferry services to the Lake Erie Islands, and easy access to the nearby Cedar Point amusement park and Lakeside Chautauqua.
History enthusiasts must take a tour of the Marblehead Lighthouse State Park, which offers awe-inspiring views of the lake and the surrounding islands. The park is home to the historic Marblehead Lighthouse, the oldest continuously operating lighthouse on the American portion of the Great Lakes, and the Marblehead Lighthouse Museum in the old keeper's house. Nature lovers can visit the Lakeside Daisy State Nature Preserve, which has the country's sole natural population of the rare Lakeside Daisy wildflower.
Chagrin Falls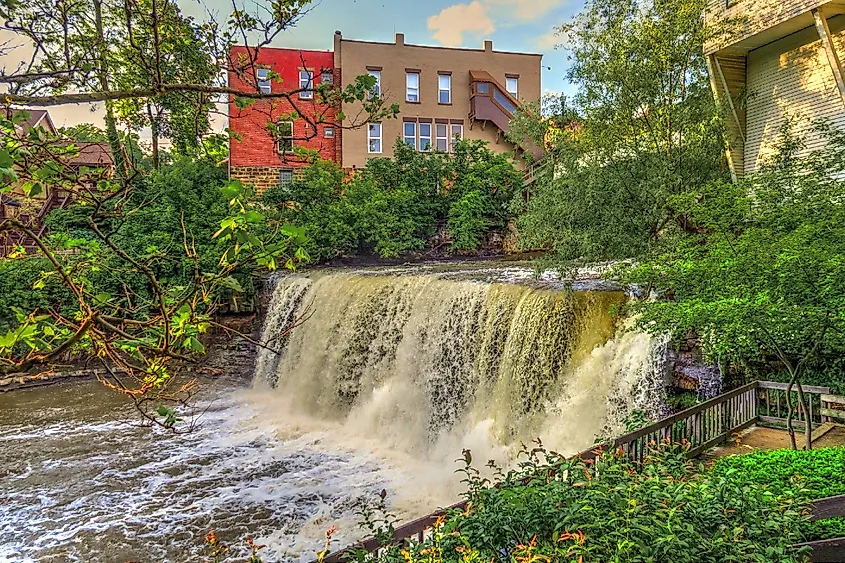 Renowned for its cascading waterfalls, this suburb of Cleveland is a part of the Cleveland metropolitan area in the state's Cuyahoga County. Occupying the heart of this small town is one of its most notable attractions: the Chagrin Falls waterfalls, where the Chagrin River drops over 20 feet. The downtown has numerous boutiques, art galleries, and eateries, besides serving as a venue for many events.
One of the country's oldest community theaters, the Chagrin Valley Little Theatre, hosts about eight major theatrical productions per year and draws a lot of performers and tourists from all over the world. Nature lovers can access miles of hiking trails and spend time reconnecting with nature at neighboring parks like the South Chagrin Reservation.
Loveland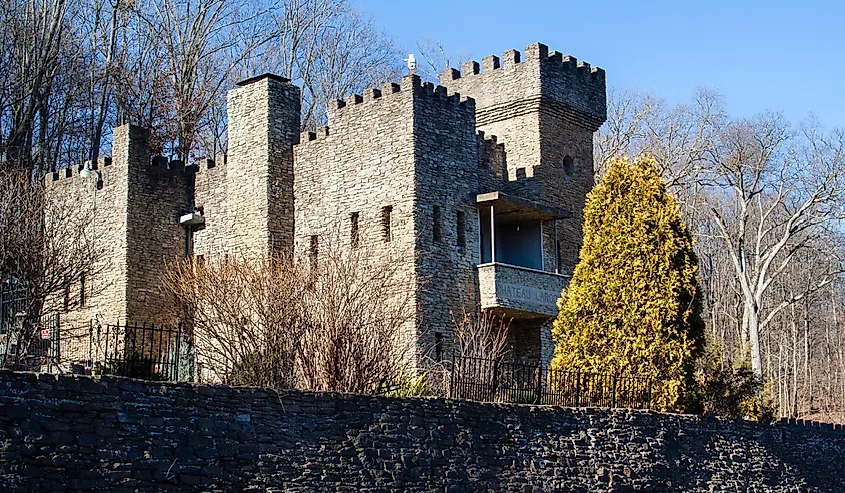 Spanning across Hamilton, Clermont, and Warren counties in the state's southwestern portion, Loveland is situated close to exit 52 off Interstate 275 highway, approximately 15 miles northeast of downtown Cincinnati. Named after James Loveland, this significant stop along the Little Miami Scenic Trail captivates tourists with its natural beauty and a multitude of outdoor recreational activities. Cyclists and hikers are especially attracted to the famous Loveland Bike Trail, which offers charming views of surrounding landscapes and the Little Miami River.
The numerous water towers and parks aptly boast the city's nickname "Sweetheart of Ohio," and lovebirds get to spend a romantic escape here. Loveland's historic downtown area offers numerous shopping and dining experiences, while the town's other attractions include Castle Skateland and colorful theatrical performances presented by the Loveland Stage Company. History lovers are drawn to Chateau Laroche or Loveland Castle, a medieval-style historic structure built along the shores of the Little Miami River to the north of Loveland.
Waterville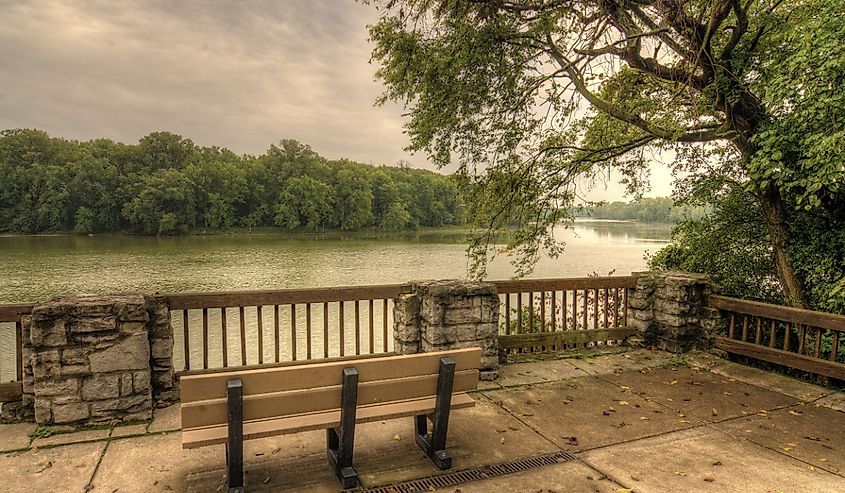 Platted by settler John Pray in 1830, Waterville is a small town located along the western banks of the upper Maumee River in Ohio's Lucas County. Waterville is known for its historic Columbian House, which initially served as a tavern, trading post, and hotel, gradually developing as the village's centerpiece. The scenic Baer Park provides a playground, basketball courts, a shuffleboard area, baseball fields, tennis courts, and walking paths. The Farnsworth Metropark houses the abandoned Interurban Bridge (Ohio Electric Railroad Bridge), constructed across the Maumee River in 1908 to connect the Lucas and Wood counties.
Waynesville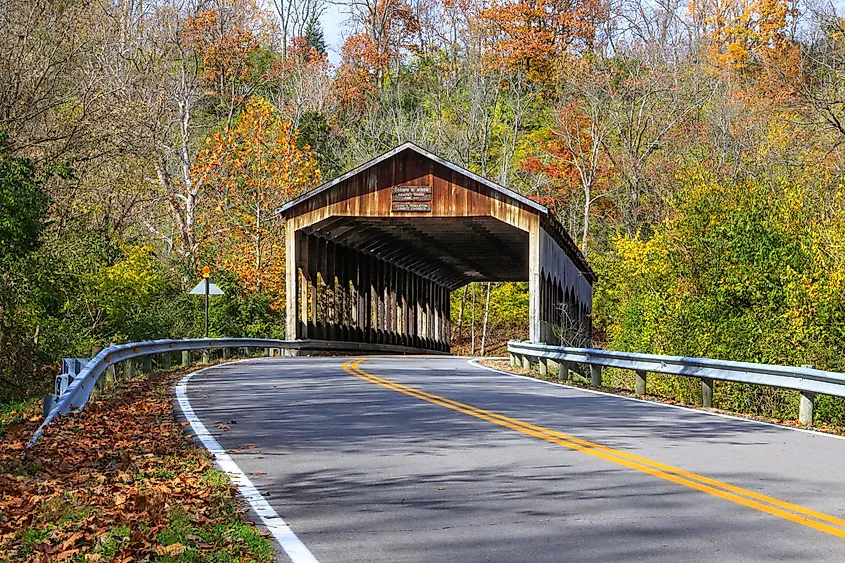 Named in honor of the famous American soldier and statesman Captain Anthony Wayne, this historic village sits in Warren County's Wayne Township. Currently referred to as the "Antiques Capital of the Midwest," Waynesville is a popular shopping destination with the five-block old Main Street filled with over 70 antique shops, boutiques, coffee houses, and locally-owned eateries. Copper street lamps line the brick sidewalks, while numerous restored Victorian homes have been turned into shops having street-side benches and colorful window boxes.
Nature lovers can explore the nearby Creek State Park and enjoy recreational activities like boating, hiking, swimming, and viewing wildlife. Waynesville hosts several special events throughout the year, including the Ohio Sauerkraut Festival, Old Main Street Antique Show, Ohio Renaissance Festival, and Christmas in the Village.
Kelleys Island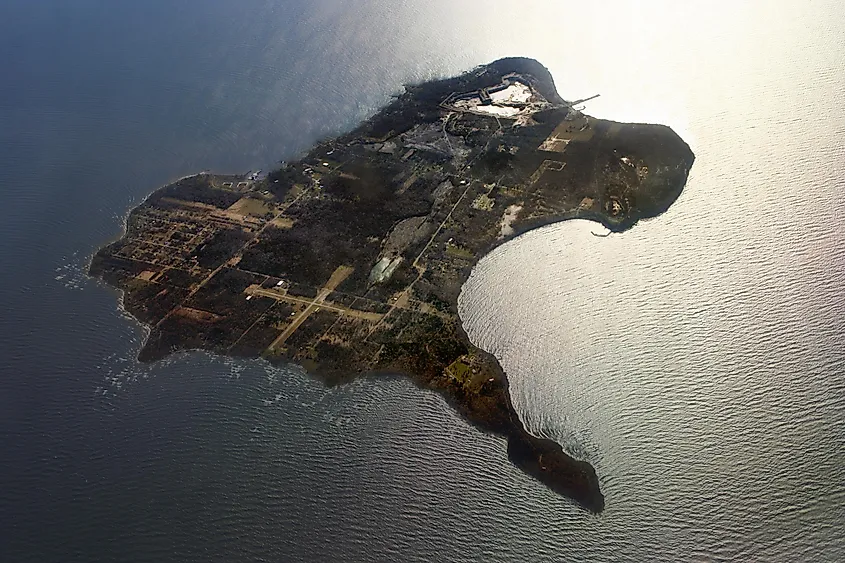 This charming Lake Erie Island and village of the same name rests in Ohio's Erie County. Primarily a vacation destination, Kelleys Island is known for its rocky shorelines, parks, public beaches, popular wineries, and campgrounds visited by thousands of tourists every summer. Visitors can spend a relaxing afternoon at the 677-acre Kelleys Island State Park, which offers picturesque Lake Erie views, scenic overnight accommodations, and excellent fishing, boating, hiking, wildlife-watching, and camping opportunities.
Visitors to the Kelleys Island State Park can get a better view of Ohio's glacial past at the Glacial Grooves State Memorial. Tourists must not forget to stop by the Kelleys Island Historical Association Museum, Inscription Rock, the Kelley's Island Wine, and an array of coffee shops, general stores, gift shops, pubs, restaurants, and miniature golf courses that line the downtown.
Oberlin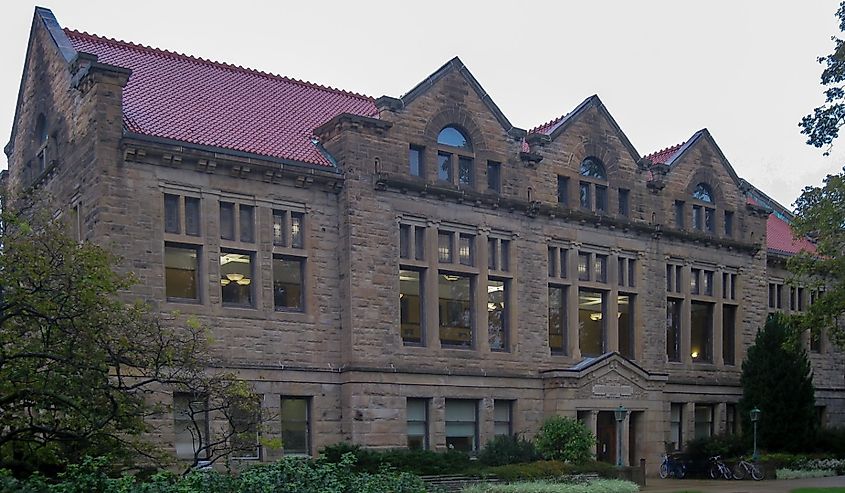 Situated within the Cleveland Metropolitan Area about 31 miles southwest of Cleveland, Oberlin is a small city in northeastern Ohio's Lorain County. Named after the Alsatian pastor and philanthropist Johann Friedrich Oberlin, this small city is home to Oberlin College, the nation's oldest coeducational liberal arts college and the world's second-oldest continuously operating coeducational higher learning institute. Oberlin is also considered the birthplace of the Anti-Saloon League and the Hall-Heroult process developed in 1886 by Charles Martin Hall, an Oberlin College alumnus. Nestled amidst fertile farmlands, the city offers plenty of recreational opportunities.
The Oberlin College houses the Oberlin Conservatory of Music, Allen Memorial Art Museum, and Keep Cottage. Tourists must explore the town's excellent local shops, a variety of dining options, and various cultural treasures like the Apollo Theatre, Oberlin Heritage Center, Tappan Square, and the iconic arch of Clark Bandstand. Nature aficionados must visit the Oberlin Preserve for amazing hiking trails and bird-watching opportunities.
Tipp City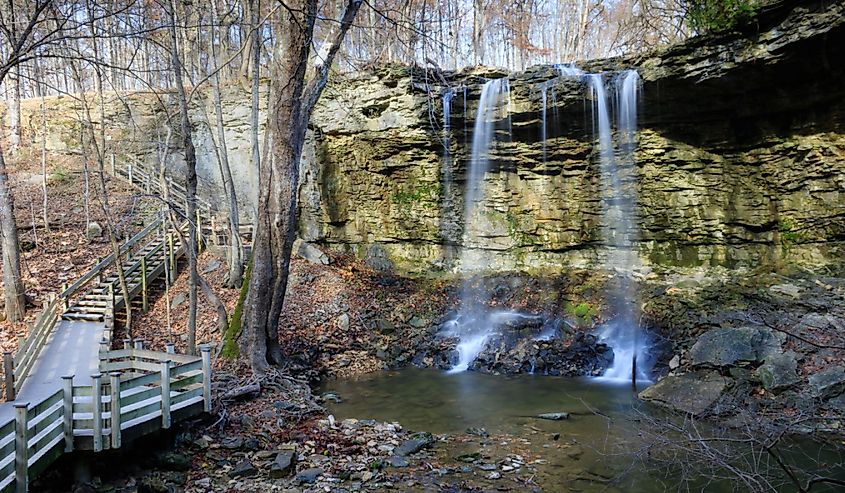 Initially named Tippecanoe, Tipp City is along Interstate 75 highway close to the Interstate 70 interchange in the Miami Valley in the southern portion of the state's Miami County. Forming a part of the Dayton Metropolitan Statistical Area, this bedroom community exudes Midwestern friendliness and a small-town charm. Tipp City's picturesque downtown area has antique stores, charming boutiques, and family-owned restaurants. Outdoor lovers can enjoy ample recreational activities at the various neighborhood parks and Nature Centers, including City Park, Kyle Park, the Charleston Falls Preserve, and the newly constructed Miami County Bike Trail.
History enthusiasts must stop by the Tippecanoe Historical Society Museum to learn more about the town's past. Visitors are also attracted to community-gathering events like the Mum Festival, Canal Days, Tippecanoe High School's "Red Devil" football games, Independence Day fireworks, and the Trans Am Nationals Friday Night cruise.
Sugarcreek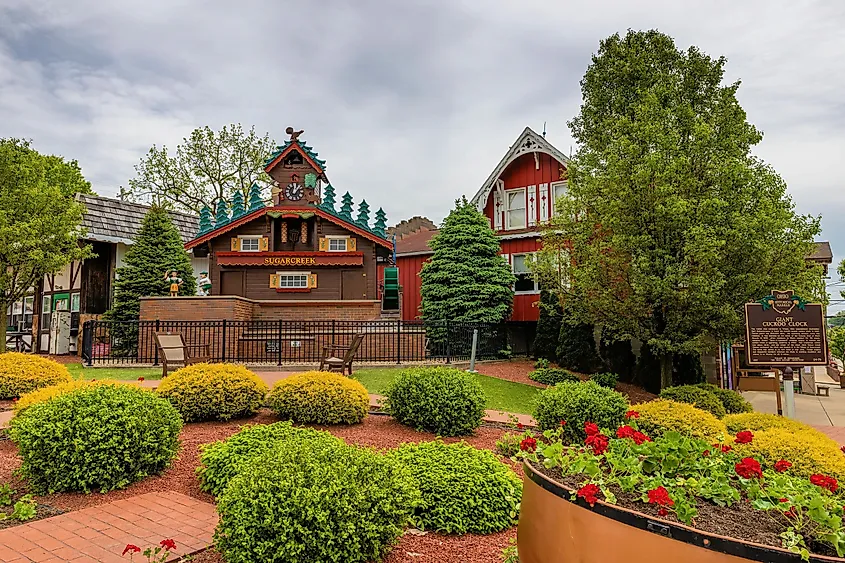 Nicknamed "The Little Switzerland of Ohio," Sugarcreek lies along the South Fork of Sugar Creek, a 45-mile-long tributary of the Tuscarawas River in northeastern Ohio's Tuscarawas County. Sugarcreek's location in Ohio's Amish Country and its unique mix of Amish culture and Swiss heritage draw many tourists to this small village. Visitors get to see fantastic Swiss architectural styles and one of the world's largest cuckoo clocks at the heart of the town. History lovers must explore the Alpine Hills Historical Museum to learn more about the local history. Located just off the main road, tucked along the hillside of a vineyard, is the famous Breitenbach Winery, where guests can savor award-winning wines, fire-roasted pizzas, and live entertainment on weekends.
For those who wish to venture a few miles into the countryside, the Age of Steam Roundhouse Museum, Erb's Coleman Lantern Museum, and Cabin Creek miniature golf are must-stops. Round off your visit by enjoying Amish-style cuisines at the Dutch Valley Restaurant and Bakery or Amish-themed performances at the Ohio Star Theater.
These small towns of Ohio are some of the United States' most coveted vacation destinations. From the offbeat Yellow Springs to the old-world charm of Sugarcreek, these towns rightfully showcase the diverse nature of the Buckeye State. So, whether you want to escape from the hustle and bustle of bigger metropolises, enjoy outdoor adventures, or need a serene place to retreat, these prettiest Ohio towns will surely provide you with exceptional experiences.