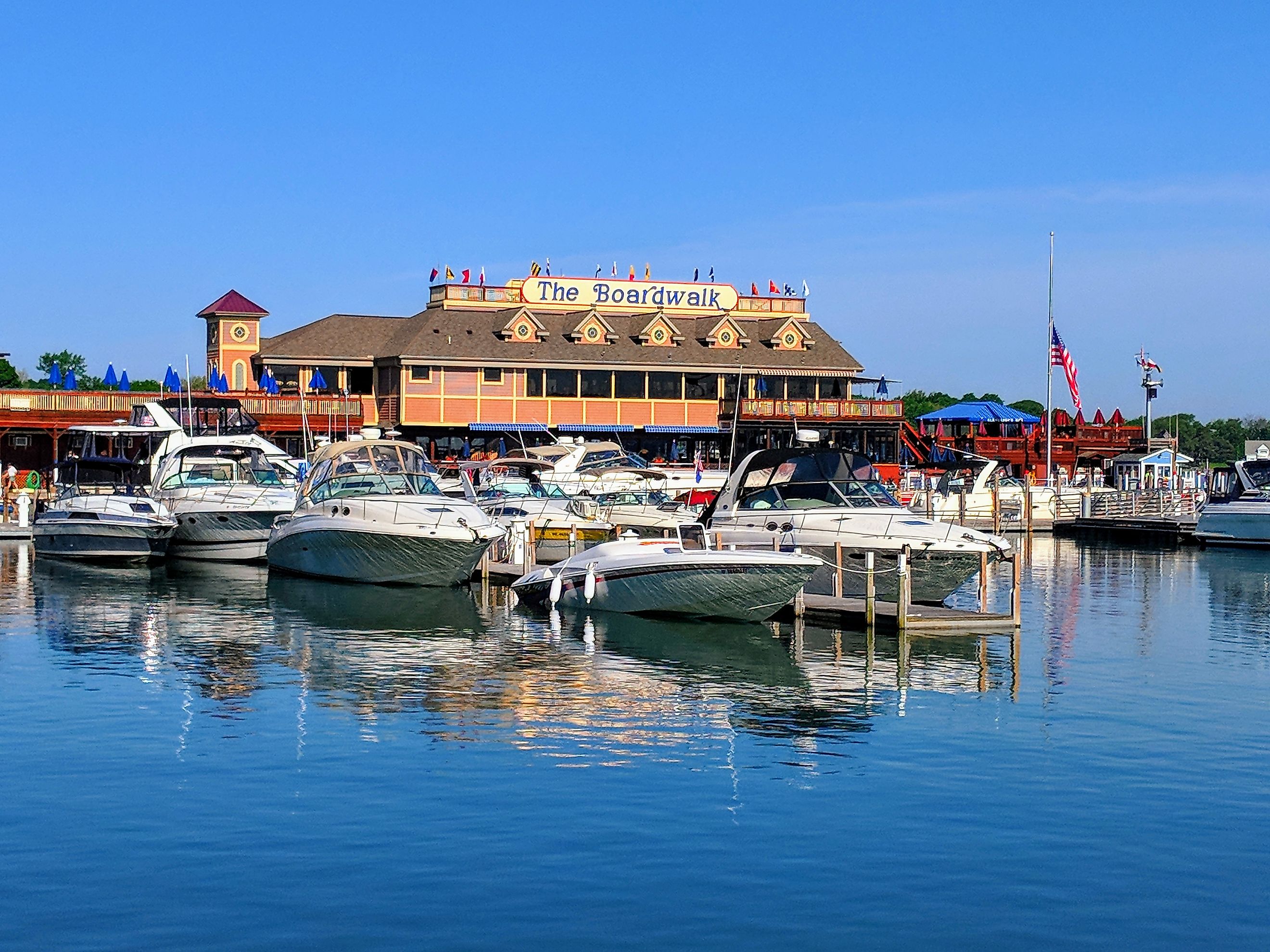 11 Cutest Small Towns in Ohio
Amish buggies clip-clopping through Sugarcreek hint at a simpler time, while street art murals in Yellow Springs inject a splash of modern creativity. Between rolling hills and serene lakes, Ohio's smaller enclaves are an eclectic blend of old-world elegance and contemporary pizzazz. Meander through farmers markets packed with corn as sweet as the locals, or find yourself entranced by old mills that still grind grains as they did a century ago. Ready to explore? Hit the road and unearth Ohio's lesser-known pockets of delight.
Yellow Springs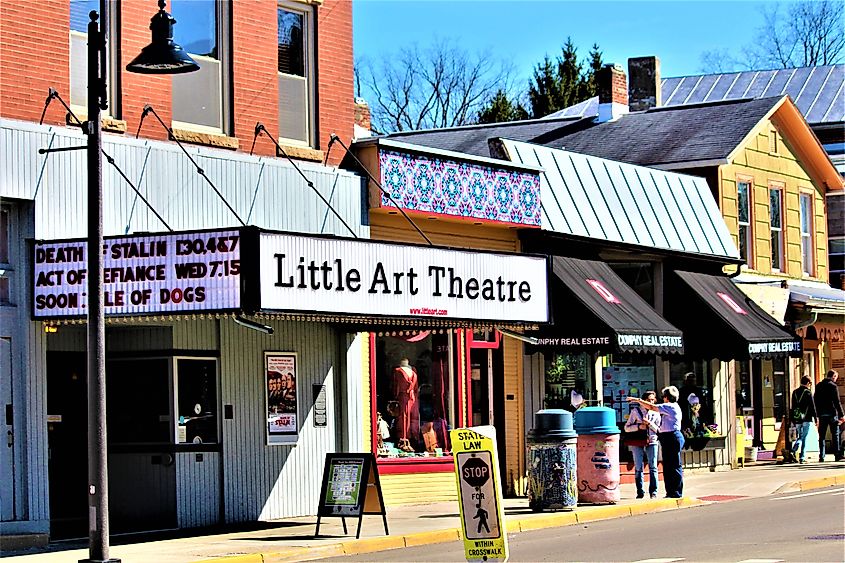 An artistic aura bespells this little village from the natural springs that gained their color from the dry, earthy rocks they were surrounded by. If you're a fan of independent cinema, the Little Art Theatre is a must-see, showcasing a curated selection of films since 1929. Anyone who has previously been to Yellow Springs will recommend it. Local myth has it: anyone who drinks from the spring waters will return. The Glen Helen Nature Preserve, with its 20-mile network of footpaths, offers a serene escape where you can find the Yellow Spring, the village's namesake. Aside from its fairytale stories that have been going around, Yellow Springs is a heartwarming village full of cute wooden taverns, flower shops, and aesthetically pleasing unique street decor. The village's main attractions are its colorful buildings, long preserved hiking trails, and the historic Young's Jersey Dairy farm that dates back to 1869.
Geneva & Geneva on the Lake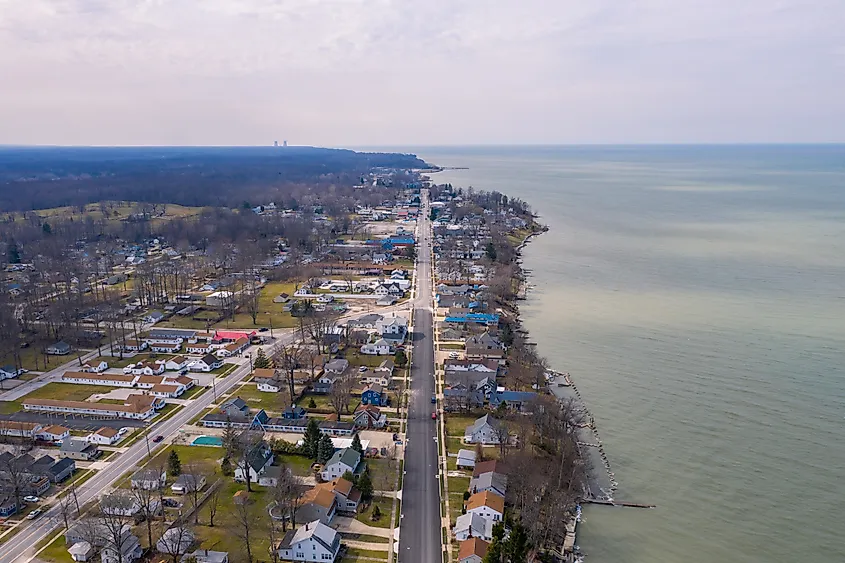 Surrounded by vineyards and wineries, Geneva on the Lake is the perfect couple getaway or a solo trip to explore the beauties of the Ashtabula micropolitan area. If you're a fan of sports or educational activities, make sure to visit the SPIRE Institute, a massive sports and academic facility. It is famous for its waterfront resorts, cotton candy sunsets, and sand beach shore of Lake Erie, which forms the boundaries between Canada and the United States. Offering everything from cabin stays to amusement parks and family fun, Geneva on the Lake is known to be the oldest summer resort in Ohio and is your go-to place for a mini in-state vacation. The Historic Covered Bridge Tour is another must-see, where you can drive through 19 covered bridges, including the shortest and longest in the United States. 
Sugarcreek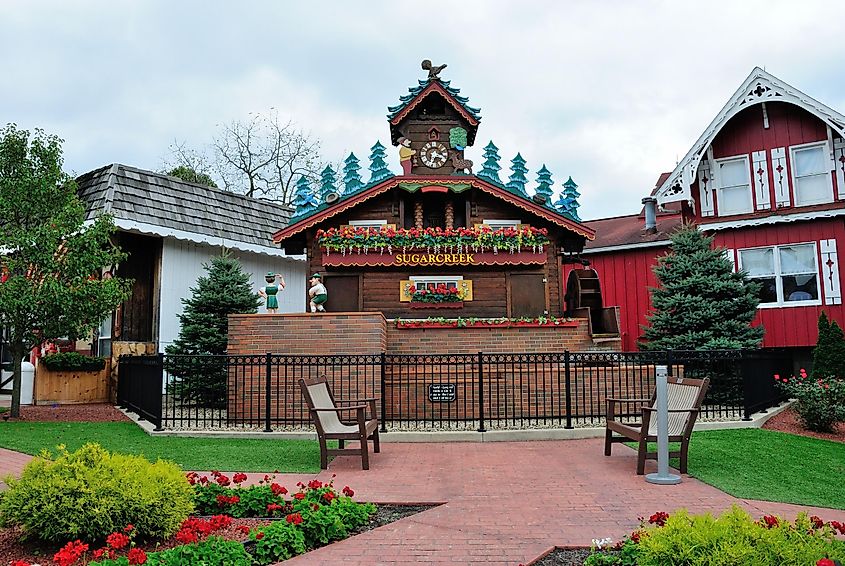 A European experience without leaving home, Sugarcreek, named the Switzerland of Ohio, is home to the world's largest Cuckoo Clock and the Ohio Swiss festival. Sugarcreek's community was made up of Amish German and Swiss families that brought all the lovely European details with them to Ohio. Alpine-inspired architecture, local Swiss cheese-making shops, and delicious cultural foods draw thousands of tourists to the small town of Sugarcreek. Destination of many families for road trip experiences such as the Alpine Hills Historical Museums, the Age of Steam Roundhouse, and the brick wall historical engravements are all part of Sugarcreek's unique offerings along with the famous Cuckoo clock. Take a visit to the Dutch Valley Restaurant to enjoy a traditional Amish meal, complete with their renowned shoofly pie.
Loveland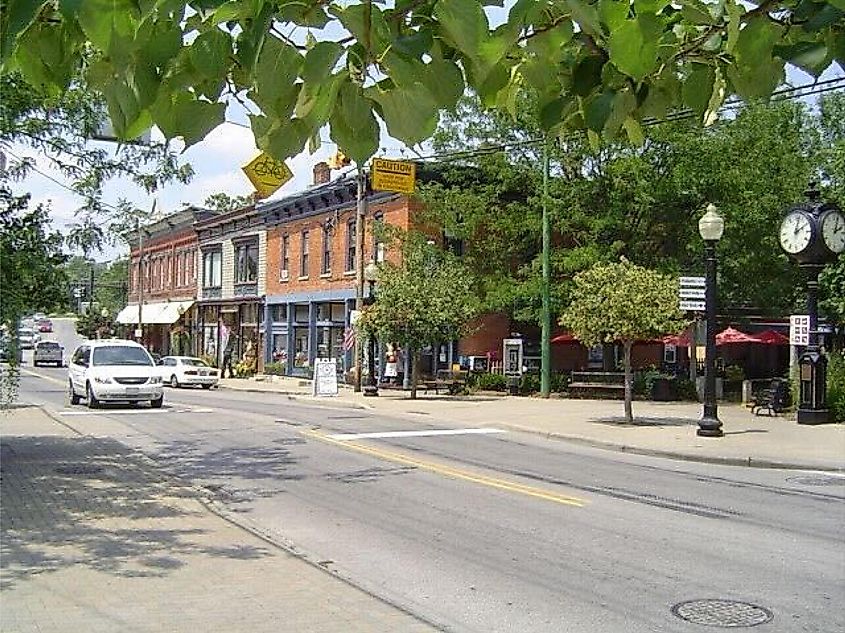 As unique and welcoming as its name suggests, Loveland is a cute town that overlooks the Little Miami River in Hamilton County, Ohio. The Historic Downtown area is where you can find the Loveland Stage Company, a local theater group that puts on several shows throughout the year. Home of the Loveland Castle, which was once known as Château Laroche, now a Museum on the banks of Little Miami River, featuring a heavenly garden and all the town's medieval history from swords to dungeons.
You can take a hike through the Simpson Ridge Trail, visit Philips Park, and follow along the stretch of Lake Isabella that neighbors the town and spans 28 acres. The Loveland Bike Trail is a 70-mile long paved pathway that follows the route of the old Miami and Erie Canal, and it's an excellent way for cyclists to explore the town. Boat rentals and lots of fishing competitions in the summer, and steep skiing resorts and ice skating destinations throughout the winter, Loveland is a year-round perfect weekend vacation spot.
Put-in-Bay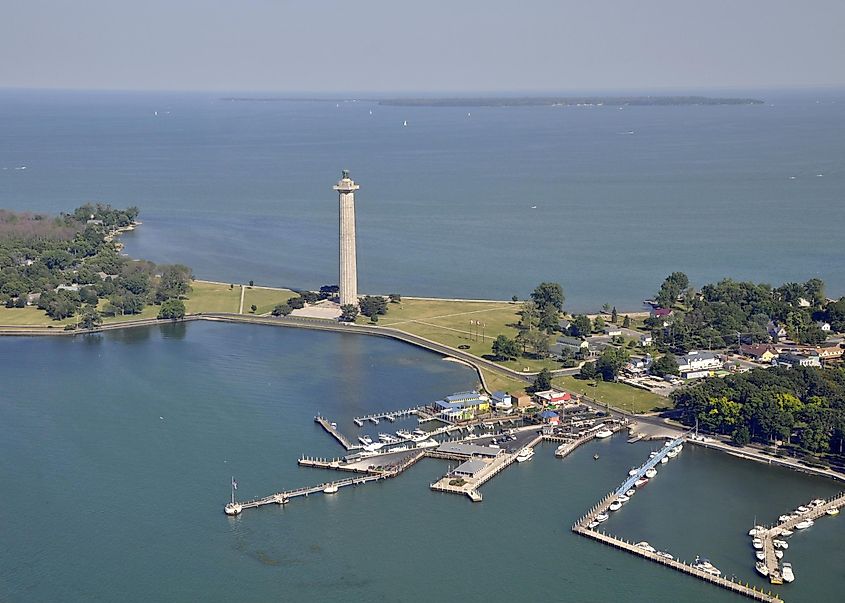 Another summer resort village to add to your bucket list this season, Put-in-Bay is an island in the middle of Lake Erie  that is only accessible by boat, ferry, or its small airport. Don't miss a visit to Perry's Victory and International Peace Memorial, a towering monument commemorating the Battle of Lake Erie. Despite being harder to access than other cute Ohio towns on this list, Put-in-Bay offers a vast range of unique summer activities and experiences, with a rich history dating back to 1812. 
When visiting Pu-in-Bay, you must block off a few nights to get the whole experience of the not-too-far-away island life. Also, the Crystal Cave, known for being the world's largest geode, is a must-see. The trip's highlights include vacation rentals, Biplane Rides, miniature golf, a butterfly museum, and ski jetting near Canadian borders. 
Peninsula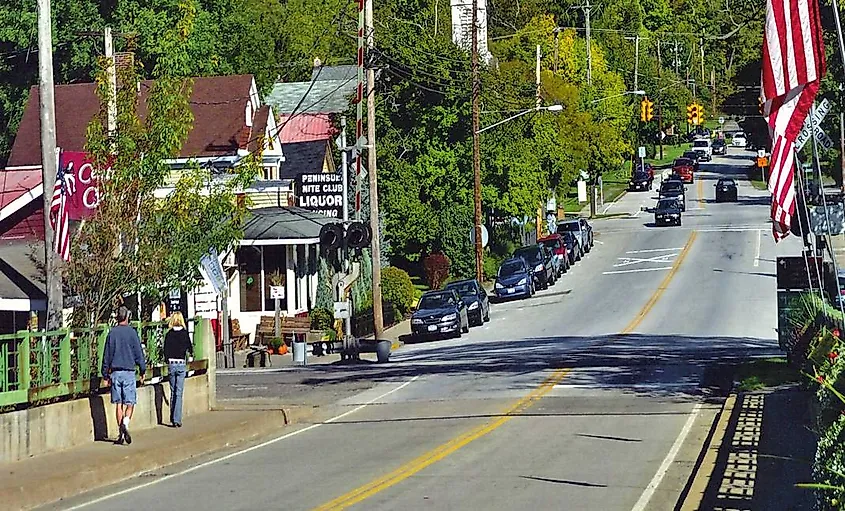 Located between Cleveland and Akron, Peninsula, also known as the Seaport town, gets its name from the surrounding shape the Cuyahoga River takes around the small town. Don't miss a visit to the Peninsula Depot, a visitor center that once served as a bustling train station and now provides intriguing historical context. Peninsula, Ohio, is the perfect small town for visitors to appreciate the smaller things in life as you walk through the quiet nature trails on a colorful fall afternoon. 
The minimalist paradise's main attractions include the summit metro parks, The Boston Mills Ski resort, Ledge's Overlook Hiking Trail, and small local shops that add a warm touch of what the small town means to every shop owner. If you're a fan of the supernatural, Peninsula is also within driving distance of the Haunted Schoolhouse, a Halloween attraction that has been spooking visitors for years.
Waterville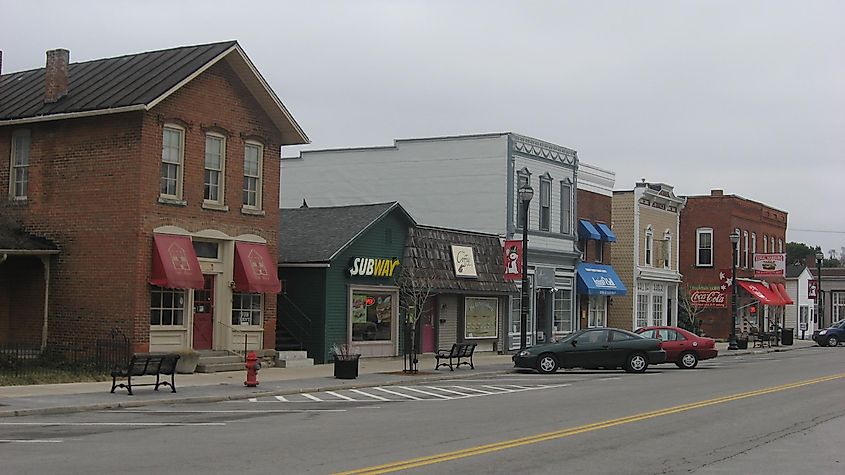 Waterville, Ohio, is a scenic town along the Maumee River in Lucas County. The town enjoys a historic ambiance best known for its historic Columbian house, built in 1828 and served as a trading post. Summer fairs and events take over Baer Park in the summer, offering a range of local cuisines and crafty handmade products. Waterville is a small city to escape towers, skyscrapers, and busy metropolitan areas. 
Waterville offers stunning views of the Maumee River from Bend View Metro Park, a cute miniature historic island with an incredible connective old bridge and an amazing walk-in butterfly house. Additionally, the small city is known on the internet for being an inspiring location of the Gaming comedy series Scott the Woz, created by famous local Youtuber Scott Wozniak and his friends, who are from the area. 
Granville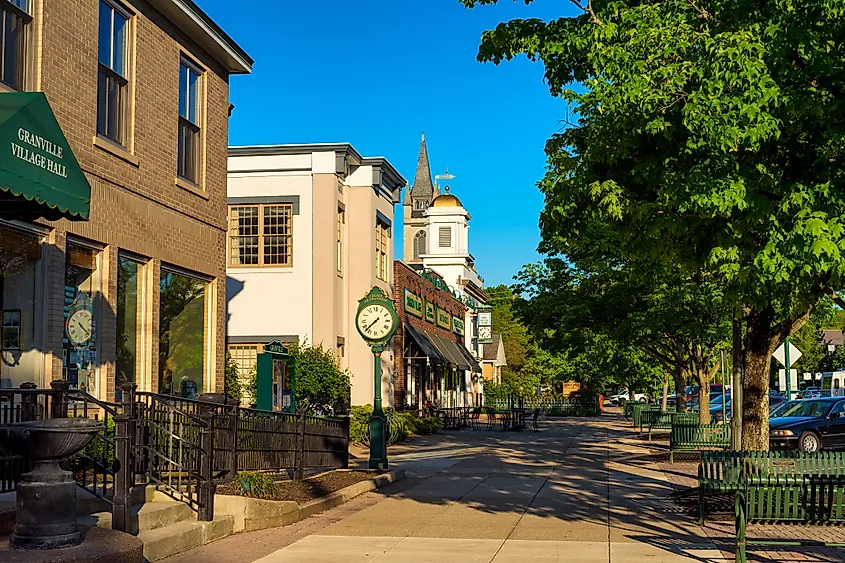 Granville is a cute forestry city located in Licking County in the center of Ohio and was founded in 1805 by New England settlers. The founders of the small town had perfectly planned the layout of everything with a welcoming gorgeous small business district, a few hiking trails, spacious landscapes of green, and local museums to learn about the city's history. Originally the region was known to be a military land for revolutionary war veterans who built the town form into a cute city in a dense forest in the center of Ohio. 
Cambridge
Glass City, Cambridge, is home to some of the best glass museums in the foothills of the Appalachian Mountains of southern Ohio. The small city is rich with antique and vintage shops for those who appreciate a thrifting tour around town and historic buildings from the city's establishing years. Natural attractions include Cambridge City Park, Salt Fork State Park, and the Great Guernsey Trail crossing from the eastern end to the city's heart. Cambridge is also surrounded by some of the best campgrounds, such as the Rustic Acres Park and the Spring Valley Campground. Enjoy the best of both worlds of forests and urban layouts in a welcoming town 80 miles east of Columbus. 
Conneaut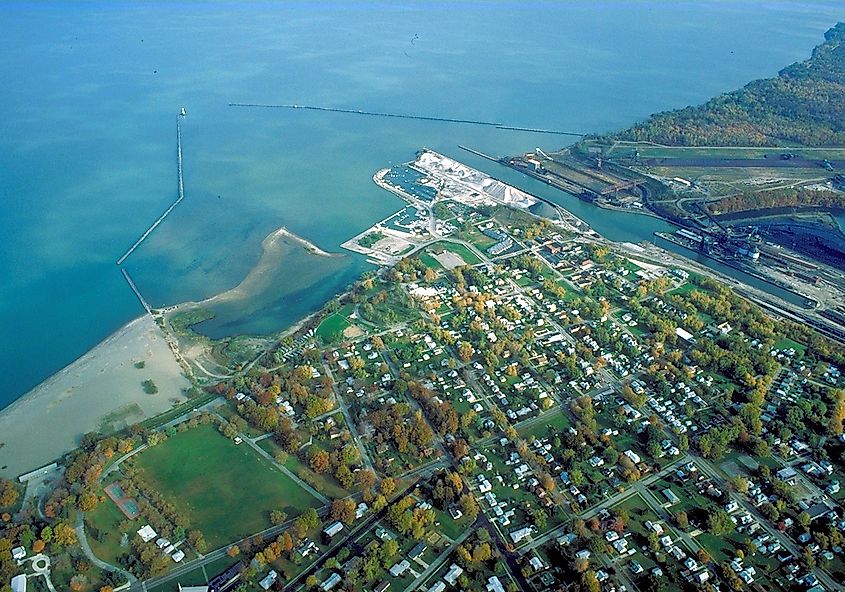 A beautiful town on the lake, and watersport lovers' destination, located northeast of Cleveland along Lake Erie and on the mouth of Conneaut Creek. For history enthusiasts, the Conneaut Historical Railroad Museum provides a glimpse into the area's railway heritage. The city is best known for its beautiful marina and is leveraged as a summer resort for surrounding cities and towns. 
The Conneaut Township Park hosts a massive beach with a wonderful playground for kids, including a merry-go-round. The name Conneaut comes from the origins Seneca language, derives from Konyiat, and means "The place of many fish." Last, if bird-watching is your thing, the Conneaut Harbor is known for its migratory bird viewing opportunities.
Logan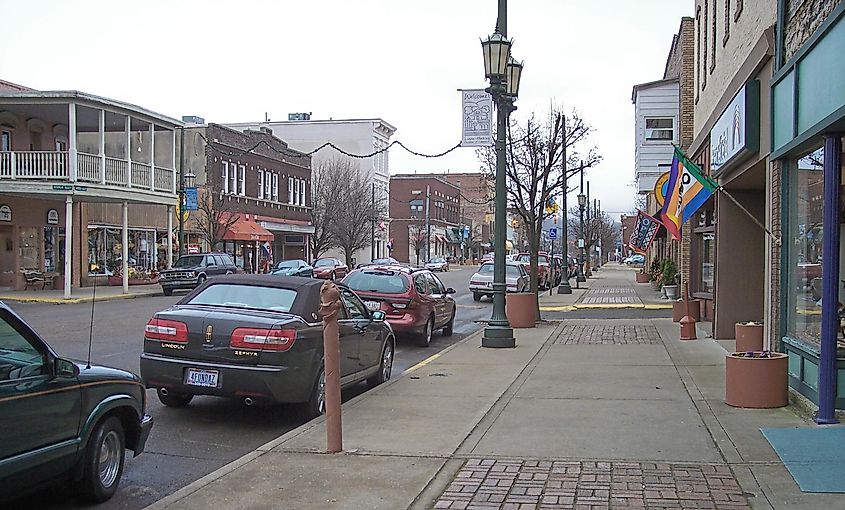 A small town roughly 50 miles southeast of Columbus makes the perfect cute Ohio town for outdoor activity vacations. Logan is synonymous with natural beauty and has breathtaking parks for stargazing nights and hiking afternoons. 
Home of Hocking Hills State Park is known for dramatic plunging waterfalls and marvelous hidden caves to explore. Enjoy local music festivals during the washboard that honors the Washboard company native to Logan, which is also a place worth visiting. At the same time, it is the last factory of its kind in America.
The Takeaway
What differentiates Ohio from other American states is its strive to stand out and be unique, and this list is only a fraction of what the wild state offers. Whether you like spending time near the water, want a quiet place to retire, or are looking for a quick city getaway, Ohio has it all!