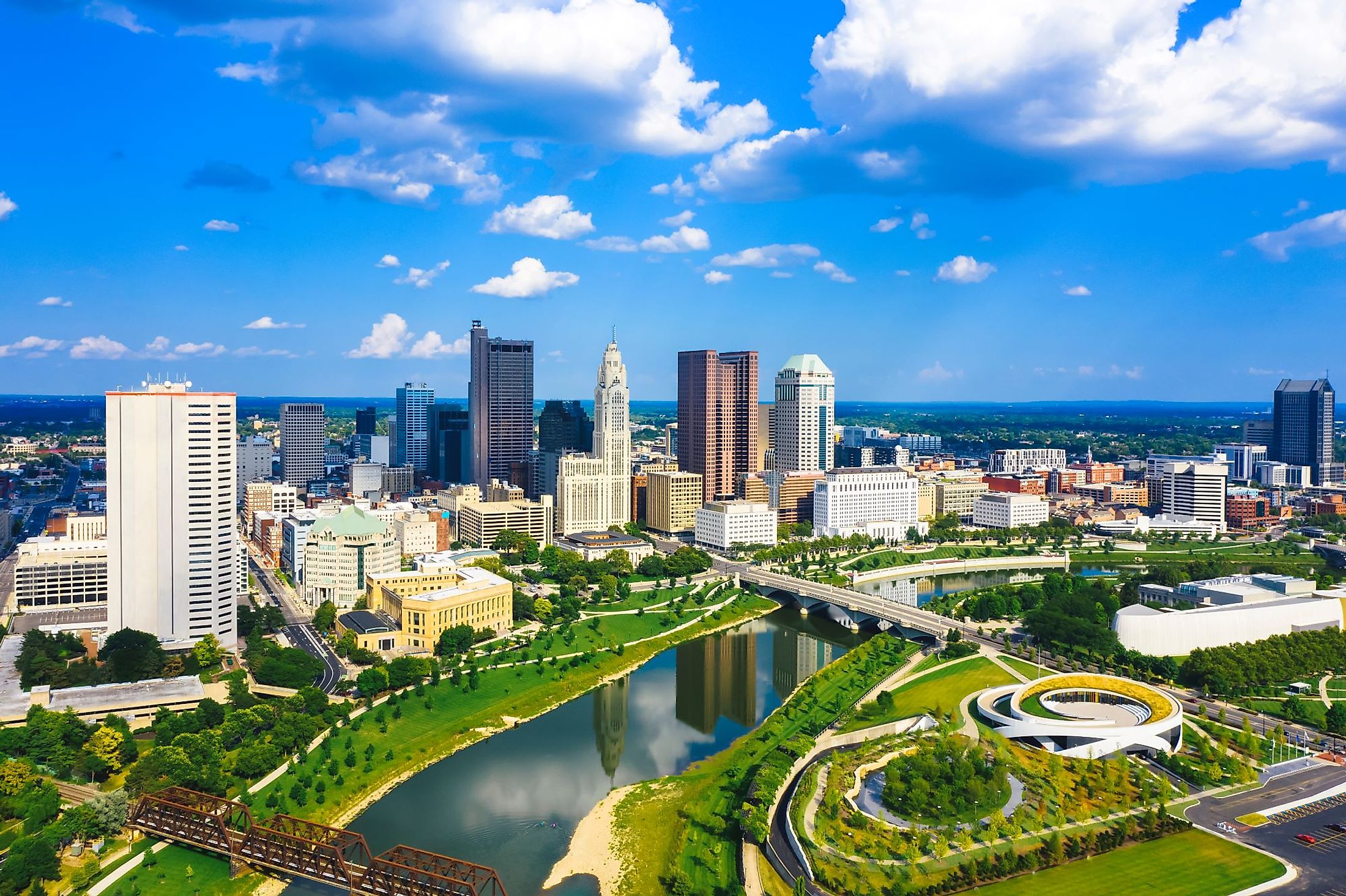 Columbus is a big city situated mainly in Franklin County and partially in Fairfield and Delaware Counties at the heart of the US State of Ohio. With a population of 905,748 residents and a robust economy, Columbus serves as the state capital as well as Ohio's largest city. Columbus also houses the Ohio State University. Government organizations and producers of textiles, metals and transportation equipment are among its largest employers. There are many artistic and cultural landmarks in Columbus that attract several visitors to the city every year. 
Geography Of Columbus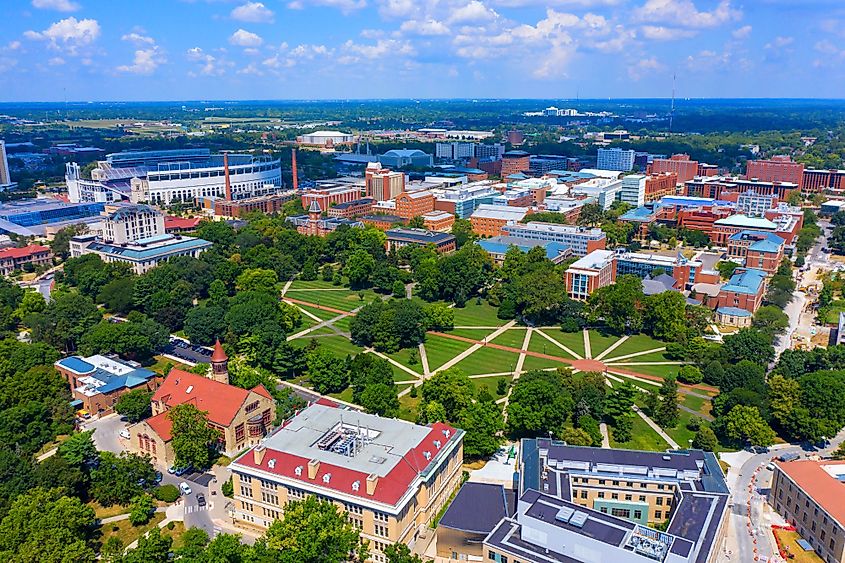 Located on a relatively flat Ohio till plain, Columbus lies at the center of the Columbus metropolitan area, which also includes Dublin (northwest), Gahanna and Westerville (northeast), Reynoldsburg (east), and Grove City (southwest). The Scioto and Olentangy rivers merge just to the northwest of Columbus's central business district. The Columbus metropolitan region is traversed by several smaller streams, such as Alum Creek, Big Walnut Creek, and Darby Creek. The city is surrounded by many municipalities, including Upper Arlington, Worthington, Bexley, and Whitehall. Although there are many district communities in Downtown Columbus, the Discovery District, High Street Corridor, and Riverfront area are the primary three districts. Columbus covers a total area of 585.26 sq. km, of which 570.08 sq. km is occupied by land, and 15.18 sq. km is covered by water. 
Due to the presence of a sizable glacier that blanketed most of Ohio during the Wisconsin Ice Age, Columbus is thought to have relatively level topography. The elevation varies significantly throughout the region, with Franklin County reaching a high point of 345 m above sea level in New Albany and a low point of 200 m as the Scioto River exits the county near Lockbourne. The terrain is additionally varied by the numerous ravines that are close to the rivers and creeks. While tributaries to the Scioto River flow through limestone, streams to Alum Creek and the Olentangy River cut through shale.
Climate Of Columbus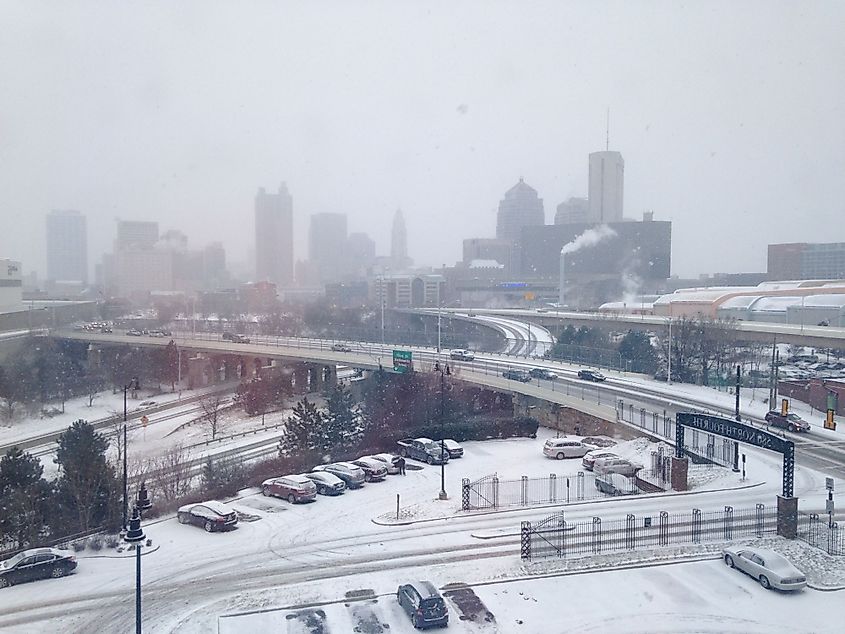 According to the Köppen climate classification, Columbus has a humid continental climate, characterized by warm-humid summers and extremely cold winters with no dry season. The average yearly temperature is 11.9°C, with July and January recording the highest (24°C) and lowest (-1.3°C) average temperatures, respectively. On average, Columbus gets 998.2 mm of precipitation each year, with July and February reporting the highest (121.9 mm) and lowest (58.4 mm) precipitation, respectively. The rainy period lasts all year, while the snow period lasts from December till March. 
History Of Columbus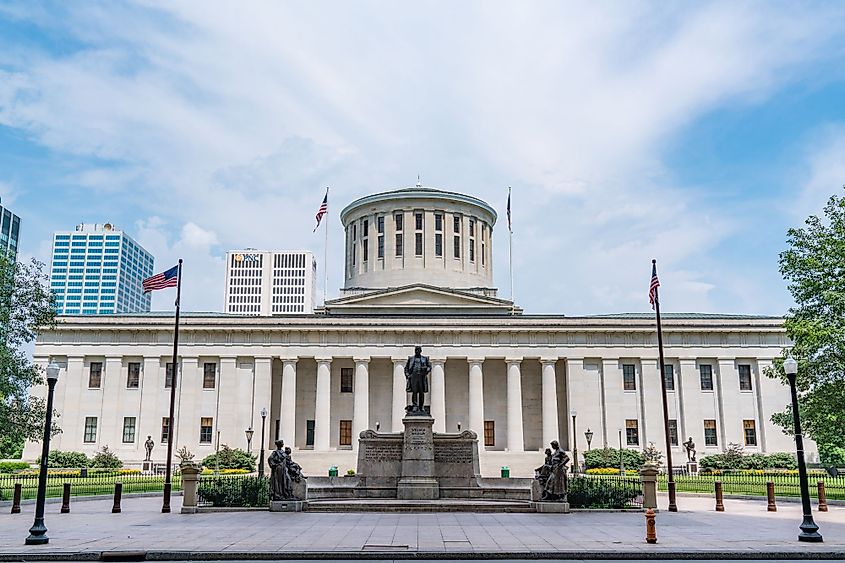 Columbus was established in 1812 as a planned political hub and named in honor of Christopher Columbus. Up until 1816, the state capital was located in the southern region of the state at Chillicothe, but it was thought that a more central location was required. On the condition that it would be utilized as a new state capital, four businessmen from Franklinton offered to give land on the river's east bank. The proposal was accepted, and in 1816 Columbus became the state's capital. Columbus was granted a city charter in 1834.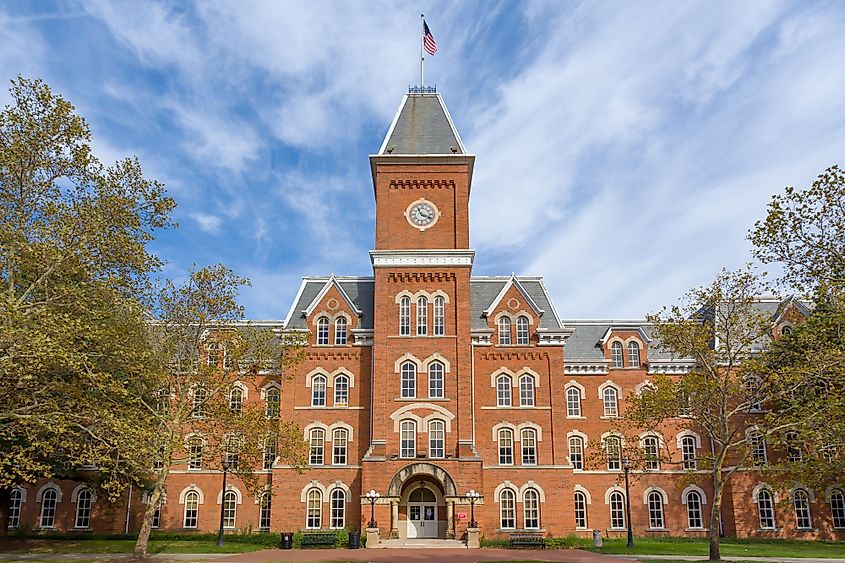 The inauguration of the Ohio and Erie Canal feeder branch and the arrival of the Cumberland (National) Road from Maryland led to a significant expansion of the city. The city's development was further accelerated after the first railroad was introduced in 1850. The Ohio Agricultural and Mechanical College, which was established in 1871 on the outskirts of Columbus, was Ohio's land-grant institution and, as such, benefited from the 1862 and 1890 Morrill Acts. The college increased its scope of study and changed its name to Ohio State University in 1878. It is currently the largest public university in the country and has a campus inside Columbus' municipal borders.
The Population And Economy Of Columbus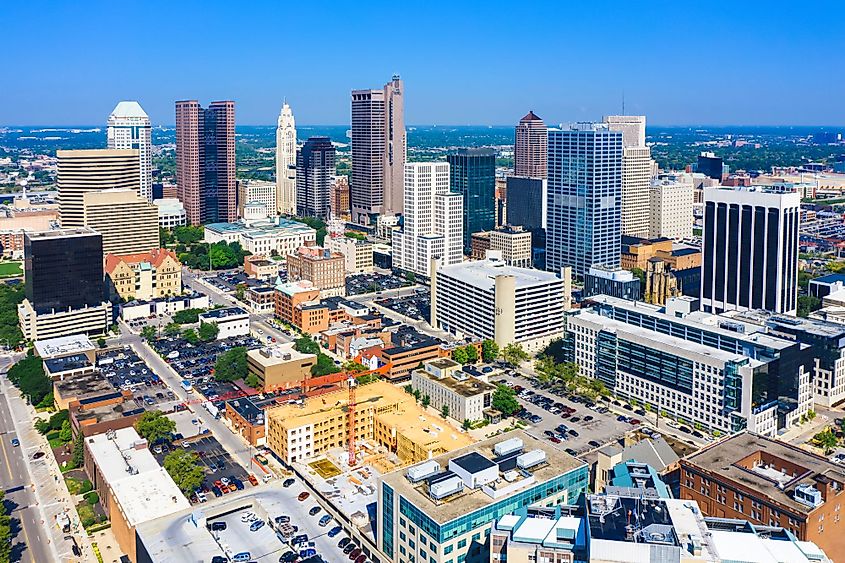 As per the latest US Census, Columbus, Ohio, has a population of 905,748 residents, where 51.2% are females, and 48.9% are males. The city's racial makeup is 54.3% white (non-Hispanic/Latino), 29.2% African-American or Black, 6.3% Hispanic or Latino, and 5.9% Asian. The remaining are distributed among American Indians and Alaska Natives (AI/AN), and other mixed races. English is spoken by 84% of the population. The rest speak Spanish (4.3%), Indo-European languages (3.8%), Asian and Pacific Islander languages (3%), and other foreign languages (4.8%). Only 45.9% of the population in Columbus are naturalized US citizens. Veterans make up 5.6% of Columbus' population, of which 89.6% are males, and 10.4% are females.
In general, Columbus, Ohio, has a robust and varied economy that is based on industries including technology, education, insurance, finance, fashion, defense, aviation, food, logistics, steel, and energy. Overall, it was named one of the top 10 large cities in the nation in 2010 by real estate research company Relocate America. Forbes listed Columbus as the seventh-best city for young professionals in 2016. Columbus was also named one of the Top Five best locations for startups and entrepreneurs by Business.com in 2018. Ohio is home to the country's fifth-most Fortune 500 company headquarters, with the majority of those located in Columbus.
Moreover, The Intelligent Community Forum designated Columbus as one of the top seven Smart Cities worldwide in 2015. The employment rate in Columbus is 66.4%, with a poverty rate of 19.1%. The homeownership rate is 44.9%, where the median gross rental cost is $989 per month, with a median household income of $54,902. According to Sperling's BestPlaces, the unemployment rate in Columbus is 5.7%. The job market in Columbus has grown over the past few years by 0.9%. Compared to the US average of 33.5%, future job growth is expected to be 34.2% during the next ten years.
Attractions In Columbus
National Veterans Memorial And Museum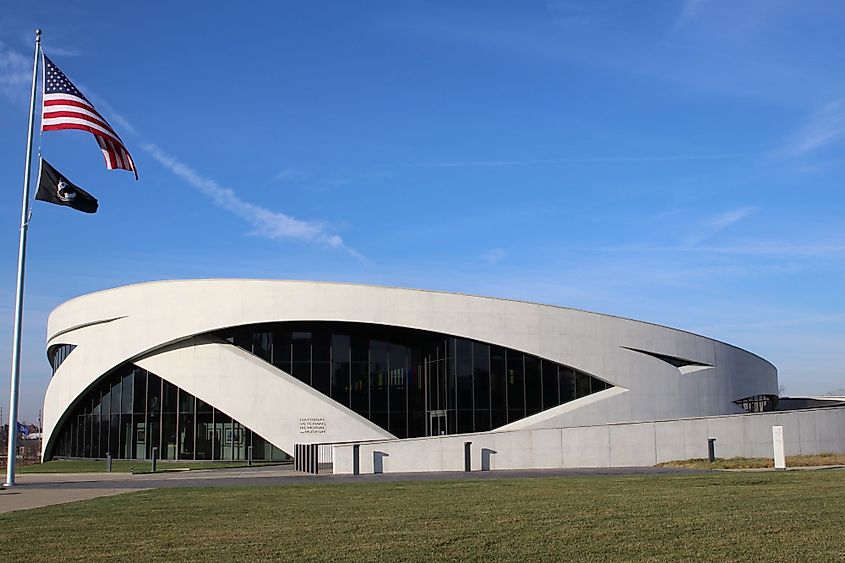 The National Veterans Memorial and Museum, one of Columbus' newest attractions, is the only facility in America devoted to recounting the memories of veterans of all branches of military service. The building is considered a work of art in terms of architecture, receiving awards from Architectural Digest for its curved lines and distinctive cast concrete construction.
Franklin Park Conservatory And Botanical Gardens
World-class horticulture, art, and nature-based exhibitions are available at Franklin Park Conservatory and Botanical Gardens, along with educational programs for people of all ages. The John F. Wolfe Palm House, built in 1895, together with 83,000 square feet of glasshouses, a botanical garden, and meeting/event rooms, are all aspects of the 40-acre Conservatory located on the eastern side of Franklin Park. The John F. Wolfe Palm House is illuminated by the globally renowned light artist James Turrell's Light Raiment II every evening from sunset till dawn at the Conservatory.
Center Of Science And Industry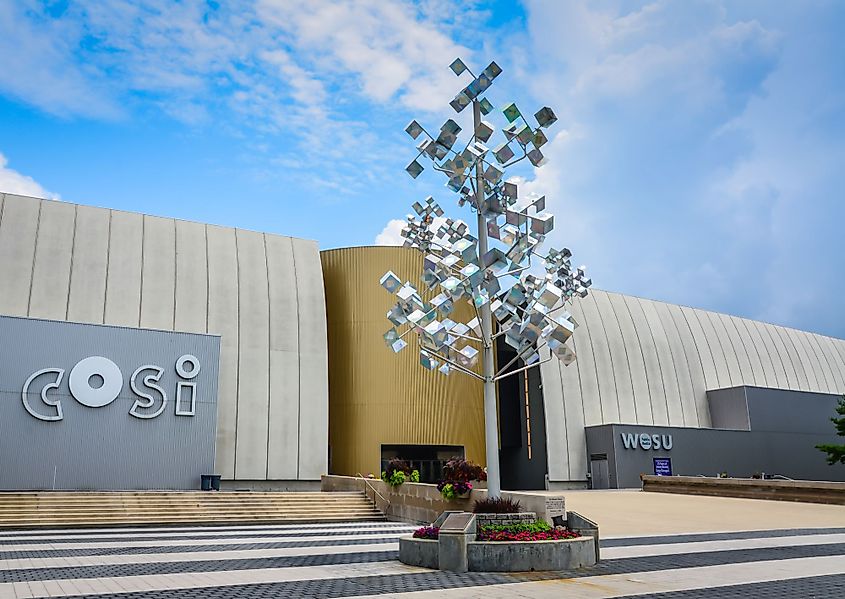 Since 1964, Columbus' dynamic Center of Science and Industry (COSI) has blended science education and entertainment with more than 300 interactive exhibits, Ohio's largest planetarium, Giant Screen Theater, live performances, and more. COSI is situated in the heart of the city on the Scioto Mile. At present, COSI's services are expanding thanks to innovative and first-of-its-kind cooperation with New York City's famous American Museum of Natural History. As a result of the relationship, COSI will now have access to the museum's permanent Dinosaur Gallery, which features a full-sized Tyrannosaurus rex cast, 100-million-year-old petrified amber, an eight-foot titanosaur femur cast, and more.
Columbus is a vibrant city with various art galleries and exciting museums. Every museum offers something unique, and even the parks are distinctive and special. There are several well-known sites to visit in this area that offer memorable family-friendly experiences as well as locations for fantastic entertainment and relaxation.