7 Most Underrated Towns in Ohio
Ohio, also known as The Buckeye State, is home to a number of large cities such as Cleveland, Columbus, and Cincinnati. The bigger cities are full of popular attractions, but scattered throughout the state are adorable small towns and hidden gem villages. These severely underrated towns in Ohio offer a variety of unique experiences from historic castles and cheese factories to astronomy parks and riverside trails.
Granville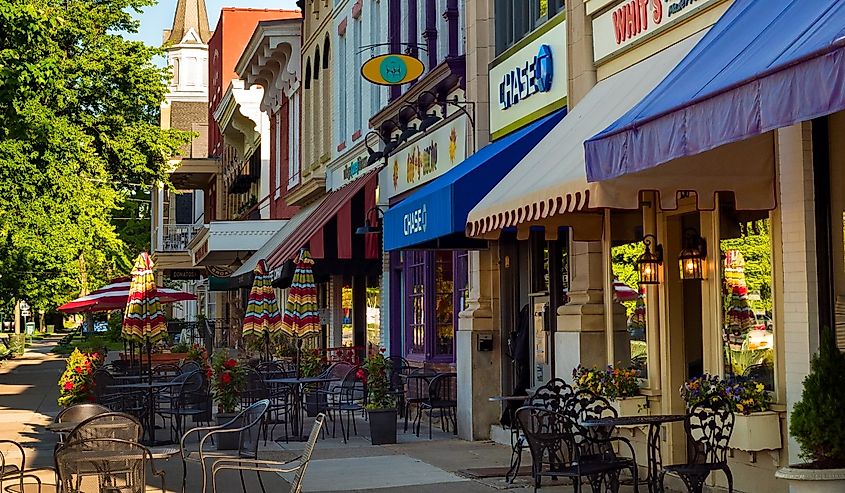 Granville, Ohio has a population of 5,900 and is a hidden gem of a town. Located in east-central Ohio, Granville sits amidst the rural rolling hills of the Appalachian Plateau. It is not far from the much larger city of Columbus, which is roughly 33 miles away. Granville has a strong sense of New England charm and has a quaint downtown sector full of historic and colonial-style buildings. Major landmarks in the area include Denison University, the historic Alligator Mound, The Granville Inn, Granville History Museum, The Robbins Hunter Museum and Avery-Downer House, and the Denison Museum. Outdoor enthusiasts will enjoy exploring the scenery along the TJ Evans bike trail. The town also offers a number of restaurants, boutiques, and cafes, as well as local vineyards and breweries.
Peninsula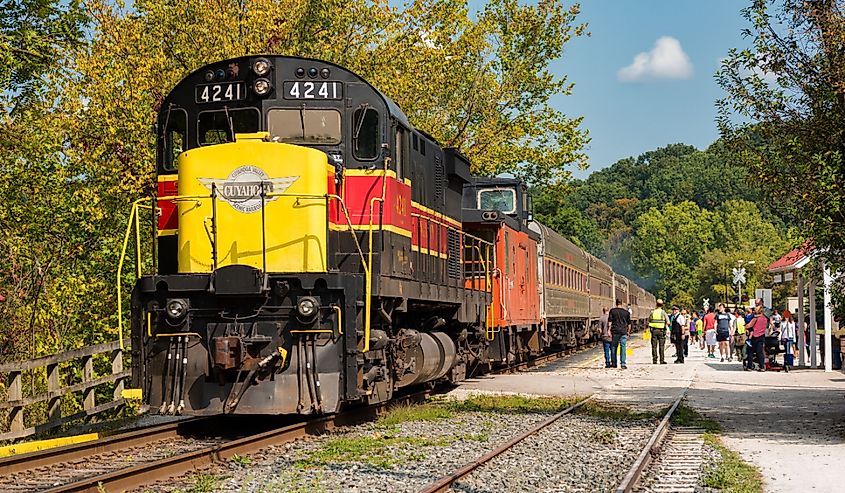 The town of Peninsula sits about 24 miles south of Cleveland and is another underrated small town in Ohio. Only 650 residents live in this tiny town, which is full of old-world charm. Many of the buildings feature New England styles and colonial architecture. Aside from the charm, Peninsula also boasts beautiful scenery. The Cuyahoga Valley National Park surrounds this quaint town and offers ample opportunities for outdoor recreation. Enjoy hiking on trailheads, riding on bike paths, or camping with the family. In Peninsula, local shops, eateries, and cafes are great places to take in the town's charm.
Loveland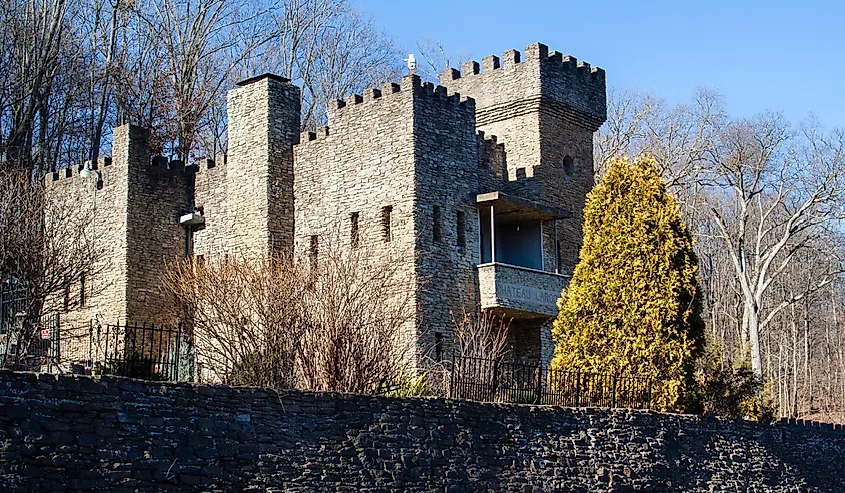 Loveland is another underrated small town in Ohio located only 23 miles outside of Cincinnati. Similar to Yellow Springs, this town is also connected to the Little Miami Scenic Trail via the Loveland Bike Trail. There are many opportunities for outdoor recreation including hiking, biking, and camping. The town also boasts a vibrant art and cultural scene and often hosts local festivals such as the Winter Jam, and the Bourbon and Chocolate Festival. The downtown sector features charming postcard-style buildings, historic architecture, and local restaurants. You can even take in the Loveland Castle which was hand built from stones from the Little Miami River.
Geneva-on-the-Lake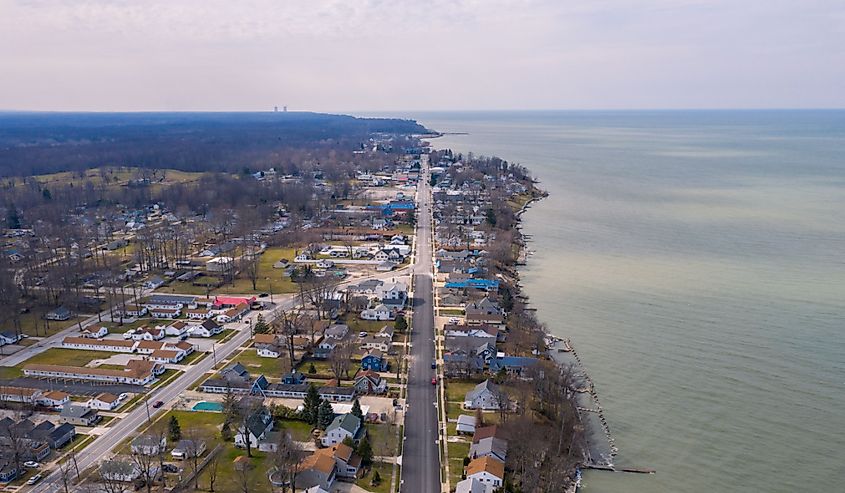 The town of Geneva-on-the-Lake is a great getaway in the state of Ohio, located roughly 53 miles outside of Cleveland. It has a population of approximately 1,000 people and is a scenic village on the edge of Lake Erie. Known for its lush wine country, Geneva-on-the-Lake boasts a large number of vineyards where visitors can enjoy tours and tastings. On the lake, enjoy paddling, swimming, or sunbathing on the sandy beaches in the summer months. Geneva State Park is also nearby and is a great place to take in the natural scenery, camp, fish, or hike.
Logan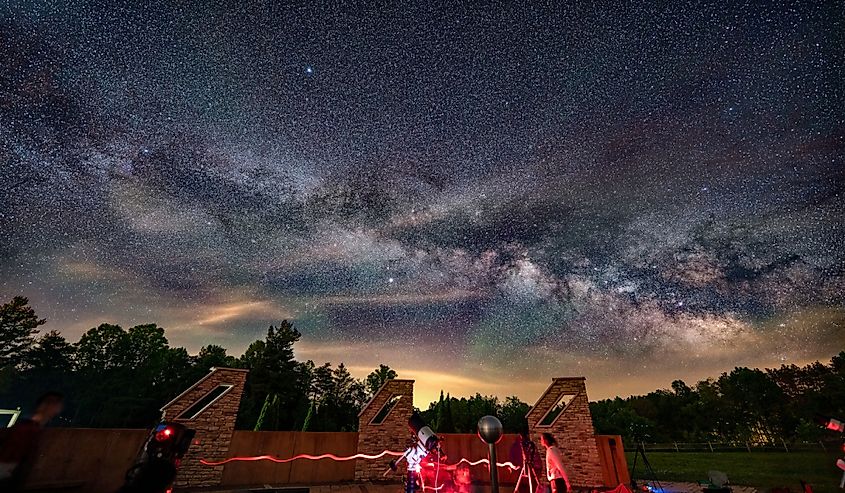 The town of Logan is roughly 49 miles from Columbus and has a population of around 7,000 people. It is often thought to be the gateway to a number of outdoor adventure opportunities and the beautiful natural landscape of Ohio. Take in the Hocking Hills State Park where you can see waterfalls, gorges, and a variety of camping opportunities, from full service to rugged. Nature lovers also enjoy the John Glenn Astronomy Park for impressive dark sky stargazing. For some local shopping, be sure to check out Fox's High Rock Farm, wineries, shops, and eateries.
Sugarcreek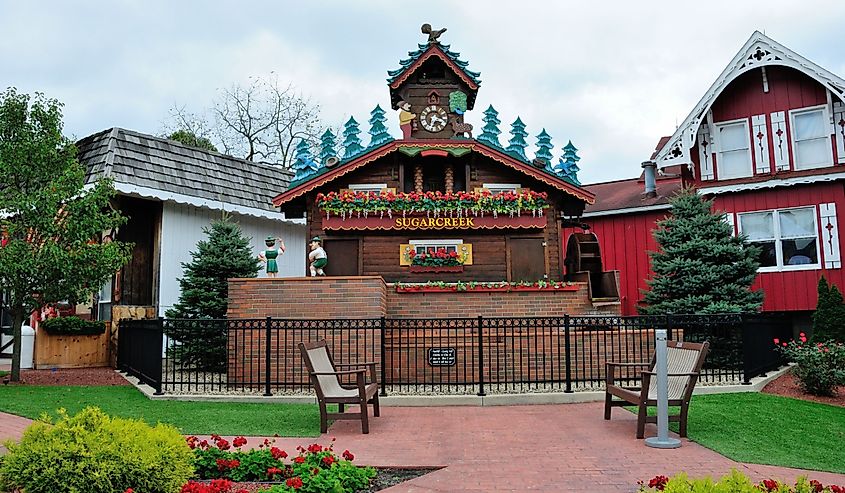 Sugarcreek Ohio, sometimes called Ohio's Little Switzerland, is a small town originally founded by Amish settlers from Germany and Switzerland. To celebrate this heritage, the town hosts a yearly Ohio Swiss Festival. In addition, Sugarcreek has Alpine and Scandinavian-inspired architecture, the world's largest cuckoo clock, and a large number of cheese factories such as the Broad Run Cheesehouse. Soak up some history at the Alpine Hills Museum, take in a show at the Ohio Star Theater, view the Erb's Coleman Museum, learn at the Age of Steam Roundhouse, or enjoy one of the local wineries.
Yellow Springs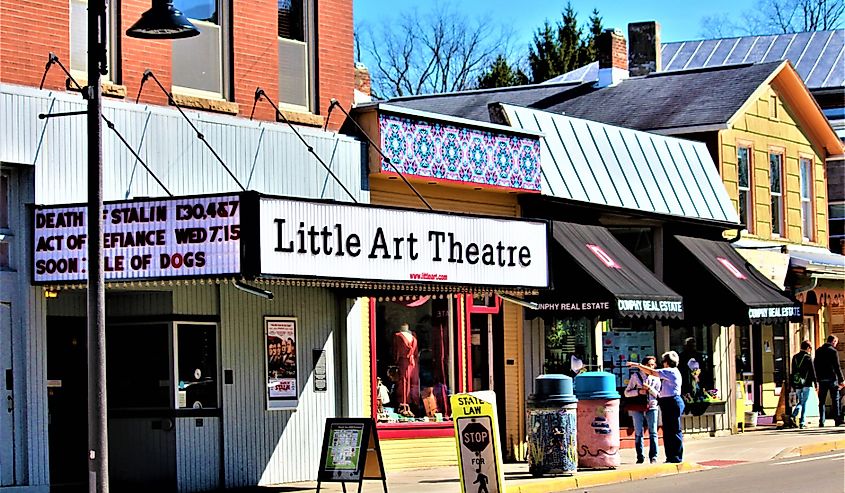 Yellow Springs is about 19 miles from Dayton, Ohio, and has a population of roughly 3,600. Yellow Springs has an eclectic air to it and is popular with outdoor and nature lovers. The area boasts some 2,000 acres of natural forests which includes John Bryan State Park, Glen Helen, and Clifton Gorge. The town itself is also right beside the Little Miami Scenic trail which runs for roughly 78 miles. The pathways are great for both biking and hiking, and the town itself is extremely bike friendly. Other local attractions include the Young Jersey Dairy, which hosts corn mazes, ice cream, and a petting zoo of farm animals. There are also a variety of local shops and cafes where you can rest from all the outdoor activities.
Whether you are looking for a quiet escape, a town with plenty of outdoor recreation opportunities, old architecture, or New England charm, these towns offer a variety of options to see a different side of this beautiful state.