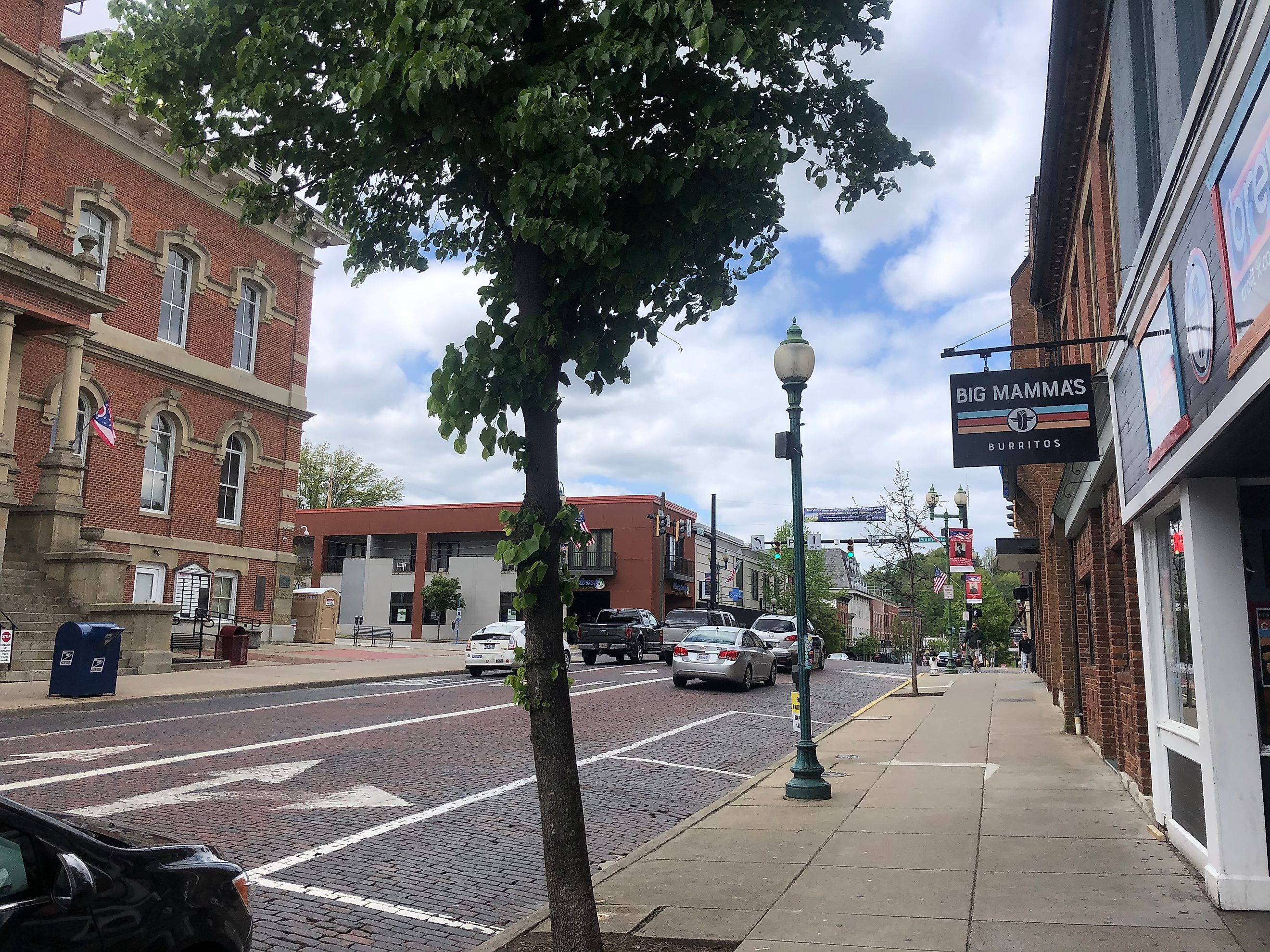 Best College Towns In Ohio
When looking for the best college towns, it's only natural to seek the best quality of education, campus, and a compatible demographic of students. However, the surrounding environment and life off campus also matter. 
Depending on what you're looking forward to throughout your academic years, there's a town and city to accommodate and align with your needs. Many may look for cities and towns with the best party and nightlife scenes. In contrast, others will take advantage of touristy destinations and try to relocate to places with much to see and visit. Nonetheless, Ohio is home to some of the best college experiences, with numerous colleges and universities making the top 200 list of the best colleges in the U.S.
Columbus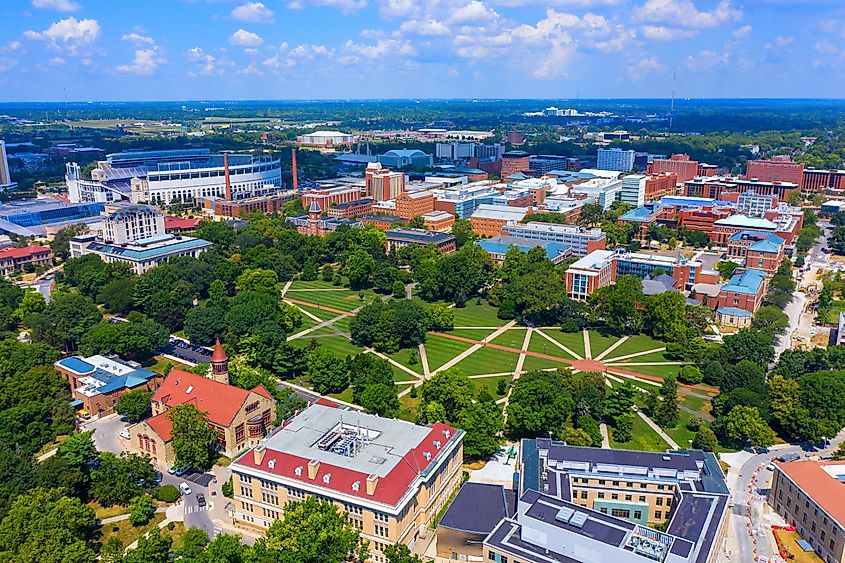 Starting the list is one of Ohio's main and most recognized universities, Ohio State University. Columbus is Ohio's capital and, by default, offers some of the best student experiences. Ohio State University was founded in 1870 and ranks as the 49th-best university in the United States, offering a broad range of personalized experiences and community activities. In addition, Ohio State is home to a top-rated academic medical center, a cancer hospital, and a research center, making it an ideal place to pursue a degree in medicine. The university is in the heart of "The Buckeye State," offering an endless range of off-campus experiences and entertainment. 
Bowling Green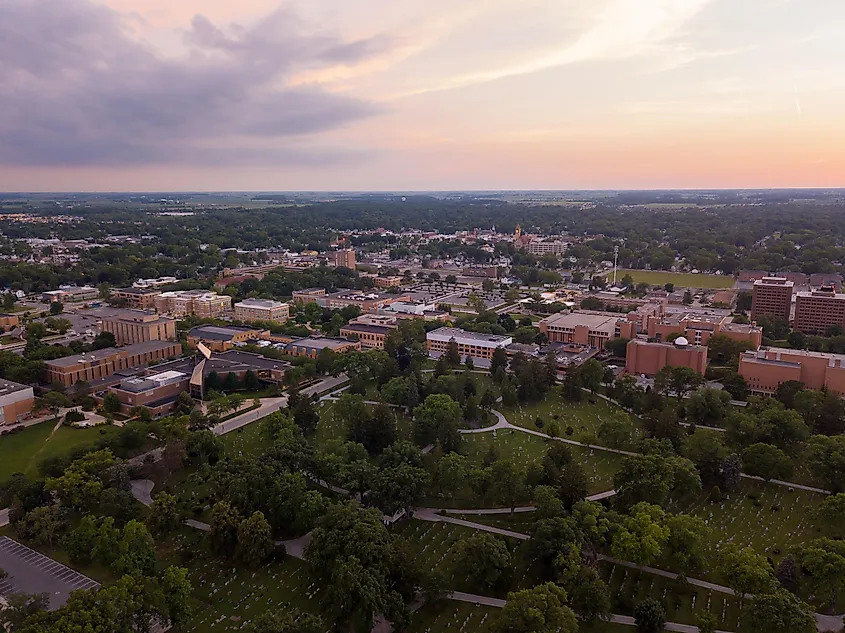 Bowling Green, and its state university, are the perfect college destination for those who prefer the small-town college life. Studying in a small town offers the advantage of increased opportunities to meet new people, build relationships and is often significantly cheaper. The city is located in the county seat of Wood County and has a lively small downtown main street packed with various entertainment destinations such as aquariums, museums, and outdoor live concerts. Bowling Green State University is ranked #263 among the best national educational institutions, with over 50 graduate programs, including health, science, and business majors. 
Athens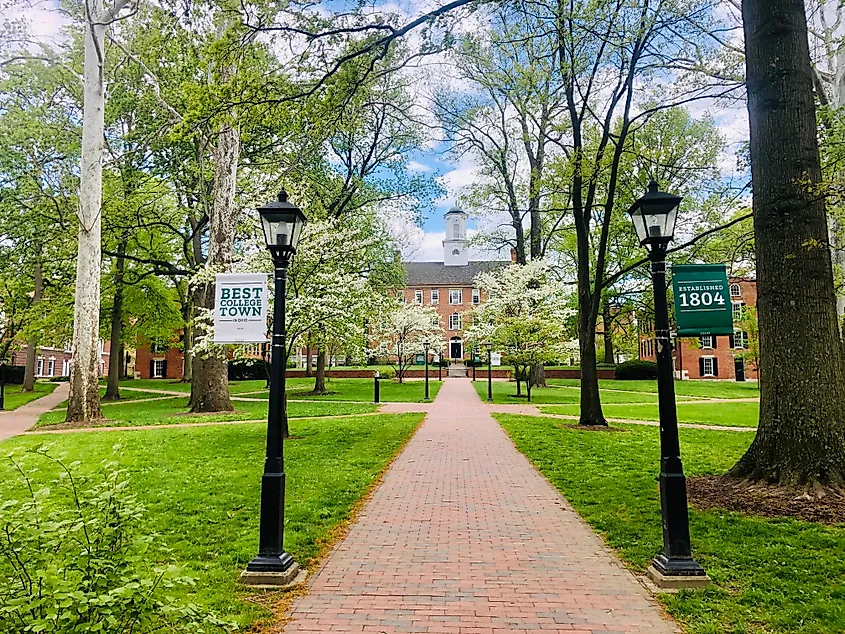 Athens is nicknamed "The Classic City" and sits almost 73 miles from Columbus, Ohio. The city is home to Ohio University and is known for its scenic and friendly neighborhoods. Athens isn't the most active city for nightlife and parties, and it is the ideal college town for those looking for a calming studying environment, a tight sense of community, and a vibrant dining scene. The best thing about Athens is its beautiful historic downtown architecture, scenic nature, and parks. The town is mainly famous for its university and art scene, with some of the best destinations being the Kennedy Museum of Art, the art market at Athens Farmers Market, and the Dairy Barn Art Center. According to the U.S. News & World Report, Ohio University ranks #182 from over 443 national colleges and universities.
Oxford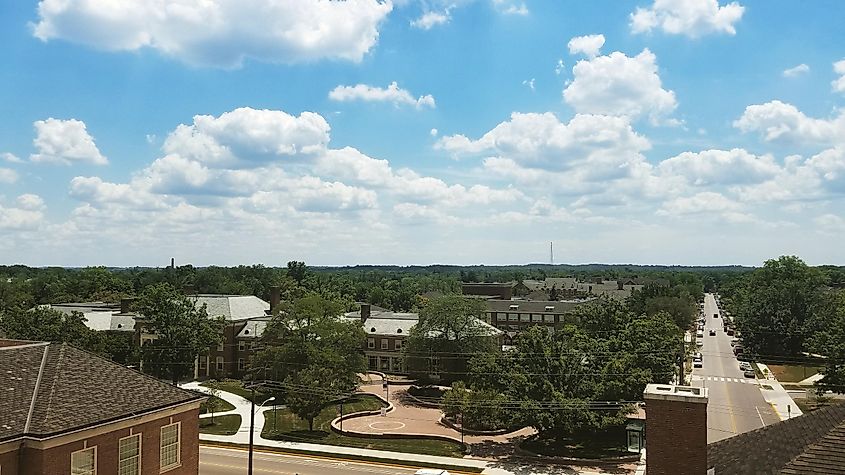 One of the most beautiful and nature-centric colleges, Towns, Oxford, Ohio, is home to Miami University, one of the nation's eight original Public Ivy universities. Forbes ranked the town the #1 best college town in the united states. Oxford hosts various festivals and events throughout the year, including the Uptown Music Concerts and the Wine Festival. The most popular hangout destination in the area is uptown Oxford, loaded with nightlife, dining, and entertainment, just a 15-minute walk from the main campus. Uptown Oxford is also the perfect place to rent a room if you prefer living off campus, with all your shopping needs and chilling spots within walking distance. Founded in 1809, Miami University ranks #105 on the U.S. News & World Report list of the best colleges and universities. 
Granville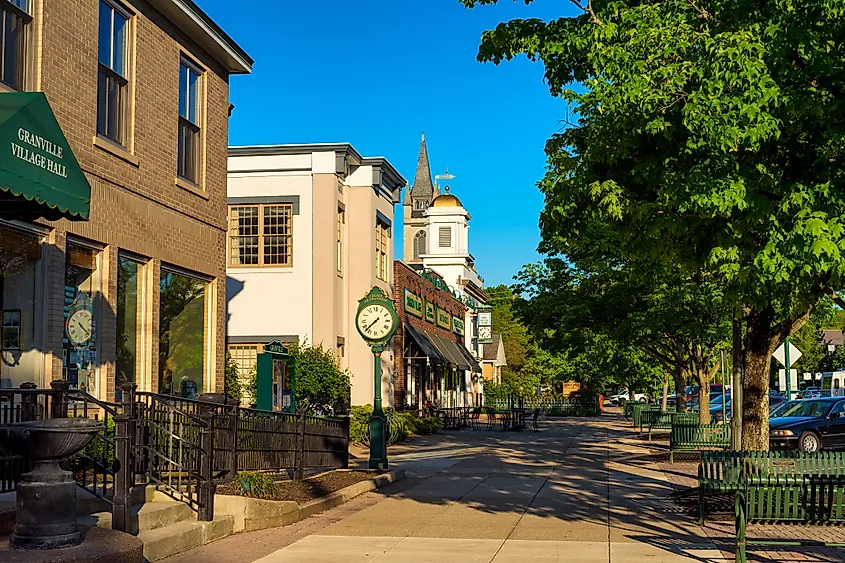 Named the cutest town in Ohio, Granville is home to Denison University, a top liberal arts college. It is a quiet historic small town with an extensive range of outdoor activity options and a charming downtown area that emphasizes the feels of a tight community with a range of caring small-business owners who add their personal touch to the district with their decorations and patios. Denison University is ranked #39 in the U.S. according to the News & World Report of the best liberal arts colleges, with an 850-acre classy campus. The university is known for financial economics, global commerce, global health, and journalism. It is the perfect college town for those looking to avoid big city chaos, focus on academics, and enjoy nature. 
Kent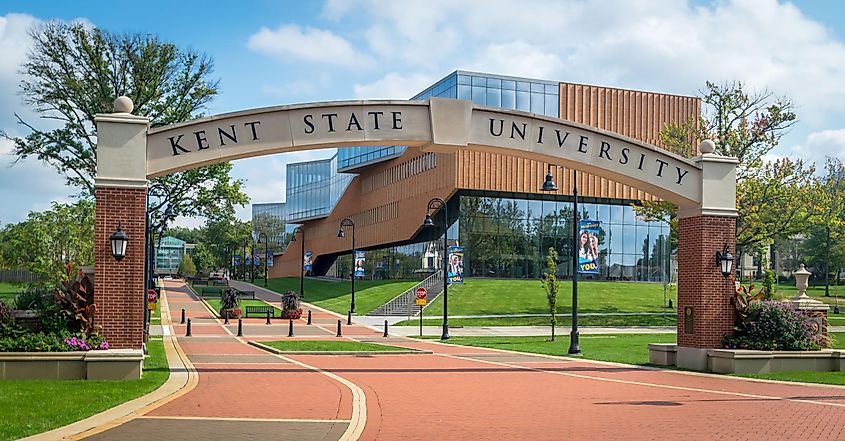 Another charming small college town, Kent, Ohio, is home to Kent State University, and the town's whole vibe is built around the visiting students. Everything students may need is within walking distance from the main campus, and the town is known for its affordability and beautiful parks. Some of the most common student go-to destinations in Kent, Ohio, include Brady's Leap Park, Kent State University Museum, and the Paint Nite Bars, where students can enjoy an artistic night out. Kent State University is ranked #212 out of 443 national universities and is the perfect small town to zone out and study in the beauty and peace of nature. 
Oberlin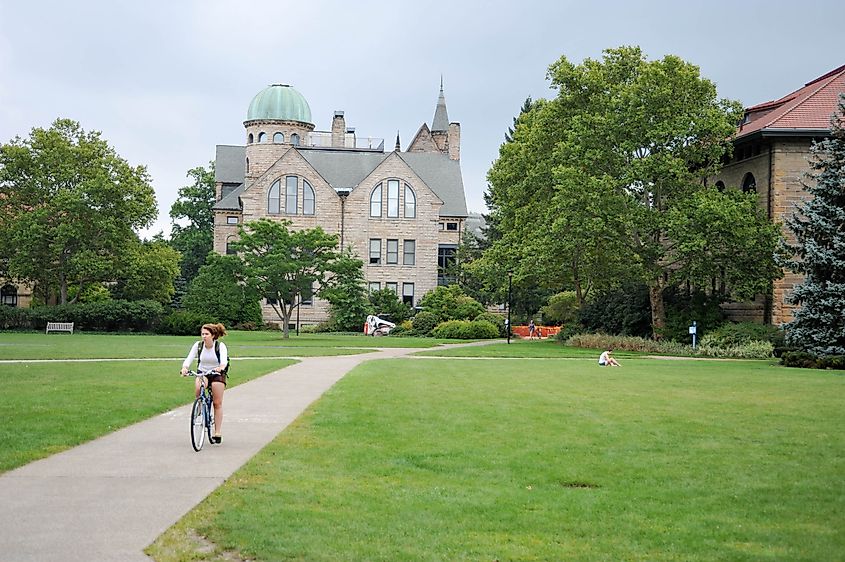 Oberlin is a small town located 35 mi for Cleveland, Ohio. It is home to Oberlin College, a historic liberal arts college known for being the first American higher education institution to admit female and black students. Oberlin is one of the smallest towns on this list with roughly 8600 residents, but its college is highly recognized and offers over 40 arts and science programs. Some of the most notable attractions in Oberlin include the Allen Memorial Art Museum, The Oberlin Heritage Center, and the Bill Long Nature Preserve. Founded in 1833, Oberlin College is ranked #39 among 210 liberal art colleges and enjoys a 440-acre campus of greenery and historic buildings. 
Berea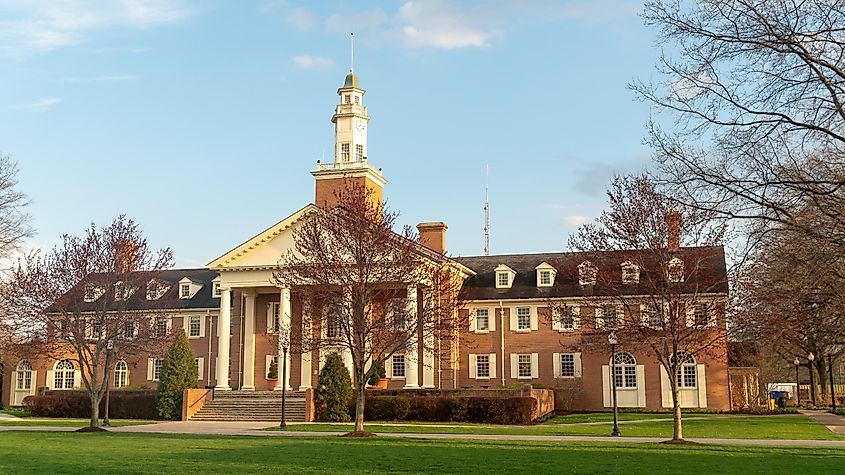 Another small town in Ohio known for its liberal arts university Baldwin Wallace University, Berea, is a western suburb roughly 12 mi from Cleveland, Ohio. Beara is historically known as the Sandstone capital of America and was the Grindstone manufacturing hub in the mid-1800s. Berea is the place to study if you are used to the small-town vibe or are looking for a place to experience it. Some of the most popular attractions in the town include the Metroparks: Cuyahoga Couty Fairgrounds, and the Coe Lake Picnic Pavilion. Baldwin Wallace University was founded in 1845 and spans over 100 acres. The liberal arts university is ranked #8 among 167 regional universities. 
Cleveland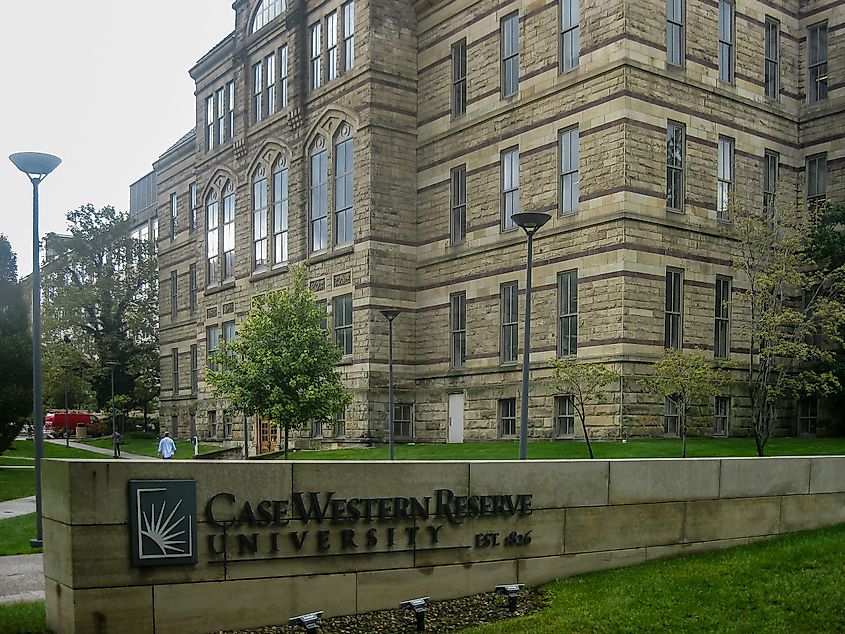 Finally, the best of the best, Cleveland, Ohio, is home to the state's most famous university, Case Western Reserve University. Cleveland is Ohio's second-largest city by size and population and is known for its sports teams and being the birthplace of Rock and Roll music. Cleveland is nicknamed "The Forest City" and offers the widest range of local cuisines and restaurants. Go-to destinations in Cleveland include The Rock n' Roll Hall of Fame, The Cleveland Museum of Art, and West side market. Case Western Reserve University is one of the top research universities in the U.S. and is ranked #44 on the list of the best universities in the united states. 
Ultimately, the best environments for focusing on studies and excelling in your major are the small towns with little to do and see. However, the overall modern college experience suggests else wise and emphasizes party life and going all in. 
Whether you are looking for a calm town to study and enjoy a sense of local community or want to celebrate your independence from your parent's house by living in a never-sleeping city, Ohio offers a balance of both. Explore your options, prioritize the quality of education, and find what works for you while discovering a new town or city to call home for a few years.