The Bass Islands are a group of small limestone islands located in the southwestern part of Lake Erie.
The Bass Islands are situated to the northwest of the city of Sandusky (in the state of Ohio) and to the southwest of Pelee Island (part of the Canadian province of Ontario). The three principal islands in the group are the North Bass Island, Middle Bass Island and South Bass Island.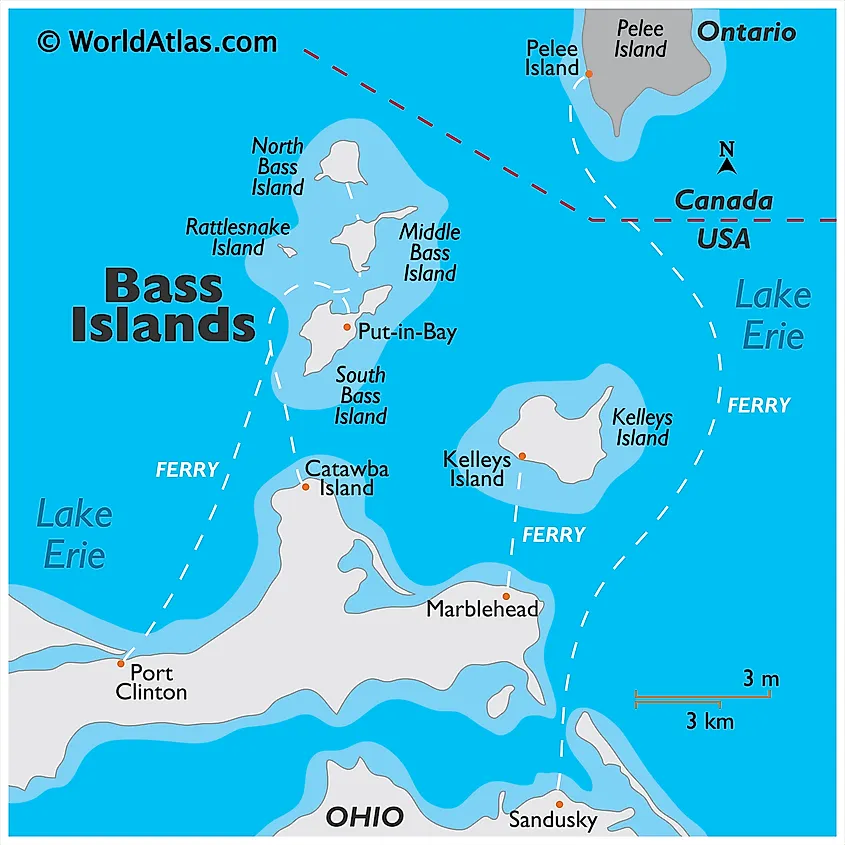 In addition to the three large Bass Islands, the other smaller islands that are a part of the Bass Island Archipelago include the Sugar, Rattlesnake, Mouse, Starve, Ballast, Lost Ballast, Green, Catawba, Kelleys, Gibraltar, Buckeye islands under the US state of Ohio and the islands of Pelee, North Harbour, Middle Sister, East Sister, Middle and Hen (with its three smaller islands) under the Canadian Province of Ontario.  
The Islands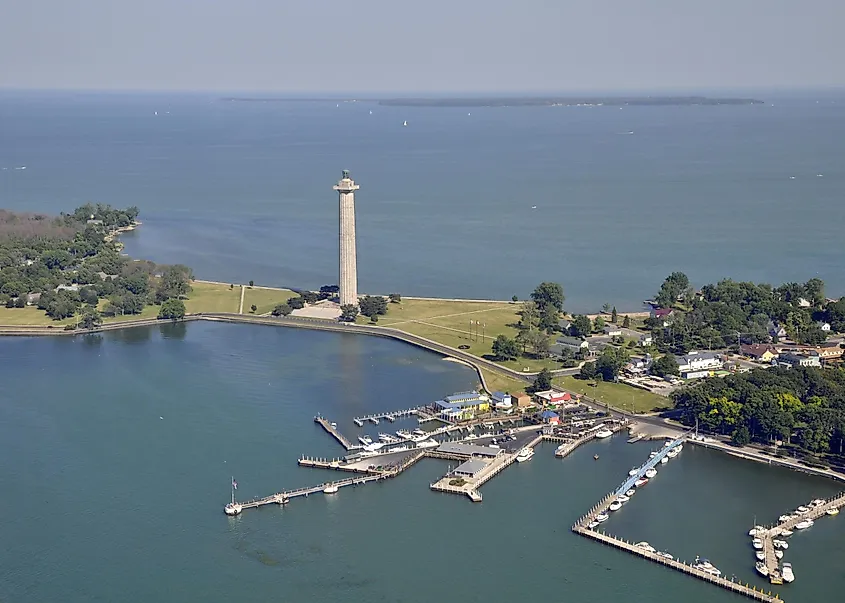 South Bass Island
South Bass Island is the largest among the three principal Bass Islands and is a part of Ottawa County in Ohio. Located on South Bass Island is the small village called Put-In-Bay which serves as a popular vacation destination and attracts a large number of tourists during the summer months of April to October.
The village of Put-In-Bay played an important role in the Battle of Lake Erie. Located near Put-In-Bay is Perry's Victory and International Peace Memorial, an island landmark commemorating the naval victory of US Commander Oliver Hazard Perry over the British forces during the War of 1812. South Bass Island serves as a popular recreation area for hiking, biking and other recreational activities. The island also hosts the annual Inter-Lake Yachting Association regatta and is well connected to the mainland by ferry services from Port Clinton and Sandusky.
Middle Bass Island
Middle Bass Island was named by Robert La Salle as "Isle des Fleures" due to the abundance of wildflowers on the island. This low, green island is dotted with pristine beaches and glacial grooves. The Middle Bass Kuehnle Wildlife Refuge is one of the chief migratory routes for birds and monarch butterflies in North America.
The North Bass Island
The North Bass Island is the northern-most Bass Island that contains a small unincorporated community known as Isle St. George. It is one of the few islands in the group that has been quite underdeveloped. 87% of the island's land is owned by the State of Ohio and conserved as the North Bass Island State Park.