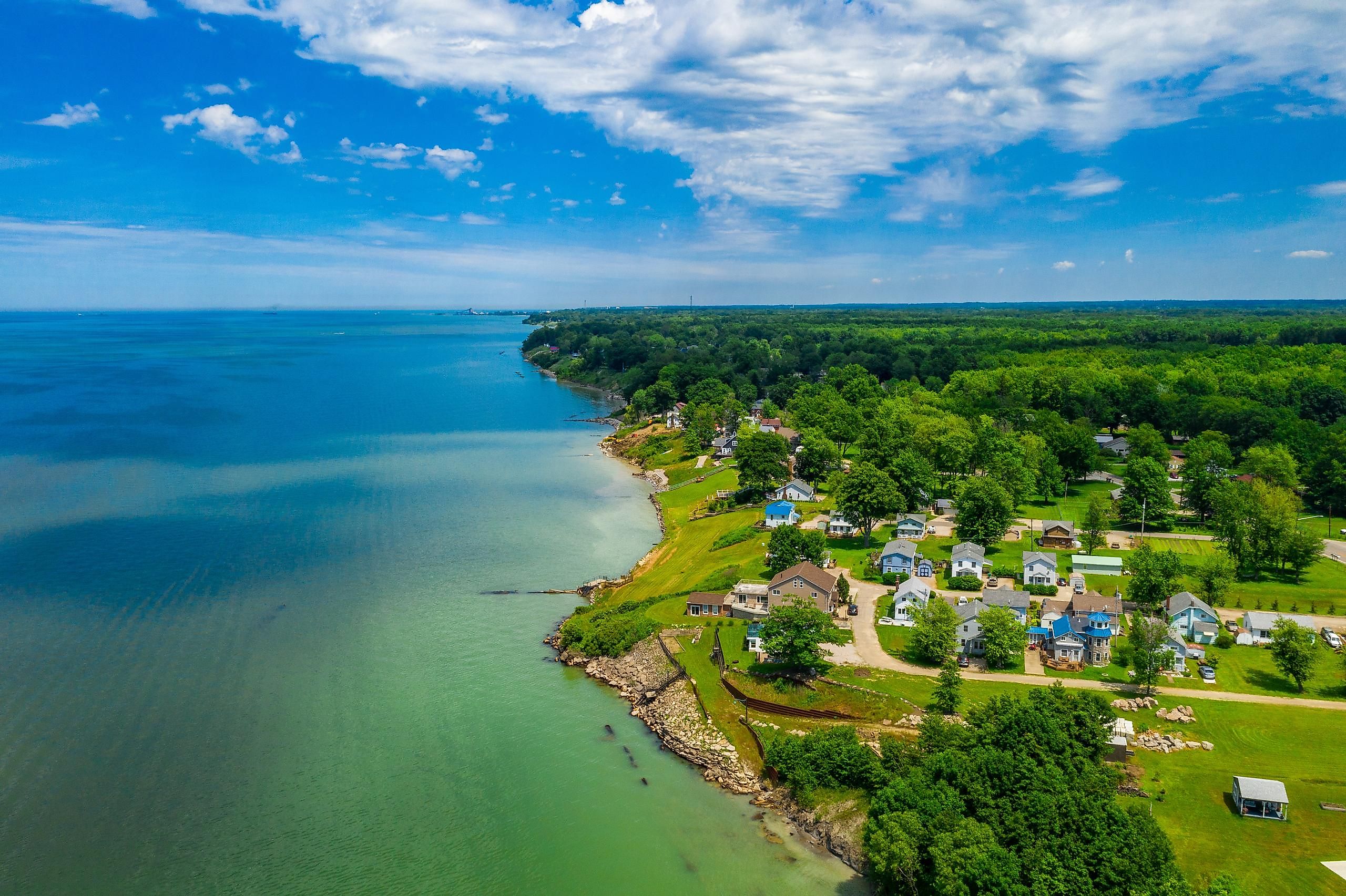 13 Top-Rated Small Towns In Ohio
Bounded by Lake Erie to the north, and the US States of Michigan, Pennsylvania, West Virginia, Kentucky, and Indiana to the northwest, east, southeast, southwest, and west, respectively, Ohio is a beautiful state on the northeastern edge of the American Midwest. While the state's urban metropolises including the state capital and largest city Columbus, followed by the cities of Cleveland, Dayton, Cincinnati, and Toledo, allure hordes of explorers every year, the Buckeye State is way more than its big population centers. Numerous small towns that dot the length and breadth of this scenic terrain truly showcase the state's natural beauty, vibrant cultures, historic architecture, modern attractions, and Midwestern hospitality. Let us embark on a vacation tour to the top-rated towns in "The Heart of It All."
Loveland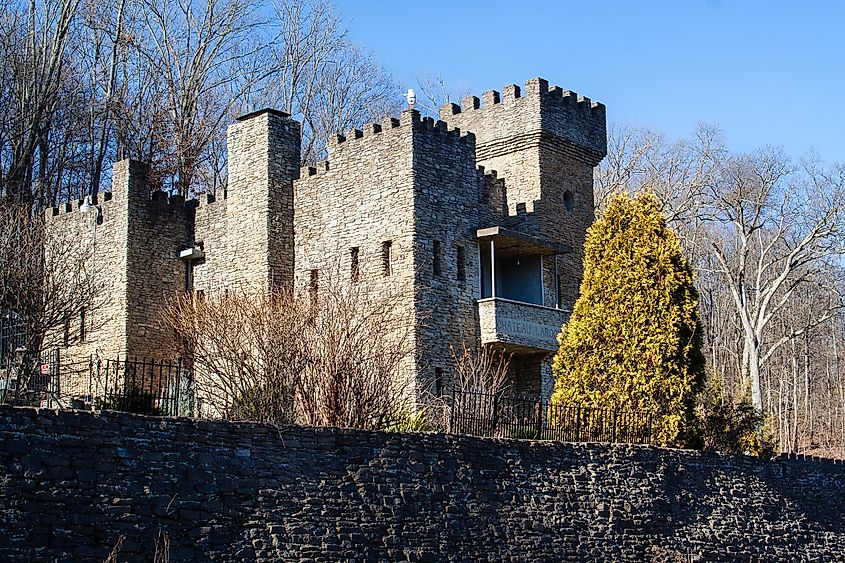 Named in honor of James Loveland, this pretty town spread across Southwestern Ohio's Hamilton, Clermont, and Warren counties, is situated within close range of exit 52 off Interstate 275 highway, about 15 miles northeast of Downtown Cincinnati. A key stop along the Little Miami Scenic Trail, Loveland enchants travelers with its natural splendor and multiple outdoor recreations. The Loveland Bike Trail especially offers cyclists and hikers breathtaking views of the surroundings and the Little Miami River. The water towers and park signages aptly display Loveland's logo abutted by its nickname, "Sweetheart of Ohio." Moreover, the town's downtown provides ample shopping and dining options, besides other interesting attractions like the "William Johnson House" (Shield's Crossing), Chateau Laroche or Loveland Castle, Castle Skateland, and the Loveland Stage Company, an award-winning community theater which provides high-quality performing arts experiences for all.
Tipp City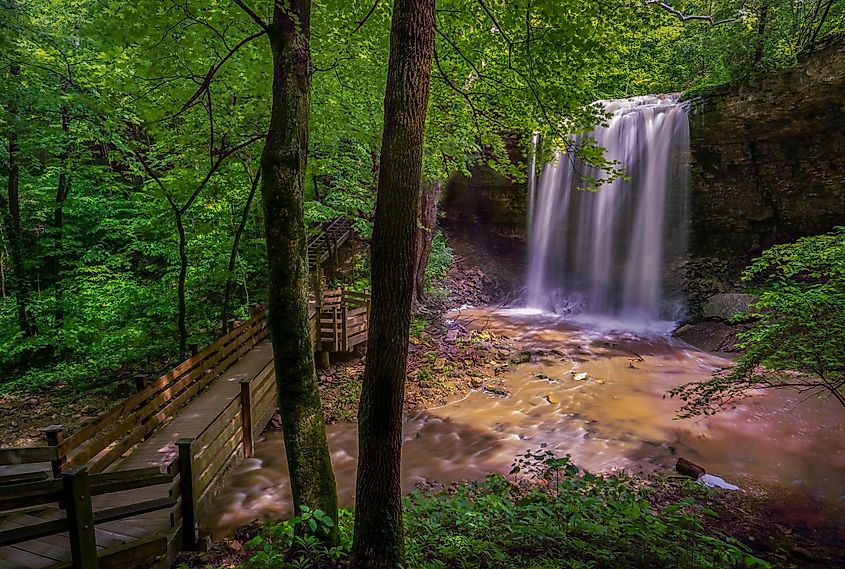 Established in 1840 by John Clark along the erstwhile 274-mile-long Miami & Erie Canal, this Miami County town occupies the Miami Valley along Interstate 75 highway next to the Interstate 70 interchange. Placed about 15 miles north of Dayton, Tipp City functions as a commuter town and includes several locally-owned businesses and diners that cater to the residents as well as those traveling along Interstate 75. Exuding a typical small-town charm, Tipp City's impressive downtown area features a variety of specialty boutiques, vintage stores, and restaurants. Outdoorsy types can partake in various activities at the neighborhood parks and nature centers like the City Park, Kyle Park, the Miami County Bike Trail, and the Charleston Falls Preserve. The National Register-listed Old Tippecanoe Main Street Historic District attracts architecture lovers to witness its landmark structures, while the Tippecanoe Historical Museum maintained by the Tippecanoe Historical Society displays artifacts related to the town's past. Throughout the year, many high school and community-gathering events such as Independence Day fireworks, Mum Festival, Tippecanoe High School "Red Devil" football games, Canal Days, and the Trans Am Nationals Friday night "cruise-in," are held in Tipp City.
Marietta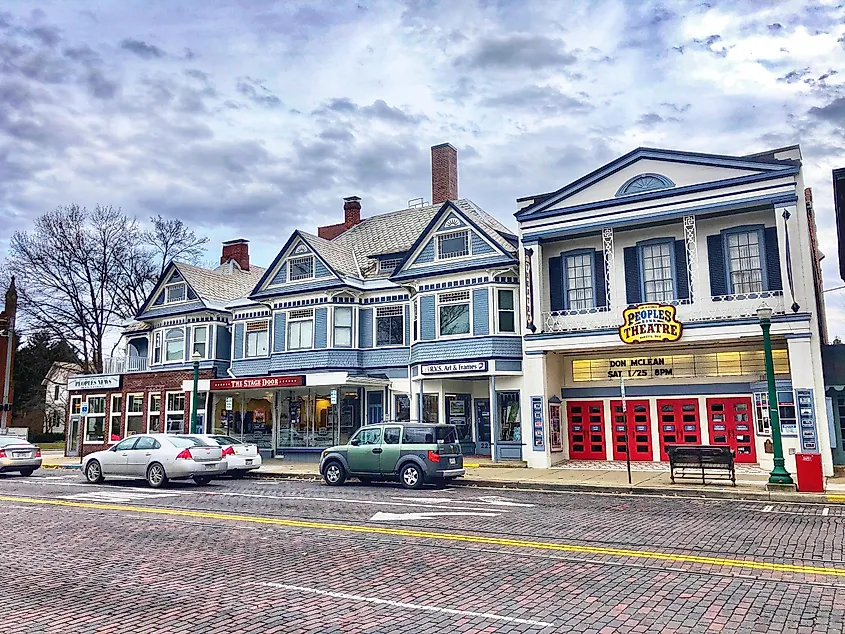 Washington County's seat, Marietta is situated at the junction of Muskingum and Ohio rivers, about 11 miles northeast of the West Virginian city of Parkersburg. Named after the French Queen Marie Antoinette, to show thankfulness to France for their vital aid during the American Revolutionary War, Marietta was the foremost permanent US settlement in the erstwhile Northwest Territory. Tourists in Marietta can learn about the town's good old days by visiting specialty museums and historical sites like the Campus Martius Museum, Ohio River Museum, The Castle, Basilica of St. Mary of the Assumption, Mound Cemetery, and the Historic Harmar Village. Scores of beautifully preserved Victorian structures line the brick-laden streets of Marietta's downtown, besides the Peoples Bank Theatre and many welcoming shops, boutiques, and eateries such as the Buckley House Restaurant, Marietta Brewing Company, Austyn's Restaurant & Lounge, The Gallery, Spagna's Italian Restaurant, and Busy Bee Restaurant. The adjacent Wayne National Forest offers over 300 miles of hiking, biking, and climbing opportunities for nature lovers and thrill-seekers. Marietta also hosts the annual Ohio River Sternwheel Festival, Marietta Invitational Regatta, Ralph Lindamood Memorial Regatta, and a Marietta Civil War Reenactment.
Granville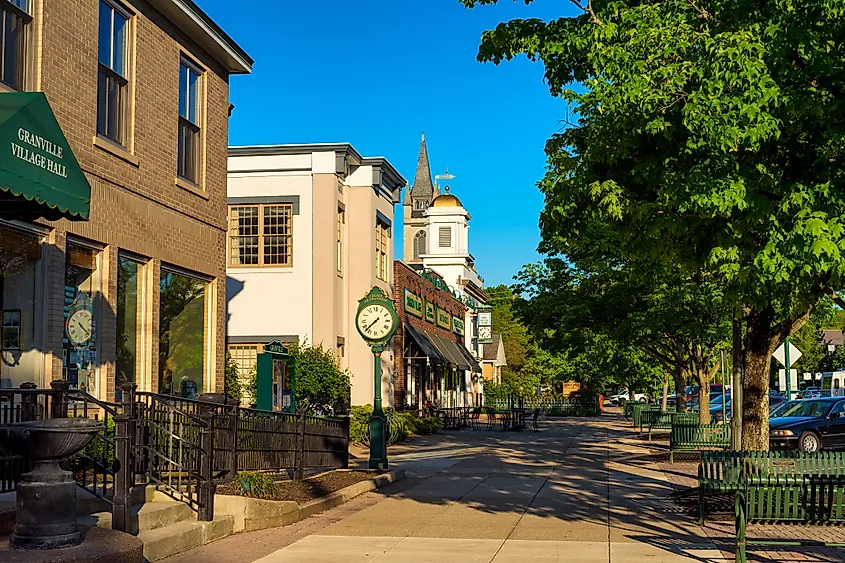 A quaint New England-style community surrounded by rolling hills in east-central Ohio's Licking County, Granville is located in the Welsh Hills area, approximately 35 miles east of Columbus, and 7 miles west of the county seat Newark. Placed atop a hill overlooking Granville is the idyllic 1,100-acre campus of Denison University, comprising buildings that showcase a perfect blend of Gothic and Romanesque architectural styles. In addition, Granville's other landmark properties including the St. Luke's Episcopal Church, Avery-Hunter House, Robbins Hunter Museum, Granville Inn, Bryn Du Mansion, Newark Earthworks, Bancroft House, Granville Historical Society Museum, Buxton Inn, and Alligator Effigy Mound, also attract a lot of heritage enthusiasts. Outdoor enthusiasts can spend quality time at the Dawes Arboretum, Sugarloaf Park, Fanchion Lewis Park, Opera House Park, Wildwood Park, Raccoon Valley Park, etc.
Millersburg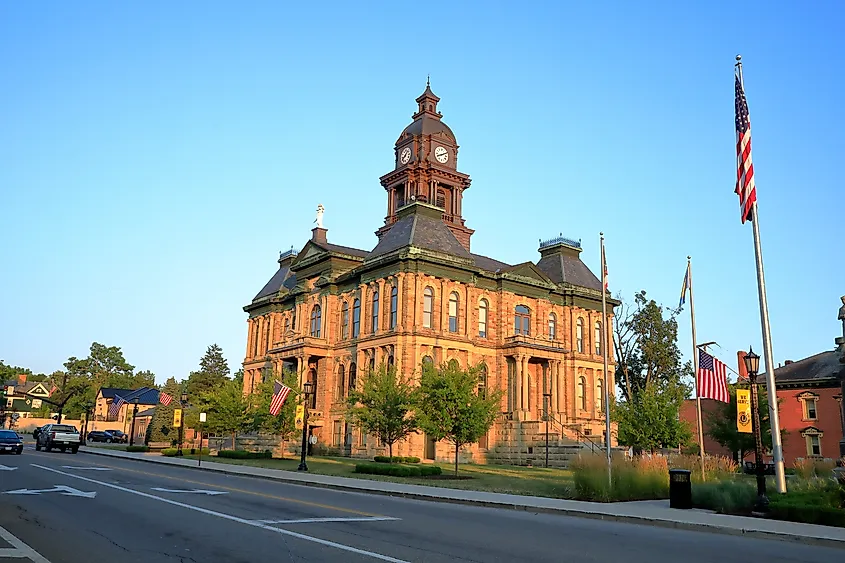 The administrative center of Holmes County, Millersburg occupies the heart of Ohio Amish Country, about 66 miles south of Cleveland. Home to 3,151 inhabitants as per the latest US Census, Millersburg flawlessly holds on to its early 19th-century roots and is best known for its historic downtown that offers sightseers unique shopping, lodging, and dining options. When in town, do not forget to go apple picking at one of the neighboring orchards, relish a scoop of ice cream at Miller's Creamery, tour a local cheese factory, and check out some prominent attractions, including the Holmes County Courthouse, Hershberger's Farm & Bakery, Yoder's Amish Home, Victorian House Museum, Holmes County Trail, Millersburg Glass Museum, and the Black Diamond Golf Course.  
Ashtabula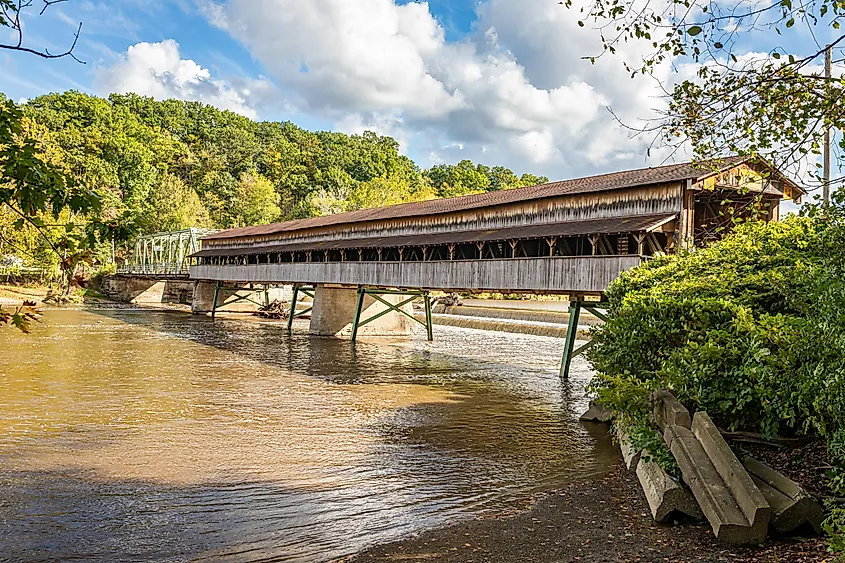 Ashtabula, situated at the Ashtabula River's mouth along Lake Erie, about 53 miles northeast of Cleveland in Ashtabula County, forms a part of the Cleveland Metropolitan Area. The town's closeness to Lake Erie has helped Ashtabula to develop rapidly as a significant 20th-century shipping and commercial center. The bustling Ashtabula Harbor Commercial District encompassing the town's commercial segment close to the Lake Erie waterfront includes uncountable National Register-listed buildings constructed mainly during the late 19th century when Ashtabula was a prosperous port city. Do visit some of the town's favorite attractions like Ashtabula Arts Center, Hubbard House Underground Railroad Museum, Smolen-Gulf Bridge, Ashtabula Maritime Museum, Brant's Apple Orchard, Benetka Road Covered Bridge, Cloven Hoof Brewing, and many more. The Grand River Valley Wine Trail meanders through the region's vineyards and invites travelers to savor delicious wines amidst the serene surroundings.
Sugarcreek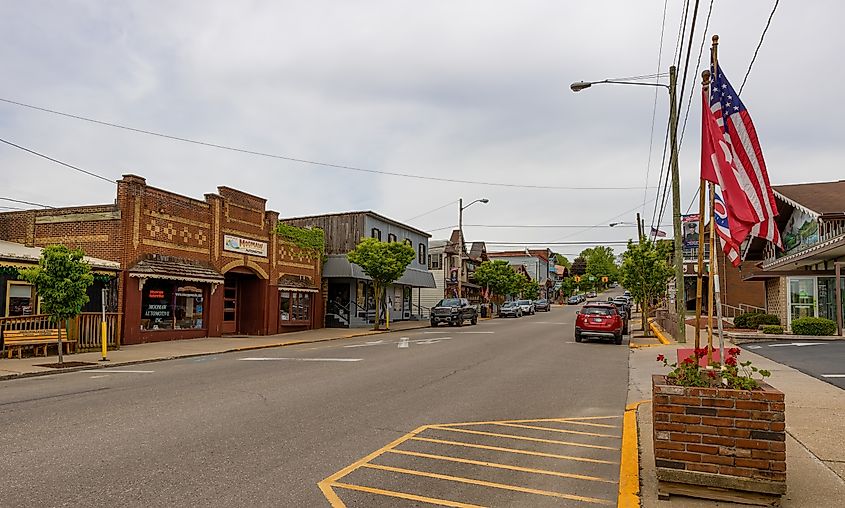 Sugarcreek, a tiny village in Northeastern Ohio's Tuscarawas County is placed along the South Fork of Sugar Creek, Tuscarawas River's 45-mile-long tributary. As a part of the world's second-largest Amish community and aptly dubbed "The Little Switzerland of Ohio," Sugarcreek lures thousands of vacationers with its enchanting combination of Swiss heritage and Amish culture. Stroll through the downtown to witness some remarkable Swiss architectural style buildings as well as one the largest cuckoo clocks in the world overlooking the town's square. To get a better understanding of the Sugarcreek area's glorious bygone days, head to the Alpine Hills Museum, Age of Steam Roundhouse Museum, and the nearby Erbs's Coleman Lantern Museum. Located within walking distance of these museums is the Swiss Village Corridor, featuring many Amish & Swiss diners, pubs, food stores, and shops selling antiques, Amish-made quilts, and collectibles.
Milan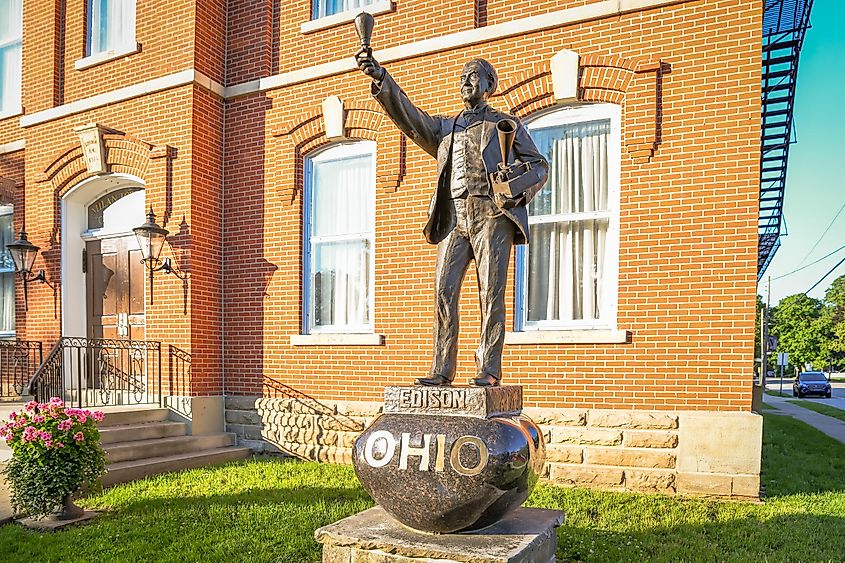 Platted by Ebenezer Merry in 1817 and named after the Italian city of Milan, this small village spread across Northern Ohio's Huron and Erie counties lies along the Huron River, about 12 miles southeast of Sandusky. Initially a bustling shipbuilding and wheat-shipping center, Milan is at present, a peaceful tight-knit community renowned for being the birthplace of notable American inventor Thomas Alva Edison. Milan is home to innumerable landmarks including the Thomas Edison Birthplace Museum which through a collection of documents, Edison family artifacts, and early inventions shed light on the initial years and works of the famous inventor. The Milan Historical Museum recounts stories of the town's past using its outstanding exhibits and historical buildings. Merrymakers would not want to miss the annual Milan Melon Festival held over the Labor Day weekend, where they get to sample a wide variety of melon-based treats and participate in various family-friendly contests, arts & crafts markets, grand parades, and barbeques.  
Waynesville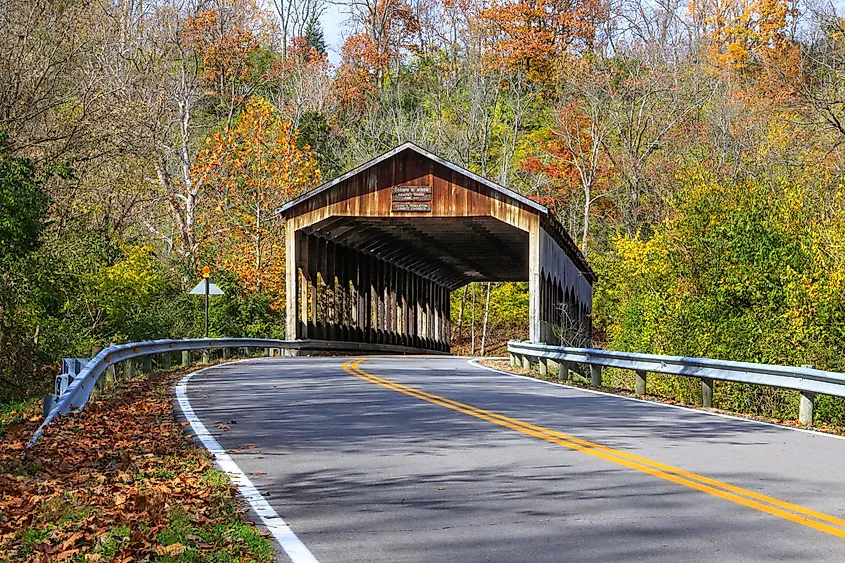 The "Antiques Capital of the Midwest," this adorable village is located at the intersection of U.S. Route 42 and State Route 73 in Warren County's Wayne Township. Called Waynesville in honor of an American hero, Captain Anthony Wayne, the town is a well-known shopping locale where the five-block Main Street is packed with more than 70 antique shops, coffee houses, stylish boutiques, and locally owned restaurants. About 5 miles east of Waynesville is the Caesar Creek State Park, a beautiful natural area that offers 43 miles of hiking trails and 31 miles of bridle trails, apart from boating and swimming activities at the 2,830-acre Caesar Creek Lake. The annual Ohio Sauerkraut Festival in the second weekend of October draws approx. 400,000 visitors and craft vendors from all over the country to Waynesville every year.
Chagrin Falls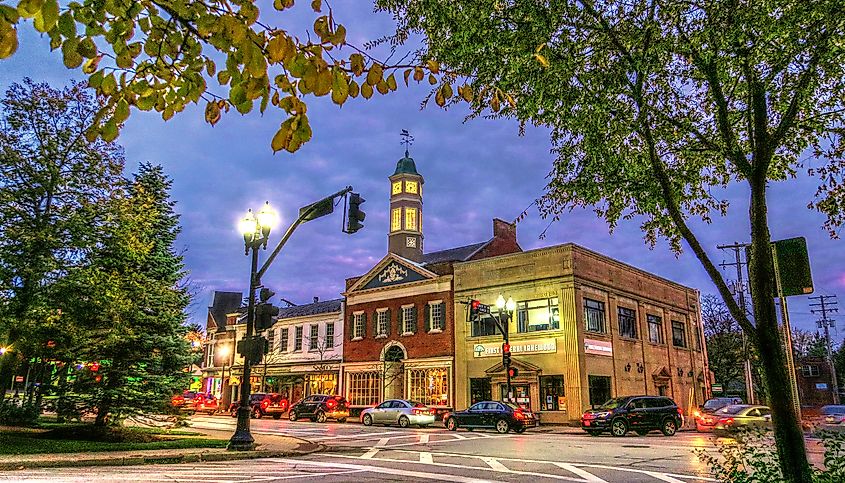 This Cleveland suburb baptized for the series of cascading waterfalls along the Chagrin River, forms a part of the Cleveland Metropolitan Area in the eastern portion of Ohio's Cuyahoga County. Take a stroll to see the town's most noteworthy attraction, its namesake Chagrin Falls waterfall, where the Chagrin State Scenic River drops over 20 ft at the heart of the town. This former mill town also has a thriving arts scene with uncountable artsy attractions like the Glass Asylum, GHill ART gallery, Valley Art Center, and the Chagrin Valley Little Theatre. After a hectic day, gorge on some Southern-influenced dishes at Bell & Flower restaurant, and a range of handcrafted beef, burgers, and cocktails at Flip Side Chagrin Falls.  
Put-In-Bay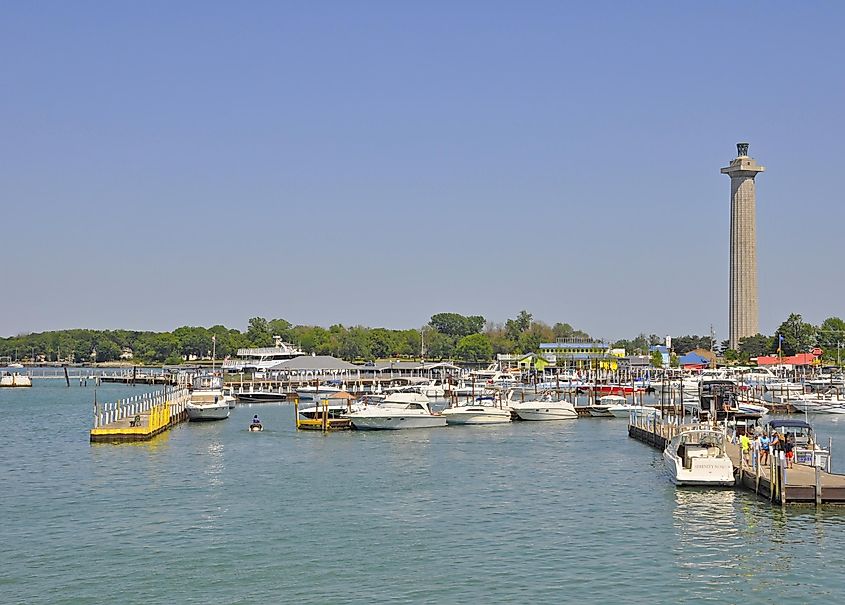 An acclaimed resort village and recreational destination, Put-in-Bay is situated on South Bass Island in Ottawa County's Put-in-Bay Township, approximately 35 miles east of Toledo and 85 miles west of Cleveland. Called, "Key West of the North," tourism is the mainstay of Put-in-Bay's economy and numerous holidaymakers travel to this tiny island village via private boat, ferry boat, and propeller-driven aircraft between April and October. Put-in-Bay's must-visit sites of interest include the Perry's Victory & International Peace Memorial, Stonehenge Estate, Perry's Cave, Heineman's Winery and Crystal Cave, South Bass Island Lighthouse, and the Lake Erie Islands Historical Society Museum.
Yellow Springs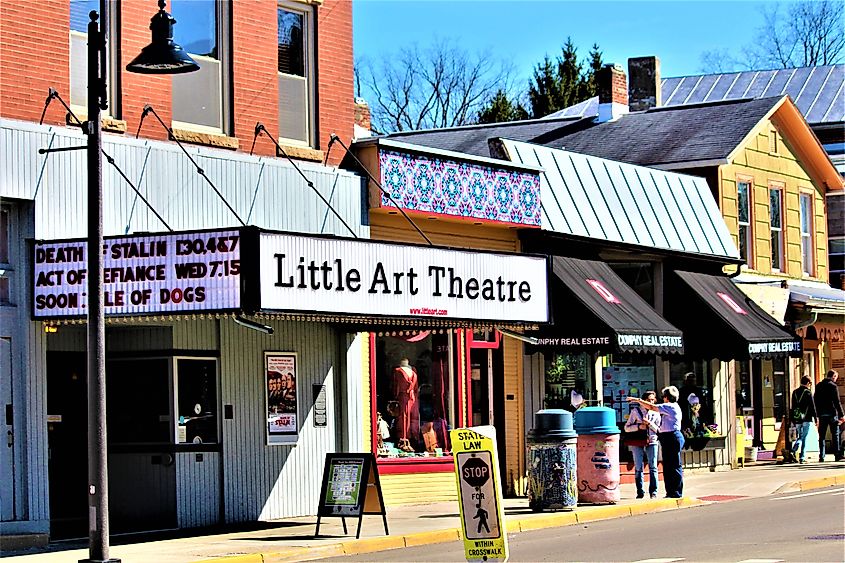 Founded in 1825 by William Mills and christened after the neighboring natural springs whose waters have high iron levels, this Greene County village is located about 25 miles east-northeast of Dayton. Apart from being home to Antioch College, Yellow Springs has a plethora of attractions that appeal to visitors of all ages. A significant portion of the town is encompassed by the Yellow Springs Historic District, which includes many structures built in Federal or Greek Revival architectural styles. Yellow Springs's colorful downtown is packed with numerous specialty stores, art galleries, cafes, and the iconic Little Art Theatre. The town is also close to various natural areas like the Glen Helen Nature Preserve, John Bryan State Park, Clifton Gorge State Nature Preserve, and Little Miami Bike Trail.
Geneva-On-The-Lake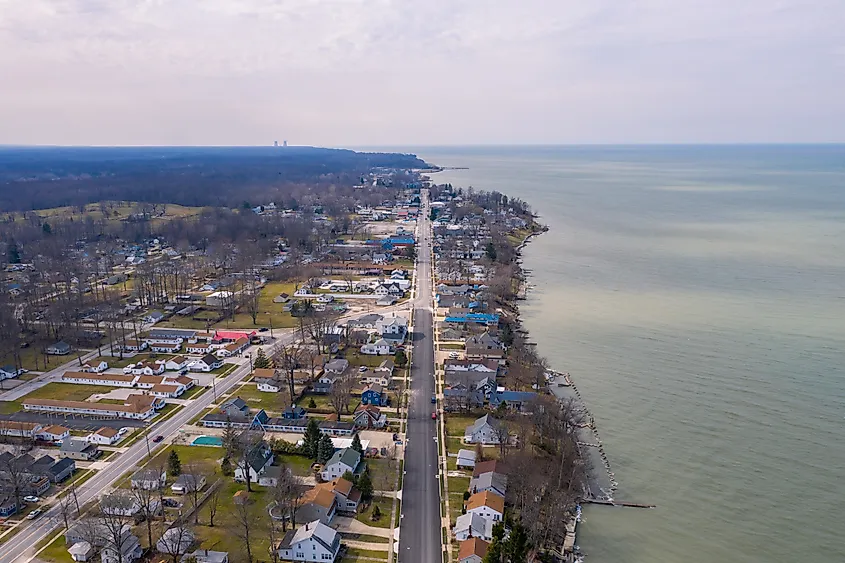 Along Lake Erie's southern shores is Geneva-on-the-Lake, a tiny resort community in the northwestern portion of Ohio's Ashtabula County, about 46 miles northeast of Downtown Cleveland. As a part of the Ashtabula Micropolitan Statistical Area, Geneva-on-the-lake's most prominent attraction is "The Strip," a segment of the State Route 531 highway, lined with arcades, parks, and an array of eateries like the Eddie's Grill, Ruff Life on the Lake, Capo's Pizza, etc. Also, do spend an afternoon at the Adventure Zone Family Fun Center, play a round of golf at Allison's Mini Golf, explore the Jennie Munger Gregory Memorial Museum, browse through the various antique stores, and taste the fine wines offered at the Old Firehouse Winery. All year round, the Geneva State Park's Lodge and Conference Center, allows guests a place to reside, sip delicious wines, and witness breathtaking views of Lake Erie from an indoor or outdoor pool. Thousands of motorcyclists from all over the country are drawn to this lakeside haven for the annual "Thunder On The Strip," a biker rally held on the weekend after Labor Day.
From Loveland, "The Sweetheart of Ohio," to Waynesville, "The Antiques Capital of the Midwest," the top-rated small towns in Ohio offer a different kind of getaway and are considered some of the nation's most favorite holiday destinations. Whether you are in search of a tranquil retreat to spend your long weekends away from the noise of buzzing metropolises, or an adventurous fun-filled vacation full of outdoor revelries, these above-mentioned small towns in the Buckeye State will undoubtedly captivate your heart.