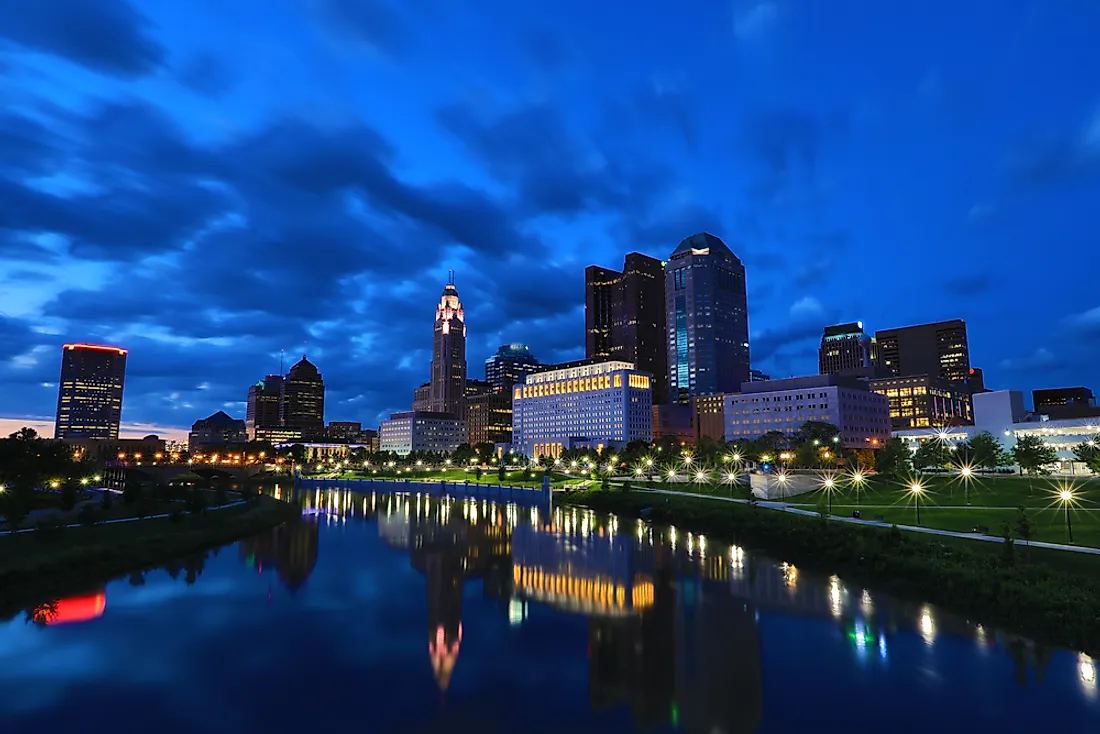 Ohio is in the Great Lakes Region of the US. The state is the 7th most populous state in the country with a population of about 11,613,423. Columbus is the biggest city in Ohio as well as the state capital. Ohio is in between the Northeast and the Midwest, a strategic location that has helped it grow economically and expand.
Manufacturing and financial institutions are the biggest contributors to Ohio's economy. The state has the largest bioscience economy in the Midwest, and it leads the nation in the green economy.
The Largest Cities in Ohio
1. Columbus - 860,090
Columbus is the largest city in Ohio and has a diverse economy based on education, banking, fashion, health care, food, defense, hospitality, technology and medical research. The city experiences a humid continental transitioning with the humid subtropical climate. The south has hot, wet summers and cold, dry winters. The state is prone to severe weather conditions typical of the Midwest like severe thunderstorms with lightning, large hail, and occasional tornadoes.
2. Cleveland - 388,072
Cleveland City is located on the southern shore of Lake Erie in northern Ohio. Manufacturing, healthcare, financial services, and biomedical facilities are the backbone of Cleveland's economy. The city is home to world-class industries like Applied Industrial Technologies, NACCO Industries, Cliffs Natural Resources and KeyCorp. NASA maintains a facility in Cleveland; the Glenn Research Centre.
3. Cincinnati - 298,800
Cincinnati is the third largest city in Ohio. Cincinnati benefits from a low rate of unemployment and a low cost of living compared to other parts of the United States. A number of large global companies are headquartered in Cincinnati, including Procter & Gable, Kroger, and Macy's.
4. Toledo - 279,789
Toledo is Ohio's fourth largest city. It is found in northwest Ohio, near the border with Michigan. Ohio, which has a long history connecting to glass production, has sometimes been called the "glass city".
5. Akron - 197,542
Akron is the fifth largest city in Ohio. It is found in the northeastern portion of the state, not far from the Pennsylvania border. Akron is best known for its historically important role in the rubber industry in the USA.
Biggest Cities In Ohio
| Rank | City | Population |
| --- | --- | --- |
| 1 | Columbus | 860,090 |
| 2 | Cleveland | 388,072 |
| 3 | Cincinnati | 298,800 |
| 4 | Toledo | 279,789 |
| 5 | Akron | 197,542 |
| 6 | Dayton | 140,599 |
| 7 | Parma | 81,601 |
| 8 | Canton | 72,683 |
| 9 | Youngstown | 65,184 |
| 10 | Lorain | 64,097 |
| 11 | Hamilton | 62,477 |
| 12 | Springfield | 60,608 |
| 13 | Kettering | 56,163 |
| 14 | Elyria | 54,533 |
| 15 | Lakewood | 52,131 |
| 16 | Cuyahoga Falls | 49,652 |
| 17 | Euclid | 48,920 |
| 18 | Middletown | 48,694 |
| 19 | Mansfield | 47,821 |
| 20 | Newark | 47,573 |