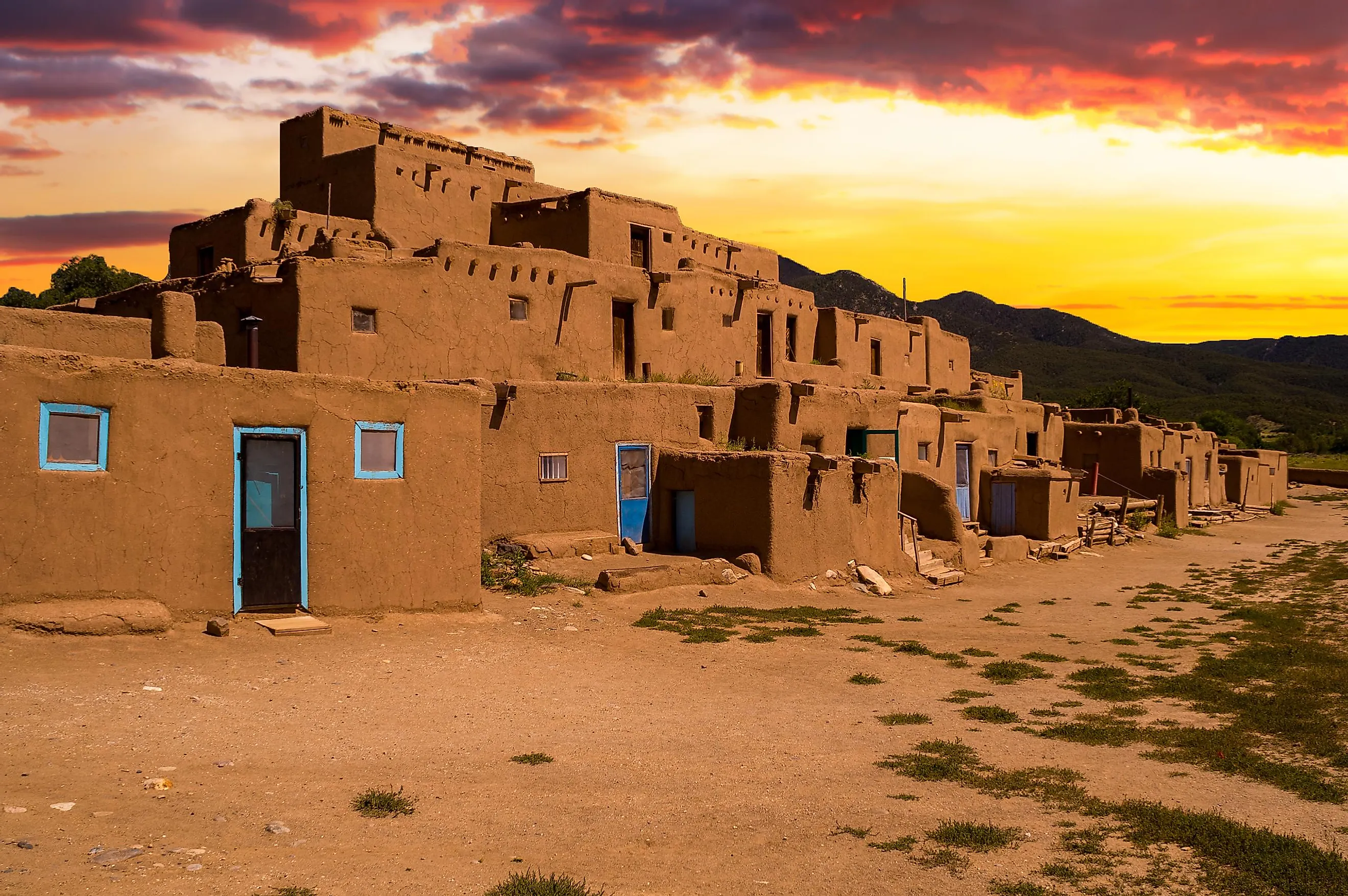 12 Gorgeous New Mexico Towns To Visit In 2023
New Mexico is not just another state in the US but one that stands out due to many things. The state is home to dramatic landscapes, monumental history, nature, and picturesque quaint towns. As for the towns, they do an incredible job of housing the state's scenic attractions. These towns are diverse, each with a unique offering and promise of making visitors feel at home with nature. From well-known beautiful towns like Taos and Silver City to the offbeat Truth and Consequences, scenic beauty reigns across New Mexico's towns. Without further ado, here are 12 gorgeous New Mexico Towns to visit in 2023.
Chama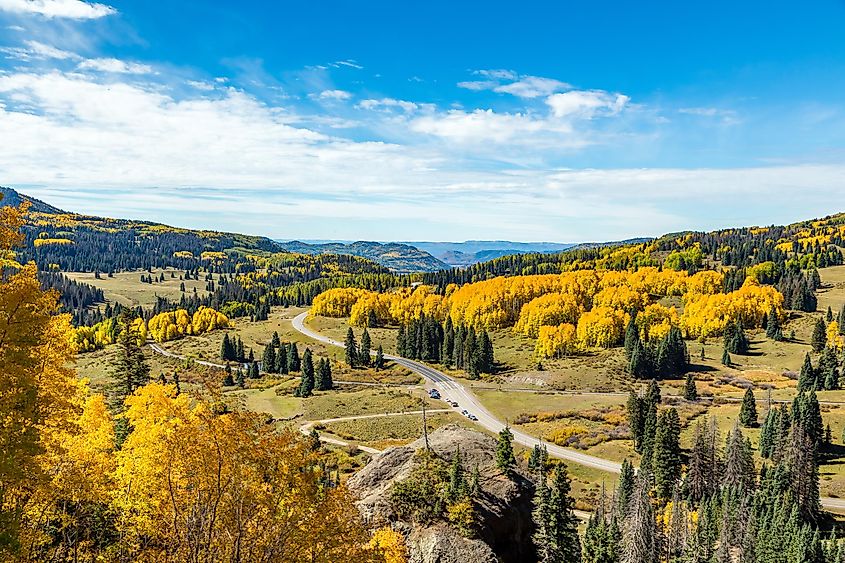 The quaint mountainous town of Chama is close to New Mexico's border with Colorado. Located within the Rocky Mountains, visitors looking for border town vibes will find it here. However, the small mountain town holds more than just border vibes. It is a melting pot of exotic natural views, exciting outdoor activities, and rich wildlife that can be found in the town's northern mountains. More lush scenery awaits any traveler visiting the Heron State Lake Park in the town's southern region. There, one can immerse in the lake's beauty by sailing, boating, hiking, and fishing. Plus, wildlife is abundant in the park.
Mesilla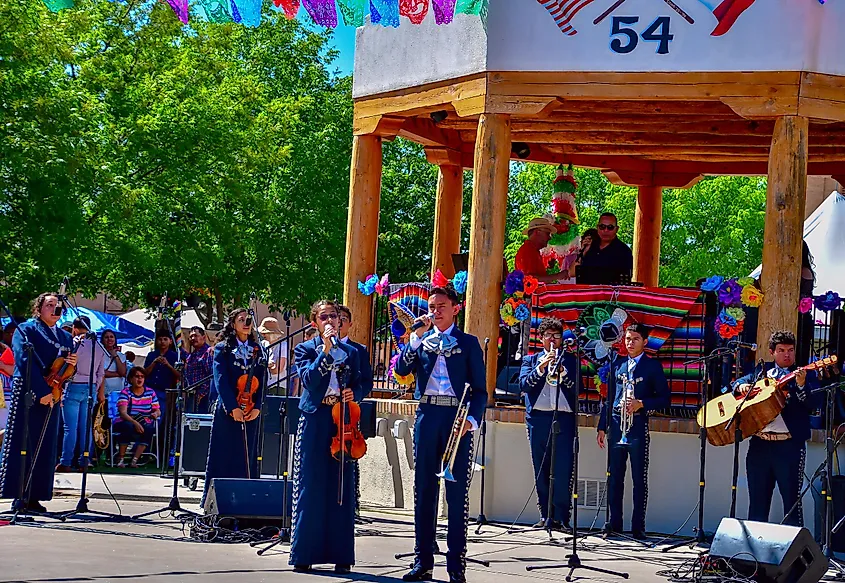 The iconic town of Mesilla has only changed a little since the days it served as a border town between San Diego and San Antonio. Today, it still retains its natural, laid-back vibes and has become even more exciting with the refurbishing of its Main Plaza. This plaza is the central attraction in the town, as many of its buildings are designated "National Historic Landmarks." Some of these buildings are home to craft stores, restaurants, and various shops, all making the scene lively as visitors stroll around the plaza. A popular attraction in the plaza is the Basilica of San Albino - one of the oldest and historically significant churches in the state. Visitors can also enjoy the Rio Grande Vineyards, where wine tasting is offered year-round. 
Silver City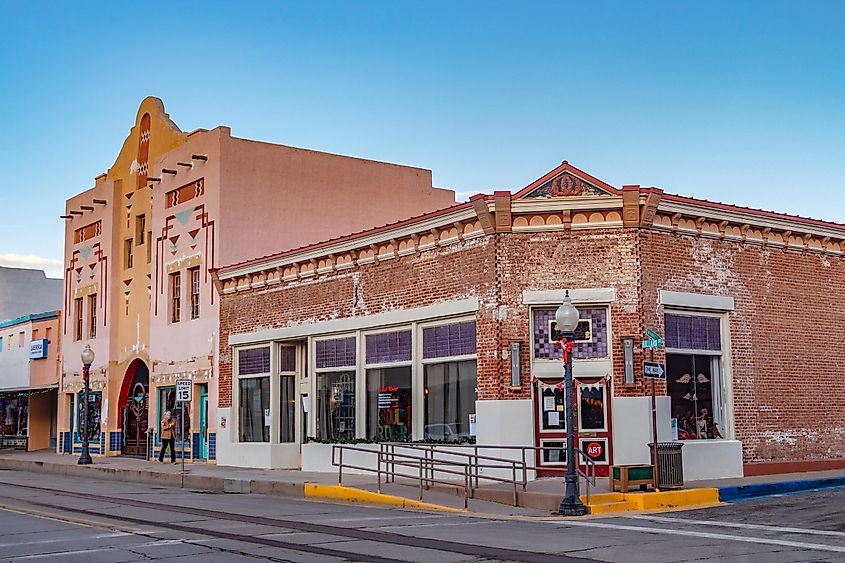 Silver City is a town in Grant County, near the border with Arizona. It was founded in the 1800s when miners thronged the area to harvest its abundant silver deposits. But the town has since grown into a modern city while retaining its history, much of which can be found in the Silver City Museum. Silver City is also incredibly beautiful, with a varied range of slopes and greenery overlooking historic buildings turned into shops. Visitors can stroll on the remarkable streets of this town to capture the blend of ancient and modern architecture, markets, and historic art. The Gila National Forest - a massive landscape of imposing mountains, hot springs, gorges, and forested hills, is nearby for more excitement. Visitors can enter the great outdoors by visiting this scenic forest or exploring the Gila Cliff Dwellings, where homes are carved from rocks.
Cloudcroft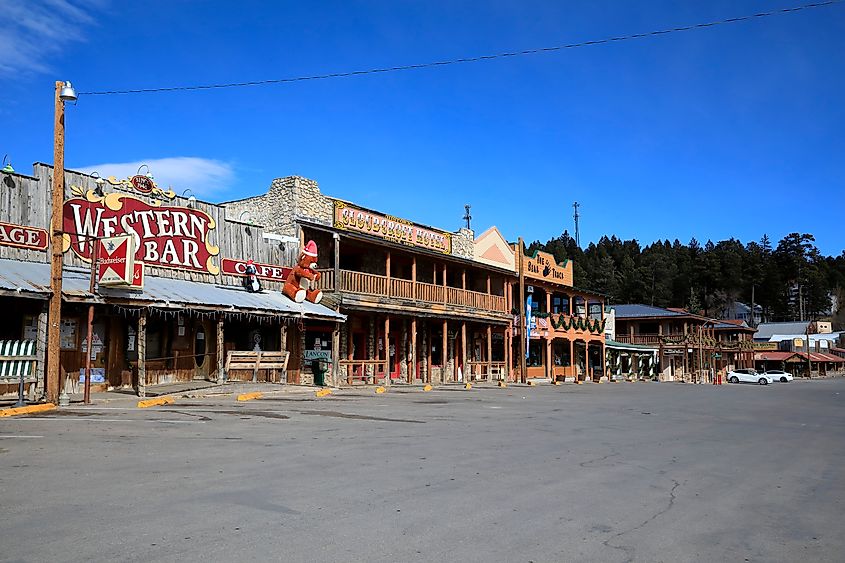 The picturesque town of Cloudcroft is within the confines of the Lincoln National Forest on its Northern Reaches. This town is extremely small, but what it lacks in size and population, it compensates for with natural allure. From its panoramic location at an elevation of 8,676 feet, the town boasts enchanting lush greenery courtesy of the many forested areas surrounding it. This also makes it a popular destination for nature lovers. Hiking is one of the best ways to see all the gorgeous scenery this town offers, and the Rim Trail is one of the best trails here. In addition, Cloudcroft is also home to many relics of railway transportation, which can be seen in the Trestle Recreation Area, even though the last train sighting was in the 1940s. 
Madrid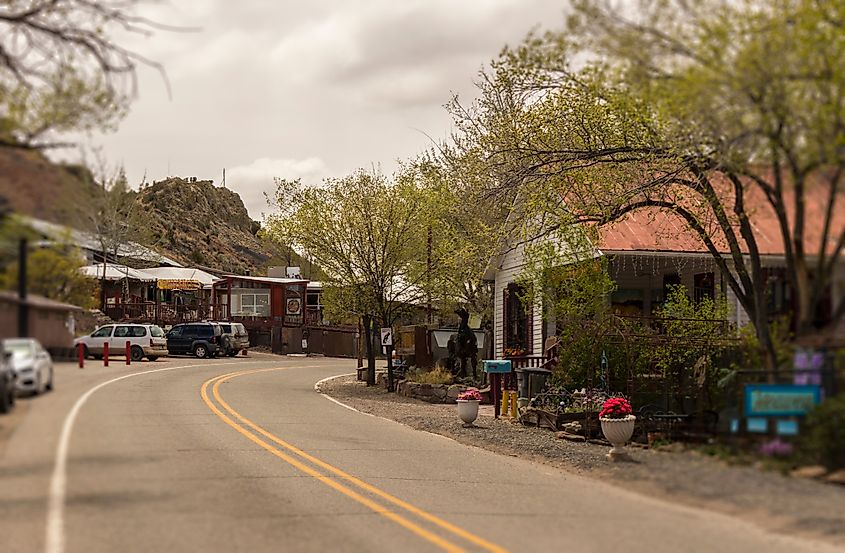 This laid-back ghost town is charming, gorgeous, and uncrowded. The town sits at the foot of a narrow canyon in the Oritz Mountains, and across its streets, one would find the old miner's cabin repurposed into shops with a backdrop of green mountains reflecting the town's history. Madrid was a former bustling coal mining town but lost that status and became a ghost town when it ran out of business. However, things are different today as the town is regaining its lost glory thanks to tourism and the growing small-town love among travelers. Remarkably, Madrid is one of the towns on the scenic Turquoise Trail National Byway that stretches from Santa Fe to Albuquerque. 
Eagle Nest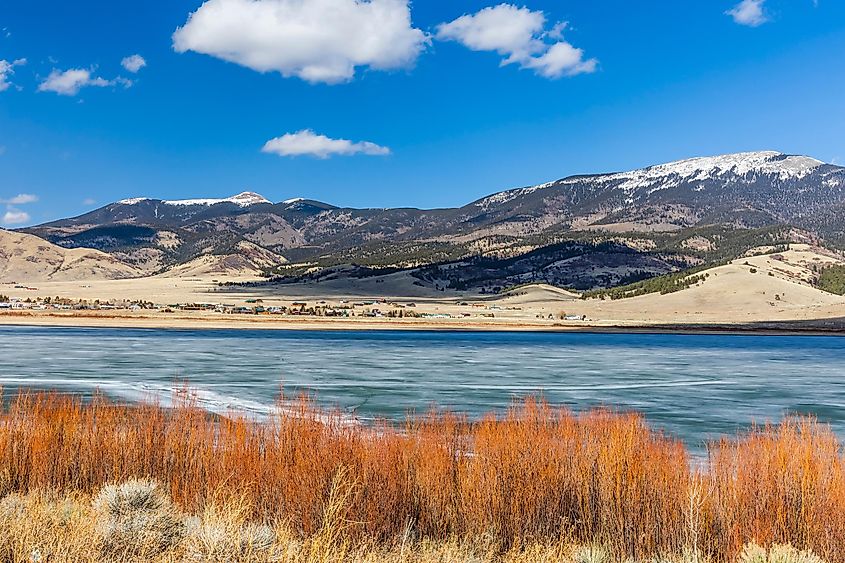 Eagle Nest is a small village and resort destination located on the Enchanted Circle Scenic Byway. Hence, it's already within the corridors of natural beauty, and it gets better with the Sangre de Cristo Mountains that overlooks it. The town is also home to the Eagle Nest State Park, a scenic park centered around the enchanting Eagle Nest Lake. Here, fishing, camping, and strolling for sightseeing feel extraordinary due to the gorgeous natural scenery that meets the eye. For an unforgettable experience, visitors can hike the trail on Touch-Me-Not Mountain to capture the scenery from an eagle's perspective. Daring adventurers can take it a step further by engaging in mountain climbing, bouldering, and mountain biking for more rewards. 
Santa Rosa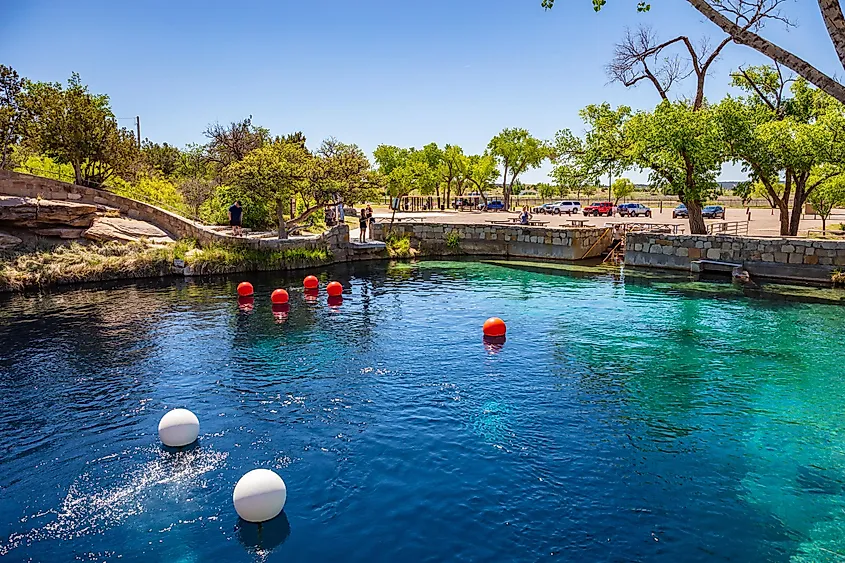 Santa Rosa is a famous New Mexican town with beautiful nature despite being surrounded by a desert landscape. Several beautiful lakes fenced by limestone rocks are in this town, contributing to its natural allure. The most famous is the Blue Hole - a breathtaking 80-foot deep lake that attracts tourists to Santa Rosa. The lake is a popular scuba diving spot, but there are many other things to do here, including cliff diving, swimming, and fishing. After exploring the Blue Hole, visitors can head to the Santa Rosa Lake State Park - a massive desert park. There, visitors can hike its many trails to spot wildlife, flora, and captivating desert scenery.
Truth or Consequences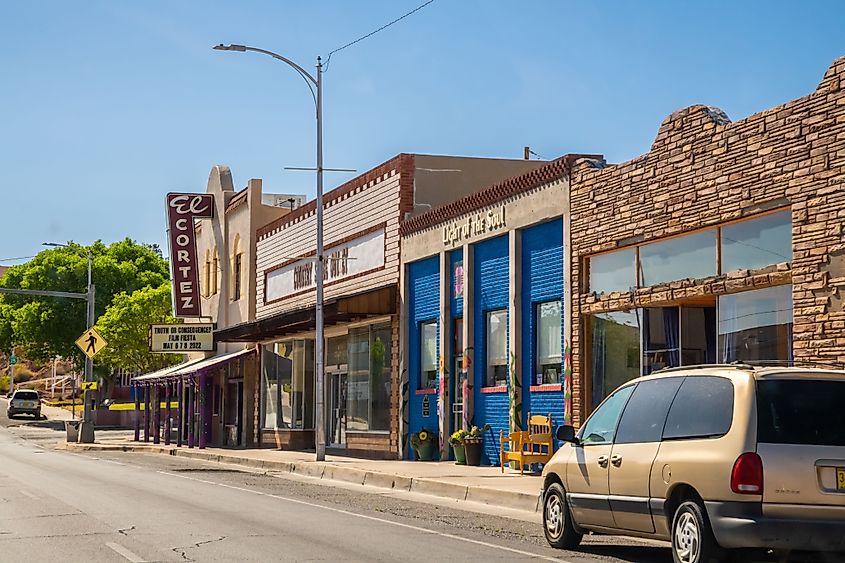 Truth or Consequences town may have a funny or quirky name, but don't be discouraged. The town got its name in 1950 when a radio host, Ralph Edwards, dared a town to rename itself after his game show, and this town in New Mexico did just that. Today, it still bears the remarkable name and sits pretty by the bank of the Rio Grande River. While the town's river location and its many hot springs make it beautiful and exciting, it also boasts outstanding architecture worth capturing with a camera. After roaming the town and savoring its lovely views, visitors can chill out at Ralph Edwards Park - a scenic recreational area that offers activities for all age groups.  
Red River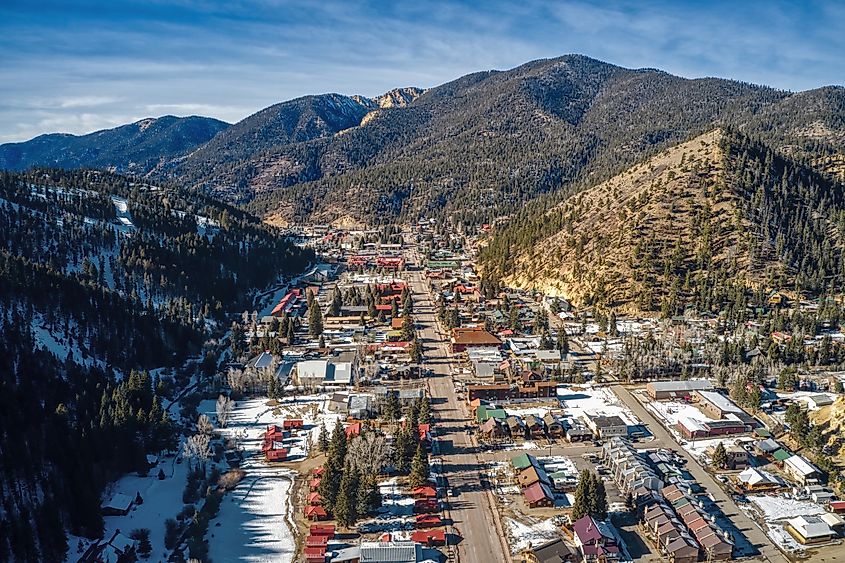 Red River is a charming mountain town in New Mexico, renowned for hosting several outdoor activities some of which include hiking, mountain biking, and horseback riding. There are also a few lakes around the town, like Cabresto Lake and Rainbow Lake, that present opportunities for water sports and also add to the town's scenery. All year round, there's something to do at Red River. In summer, it is a hotbed for outdoor recreation and adventures such as ziplining over a pond, chairlift rides, and aerial rope courses. In winter, visitors are welcome to the Red River Ski and Summer area, where activities like snowboarding and skiing can be done. 
Chimayo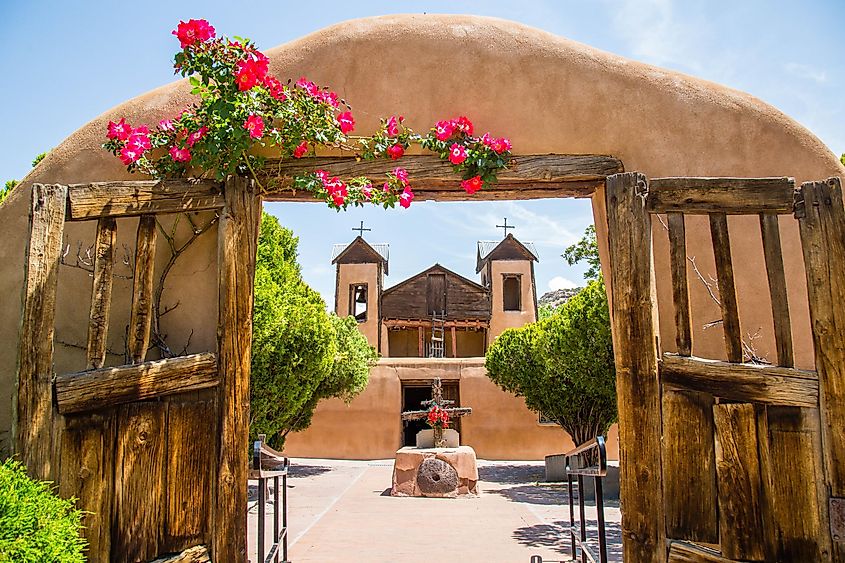 Chimayo is beyond beautiful but a melting pot of culture and history. The town is renowned for its preserved ancient architecture, a homage to New Mexico's red clay iconic pottery. Across the town, these buildings radiate ancient clay glory and beauty. One of its most remarkable structures is the Sanctuario de Chimayo - a church, shrine, and National Historic Landmark that attracts thousands of visitors yearly. The church was said to have been erected at a spot where a significant miracle took place 200 years ago. However, there's more. Chimayo is within the Sangre de Cristo Mountain's valley, with stunning mountain views. In addition, it boasts a scenic lake - Lake Santa Cruz, where visitors can savor its beauty in hikes, strolls, and picnics.
Ruidoso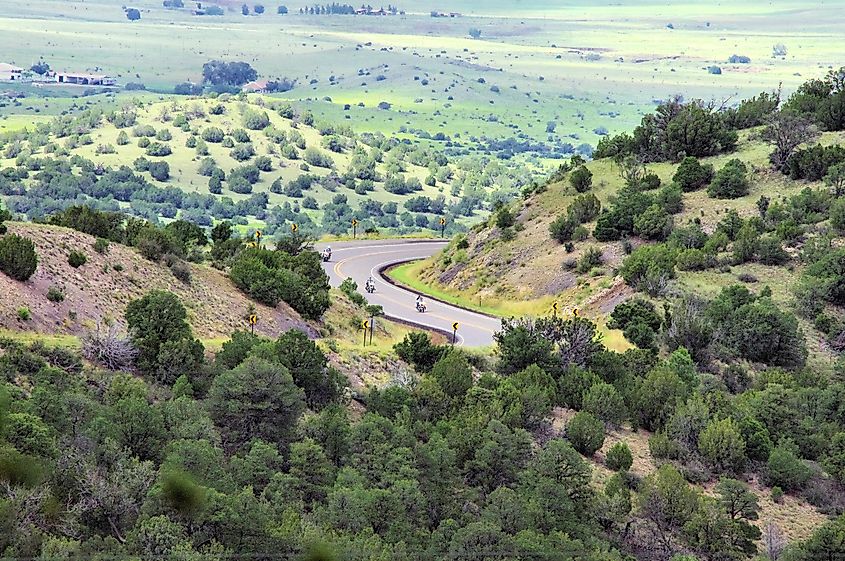 The charming town of Ruidoso is within the Sierra Blanca mountain range, where it spoils visitors with incredible mountain scenery. The mountains are also overlapped by scenic lakes, such as the Alto and Grindstone Lakes, and together, they offer incredible outdoor adventures. Perhaps the most popular attraction in this town is the Rio Ruidoso River, and it is also the source of the town's name as it flows across it and presents a few outdoor recreations and adventures. Visitors can explore this river by hiking along the Rio Ruidoso River Trail at the Two Rivers Park - a beautiful small park for picnics, with a sculpture park and children's play arena. For some history, visitors to Ruidoso can head over to the Mescalero Apache Reserve, where elements of nomadic native American cultures are protected. 
Taos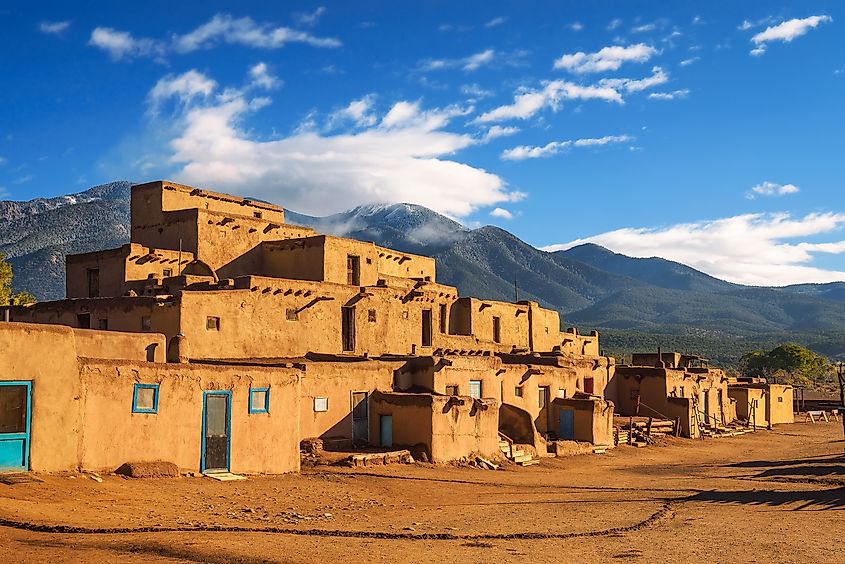 Taos is a small charming town perched on the foot of the Sangre de Cristo Mountains and lavished with history, scenery, arts, and culture. Visitors to this town can begin an unforgettable adventure by visiting the Taos Art Museum, which houses over 300 artworks and paintings. Next, head over to the Taos Pueblo - a UNESCO World Heritage Site housing ancient adobe Pueblo structures.
For even more excitement and scenery, visitors can head over to the Rio Grande, which is North America's fourth-longest river featuring an iconic bridge. Beyond history, arts, and scenery, Taos offers many hiking, horseback riding, skiing, and fly fishing opportunities. Head to the Carson National Forest to experience some of these adventures, or immerse in the numerous hot springs at the Rio Grande for sensational soothing experiences. 
Discovering New Mexico: A Blend of Nature and Culture
New Mexico is a state of expansive nature that courts the attention of tourists, travelers, and laid-back visitors. Visiting here spoils one with endless views of mountains, lakes, forests, and wildlife. Whether visitors are traveling alone or with family and friends, New Mexico has the ideal surroundings and natural attractions to refine vacations. From small, quaint towns where locals will not forget your name to their thriving, populated counterparts, New Mexico is worth the hype. Also, visitors should keep an open mind because there will be many culture shocks and irretrievable experiences once here.