How Did The City Of Truth Or Consequences, New Mexico Get Its Name?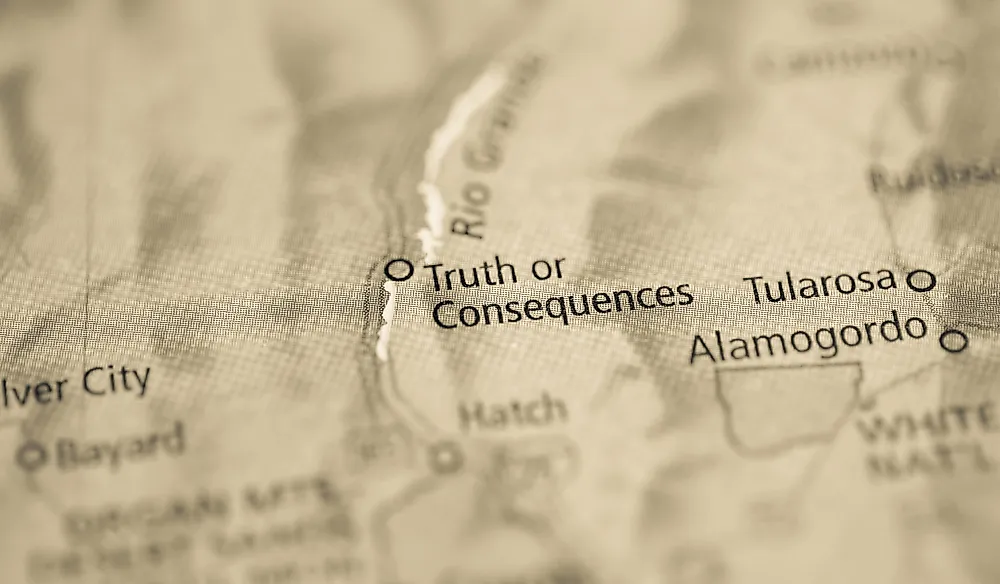 In Sierra County, New Mexico, United States, there is a small town known as Truth or Consequences. The town, which was once known as Hot Spring, is a small resort town with a population of about 6,000 people. Truth or Consequences is an isolated town located about 120 miles north of El Paso and about 150 miles to the south of Albuquerque. The town has consistently featured in lists of unusual place names. But how did the name "Truth or Consequences" come about? The name change is due to a radio show in the 1950s. 
Town History
The place where the town is currently located was an isolated area with little activities and very few people. In the late 1800s, the first pool was constructed over the Geronimo Spring. However, there were no major settlements until the Elephant Butte Dam and Reservoir was constructed and completed in 1916. This dam was included in the Rio Grande project, an extensive irrigation project under the 1902 Reclamation Act. The area soon became busy, and the town was named Hot Spring in 1916. In 1937, Hot Spring became the seat of Sierra County. The town was known as Hot Spring because of the presence of hot springs there. The springs produce about 100 liters of hot water per second at about 110 degrees, making it a popular destination for people who want to benefit from healing spa treatment.
Name Change
The change of name from Hot Spring to Truth or Consequences is credited to Ralph Edwards who hosted a radio quiz program on NBC Radio named "Truth or Consequences." In March 1950, Ralph promised to air this show from a town that would change its name to match the name of the program. Several towns, including Hot Spring, sent in their applications and Hot Springs was selected. The residents of the town held a vote and unanimously agreed to change the name to "Truth or Consequences." The name was effectively changed on March 31, 1950, and the show was aired from the town the next evening on April 1, 1950. Every year for the next 50 years, Ralph Edwards visited the city for an event called "Fiesta" which is still held every year on the first weekend of May. The event features parades, dances, and beauty contest. Edwards has a park and auditorium in the town named after him.
Geography of the Town
As per the US Census Bureau, the City of Truth or Consequences has an area of approximately 12.8 square miles of which only 0.1 square mile is water and the rest is land. The town is situated on the Rio Grande, just nest to the Elephant Butte Reservoir. The city's climate is a cool desert with three seasons; summer, monsoon, and winter seasons.