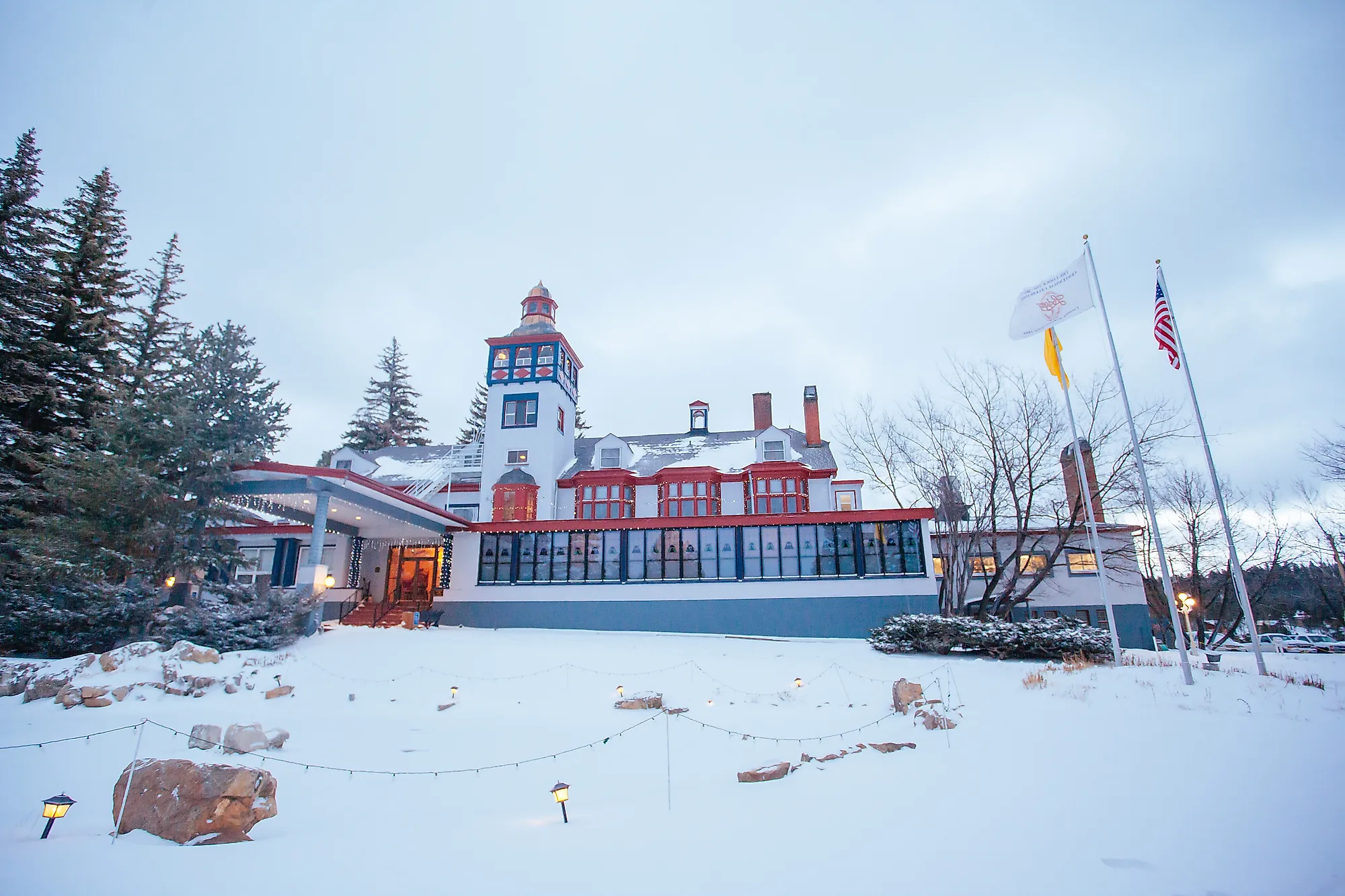 Located within Lincoln National Forest, Cloudcroft is a small village in Otero County. With a population of just 701, according to 2019 estimates, this tiny settlement is certainly one that can be easy to overlook. Yet for its mild summer temperatures and high elevation (amongst the highest in all of the United States), it has become New Mexico's "best-kept secret," making it a popular tourist stop for those in the area.
Geography And Climate Of Cloudcroft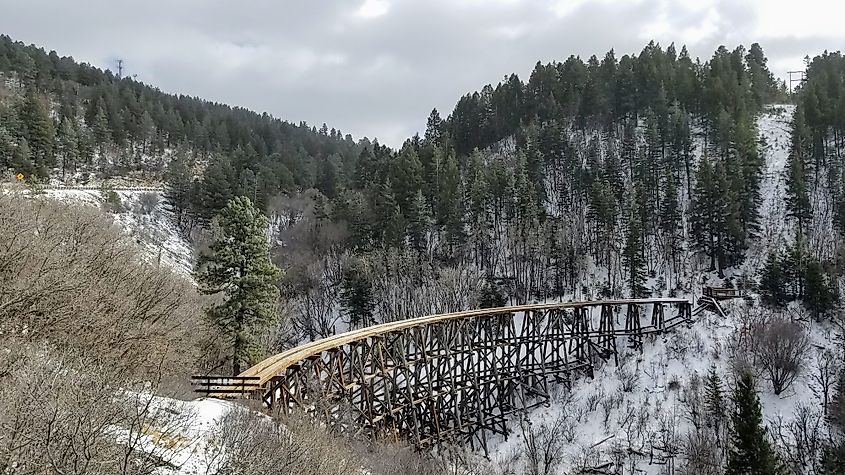 Due to its elevation of around 8,700 feet, Cloudcroft is cooler than much of New Mexico, which has an arid climate. The village also receives much more rainfall and snow than other settlements in the state.
With a total land area of 1.63 square miles, Cloudcroft may be classified as having a humid continental climate. On average, the village gets 30 inches of rain per year and up to 69 inches of snow, but it maintains its sunniness throughout the calendar year. Approximately 289 days out of 365 are considered sunny in Cloudcroft, or 79%.
The summer months of June to August are amongst the most pleasant months of the year to visit, with average highs of 21 C (71 F) and partly cloudy skies. In the winter months of December to February, temperatures may drop to as low as -7 C (18 F). These moderate temperatures make Cloudcroft a desirable place for tourists to visit and is a welcome respite from some of the hotter, more desert-like climate conditions of New Mexico and cities like Santa Fe.
A small village founded as an early 20th-century railroad stop, Cloudcroft's small size may discount it from some tourists' consideration. But with cooler temperatures, higher elevation, and plenty of natural forested beauty all around, any visitor who stops in the village will find plenty to enjoy. Whether it is a small shop, restaurant, Lodge amenities, or a unique small-town festival, a passerby of Cloudcroft will be glad to have discovered New Mexico's best-kept secret spot.
History Of Cloudcroft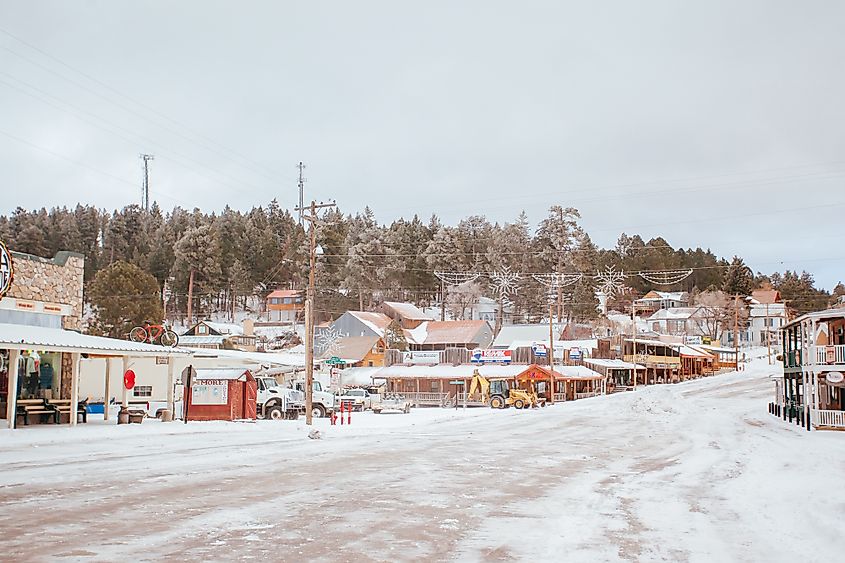 Cloudcroft's history can be traced back to the expansion of the railroad in the continental United States in the 19th century. In the late 1890s, brothers John and Charles Eddy of the El Paso and Northeastern Railroad intended to expand the line north of the town of Alamogordo. A survey crew sent into the Sacramento Mountains reported that a spot with the forested areas north of Alamogordo would be ideal for building a rail stop and settlement. Named after a pasture of clouds, the name Cloudcroft was selected, and work on the railway line began in earnest.
At the end of the rail line, construction also began on a pavilion to provide accommodations and other rest services. This would become the first-ever tourist attraction in Cloudcroft, and by May 1899, "The Pavilion" opened, and Cloudcroft became an official stop on the El Paso and Northeastern Railroad (EP&NE).
The EP&NE was eventually amalgamated into the Southern Pacific Transportation Company, but as cars gained in popularity and availability, rail transport in the region declined. Cloudcroft had to shift from being a rail stop village, and indeed the last passenger train rode in in 1938. Though "The Pavilion" has been rebuilt and remodeled over the years, and its early rail identity has long since gone, the village of Cloudcroft has retained its unique charm. It is a hidden and forested treasure that can take tourists and motorists away from all the busyness of major urban centers and into a quiet and relaxing place of charming solitude.
Attractions In Cloudcroft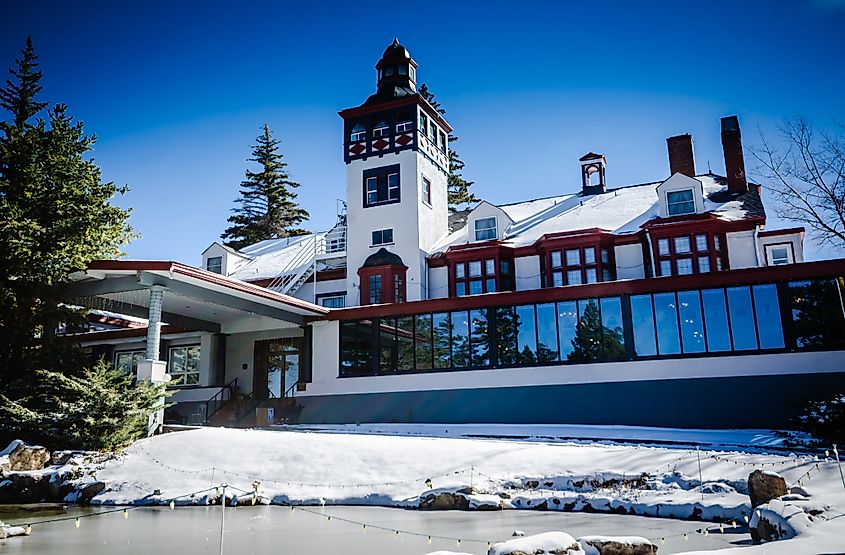 Besides "The Pavilion," another rest stop attraction called "The Lodge" was built after the end of railway services to offer more upscale services to passing guests. Some of the notable guests who have stayed at Cloudcroft's Lodge include Clark Gable, Judy Garland, and even Mexican revolutionary Pancho Villa. For a brief period in the 1930s, "The Lodge" was even managed by Conrad Hilton of the famed Hilton hotelier family.
Besides the amenities provided by both "The Pavilion" and "The Lodge," there are numerous restaurants and small shops in Cloudcroft. Situated near Highway 82, many of these businesses are ideal for the passing motorist wishing to refuel their vehicle and maybe even their stomachs.
Just outside the village is the Mexican Canyon Trestle, a wooden rail bridge built in 1899. a part of the National Register of Historic Places, the bridge is a reminder of Cloudcroft's ties to railway development in the United States and a fine example of early 20th-century rail line architecture. At an elevation of some 8,450 feet, the trestle bridge is surrounded by beautiful, forested landscapes.
Visitors to Cloudcroft may also enjoy an assortment of festivals that celebrate arts and crafts, live music, local food, and friendly competitions for the whole family. Tourists can also enjoy unique Fourth of July festivities in the summer or take in a Fall celebration of Oktoberfest.