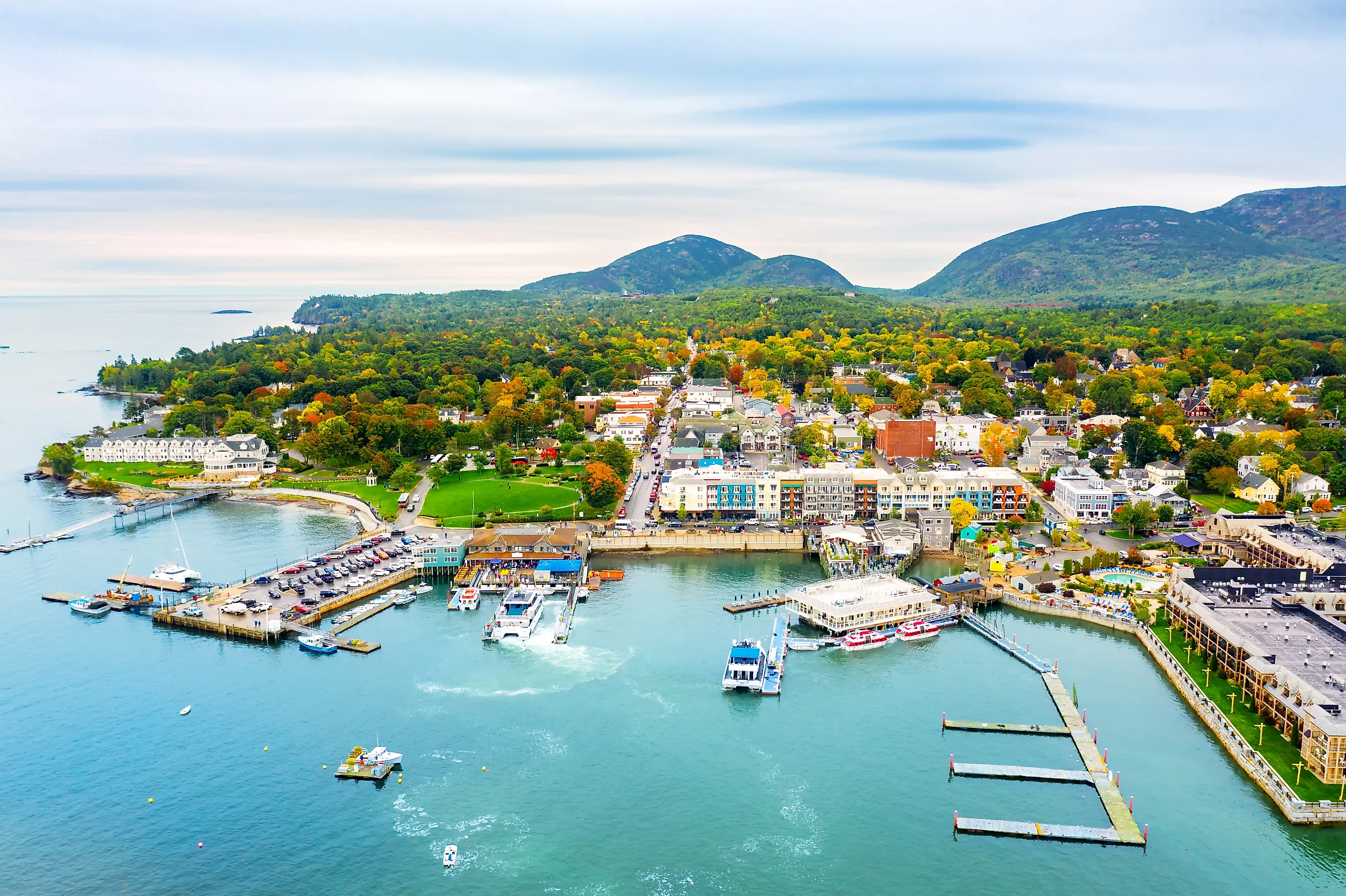 11 Most Charming Towns on the Atlantic Coast
Most would agree that charming towns are small, pleasant places. Beautiful landscapes can add to the allure of a destination. From the Canadian border down to Florida, the Atlantic coast is chock-full of quaint little towns to explore. Early settlers landed on Atlantic shores in the 1500s, and many relics and buildings still exist along these shores today. Of course, the benefits of coastal life are vast: beaches, sea life, water activities, and of course, seafood! What is not to love?
Bar Harbor, Maine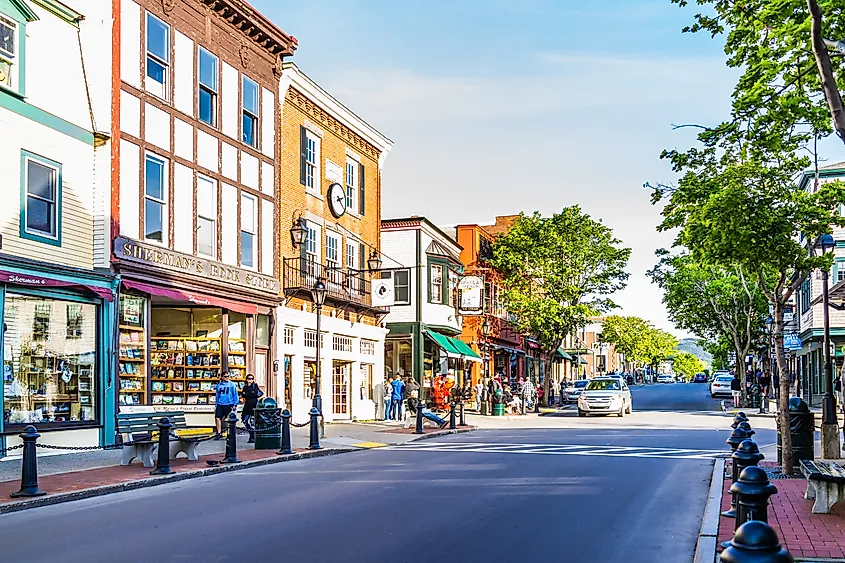 Picturesque, little Bar Harbour is a resort town on Maine's Mount Desert Island. A collection of colorful little storefronts line the downtown streets near the waterfront. Once a popular summer colony for the wealthy, it is a popular tourist destination today. Visitors enjoy cute gazebos and old-fashioned light posts in Village Green park. With its stunning coastal beauty, it is no wonder Bar Harbor is known for its fresh seafood, sealife viewing, and easy access to nature. Visitors can take tours to see nearby lighthouses, often spot whales or seabirds, or opt for a boat cruise.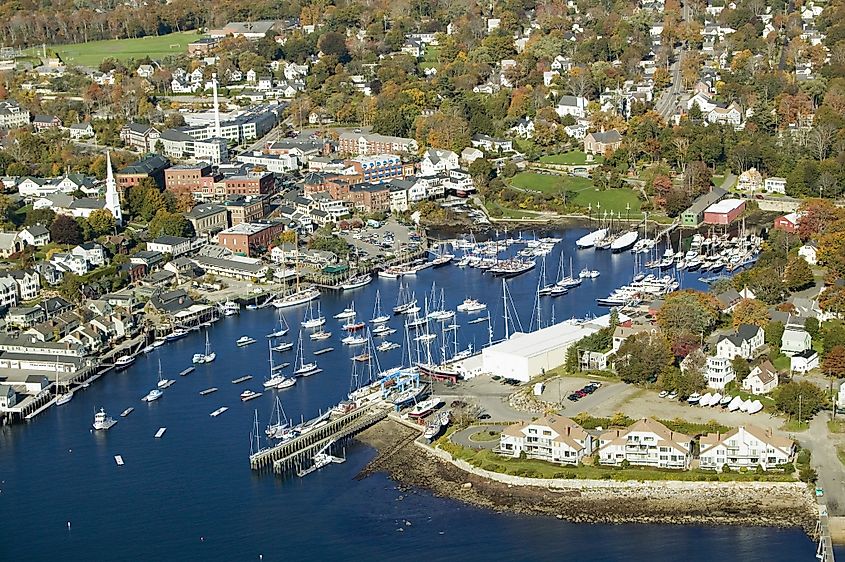 Nearby, Acadia National Park sprawls 47,000 acres and is famous for enjoying fall foliage, winter skiing, fishing, and hiking. North of the West Street town pier is Bar Island. At low tide, visitors can walk or drive ATVs across a sandbar to reach the island. It has several trails and scenic overlooks that offer breathtaking views of the city and Mount Desert Island.
Camden, Maine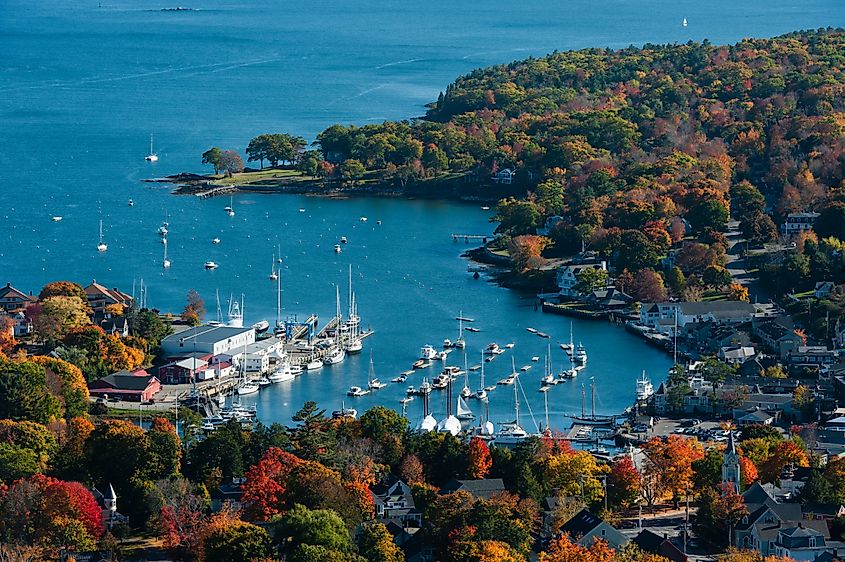 Situated on Penobscot Bay in Maine's Mid-coast region is postcard-perfect Camden. Soft summer breezes blow in transient boat owners where they dock for the night. Beach roses bloom in the gardens of simple homes, while white-steepled churches give the town a homey feel. Camden's downtown area has beautifully restored buildings, various shops, restaurants, and a late 1800s opera house to catch a show.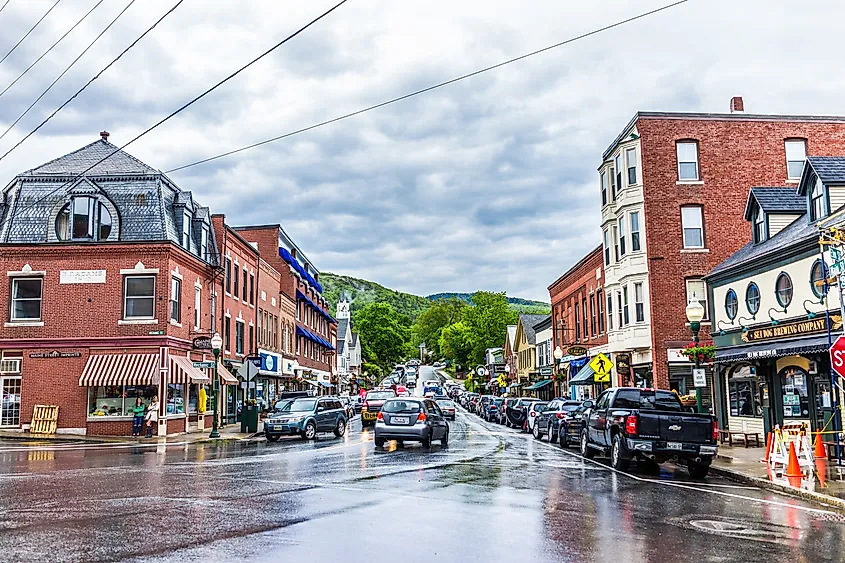 Camden Hills State Park is a mountainous state park located North of Camden. It features acres of hiking trails, picnic areas, and a variety of outdoor activities. Visitors can hike to the summit of Mount Battie for panoramic views of the sea and breathtaking coastline. Right beside the state park is Megunticook Lake. The lake offers many opportunities for swimming, boating, and fishing. Three miles west of town is the Camden Snow Bowl, a popular seaside ski resort in winter. It is the only ski resort on the east coast that offers seaside views.
Chatham, Massachusetts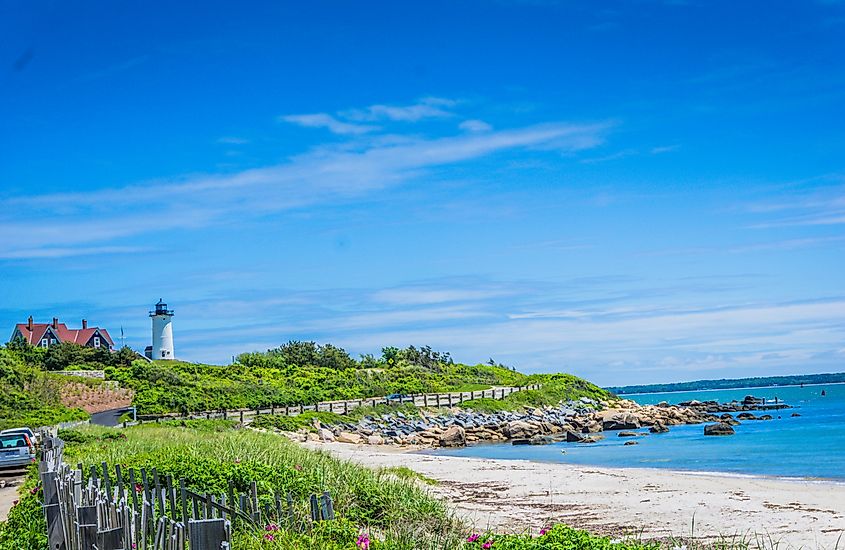 Tucked in the southeastern tip of Cape Cod is Chatham. Founded by English settlers, the small seaside town shares its name with Chatham, England, in Kent. It is one of Cape Cod's prettiest towns, thanks to Chatham's 18th-century buildings, stately homes, and businesses. Its walkable Main Street is a mix of cozy inns and old-fashioned shops. The town's harbor features a spacious observation deck where visitors see fishermen unloading the day's catch.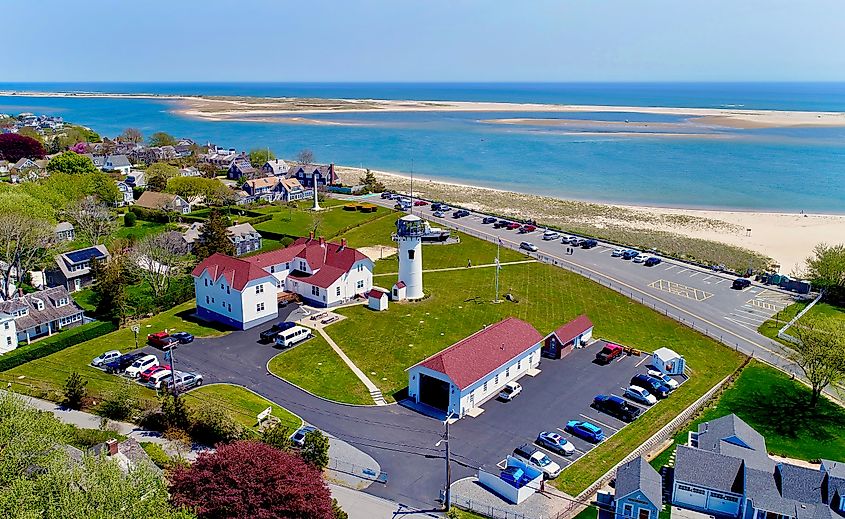 The Monomoy National Wildlife Refuge is south of Chatham. The refuge protects habitats critical to the survival of migratory birds and other wildlife.Thirty miles North of town is the Cape Cod National Seashore. It is a 30-mile stretch of coastline featuring beaches, dunes, swamps, and a variety of diverse fauna.
Edgartown, Massachusetts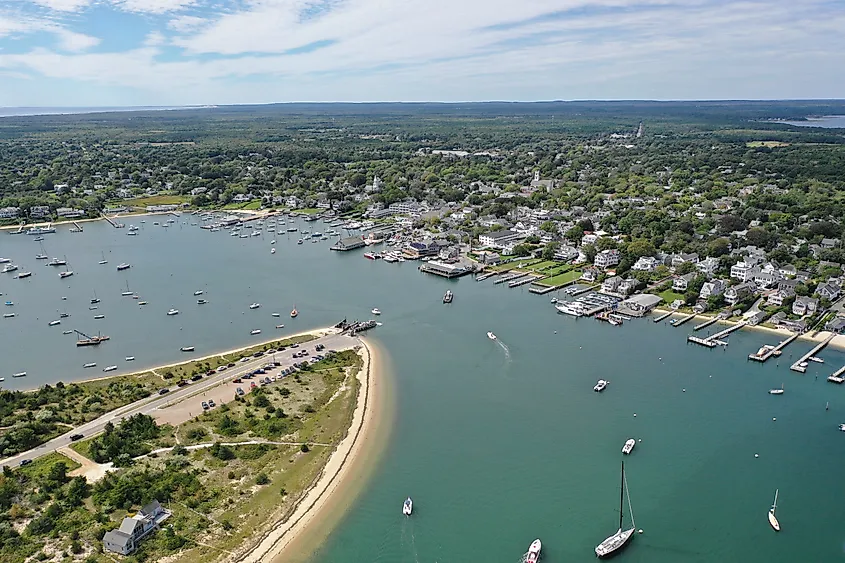 On the eastern side of Matha's Vineyard is pretty little Edgartown. A classic New England seaport village for the wealthy, it was one of Martha's Vineyard's first colonial settlements. Many of its stately white Greek Revival and Federal-style houses, built by New England whaling captains, still stand. Five hundred well-preserved historic homes give the town old-world charm while offering modern amenities. With a walkable downtown, tall homes, and old-fashioned lamp posts lining the streets, Edgartown also has a very active shoreline. In the summer months, its waters are home to boats of all sizes. A popular yachting port, it is common to spot megayachts anchored nearby.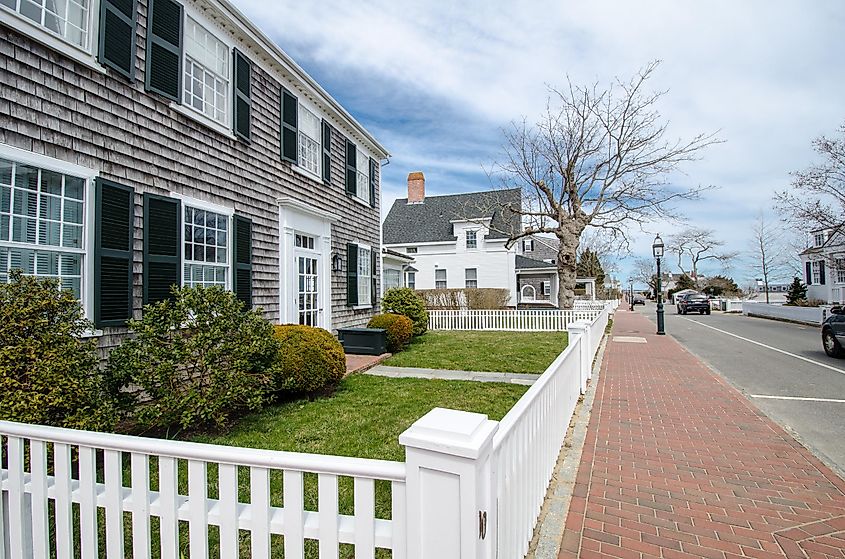 A short drive away is the Felix Neck Wildlife Sanctuary, the largest nature-based conservation organization in New England. Visitors can hike on several trails leading through diverse habitats of woodlands, meadows, ponds, salt marsh, and along shorelines. Wasque Beach is a 200-acre reserve on the southeastern tip of Chappaquiddick Island, just east of Edgartown. Sea levels, shifting ecology, and fierce storms constantly reshape the shoreline.
Newport, Rhode Island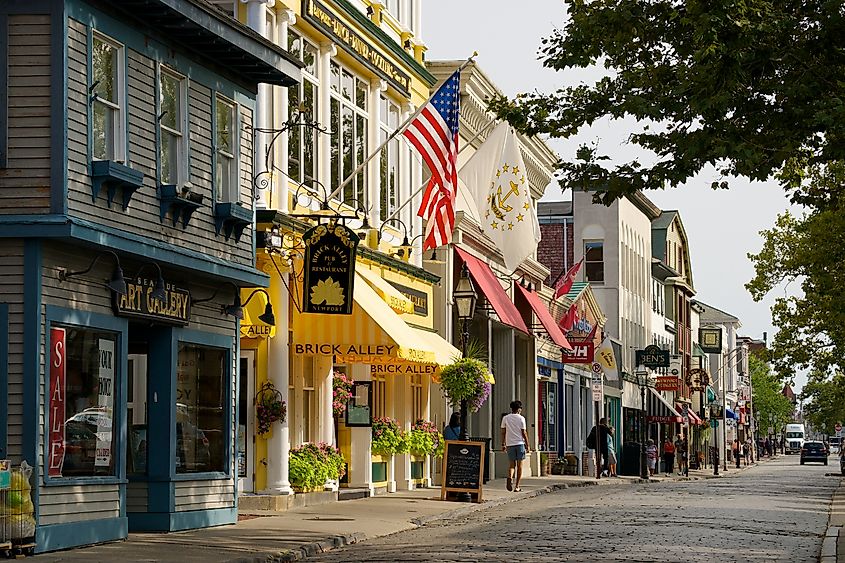 On Aquidneck Island in the New England state of Rhode Island is the bustling harbor town Newport. Most known for its Gilded Age mansions built by some of America's wealthiest families during the Gilded Age (1870-1910). Many of these mansions are open for tours, and HBO has a show filmed in some of these homes about this period. The town's Bowen's Wharf for shopping is walkable and picturesque.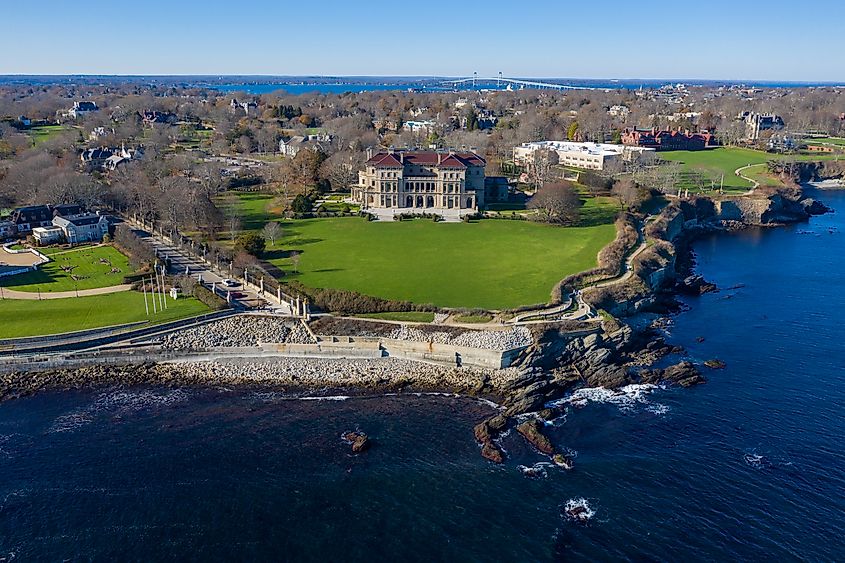 With its breathtaking New England landscapes, Newport stands out for having beautiful beaches. Easton's Beach, known as First Beach by the locals, holds a vintage carousel, science center, and aquarium. Beachgoers can even enjoy fried clams on the beach. The city's Cliff Walk is 3.5 m, exposing the sea on one side and gilded mansions on the other. Fort Adams State Park is an old naval fort used in the 1800s with stunning views of Newport Harbor and opportunities for recreational hiking and biking.
Cape May, New Jersey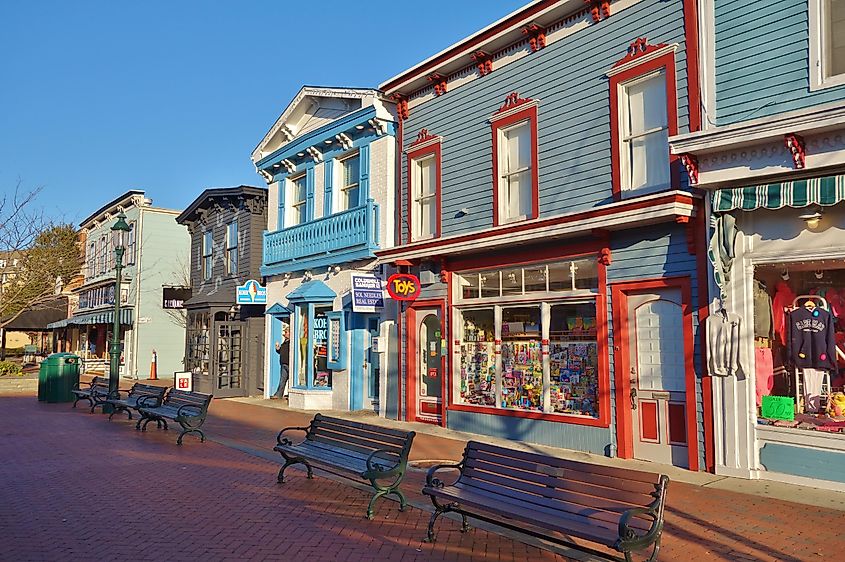 Located at the southern tip of Cape May Peninsula in New Jersey, Cape May is one of the country's oldest vacation resort destinations. Known for its pristine beaches, miles of intricate, candy-colored buildings, and bandstand, it is no wonder it is named the most beautiful town in the country. Victorian Architecture is every which way in Cape May. The city has the country's second-highest concentration of Victorian homes. Many of these homes are carefully restored and preserved.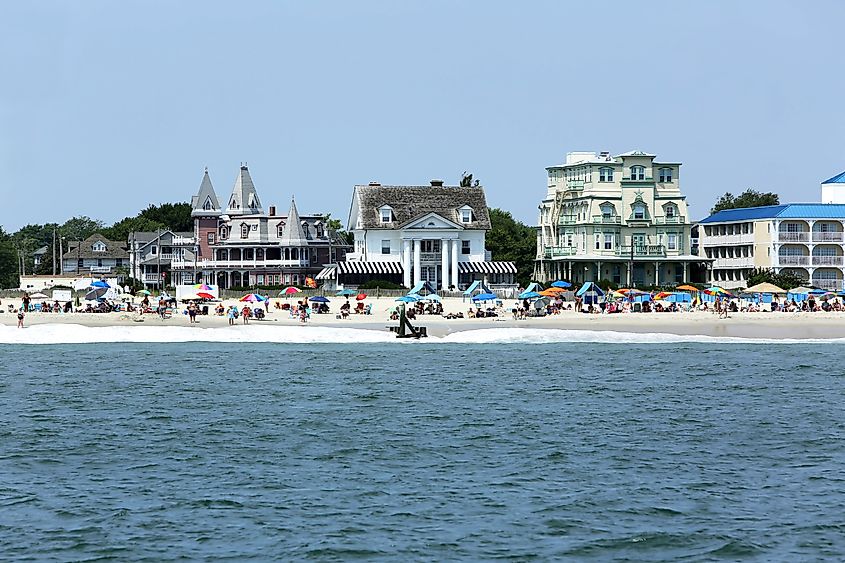 With spectacular views of the Delaware Bay and the Atlantic Ocean, Cape May is world-famous for observing migrating birds. Several nearby parks are ideal for bird-watching, including Cape May Point State Park. It has multiple historic sites located at the southern tip of New Jersey. The state park is popular for hiking and watching the sunset from beautiful Cove Beach. The Cape May National Wildlife Refuge, located just north of Cape May, is a critical habitat for endangered bird species.
Chincoteague, Virginia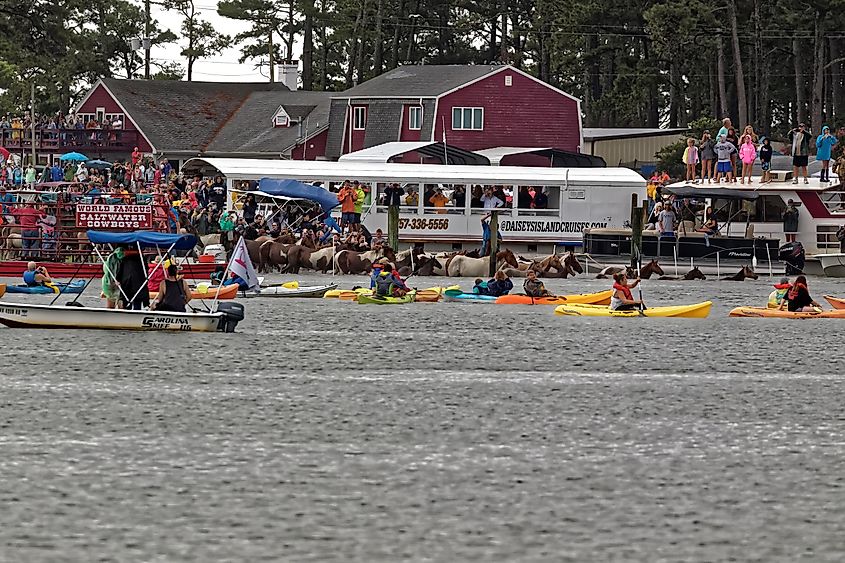 Located on Virginia's Eastern Shore, Chincoteague is Viriginia's only resort island. Tucked away between Wallops, and Assateague islands, open seas are all around. Only seven miles long and three miles wide, it is most known for the famous Chincoteague Wild Ponies. Some say the ponies are descendants of the four-legged survivors of a Spanish shipwreck. Known as a land of unspoiled natural wonder, and marshland, Chincoteague is also an excellent place to enjoy delicious seafood. Chincoteague oysters, known to be particularly salty in flavor, rein from this area.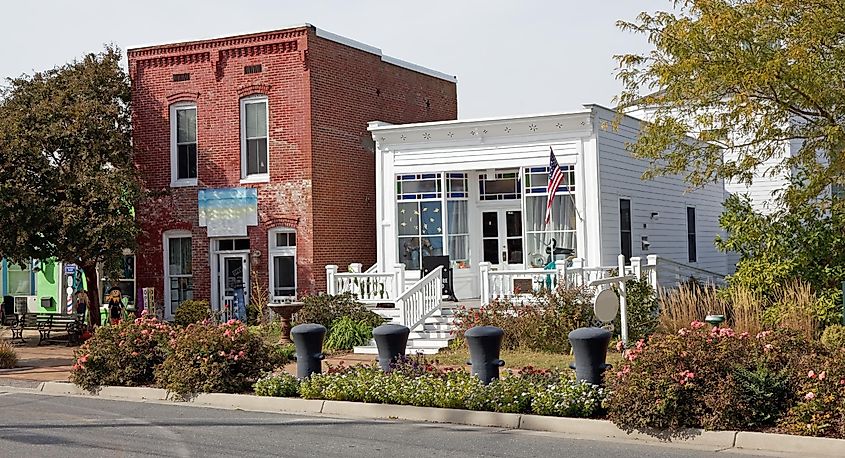 The Chincoteague National Wildlife Refuge is protected land on the Virginia half of Assateague Island, with portions on the Maryland side. The refuge was established in 1943 to protect migratory birds. Today, it is one of the most visited protected lands in the United States. Home to the Chincoteague ponies, it features wheelchair-accessible trials, and allows a variety of activities, including hunting and fishing.
Beaufort, North Carolina
Situated along North Carolina's Crystal Coast is a lovely little town. Beaufort is home to stately architecture, a well-preserved history, and stunning wildlife. Romantically known as Beaufort-by-the-sea, it inspired two romance novels by author Nicholas Sparks. The city's historic district is the oldest part of town, which features well-preserved homes from the 18th and 19th centuries. These homes include influences from styles such as Greek Revival, Gothic Revival, and Queen Anne. 
Surrounded by natural beauty, the Rachel Carson Reserve is a coastal island only accessible by boat. It features miles of pristine beach and ample wildlife, including wild horses. Visitors can explore the reserve on foot, by kayak, or by boat. Fort Macon State Park is a short drive away in nearby Carteret County. It features a restored pre-civil war fort holding tours and demonstrations. Its beach is excellent for swimming, exploring, and spotting sea life.
Beaufort, South Carolina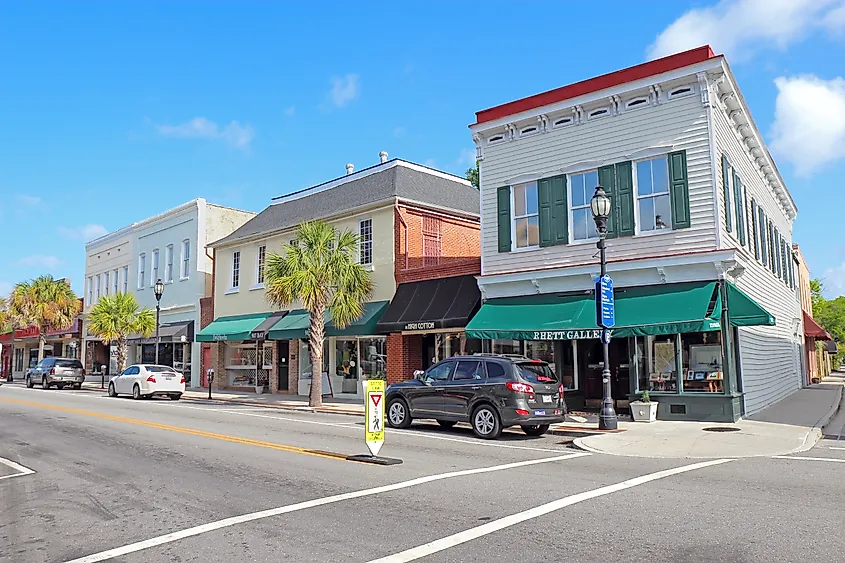 Beaufort is located on Port Royal Island, one of South Carolina's coastal sea islands. Chartered in 1711, it is the second-oldest city in South Carolina after Charleston. The town's open boardwalk and waterfront dining options may be why it has won the title of most romantic city in South Carolina. Even Hollywood romanizes Beaufort, as several movies were filmed in town.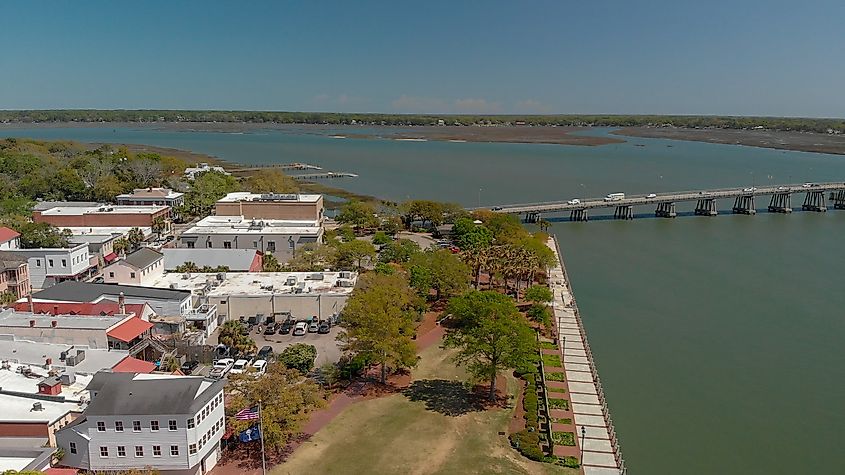 Its historic downtown district boasts historical residences, gardens, houses of worship, and ancient graveyards. Visitors can visit one of the city's many antebellum mansions. These large elegant homes were typically plantation homes, and many offer tours. There are plenty of nearby marshes and islands to explore on Port Royal Island. The Beaufort River Blueway separates Beaufort from Port Royal, another historic city. The Beaufort River is the town's main waterway, allowing visitors to explore the area by boat or kayak. Cypress Wetlands are at the heart of Beaufort. This protected wetland features a network of boardwalks and trails that wind through a swamp with moss-covered trees. The wetlands are home to a variety of wildlife, including alligators.
Brunswick, Georgia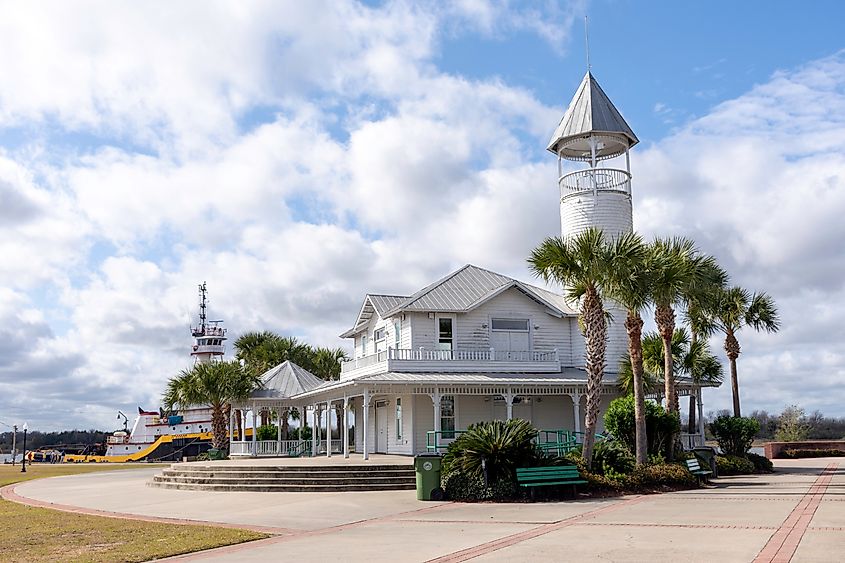 Located on the southern coast of Georgia, Brunswick is the port city of Georgia's Golden Isles. Once named "the shrimp capital of the world," it is the center of Georgia's crab and oyster industries. Downtown Brunswick is endearing. The city's grid-style streets and historic squares still bear colonial names. Notable is the city's distinctive clock tower. Cute little boutiques, shops, and stores breathe life into its downtown.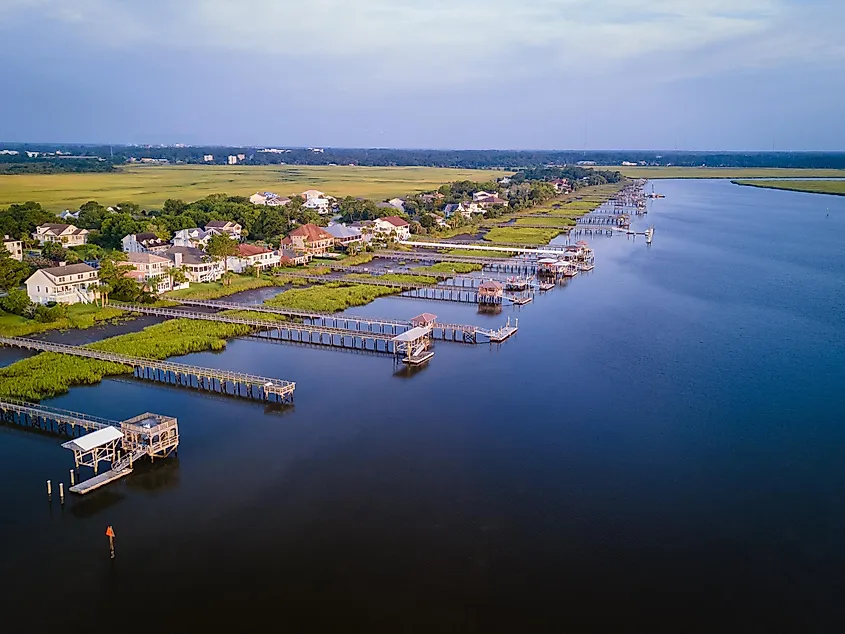 Brunswick is part of the Golden Isles, a group of four barrier islands along the Georgia coast, including St. Simons Island, Sea Island, Little St. Simons Island, and Jekyll Island. Each island offers beautiful beaches, wildlife, and world-class golf courses. Blythe Island Regional Park is east of Brunswick. This 1,100-acre park features a lake for fishing, swimming, and picnicking. 
St. Augustine, Florida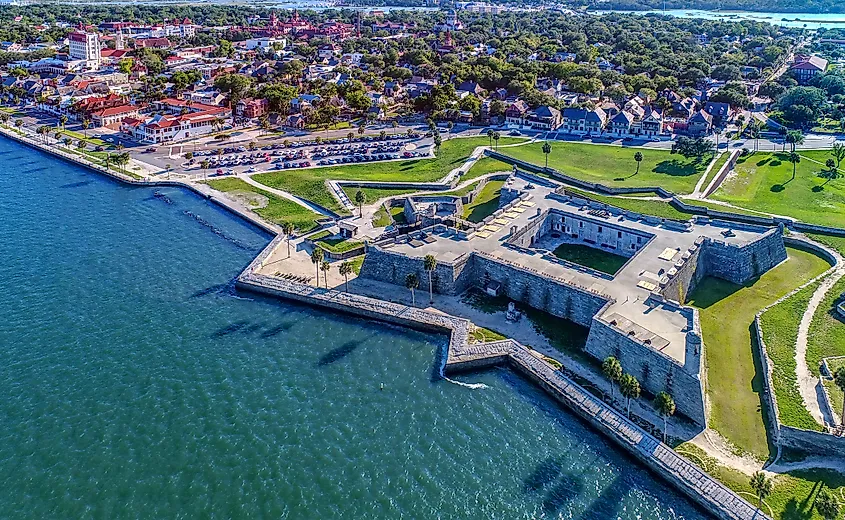 Located on the east coast of northern Florida is St. Augustine. Founded by the Spanish in 1565, it is the oldest continuously occupied settlement of European and African-American origin in the United States. Despite a tumultuous history, the city has well-preserved colonial architecture, including the Castillo de San Marcos, a 17th-century fortress. St. Augustine is for architecture aficionados. The city's narrow streets and balconied houses are Spanish-made, and Arab, British, and indigenous-influenced buildings are visible throughout town. 
Right inside the city is the Fountain of Youth Archaeological park. At the heart of St. Augustine, theories exist that it is the original landing site of Spanish explorer, Juan Ponce de León. Anastasia State Park, north of St. Augustine, ranks as the sixth-best state park in the USA. The park is 1,600 acres of land and four miles of dazzling oceanfront views with pristine beaches. It is ideal for sighting migratory birds, hiking, camping, or enjoying the waterfront.
The Atlantic coast of the USA has so much to boast. Of note are the fresh seafood and ample opportunities to see diverse flora and fauna, especially migratory birds. 
The Atlantic coast is well worth the visit for scenic ocean views. A trip to the coast is also an excellent opportunity to learn about America's earliest settlers. Key to trade and travel, the Atlantic coast will continue to captivate us, drive weather patterns, and reshape the coastline.