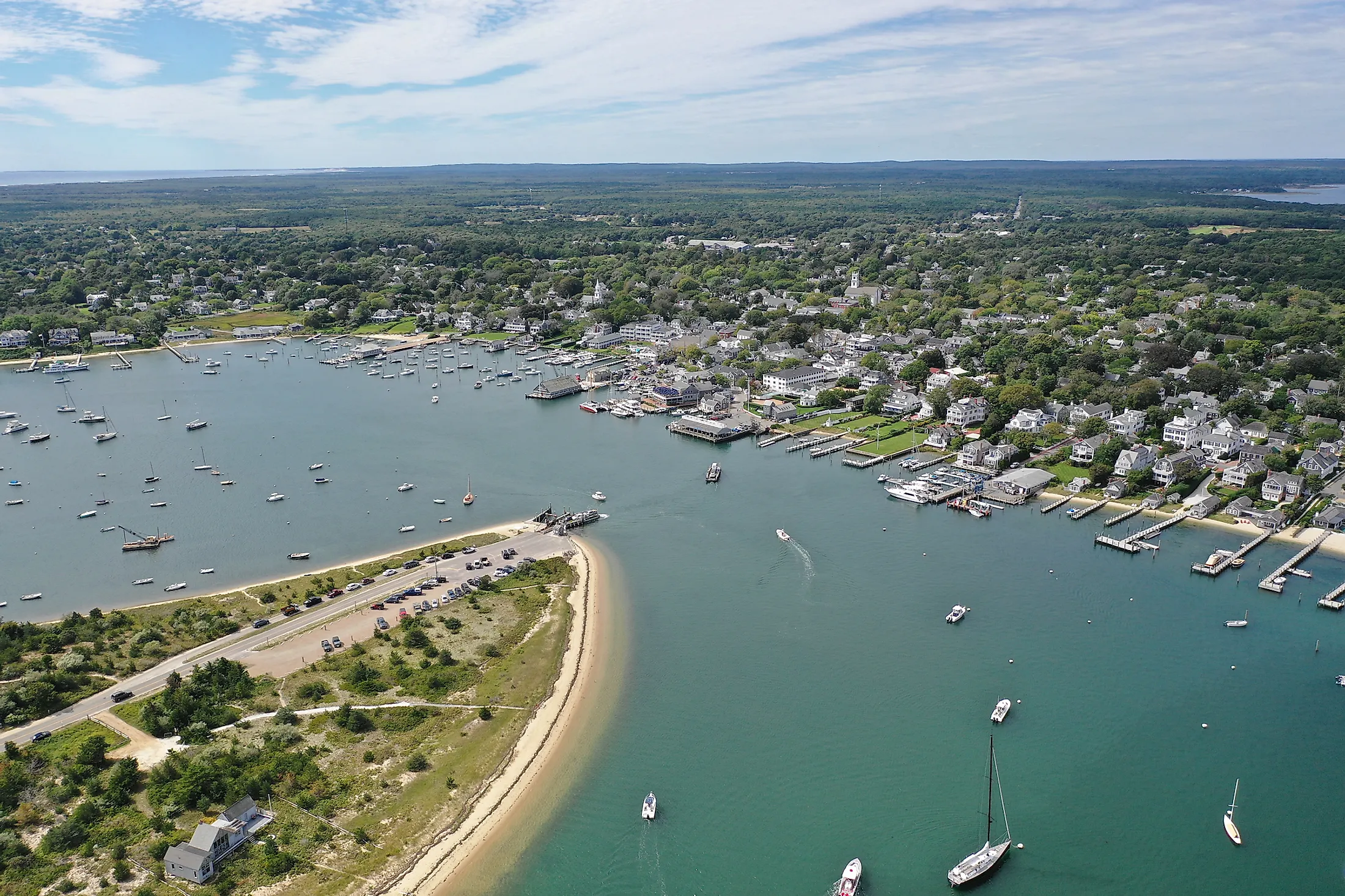 Edgartown is a town and the seat of Dukes County, southeastern Massachusetts, United States. The town is ranked 103rd out of 351 communities in the Commonwealth by land area.
Edgartown comprises the eastern tip of the island of Martha's Vineyard and Chappaquiddick Island. It covers 122.7 square miles (318 square km), making it the largest town by land in Dukes County. Edgartown consists of 26.8 square miles (70 square km) and 95.8 square miles (248 square km) of water, making 78% of its total area. Edgartown has Nantucket Sound to the northeast and east, West Tisbury to the west, Oak Bluffs to the north, and the Atlantic Ocean to the south.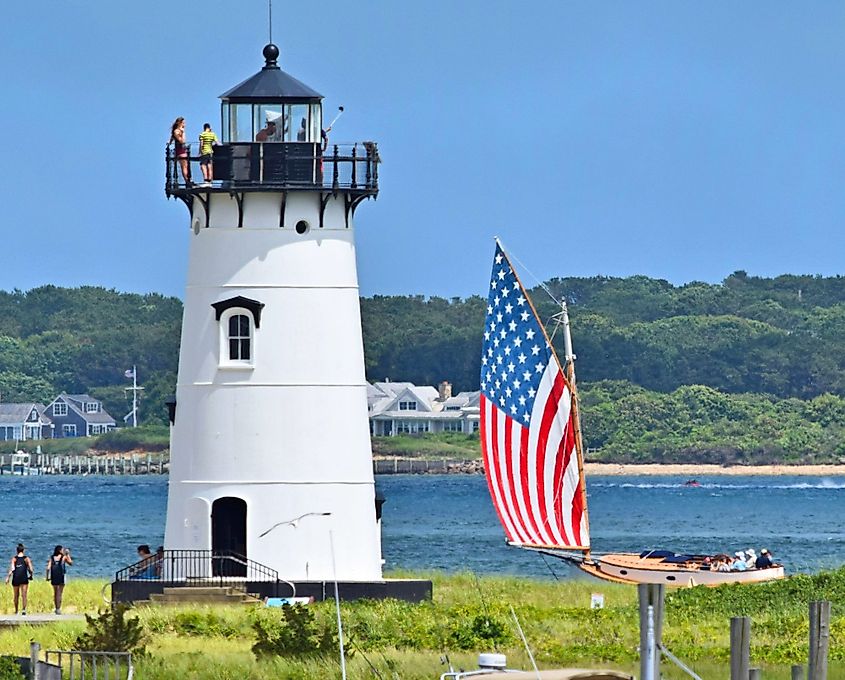 Population Of Edgartown
As of 2019, Edgartown, Massachusetts, had a population of 508 people with a median age of 61. The population has witnessed a 20.4% increase between 2018 and 2019 as the population increased from 422 to 508. The demographics of Edgartown, Massachusetts, show that the five largest ethnic groups are White, who are considered non-Hispanic at 95.7% and Black or African American at 3.74%, followed by Hispanic white at 0.394% and other ethnicities at 0.197%. All of the residents of Edgartown speak English as their primary language at home, and as of 2019, 96.7% of Edgartown residents were U.S. citizens.
Economy Of Edgartown
The median household income in Edgartown reaches $58,750. Males in Massachusetts earn 1.33 more than the average income of females and income inequality in Massachusetts in general scores 0.483 (measured using Gini index) which is higher than the national average. 
The economy of Edgartown employs more than half of the population. The largest industries are Information, Transportation & Warehousing, employing 63 people, and Public Administration employing around 62 people and is considered the highest paying industries in Edgartown. 
History Of Edgartown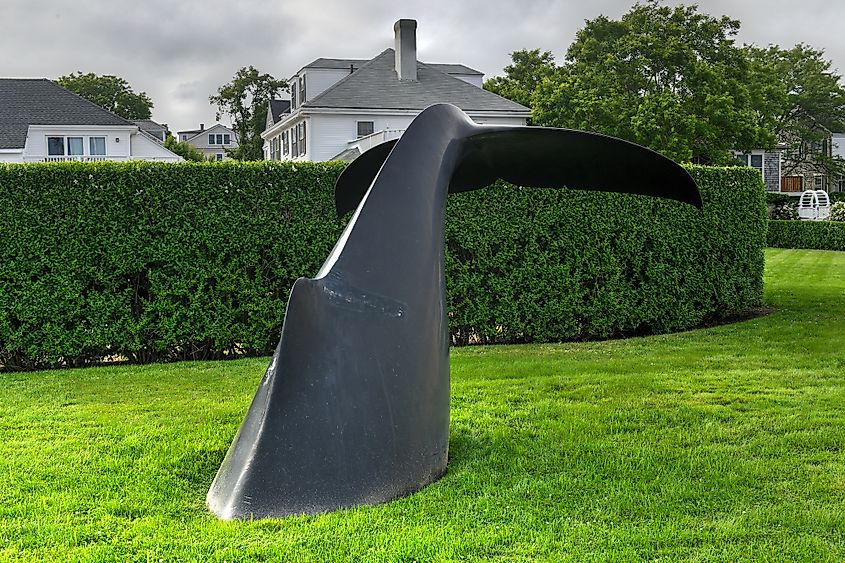 Edgartown was Martha's Vineyard's first colonial settlement. It dates from 1642, and the name was given after Edgar, son of James II of England, who was the heir presumptive to the English throne. Edgartown was the center of whaling industries activities, reaching its height between 1820 and 1865. One hundred ten whaling captains-built homes and lived in Edgartown between 1835 and 1845 alone. Other maritime-related industries strengthened the local economy back then. These industries included fishing, candle making, and salt manufacturing. In 1850, Dr. Daniel Fisher & Company was the largest single maritime-related enterprise that grew up around whaling and produced whale oil and candles.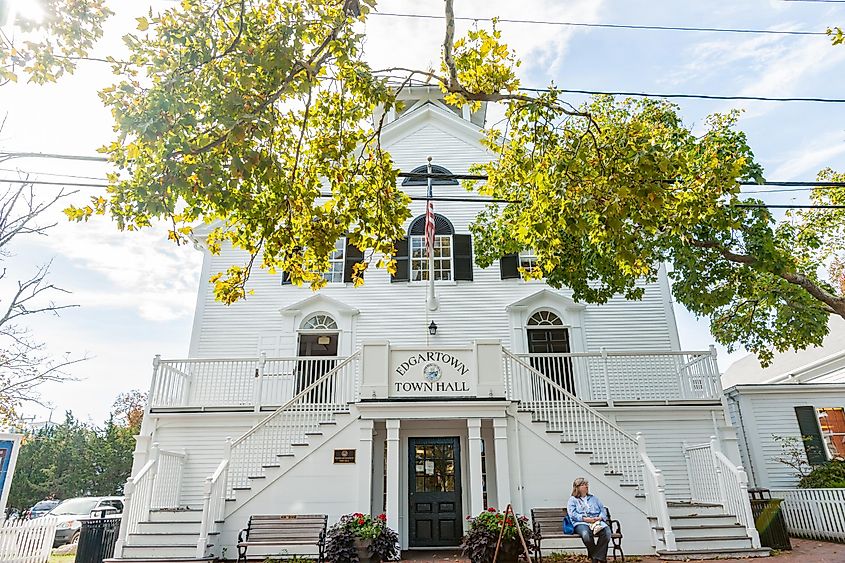 The influence of the area's ship captains is evident in many captain's houses, churches, and public buildings built in this period, the early 19th century. Examples are the Captain Hoes Smith House and Captain Abraham Osborne House, the Country Jail and the Dukes Country Courthouse, and the 1842-built Whaling Church.
The economic development and with economic alternatives becoming available, the whaling industry began to decline. The whaling industry's influence on the tiny town which had made its fortune started dropping and ended at the beginning of the 20th century making the town rely on tourism nowadays.
Tourist Attractions In Edgartown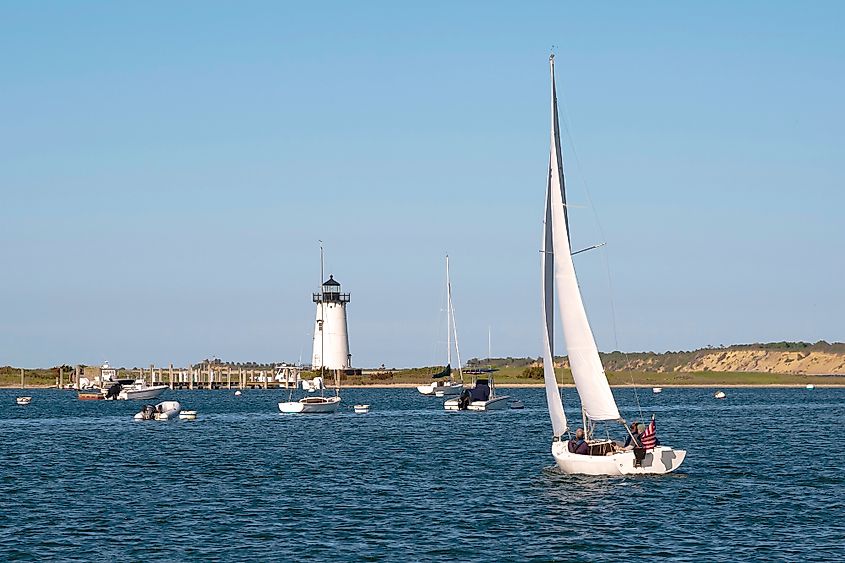 Edgartown is rich in history and heritage and is a former whaling destination. Today, tourists visit Edgartown to see the reminder of its past by visiting landmarks and lighthouses in addition to exploring the natural beauty and beaches the area has to offer.
Martha's Vineyard Museum, founded in 1922, is one of the famous landmarks of Edgartown. Morning Glory Farm, a family-owned business and operated working farm with a stand, is open to the public where they can pick up fresh products like corn, strawberries, peaches, dairy products, baked pies, and bread.
Tourists usually visit the Edgartown Harbor Lighthouse near Katama Bay, one of the five lighthouses on Martha's Vineyard. A cast-iron tower replaced the original wooden Cape Cod-style lighthouse in 1939.
Finally, Chappaquiddick, on the eastern end of Martha's Vineyard, is one of the top places tourists visit when visiting Edgartown. It is a small peninsula and sometimes locally referred to as "Chappy." It is famous as a destination for outdoor activities such as hiking, bicycling, and birding. Chappaquiddick is also renowned for the incident involving U.S. Senator Ted Kennedy, who passed away in a fatal automobile accident in 1969.