Situated in Accomack County of the US State of Virginia, the town of Chincoteague includes in its borders the Chincoteague Island and is well known for its namesake Ponies. It has a population of just under 3,000 according to 2019 estimates, making this small town with a total land area of 96.7 sq. km, a charming seaside settlement. With a world-famous festival celebrating its Ponies and an assortment of quaint restaurants, lodging, and campgrounds, Chincoteague is a beautiful example of small-town America.
Geography And Climate Of Chincoteague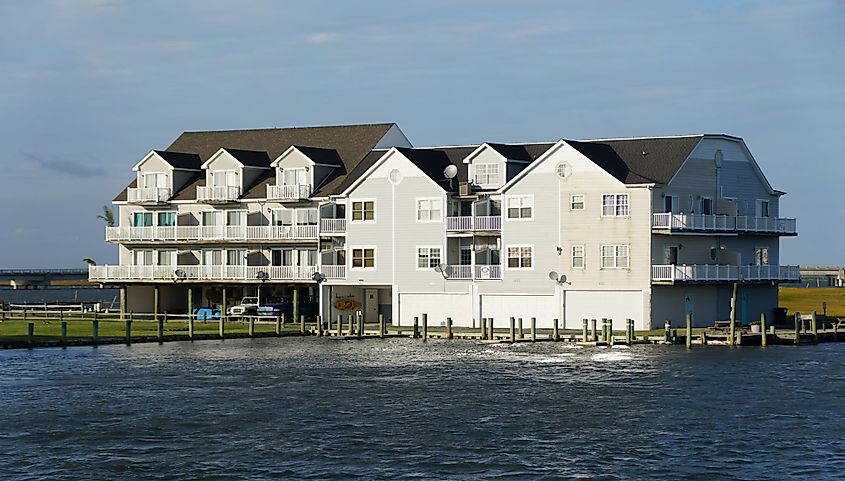 Chincoteague covers a total area of 96.7 sq. km, of which 73.1 sq. km is occupied by water, and 23.6 sq. km is occupied by land. Chincoteague Island is 11 km long, with a width of around 3 km, and lies between the Assateague Inlet and the Atlantic Ocean on the east and Chincoteague Bay on the west.
According to the Köppen climate classification, Chincoteague experiences a humid subtropical climate. Winters are cold and windy in Chincoteague, while summers are muggy and warm, with a cloud cover mostly year-round. The warm season typically lasts from June to September, with average high temperatures of 25°C. July is considered the hottest month, with highs of 29°C and lows of 22°C. December to March is Chincoteague's cold season, with daily highs of only 12°C. January is the coldest, with highs of 8°C and lows of 0°C. Based on recommendations from tour guides and meteorologists, the best time for tourists to visit Chincoteague is from June to October. Precipitation varies throughout the year, with the wet season lasting between May and August. During this time, a greater than 32% chance of at least 1 millimeter of rain is forecast, with July recording an average of 11 out of 31 days with rainfall.
Brief History Of Chincoteague
Chincoteague's modern history dates back to the 17th century when the first land grant for Chincoteague Island was granted in 1650. The English settler Daniel Jenifer was allotted 1,500 acres in the then Virginia Colony, and by 1671 a sizeable colonial settlement was present in the Chincoteague area. From an indigenous word meaning "beautiful land across the water," the Chincoteague Island and town were mainly used for livestock grazing in its early history. The abundance of natural resources like fish, clams, oysters, and crabs led to the development of a prominent seafood industry that traded to significant centers like Philadelphia and New York. Despite Virginia's crucial role in the Confederacy during the American Civil War, Chincoteague Island voted to remain with the Union and against slavery. The 1861 Battle of Cockle Creek took place in the bay off the Island. When the Confederate Army attempted to take control of the area, a Union victory resulted in the Battle, keeping Chincoteague the only part of Virginia, not a part of the Confederacy. In the 20th century, Chincoteague Island and town saw its seafood industry continue to flourish, and it slowly began growing as a tourist site. A causeway was completed in 1922, fueling more trade and visitors, while a bridge connecting to nearby Assateague Island in 1962 further led to an increase in tourism as a significant industry. That same year a major nor'easter winter storm, infamously known as the Ash Wednesday Storm, struck Chincoteague's coast. The storm completely flooded the town, and it lost electrical power for several days. A rebuilding project was undertaken to preserve damaged structures, and Chincoteague and Assateague Islands were officially designated as having protected status in 1965. Today the town and Island of Chincoteague continue to offer seafood and tourism as major economic drivers while maintaining its small-town feel.
Tourist Attractions In And Around Chincoteague
Assateague Lighthouse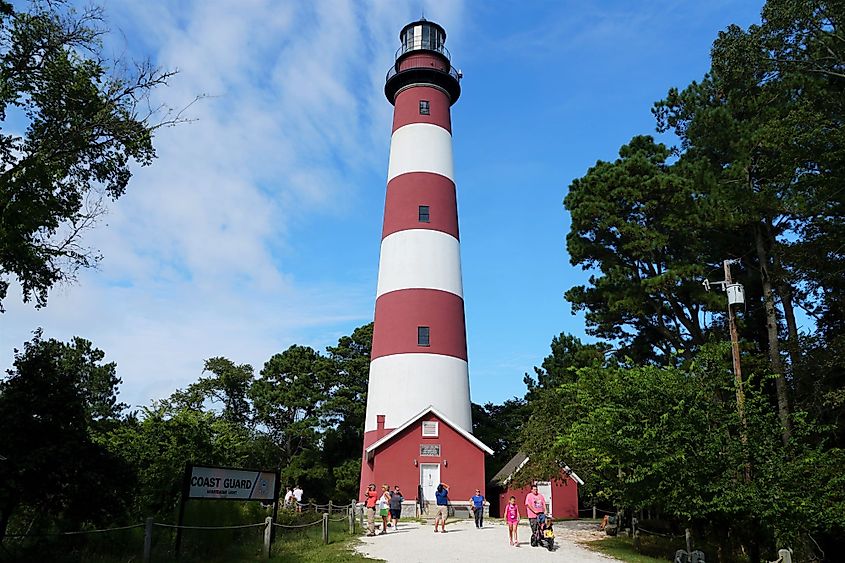 Just 22 km from Assateague Island, visitors to Chincoteague can also enjoy many of the offerings of the other nearby island; this includes the Assateague Lighthouse (constructed in 1933) in the Chincoteague National Wildlife Refuge, which is a part of the National Register of Historic Places.
Restaurants In Chincoteague Island
A variety of charming bed and breakfasts, campgrounds, and beaches make Chincoteague Island a popular weekend destination. The town's local restaurants, ice cream parlors (including the famous Island Creamery), and even miniature golf courses give families a good selection of recreational activities.
Museum of Chincoteague Island
The Museum of Chincoteague Island recounts the area's history and settlement patterns while also highlighting the development of Virginia as a state. On the nearby Wallops Island, tourists can visit the Wallops Island Flight Facility, which served as the launch site for NASA's Cygnus Cargo Module and Antares Rocket, which supplies the International Space Station.
Beebe Ranch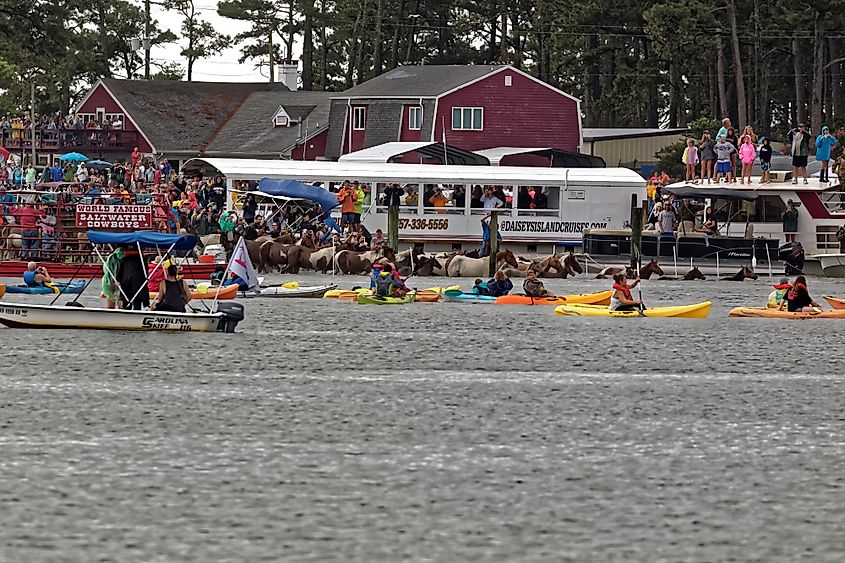 And, of course, for horse and ranch lovers, no visit would be complete without a stop at Beebe Ranch, which celebrates the area's world-famous Chincoteague Ponies. Descendants of domesticated livestock in the 17th century, these small-statured ponies populate much of Assateague Island. These horses received national attention after being featured in the 1947 children's book "Misty of Chincoteague" by Marguerite Henry. In 1924 the first "Pony Penning Day" was held, where many ponies were auctioned off to raise funds for various town initiatives. This annual event continues to have prominence today, including a very popular "pony swim" where the horses swim across the shallow waters between Assateague and Chincoteague Islands. Held annually on the last Wednesday and Thursday in July, after the swim, the horses are then showcased to the public before going to auction. Those horses who are not sold are returned to their habitats. A Carnival is also held in conjunction with the swim and auction. The ponies live primarily as feral animals and are protected by the National Park Service, which regulates their population through contraceptive methods. Many of these horses live in the Chincoteague National Wildlife Refuge and are regularly inspected by veterinarians. It is estimated that around 300 ponies live freely in the wild on Assateague Island, with more than a thousand in the surrounding areas having been purchased at the Pony Penning auctions.
Chincoteague and its eponymous Island is a small, charming coastal town offering tourists a pleasant climate and plenty of small-town beauty. A unique presence of historic horses makes it a special destination for animal lovers, while families can enjoy plenty of shops, beaches, restaurants, and quaint museums for various interests.