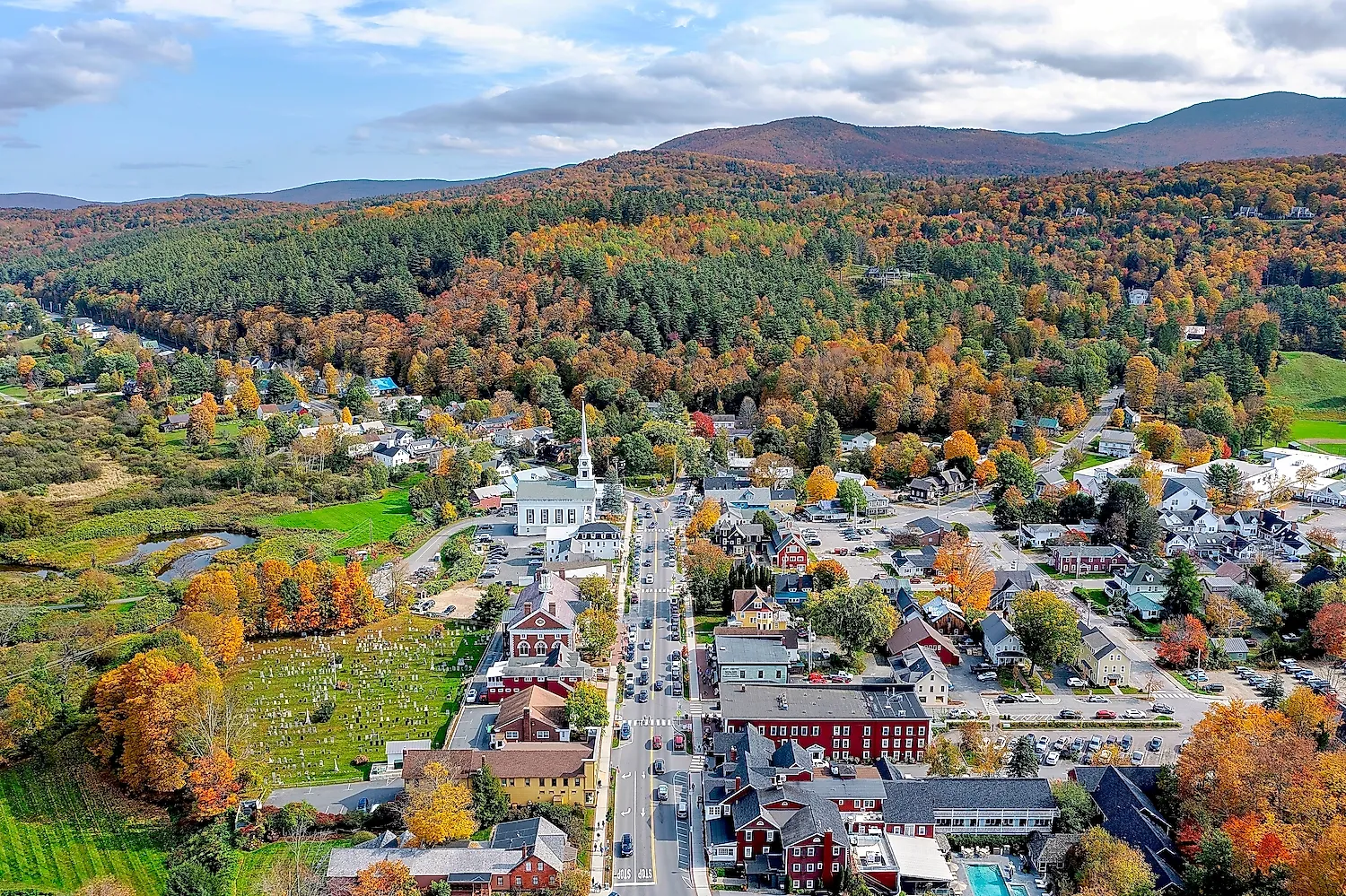 10 Small Towns In Vermont That Come Alive In The Fall
Vermont is a rural state through and through. It may come as some surprise to hear that of all the smattering of towns throughout Vermont, the largest is Burlington, with a population of 45,000. Nobody moves to Vermont for its urban centers as the state is the second-least populated in the nation. Instead, people visit Vermont to trade in their traffic jams and subway tokens for wide open space. Nature is bountiful, and one of Vermont's greatest assets is the thickly wooded hillsides, which are common throughout the state. Spread throughout these regions are some of the best towns in Vermont that truly come alive in the fall season.
Brattleboro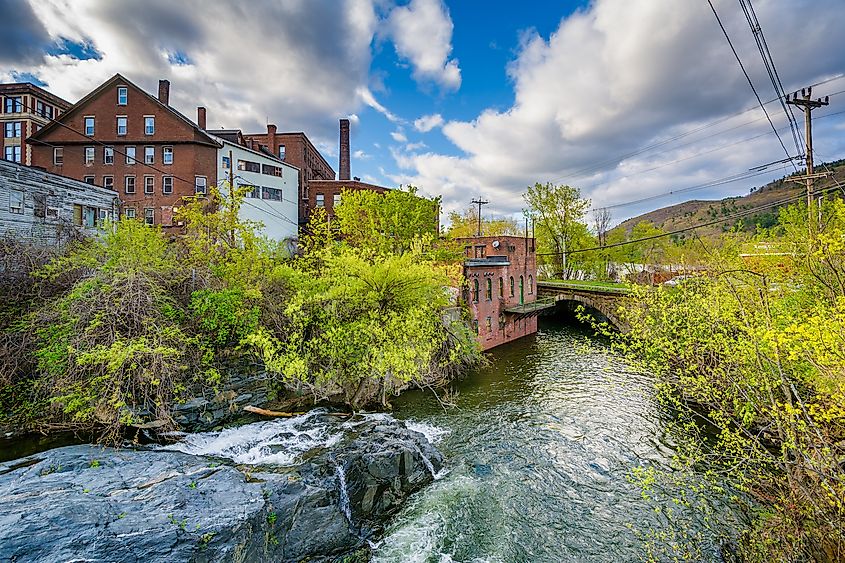 The town of Brattleboro is found amid dense forests. Brattleboro is a dynamic town with a surprising amount to do, especially in the autumn when the bright leaves begin their colorful show. Pisgah State Park is less than a half-hour's drive from town and offers 55 miles of trails. Also in New Hampshire, Mount Wantastiquet reaches 1,335 feet and offers panoramic views at its summit. The trail passes by a waterfall on its way up and is a brisk four miles.
This spunky artist retreat near the Massachusetts border sits at the lowest point of the Connecticut River Valley. Visitors will delight in the rolling hills and bright foliage that encompass Brattleboro's Main Street. Gallery in the Woods has plenty of work from Vermont artists like jewelry and ceramics, while the Creamery Covered Bridge is found near the Brattleboro Farmer's Market. The grassy area near the bridge is gorgeous and perfect for an impromptu photoshoot.
Stowe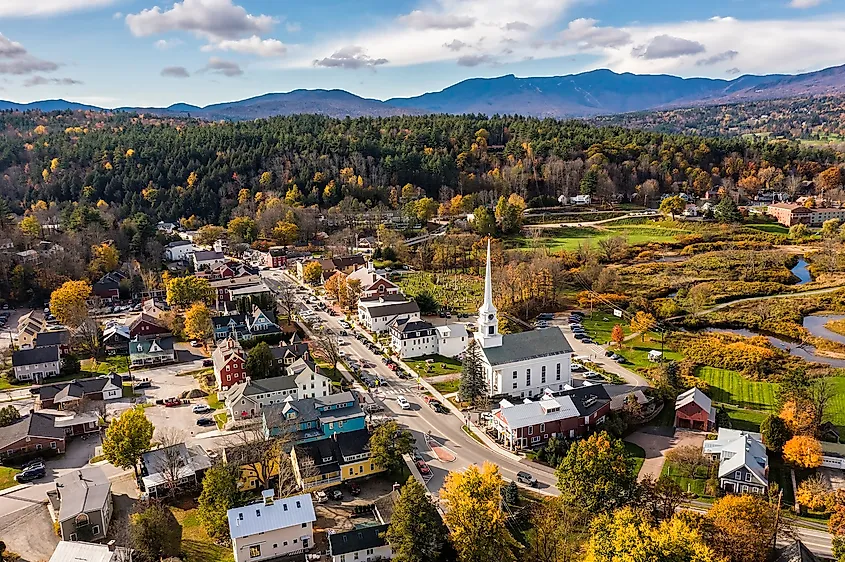 The misty mountain town of Stowe sits near the highest peak in Vermont. Best seen from early September to late October, Stowe offers a cornucopia of color in the autumn. Travelers arriving in Stowe are treated to Mount Mansfield and some of the best skiing in the state, in addition to the dozens of hiking trails that can be found in the surrounding area. The Moss Glen Falls hike, in particular, leads to a spectacular waterfall and is only a few minutes by car from town. 
Stowe is also excellent for drivers looking for scenic roads to cruise through. Known to locals as "the Notch," Route 108 is a scenic mountain pass displaying the best autumn colors Vermont offers. Stowe also has a gondola, which you may want to consider. The Stowe Gondola brings riders to the top of Mount Mansfield. Find it along the Smugglers Notch drive and enjoy the scenic views on the mountaintop. There is also a waffle house near the peak!
Peacham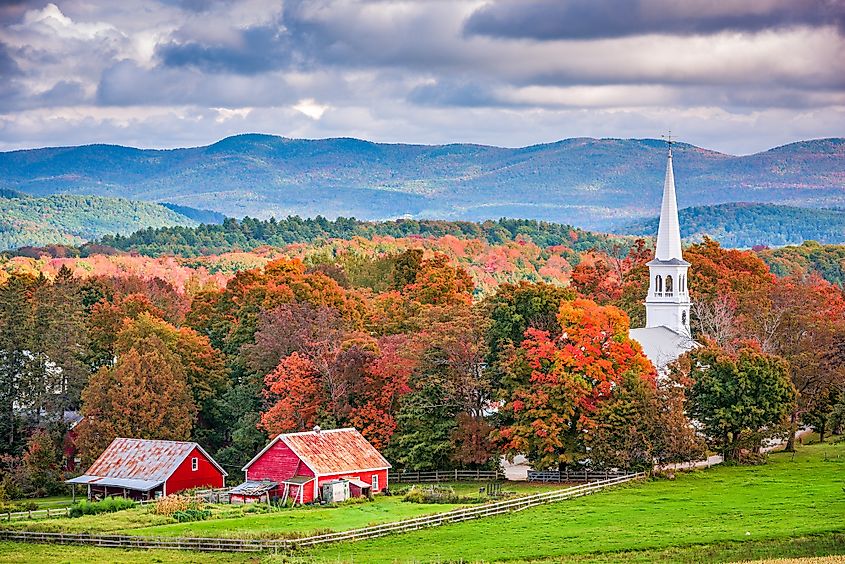 This New England town is known for making repeat customers out of first-time visitors. Peacham is called the most photographed town in New England, and it is easy to see why. In the town's center, one can see both historic New England homes and the New Hampshire White Mountains in the distance. Peacham is known, in part, for the Peacham Congregational Church. Painted polar bear-white, the church and its iconic spire strike a delightful interplay with the verdant greens and reds that surround it.
The Peacham Cafe is a fine place to rest your legs and get a bite to eat. It is one of the few places to dine in sleepy Peacham. The sandwiches are divine as is the service. Southwest of town, Groton State Forest has nearly 30,000 acres to hike, bike, and paddle through. Try and visit in early October during the Peacham Fall Foliage Festival on October 5th for a full day of activities featuring a library book sale, blacksmithing demonstrations, and a spaghetti dinner at the gorgeous town church.
Woodstock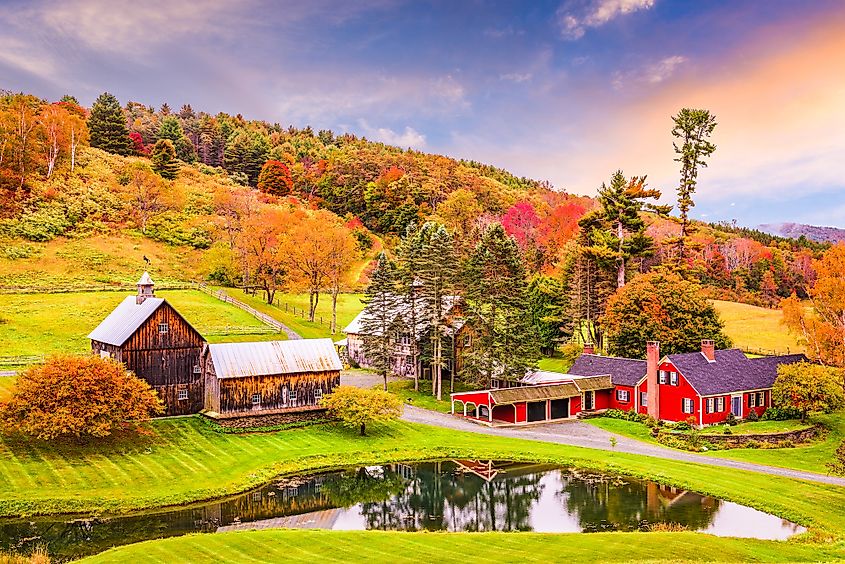 Some call Woodstock the prettiest town in America. Overlooking the picturesque Ottauquechee River and sandwiched between two parks, there is certainly an argument to be made. This central Vermont town has a lovely center called The Green, which is a definite must-see thanks to its cozy cafes and boutique shops, which are lots of fun to pick through. Visitors interested in learning more about Woodstock's history, which includes its brushes with vampires, should stop by the Woodstock History Center on Elm Street.
One of the best tourist attractions in town is the Woodstock Middle Covered Bridge, one of five in Woodstock. As far as where to eat, Mangalitsa may very well be the best restaurant in the state. Woodstock is quite touristy and experiences an uptick in visitors during peak season, so be sure to make a reservation. Tired of provincial life? Outdoorsy folks will want to visit Marsh-Billings-Rockefeller National Historical Park and its 400-year-old hemlocks.
Manchester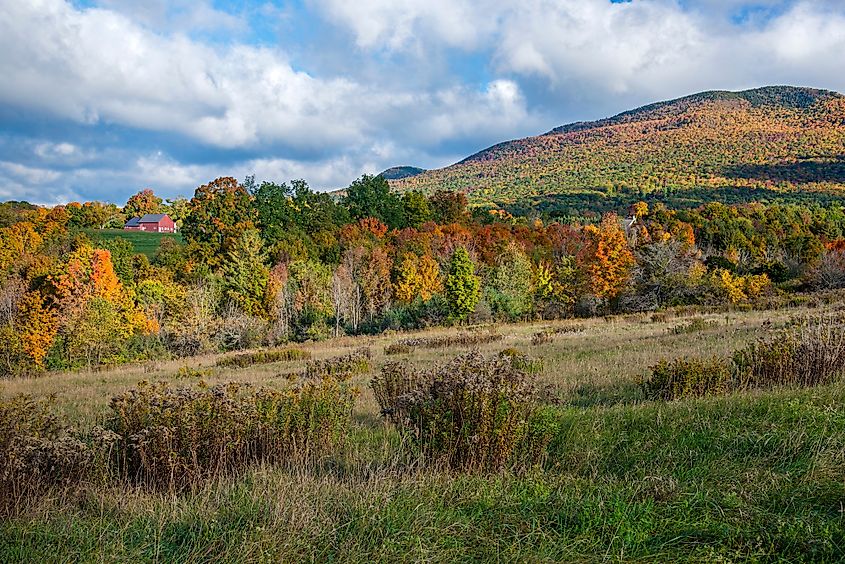 The town of Manchester is one of the best places to watch the leaves change in Vermont. Manchester is encircled by mountains and its rolling hills are covered in magnificent foliage, offering a front-row seat to visitors and residents alike. The town has plenty of hiking trails which are as visually appealing as they are challenging. See the Green Mountains, the Manchester Riverwalk, and the Taconic Mountains as never before.
Hildene, the historic home of President Lincoln's son, is open for exploration in Manchester, along with 12 miles of trails. The Southern Vermont Arts Center hosts a sculpture exhibit in its garden in addition to some more woodland hiking opportunities. The Northshire Bookstore is an excellent place to pick up a souvenir, while Hathaway Farms has a family-friendly fun corn maze that opens up in the fall.
Grafton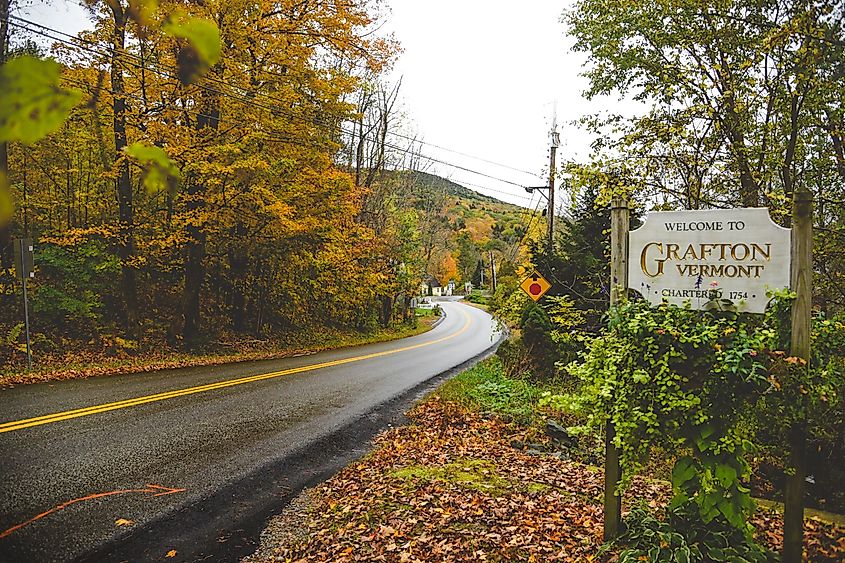 Found within driving distance of Manchester, Grafton is another southern Vermont town that transforms alongside the leaves in the autumn. If you are a fan of eye-catching foliage, delicious dairy products, and New England history, then Grafton is for you. The Grafton Trails & Outdoor Center is a network of hiking, biking, and skiing trails with more than 2,000 acres to explore. There is no better way to experience the seasons changing than by delving into the Vermont wilderness.
The Nature Museum is family-friendly and teaches its patrons about the natural world and conservation. Besides being educational, the museum also leads you to stunning Vermont views. Grafton is home to Grafton Village Cheese, made in the village tradition. A trip to Grafton should include a visit to Plummer's Sugar House. This fine establishment has been making delicious maple syrup for over 40 years. Pick some up!
Johnsbury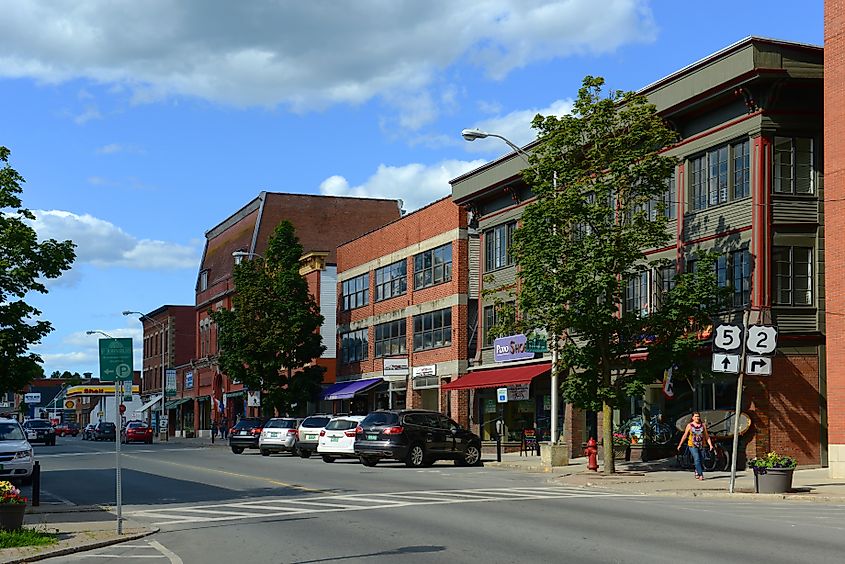 There are few places better to watch the leaves change than Vermont's Northeast Kingdom. St. Johnsbury can be found roughly 50 miles from the Canadian border. Here, the hills and woods burst with vibrant color, and the town of St. Johnsbury perfectly accompanies the natural beauty surrounding it. In St. Johnsbury, at the southern end of the Northeast Kingdom, visitors will find an inviting and walkable town that offers them plenty to eat, see and do.
This quirky town has a rustic, old-world feel and benefits from its easy access to nature. Traverse the Lamoille Valley Rail Trail via bike or on foot and enjoy the diversity of Vermont's landscapes. Dog owners will certainly want to visit all 150 acres of Dog Mountain as well. For a sweet treat, Sweet Seasons sells maple caramel apples and fresh apple cider at their organic orchard. St. Johnstonbury is also home to Pica Pica Filipino Cuisine, the best Filipino restaurant in the state, according to Vermont Food & Wine Magazine.
Waitsfield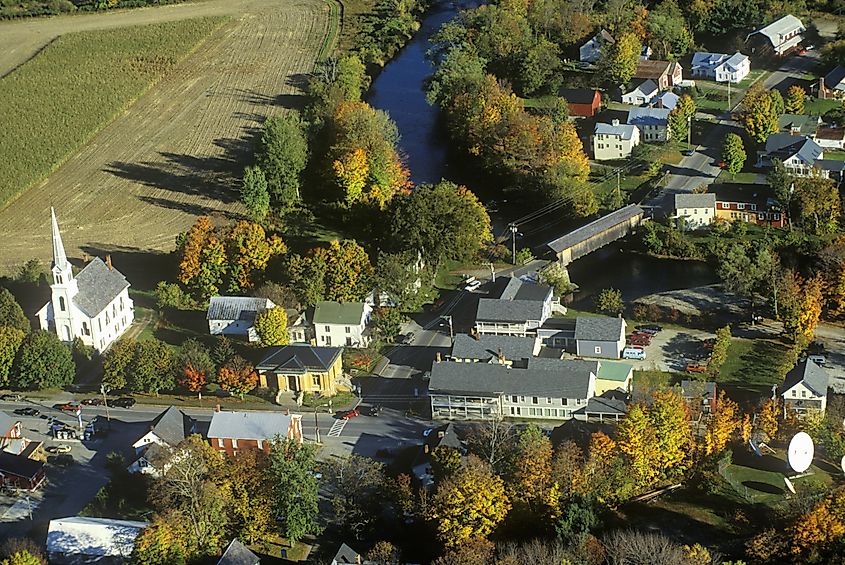 The Mad River Valley was named after the eponymous river, which was known to rise quickly as if in anger, devouring river banks in a flash. The area was beautiful enough to have even inspired the great poet Robert Frost, whose work often featured themes of changing seasons. Today, towns like Waitsfield are the perfect places to experience that metamorphosis, which was so moving as to have been enshrined in the annals of poetic history forever.
Waitsfield and the surrounding area are popular ski regions in the winter, but the town truly comes alive in the fall. There are plenty of trees here, naturally, and the Mad River Byway is the perfect avenue to see them by car. The town itself is delightful, and accommodations are often affordable. Canteen Creemee Company makes some of the best maple cremes in the state, and trying one is a must. Vermont cherishes its covered bridges, and there are currently still two in Waitsfield: the Great Eddy and the Pine Brook Bridge. They are historic and certainly worth seeing.
Burlington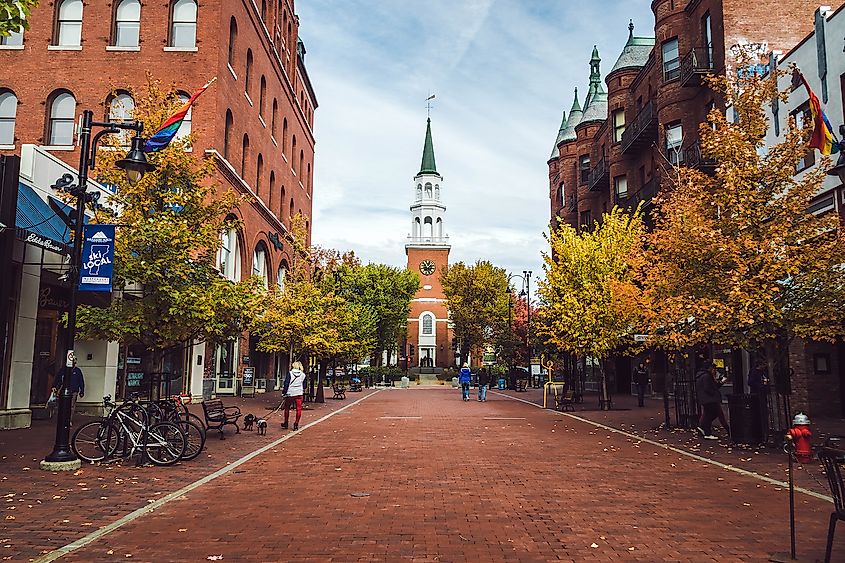 The largest city in Vermont is Burlington, though that title can be a little misleading. The city of Burlington has less than 50,000 full-time residents, but its size makes it a perfect blend of urban life complete with amenities without having paved over its surroundings. Burlington is scenic and stimulating, bordered by a lake and surrounded by stupendous, stunning trees; this city is not one to be missed.
Burlington is eminently walkable. Church Street is pedestrian-only, and the marketplace there was called the best public square in America by USAToday. The Burlington Greenway is perfect for bicyclists. This bike path follows the colorful shore of Lake Champlain. The city is found in a valley with its microclimate, meaning Burlington experiences fall a little later than the surrounding areas. 
Jay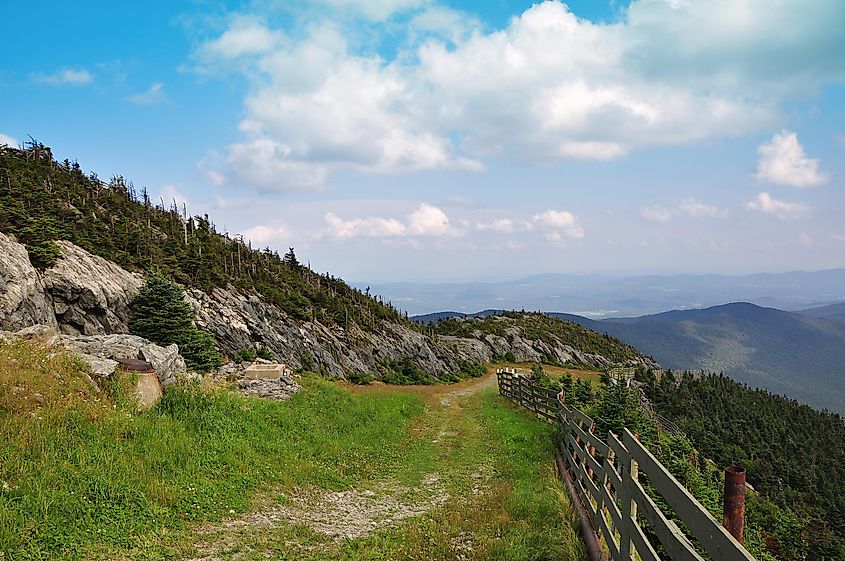 Jay is a small but picturesque ski and golf town. Found at the top of Vermont in Orleans County, Jay borders the Canadian province of Quebec to the north. The town is well populated with trees and is perfect for experiencing the changing seasons. The town has some great mountain areas for hikes, as well as a unique tram ride to the summit of Jay Peak. The Jay Peak Tram continues through the beginning of October and is the only mountain tram of its kind in the state. 
Jay is another town found in the Northeast Kingdom. It is refreshingly unspoiled, allowing visitors to enjoy the great outdoors to their heart's content. Jay Peak Resort features everything from disc golf courts to mountain biking trails to a waterpark. If traipsing through small towns is not your thing, the resort at Jay has more than enough to keep you occupied.
Vermont may be small, but it punches well above its weight in terms of attracting tourists. This New England State is the perfect place to view the leaves when summer gives way to fall, thanks to its thickly wooded areas and unspoiled splendor. Vermont is an absolute treat regardless of season, especially when the leaves begin to change color, thanks to its incredible, scenic towns.