The Largest Football (Soccer) Stadiums In The World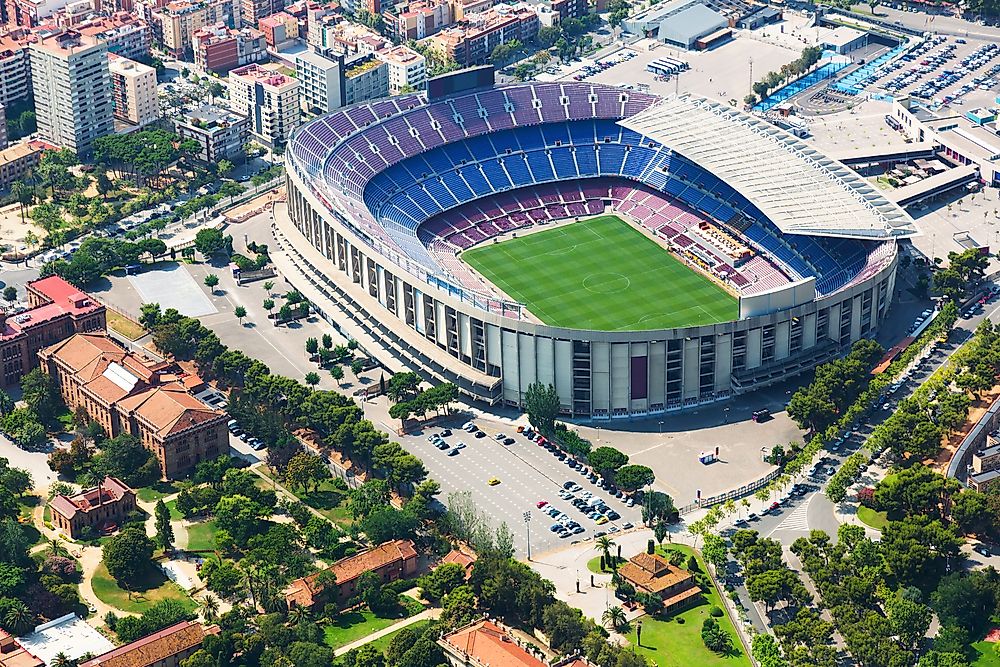 ---
Football or soccer is the most popular sport in the world. It is a game for all that transcends race, culture, gender, and age. It has been referred to as the game that unifies humanity.
Football has simple rules and demands relatively few essential types of equipment. Thus, it is possible to play the game almost anywhere like beaches, streets, parks, gymnasiums, and school grounds. According to the international football governing body FIFA, there were about 250 million soccer players and more than 1.3 billion soccer fans in 2000. During the 2010 FIFA World Cup, over 3.2 billion people watched the matches on television. During the 2014 World Cup 2014, FIFA generated more than $1.7billion in revenue in broadcasting rights.
Over the years, many world-class stadiums have been built to accommodate a large number of spectators who flock to watch the football matches. The biggest of these stadiums have been mentioned below.
The 3 Largest Stadiums by Capacity
1. Rungrado 1st of May Stadium
Rungrado 1st of May Stadium is the largest football stadium in the world. It is located in Pyongyang, North Korea. It has a capacity of 114,000 spectators. Its construction was completed in 1989, and it is used mainly for soccer matches and athletic events. The stadium has a scalloped roof with arches that appear like a magnolia blossom. The main pitch has an area of 22,500 square m. The total floor space of the stadium is 207,000 square m.
2. Melbourne Cricket Ground
The Melbourne Cricket Ground is not only a top venue for international cricket but also hosts matches of Australian rules football. It is located in Yarra Park, Melbourne, Victoria. It is the largest stadium in the entire Southern Hemisphere and has the tallest lighting towers of any sporting venue. The MCG has a seating capacity of 100,024,
3. Camp Nou
With a capacity of 99,354, Camp Nou is the third biggest soccer stadium worldwide. It is located in Barcelona, Spain and serves as the home stadium of FC Barcelona. Camp Nou was completed in 1957 when it became the biggest stadium in Europe. Many popular national and international football events have been held at the stadium like the European Cup 1989 and 1999, Copa del Rey, UEFA Super Cup, and others.
4. FNB Stadium
The First National Bank Stadium in Johannesburg, South Africa, is the largest football stadium in Africa. It has a seating capacity of 94,736. The stadium hosted the 2010 FIFA World Cup final match between Netherlands and Spain. It also featured the last public appearance of Nelson Mandela during the final closing ceremony of the World Cup.
Importance Of Football
Football plays a significant role in promoting good international relations between countries because of its global popularity. For instance, the International Olympic Committee has over 200 member countries, more than the total number of UN member states (192).
The Largest Football (Soccer) Stadiums In The World
| Rank | Stadium | Capacity | Location |
| --- | --- | --- | --- |
| 1 | Rungrado May Day Stadium | 150,000 | Pyongyang, North Korea |
| 2 | Melbourne Cricket Ground | 100,024 | Melbourne, Australia |
| 3 | Camp Nou | 99,354 | Barcelona, Spain |
| 4 | FNB Stadium | 94,736 | Johannesburg, South Africa |
| 5 | Rose Bowl Stadium | 90,888 | Pasadena, United States |
| 6 | Wembley Stadium | 90,000 | London, England |
| 7 | Estadio Azteca | 87,523 | Mexico City, Mexico |
| 8 | Bukit Jalil National Stadium | 87,411 | Kuala Lumpur, Malaysia |
| 9 | Borg El Arab Stadium | 86,000 | Alexandria, Egypt |
| 10 | Salt Lake Stadium | 85,000 | Kolkata, India |
| 11 | ANZ Stadium | 84,000 | Sydney, Australia |
| 12 | MetLife Stadium | 82,500 | East Rutherford, United States |
| 13 | Croke Park | 82,300 | Dublin, Ireland |
| 14 | Signal Iduna Park (Westfalenstadion) | 81,360 | Dortmund, Germany |
| 15 | Stade de France | 81,338 | Saint-Denis, France |
| 16 | Santiago Bernabéu Stadium | 81,044 | Madrid, Spain |
| 17 | Luzhniki Stadium | 81,004 | Moscow, Russia |
| 18 | Shah Alam Stadium | 80,372 | Shah Alam, Malaysia |
| 19 | Estadio Monumental U | 80,093 | Lima, Peru |
| 20 | Stadio Giuseppe Meazza (San Siro) | 80,018 | Milan, Italy |