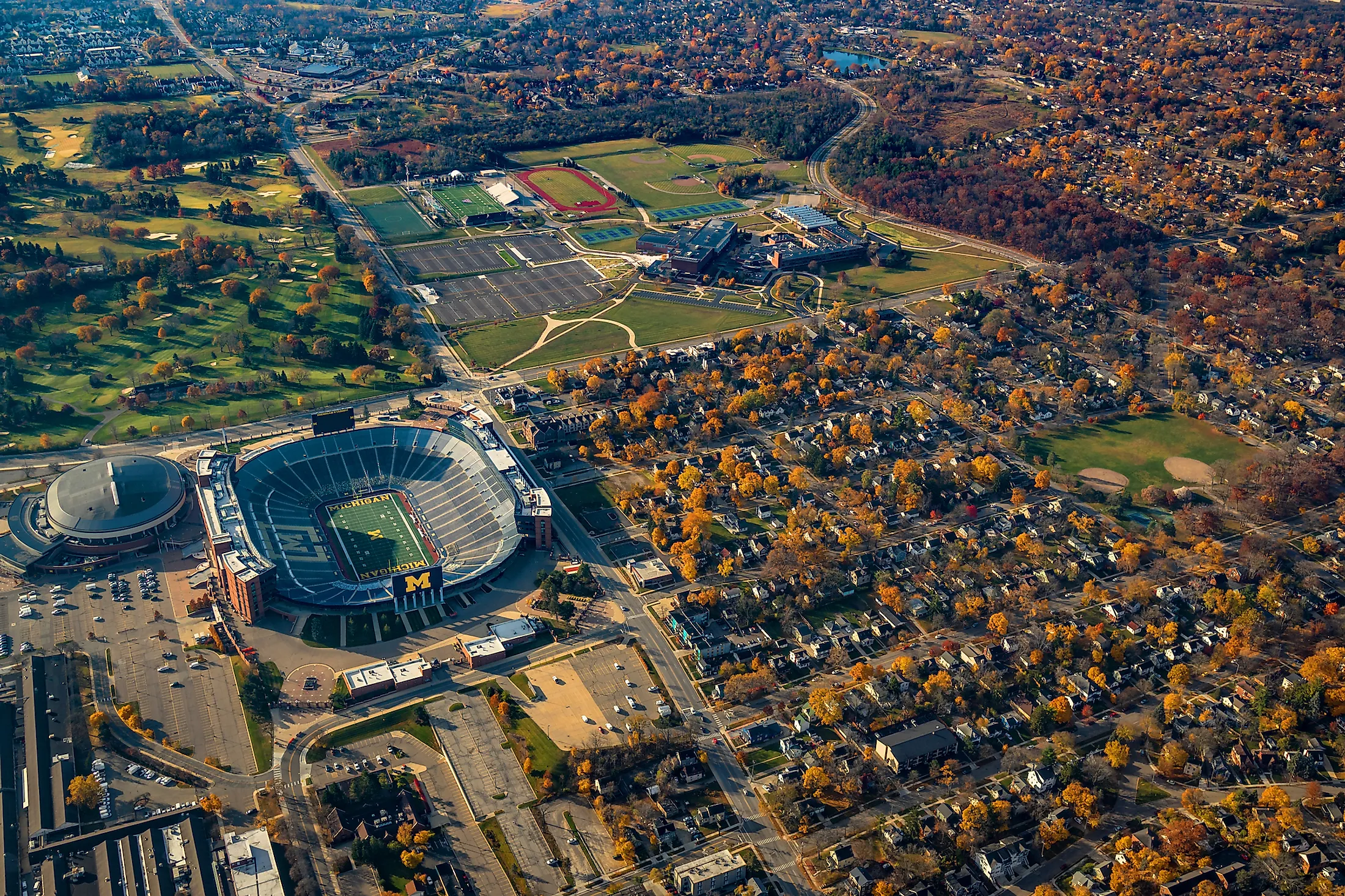 Ann Arbor is a moderate-sized city in Southeastern Michigan, United States, just West of Detroit. It is best known as the site of the University of Michigan - a fact that has stood out in the city's history and development and acts as a continued draw for students and visitors alike. Ann Arbor gets a solid dose of all four seasons, which gives it a fluctuating aesthetic, with corresponding activities and events to boot. The forward-thinking community makes for a nice place to settle into while also serving as a leaping-off point for Michigan's Great Lakes adventures and charming small-town road trips. 
Geography Of Ann Arbor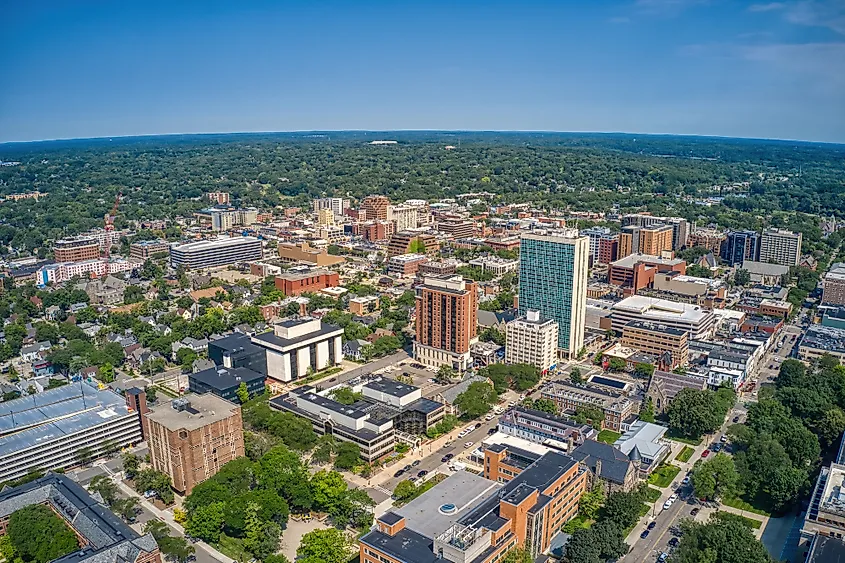 Ann Arbor has a land area of 27.83 square miles and is located on the Southeast portion of Michigan's Lower Peninsula. The city is in Washtenaw County, on the Western bank of the Huron River. Other substantial, nearby Michigan cities include Detroit, which lies about 43 miles to the East (downtown to downtown), Flint, which is roughly 54 miles North; and Lansing, the state's capital, and Grand Rapids, which are 66 miles and 132 miles, respectively, to the Northwest. Ann Arbor is also close to several major bodies of water. The Southwest shore of Lake Erie lies just to the Southeast of Ann Arbor, and Lake Huron encompasses the Eastern shore of the state's Lower Peninsula. The third Great Lake that is driveable from Ann Arbor is Lake Michigan, which encompasses the Western shore of the Lower Peninsula. Finally, Lake Saint Clair is nearly due-East of Ann Arbor, just on the Eastern side of Detroit. 
The Climate Of Ann Arbor
Because of Ann Arbor's Northern latitude and proximity to the Great Lakes, it sees cold, humid, and snowy winters and warm summers. The average annual temperature for Ann Arbor is approximately 48 degrees Fahrenheit, ranging from a low of 17 - 18 degrees in January to a high of about 83 degrees in July. The average annual humidity is roughly 78%. The peak months are January and February, which is when most of the 43 inches of annual snowfall occur (December is also a large contributor). Ann Arbor also receives about 36 inches of rain each year, slightly below the national average of 38 inches. On average, the city gets some form of precipitation 137 days per year, with another 178 days that are classified as sunny. 
Brief History Of Ann Arbor
In 1824, two men, John Allen and Elisha Rumsey, met in Detroit to investigate a plot of land west of the city. They soon purchased the 640-acres, which they registered as "Annarbour," likely in reference to their wives (both of whom were named Ann), but this is debated. The village was officially incorporated in 1833, by which point it had become the seat of Washtenaw County.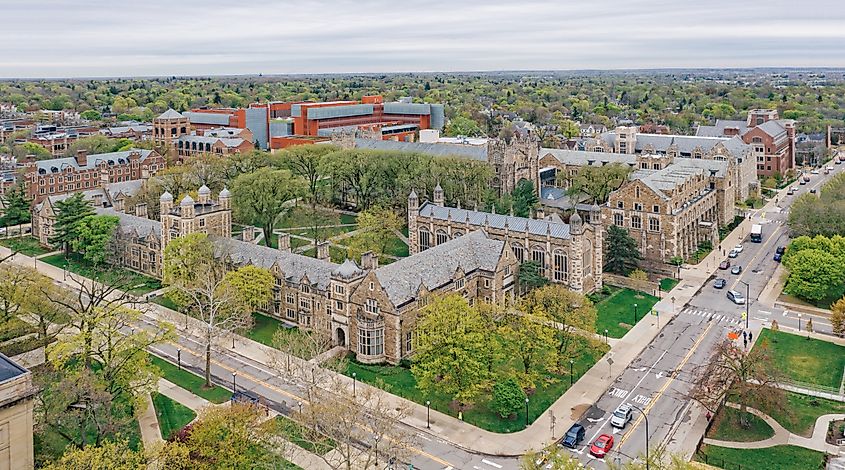 In 1837, Ann Arbor strove to be deemed the new capital of Michigan. Though it lost out to Lansing, the land that was set aside for government buildings became the new site of the prestigious University of Michigan (formerly in Detroit). This helped boost the population, which was further accelerated when the city was connected to the Michigan Central Railroad. By 1851, Ann Arbor was incorporated as a city. The city continued to grow steadily through to the 1940s. At that point, a WWII B-24 Liberator (bomber) production plant, located just outside the city limits, shot the population up by another 60% that decade. 
Throughout the 1960s, the University of Michigan students represented the city's shift into liberal politics and counterculture ideologies. Prominent protests against the Vietnam War and in favor of Civil Rights, as well as the founding of the national Students for a Democratic Society group, were notable trendsetters that seeped into the Ann Arbor government and general societal politics.
Demographics Of Ann Arbor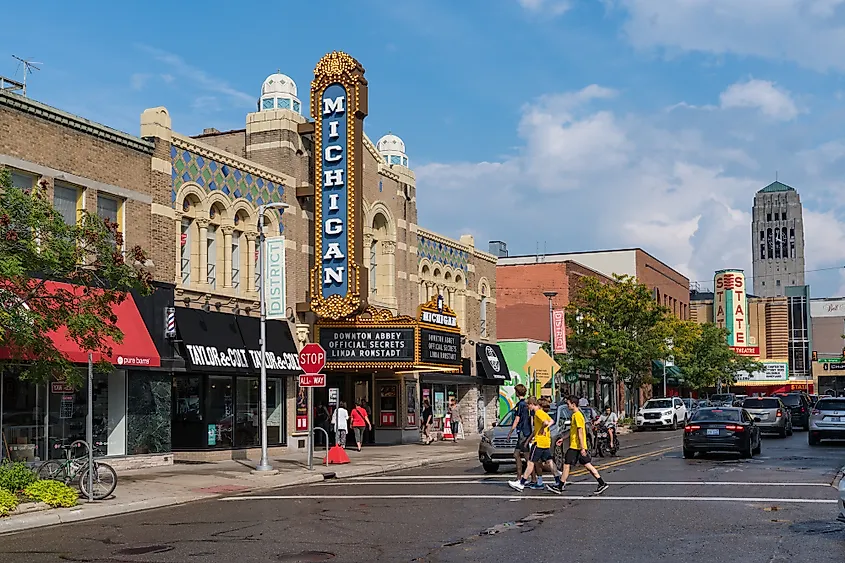 According to the US Census Bureau's 2020 survey, the population of Ann Arbor was 123,851, which was up from the 2010 figure of 113,934. This makes Ann Arbor the fifth most populous city in Michigan, with a population density of 4,094 people per square mile. The sex ratio consisted of 50.6% females and 49.4% males. The age breakdown was as follows: 3.9% under the age of 5, 12.4% under 18, and 11.9% over 65. In terms of racial/cultural demographics, 66.6% were identified as White alone, 17.4% Asian, 7% Black or African American, 4.6% Hispanic or Latino, 0.3% American Indian or Alaska Native, and 4.7% were considered two or more races. 19.7% of Ann Arbor residents were born outside of the United States. Finally, 2,735 veterans called this city home. 
Economics Of Ann Arbor
The same 2020 survey determined a median household income of $69,456 (USD). The average per capita income of an Ann Arbor citizen was $44,710. The estimated poverty rate was 23.4%, with 60.8% of residents above the age of 16 being part of the civilian labor force. The median value for an owner-occupied housing unit was $346,800, and the median gross rent was $1,299 per month. 
Attractions In And Around Ann Arbor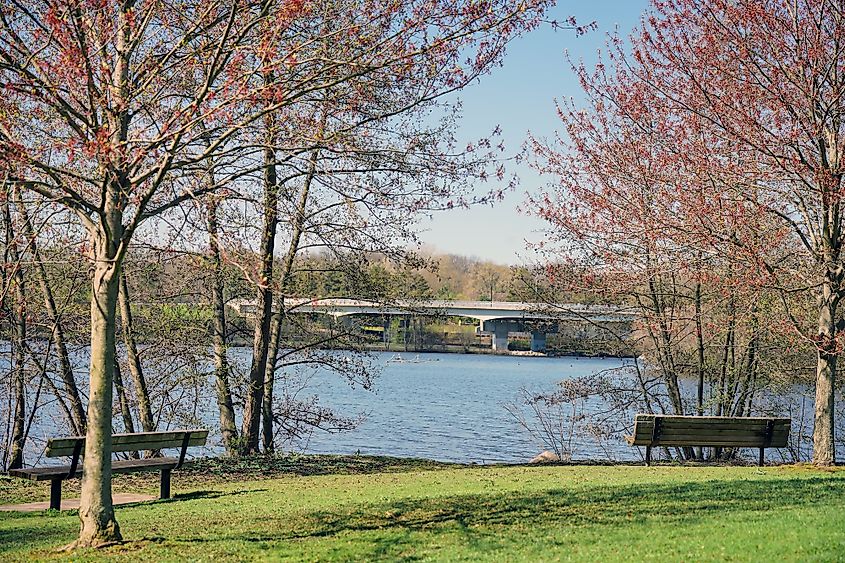 Ann Arbor retains its innovative spirit and "Go Blue!" university-town magnetism while also making a name for itself in the tech, culinary, and art scenes. The walkable downtown opens up a variety of shopping, dining, and nightlife combinations, while also inviting visitors to simply take in the murals, matinees, copious coffee shops, independent bookstores, year-round farmer's market, and other personalized touches that make Ann Arbor feel like a lived-in and loved home. 
The Huron River beckons water activities in the summer and cross-country skiing, skating, and snow-shoeing in the winter. If you consider yourself more of a spectator, an electrifying Wolverines football game is a must, or even something more overlooked and varied like a track and field meet, which often showcases many soon-to-be Olympians.  
Ann Arbor makes for a great reprieve from the nearby and larger city of Detroit, especially for anyone who still enjoys the attractions and amenities of a substantial hub. The progressive and cultured atmosphere of the University of Michigan floods into the downtown, where things look and feel a little more individualized and intentional. All of this culminates in a fair-sized city but with a smaller-town vibe.