Society
Population By Country
As India vies for China's top spot, an ever-rising global population places ever greater strain on earth's resources.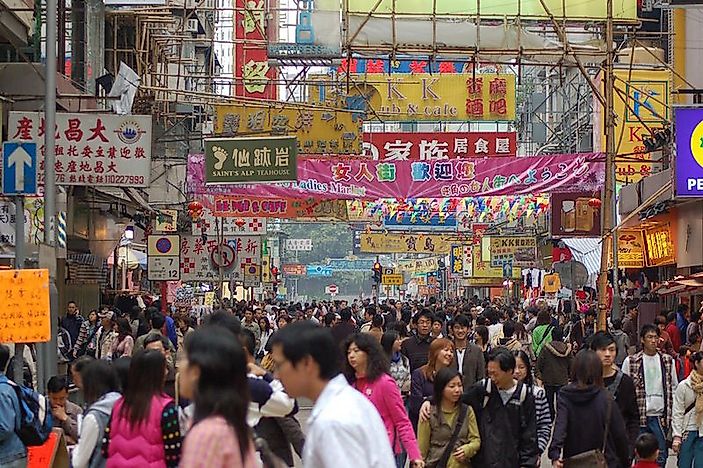 Global Population Growth Throughout History
The global population has been an ever-changing statistic since the beginning. Around 10,000 BC, when humans learned to cultivate crops, the population was estimated to be between 1 million and 15 million. This number grew to approximately 55 million in the Roman Empire alone during the 4th century AD, however, dropped by as much as 50% due to the Plague of Justinian between the 6th and 8th centuries. Humans bounced back over the next 600 years or so until the Black Death plague that reduced the population from 450 million to 350 million. This event occurred at the same time a famine and Mongol invasions in Asia dropped the population by 50%. Since that time, the 1300's, world population has consistently grown.
Life expectancies also began to increase around the time of the Industrial Revolution as there was a reliable food availability. This movement was followed by the invention of vaccines and public sanitation measures that contributed to elongating years lived. The population in Europe and the United States grew exponentially from the 1800's until present day growing from 10 million to 60 million in the United Kingdom and 5 million to 307 million in the United States. The same growth was seen throughout the Soviet Union until the middle of the 1900's when the area suffered drastic population losses due to famine, war, and disasters. The population in Russia continued to decline from 150 million in the early 1990's to 143 million in 2012; it did not begin to increase again until 2013.
Current Population Trends
Currently, the world's population is estimated to be 7.4 billion. Although population trends fluctuate depending on the region, the global pattern is one of consistent growth. In fact, the 20th century had the greatest jump in growth ever recorded, moving from 1.6 billion in the year 1900 to 6 billion in the year 2000. During the 1960's, expected growth rate was around 2.19%, but that number has decreased to 1.14% in recent years.
China holds the number 1 spot for most heavily populated with 1.36 billion people, and India follows closely with 1.25 billion. If current trends continue, India will surpass China in population during the next five years. This is due to a decreasing fertility rate in Chinese women and a simultaneous increase in Indian women. Japan and some European countries have also been slightly declining in population because of reduced fertility numbers. African countries are expected to see a population boom, doubling their numbers by 2050. The reason is because nearly half the population, 41%, is under 15 years of age. As those individuals get older, they will begin to reproduce, and the growth will be rampant.
Strain on Natural Resources
As humans continue to take over the space on earth, resource scarcity will continue to be a growing problem. Experts believe that the number of people the earth can sustainably support is only 7.7 billion. Living standards in developing countries are beginning to reach developed world standards thereby increasing life expectancy around the world. Many countries have already experienced violent protests in response to food shortages which were in response to increasing petroleum prices, and the number of malnourished individuals has continued to rise.
The increasing use of natural resources, like natural gas, oil, and coal, has led to an unprecedented rise in greenhouse gas emissions. This rise in emissions has been causing greater environmental changes, leading to hotter temperatures, glacial melting, natural disasters, and drought. These factors will continue to influence the availability of food. Other groups of people have been battling access to fresh water, another scarce resource.
Future Population Estimates
The UN estimates that global population will reach 9.55 billion by 2050, and that half of that population will be located in Asian countries. Another quarter, 25%, will be living on the African continent. These two continents will account for 75% of the world's population. It is expected that European populations will continue to decline, Latin America will see a small decline, as will North America and Oceania will grow by 0.1%. The prediction is based on fertility and death estimates are therefore difficult to predict. At any given time, the world could experience another plague or famine that would leave populations decimated.
Population By Country
| | | |
| --- | --- | --- |
| Rank | Country | Population, 2015 |
| 1 | CHINA | 1,367,485,388 |
| 2 | INDIA | 1,251,695,584 |
| 3 | UNITED STATES | 321,368,864 |
| 4 | INDONESIA | 255,993,674 |
| 5 | BRAZIL | 204,259,812 |
| 6 | PAKISTAN | 199,085,847 |
| 7 | NIGERIA | 181,562,056 |
| 8 | BANGLADESH | 168,957,745 |
| 9 | RUSSIA | 142,423,773 |
| 10 | JAPAN | 126,919,659 |
| 11 | MEXICO | 121,736,809 |
| 12 | PHILIPPINES | 100,998,376 |
| 13 | ETHIOPIA | 99,465,819 |
| 14 | VIETNAM | 94,348,835 |
| 15 | EGYPT | 88,487,396 |
| 16 | IRAN | 81,824,270 |
| 17 | GERMANY | 80,854,408 |
| 18 | TURKEY | 79,414,269 |
| 19 | DEMOCRATIC REPUBLIC OF THE CONGO | 79,375,136 |
| 20 | THAILAND | 67,976,405 |
| 21 | FRANCE | 66,553,766 |
| 22 | UNITED KINGDOM | 64,088,222 |
| 23 | ITALY | 61,855,120 |
| 24 | BURMA | 56,320,206 |
| 25 | SOUTH AFRICA | 53,675,563 |
| 26 | TANZANIA | 51,045,882 |
| 27 | SOUTH KOREA | 49,115,196 |
| 28 | SPAIN | 48,146,134 |
| 29 | COLOMBIA | 46,736,728 |
| 30 | KENYA | 45,925,301 |
| 31 | UKRAINE | 44,429,471 |
| 32 | ARGENTINA | 43,431,886 |
| 33 | ALGERIA | 39,542,166 |
| 34 | POLAND | 38,562,189 |
| 35 | UGANDA | 37,101,745 |
| 36 | IRAQ | 37,056,169 |
| 37 | SUDAN | 36,108,853 |
| 38 | CANADA | 35,099,836 |
| 39 | MOROCCO | 33,322,699 |
| 40 | AFGHANISTAN | 32,564,342 |
| 41 | NEPAL | 31,551,305 |
| 42 | MALAYSIA | 30,513,848 |
| 43 | PERU | 30,444,999 |
| 44 | VENEZUELA | 29,275,460 |
| 45 | UZBEKISTAN | 29,199,942 |
| 46 | SAUDI ARABIA | 27,752,316 |
| 47 | YEMEN | 26,737,317 |
| 48 | GHANA | 26,327,649 |
| 49 | MOZAMBIQUE | 25,303,113 |
| 50 | NORTH KOREA | 24,983,205 |
| 51 | MADAGASCAR | 23,812,681 |
| 52 | CAMEROON | 23,739,218 |
| 53 | TAIWAN | 23,415,126 |
| 54 | IVORY COAST | 23,295,302 |
| 55 | AUSTRALIA | 22,751,014 |
| 56 | SRI LANKA | 22,053,488 |
| 57 | ROMANIA | 21,666,350 |
| 58 | ANGOLA | 19,625,353 |
| 59 | BURKINA FASO | 18,931,686 |
| 60 | KAZAKHSTAN | 18,157,122 |
| 61 | NIGER | 18,045,729 |
| 62 | MALAWI | 17,964,697 |
| 63 | CHILE | 17,508,260 |
| 64 | SYRIA | 17,064,854 |
| 65 | MALI | 16,955,536 |
| 66 | NETHERLANDS | 16,947,904 |
| 67 | ECUADOR | 15,868,396 |
| 68 | CAMBODIA | 15,708,756 |
| 69 | ZAMBIA | 15,066,266 |
| 70 | GUATEMALA | 14,918,999 |
| 71 | ZIMBABWE | 14,229,541 |
| 72 | SENEGAL | 13,975,834 |
| 73 | RWANDA | 12,661,733 |
| 74 | SOUTH SUDAN | 12,042,910 |
| 75 | GUINEA | 11,780,162 |
| 76 | CHAD | 11,631,456 |
| 77 | BELGIUM | 11,323,973 |
| 78 | TUNISIA | 11,037,225 |
| 79 | CUBA | 11,031,433 |
| 80 | PORTUGAL | 10,825,309 |
| 81 | BOLIVIA | 10,800,882 |
| 82 | GREECE | 10,775,643 |
| 83 | BURUNDI | 10,742,276 |
| 84 | CZECHIA | 10,644,842 |
| 85 | SOMALIA | 10,616,380 |
| 86 | DOMINICAN REPUBLIC | 10,478,756 |
| 87 | BENIN | 10,448,647 |
| 88 | HAITI | 10,110,019 |
| 89 | HUNGARY | 9,897,541 |
| 90 | SWEDEN | 9,801,616 |
| 91 | AZERBAIJAN | 9,780,780 |
| 92 | BELARUS | 9,589,689 |
| 93 | HONDURAS | 8,746,673 |
| 94 | AUSTRIA | 8,665,550 |
| 95 | TAJIKISTAN | 8,191,958 |
| 96 | SWITZERLAND | 8,121,830 |
| 97 | JORDAN | 8,117,564 |
| 98 | ISRAEL | 8,049,314 |
| 99 | TOGO | 7,552,318 |
| 100 | BULGARIA | 7,186,893 |
| 101 | SERBIA | 7,176,794 |
| 102 | HONG KONG | 7,141,106 |
| 103 | LAOS | 6,911,544 |
| 104 | PARAGUAY | 6,783,272 |
| 105 | PAPUA NEW GUINEA | 6,672,429 |
| 106 | ERITREA | 6,527,689 |
| 107 | LIBYA | 6,411,776 |
| 108 | LEBANON | 6,184,701 |
| 109 | EL SALVADOR | 6,141,350 |
| 110 | NICARAGUA | 5,907,881 |
| 111 | SIERRA LEONE | 5,879,098 |
| 112 | UNITED ARAB EMIRATES | 5,779,760 |
| 113 | SINGAPORE | 5,674,472 |
| 114 | KYRGYZSTAN | 5,664,939 |
| 115 | DENMARK | 5,581,503 |
| 116 | FINLAND | 5,476,922 |
| 117 | SLOVAKIA | 5,445,027 |
| 118 | CENTRAL AFRICAN REPUBLIC | 5,391,539 |
| 119 | TURKMENISTAN | 5,231,422 |
| 120 | NORWAY | 5,207,689 |
| 121 | GEORGIA | 4,931,226 |
| 122 | IRELAND | 4,892,305 |
| 123 | COSTA RICA | 4,814,144 |
| 124 | REPUBLIC OF THE CONGO | 4,755,097 |
| 125 | CROATIA | 4,464,844 |
| 126 | NEW ZEALAND | 4,438,393 |
| 127 | LIBERIA | 4,195,666 |
| 128 | BOSNIA AND HERZEGOVINA | 3,867,055 |
| 129 | PANAMA | 3,657,024 |
| 130 | PUERTO RICO | 3,598,357 |
| 131 | MAURITANIA | 3,596,702 |
| 132 | MOLDOVA | 3,546,847 |
| 133 | URUGUAY | 3,341,893 |
| 134 | OMAN | 3,286,936 |
| 135 | ARMENIA | 3,056,382 |
| 136 | ALBANIA | 3,029,278 |
| 137 | MONGOLIA | 2,992,908 |
| 138 | JAMAICA | 2,950,210 |
| 139 | LITHUANIA | 2,884,433 |
| 140 | KUWAIT | 2,788,534 |
| 141 | WEST BANK | 2,785,366 |
| 142 | NAMIBIA | 2,212,307 |
| 143 | QATAR | 2,194,817 |
| 144 | BOTSWANA | 2,182,719 |
| 145 | MACEDONIA | 2,096,015 |
| 146 | LATVIA | 1,986,705 |
| 147 | SLOVENIA | 1,983,412 |
| 148 | GAMBIA | 1,967,709 |
| 149 | LESOTHO | 1,947,701 |
| 150 | KOSOVO | 1,870,981 |
| 151 | GAZA STRIP | 1,869,055 |
| 152 | GUINEA-BISSAU | 1,726,170 |
| 153 | GABON | 1,705,336 |
| 154 | SWAZILAND | 1,435,613 |
| 155 | BAHRAIN | 1,346,613 |
| 156 | MAURITIUS | 1,339,827 |
| 157 | ESTONIA | 1,265,420 |
| 158 | TIMOR-LESTE | 1,231,116 |
| 159 | TRINIDAD AND TOBAGO | 1,222,363 |
| 160 | CYPRUS | 1,189,197 |
| 161 | FIJI | 909,389 |
| 162 | DJIBOUTI | 828,324 |
| 163 | COMOROS | 780,971 |
| 164 | BHUTAN | 741,919 |
| 165 | EQUATORIAL GUINEA | 740,743 |
| 166 | GUYANA | 735,222 |
| 167 | MONTENEGRO | 647,073 |
| 168 | SOLOMON ISLANDS | 622,469 |
| 169 | MACAU | 592,731 |
| 170 | SURINAME | 579,633 |
| 171 | WESTERN SAHARA | 570,866 |
| 172 | LUXEMBOURG | 570,252 |
| 173 | CABO VERDE | 545,993 |
| 174 | BRUNEI | 429,646 |
| 175 | MALTA | 413,965 |
| 176 | MALDIVES | 393,253 |
| 177 | BELIZE | 347,369 |
| 178 | ICELAND | 331,918 |
| 179 | THE BAHAMAS | 324,597 |
| 180 | BARBADOS | 290,604 |
| 181 | FRENCH POLYNESIA | 282,703 |
| 182 | VANUATU | 272,264 |
| 183 | NEW CALEDONIA | 271,615 |
| 184 | SAMOA | 197,773 |
| 185 | SAO TOME AND PRINCIPE | 194,006 |
| 186 | SAINT LUCIA | 163,922 |
| 187 | GUAM | 161,785 |
| 188 | CURACAO | 146,836 |
| 189 | ARUBA | 112,162 |
| 190 | GRENADA | 110,694 |
| 191 | TONGA | 106,501 |
| 192 | KIRIBATI | 105,711 |
| 193 | MICRONESIA | 105,216 |
| 194 | VIRGIN ISLANDS | 103,574 |
| 195 | SAINT VINCENT AND THE GRENADINES | 102,627 |
| 196 | JERSEY | 97,294 |
| 197 | ANTIGUA AND BARBUDA | 92,436 |
| 198 | SEYCHELLES | 92,430 |
| 199 | ISLE OF MAN | 87,545 |
| 200 | ANDORRA | 85,580 |
| 201 | DOMINICA | 73,607 |
| 202 | MARSHALL ISLANDS | 72,191 |
| 203 | BERMUDA | 70,196 |
| 204 | GUERNSEY | 66,080 |
| 205 | GREENLAND | 57,733 |
| 206 | CAYMAN ISLANDS | 56,092 |
| 207 | AMERICAN SAMOA | 54,343 |
| 208 | NORTHERN MARIANA ISLANDS | 52,344 |
| 209 | SAINT KITTS AND NEVIS | 51,936 |
| 210 | TURKS AND CAICOS ISLANDS | 50,280 |
| 211 | FAROE ISLANDS | 50,196 |
| 212 | SINT MAARTEN | 39,689 |
| 213 | LIECHTENSTEIN | 37,624 |
| 214 | BRITISH VIRGIN ISLANDS | 33,454 |
| 215 | SAN MARINO | 33,020 |
| 216 | SAINT MARTIN | 31,754 |
| 217 | MONACO | 30,535 |
| 218 | GIBRALTAR | 29,258 |
| 219 | PALAU | 21,265 |
| 220 | ANGUILLA | 16,418 |
| 221 | WALLIS AND FUTUNA | 15,613 |
| 222 | TUVALU | 10,869 |
| 223 | COOK ISLANDS | 9,838 |
| 224 | NAURU | 9,540 |
| 225 | SAINT HELENA, ASCENSION, AND TRISTAN DA CUNHA | 7,795 |
| 226 | SAINT BARTHELEMY | 7,237 |
| 227 | SAINT PIERRE AND MIQUELON | 5,657 |
| 228 | MONTSERRAT | 5,241 |
| 229 | FALKLAND ISLANDS | 3,361 |
| 230 | NORFOLK ISLAND | 2,210 |
| 231 | SVALBARD | 1,872 |
| 232 | CHRISTMAS ISLAND | 1,530 |
| 233 | TOKELAU | 1,337 |
| 234 | NIUE | 1,190 |
| 235 | HOLY SEE (VATICAN CITY) | 842 |
| 236 | COCOS (KEELING) ISLANDS | 596 |
| 237 | PITCAIRN ISLANDS | 48 |