World Facts
The Most Densely Populated Island Countries of the World
Singapore has the highest population density among the island countries of the world.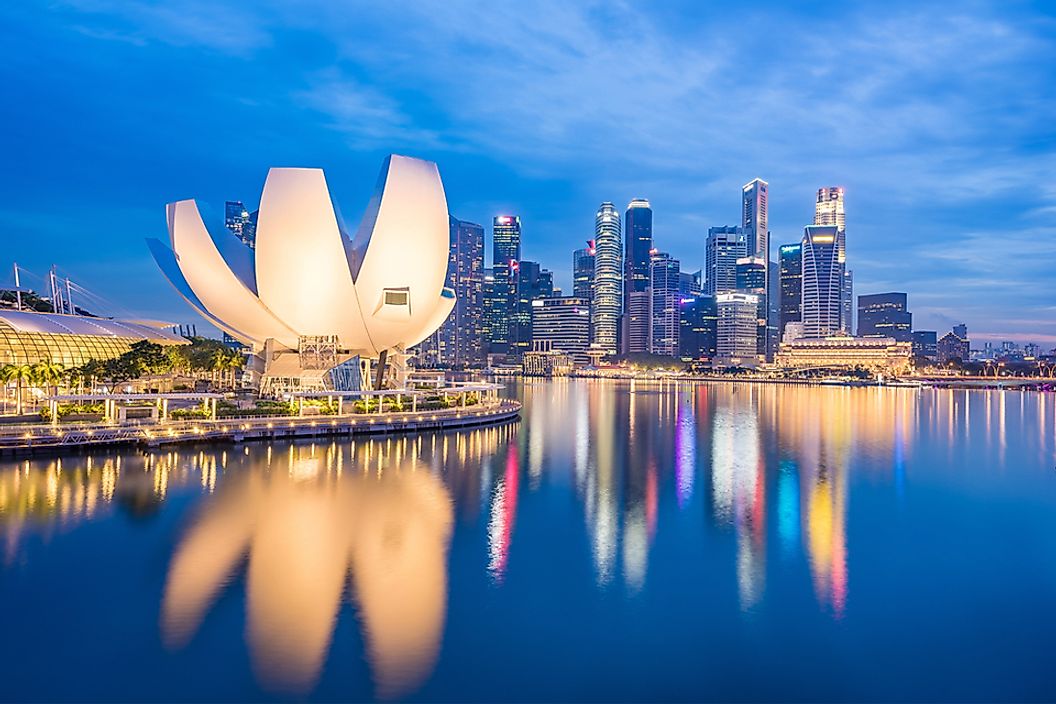 The world's oceans are dotted with numerous islands of varying sizes. Some of these islands and archipelagos are independent nations. The list below highlights the island countries of the world with the highest population densities. Additionally, some of these nations are also among the most densely populated nations in the world overall, not just among islands. For example, Singapore is the third most densely populated sovereign nation in the world. Bahrain, Malta, and Sint Maarten also feature on the list of the 10 most densely populated nations of the world.
The Five Most Densely Populated Island Countries of the World
1. Singapore
Singapore is a sovereign city-state located at the southern tip of the Malay Peninsula. The population density of Singapore is 7,804 persons per square km, making it the most densely populated island country in the world. The country is made up of one main island and several smaller islets. Despite a high population density and an estimated population of 5,535,000 in 2015, Singapore has managed to maintain extensive green spaces in the city-state. The country's greening policy has resulted in large parks, beautiful gardens, and abundant tropical flora. To save space, 80.4% of Singaporeans live in high-rise public housing apartments.
2. Bahrain
Bahrain is an island nation located in the Persian Gulf, and is a constitutional monarchy connected to Saudi Arabia via the King Fahd Causeway. In 2016, Bahrain had an estimated population of 1,425,171. Bahrain covers an area of 780 square km, making it Asia's third smallest island by area. With a population density of 1,917 persons per square km, Bahrain is the second most populated island country in the world. The northern part of the country is the most densely populated, while the Southern Governorate has the nation's lowest population density.
3. Malta
The archipelago of Malta is strategically located in the Mediterranean Sea, about 80 km south of Italy. The nation covers an area of only 316 square km and has a population of about 450,000, yielding a population density of 1,363 persons per square km. Thus, Malta is the world's third most densely populated island nation, after Singapore and Bahrain.
4. Sint Maarten
The Caribbean island nation of Sint Maarten had a population of around 39,410 in 2016, and covers an area of only 34 square km. Thus, the country has a high population density of about 1,159 persons per square km. Prior to October 2010, Sint Maarten was an island territory of the Netherlands, but is currently a constituent country within the Netherlands.
5. Maldives
Located in the Indian Ocean, the Maldives is an island country with a high population density. The country covers an area of around 298 square km, which includes a chain of 26 atolls. This small Asian country has a population of around 344,023 and has a population density of 1,154 persons per square km.
The Most Densely Populated Island Countries Of The World
| Rank | Country (or dependent territory) | Area (km2) | Population | Density (pop./km2) |
| --- | --- | --- | --- | --- |
| 1 | Singapore | 719.2 | 5,612,300 | 7,804 |
| 2 | Bahrain | 757 | 1,451,200 | 1,917 |
| 3 | Malta | 315 | 429,344 | 1,363 |
| 4 | Sint Maarten | 34 | 39,410 | 1,159 |
| 5 | Maldives | 298 | 344,023 | 1,154 |
| 6 | Barbados | 430 | 285,719 | 664 |
| 7 | Mauritius | 2,040 | 1,263,820 | 620 |
| 8 | Aruba | 193 | 110,882 | 575 |
| 9 | Nauru | 21 | 10,084 | 480 |
| 10 | Tuvalu | 26 | 11,323 | 436 |
About the Author
Oishimaya is an Indian native, currently residing in Kolkata. She has earned her Ph.D. degree and is presently engaged in full-time freelance writing and editing. She is an avid reader and travel enthusiast and is sensitively aware of her surroundings, both locally and globally. She loves mingling with people of eclectic cultures and also participates in activities concerning wildlife conservation.
This page was last updated on November 4, 2017.
Citations
Your MLA Citation
Your APA Citation
Your Chicago Citation
Your Harvard Citation
Remember to italicize the title of this article in your Harvard citation.