Continental Europe occupies the western part of Eurasia. It covers an estimated area of 10.2 million km2, or 2% of the Earth's surface, making it the 6th largest continent. Europe has an estimated population of 741 million people. The continent's population is slightly more than half of China's population and is 2.25 times that of the United States. Europe's population is about 10% of the world's population and is currently the third-most populous continent after Asia and Africa. There are approximately 87 distinct ethnic groups in Europe, 33 of which are considered majority groups in at least one European state. Close to 71 million people in Europe are migrants, making it the region with the highest number of migrants globally.
The number of countries that make up Europe, is, however, debatable because there is no exact demarcation of the boundary between Asia and Europe. According to most sources, the Ural Mountains of Russia, the Caspian Sea and the Black Sea are the major physical boundaries between the two continents while the Mediterranean Sea separates Europe from Africa. Cultural differences also act as another major factor to decide the location of a country in Europe or Asia. For example, by geographic definition, Georgia is mostly in Asia but Georgians generally idetify themselves as Europeans. 
Hence, the countries lying on the imaginary border between Europe and Asia often end up being included in both the continents. These countries are called the transcontinental countries. They are Russia, Turkey, Kazakhstan, Azerbaijan, Georgia, Armenia, and Cyprus. When ranking European countries by population, however, most sources agree that Russia is the most populated and Vatican City the least populated European country. In this article, only those transcontinental countries that have the major share of their population residing in Europe (when the boundary between Europe and Asia is defined only on the basis of physical features) have been ranked.
Contents:
Population Growth Trend
According to the UN, Europe's population is shrinking. By 2050, it is projected that the continent will account for about 7% of the global population, having a population of 716 million people. For the last seven decades, the population of Europe has been growing at a slower rate due to increased life expectancy and a declining fertility rate. However, some European countries are still experiencing exponential population growth due to population momentum and immigration.
A century ago, Europe accounted for 25% of the global population. Today, the continent is home to only about 10% of the global population. Although its population continues to grow, the population of other regions, especially Asia and Africa, are growing much quicker. In 1950, Europe had 549 million people, more than twice the population of Africa. However, by 1990 Africa had 100 million people less than Europe, and by 1998, Europe had 735 million people, or about 30 million people less than Africa's population.
10 Most Populated Countries Of Europe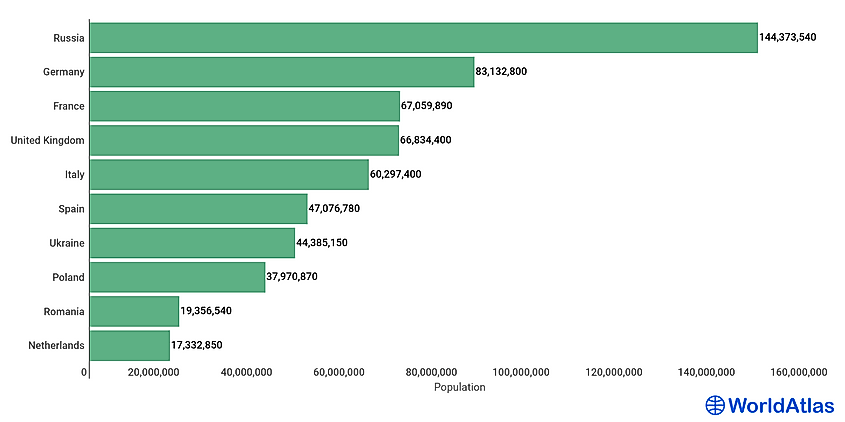 Russia is the largest country in Europe by land size and population. With 146 million people, it is the world's 9th most populous country and accounts for 16% of Europe's population. Russia is a transcontinental country, with about 75% of its land area located in Asia. However, the European portion is home to over 110 million people or 78% of the total population.
Turkey can be regarded Europe's second-most populous country as it is a transcontinental country housing 83.2 million people that would account for 9.8% of the continent's population. However, the part of Turkey that is considered to be in Europe accounts for only 3% of the total area of the country and only 14% of its total population (around 12 million). Thus, Turkey's position is debatable.
With a population of 81.1 million, Germany can be safely ranked as Europe's second most populated country. It is also Europe's most populous country located wholly in the continent. It is home to some 8.6% of Europe's population. Germany is one of the countries where the death rate exceeds the birth rate. However, its population continues to grow due to the high immigration rate.
If Germany and not Turkey is ranked as the second most populous European country, then France and United Kingdom are the 3rd and 4th largest countries by population, with 67.0 million and 66.8 million people respectively. The UK accounts for 7.8%, while France 7.5% of the European population. The UK is home to the second-largest city on the continent (London with 7.6 million people). France is one of the few countries in Europe with a high natural population growth rate and was responsible for almost all the EU's natural population growth in 2006.
With a population of 60.2 million and 47.0 million people, Italy and Spain are the 5th and 6th largest European countries by population. Italy accounts for 6.9%, while Spain accounts for 5.4% of the continent's population. Italy is the 3rd most populous country in the EU after Germany and France, while Spain the largest country in the Iberian region.
The three neighbors; Ukraine, Poland, and Romania, rank as the 7th, 8th and 9th most populous European countries respectively. Ukraine has an estimated population of 44.3 million (5.4%), while Poland and Romania have 37.9 million (4.3%) and 19.3 million people (2.2%) respectively.  Although Ukraine is Europe's second-largest country by area, it is the continent's 7th most populous country. 
Like the 2nd ranking, the 10th position again has two contenders, Kazakhstan and the Netherlands. However, only a small portion of Kazakshtan extends west of the Ural River to Eastern Europe while the rest is in Central Asia. Also, only less than a million of its population resides in Europe. Hence, The Netherlands, a country wholly in Europe, ranks as the 10th most populated European country.
10 Least Populated Countries Of Europe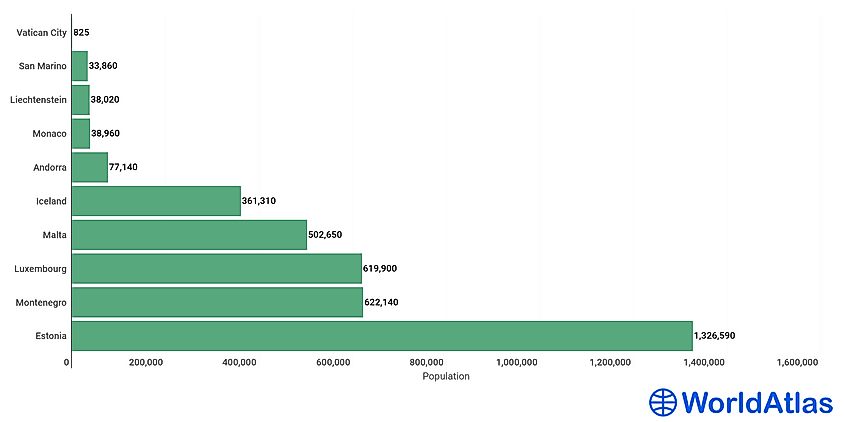 Europe's least populated countries are also some of the smallest countries in the region by size. With about 800 people, Vatican City, a city-state, is the continent's smallest country by both population and size. The population comprises religious leaders, laypeople, and their families. The microstate of San Marino is the second-smallest country by population and third-smallest country by area. It has an estimated population of 33,860 people, most of whom are Italians. Liechtenstein has a population of 38,020 people, making it the region's third smallest country.
Although Monaco is Europe's second-smallest country, its population of 38,960 people makes it the region's 4th smallest country. French nationals account for about 28% of the population while native Monegasques are the minority, accounting for about 22%. Monaco's life expectancy of 90 years is the world's highest. Andorra completes the list of European countries with a population of fewer than 100,000 people. The tiny Iberian country is home to 77,140 people. The first five least populated countries in Europe account for less than 1% of Europe's population
Although Iceland is the 17th largest European country by size, it is the region's 6th smallest country by population, with about 361,310 people. Its population is concentrated around the capital Reykjavik and the southwest corner. With a population of 502,650, Malta is Europe's 7th least populated country. Although Native Maltese are the majority, the island country is other groups, largely Briton retirees.
Luxembourg is the 8th smallest one with a population of 619,900. Montenegro, with 622,140 people, is the 9th smallest country. It is one of the few countries where no ethnic group forms the majority group.
Cyprus would complete the list ranking 10th with 1.2 million people if its position in Europe was not contested. However, Cyprus, an island in the Mediterranean Sea, is considered to be placed in Asia. Hence, Estonia takes the place of Cyprus with a sligtly higher population of 1.2 million as Europe's 10th least populated country.
5 Most Densely Populated Countries Of Europe
Five of the world's twenty densely populated countries are European countries. Four of the five crowded European countries cover less than 320 km2. Monaco is Europe's and world's most densely populated country, with 18,960 people per km2. Its population of 39,419 people shares only a 2-km2 area. Vatican City is the second-most densely populated country with 1,818 people per km2. The 800 people in the city-state have less than 0.5 km2 of space to share.
Malta, with 515,000 people, has a population density of 1,628 people per km2. It covers an area of about 316 km2. San Marino and the Netherlands complete the list of five densely populated countries in Europe, with 554 and 413 people per km2.
5 Most Sparsely Populated Countries Of Europe
Iceland is Europe's most sparsely populated country, with about 4 people per km2. It covers about 102,775 km2 and is home to 343,000 people. Russia is the second-most sparsely populated country in the region, with 9 people per km2. However, its European side has a population density of 29 people per km2, making it Europe's 5th sparsely populated country.
Norway and Finland are the second and third least densely populated countries in Europe, with 14 and 16 people per km2 respectively. Although Norway is the larger of the two countries, Finland has almost 2 million people more. Sweden is the 5th sparsely populated country, with 23 people per km2. It covers an area of approximately 450,295 km2 and has a population of 10. 2 million people.
Future Of The European Population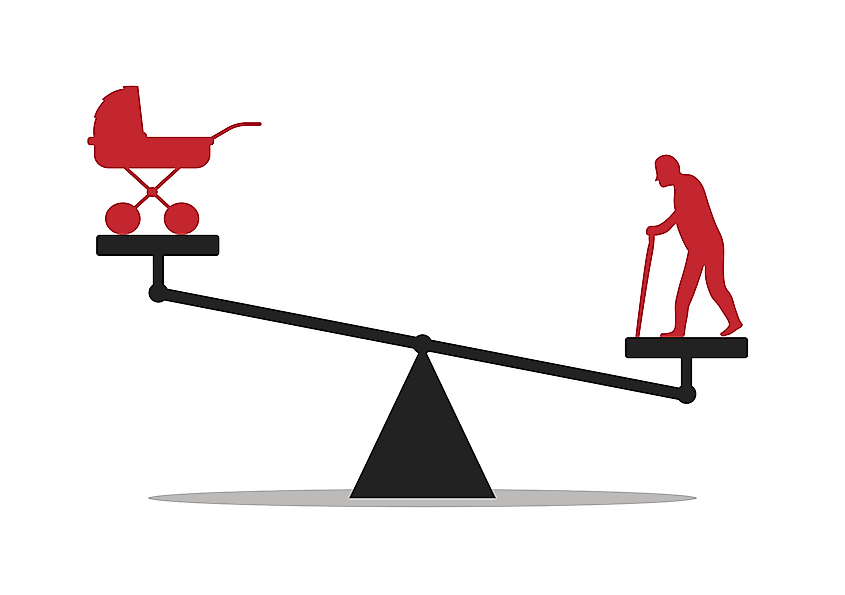 According to population projections, Europe will account for 7% of the global population by 2050, down from about 10%. However, the actual population is expected to be around 716 million people. Europe is considered to be on a sub-replacement fertility mode, meaning that the younger population is giving birth to lesser children than the older generation. The high life expectancy and declining fertility rate mean that Europe has a higher aging population.
Europe's fertility rate is declining at a much faster rate than Africa and Asia. Women are now having fewer children and choosing to give birth at a much older age. This trend reduces the number of children a woman will possibly have. The net effect of declining fertility is a decline in the continent's population. At least 21 countries will experience a population decline. Countries such as Spain, Latvia, Bulgaria, and Romania may see their population decline by almost half by 2100. However, a high immigration rate may compensate for the declining fertility rate.
| Rank | Country | Estimated Population |
| --- | --- | --- |
| 1 |  Russia | 144,373,540 |
| |  Turkey | 83,429,620 |
| 2 |  Germany | 83,132,800 |
| 3 |  France | 67,059,890 |
| 4 |  United Kingdom | 66,834,400 |
| 5 |  Italy | 60,297,400 |
| 6 |  Spain | 47,076,780 |
| 7 |  Ukraine | 44,385,150 |
| 8 |  Poland | 37,970,870 |
| 9 |  Romania | 19,356,540 |
| |  Kazakhstan | 18,513,930 |
| 10 |  Netherlands | 17,332,850 |
| 11 |  Belgium | 11,484,060 |
| 12 |  Greece | 10,716,320 |
| 13 |  Czech Republic | 10,669,710 |
| 14 |  Sweden | 10,285,450 |
| 15 |  Portugal | 10,269,420 |
| |  Azerbaijan | 10,023,320 |
| 16 |  Hungary | 9,769,950 |
| 17 |  Belarus | 9,466,860 |
| 18 |  Austria | 8,877,070 |
| 19 |  Switzerland | 8,574,830 |
| 20 |  Bulgaria | 6,975,760 |
| 21 |  Serbia | 6,944,980 |
| 22 |  Denmark | 5,818,550 |
| 23 |  Finland | 5,520,310 |
| 24 |  Slovakia | 5,454,070 |
| 25 |  Norway | 5,347,900 |
| 26 |  Ireland | 4,941,440 |
| 27 |  Croatia | 4,067,500 |
| |  Georgia | 3,720,380 |
| 28 |  Bosnia and Herzegovina | 3,301,000 |
| |  Armenia | 2,957,730 |
| 29 |  Albania | 2,854,190 |
| 30 |  Lithuania | 2,786,840 |
| 31 |  Moldova | 2,657,640 |
| 32 |  Slovenia | 2,087,950 |
| 33 |  North Macedonia | 2,083,460 |
| 34 |  Latvia | 1,912,790 |
| 35 |  Estonia | 1,326,590 |
| |  Cyprus | 1,198,580 |
| 36 |  Montenegro | 622,140 |
| 37 |  Luxembourg | 619,900 |
| 38 |  Malta | 502,650 |
| 39 |  Iceland | 361,310 |
| 40 |  Andorra | 77,140 |
| 41 |  Monaco | 38,960 |
| 42 |  Liechtenstein | 38,020 |
| 43 |  San Marino | 33,860 |
| 44 |  Vatican City | 825 |
Table: European Countries by population. Source: World Bank
Please note: Turkey, Kazakhstan, Azerbaijan, Georgia, Armenia, and Cyprus have not been ranked as they are transcontinental countries with majority of their populations residing on the Asian side.