Fronted by reefs, the low-lying coastal areas of South Africa's land rises (with a few exceptions) into a mostly level plateau, one crisscrossed by hills, mountains and shallow valleys in the east and northeast.



The Drakensberg (or Dragon Mountains) are the highest mountain range in Southern Africa, rising to over 11,000 ft) in height. South Africa's highest point, Njesuthi at 11,181 ft. (3,408 m) is located there.

Forming the northern part of the Drakensberg escarpment is the Blyde River Canyon, one of the largest canyons on Earth at 16 miles (26km) in length and 2,500 ft. (762 m) deep.

Arguably, South Africa's most famous landform is Table Mountain, a flat-topped peak forming a prominent landmark overlooking the city of Cape Town.

South Africa's Kalahari Desert is part of a huge sand basin that reaches from the Orange River up to Angola, in the west to Namibia and east to Zimbabwe.

The Orange River, South Africa's major river, rises in the Drakensberg Mountains in Lesotho, where it is known as the Senqu. It twists and turns westward for some 2,200km (1,367 mi) to the Atlantic Ocean, the country's lowest point.
South Africa's Information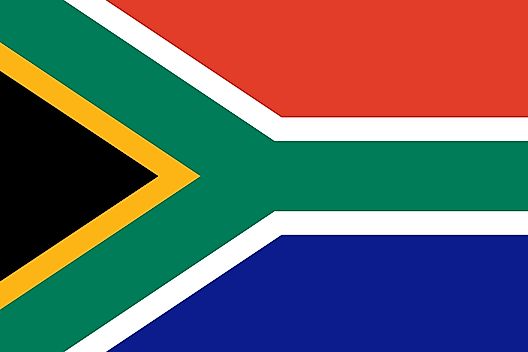 | | |
| --- | --- |
| Land Area | 1,214,470 km2 |
| Water Area | 4,620 km2 |
| Total Area | 1,219,090km2 (#24) |
| Population | 54,300,704 (#25) |
| Population Density | 44.71/km2 |
| Government Type | Parliamentary Republic |
| GDP (PPP) | $739.00 Billion |
| GDP Per Capita | $13,500 |
| Currency | Rand (ZAR) |
| More Information | South Africa |
This page was last updated on April 7, 2017.