Durban Beaches, South Africa - Unique Places Around the World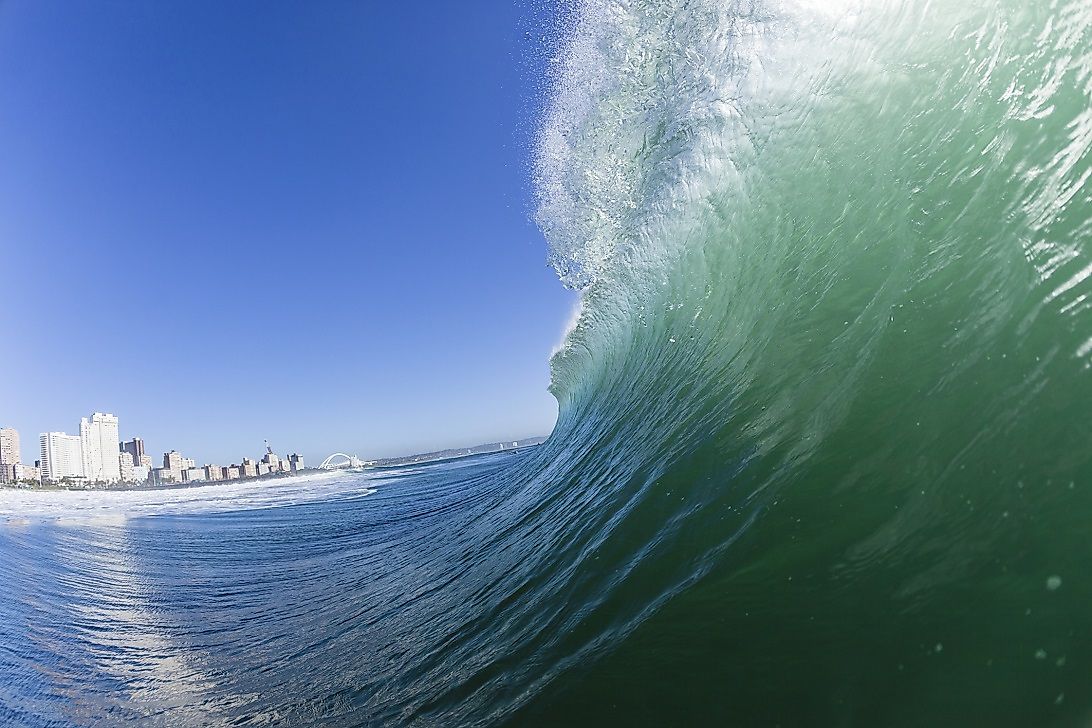 5. Description
The Durban Beaches are known for their individual charm and golden sandy shorelines. They are home to a collection of premier resorts and pristine beaches that line the Durban coastline. These golden, sandy beaches stretch along the coast for a mile or so, providing many secluded swimming hideaways along the way. Furthermore, there are also family beaches there that are secured from the threat of sharks. A tourist can find beaches for windsurfing, longboard surfing, diving, swimming, relaxing, or sunbathing. The water is warm and the weather is fine, which should make for an unforgettable holiday or getaway anytime of the year. From the city itself, the beaches are just a short walk away. The perfect time to visit is from December to February, when the beaches are also most ideal for sun-worshipers.
4. Tourism
Tagged as one of South Africa's "Blue Flag beaches", the Durban area's beaches are a popular destination for foreign tourists and locals alike. The beaches here lend to most individuals' likes, and are made safer through the use of shark nets installed in critical areas offshore, and lifeguards are always there to help those who get into precarious situations in the water. For the average tourist, getting to Durban is easy from Cape Town International Airport, though flying directly from anywhere in the world straight to Durban's King Shaka International Airport may be an even easier alternative. There's also a one-hour flight from Johannesburg International and Tambo International Airport to Durban's international airport. It's not only the beaches that draw tourists to come here either, but also the variety of dining and shopping options.
3. Uniqueness
At Durban, miles and miles of golden, sandy shorelines await those tourists who live for having fun and frolicking under the sun and in the sand. Tourists and locals alike will find Durban quite affordable, and its friendly air of hospitality is said to be unforgettable. Durban is one of South Africa's premier cities, offering tourists a diverse collection of activities, from leisurely hiking to such extreme experiences as cage-diving amongst sharks. Accommodations and cuisine are second to none, and yet tourist-friendly. Wildlife watching is another recommended activity that should not make much a dent in one's pocketbook. The country of South Africa has almost 3,000 kilometers of coastline, and that at Durban can offer either quiet solitude or a seaside playground depending on personal tastes. Furthermore, the warm South African sun itself will always be part of Durban activities agendas as well.
2. Habitat
It is the observant tourist that first recognizes the awesomeness of the flora and fauna that inhabit Durban's beaches. They range from active to passive. On the shorelines can be found mole crabs, plough snails, and clams. Fauna that are often missed due to their size and nature include worms, springtails, and tiny crustaceans. There are also frequent visitors to the coast, like turtles and birds, that are compelling to watch. In the waters of Durban, whales and dolphins can be observed at different times of the year as well, and seaweed and salt-tolerant vegetation are also found in abundance in some shorelines. Of course, the infamous Great White shark has a ubiquitous presence in the waters of Durban, as it does along the other shorelines of South Africa.
1. Threats
The communities of great white sharks along most beaches of South Africa are a real threat to swimmers. Although lifeguards and shark nets are always on duty to protect swimmers, vigilance is still a key to in safeguarding against the possibility of attacks. In terms of conservation issues, people should realize that the beach is a vital ecosystem that supports a rich biodiversity of plants and animals. Human impact causes destruction and dissipation of these flora and fauna, which eventually affects people's lives as well. Urbanization in some beach areas of Durban has caused environmental decay, and serves as an ongoing, dangerous threat to Durban's ecosystems. As one important preventative measure against such threats, South Africa has banned 4x4 vehicles from its beaches.