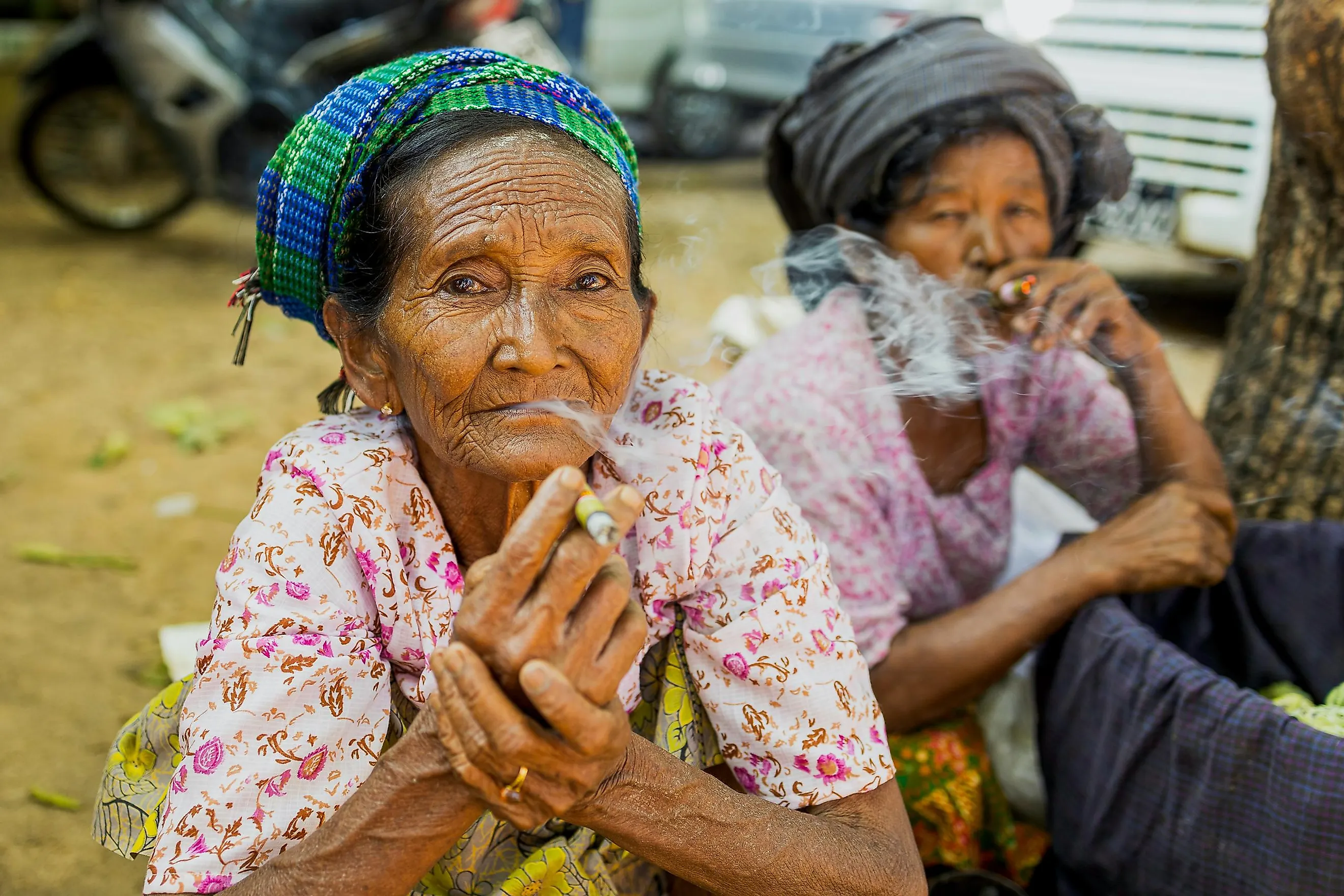 10 Countries Where People Smoke The Most
The act of smoking has been a staple of many cultures around the world for many centuries. Yet today, the adverse effects and associated illnesses of tobacco inhalation are widely known, and active campaigns have been launched across the globe to reduce the amount of smoking in any society. While the overall smoking rate has certainly decreased in the last 50 years, several nations still have relatively high numbers of active smokers.  
1. Nauru - 52.10%
The micro Pacific Ocean island state of Nauru has the highest smoking rate in the world, with 52.10 % of the population being smokers. And with a population of just slightly over 10,000 people, this makes the number of smokers quite striking. Indeed Nauru's population is the second smallest in the world after Vatican City. While several factors contribute to the high smoking rate, the traditional Polynesian society may be the leading reason for partaking in some sort of smoking, either through pipes or modern cigarettes. Oddly women smoke more than men here. 
2. Kiribati - 52.00%
Another Micronesian State, Kiribati, is just behind Nauru, with the highest percentage of smokers in the world at 52%. This micro-state that includes 32 separate island atolls, covers an area of some 811 square kilometers, and is home to a population of 121,388. The high prevalence of smokers here is largely among males, who comprise 68% of the total, while 35% of women are reported as smokers. As a result of this high smoking rate and other health issues, Kiribati's life expectancy rate is only around 68 years. 
3. Tuvalu - 48.70%
The third Polynesian microstate in the top ten nations of highest smokers, Tuvalu records some 48.70% of active smokers out of a population of 11,900. Indeed heart disease is a leading cause of death among Tuvaluans, one of the many associated risk factors associated with smoking. Traditional Polynesian practices regarding tobacco may be one of the top reasons for the high rate of smoking in this tiny island nation. 
4. Myanmar - 45.50%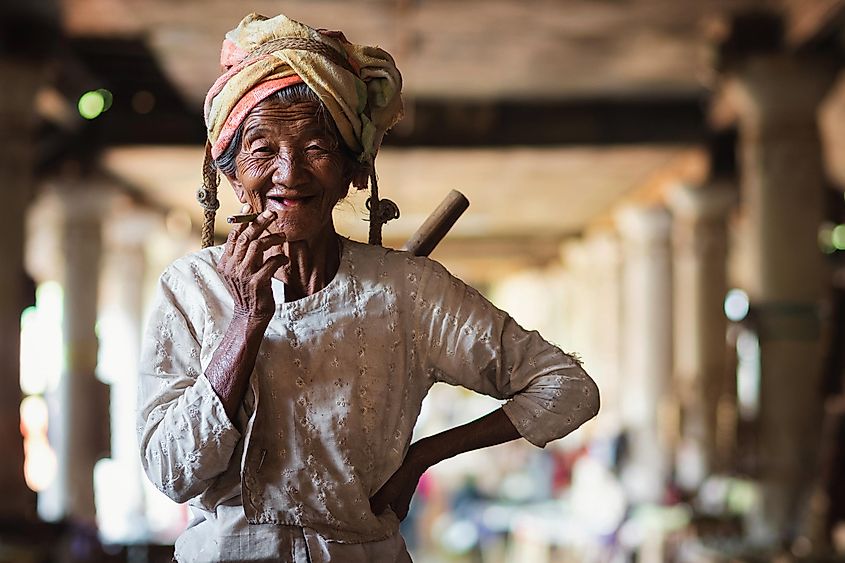 Officially known as Burma until 1989, the Southeast Asian country of Myanmar has a smoking rate of 45.50%. With a population of 57.5 million, it is most surprising that the country with several public smoking restrictions still reports such a high number of smokers. The prohibition of smoking in indoor public spaces and public transportation does not seem to have significantly affected the total number of active people who smoke. 
5. Chile - 44.70%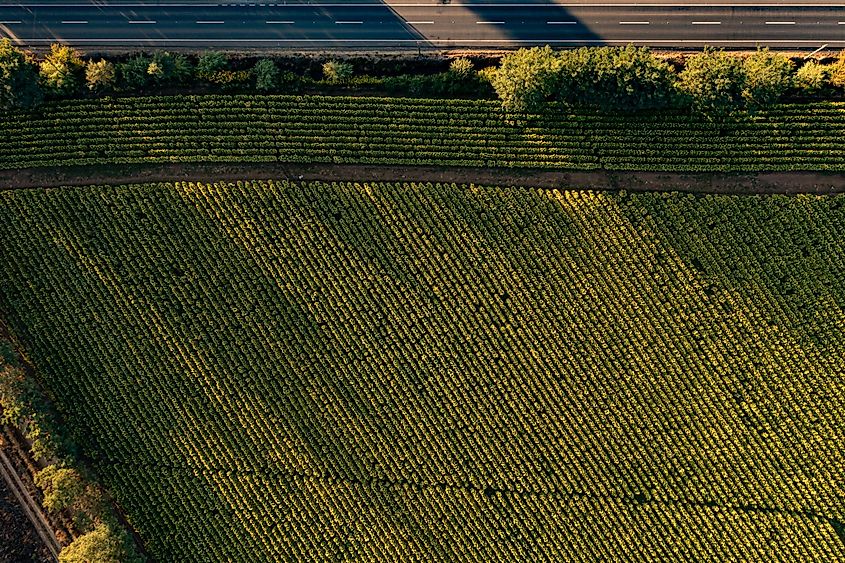 The only South American nation on the top ten list of most smokers, Chile reports some 44.70% of its population as active smokers. Home to some 18.4 million inhabitants, Chile also has many restrictive laws in place that aim to minimize smoking in public. Several taxes on tobacco have been put in place, along with a ban on smoking in public transit and indoor public places. These efforts have been moderately successful, but Chile still maintains a relatively high rate of smoking, especially in comparison to its South American neighbors. 
6. Lebanon - 42.60%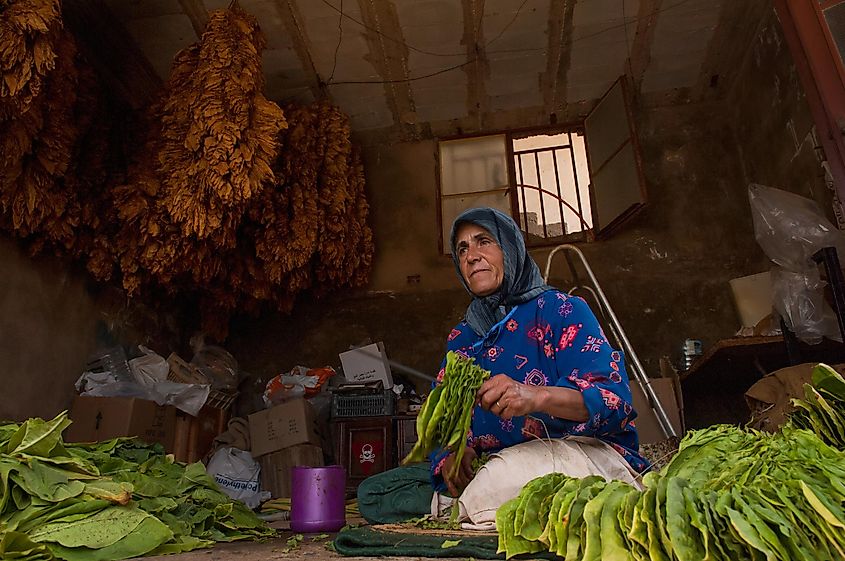 Lebanon is the only Middle Eastern country in this top ten list, with an active smokers rate of 42.60%. Home to nearly 5.3 million people, Lebanon has some of the highest rates of lung cancer in the Middle East, which certainly has some correlation to the high rates of smoking. Indeed the country also has one of the world's highest youth smoking rates, with nearly 65% of boys and 55% of girls smoking, according to data from the World Health Organization. 
7. Serbia - 40.60%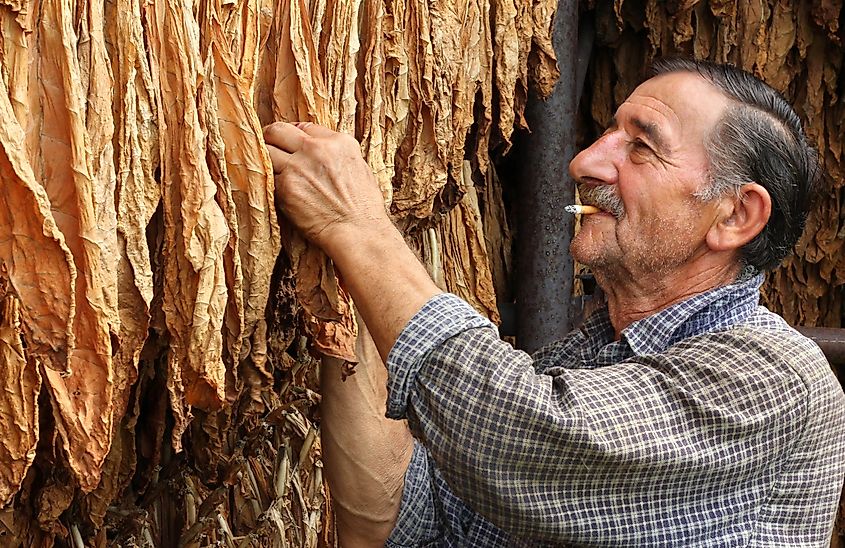 Of the nearly 6.7 million inhabitants of the Balkan nation of Serbia, 40.60 % are active smokers. According to data from the World Health Organization, more than 1.2 million premature deaths in Serbia can be traced to smoking, with some 58% of deaths related to cardiovascular illnesses. Although laws are in place to limit smoking in public places, poor enforcement and a generally poor societal attitude towards curbing the amount of smoking make Serbia one of only three European nations on this top ten list. 
8. Bangladesh - 39.10%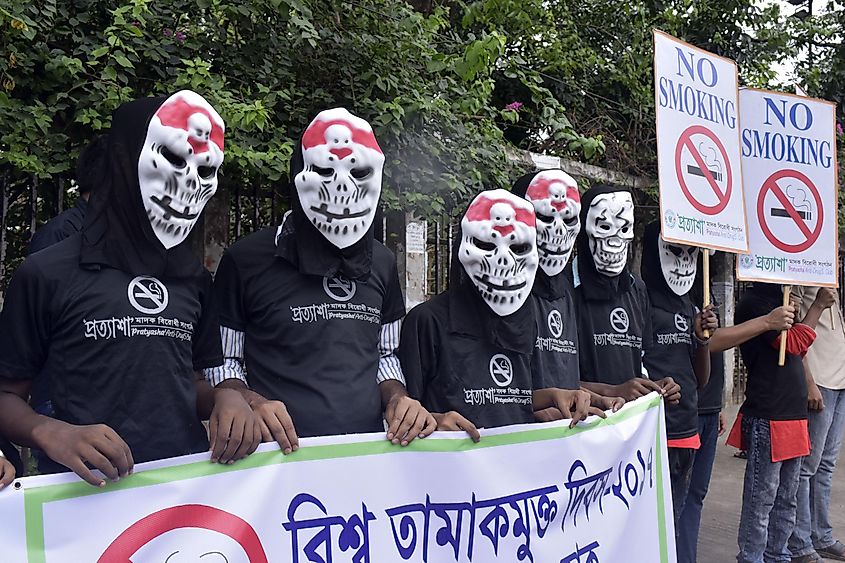 Bangladesh boasts a population of 165.1 million inhabitants, of which 39.10% are active smokers. According to the World Health Organization, nearly 14% of all yearly deaths in Bangladesh were attributed to tobacco inhalation. Including heart and lung disease, cancer, and stroke, smoking has indeed been a leading cause of concern for many Bangladeshis. 
8. Greece - 39.10%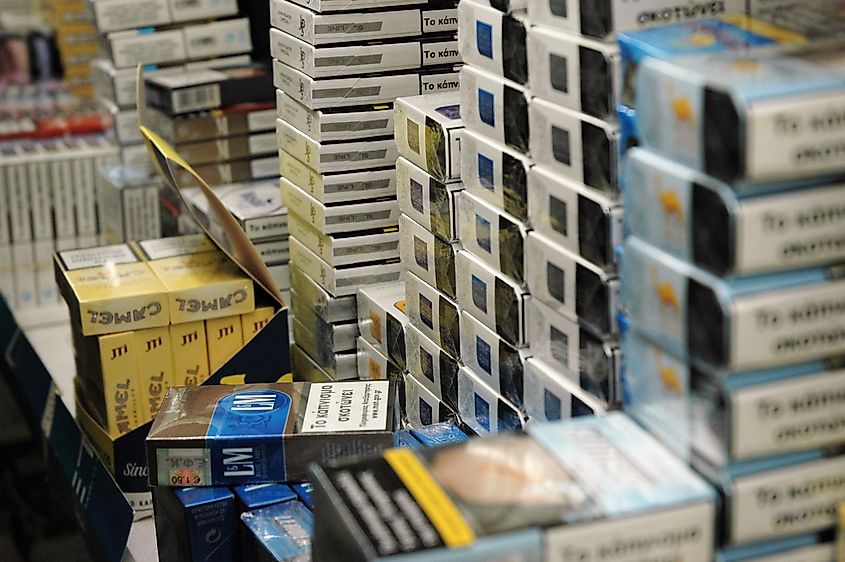 In a statistical tie with Bangladesh, 39.10% of Greece's population are active smokers. But with a population of just over 10.4 million, the percentage is much more prominent. With the highest rate of smoking in the entire European Union, data from several surveys indicate that 44% of the population has never smoked. In spite of several anti-smoking campaigns and legislations, Greeks have maintained their high level of tobacco consumption. 
10. Bulgaria - 38.90%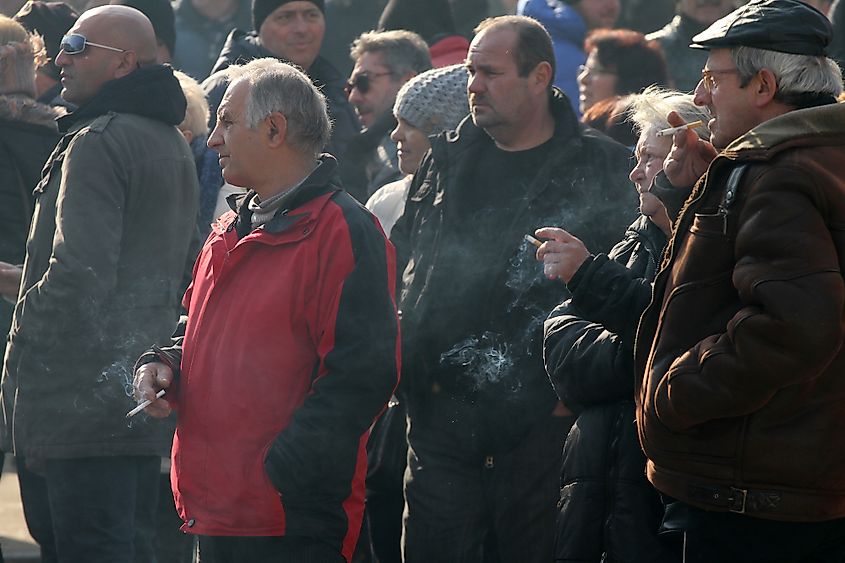 Bulgaria rounds out the top ten list of nations with the most smokers, with 38.90% of the population identifying as active smokers. With its population of 6.5 million people, more than 1 million premature deaths in the nation can be attributed to smoking, according to World Health Organization Data. Bulgarian men make up the bulk of active smokers in the country at 43%, while active female smokers make up about 27%.
While many global campaigns and laws have been very active in recent decades to try and stop the smoking of tobacco and its products, several nations maintain very high rates of smoking among their populations. From cultural trends to resource wealth, smoking remains a major societal point of contention. Though the ten countries on this list may all differ in their respective histories and geographic locations, their common affinity for the centuries-old smoking habit has created an unlikely commonality between them. 
| Rank | Country | Total smoking rate (% of population that smokes) |
| --- | --- | --- |
| 1 | Nauru | 52.10% |
| 2 | Kiribati | 52.00% |
| 3 | Tuvalu | 48.70% |
| 4 | Myanmar | 45.50% |
| 5 | Chile | 44.70% |
| 6 | Lebanon | 42.60% |
| 7 | Serbia | 40.60% |
| 8 | Bangladesh | 39.10% |
| 9 | Greece | 39.10% |
| 10 | Bulgaria | 38.90% |
| 11 | Bosnia And Herzegovina | 38.30% |
| 12 | Timor Leste | 38.20% |
| 13 | Indonesia | 37.90% |
| 14 | Solomon Islands | 37.90% |
| 15 | Laos | 37.80% |
| 16 | Latvia | 36.70% |
| 18 | Cyprus | 36.70% |
| 19 | Croatia | 36.60% |
| 20 | France | 34.60% |
| 21 | Andorra | 33.80% |
| 22 | Slovakia | 32.30% |
| 23 | Nepal | 31.90% |
| 24 | South Africa | 31.40% |
| 25 | Hungary | 30.60% |
| 26 | Estonia | 30.50% |
| 27 | Tonga | 30.20% |
| 28 | Georgia | 29.70% |
| 29 | Lesotho | 29.70% |
| 30 | Turkey | 29.30% |