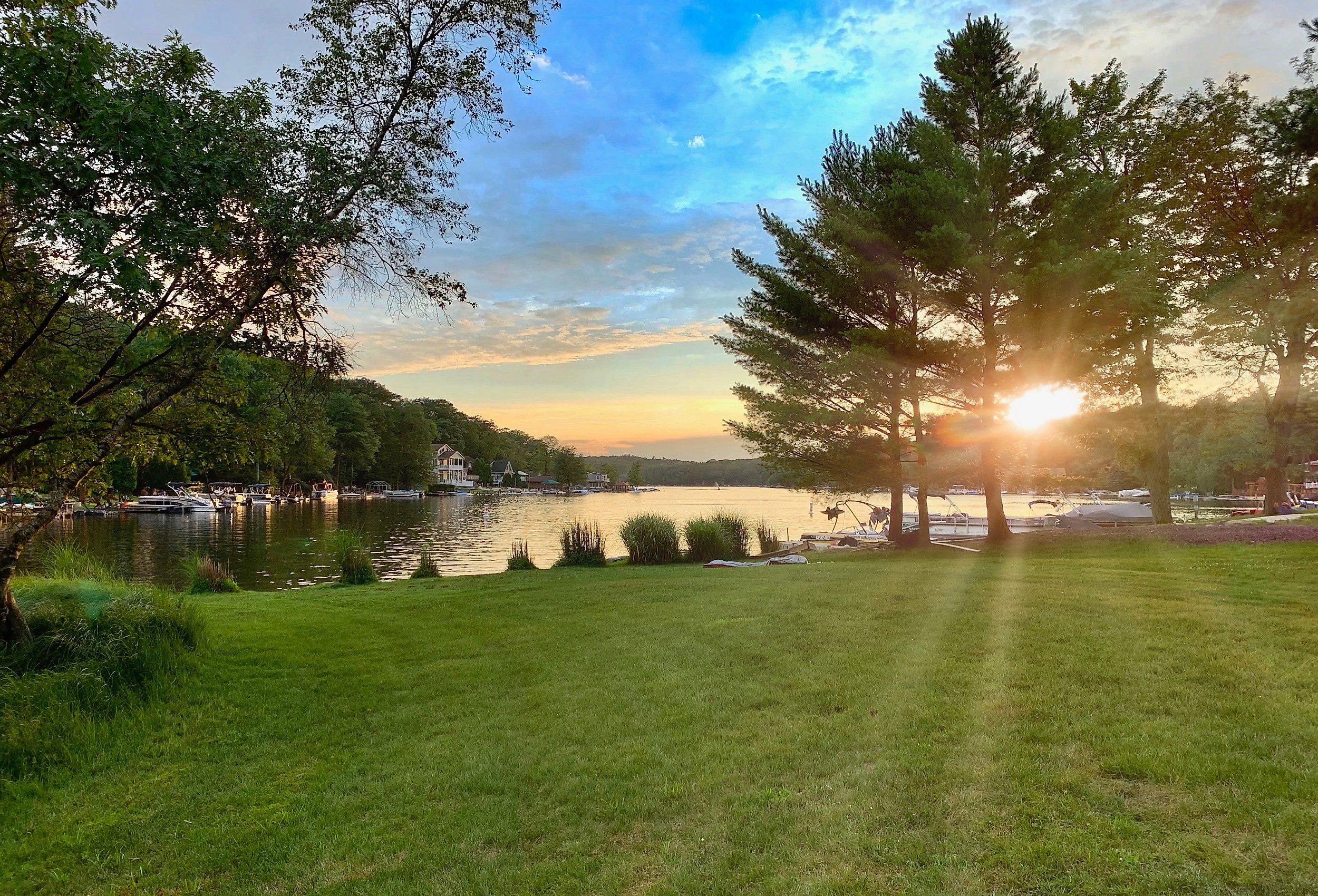 9 Underrated Destinations In the Poconos To Avoid Summer Crowds
Called "The Honeymoon Capital of the World," the Pocono Mountains, or simply the Poconos, is a mountainous region in northeastern Pennsylvania. Covering 2,400 square miles, the Poconos comprises four counties, Wayne County, Pike County, Monroe County, and Carbon County, and borders New York State and New Jersey. For nearly a century, domestic and international tourists have flocked to this beautiful region to spend the summer months at resorts and cottage towns, away from the stifling heat of east coast city summers. While in the winter, this region becomes a hot spot for skiers and other alpine sports aficionados.
Every year around 30 million tourists visit the Poconos, often leading to popular destinations and attractions being overbooked and overcrowded. From the many waterparks that hit capacity most days, the golf courses that book up before the summer even begins, to popular hotels, resorts, and campgrounds being at capacity every night, this region can seem just as crowded as the big cities, many visitors are trying to escape. But when it comes to the Poconos, there are innumerable hidden gems and unforgettable places to vacation. Whether that is an off-the-beaten-track Bed and Breakfast or a small town with that perfect local watering hole, the Poconos Mountains has a world of exciting destinations for a summer vacation away from the crowds.
White Mills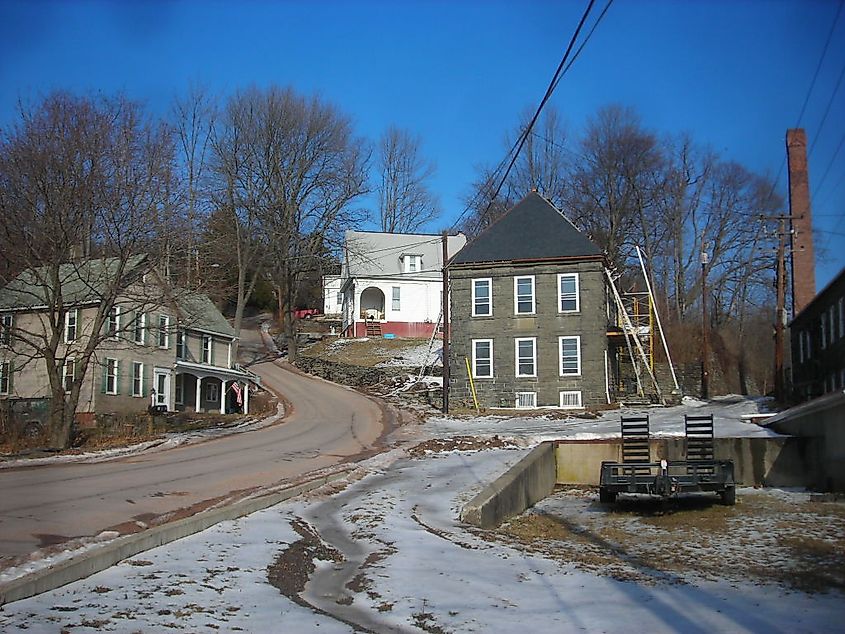 For those looking for a leisurely vacation full of outdoor tranquility, picnics in the park, and even live music, then White Mills is for you. Located in Wayne County, this town is filled with historic Bed and Breakfasts and sits beside Dorflinger-Suydam Wildlife Sanctuary. This 600-acre sanctuary of preserved woodlands and naturally growing grasslands is open all year round to visitors.
In the summer, there are five maintained hiking trails that offer the opportunity to explore the natural beauty of the Poconos, while in the winter, these paths are groomed for cross-country skiing. The sanctuary encompasses Trout Lake and Suydam Pond, where visitors can find a large variety of migratory birds in the warmer months of the year. Every Saturday during the summer, the Dorflinger-Suydam Wildlife Sanctuary hosts a different musical artist, across a range of music genres, as part of its Wildflower Concert Series.
Lansford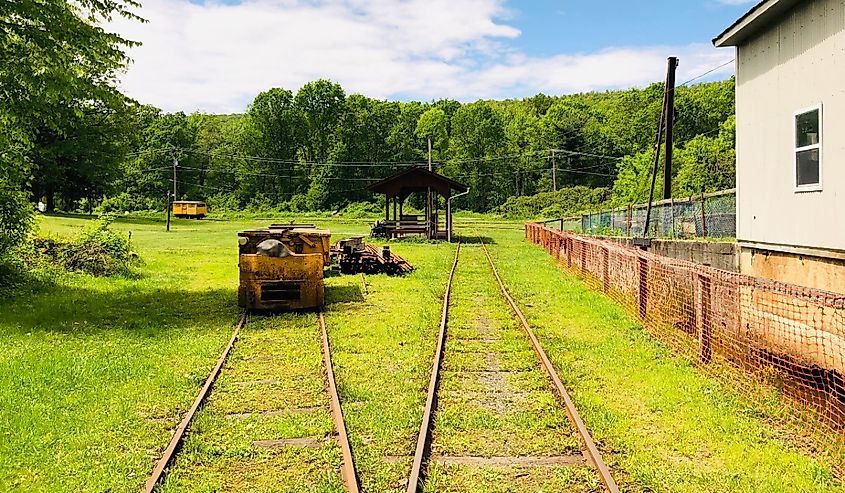 For those interested in the history of the Poconos, a stay in Lansford, Pennsylvania, will take you back in time, and away from the Poconos high season crush. It is conveniently located near some of the most important historical sites in the entire region, such as the Latimer Massacre Memoria. Of all the fascinating historical sites in and around Langford, an absolute must-see site is the No. 9 Coal Mine and Museum. While Pennsylvania is most often referred to as the "The Keystone State," for good reason, it is also called "The Coal State." In 1855 a large vein of Anthracite coal was discovered in Panther Valley, Pennsylvania, a valley in the Poconos region. Today, tourists have the opportunity to travel down into the No. 9 Mine, which was built to extract coal from this first discovered deposit, and learn about the coal industry and its influence on Pennsylvania.
Cove Haven Resort, Lakeville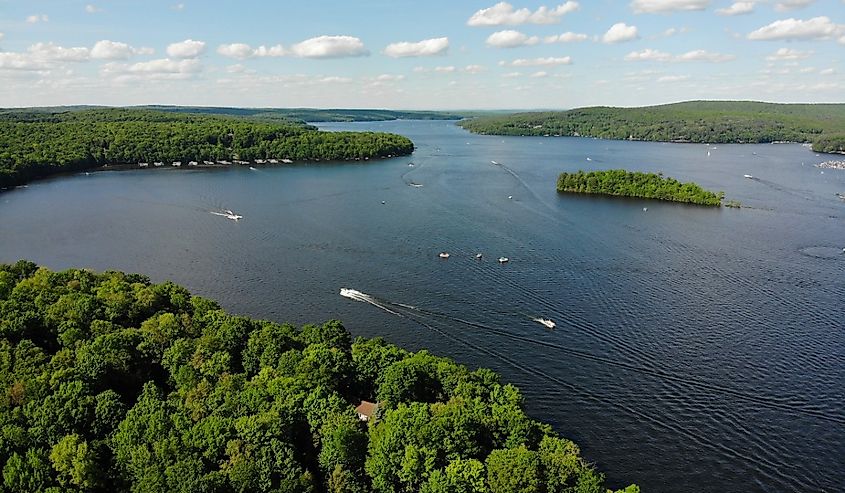 If you are looking for a relaxing, quiet, and low-key vacation in the Poconos Mountains, the adults-only Cove Haven Resort in Lakeville, Pennsylvania, is a great option. Located adjacent to Lake Wallenpaupack, this resort is popular with honeymooners. It includes on its grounds, an indoor, multi-court tennis facility, multiple basketball courts, a bowling alley, a driving range, indoor and outdoor pools, a stocked fishing pond, nightly entertainment, and much more. If you are looking for nature hiking, there are also a few trails on site, as well as many nearby local recreation and park spaces, such as Promised Land State Park.
Danielsville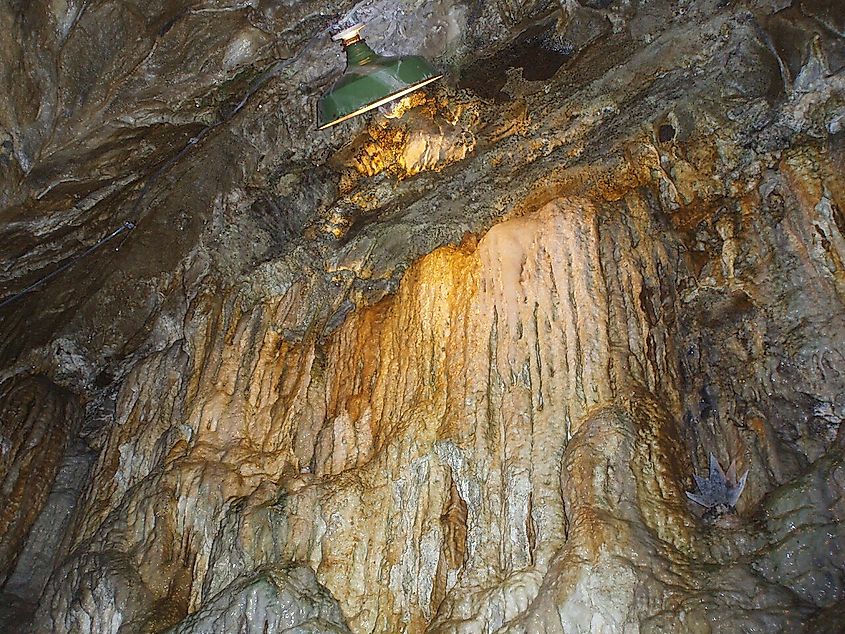 Located in Northampton County, Pennsylvania, Danielsville is a small village with just over 3,000 residents. Filled with wonderfully charming accommodations, such as the Filbert Bed and Breakfast, this town offers many historical homes turned hotels and B&Bs. Just a short trip from Danielsville is Beltzville State Park which has a lovely 525-foot-long sand beach open to the public from the end of May to the middle of September. One of the most spectacular local excursions out of Danielsville is the Lost River Caverns, located a 45-minute drive south of Danielsville. This is a set of caves beneath the Poconos Mountains, including Crystal Cave, Penn's Cave, and Lincoln Caverns. Visitors can explore these caves through guided tours that range from simple walking tours that will take you through the larger caverns to more advanced tours, which take visitors spelunking through smaller spaces and collectively deeper into the cave system.
Jim Thorpe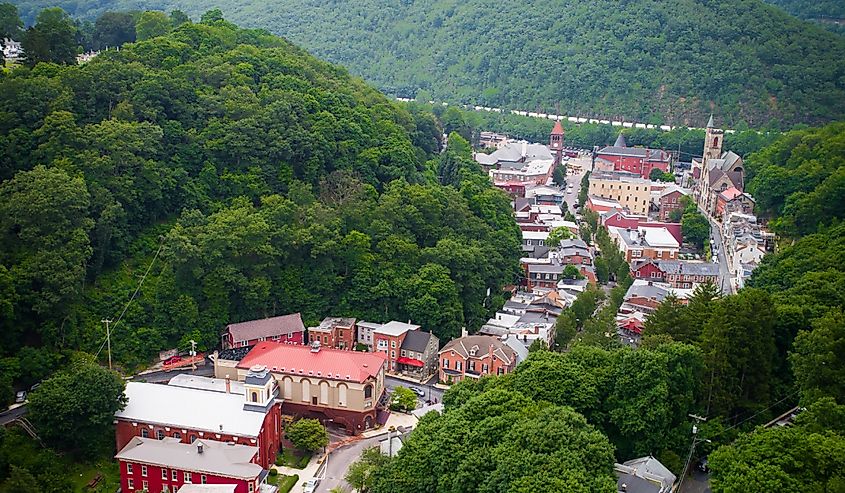 Sometimes called the "Little Switzerland of America," the historic town of Jim Thorpe, Pennsylvania, is in Lehigh Gorge, Carbon County. Named after the American athlete and Olympic gold medalist Jim Thorpe, this town was the second most popular tourist destination in the United States. The town itself is an architectural step back in time, with Richardonsian, Victorian, and Greek revival architecture throughout the entire town, especially along Broadway Street.
Many Bed and Breakfasts have been made of some of these architectural gems, including the famous Dolon House, which was built in 1888 in the Queen Anne Victorian style. Not far from town is the Bear Mountain Butterfly Sanctuary, a great place to visit and explore as well as to take wedding and anniversary photos. If you want to get out of town for a day trip, Jim Thorpe is close to many parks, including Lehigh Gorge State Park, Mauch Chunk Lake Park, and Twining Park.
Dingmans Ferry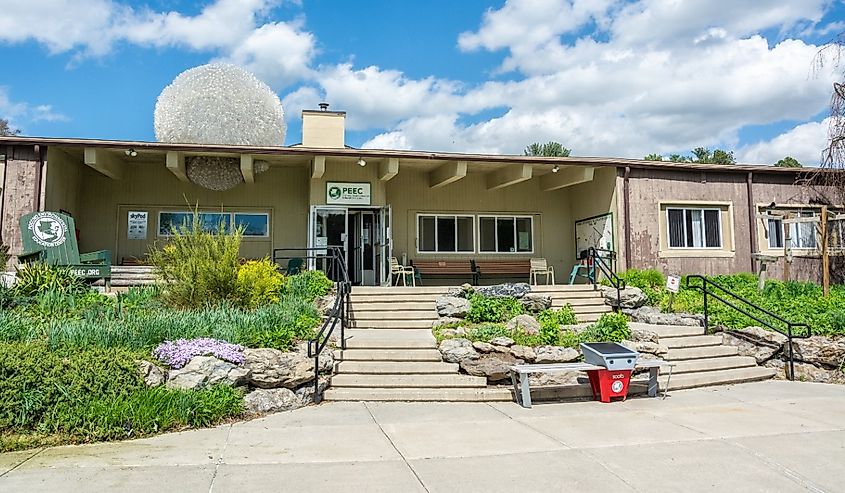 While the eight cascades that make up Bushkill Falls are the most well-known and well-visited waterfalls in the Poconos Mountains, by no means are they the only beautiful waterfalls in the region. For those looking to trade in the busy tourist site of Bushkill Falls for waterfalls a little more off the beaten track, a stay in Dingmans Ferry is just the ticket. This small town is the perfect place to set up shop on your vacation as the surrounding area includes such waterfalls as Dingmans Falls, as well as Fulmer Falls and Deer Leap Falls, found in George W. Childs Recreation Site, each spectacular and unique. 
Bangor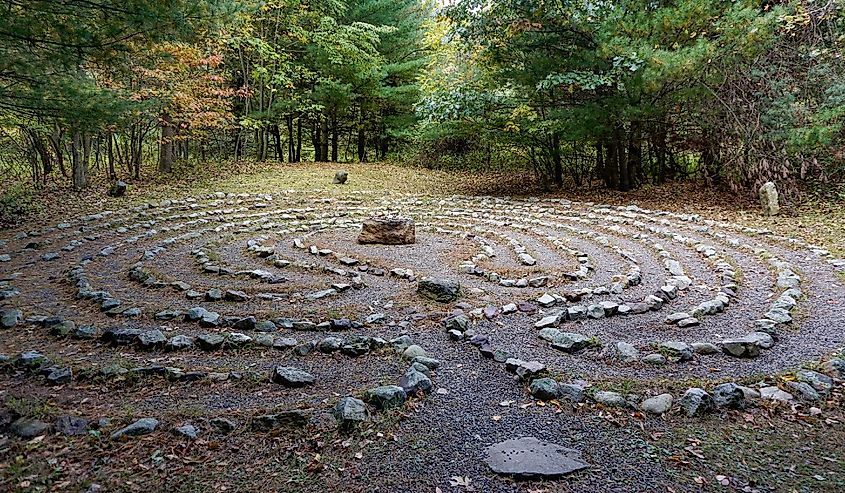 With some lovely campgrounds, including Camp Charles Campground, visiting Bangor, Pennsylvania, also known as West Bangor, is sure to be a relaxing experience, especially for outdoor lovers. Surrounded by many unique parks to visit all year round, including Columcille Megalith Park, Pennico Park, and Flory's Dam Park, the town itself also offers a range of activities. There are two vineyards a short distance from Banger's townsite, Tolino Vineyards and Franklin Hill Vineyards. And, if you are willing to venture a little further afield, there is Delaware Water Gap National Recreation Area, where you will find all sorts of activities, including white water rafting, fishing, waterfalls to explore, such as Raymondskill Falls, and, hiking.
Split Rock Resort, Lake Harmony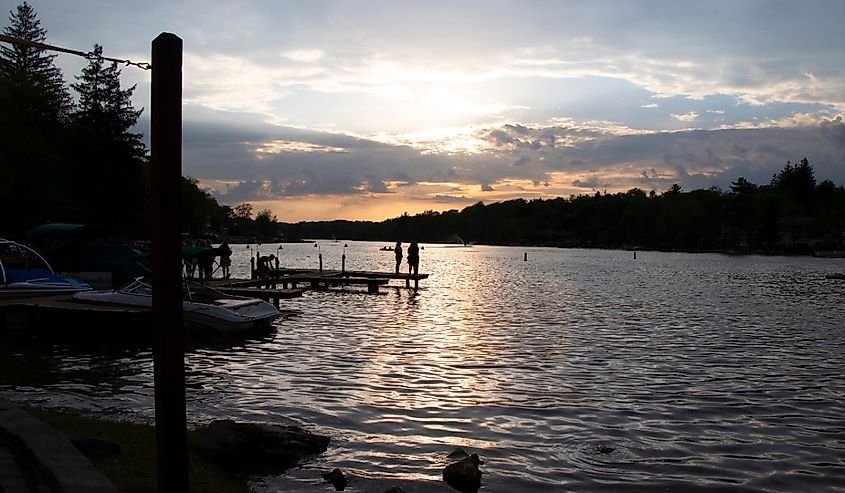 For those traveling with the entire family, whether that includes children, pets, or both, staying at Split Rock Resort means fun for the entire family. Located in Lake Harmony, Pennsylvania, this pet-friendly resort has everything you could need on its 1,200-acre property. This includes restaurants, a hair salon and spa, a fitness center, a water park, a game room, a 27-hole golf course, a movie theater, tennis courts, and so much more. As a lakefront property, Split Rock Resort also boasts a lovely beach along Lake Harmony. With two different levels of luxury, that being the Split Rock Hotel and the Split Rock Luxury Resort Hotel, a stay at Split Rock is sure to be your vacation highlight.
Hickory Run State Park Campground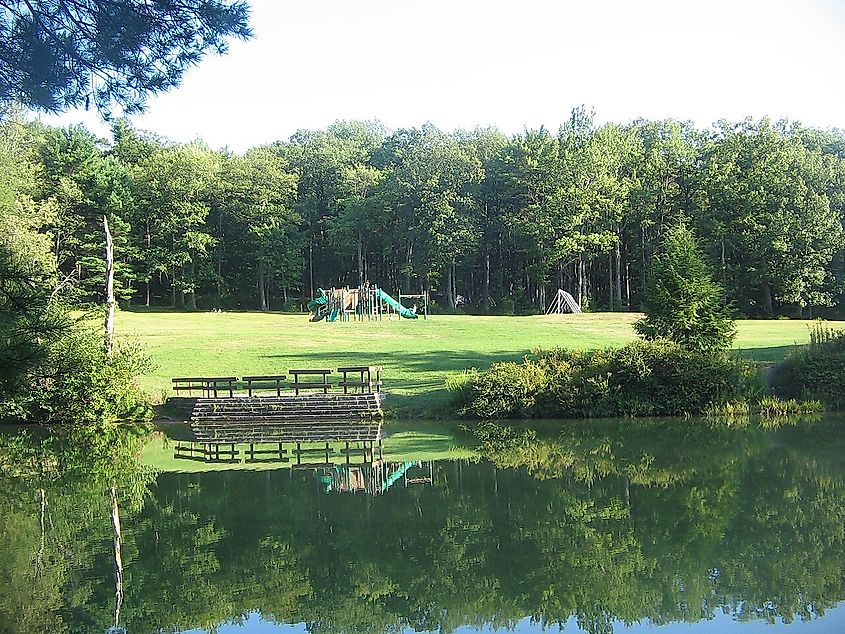 Located in Carbon County, Pennsylvania, Hickory Run State Park Campground lies in the western foothills of the Poconos Mountains. The State Park is a 640 square-mile recreation area, and nature preserve open to the public all year round. It has a large camp group that can accommodate tent camping as well as RVs, with some sites having full hookup service. The park is a great place to get away from the hustle and bustle of city life, or even just the busy tourist destinations in the Poconos Mountains. This large campground provides the perfect home base for those looking to spend their days traversing the over 40 miles of hiking paths in the park. For those looking to do some fishing, Hickory Run also has miles of trout streams open to those with a fishing license. The absolute must-see natural feature of this park is the Boulder Fields, created by spheroidal weathering. But keep an eye out, snakes are known to frequent the edges of the field, while wolf spiders can be hidden between the boulders.
The Take Home
As a prime tourist location, the Poconos Mountains' popular tourist towns, resorts, and activities are often overcrowded or booked to capacity even before the summer and winter vacation breaks hit. While the typical Poconos vacation may be a recipe for long lines, crowded resorts, and busy cafes and restaurants, that does not mean that there are not fantastic vacation options that will remove you from the brouhaha of tourist season. No matter if you are looking to explore the great outdoors without being bumper to bumper with other hikers, or you are hoping not to have to wait in line forever for a ski lift during the winter tourist season, the Poconos has everything you are looking for, you just might have to turn over a few rocks to find it.