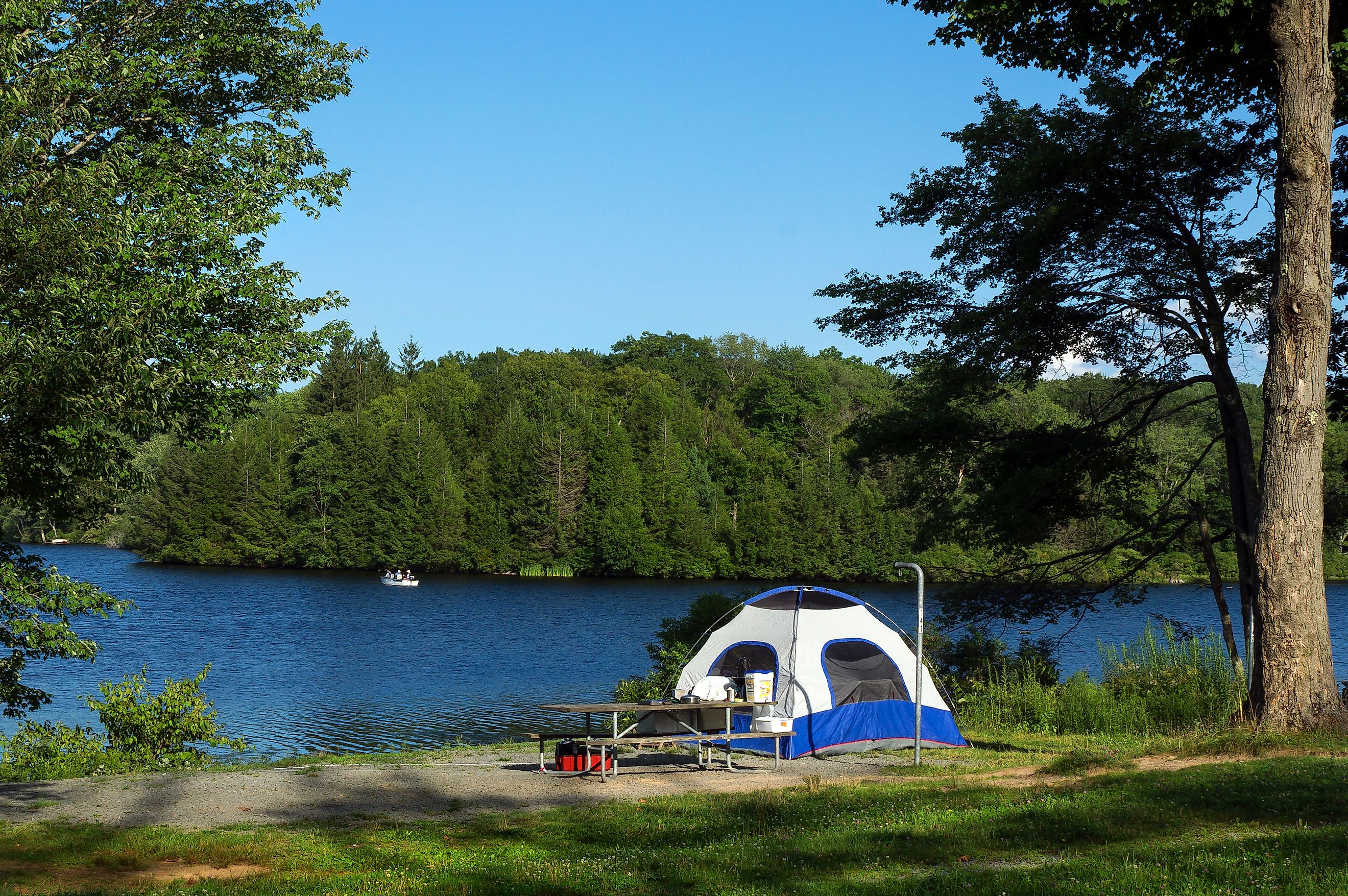 7 Affordable Summer Vacation Spots In the Poconos
The Pocono Mountains of Pennsylvania, also known as the Poconos, feature a diverse landscape of thick forested peaks, rolling green hills, rushing waterfalls, and 170 miles of winding rivers. The area is a prime place to visit in the winter, with an abundance of cold-weather activities and skiing locations, but that doesn't mean there is nothing to enjoy in the summer! The warmer months of the Poconos offer endless opportunities for outdoor exploration, such as hiking trips, kayaking retreats, and relaxing beach getaways.
A trip to the Poconos does not need to break the bank, either, with many affordable options available, ranging from charming resorts to vast state parks and welcoming campgrounds.
Hickory Run State Park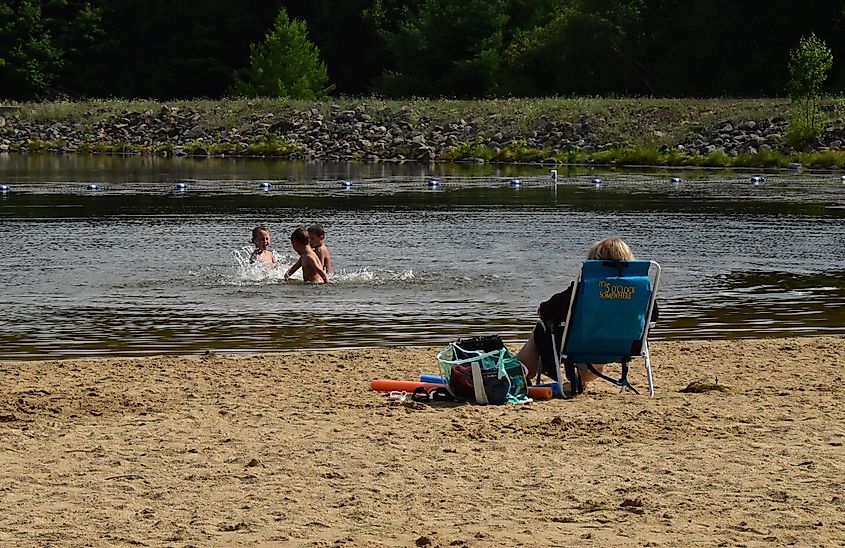 Hickory Run State Park covers 15,990 acres of Pennsylvania, including a portion of the Pocono Mountains. The park boasts over 40 miles of hiking trails for adventuring, streams and rivers ideal for fishing, swimming, and kayaking, as well as the unique Boulder Field, a National Natural Landmark of scattered boulders. It is also home to Hawk Falls, which is about 20 to 25 feet in height and is the perfect spot for a photo op, and doesn't cost a thing. The state park is situated near a number of charming small towns, such as Blakeslee, where visitors can stay in one of the local bed and breakfasts or inns. Otherwise, travelers can choose to stay on the campgrounds in the area, close to all the hiking trails, lakes, and waterfalls. 
Camelback Lodge & Aquatopia Indoor Waterpark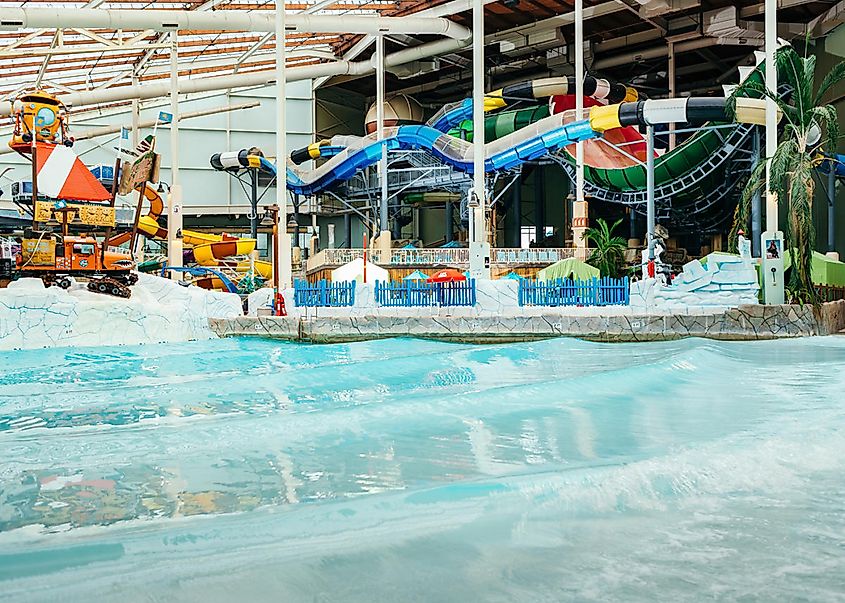 For a family-friendly vacation, consider a trip to the Camelback Lodge & Aquatopia Indoor Waterpark. The charming resort was "voted the most innovative and best indoor water park in the United States," with a plethora of waterslides and exciting rides for kids, and cozy cabanas for parents to hang out. It also houses the largest outdoor waterpark in Pennsylvania for those in search of some fun in the sun with the kids, as well as plenty of poolside amenities and nearby food, such as Berrelli's Italian Chophouse, to ensure the vacation is just as relaxing as it is fun. There are also plenty of mountain adventures, such as the mountain coaster, ziplines, switchback UTV tours, and even sunbowl tubing, all of which are included in your original ticket.
Lehigh Gorge State Park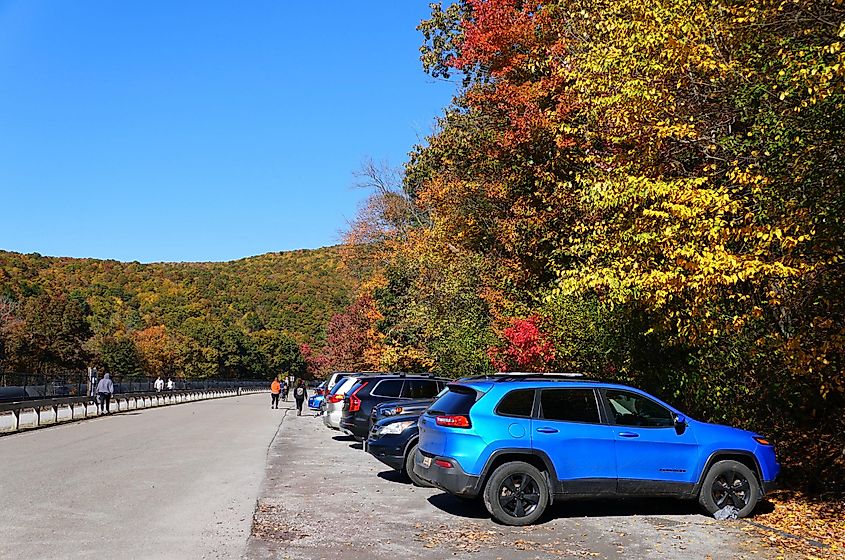 Lehigh Gorge State Park is over 6,000 acres and a quick two-hour jaunt from bustling cities such as Philadelphia and New York. Waterfalls, hiking trails, trout fishing, and whitewater rafting are only some of the attractions in the area. The Lehigh Gorge Trail runs parallel to the Lehigh River, which runs into the breathtaking Buttermilk Falls. Some of the most popular hiking trails include Glen Oko Falls and Lehigh Gorge Overlook Trail, Cave Falls and Jim Thorpe Overlook, and Buttermilk and Luke's Falls, which are all free to explore. While many visitors choose to enjoy a rustic stay and camp in the area, there are also a number of nearby small towns, such as Jim Thorpe, with welcoming inns and bed and breakfasts, perfect for extending your stay. 
Hawley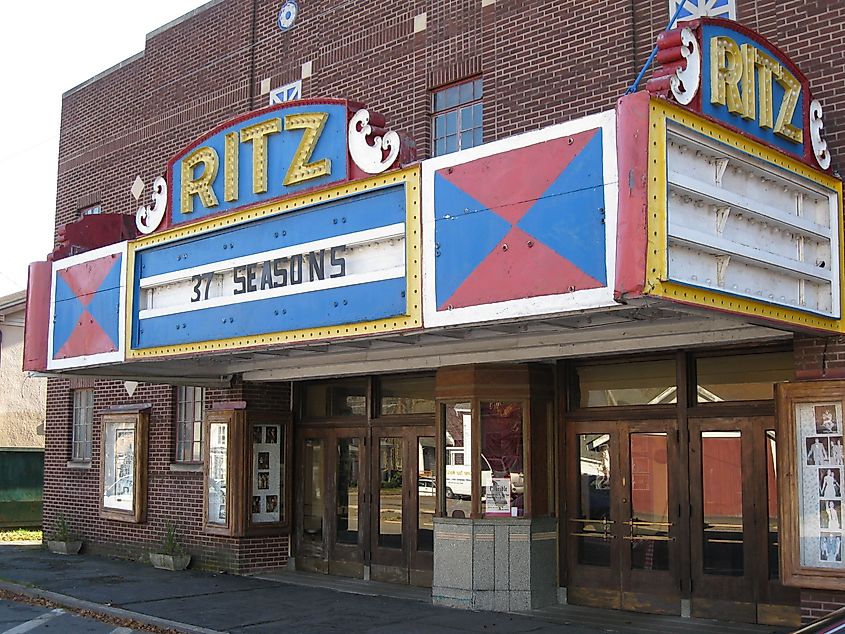 Hawley is one of the best small towns in the Poconos to chill out, making it the ideal location for a relaxing and cozy vacation. Enjoy a leisurely walk along the boardwalk or downtown area, or rent a bike and travel towards the Lackawaxen River, where there are plenty of free water activities, such as swimming and sunbathing, to enjoy. Pay a visit to the charming Ritz Company Playhouse, which offers a plethora of performances year-round. The annual Wildflower Music Festival is a free event, where visitors and locals come together and enjoy live music and good eats. There are a number of award-winning inns, spas, and hotels in the area, such as The Settlers Inn, Utopia Salon and Day Spa, and Ledges Hotel.
Shawnee Village Resort
Nestled along the banks of the scenic Delaware River, the Shawnee Village Resort offers an unforgettable vacation in one- and two-bedroom villas that each house up to eight guests with separate bedrooms, kitchens, living rooms, dining areas, and even fireplaces and balconies. There is a golf course for those looking to play a round of 18 holes, an indoor and an outdoor pool, a hot tub, a sauna, a fitness center, and more, to ensure all visitors enjoy a purely relaxing vacation. After indulging in all of the amenities of the resort, be sure to revel in the beauty of the Delaware River, enjoy a boat ride, go for a swim, or grab a rod and go fishing. 
Promised Land State Park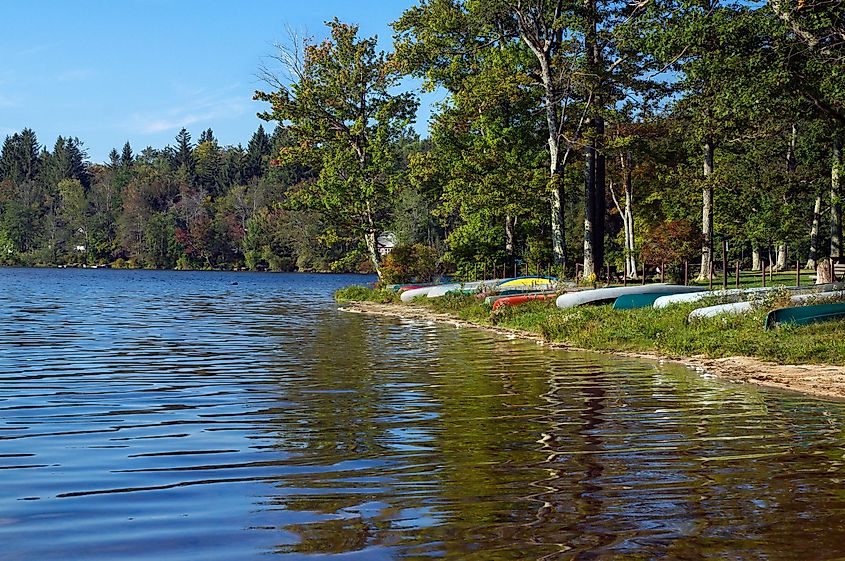 Promised Land State Park is the ideal destination for a three-day weekend in Pennsylvania, featuring over 3,000 acres of pristine wilderness, gorgeous hiking trails, and breathtaking beachfront. 12,464 acres of the Delaware State Forest surround the park, while two lakes and a number of small streams run through the area, ensuring there is always an adventure waiting. There are 50 miles of trails within the area, so strap on your hiking boots and prepare for an exhilarating (and free) adventure! There are plenty of campgrounds located on-site, promising an affordable and charmed stay. Discover a little more about the area at the Masker Museum, with interactive exhibits and free admission!
Cove Haven Entertainment Resort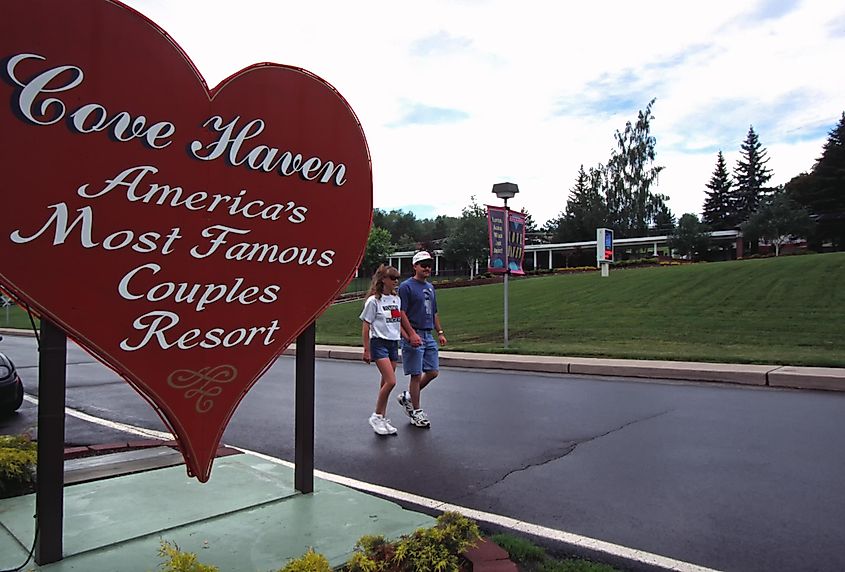 Cove Haven Resort is a couples-only getaway, ideal for a purely romantic experience. The packages are all-inclusive so visitors don't have to worry about costs upon arrival, and all of the resort activities come at one affordable rate. The rooms boast heart-shaped bathtubs and plush sheets, while sports and spa services are available throughout the day, as well as nightlife excursions for the adventurous duo. Some more all-inclusive activities include tanning beds, billiards, swimming, tennis, basketball, and arcades. There is also a golf driving range, archery, bicycling, pedal boats, speed boat rides, and more, to suit any preferences. No matter the time of year, Cove Haven Resort is an exciting destination, though it is especially romantic during the warm summer months, with plenty to do in the great outdoors.
Enjoy a Vacation in the Poconos!
A summer vacation in the Poconos promises whatever you desire, whether it is a family-friendly trip to an exciting waterpark, a camping excursion with your closest pals, or a charming getaway to an adult-only hideaway. Glistening lakes and forested state parks offer plenty to do in the great outdoors, from swimming and splashing to hiking and adventuring, to suit any preference when on vacation. Concerts, celebrations, and events going on near these resorts, campgrounds, and charming towns also make for an affordable and jam-packed trip.