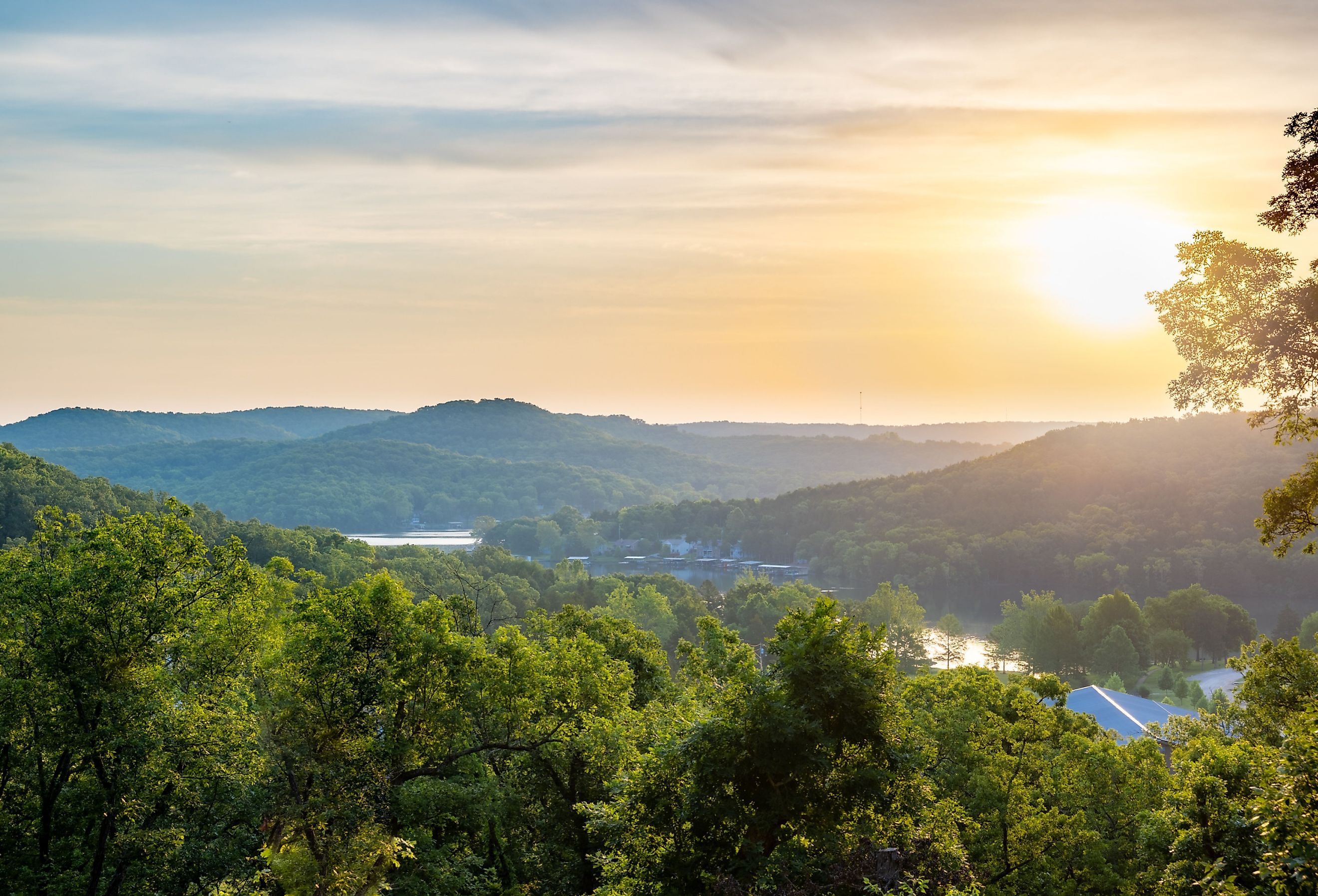 13 Underrated Destinations In the Ozarks To Avoid Summer Crowds
For those researching summertime locations to visit in the United States, then there is a good chance the "Ozark Mountains", has come up more than once. Beautiful blue lakes bordered by white limestone cliffs and lush forests that extend as far as the eye can see this area is a nature-lover's paradise. In addition to the gorgeous landscape, part of the charm the Ozarks possess is due to the picturesque small towns, campgrounds, and nature resorts sprinkled within. These destinations not only allow access to the natural beauty the Ozarks have to offer, but often boast excellent dining, boutique shops, and a rich history. However, the Ozarks are so well traveled, that it can be difficult for many to find places that still hold to the charm and allure that only exists in the path less traveled. For folks who want to explore the Ozark Mountains without all the tourists, keep reading! In this article, explore the Ozarks and learn about some lesser-known small towns and other out-of-the-way locations in the Ozark Mountains that still give visitors the full experience, without quite so many bodies, ensuring the trip remains uniquely yours.
Gilbert, Arkansas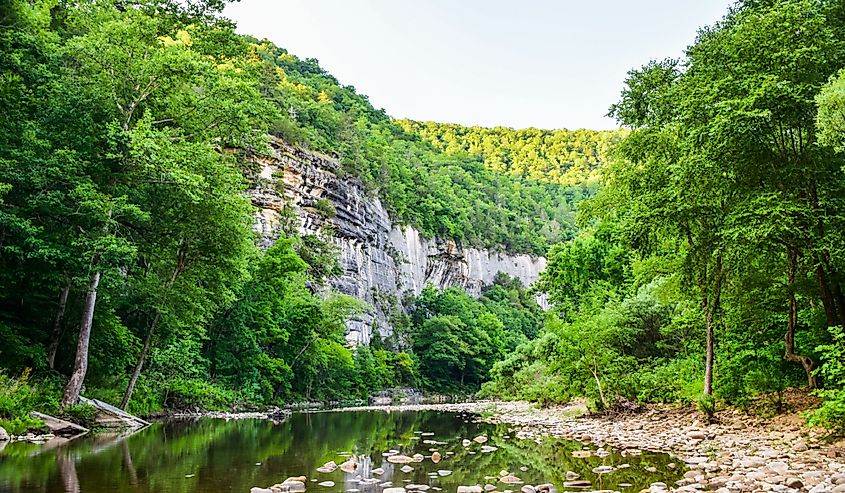 With only ~26 people and located alongside Buffalo River, Gilbert is one of the smallest and most rustic towns in Arkansas and often escapes notice from summer crowds. Despite its size, Gilbert boasts everything the wandering traveler needs: campgrounds and bunkhouses, an art gallery, and a historic General Store that has everything from food to canoe rentals. As a bonus, the General Store simultaneously operates as a museum! The largest draw of Gilbert, however, is its proximity to the rugged Buffalo National River Park. Buffalo River is one of the last rivers in the USA that is unaltered by man. This has allowed an untamed nature reserve to flourish, giving life to hundreds of species of animals and plants. Bordered by towering limestone cliffs and filled with paddling, hiking, fishing, horseback riding, and camping opportunities, there is no shortage of adventure waiting. The Buffalo River National Park adds the finishing touch to the small, albeit impressive, town of Gilbert.   
Crystal Creek Ranch, Missouri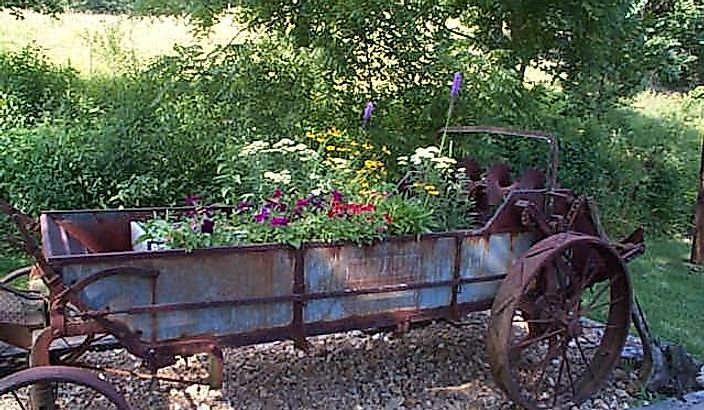 For those who enjoy the outdoors for its serenity and peace while still enjoying the amenities of modern life, Crystal Creek Ranch is worth investigating. This ranch is open to people of all ages and features a wide variety of activities, making it a great family destination. Paddle a boat on the ranch's local pond, feed the goats and sheep, play ping pong and foosball, hike along walking trails, and much, much more. Multiple lodging options are available, depending on what helps you find your peace: experience a slice of the settler's lifestyle and stay in a wagon (covered of course), rent a log cabin nestled in the trees, or stay at the Overlook Ranch House which provides a fantastic view of the Ozarks. All options come with modern amenities like electricity and air conditioning to make the stay as comfortable as possible. For those planning on taking a family vacation, give Crystal Creek Ranch a call and book your stay! 
Sunrise Beach, Missouri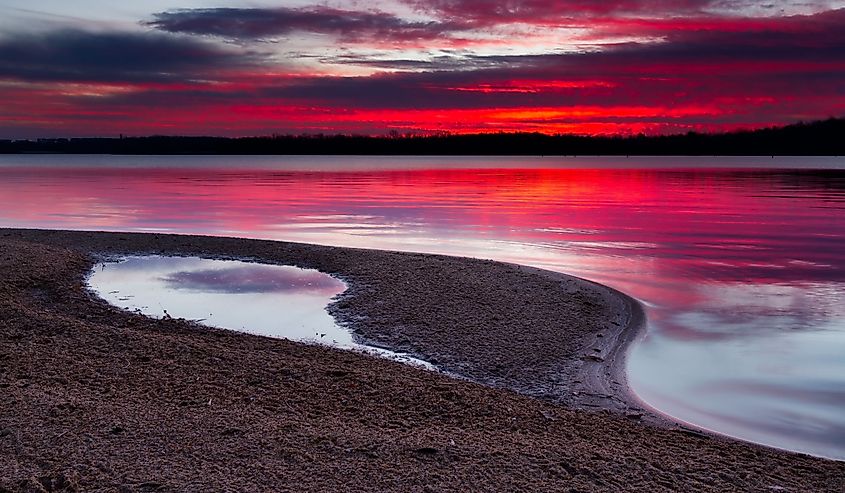 Tucked away between two arms of The Lake of the Ozarks, Sunrise Beach is a prime waterfront destination. Near a variety of beaches and resorts, and proudly touting the phrase, "the Quiet side of the Lake of the Ozarks", this town provides a laissez-faire atmosphere; perfect for a vacation away from the summer crowds. There are numerous places to stay in the area, not only at resorts but fun lakeside B&Bs and hotels as well. With The Lake of the Ozarks so close, there are endless opportunities to explore while staying at Sunrise Beach. The Lake of the Ozarks was created in 1931, with the completion of Bagnell Dam. It closely follows the route of the river which formed it, and features hundreds of snaking inlets. These inlets lend to The Lake of the Ozarks an enormous amount of shoreline. The Lake of the Ozarks has more miles of shoreline than the entire state of California! This allows any avid boater, paddler, or fisher to find their private inlet to enjoy for the day. For those who do not own a boat, fret not! There are plenty of places to rent one in the area. Enjoy The Lake of the Ozarks on land or water on Sunrise Beach.
Chaonia Landing Resort, Missouri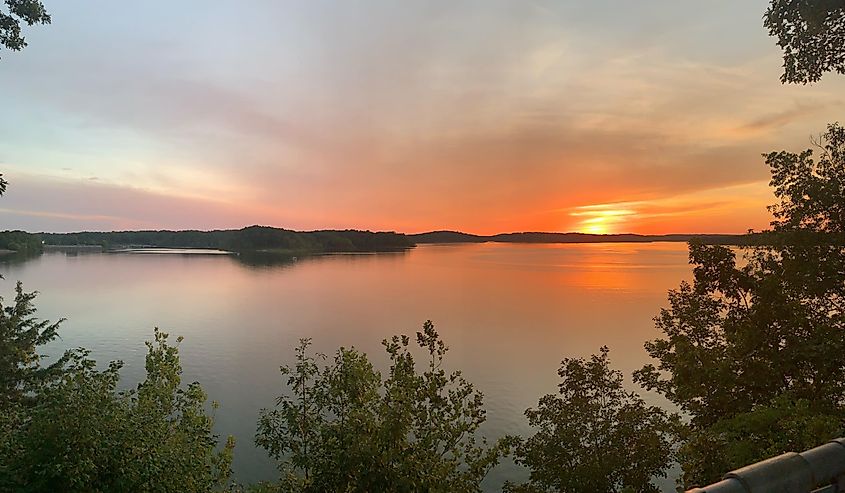 For those who enjoy relaxing at the lake, look no further than Chaonia Landing Resort located right on the coast of the beautiful Lake Wappapello. Lake Wappapello is situated in the Eastern part of the Ozarks, and shares much of its coastline with the historic Mark Twain National Forest. In addition, Chaonia Landing is just a few short miles from Lake Wappapello State Park, which allows nature enthusiasts unspoiled opportunities to bird watch, hike, fish, and much more. All these activities are available at Chaonia Landing Resort as well but in a more available format. Vacation-goers have a diverse spread of options available to them: boat rentals (pontoon boats, kayaks, and canoes), guided fishing tours, hiking, swimming, and beaches! The resort also offers numerous places to stay, from camping to rustic cabin rentals, there are accommodations for all needs. Additionally, Chania Landing Resort has a general store if visitors forget to pack anything!
Haw Creek Falls Recreational Area, Arkansas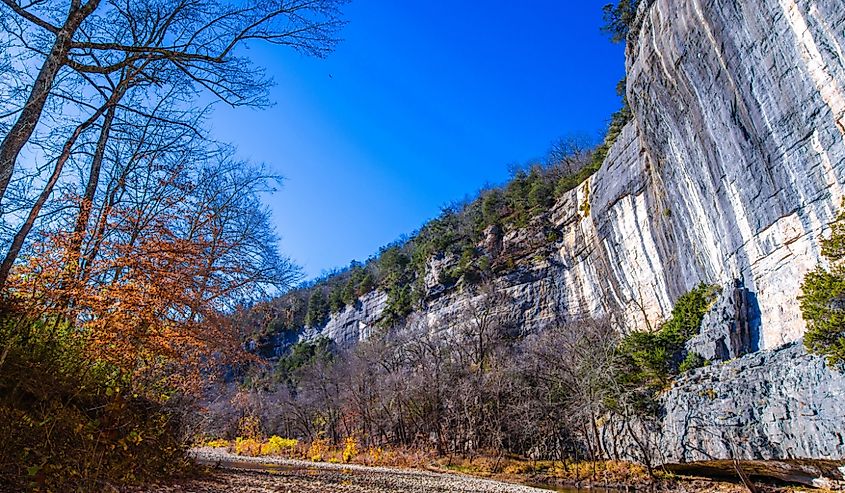 This beautiful first come, first serve campground is an incredible location to become fully surrounded by the majestic Ozarks. This campground is located along the Ozark Highland Trail, a 270-mile trail that traverses the rugged mountains of the Ozarks. This serene campground can be reached with a short hike from Highway 123 and does not require any fees or registration to access. From this campground, travelers have easy access to a beautiful stream with multiple swimming holes, rocky bluffs, and an ancient hardwood forest. Furthermore, Pam's Grotto, a beautiful waterfall found deep in a narrow gorge surrounded by rocky escarpments, is only a mile or two away, making it an easy day hike from the campground! Just remember, these campgrounds cannot be reached by road, so anything you want to bring will have to fit in your bags! With this campground's proximity to a road, it is a great way to introduce friends and family to the backcountry, off-grid camping experience. 
Bryd's Adventure Center, Arkansas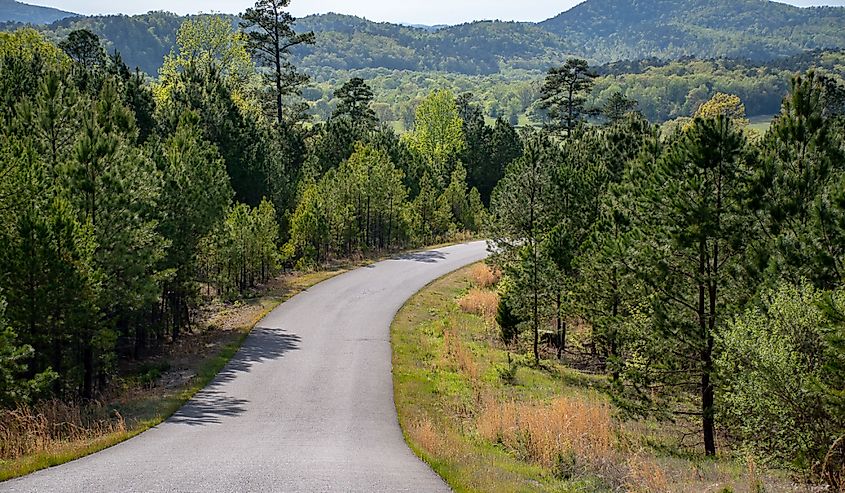 Tucked away in the Southern tip of the Ozark Mountains, Bryd's Adventure Center provides an exciting getaway, far off the beaten path. This destination is one-of-a-kind, offering high-octane experiences, but also allowing for the introspective soul who prefers to experience nature in a more laid-back fashion. Ever dreamed of exploring the forests and mountains of the Ozarks by ATV? What about white water rafting down its rivers? If yes, then Bryd's should be near the top of your list. If you are not an adrenaline-seeker, have no fear. Bryd's Adventure Center has plenty of trails for hiking, nature for camping, and rivers for a relaxing paddle. After all the adventure is over, stay at one of the many tent or RV camping spots available on-site and grab a bite at Bryd's Riverfront Restaurant. Whatever your outdoor desire, Bryd's Adventure Center will be sure to make it a reality. 
Paradise Hill, Oklahoma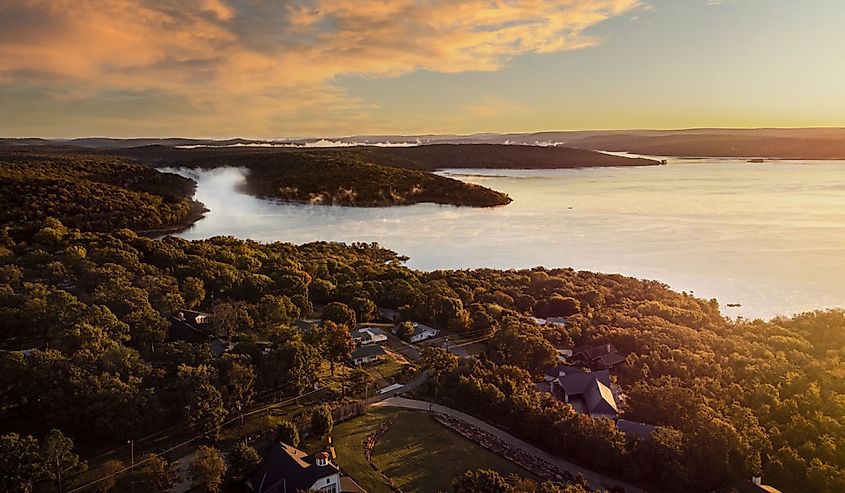 With around 100 people, Paradise Hill is as local as it gets, making it a great place to go to avoid busy crowds while visiting the Ozarks. Located on the shore of the uniquely named Tenkiller Fairy Lake, and near Cherokee State Game Refuge, Paradise Hill is surrounded by pristine nature. With spectacular limestone cliffs and crystal clear water, there is no wonder Tenkiller Fairy Lake is considered, "Oklahoma's clear water wonderland". This lake is known for all kinds of aquatic excursions, from fishing and canoeing to scuba diving. For those who prefer going out on the land, Paradise Hill offers easy access to the Cherokee State Game Refuge. The landscape of this wildlife refuge is undisturbed, meaning it looks the same as it would have been hundreds of years ago; rough and untamed. Renowned for its hunting, this refuge gives you the chance to see multitudes of animals native to the area, like deer, elk, and bobcats to name a few. Between Tenkiller and Cherokee Refuge, the area of Paradise Hill will give you your fill of what the Ozarks have to offer.  
Arrowhead Resort, Oklahoma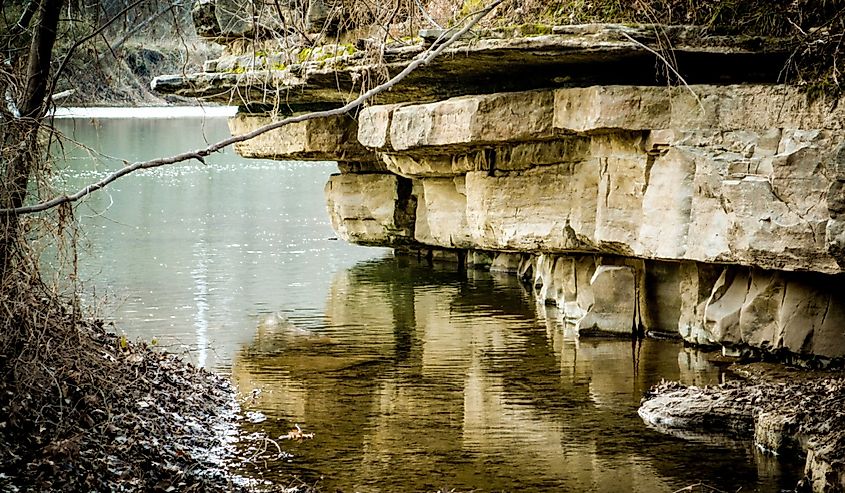 Located along the Illinois River in Oklahoma, the Arrowhead Resort keeps things simple and straight to the point. This resort acts as a basecamp to enjoy the watery wilds of the Ozark hills, providing lodgings capable of hosting the solitary traveler to a large family reunion. Whether you want your stay to be in a tent, RV, or cabin is up to you! This resort capitalizes on its location on the Illinois River, providing raft, canoe, and kayak rentals for all to enjoy. This gorgeous river lazily meanders through the Southern Ozarks. Its shallow waters are ideal for floats with friends and family, and swimming, all while basking in the sun as you admire the natural beauty and serenity the Ozarks have to offer. After you are finished enjoying the river, be sure to check out Arrowhead's beautiful grounds, and play a game of beach volleyball or two on their sand court!
Osceola, Missouri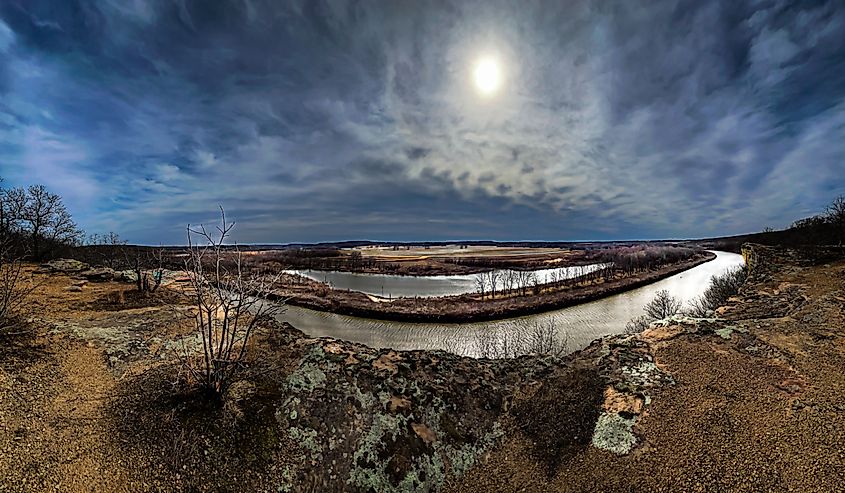 Although small in size, Osceola has a big personality. Founded in the early 1800's, this small town has seen it all. It has been flooded, survived the Great Depression, and was razed in the Civil War by the notorious Union Brigadier General, James Lane. Because of the rich, albeit unfortunate, history of the area, there is much to do in Osceola for the history buff. However, an undervalued aspect of Osceola is its position as a foothold for the Ozarks. Bordering the Osage River, Osceola provides numerous opportunities for boating and fishing. Additionally, with the Turkey Creek and Sac-Osage State Wildlife preservations next door, there is plenty of nature to explore. A unique feature of the surrounding Osceola area is its propensity for edible mushrooms, which grow in large numbers and variety in the region. Just be sure an expert verifies your find before you eat it since many mushrooms can be poisonous! Whether you want to learn more about the Civil War, enjoy the beautiful landscape of the Ozarks, or find a tasty snack, Osceola has you covered.
Kimberling City, Missouri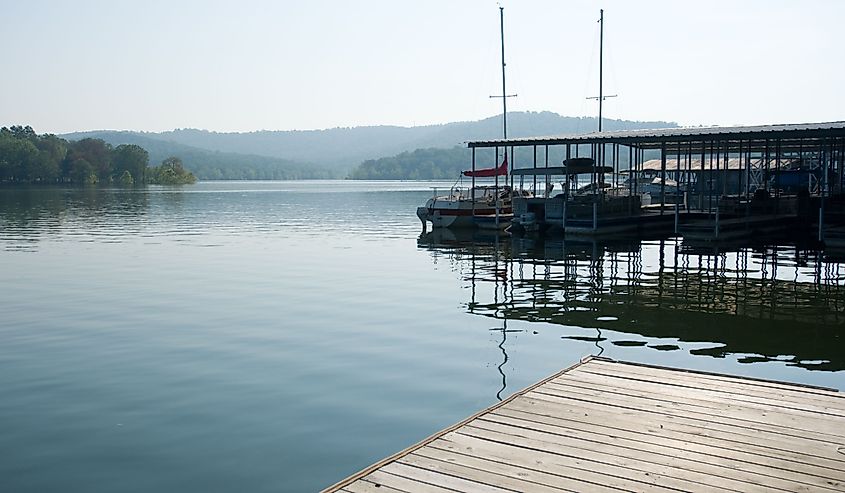 Even though Kimberling City is one of the larger towns on this list with 2400 residents, it still maintains a small-town feel, but with all the luxuries a city has to offer. This makes the Kimberling City area a comfortable place to stay when exploring the Ozarks. Nestled into the many arms of Table Rock Lake, the area is filled with coastal resorts, hotels, and campsites for you to stay. All these locations give access to the lush forest, prehistoric caves, and sweeping limestone cliffs that give the Ozarks their reputation. With hundreds of secluded coves, enjoying the lake is the primary way to spend time. You can spend all day on your paddle board or boat, drinking in the serene beauty of Table Rock Lake. If the summer crowds still seem too large, do not fret. Simply taking the Kimberling City Bridge South across Table Rock Lake provides access to the less populated parts of the lake. From here you can also take in some natural reserves, like Dogwood Canyon Nature Park. 
Dogwood Canyon Nature Park, Missouri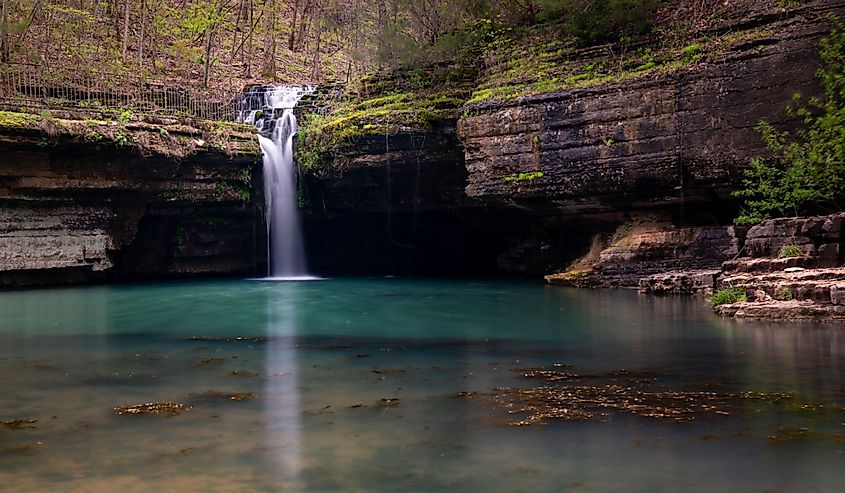 Dogwood Canyon Nature Park is a 10,000-acre nature reserve buried in the heart of the Ozark Mountains. Just a few miles South of Table Rock Lake, Dogwood Canyon may be overlooked by some; however, it provides incredible opportunities one can only experience in the Ozarks. You can experience towering cliffs, cascading waterfalls, rugged woodland, and gentle streams by horseback, biking, or your own two feet. Additionally, Dogwood Canyon provides wildlife tours where you can view bison and elk and is known as a hot spot for trout fishing. After a fulfilling day of adventure, enjoy a delicious dinner at the Mill and Canyon restaurant, located on-site. Just make sure you are there before 3:00 p.m. for the last seating! The multitude of activities that give the authentic Ozark experience make Dogwood Canyon Nature Park an incredible place to spend the day. 
Bunker Hill Ranch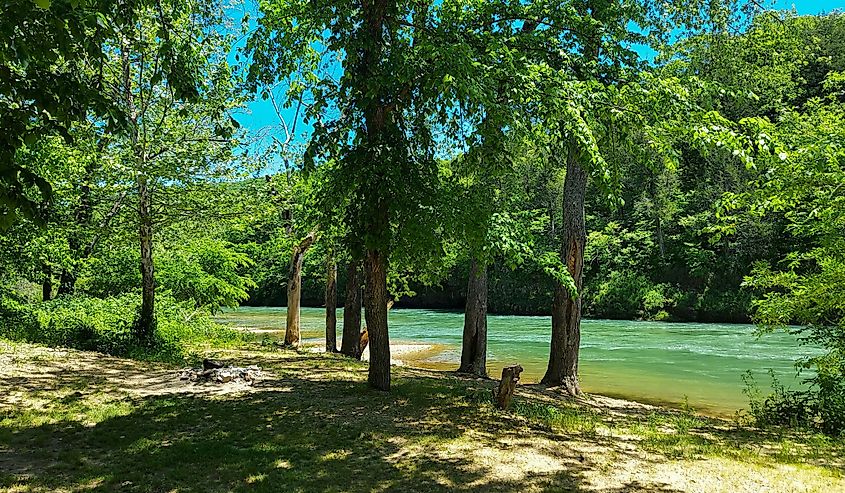 If you are the type of person who likes to disconnect and fully immerse in nature, then you would love Bunker Hill Ranch. This destination reverts to the basics and encourages residents to disconnect from the hustle of life and reconnect with nature and their loved ones. There are no TVs, internet, and poor cellular service to heighten the experience. At Bunker Hill Ranch, the ranchers truly are disconnected from the rest of the world. 20 cabins are available, and other than air conditioning, there are no amenities in the cabins. Although there is no phone service, there is plenty to keep guests busy. Situated along Jacks Fork River, ranchers can swim, paddle, hike, and fish to their heart's content. Group-based activities and games are also available, like horseshoes, ping pong, basketball, volleyball, tennis, pickleball, mini golf, shuffleboard, and a playground. There is even a small library on the premises. Bunker Hill Ranch is truly a place where anyone and everyone can find something fun to do. With reasonable rates and a location ideal for those who want to disengage from the rest of the world, Bunker Hill Ranch is an incredible place to bask in the majesty of the Ozarks. 
Eureka Falls, Arkansas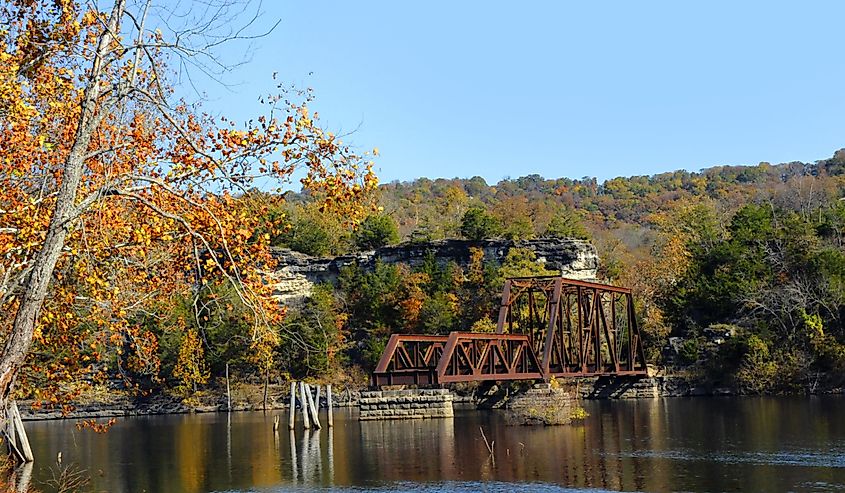 Nestled deep in the Ozark Mountains, Eureka Springs was named in 1879 for its renowned springs, once thought to have healing powers. This quaint town stands as a hidden gem within the Ozarks - not only because of its natural springs but because it has something for everyone. You can spend your day in nature, hiking and paddling at the nearby Beaver Lake or touring the subterranean landscape of Onyx Cave. If this is not to your fancy, you can wander through the Victorian architecture of the town, visiting Eureka Spring's numerous historical sites, like a section of the Berlin Wall or St. Elizabeth's Catholic Church - the only church you enter through the bell tower. If all else fails, Eureka Springs has an incredible undercurrent of artistic culture. With a population of only 2,000 people, this small town boasts over 300 people who make a living as artists. This results in a vibrant art scene that manifests in diverse galleries and artisan boutique shops. Whether you enjoy nature, history, art, or all three, Eureka Springs will not disappoint!
Conclusion
The Ozarks are renowned for their beauty: gorgeous lakes, soaring cliffs, cave labyrinths, ancient forests, and more. Although any trip to the Ozarks will be a good one, it can be frustrating to find the perfect destination, only to be faced with the busy thrum of summer tourists. With the Ozarks understandably being a top tourist destination, this can easily become a problem. Luckily, there are many hidden gems tucked away all over the Ozarks, like the ones listed above! Plan a trip to any of the places mentioned above and rest easy, knowing you are going to have the time of your life without the hubbub of summer tourists.