You may know of Missouri for its iconic landmarks like the Gateway Arch, the state's amazing barbecue, and the fun cities and sports but one thing that is undoubtedly a gem of Missouri is its stunning lakes. These beautiful bodies of water amass thousands of visitors every year who travel to the magnificent lakes and reservoirs for activities such as swimming in warm waters or fishing the best specimens of fishing such as bass. Whatever the reason is to explore the stunning state of Missouri, there are multiple must-stop lakes on this list visitors would regret not exploring the beauty of!
Lake of the Ozarks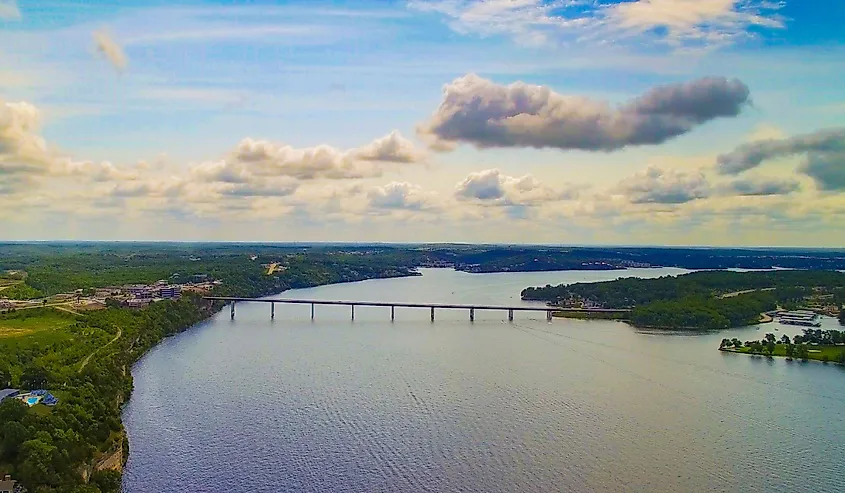 Thanks to its intriguing serpentine, dragon-like shape, the Lake of the Ozark is a popular lake in Missouri given the nickname "The Magic Dragon." Adorned with sparkling water and beautiful surrounding vegetation and forests, it sits in the northern area of the great Ozarks; an iconic physiographic region in Missouri known for its gorgeous mountains. During the time of the lake's manmade conception, the Lake of the Ozarks was one of the largest manmade lakes of its era. Today, the Lake of the Ozarks is the largest reservoir in the beautiful state of Missouri. Some popular spots around the lake are Party Cove where up to 3,000 boats visit during the Fourth of July weekend as well as Lake of the Ozarks State Park and Ha Ha Tonka State Park. Some marine life that lives within the lake is the crappie, catfish, bluegill, black bass, and much more. With all that Lake of the Ozarks has to offer visitors are sure to have a great time.
Stockton Lake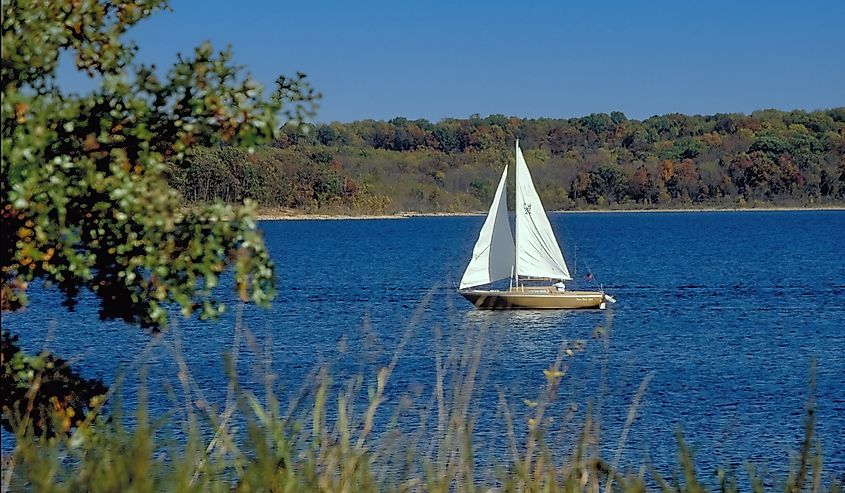 Shaped like a "V" and covering 39 square miles, Stockton is a huge lake in Missouri spanning three different counties. Opening in 1969, and created through the damming of the Sac River, the stunning lake has three superb marinas and ten great public-use areas. Surrounding the magnificent man-made lake are tree-covered rolling hills which makes the location perfect for visitors looking to indulge in the beauty of nature while swimming and boating on such a great body of water.
Stockton Lake is well suited for a plethora of entertaining activities for the whole family! These include windsurfing, kite boarding, water skiing, and waterboarding. If that is not enough visitors must not fret as the lake is also host to a great number of amusing sailboat races multiple times throughout the year. One of these memorable sailboat races is the prestigious Governor's Cup Regatta. For those wanting to spend the night along this iconic Missouri Lake, there are wonderful campgrounds in the area. Even better, after a good night's sleep, visitors of Stockton Lake may find an interest in horseback riding on the beautiful equestrian trail which travels along Stockton Lake's magnificent shoreline, shared as well by cyclists and hikers. Some marine life in the lake includes walleye, crappie, white bass, and more. Visitors will fall in love with Stockton Lake's glistening waters.
Table Rock Lake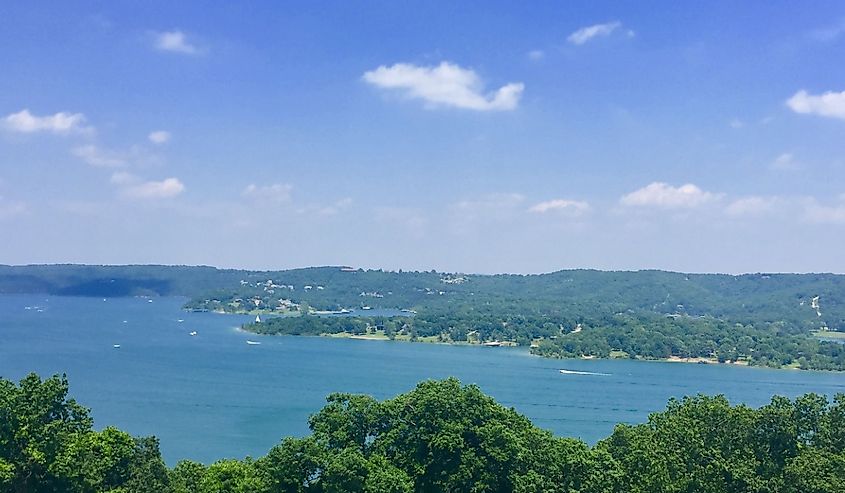 Situated in the beautiful Ozark Mountains, travelers will find the amazing Table Rock Lake, an artificial lake approximately 919 feet above sea level. Close to the lovely nearby town of Branson, home to around 12,000 people, Table Rock Lake is a popular spot for locals due to its beautiful mountain views and glistening waters. Branson itself is a fun small city with loads of attractions including the awesome Silver Dollar City Theme Park, the gorgeous Aquarium at the boardwalk, The Track family fun parks, Wonderworks, Beyond the Lens, and the great Dolly Partons Stampede Dinner Attraction!
Table Rock Lake, the marvelous body of water is home to various fish species such as walleye, bluegill, white bass, sunfish, paddlefish, both black and white crappie, channel catfish, flathead catfish, and blue catfish. Other features included are RV Parks, marinas, shops, and restaurants! No wonder Table Rock Lake is so popular!
Mark Twain Lake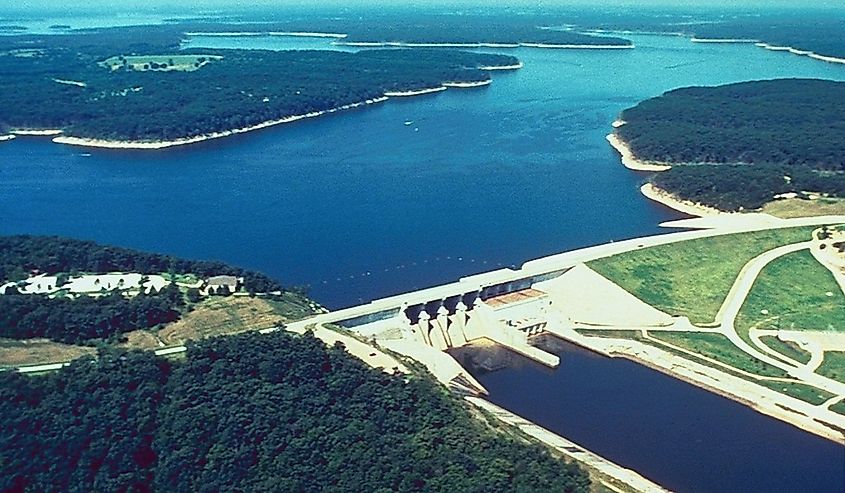 Stretching across two Missouri counties, Mark Twain Lake is named after the great author due to its close proximity to the author's hometown of Florida, Missouri. The great lake is also surrounded by the "Mark Twain State Park" which is popular for its hiking trails, campgrounds, and natural beauty. Created by the Clarence Cannon Dam, along Salt River, the lake today is a whopping 18,600 acres. Due to its abundance of nature, calming atmosphere, and potential for fun, Mark Twain Lake is able to attract a plethora of fishermen who look for species such as crappie, largemouth bass, catfish, and bluegill. Not looking to fish? Mark Twain Lake attracts boaters and hunters who wish to appreciate the resources brought forth by nature within and surrounding the shores of the beautiful Mark Twain Lake.
Lake Taneycomo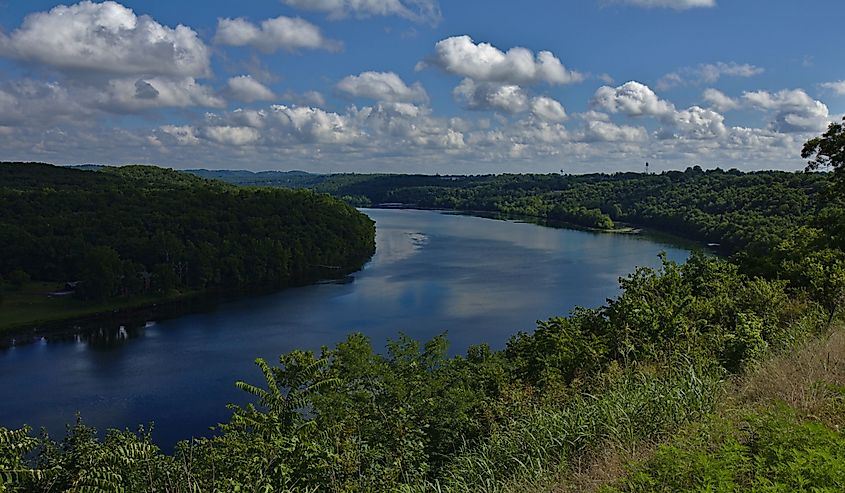 Nestled along the White River in the majestic Ozark Mountains, this incredible man-made reservoir is a gem of Missouri and has the characteristics of both a lake and a river. The beautiful Lake Taneycomo has both warm water and cold water as well as shallow water and deep water which further expands the variety of activities it may host. Fishing is popular, with rainbow trout accounting for 90% of the fish species caught in this lake. Since the 1930s, residents and visitors alike enjoy boating, swimming, and water skiing. Lake Taneycomo is a fantastic vacation spot for local families. Restaurants lay close by as well as accommodations for hiking and sightseeing. With all the amazing natural beauty and fun that Lake Taneycomo has to offer, anyone that visits is sure to have a pleasant time.
Smithville Lake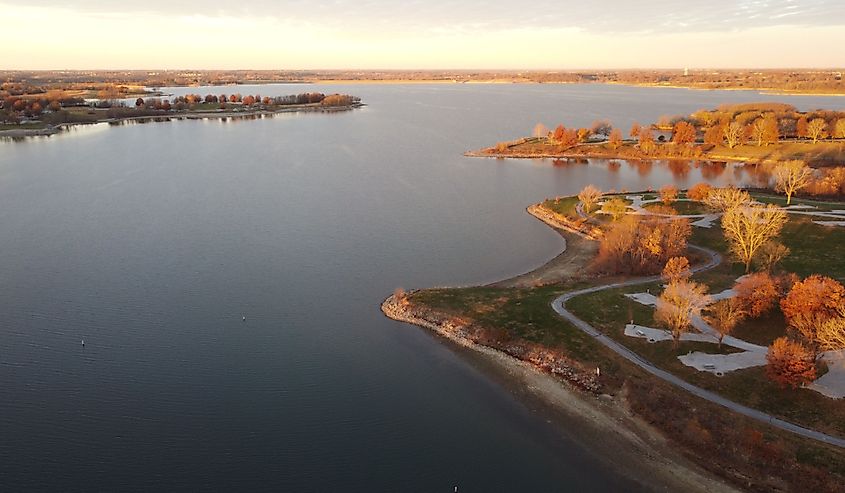 For fishermen who love catfish then Smithville Lake has loads in store with the most prominent fish species in Smithville Lake being channel catfish, flathead catfish, and other species like walleye and white crappie. If fishing is not to your liking, then visitors must not fret as Smithville Lake has loads more to offer. Located by a city of the same name; Smithville, this gorgeous 7,190-acre lake stretches across two counties and was notably constructed by the damming of the Platte River. For hunters, hunting is popular at Smithville Lake; wild turkey and white-tailed deer are prevalent in the area. For those who desire fun and recreation; there are over a whopping 24 miles of walking trails, equestrian trails, and mountain biking trails. Thanks to all the natural beauty of this stunning lake, a visit to Smithville Lake will be memorable for years to come.
Lake Wappapello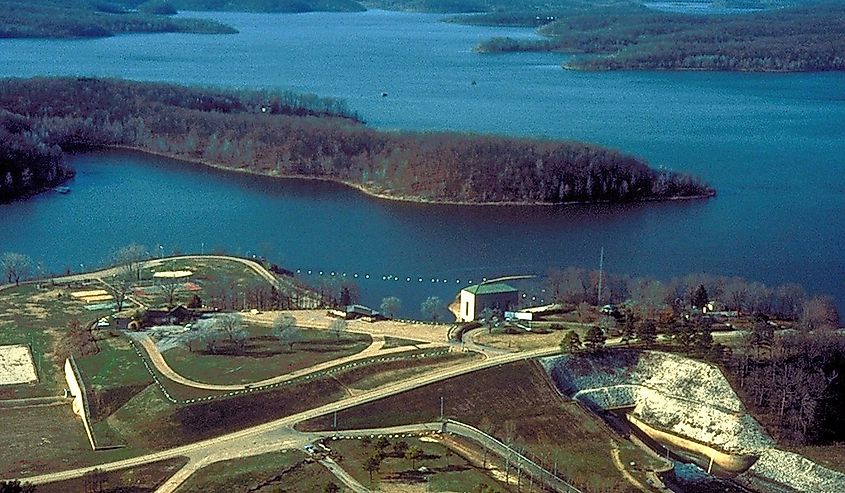 Although primarily utilized for flood control, Lake Wappapello outdid itself and has become a popular recreational spot for visitors to the gorgeous body of water. Being 145 miles from the large city of St. Louis, visitors flock from there and many other towns and areas to enjoy what the lovely waters of Lake Wappapello have to offer. With many activities such as swimming, waterboarding, boating, canoeing, kayaking, and more, visitors to this ravishing lake will have a wonderful time. For fishermen, the marine life living within the glistening waters of Lake Wappapello includes crappies, white bass, largemouth bass, and catfish! If that is not enough, Lake Wappapello is home to hiking trails that hug the lake's shoreline and equestrian trails used to ride along the stunning lake.
Lake Jacomo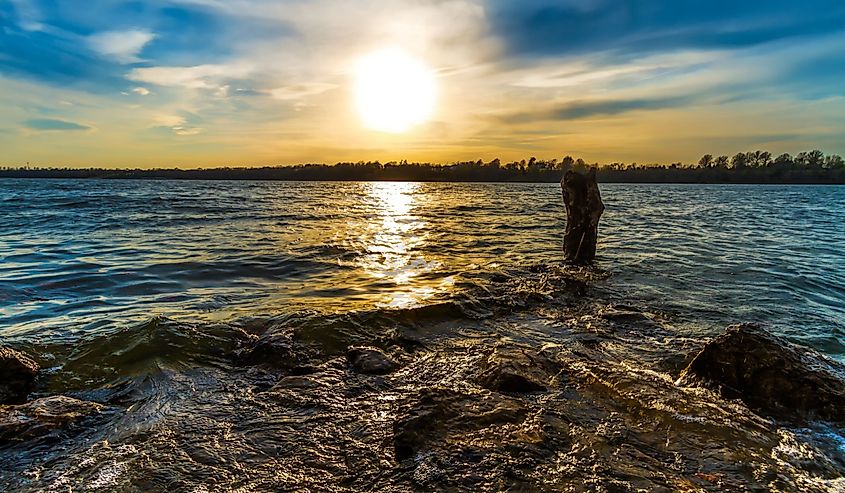 Imagine driving up to a beautiful lake, renting a pontoon boat, having a great time with friends, or fishing with family. Perhaps, imagine wading into the warm, glistening waters of Lake Jacomo and swimming during a hot summer's day, finally escaping the scorching sun's rays during a heatwave. With a visit to Lake Jacomo, all those experiences are very realistic. Located in Jackson County, Missouri, and being a freshwater late, Lake Jacomo offers many activities, one of those being fishing in this 970-acre freshwater reservoir.
Some beautiful marine life species that call Lake Jacomo home are the bluegill, carp, crappie, and largemouth bass. One special feature of Lake Jacomo is its perfect location in the ravishing 7,809-acre Fleming Park, managed by the Jackson County Parks and Recreation Association. Lake Jacomo crosses off every quality that travelers would put on their bucket list for a daytime getaway that is sure to please.
The great midwestern state of Missouri is generally known for the Lewis and Clark Expedition, great barbecue, tornados, St. Louis, and Kansas City. However, there are many perfectly crafted manmade lakes, reservoirs, and natural bodies of water in the beautiful agricultural state that stand out. With sparkling waters, an abundance of fishable marine life, boating, hiking, horseback riding, and much more, Missouri's ravishing lakes have so much to offer visitors and residents alike.