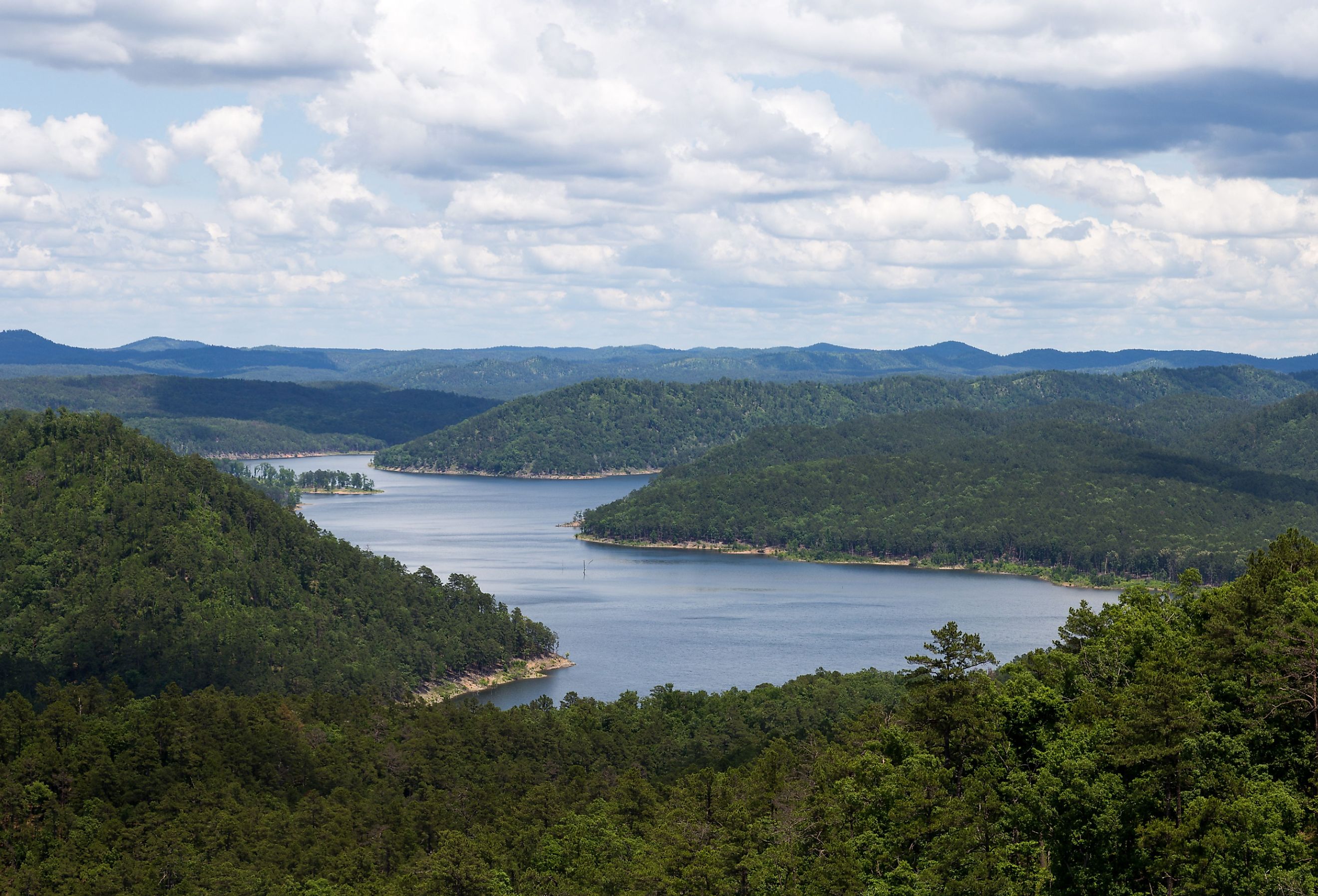 9 Most Beautiful Lakes In Oklahoma
Oklahoma is well-known for its tremendous plains and meadows, but it is likewise home to the most wonderful lakes on the planet. The state is famous for its wide range of lakes, streams, and mountains that give amazing perspectives, recreational pursuits, and an opportunity to associate with nature. These most beautiful lakes in Oklahoma show the state's common excellence and assorted variety. From the clear waters of Broken Bow Lake to the far-reaching Grand Lake O' the Cherokees, every one of these lakes has something remarkable to offer. Regardless of whether you are searching for a tranquil retreat, a courageous escape, or a family getaway, Oklahoma's lakes have everything. Investigate these most beautiful lakes in Oklahoma, their remarkable highlights, and why they ought to be on your not-to-miss list.
Broken Bow Lake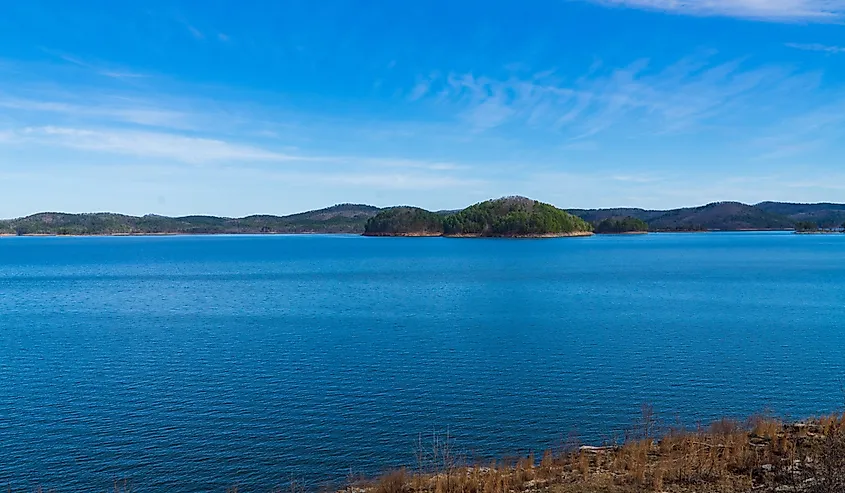 Enclosed in the Ouachita Mountains of southeastern Oklahoma, one finds Broken Bow Lake, an amazing sight of jade-hued waters, steep precipices, and thick woodlands. Boasting over 180 miles of shoreline, it is a much sought-after destination for sailing, angling, camping, trekking, and wildlife observation. The lake is supplied by the Mountain Fork River, making it an ideal area for fishing trout. A major attraction of Broken Bow Lake is Beaver Bend State Park, an expansive 1,300-acre park that offers a plethora of activities for visitors, such as hiking trails, horseback riding, golfing, and zip-lining. In the park, you can witness many wildlife, including black bears, deer, bobcats, and bald eagles. Other close-by locations include Hochatown State Park, Cedar Creek Golf Club, and the Ouachita National Forest.
Tenkiller Ferry Lake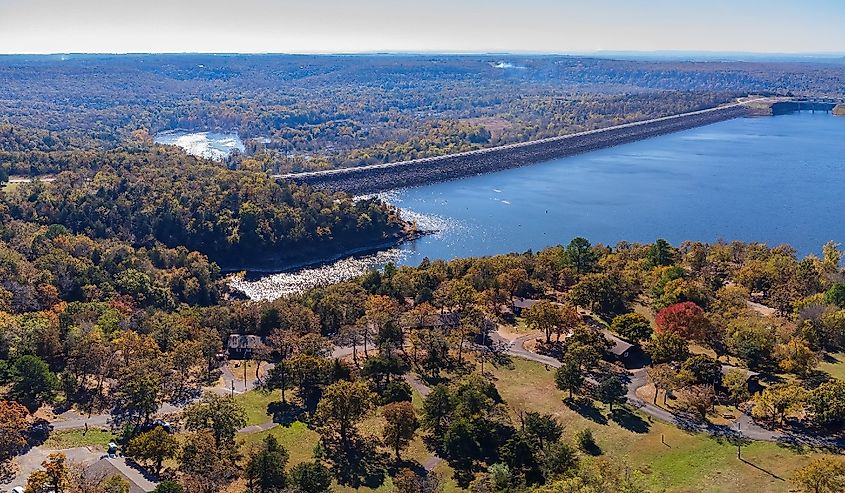 Nestled on the eastern side of Oklahoma, Tenkiller Ferry Lake is a go-to destination for outdoor fanatics, especially those who adore water-based activities. The lake's crystalline, deep waters are ideal for sailing, angling, scuba diving, and taking a dip. Moreover, the lake has many splendid woodlands, precipices, and rock formations, which provide fantastic trekking and camping prospects. One of the most exotic features of Lake Tenkiller is the Tenkiller Ferry Dam, a historical edifice that dates back to the 1940s and is now inscribed on the National Register of Historic Sites. Tourists can traverse the dam and gain insight into its narrative and engineering. Other nearby attractions include Cherokee Landing State Park, Greenleaf State Park, and the Cookson Hills Wildlife Management Area.
Grand Lake O' the Cherokees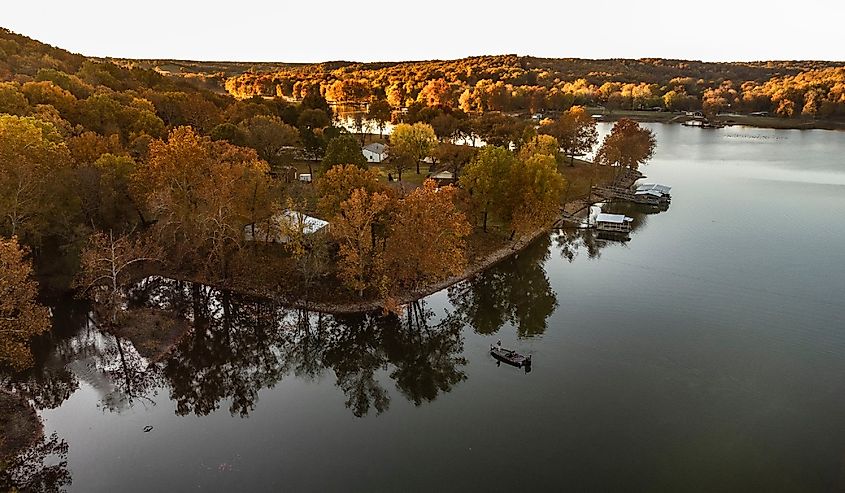 Grand Lake O' the Cherokees, referred to as Grand Lake, is the most extensive reservoir in Oklahoma, spanning a surface area of over 46,500 acres. It sits in the northeastern region of the state, close to the foothills of the Ozark Mountains. This lake is famous for its clear, cerulean waters, picturesque shoreline, and outstanding fishing possibilities. Grand Lake is a fashionable destination for fishermen trying to snag catfish, bass, and crappie. The lake is also a hub for aquatic sports fans, with ventures such as boat rides, skiing, and wakeboarding on offer. Visitors can also behold the magnificence of the lake from one of many lakeside inns, chalets, or campgrounds.
Lake Murray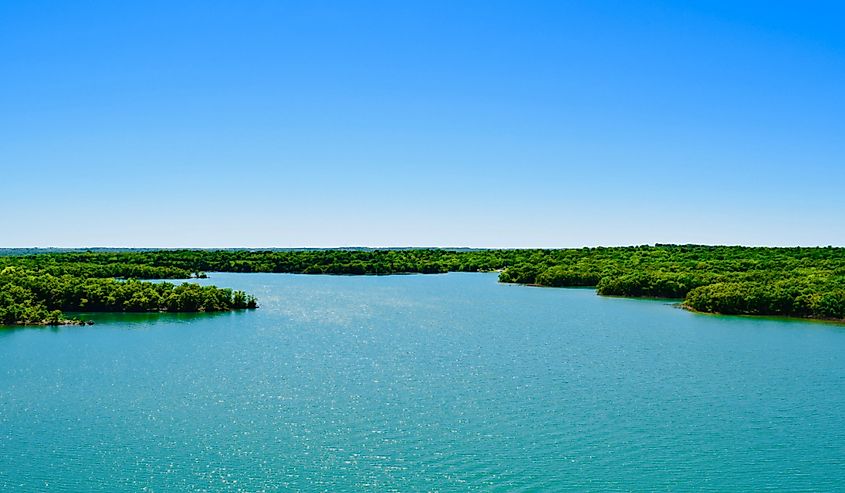 Lake Murray, located in southern Oklahoma, is an exquisite lake spanning more than 5,700 acres and boasting 650 miles of shoreline. The picturesque vista of the Arbuckle Mountains encircles the lake, and it is famous for its luminous blue waters and a profusion of outdoor activities. Fishermen favor Lake Murray, where many fish, such as largemouth bass, crappie, and catfish, live. Visitors can likewise relish hiking, biking, camping, picnicking, and swimming in appointed areas. The lake also includes Tucker Tower, a 65-foot tower with remarkable sights of the encompassing area as well as a gallery devoted to the lake's heritage. With its amazing scenery and copious activities, Lake Murray is a must-visit destination for admirers of nature and outdoor enthusiasts.
Lake Eufaula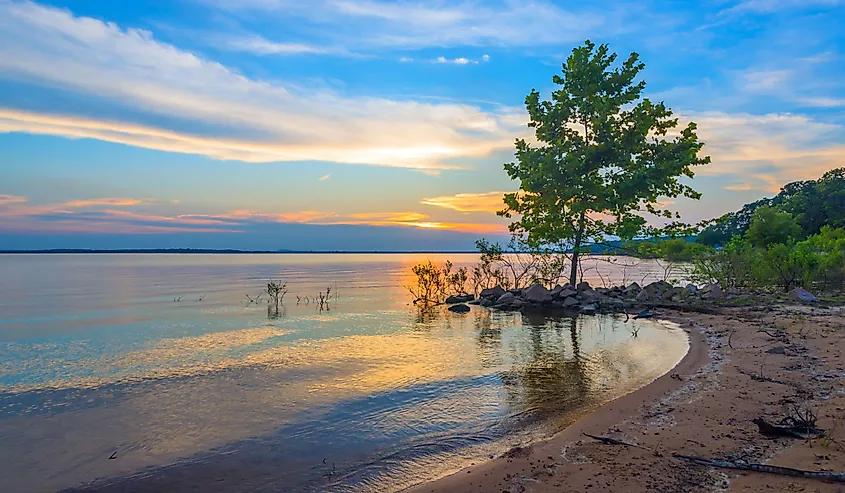 Lake Eufaula is one of the most immense reservoirs in Oklahoma, covering over 102,000 acres and offering over 600 miles of shoreline. The lake lies in eastern Oklahoma and is famous for its unclouded waters, sandy beaches, and outstanding fishing possibilities. The lake is home to several fish species, counting largemouth bass, catfish, and crappie, making it a sought-after goal for fishers. Vacationers can take pleasure in a diversity of water sports, like swimming, boating, and water skiing. The lake also has many hiking and biking paths, camping grounds, and picnic spots for visitors to relish. With its expansive size and many activities, Lake Eufaula is an optimal destination for a family holiday or weekend break.
Lake Thunderbird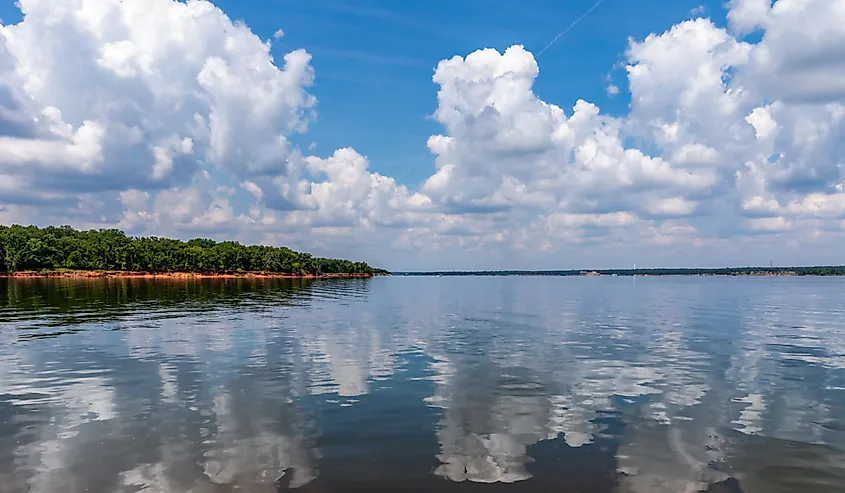 Lake Thunderbird is a reservoir located in the middle of Oklahoma, close to the municipality of Norman and south of Oklahoma City. The lake has many verdant forests around and undulating hills and spans across more than 6,000 acres. Lake Thunderbird is a fashionable destination for open-air addicts, providing various amusements such as boating, angling, rambling, and camping. The lake is home to a broad range of fish species, comprising bass, catfish, and crappie, making it a beloved site for fishers. The lake also has several encampments, picnic grounds, and trekking paths for travelers to investigate. Other than its natural beauty and open-air amusements, Lake Thunderbird is the home of the University of Oklahoma's Biological Station, an examination center that scrutinizes the lake's ecosystems and aquatic life. With its picturesque beauty and plentiful leisure activities, Lake Thunderbird is an eminent destination for nature lovers and excitement seekers.
Keystone Lake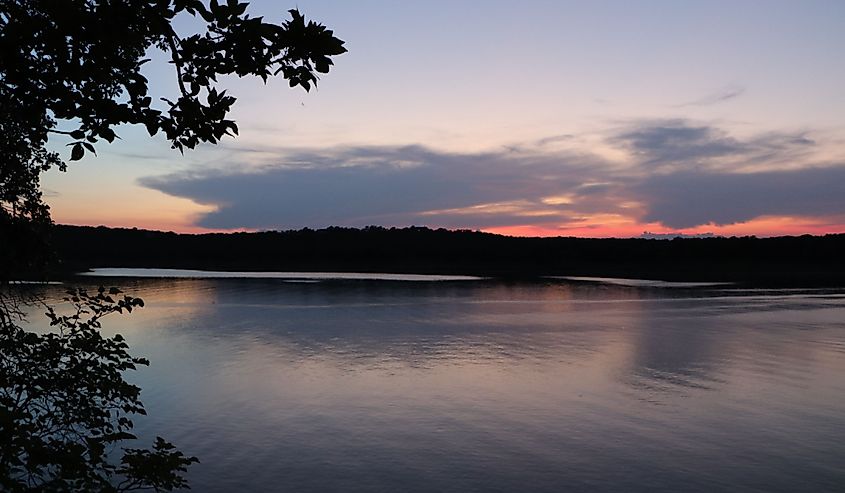 Keystone Lake, situated in the northeast area of Oklahoma, spanning 26,000 acres, is popular for its water-related recreation. This lake's crystalline waters are ideal for drinking, fishing, cruising, and water skiing. Fishermen can hook a varied selection of fish, like bass, catfish, and crappie, and travelers can explore its many bays and creeks in kayaks and canoes. Furthermore, there are many camping spots, hiking paths, and lunch areas to take advantage of. Keystone Lake is also a dwelling place of many wildlife species, such as bald eagles, ospreys, and great blue herons, as well as white-tailed deer, beavers, and other mammals. Sightseers may traverse the lake's perimeter and its neighboring woods to catch a glimpse of these animals in their native environment. Whether you are in search of outdoor excitement, history, or wildlife observation, Keystone Lake has something for everyone. Its closeness to Tulsa makes it a comfortable day journey or weekend getaway destination.
Lake Texoma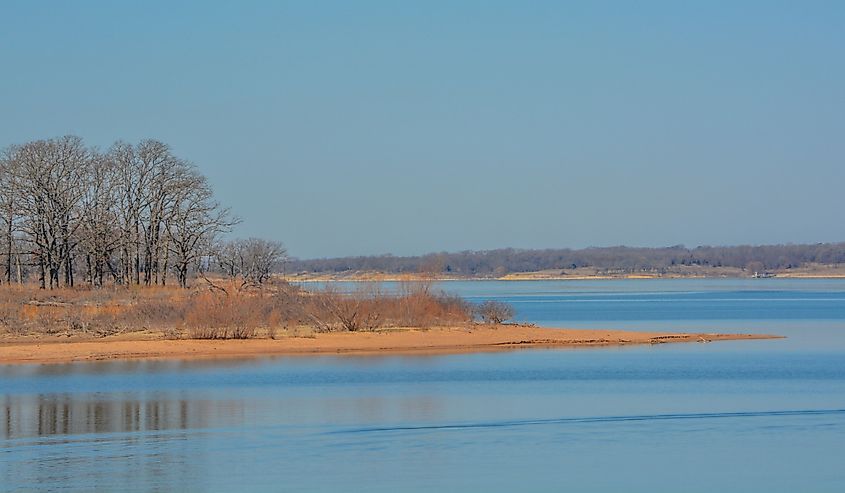 Lake Texoma is a titanic reservoir situated on the frontier between Texas and Oklahoma. While its surface area is slightly smaller than Lake Eufaula, at 88,000 acres, Lake Texoma holds the largest volume of water in the state. The lake is famous for its transparent azure waters, sandy beaches, and remarkable fishing prospects. Anglers can capture an assortment of fish, including striped bass, catfish, and crappie, while guests can savor water activities like boating, water skiing, and wakeboarding. The lake also has many campgrounds, hiking tracks, and picnic zones for visitors to explore. Moreover, Lake Texoma houses a few golf courses, resorts, and eateries, making it a popular location for both outdoor addicts and those craving a vacation. With its vast size, sundry entertainment, and splendid scenery, Lake Texoma is a primary destination for any person wanting a thrill-filled getaway.
Sardis Lake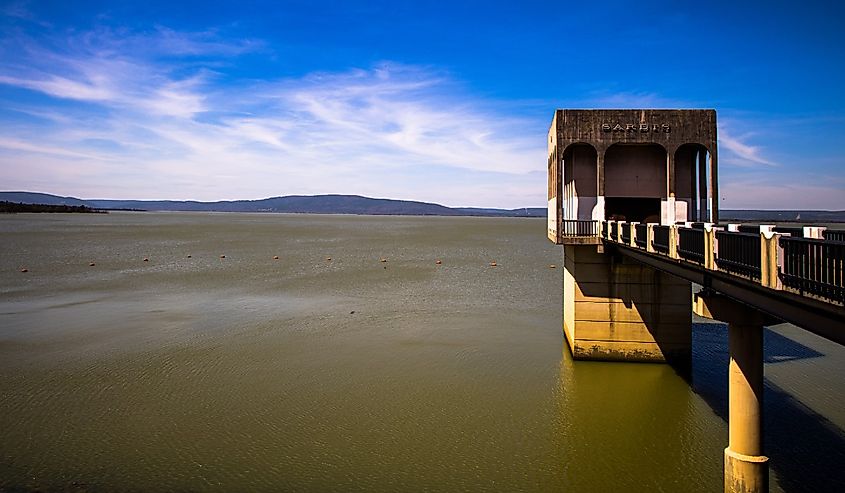 Situated in Oklahoma's south-eastern region, Sardis Lake is a 14,360-acre reservoir renowned for its crystalline waters and large population of fish. The Ouachita Mountains, with their delightful vistas, form a picturesque backdrop for activities like fishing, boating, and other types of recreation. Fishers have the potential to catch a culmination of fish varieties such as bass, catfish, and crappie, while guests have the opportunity to indulge in activities like swimming, waterskiing, and kayaking. The lake also houses a few campsites, hiking trails, and areas for picnics for visitors to explore. Aside from its recreational offerings, Sardis Lake is also a much-loved territory for animal viewing. The lake is home to different birds, such as bald eagles, ospreys, and great blue herons, together with wildlife, such as deer, foxes, and more. The lake's placid atmosphere and native beauty make it a go-to destination for families, partners, and groups seeking refuge from the hectic life of the city.
Oklahoma is home to some of the most picturesque lakes in the United States, and these most beautiful lakes in Oklahoma are a few of the many sequestered jewels expected for travelers to discover. Whether you are an open-air fanatic, nature enthusiast, or ancient culture admirer, there is something for all in these lakes. From aqua sports to fishing, outdoor camping to hiking, and flora and fauna observing to exploring antiquity, these lakes supply inexhaustible chances for risk-taking and leisure. Each lake has its distinguishing traits, from the crystalline waters of Lake Tenkiller to the majestic loveliness of Grand Lake O' the Cherokees, the eye-catching milieu of Sardis Lake, to the historical Keystone Lake. So, organize your next journey to Oklahoma and investigate the native grace of these lakes.