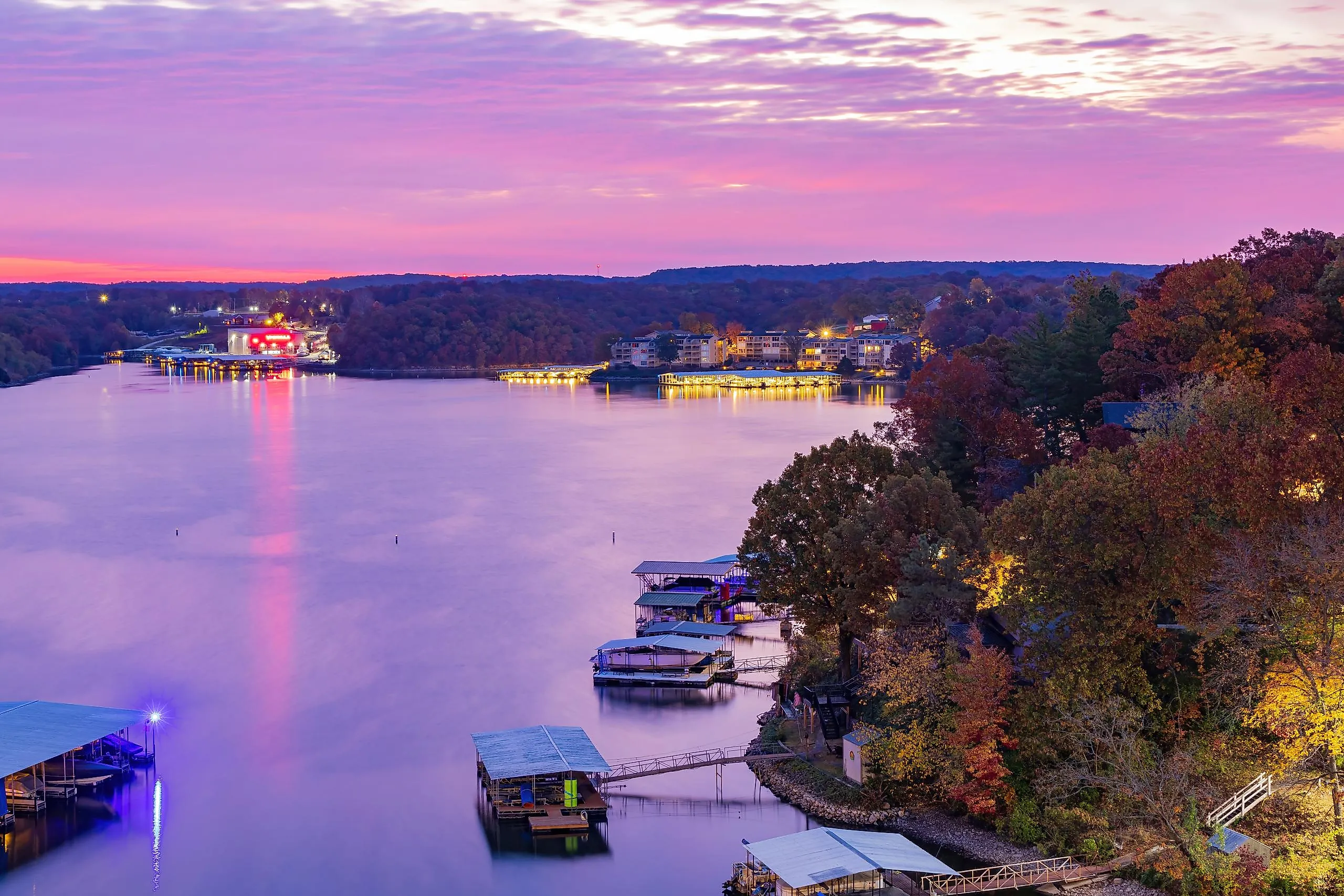 9 Gorgeous Ozarks Towns To Visit In 2023
Situated within the stunning landscapes of the Ozarks in the United States, spanning parts of Missouri, Arkansas, and Oklahoma, a range known for its breathtaking beauty and outdoor adventures, are nine enchanting towns that beckon travelers to experience their unique charm. These towns offer an escape to nature, picturesque views, and a warm sense of community. From historic architecture to serene lakeshores, these gorgeous Ozarks towns are the perfect destinations to explore in 2023, providing a blend of relaxation and adventure that caters to diverse interests. 
Eureka Springs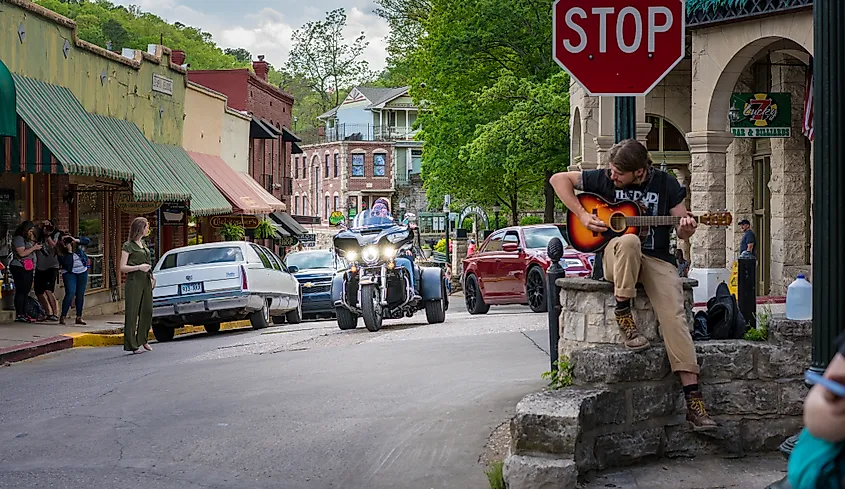 Perched atop the Ozark Mountains, Eureka Springs is a Victorian-era gem in Arkansas, known for its unique architecture and artistic atmosphere. The town's historic downtown is a labyrinth of charming streets lined with art galleries, boutiques, and cozy cafes. Eureka Springs is also famous for its healing springs, and visitors can indulge in the town's rejuvenating spas for a truly relaxing experience. The Thorncrown Chapel, a stunning glass structure set amidst the woods, offers a tranquil retreat. With its picturesque surroundings and creative spirit, Eureka Springs is a captivating destination for both relaxation and exploration.
Branson
Known as the "Live Entertainment Capital of the World," Branson draws visitors with its lively shows, theaters, and family-friendly attractions. Alongside the vibrant entertainment scene, the town's serene lakeshores and picturesque Ozark landscapes provide a tranquil escape. Table Rock Lake and Lake Taneycomo are ideal for boating, fishing, and water sports. For those seeking retail therapy, the Branson Landing shopping district offers a variety of shops and restaurants, while those looking for exquisite time in the outdoors can venture into the Ozark Mountains' ample trails running through the town.
Harrison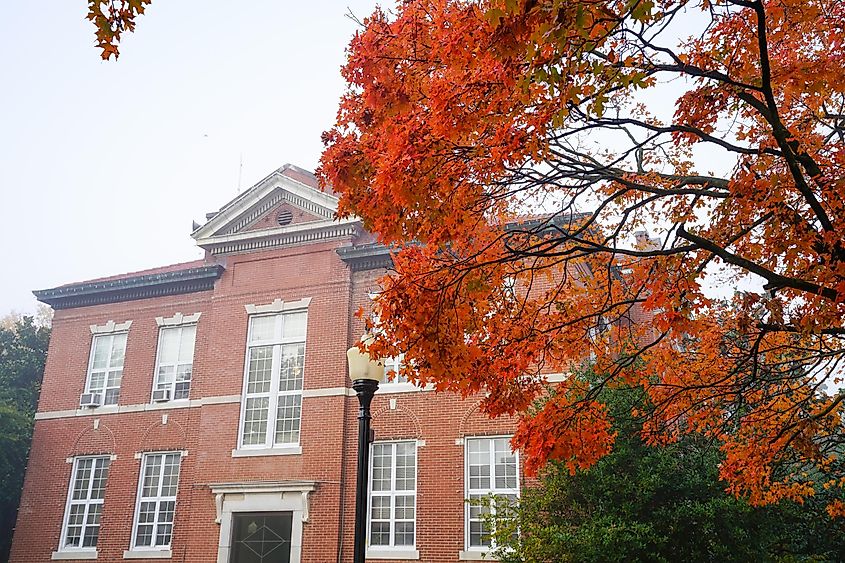 Harrison's scenic setting along the Buffalo National River provides a haven for nature lovers. Adventure seekers can explore the river's stunning landscapes through activities like kayaking, canoeing, and hiking. Located nearby, Mystic Caverns provides a chance for an underground adventure where visitors can explore stunning rock formations and underground waterfalls. Harrison's blend of natural beauty and small-town charm make it a tranquil retreat in the heart of the Ozarks, featuring boutique shops, local eateries, and a welcoming atmosphere. The historic Lyric Theater hosts cultural events and performances enriching the town's artistic scene.
Mountain View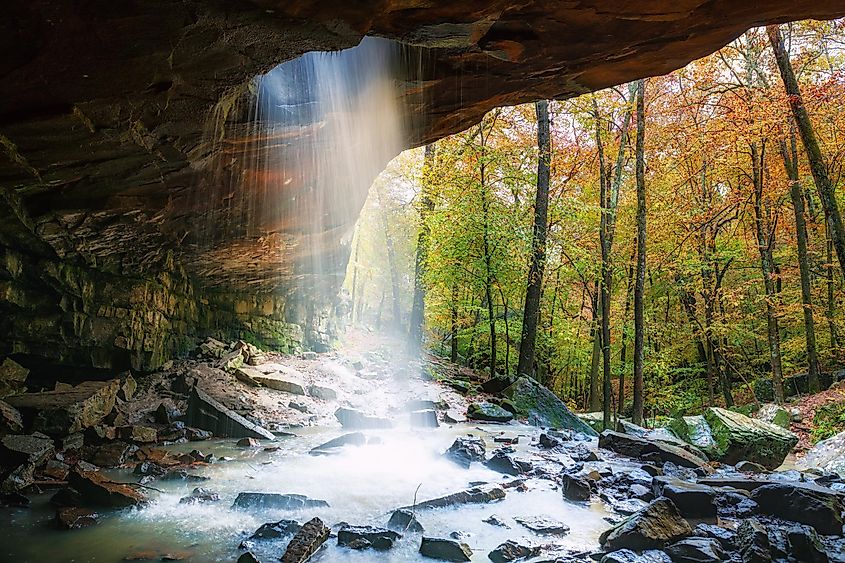 Mountain View is a cultural gem eminent for its contribution to Ozark folk music and traditions. The "Folk Music Capital of the World" celebrates its musical heritage with live performances and events throughout the year. The town's historic courthouse square comes alive with impromptu jam sessions, where musicians gather to play traditional tunes. This musical spirit is celebrated during the Ozark Folk Festival and further enshrined in the rich artistic heritage of The Ozark Folk Center State Park, where a seamless blend of traditional music and craft demonstrations serves as a bridge between past and present. As for natural ventures, the Blanchard Springs Caverns nearby are a great destination. Don't miss the scenic drives along the Ozark National Forest to appreciate the breathtaking views of this musical town. 
Pocahontas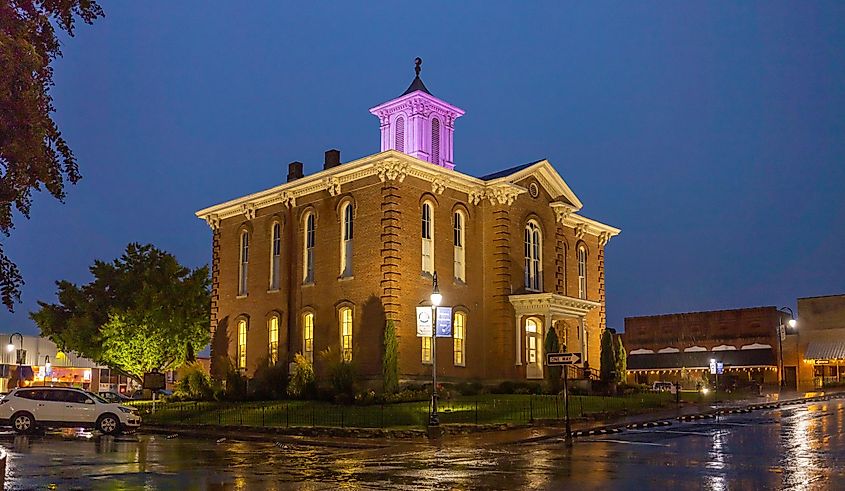 Pocahontas is a charming town nestled in the northeastern part of the state of Arkansas. Steeped in history and surrounded by natural beauty, Pocahontas mixes tranquility with cultural richness. The Black River is a central feature of the town. Its gentle flow provides a serene backdrop to the town's landscape. Residents and visitors alike enjoy leisurely walks along the riverbanks, fishing, kayaking, and picnicking by the water. Pocahontas hosts yearly festivals and events celebrating the town's culture and traditions. These include the Rock 'N' Roll Highway 67 Music Festival and the Black River Technical College Foundation Gala. Housed in a restored train depot, the Randolph County Heritage Museum is a must-visit for those interested in the town's history. The museum showcases artifacts, documents, and exhibits that delve into the area's past, from Native American history to the present day.
West Plains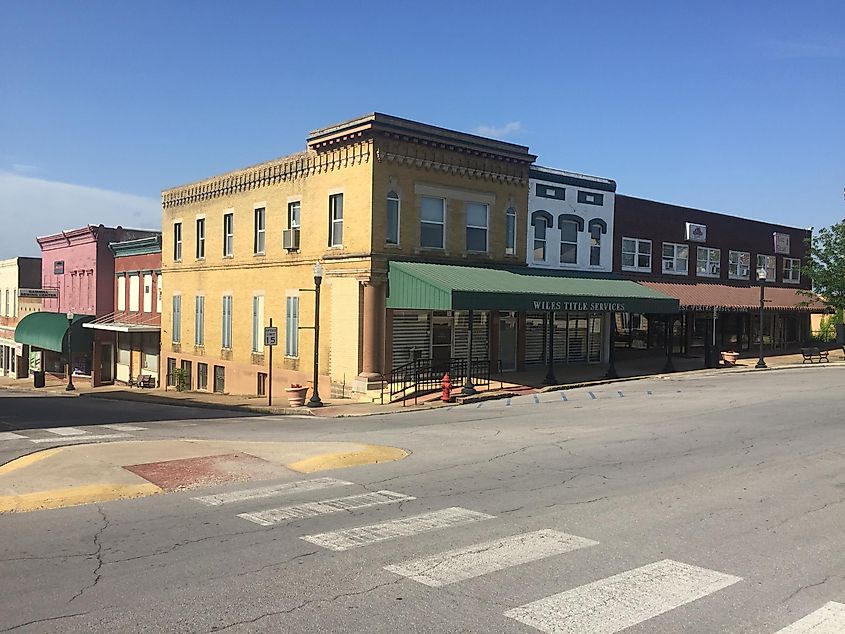 West Plains serves as a gateway to the Ozarks' natural wonders. The Mark Twain National Forest surrounds the town, providing many outdoor activities such as hiking, camping, and wildlife viewing. Springs, caves, and streams dot the landscape, calling for deep exploration and adventure. The 1950s-era art deco Avenue Theatre showcases local talent, while the Harlin Museum delves into the region's past through exhibits and artifacts. Home of Grand Ole Opry legend Porter Wagoner, West Plains also has a rich music scene, often featuring bluegrass, country, and folk performances. The Old Time Music Ozark Heritage Festival celebrates the town's musical heritage and features live performances and workshops. The city's cultural scene includes theaters, museums, and local events, all showcase its vibrant arts and entertainment community.
Siloam Springs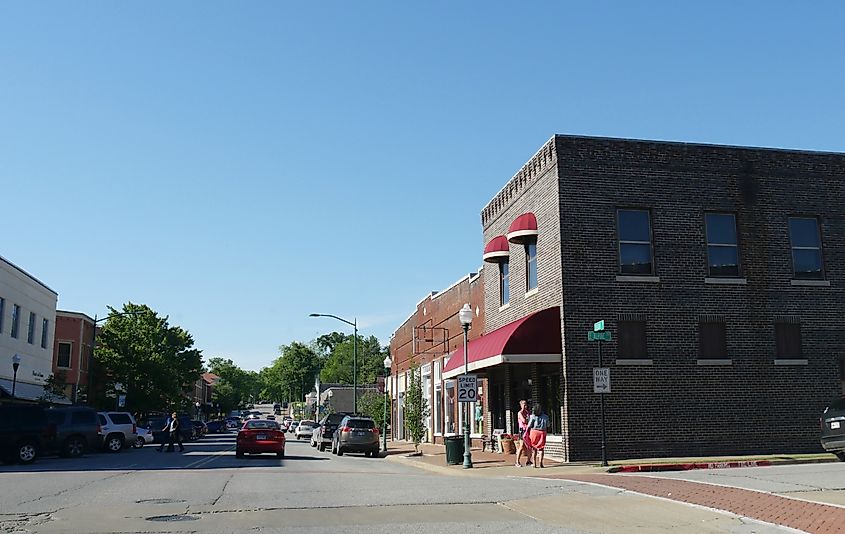 Siloam Springs strikes a balance between natural beauty and a vibrant arts scene. The town's picturesque setting along Sager Creek offers opportunities for strolls and relaxation. Local art galleries showcase the community's creativity, while the historic downtown boasts boutique shops and eateries. The Siloam Springs Farmer's Market is a community gathering spot where residents and visitors can purchase fresh produce, artisanal goods, and handmade crafts. With its charming architecture and friendly atmosphere, Siloam Springs is a place where visitors can immerse themselves in art, culture, and nature.
Berryville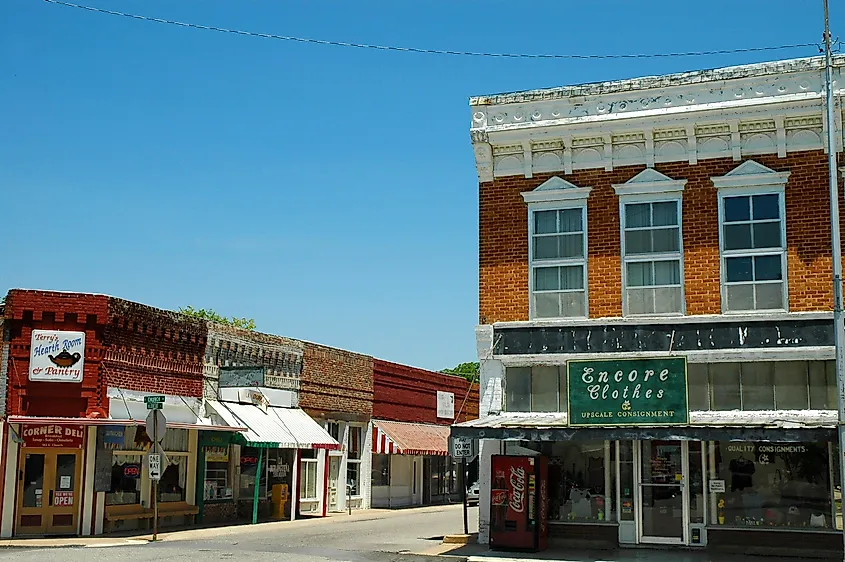 Berryville is nestled in the Ozarks' rolling hills and offers a serene escape for those seeking tranquility. Roaring River State Park, located nearby, is a haven for anglers, perfect for fishing and outdoor exploration. Hobbs State Park-Conservation Area provides hiking trails that wind through the forests, offering glimpses of the Ozarks' natural beauty. The annual Carroll County Fair is a beloved community event that features agricultural exhibits, carnival rides, live entertainment, and various competitions. It's a time when locals come together to celebrate their heritage and enjoy the festivities. The town's warm hospitality and relaxed pace make it a spot-on destination for unwinding and connecting with nature. 
Rolla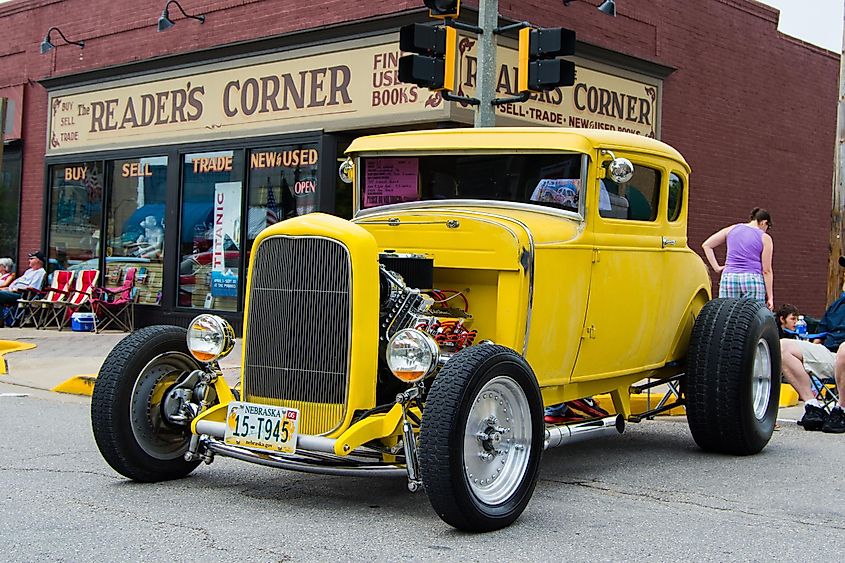 The youthful energy of Rolla marks its uniqueness. Rolla's combination of educational excellence, technological innovation, and natural surroundings creates a lovely environment that fosters academic growth, cultural enrichment, and outdoor exploration. The town attracts students and young travelers seeking a fun time thanks to the Missouri University of Science and Technology's presence. The town's parks and recreational facilities provide spaces for sports, picnics, and outdoor activities. Ber Juan Park and Schuman Park are popular destinations for relaxation and group activities. Stop by The Rowdy Beaver Restaurant & Tavern for live music, a full bar, and a menu featuring American and Southern cuisine, or check out the Rolla Downtown Association Events' schedule for the myriad of art and cultural events. Whether you're interested in education, engineering, cultural events, or enjoying the beauty of the Ozarks, Rolla offers a well-rounded experience for residents and visitors.
Discover the Charm of the Ozarks
The Ozarks' beauty comes to life through these nine diverse and gorgeous towns, each offering its blend of outdoor adventures, cultural attractions, and warm hospitality. From the artistic allure of Eureka Springs to the family-friendly entertainment of Branson, these destinations provide a range of experiences that showcase the Ozarks' natural wonders and vibrant culture. Whether you are an adventure seeker, a history buff, or looking for family fun, the enchanting towns of the Ozarks offer something special for every traveler, encapsulating a microcosm of America's rich and varied landscape.