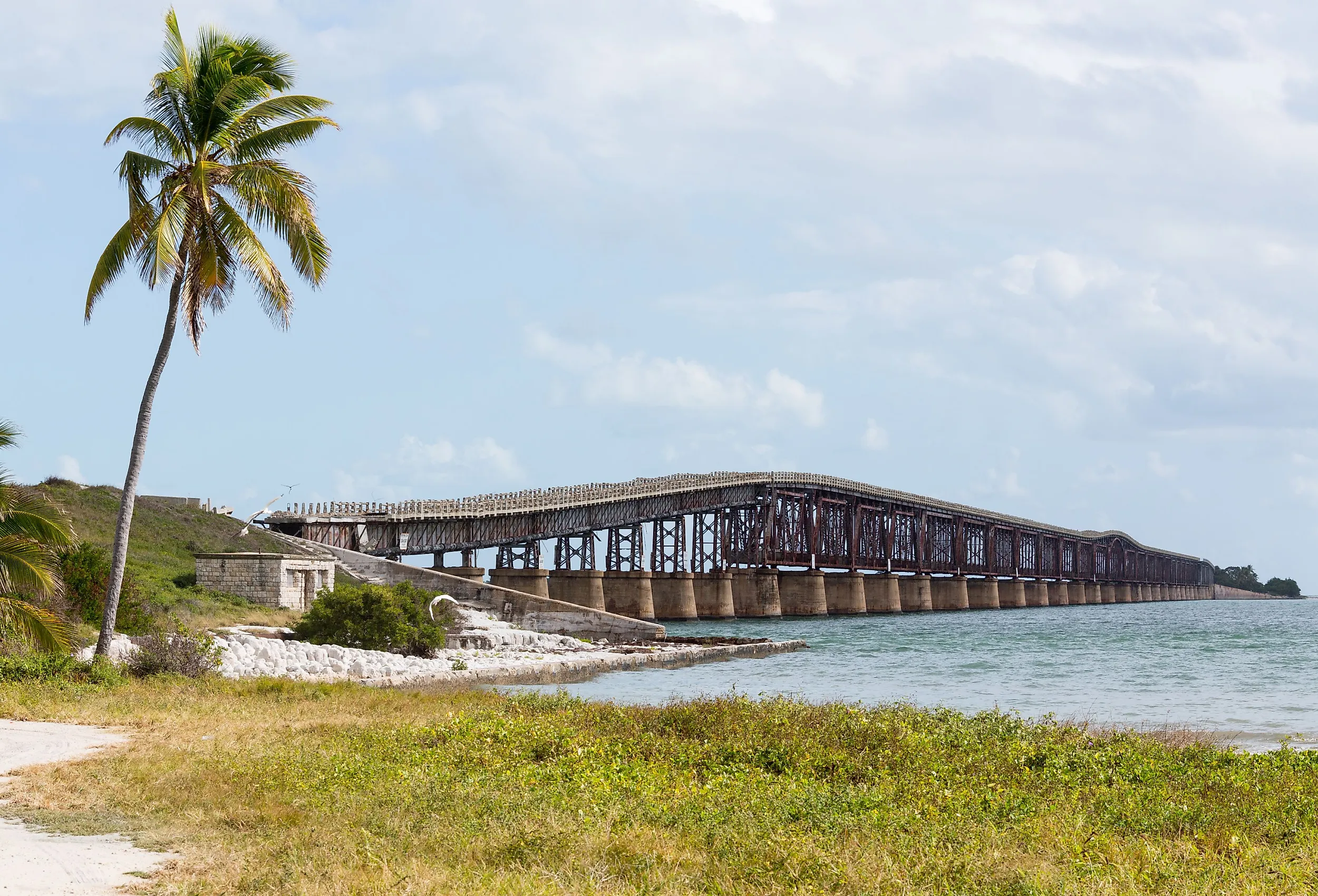 11 Most Scenic Road Trips To Take In Florida
For those looking to hit the open road and explore Florida in all its glory, there are infinite routes to take. The Sunshine State is home to some of the most scenic drives in the country, from coastal highways overlooking azure waters, to winding backroads that offer breathtaking views of towering pines and flowing rivers. Getting behind the wheel for an adventure can be an exhilarating experience; there is nothing quite like blasting some favorite tunes on a long drive with no end destination in sight!
Whether planning a weekend escape or taking an extended vacation, these best roads trips in Florida will show off why this state has so much beauty to offer!
Suwannee River Wilderness Trail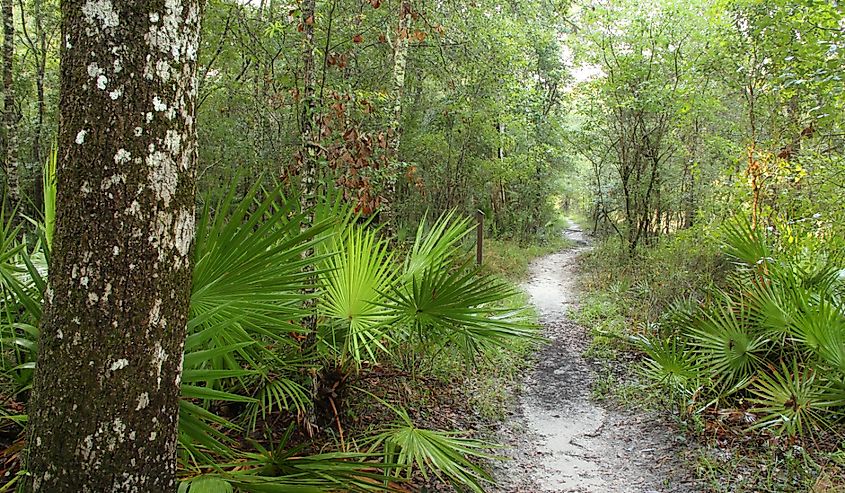 This trail stretches nearly 172 miles from White Springs to the Gulf of Mexico and is lined with some of the most beautiful natural scenery that Florida has to offer. Along the way, travelers will find themselves surrounded by lush forests, rivers, lakes, and springs that are perfect for swimming or fishing.
For those looking for a unique experience on their road trip, the Suwannee River Wilderness Trail offers plenty of opportunities for exploration. From biking along serene trails to canoeing or kayaking down calm rivers, there is something for everyone here. Several towns also dot the route so travelers can enjoy shopping and dining experiences as well as exploring historical sites such as the Suwannee River State Park.
Wildlife lovers will be taken aback by the array of animals that can be spotted on their journey. From alligators and turtles to wood storks, wading birds, and even bald eagles, there are plenty of unique creatures that can be seen here. Even if visitors do not find any wildlife on their route, they will not be disappointed with the stunning landscapes that make up this area!
Overseas Highway (US 1) - Key West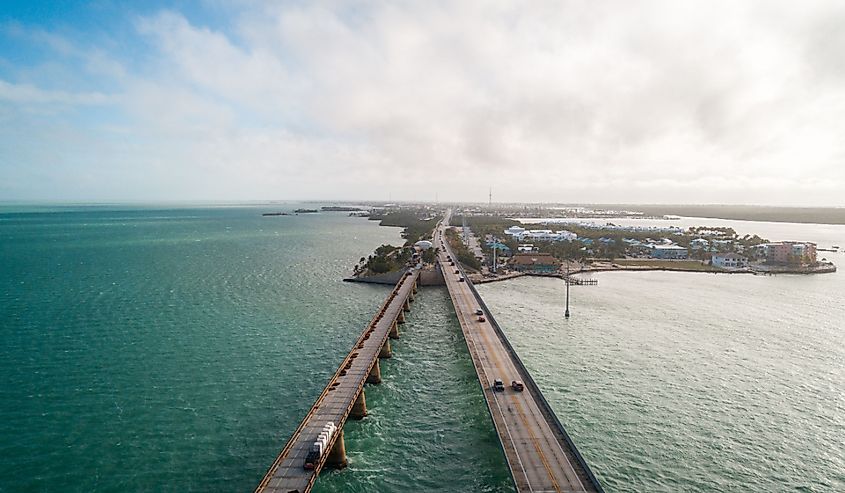 The Overseas Highway, or U.S. Highway 1, is a 113-mile stretch of roadway that connects the Florida mainland to Key West and boasts some of the most breathtaking views in the country. This road trip through the Gulf Coast of southern Florida takes drivers on an unforgettable journey along the Atlantic Ocean and through some of its spectacular islands.
Travelers will traverse 43 bridges as they make their way down to Key West, passing over emerald waters dotted with mangroves and coral reefs. The scenery is truly awe-inspiring while visitors pass by quaint seaside towns complete with sailboats docked in their marinas and even wild dolphin pods frolicking around in their natural habitat below!
The Overseas Highway will lead past some of the most picturesque beaches Florida has to offer, as well as sites like John Pennekamp Coral Reef State Park. Travelers can even make a stop and take a tour of The Ernest Hemingway Home & Museum located in Key West upon reaching the destination.
One of the best parts about this journey is that it is completely customizable—allowing visitors to choose how long or short of a trip they desire. Opt for a leisurely drive taking multiple days, or if time is limited, it is possible to do the trip in just one day!
A1A Coastal Scenic Byway – St. Augustine To Daytona Beach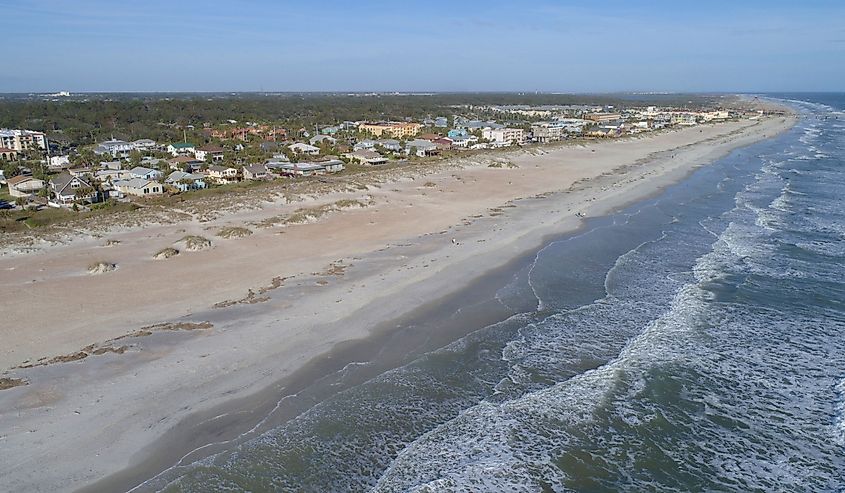 The A1A Coastal Scenic Byway is a stunning road trip from St. Augustine to Daytona Beach that meanders through some of the most beautiful parts of Florida's coast. Along this stretch of highway, drivers can take in gorgeous views of pristine beaches, ancient architecture, and lush nature reserves. 
Starting off in scenic St. Augustine, travelers will find plenty of activities until they hit the open road. The Castillo de San Marcos National Monument offers incredible historical insight into life during the Spanish occupancy, while exploring Anastasia State Park guarantees a unique look at the area's diverse ecosystems.
While heading south, keep an eye out for the many quaint beachside towns like Crescent Beach and Flagler Beach. These small fishing villages are scattered along A1A and offer up some of Florida's best seafood restaurants as well as gorgeous waterfront views. Further south tourists will come across historic sites such as the Heritage Crossroads along U.S. 1 or Bulow Plantation Ruins State Park in Ormond Beach.
Finally, when upon reaching Daytona Beach, prepare to be blown away by its iconic boardwalk and amusement park attractions. Spend the day lounging on one of America's most famous beaches or take a thrilling ride on one of the roller coasters at Daytona Lagoon!
Tamiami Trail – Everglades National Park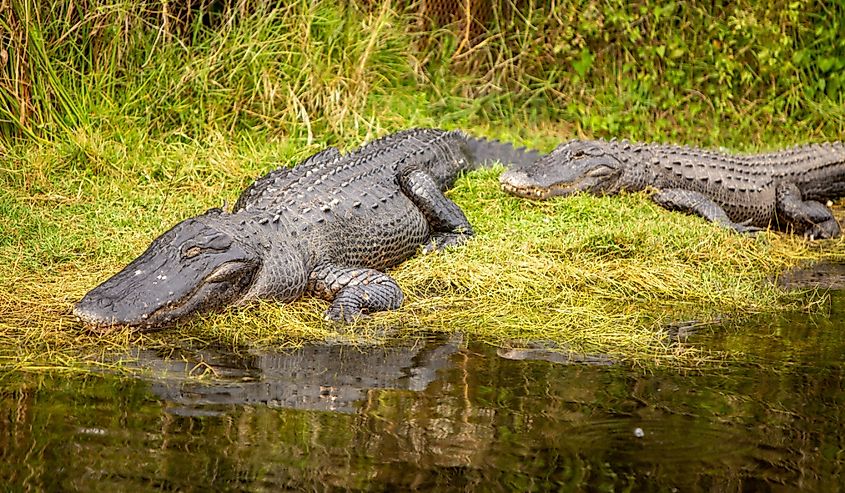 The Tamiami Trail is an iconic road trip route in Florida, and a must-see for anyone visiting the state. Spanning 284 miles from Miami to Tampa, the trail takes drivers through some of the most stunningly beautiful landscapes in south Florida.
While driving along this popular stretch of highway, visitors will pass through unique habitats that vary from wetlands swamps and tropical jungles to grassy savannas and hardwood hammock forests. Keep your eyes peeled for alligators languidly sunning themselves on banks nearby, as well as dozens of different species of birds that make their home in the Everglades.
Travelers will also pass through Big Cypress National Preserve, where they can take a break to explore hiking trails and boardwalks that wind through cypress domes and swamps. Boating is also popular here, so make sure to pack some fishing poles if planning to take advantage of the lake's bounty. Lucky visitors might even catch a glimpse of some of the area's unique wildlife, like Florida panthers or manatees.
Highway 50 – Cape Canaveral to Suncoast Highlands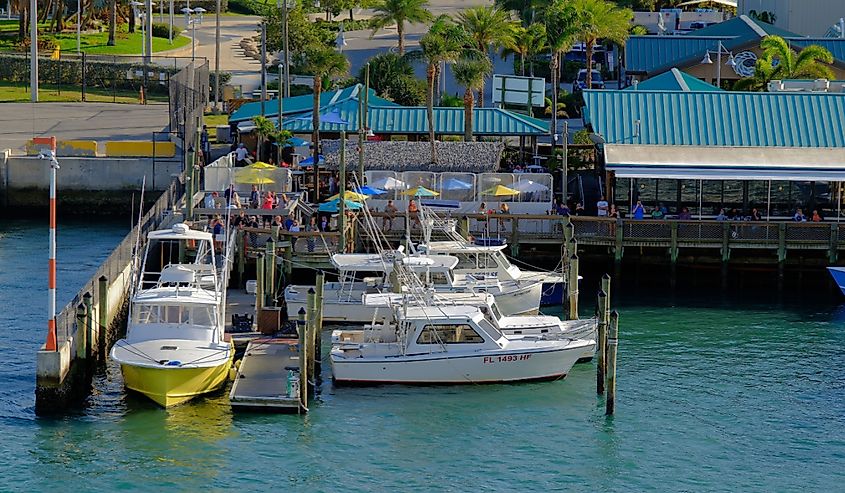 Florida is known for its stunning natural beauty and Highway 50 offers an incredible road trip experience. Starting east of Orlando in Cape Canaveral, this stretch of highway spans more than 137 miles all the way up to the Suncoast Highlands. Along the way, travelers have the opportunity to explore some of Florida's most scenic landscapes and attractions.
A must-see destination is Wekiwa Springs State Park near Apopka. Here, visitors can do everything from swimming in the cool springs to taking an interpretive nature hike through one of its many trails. The park also features several other outdoor activities such as canoeing, kayaking, fishing and more!
Heading further west, travelers can admire breathtaking views of nature as they drive along the winding roads through the byway. Visitors will be fascinated with the various wildlife and landscapes, such as cypress swamps, rolling hills, and flatlands that make up this section of Highway 50.
Apalachicola National Forest Scenic Byway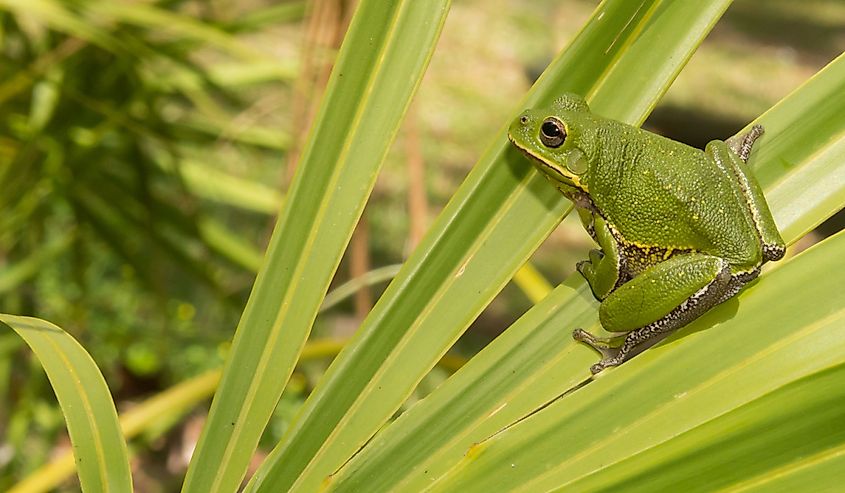 The Apalachicola National Forest Scenic Byway, located in northern Florida, is an incredibly scenic drive. Stretching from Tallahassee to the Apalachicola Bay, this byway passes through some of the most beautiful landscapes Florida has to offer. The route takes drivers through thick forests and rolling hills before eventually opening up into wide-open vistas with breathtaking views of the bayou and coastline. Along the way, expect to see plenty of wildlife, including black bears, turkeys, alligators, and bald eagles. 
One of the highlights of this road trip is a stop at Torreya State Park. Here, visitors will find some spectacular natural scenery alongside plenty of recreational activities complete with hiking trails, bird watching, fishing, and boating.
The final stretch of this scenic byway takes visitors through Tate's Hell State Forest. This area is home to some of the most pristine wetlands in Florida and offers stunning views of nature, including live oaks, cypress swamps, bald cypress trees, and countless rare plants and animals. While meandering along these winding roads, your eyes will be captivated by beautiful landscapes of pine flatwoods, sandhills, wet prairies, marshes, and oak hammocks, all surrounded by beautiful rivers and streams.
Finishing the journey, travelers will arrive at Apalachicola National Forest where the byway ends. Here, visitors can take in even more breathtaking scenery while exploring the vast forests and meadows. Apalachicola National Forest also offers plenty of recreational activities, from hiking and camping to kayaking and fishing, ensuring a wonderful way to end the road trip through some of Florida's most scenic sites.
Skyway Fishing Pier State Park - Tampa Bay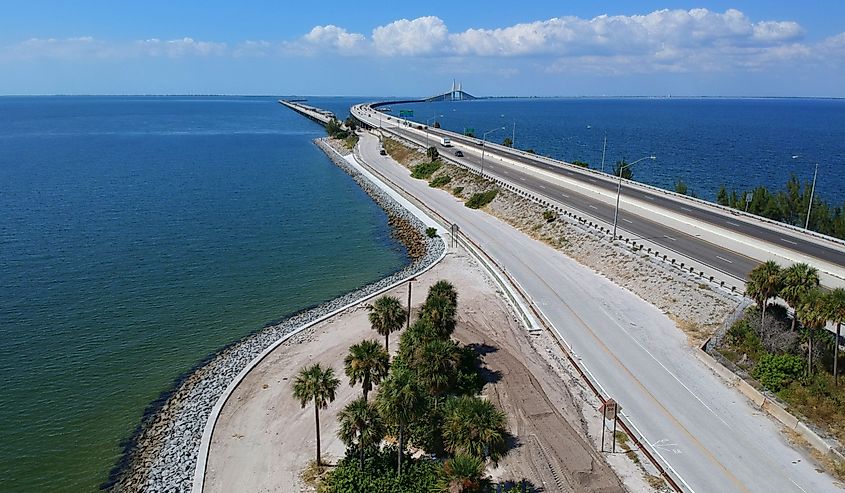 Skyway Fishing Pier State Park is located on Tampa Bay in Florida and is a popular destination for road trips. The park offers stunning views of the Gulf of Mexico, Tampa Bay, and the Sunshine Skyway Bridge. It is an ideal spot for fishing, hiking, biking, kayaking, or just enjoying the scenery.
The pier itself is a great place to fish, since it has plenty of varieties of fish that can be caught from shore or by casting from a boat. Walk along the pier and take in the sights of the bay, and watch wildlife such as dolphins, manatees, seabirds and more.
For those who enjoy nature walks and birdwatching, there are over a dozen trails to explore within Skyway Fishing Pier State Park. The trails lead through wetlands, woodland habitats, shorelines, and salt marshes. There are also plenty of opportunities for photography since the park is home to several species of birds, including bald eagles.
The area around Tampa Bay is full of other attractions too—golf courses, beaches, museums, and art galleries are all located nearby. It is no wonder that Skyway Fishing Pier State Park has become one of Florida's most popular road trips. Whether looking for some peace and quiet or an exhilirating adventure, it is a fantastic destination to explore and experience all that Florida has to offer.
Big Bend Scenic Highway Through Apalachee Bay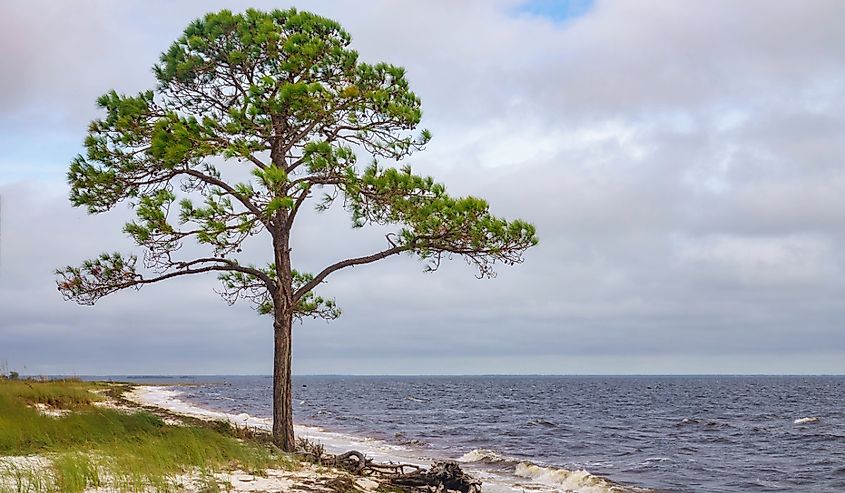 The Big Bend Scenic Highway is a stunning two-lane roadway that skirts along the edges of Apalachee Bay in Florida. With plenty of natural amenities and attractions, it is one of the most scenic road trips to take in the Sunshine State.
One of the most noteworthy sites is St. Marks National Wildlife Refuge. Here, visitors can explore miles of hiking trails and watch for wildlife like egrets, alligators, turtles, and armadillos in their natural habitat.
After some exploring, stop by Oyster City Brewing Company in Apalachicola for a craft beer before heading back to the highway.
The Big Bend Scenic Highway is also home to some of Florida's most popular fishing spots, like Dog Island and St. George Island. Both offer excellent opportunities to catch some fish. Plus, there are plenty of charming towns dotting the coastline where you can pick up local produce or seafood straight from the docks.
Jacksonville to Fernandina Beach A1A Coastal Highway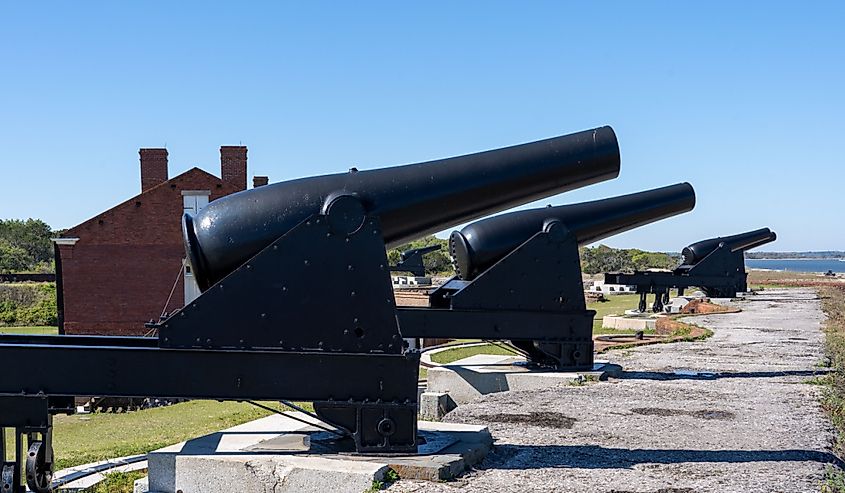 Jacksonville to Fernandina Beach is a 43-mile route that makes its way along the Atlantic Ocean coast, taking drivers through some of the state's most beautiful beaches and small coastal towns. The entire drive takes about an hour and a half, but travelers should plan on taking more time to explore each stop along the way.
The journey begins in Jacksonville, where visitors can enjoy downtown attractions like TIAA Bank Field before hopping on A1A. While traveling north, make sure to stop at Big Talbot Island State Park for some stunning views of the ocean and wildlife. Continue to Fort Clinch State Park, where there are many beaches to explore and plenty of history.
Additionally, get ready for some serious beach hopping! Amelia Island State Park is home to one of the most beautiful beaches in the area, and here visitors will find crystal clear waters and lots of wildlife. After that, travel north just a few more miles to Fernandina Beach. Here tourists will find historic buildings, shops, restaurants, and even an oceanfront pier. It is the perfect place to end a road trip with a romantic sunset stroll.
Gulf Islands National Seashore Florida Scenic Highway 30A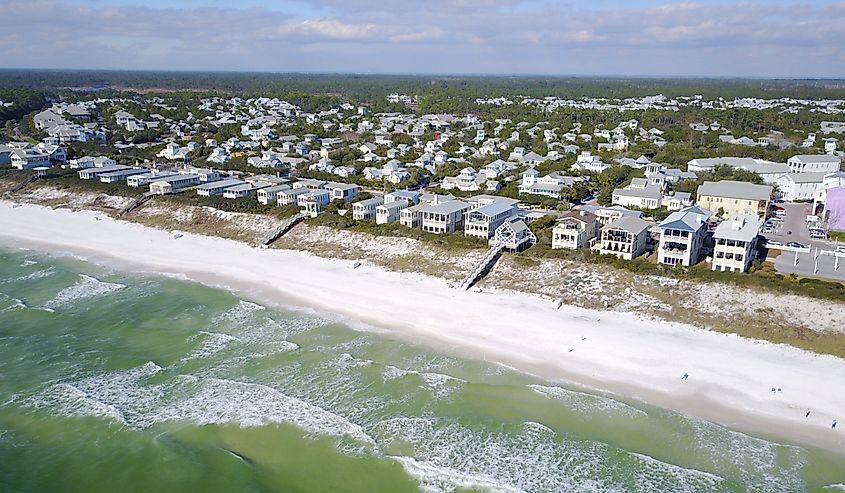 Located along the beautiful Emerald Coast, this stretch of highway boasts stunning views of white sand beaches, picturesque coastal dunes, and lush marshlands. The 30A corridor runs through quaint beach towns such as Seaside and Blue Mountain Beach. Along the way, there are plenty of opportunities to explore the outdoors, whether it is by taking a quick dip in the Gulf or strolling along one of the many nature trails that crisscross the area.
One particularly unique feature of this route is that many sections are accessible only by foot, bicycle, or horseback. This offers a great way to experience the area without disturbing its natural beauty. For those who prefer to drive, there are plenty of scenic overlooks and viewpoints throughout the route where you can stop and take in the breathtaking views.
The 30A corridor is also home to some of Florida's best seafood restaurants, with casual beachfront eateries serving up delicious seafood dishes and local specialties.
At the end of the trip down Highway 30A, do not forget to make a pitstop in Panama City Beach before heading home. With its sugar-white sand beaches and emerald-green waters, this city is the perfect way to end an unforgettable road trip.
Wetlands & Wildlife Scenic Drive - Florida Panther National Wildlife Refuge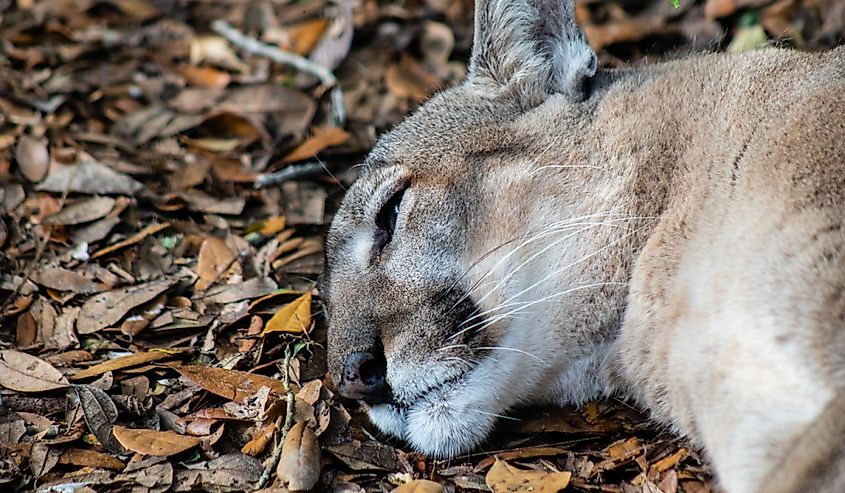 The Wetlands & Wildlife Scenic Drive spans over 238 miles, passing through the vast swamplands and wooded areas of three National Wildlife Refuges—Kissimmee Chain of Lakes, J.N. "Ding" Darling, and Florida Panther National Wildlife Refuge. This route offers an incredible opportunity to witness the beauty and diversity of these wetland ecosystems, which are home to hundreds of species of birds, mammals, and reptiles.
Kissimmee Chain of Lakes spans 21,000 acres and features a variety of habitats ranging from flooded cypress forests and springs to shallow marshy lakes filled with wildlife. At J.N. "Ding" Darling National Wildlife Refuge, visitors can expect to see a great variety of native species like armadillos and flamingos. The third stop on the Wetlands & Wildlife Scenic Drive is the Florida Panther National Wildlife Refuge. This refuge was established in 1989 to protect habitat for the endangered Florida panther and other wildlife species that depend on this unique ecosystem.
The Wetlands & Wildlife Scenic Drive offers many activities along its route, such as bird watching, fishing, kayaking, and canoeing. For those looking to get up close with nature, guided walks are available throughout the refuges, or you can go on your own self-guided tour of the area.
In Summary
With 11 amazing road trips to choose from, why not gather up  family and friends and hit the open road on a unique adventurein Florida. Whether chasing waterfalls or preferring a coastal cruise—explore the Sunshine State like never before. Take pictures, explore nature, and create memories that visitors will  be able to treasure for years to come while driving down the most breathtaking roads the state has to offer. Fuel up with some of Florida's favorite foods, listen to some good music, and get ready to embark on the most scenic road trip around. So, what are you waiting for—gather the crew and snag a rental car; it is time to hit the open road!