Fernandina Beach is a small city situated on Amelia Island in Florida, United States. It is a city of year-round entertainment found just outside of Jacksonville, which boasts white sand beaches with a favorable climate. Renowned for its intriguing history, Fernandina Beach is famous for being the "Isle of Eight Flags," which further adds to the city's culture. Speaking of fun, Fernandina Beach hosts the Isle of Eight Flag Shrimp Festival, which sees the Miss Shrimp Festival Pageant, live music, a parade, and food vendors that give visitors a unique taste of this oceanfront community.
Geography And Climate Of Fernandina Beach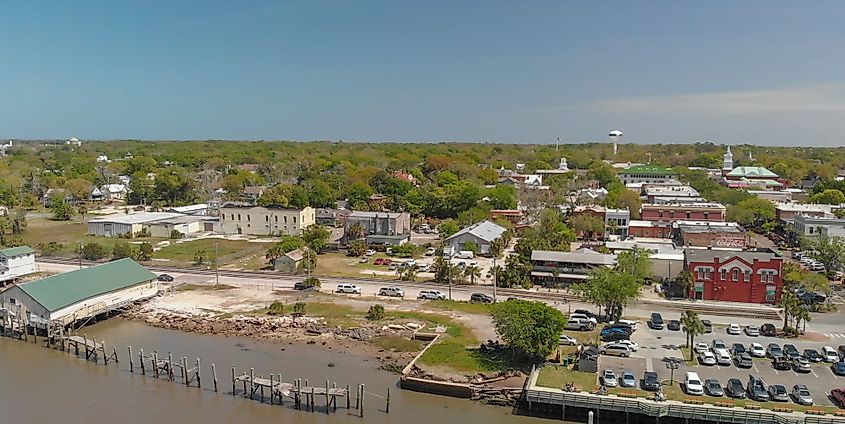 Fernandina Beach in Nassau County can be found in the northeastern corner of Florida and borders Georgia to the north. Fernandina Beach covers a total area of 32.68 sq. km along the Atlantic Ocean. Other substantial nearby cities include Jacksonville, which is about 25 miles to the southwest, and the state's capital Tallahassee, which is about 195 miles to the west. Fernandina Beach is situated close to many attractions for day trips: the Kennedy Space Center is approximately 155 miles south southeast, and Walt Disney World Resorts is about 195 miles south.
According to the Köppen Climate Classification, Fernandina Beach experiences a humid subtropical climate. The city has four seasons in a year, with long hot summers and short cool winters. The average temperature is 68.8 °F, with a median low of 54.1 °F and a median high of 81.5 °F. July sees an average high of 90.5 °F, while January sees an average low of 44.3 °F. Of the 110.2 days that produce precipitation, there is 47.6" of total rainfall and 0.1" of total snowfall. On average, there are 222 days of sunshine, which has an average UV index of 5.5.
History Of Fernandina Beach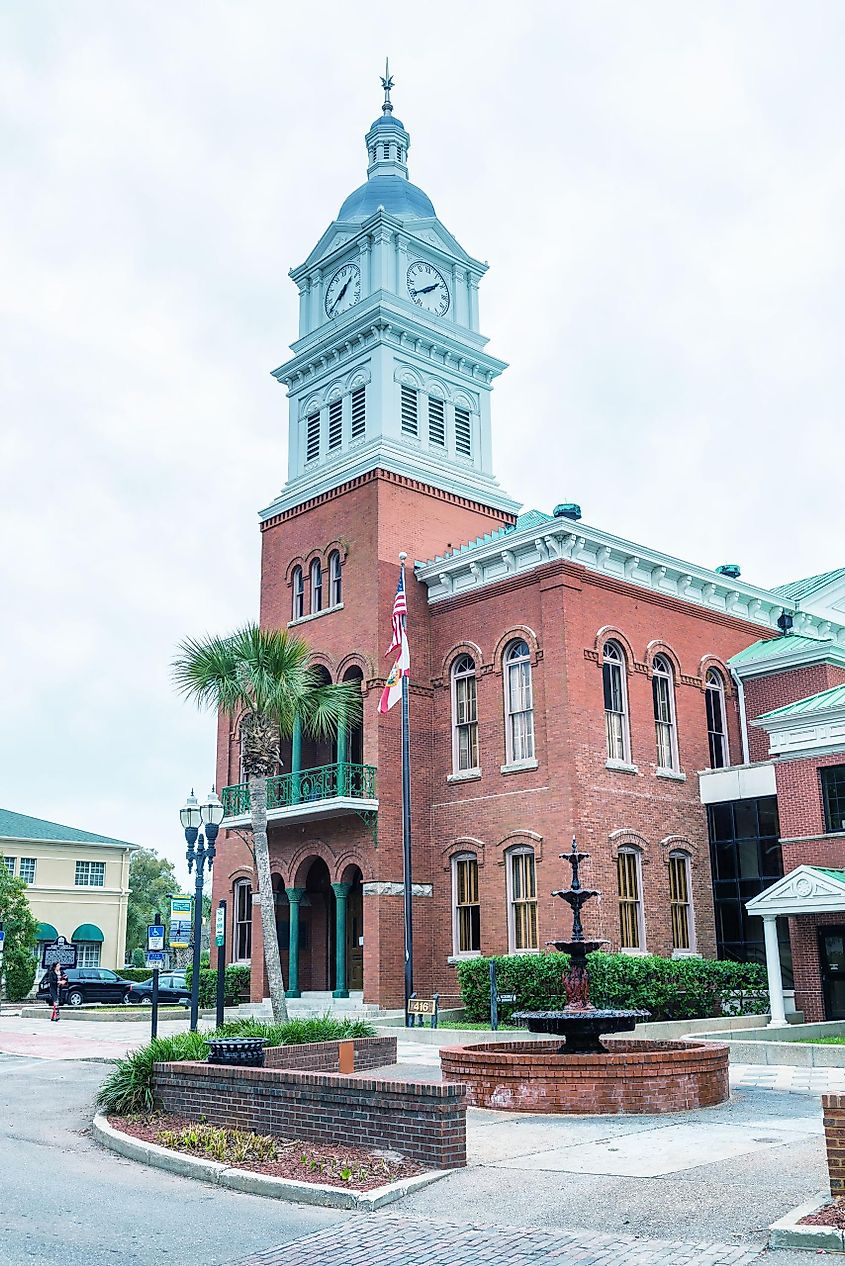 Before Spain landed on present-day Fernandina Beach, the land belonged to the Timucuan people, who called it Napoyca around 1,000 CE. As for its name, Fernandina Beach was named in 1811 after Spanish King Ferdinand VII. At this time, Fernandina Beach was the final city to be plotted out for development under the Laws of the Undies, with its primary purpose to stop the US expansion. It was seized the following year by the US as part of the Patriot War. Between 1813-1817, Fernandina Beach was seized and evaded a couple of times, further adding to its modern-day nickname of Isle of Eight Flags. Mexico built the San Carlo Fort, which was evaded by a Scottish soldier who claimed to represent Mexico, Bueno Aires, Venezuela, and New Granada. This soldier and subsequent army were forced out by Spain, but this was short-lived as he returned with the Republic of Mexico. Alas, Amelia Island would evidently settle in the hands of the US Navy, which saw the building of Fort Clinch in 1847. In a short couple of years, Fernandina Beach exchanged hands between eight countries but finally settled as a part of the United States.
The Population And Economy Of Fernandina Beach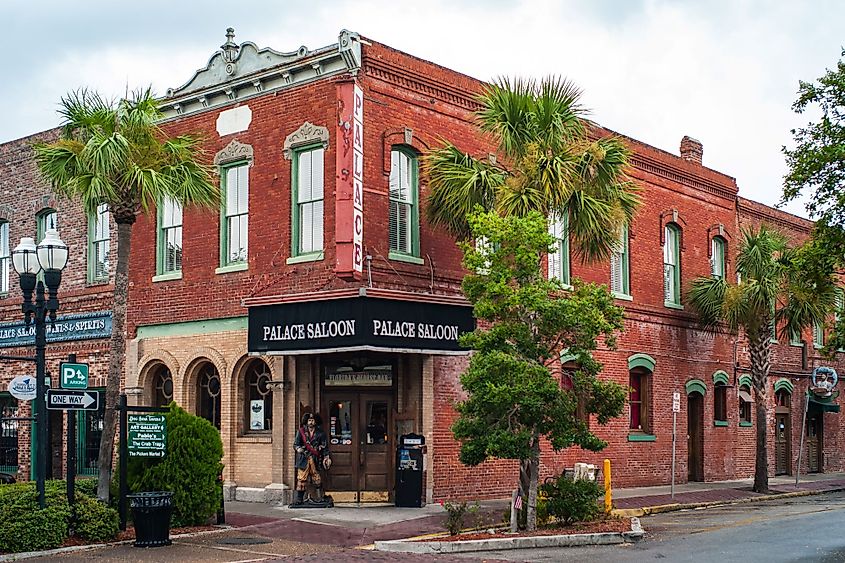 As per the latest US Census, Fernandina Beach has a population of 14,963 residents. This is an increase of 31.24% from the last census in 2010, which saw a population of 11,401. Covering a total area of 32.68 sq. km, Fernandina Beach has a population density of 425.92 people per sq. km. Females account for 50.35%, and males make up 49.65% of this population. The median household income is $94,644, and the gross monthly rent is $1,144. Overall, 11.75% of Fernandina Beach residents live below the poverty line. As for cultural/racial background: 81.39% identified as white, 12.93% were African American, 2.29% identified as two or more races, 2.09% were Asian, and 1.30% identified as another race.
The main industries that constitute the city's economy are as follows: healthcare and social assistance at 17.6% overall, accommodations and food services at 12.7%, and retail trade at 10.9%. The top-earning careers are found in scientific and technical services grossing $101,103, utilities $93,676, and transportation and warehousing $84,594. Of the 5,210 employed, 669 work in healthcare and social assistance, 631 in accommodation and food services, and 626 in educational services.
Attractions Around Fernandina Beach
Fort Clinch State Park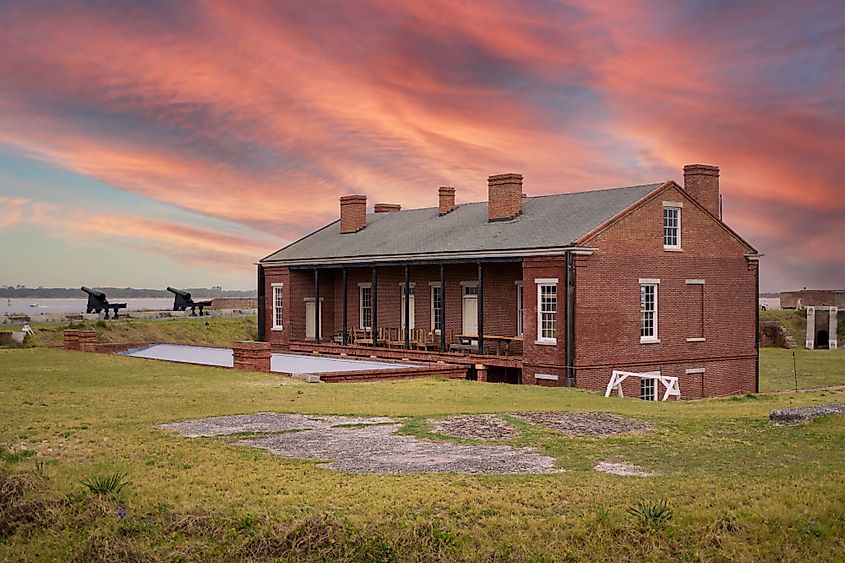 Fort Clinch is a fortress erected in 1847 following the conclusion of the Second Seminole War. Being on the northernmost point of Amelia Island, it rests on marshland and dunes, an engineering feat of the 19th century. It was never involved in any wars throughout its history but passed hands between the Union and the Confederate troops during the Revolutionary War. As of today, it has been expanded into a recreational area in addition to being an important historical property. Visitors can enjoy the beaches, camping, surf-fishing, beachcombing, and shelling.
Amelia Island Museum of History
The Amelia Museum of History dives into the captivating local history of Fernandina Beach with its Native American, Spanish, and French influences. It is housed in the former Nassau County Jail, and the museum promotes its exhibits through tours highlighting 4,000 years of spoken history. It is truly an immersive experience for those of all ages who will surely enjoy it.
Marine Welcome Center and Shrimping Museum
The Marine Welcome Center and Shrimping Museum is the first of its kind to be dedicated entirely to modern shrimping. Marine heritage has been identified as historically and economically significant to Fernandina Beach and is being preserved for future generations to experience. All ages are welcome free of charge to experience hands-on net making and ship making, among other exhibits.
Fernandina Beach flaunts four seasons with a favorable climate throughout the year that draws many tourists from all over the world. It is a quiet beach community where those from the busy cities come to escape the city life in exchange for a slower pace. With white sand beaches, museums, and many outdoor activities at one's disposal, fun is seemingly endless along this stretch of Florida's Atlantic coastline.