The Emerald Coast is a nickname given to the Gulf Coast area of the Florida Panhandle. It stretches through five counties, Escambia, Santa Rosa, Okaloosa, Walton, and Bay, and includes the beach cities of Pensacola Beach, Navarre Beach, Fort Walton Beach, Destin, and Panama City. The area is so named for its 38 kilometers of white sand beaches and bright, clear, emerald waters. 
Generally, the Emerald Coast is beach area along the Gulf and various barrier islands. As such, many of its cities are popular vacation spots. These areas are full of resorts, eateries, bars, nightlife, and beach properties for visitors to take in the sights, sounds, and flavors of the beach cities.
Additionally, several national or state parks along the Emerald Coast aim to protect the area's natural beauty and preserve the plant and animal life that live there. Many of these regions are particularly important for migratory birds and nesting sea turtles that use the beaches as seasonal nesting grounds. These parks include Henderson Beach State Park and the Gulf Island National Seashore. 
Prominent Cities On The Emerald Coast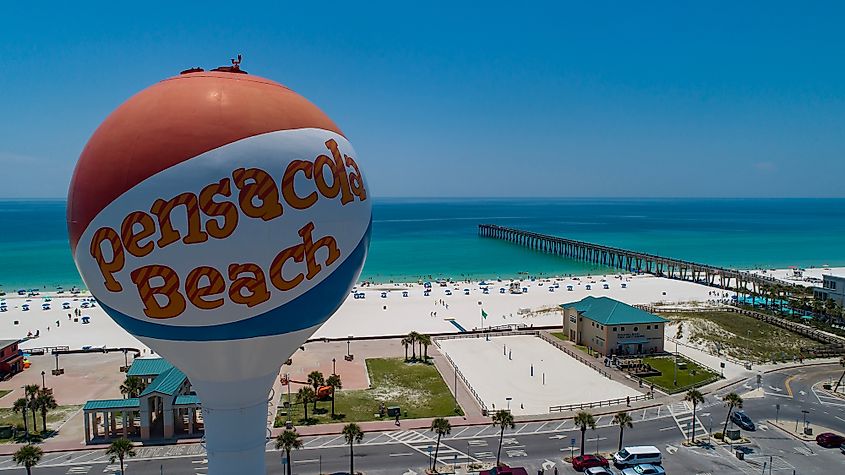 Pensacola Beach is a seaport on Pensacola Bay. It is known for being a tourism hotspot and a great place to enjoy a beach getaway. Popular activities include deep-sea fishing and scuba diving, including a sunken ship that provides an amazing coral-reef underwater adventure.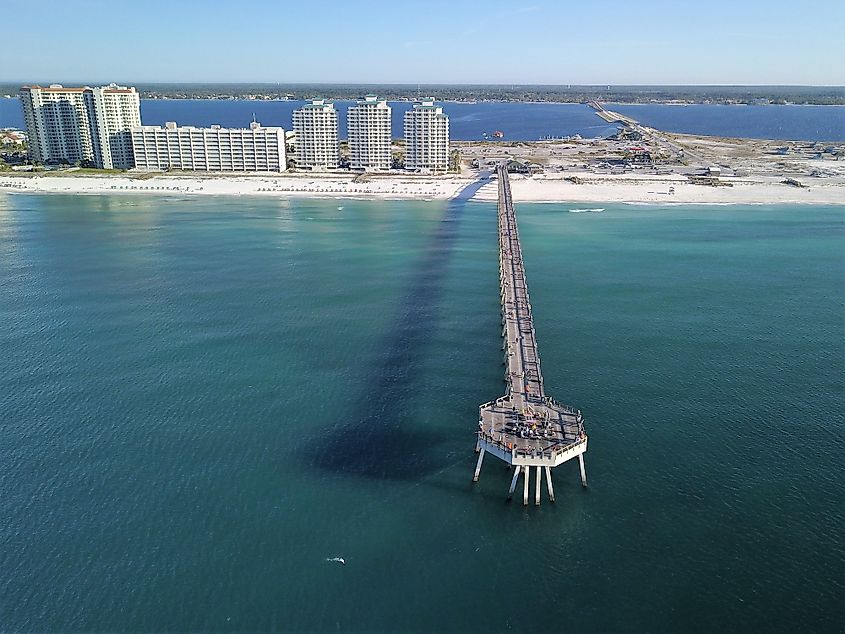 Navarre Beach is another beach community that is part of the Emerald Coast. It is similarly popular with tourists and travelers, with a major attraction being the Sea Turtle Conservation Center. Navarre also takes care to celebrate and protect the island's natural beauty. Bike paths, jogging paths, and the Navarre Beach Marine Park allow visitors to enjoy the stunning views and landscapes of the beach.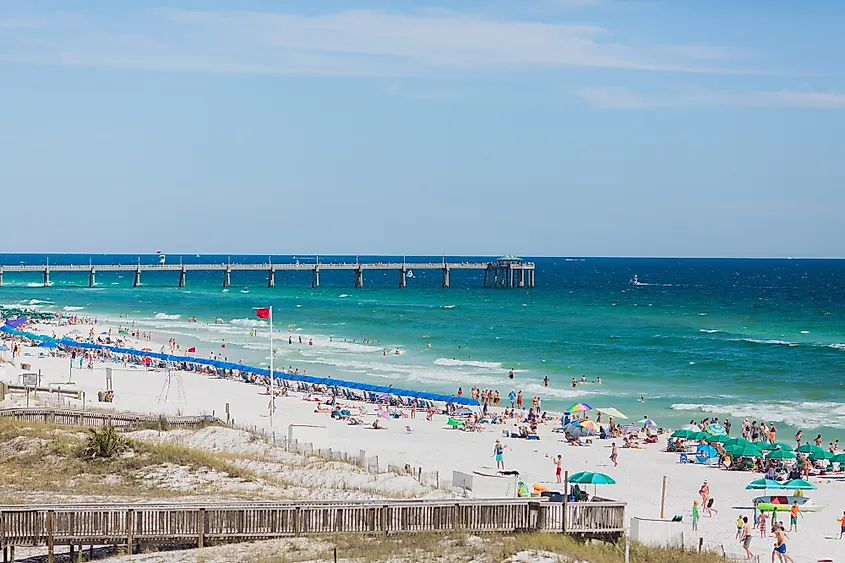 Fort Walton Beach has picture-perfect emerald waters and is another beach town frequented by travelers. The pure white sand beaches are a huge draw, but this small city also boasts many attractions. The Gulfarium Marine Adventure Park has alligators, dolphins, and even penguins on display and is a great learning experience for young visitors. There is also The Indian Temple Mound Museum which highlights and celebrates indigenous peoples from the area. The Air Force Armament Museum is full of artifacts dating back to WWI.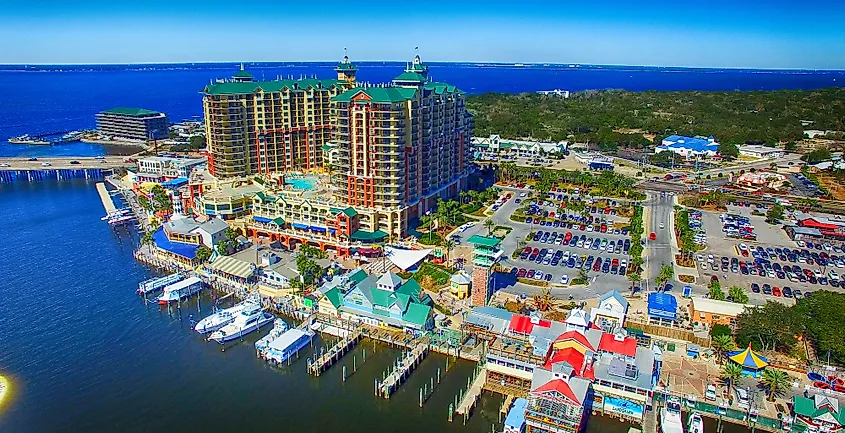 Destin is another city synonymous with the Emerald Coast. Sitting directly on the Gulf of Mexico, it has beautiful clear waters and sandy beaches. The Destin Harbor Boardwalk runs along much of the beach and is a great way to take in the sea and sand. Henderson Beach State Park also celebrates the natural beauty here. It has walking trails through the sand dunes where lucky visitors can spot local wildlife. Families can also enjoy the Big Kahuna water park. 
Panama City is another of the well-known places along the Emerald Coast. Again, like all of the emerald coast, this city is known for its beautiful sea views. Panama City is particularly popular with college students and is a spring break destination hotspot. Long piers, delicious restaurants, and vibrant nightlife make Panama City a hip and fun party city right on the gorgeous Gulf Coast. 
Each city and town that makes up the Emerald Coast is a gorgeous place to take in exceptional beachy views. Soak up some sun, bask on the beaches, or frolic in the crystal clear emerald waters that give this fun-filled coast its iconic name. There is something for any beach lover to enjoy, from wildlife to untouched sand dunes, adventure parks, and attractions. The Emerald Coast contains some of the southern U.S.'s most beautiful cities and panoramic ocean views.