A long walk in the backcountry is the classic pilgrim's journey. Spending day after day in wild and often isolated settings is an ideal way to test one's limits, clear one's mind, reconnect with unspoiled nature, bond with strangers in unexpected ways, and check off an exceptional bucket-list item that will guarantee recyclable stories well into the twilight years. These epic, long-haul trails span the globe and are as demanding as they are rewarding (a curious paradox that only backpackers can appreciate). Depending on your schedule and commitment, these treks can take anywhere from many days, to a couple of weeks, to several months, and in some cases, even multiple years. Better get started.  
Appalachian Trail (Eastern United States)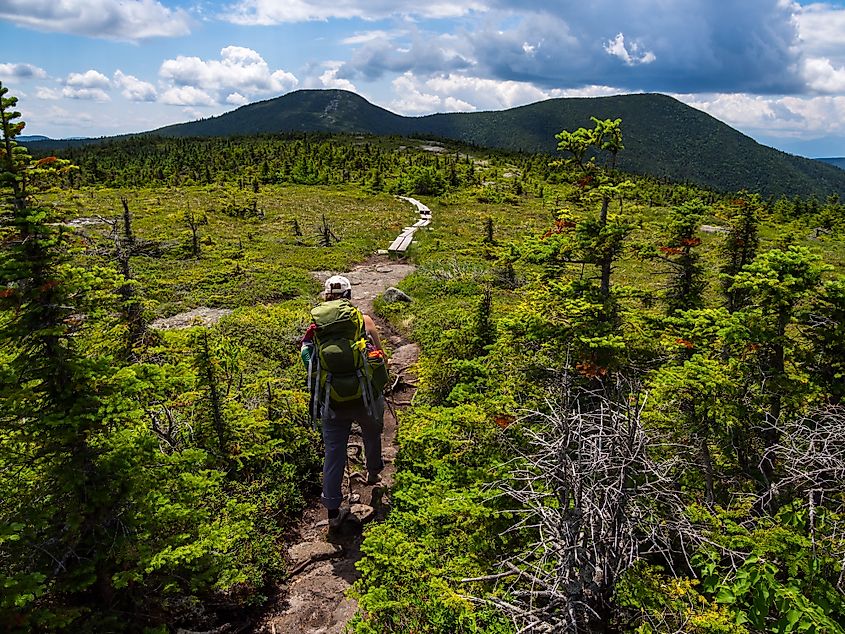 At over 2,180 miles (3,508 kilometers), the Appalachian Trail is the world's longest hiking-only trail. This historic footpath meanders through 14 states along the Eastern United States, allowing roughly 4,000 thru-hikers to (attempt to) work their way from Georgia to Maine or vice versa. Completed in 1937, the AT owes its longevity to the National Park Service, the US Forest Service, the Appalachian Trail Conservancy, and countless state-level organizations/volunteers. Vast stretches of ubiquitous woods, hidden lakes, farmland, rolling hills, steep mountains, and intermittent splashes of towns, quirky communities, and popular national parks are among the many features one can expect throughout the trek. 
Trans Canada Trail (Canada)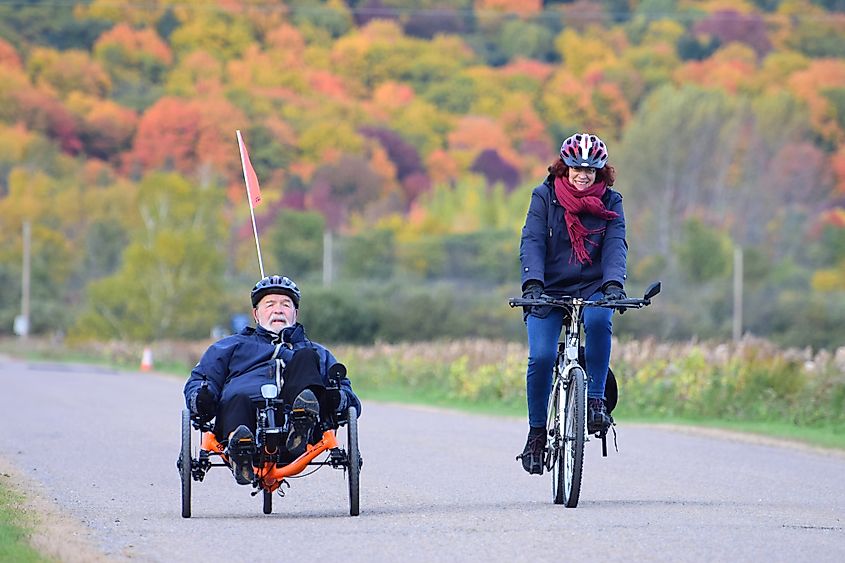 The Trans Canada Trail is the longest trail network in the world, period, and therefore, had to get a shout-out on this list. The TCT is a gargantuan 28,000 kilometers (17,400 miles) in length and spans coast to coast…to coast (i.e., the Pacific, Atlantic, and Arctic Oceans) across the country. This monumental trail was formed by connecting urban paths and existing backcountry networks, all in one monumental community effort involving every level of government and plenty of volunteers. Although exceptional people can only cover the record-setting path in favorable circumstances (it has been done), the idea behind the project was to encourage everybody to explore a piece of their own backyard. In fact, four out of five Canadians live within a 30-minute drive of the trail. 
Camino De Santiago (Western Europe)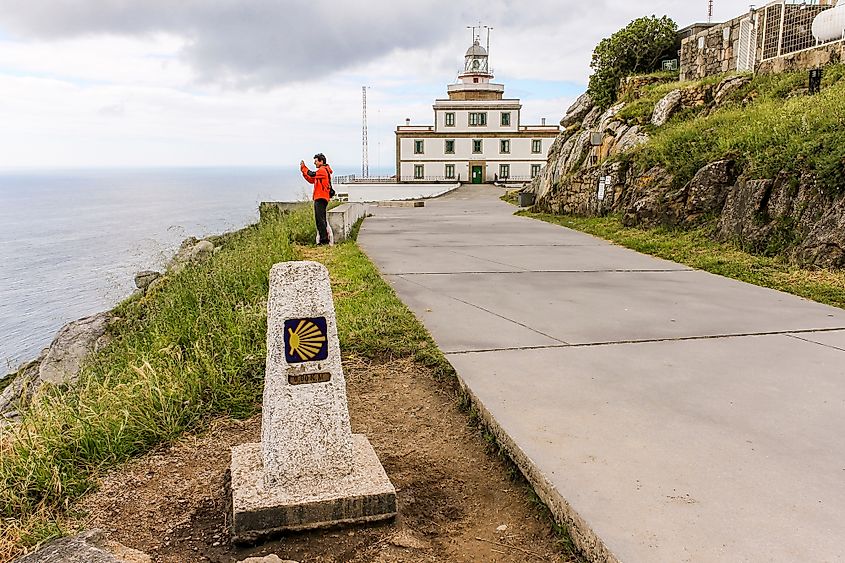 The Camino De Santiago, or the Way of St. James, as it is also known, is a non-congruous network of medieval pilgrim paths. This UNESCO World Heritage Site has many possible points of origin throughout France, Italy, Portugal, and Spain, but almost all of them end up at the Cathedral of Santiago de Compostela in Galicia, which is in the Northwest of Spain. This hike is unique in that it does not have a set distance or difficulty (though it is generally of modest intensity) because each modern pilgrim chooses their own path. This also means that El Camino can be revisited many times and always with a fresh perspective. Recently, a particularly popular route has been the 800-kilometer (500-mile) Camino Frances, which begins in St. Jean Pied de Port, in the Southwest of France. This is considered one of the more social journeys and takes about five weeks to complete. 
Great Himalayan Trail (Nepal)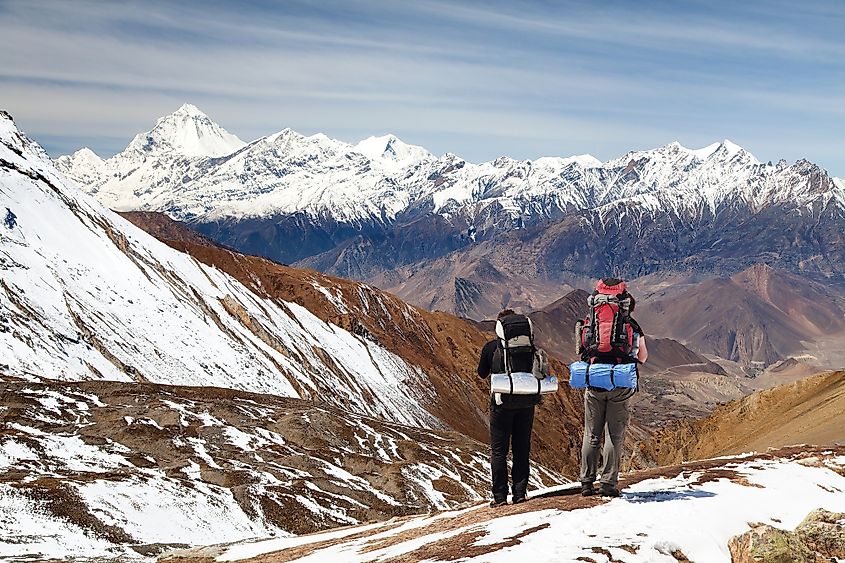 Simply laying eyes on the Himalayan Mountain Range is a coveted, once-in-a-lifetime experience, let alone hiking through them. The 1,700 kilometers (1,056 miles) Nepalese section of the GHT is but a taste of the colossal 4,500 kilometers (2,800 miles) vision that could connect trails all through the Greater Himalayas of India, Bhutan, and Tibet. But as is, the long-haul through Nepal is nothing to sneeze at, especially considering the average altitude and taxing elevation changes. There are many sections to choose from, as well as a high and low route option. The former is only suitable for experienced mountaineers, as it tops out at an oxygen-depriving 6,146 meters (20,164 feet). The low route still averages 2,000 meters (6,562 feet) above sea level and passes through many remote villages. No matter the path, hikers will be treated with constant views of the world's highest mountains. 
Bruce Trail (Ontario, Canada)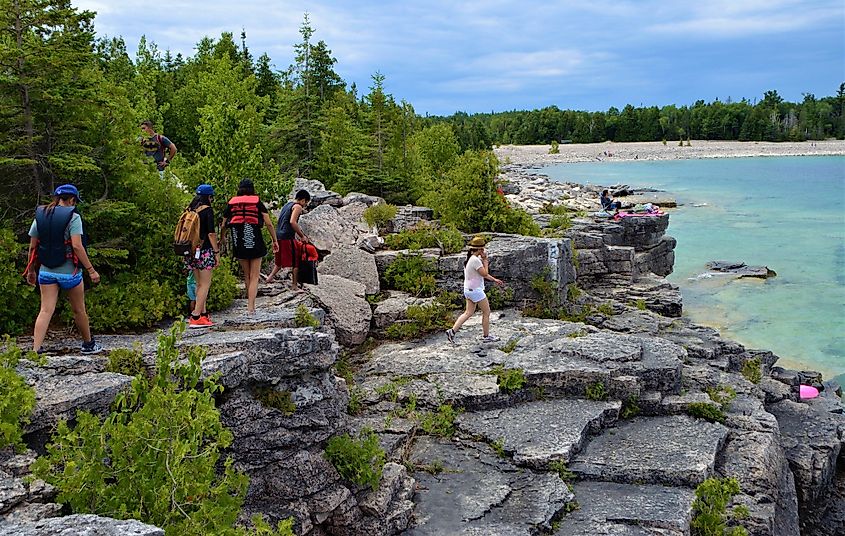 This approximately 900 kilometers (560 miles) journey follows the Niagara Escarpment in Southern Ontario, Canada. Though devoid of true mountains, the ruthlessly undulating trail will wear out even the most seasoned backpackers. The Bruce Trail remains inland for much of its length, thoroughly immersing trekkers in the trees but also passing alongside farmer's fields and often ascending high onto the rocky escarpment. The most breathtaking portion, and a great section for anyone who does not have over a month to dedicate to the full hike, is in Bruce Peninsula National Park. Here the forest-weary soul can recharge in the fresh coastal air of Georgian Bay, traversing the limestone cliffs while gazing out over the turquoise waters. 
Via Alpina (Europe)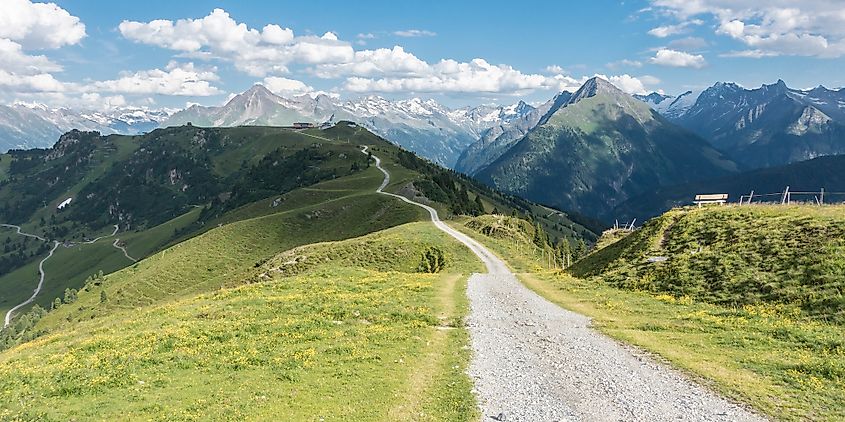 The roughly 5,000 kilometers (3,100 miles) Via Alpina Trail lathers on the quintessential majesty of the European Alps. Its five color-coded sections can be further subdivided into 342 day-hikes, making the rather overwhelming total distance a little easier to digest. The Via Alpina crosses through seven pristine countries, including Slovenia, Austria, Germany, Liechtenstein, Switzerland, Italy, and France. Aside from the picture-perfect, perpetual jagged peaks of the Alps, hikers will also get to experience serene, wildflower meadows, fresh rivers, crisp waterfalls, and a diverse array of cultures, flags, cuisines, and dialects as they work their way through various communities along a mix of roads and non-technical trails. 
Jordan Trail (Jordan)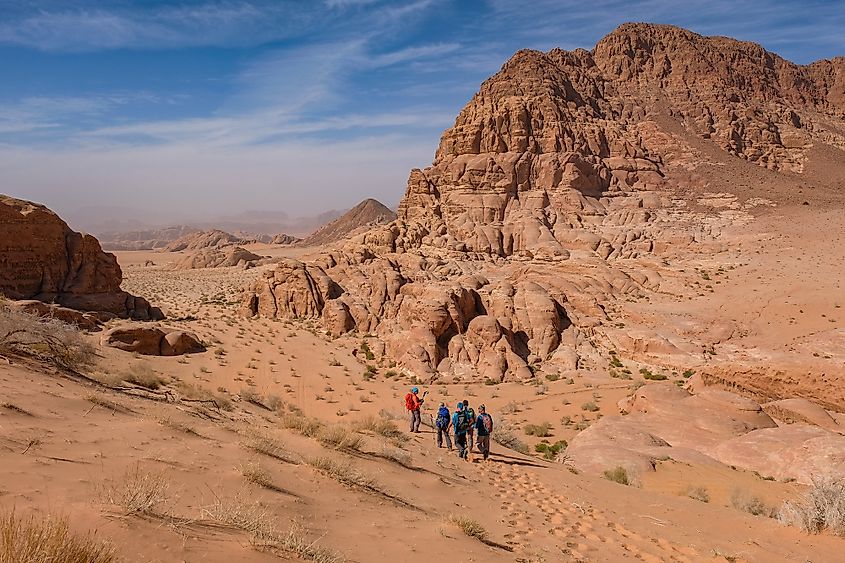 Sun-scorched, ancient, historic, and memorable, the Jordan Trail is the newest long-distance trek on this list. The 600 kilometers (400 miles) point-to-point trail spans the entire length of Western Jordan, from Um Qais to the Red Sea (if walking North to South). The trail sees a mix of greenery and desert, welcoming villages and barren, rugged terrain. Thru-hikers cross through eight different sections, which can also be done individually in about 4 to 6 days. Though each part clearly has its highlights, the standout stretch must surely be from Dana to Petra, the ancient city, archeological wonder, and UNESCO World Heritage Site. The Jordan Trail has much less infrastructure than some hikers may be accustomed to, so pre-planning, route-finding, and confidence in wild and novel places are a must. Hiring a local guide or joining a tour company would be a wise choice for many. 
Pacific Crest Trail (Western United States)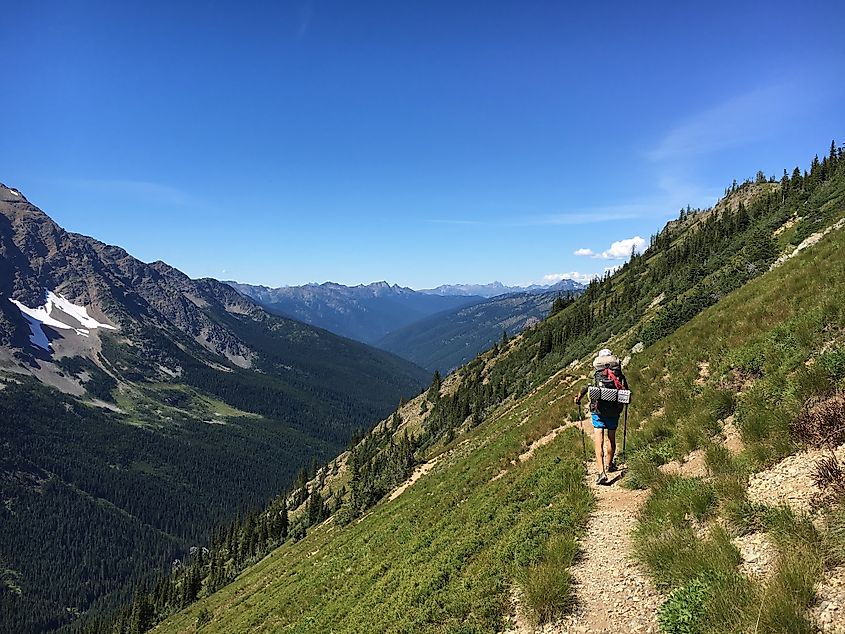 The Pacific Crest Trail is a staggering 2,650 miles (4,265 kilometers) point-to-point path. It is not only the sheer magnitude of this 4 to 6-month endeavor that makes the PCT difficult, but the range of conditions will also keep hikers on their toes. The trail passes through the Mojave Desert, long stretches of dense forests, and snow-capped peaks in the Sierra Nevada and the Cascade Range. This presents ever-changing weather conditions, as well as logistical challenges regarding gear and provisions. Even if everything goes to plan, the PCT still demands a stoic heart in order to transcend not only the whole of California but also Oregon and Washington. Not many people can say they have walked from Mexico to Canada, let alone over mountains and deserts. 
Bibbulmun Track (Western Australia)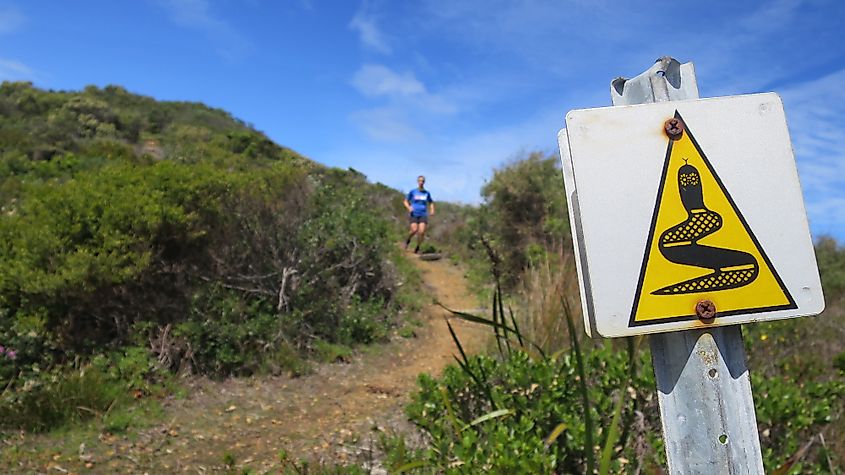 The Bibbulmun Track, or "the Bib," is a 1,003-kilometer (623-mile), walking-only path through the Southwest part of Western Australia. The well-marked trail begins (or ends) near the city of Perth and ends (or begins) at the South Coast port city of Albany. Along the way, the Bib takes hikers through 20 national parks/reserves, which showcase the finer aspects of the spectacular Western Australian wilderness. There are nine sections to the Bib, including tons of smaller day-hikes, as well as 49 campsites to support end-to-end hikers. The trail's full name is inspired by the Bibbulmun tribe (part of the Indigenous Noongar people), who practiced endurance walks as part of their ceremonies.  
What better way is there for the fit and adventurous to explore the world than by setting out on foot? Surely no other means can provide the same opportunity to rediscover the planet, our sprawling global community, and the inner workings of oneself. Many countries take pride in showing off their bold landscapes and one-of-a-kind cultures via marked (or loosely suggested) networks. And just as importantly, there is never a shortage of spirited long-haul backpackers to take on the task.