An updated report from 2017 federal sea level projections emphasizes global climate change-driven sea level rise will worsen within the next few decades without immediate action. This prediction is precarious for tens of millions of Americans in areas at risk of coastal flooding, especially for the 40% of the US population living within 60 miles of the shore. They will face variable impacts, but the "magnitude of these impacts, direct and cascading, will be high."
The consequences for coastal communities range from increased flooding with damaged infrastructure and crops to permanent displacement. One meter of global sea level rise could displace 4 million people in the United States. Global warming affects all equally, but the coastal regions are the most vulnerable and are piled by more human actions like building and drilling. For those who live at the knife's edge today, another foot of sea level rise can have irreversible consequences. These six high-alert regions in the US could disappear under the ocean by 2050. 
Louisiana Seaboard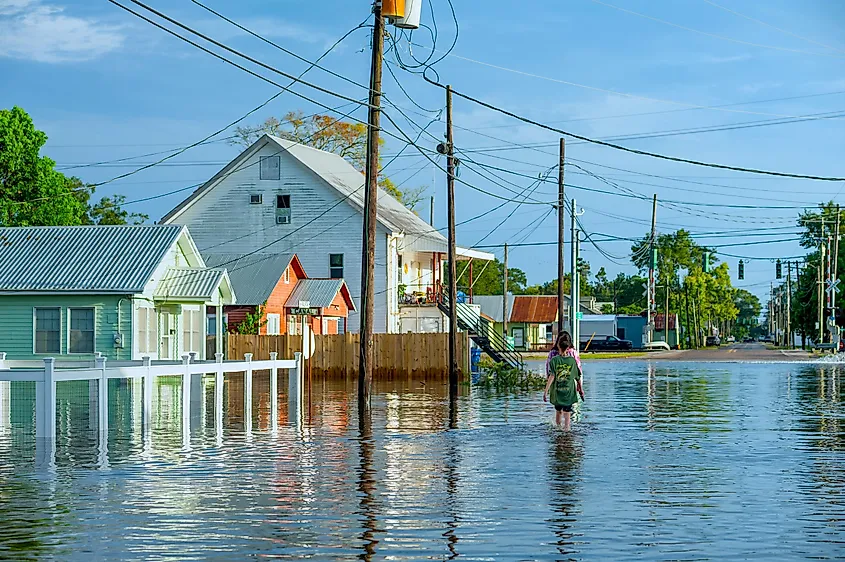 Louisiana has a lot of low-lying lands, especially along the seaboard. Over 5,631 square miles of the state sits less than 6 feet below sea level with over a million inhabitants, a quarter of which lack levee protection. Here, 6,791 more square miles comprise five populated Parishes of Terrebonne, Cameron, Vermilion, Lafourche, and St. Mary, at less than 10 feet above the tide line. National Oceanic and Atmospheric Administration (NOAA) reports that communities across the Louisiana seaboard, like Cameron, Garden City, Morgan City, and Houma, are at the forefront of flooding from rising sea levels. Coastal erosion is also a problem that alters Louisiana's ecosystems. The Biloxi and Jean Lafitte wildlife preserves are almost wholly submerged, and cities must literally "keep up" with innovative ways to not follow suit. 
New Orleans boasts a renowned system of levees and flood defenses that may prove powerless in the near future. The vibrant city is water-surrounded by two immense lakes, Lake Borgne and Lake Pontchartrain, and more lakes within. Parts of New Orleans are already 15 feet sunk and continuing to sink at one of the fastest rates in the world of two inches per year. The river delta location intensifies the situation, with flood waters increasingly threatening to drown the vulnerable city. There is also land sinkage from oil and gas drilling, all-together destabilizing the region to a state, requiring an even better flood-protection system. 
The State Of Washington
Washington's pesky rain and low-lying region relative to the sea level of the Pacific Ocean may soon be too much for the state to handle. Big settlements with especially debilitating locations include cities along the Strait of Juan de Fuca, Seattle, Tacoma, Everett, and Olympia. They face the major threat of increasing floods from storms and rainfall that can potentially drown entire cities. Other places along the seafront or on the rivers are also extremely vulnerable to the hiatus caused by moody weather. 
Southern Florida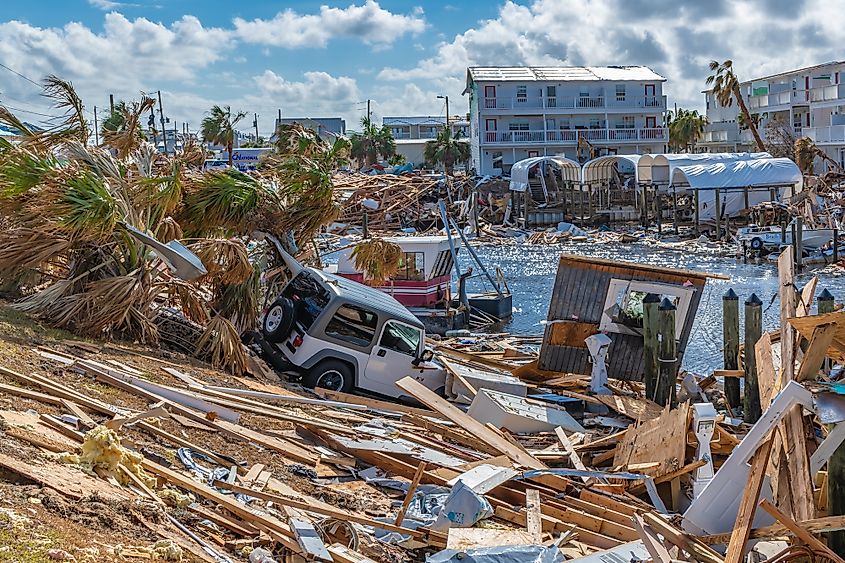 NOAA is alarming south Floridians to brace themselves for worsening and unpredictable weather patterns. Southern Florida's low-lying coast is already prone to hurricanes and severe storms. The conditions are projected to worsen from the climate change effects of stronger and more frequent downpours. These will potentially slowly drown the entire region under water over the next few decades. Coastal erosion is another concern in South Florida. The ocean eats away cliff-sides, threatens local real estate, and alters shorelines and sea-bound ecosystems.
The cities under the closest watch include Miami and beach, Homestead, the island of Key West, Naples, and the Everglades. Other places in high-risk zone are Pensacola, St. Petersburg, Fort Myers, Daytona Beach, and Jacksonville. People must prepare for the worst by protecting fragile city infrastructure and planning to move should a disaster occur. The Miami beach is laden with luxurious properties, such as the 10-bedroom, 14-bathroom mansion on Indian Creek Island Road that was recently sold for $50 million.
Western Oregon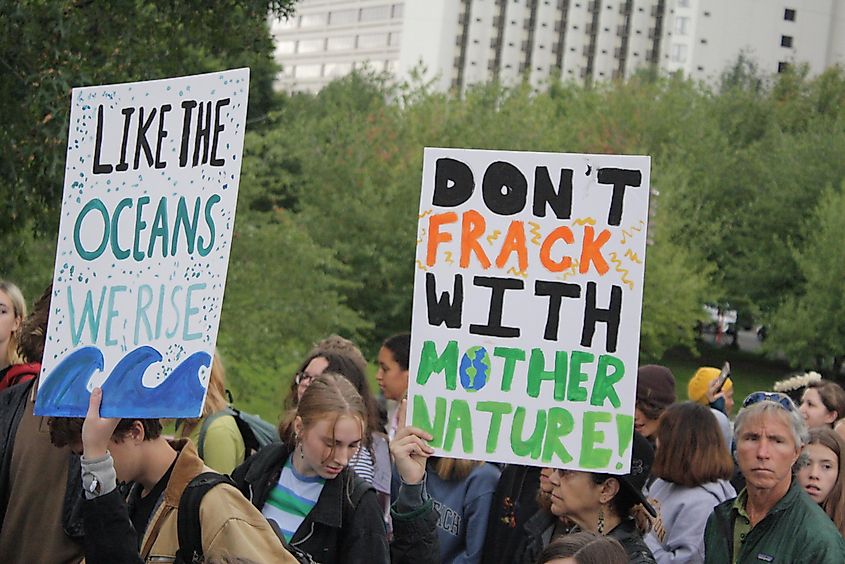 Oregon is another low-lying state, with a western side-set under three feet above sea level. The state is home to a vast river system and sea-facing communities into the Pacific Ocean on the western side. Oregon has already "weathered" many sides of global warming, from wildfires and droughts to sea level rise and climate change. Unpredictable weather patterns increasingly threaten the region with severe storms and angry waters invading the coastline. The vulnerable areas around Florence, Siltcoos Lake, Coos Bay, and the Coquille River are in the most-imminent danger of flooding. Oregon is susceptible due to the over-active geological nature of the region, which gets extreme floods when a high tide coincides with heavy rains coming off the mountains. The flooding rivers are then re-bounced by the overfilled estuaries into towns. 
Oregon's rocky, mountainous coastline is strewn with towns in Tillamook County. The county is subject to dramatic floods that leave towns like Nehalem under several feet of water, with submerged first floors and impassable roads. The towns that were established in marshy areas have roads and buildings just a few feet above sea level, while other areas are too steep or landslide-prone for development. Since the region is subject to king tides even when the river's water level is low, further sea-level rise will see to that "in almost every projection, at some point, the entire Oregon Coast becomes submerged."
The South-Eastern coast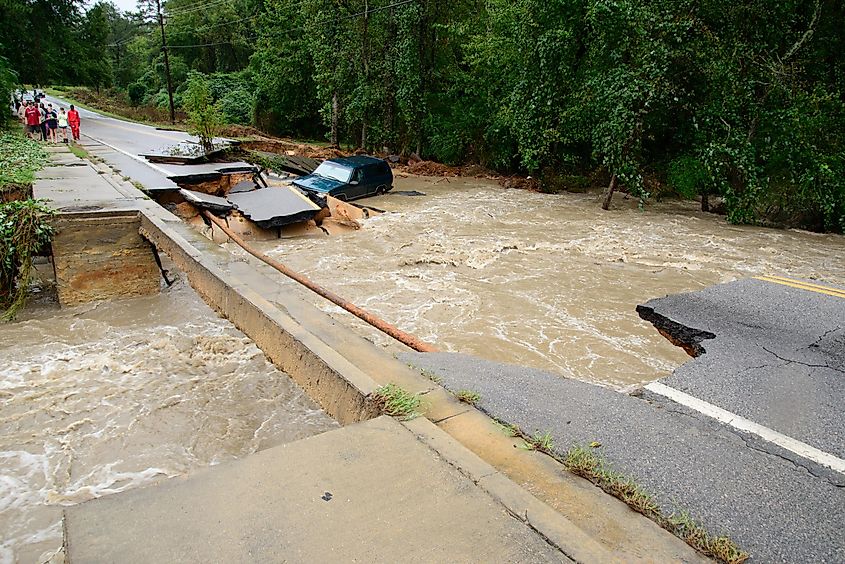 NOAA reports that the eastern United States may face an even higher sea level rise than its western counterpart. The East Coast could experience 14 inches of sea level rise and the Gulf Coast up to 18 inches by 2050. This is all topped by sinking lands, violent storms, wave effects, and other unpredictable weather patterns that significantly increase communities' exposure to floods along the coast. The region's already disruptive moderate flooding today is expected to be ten-fold by 2050.
The south-eastern coast is home to prominent cities like Savannah, Charleston, Wilmington, and Norfolk, among many smaller towns. These seafront communities are most at risk from the rising sea level, while many others are prone to floods from unpredictable weather. It is possible that the region will soon find itself underwater, with the inland quarter of the country facing rapid reorganization to accommodate people from the South-Eastern coast. 
Southern California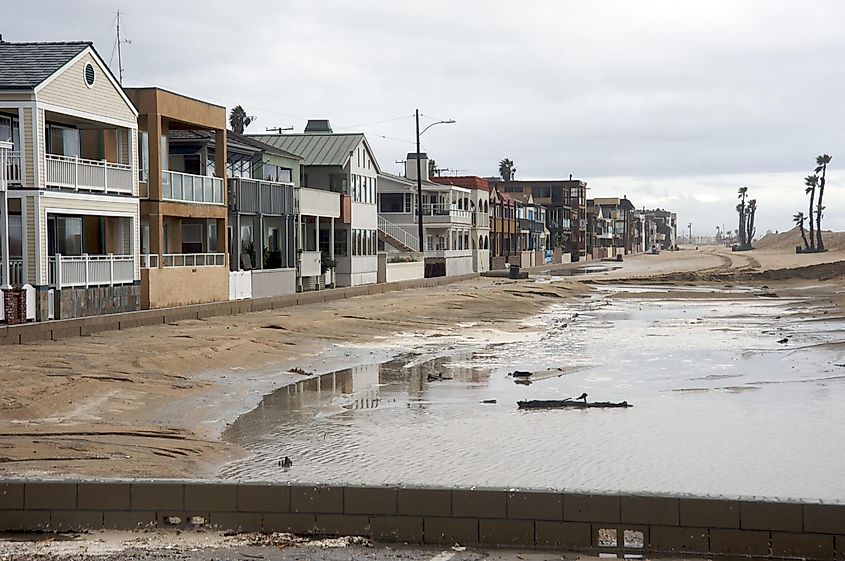 According to a federal study, the sea level is expected to rise as much as one foot along California's southern coast by 2050. Many low-lying communities in Southern California are already subject to seasonal or annual high-tide flooding, including Venice, Seal Beach, Newport, and parts of Huntington Beach. Los Angeles and ocean-bounding neighbors will face more frequent and severe flooding and profound challenges like degraded infrastructure and people displacement. The "red alert" places include Alameda, Monterey, Santa Barbara, San Francisco, Santa Monica, Newport Beach, La Jolla, and San Diego. There are many high-profile beach properties along Miami Beach, the Hamptons, and Malibu Beach, such as the mansion on Billionaire's Beach in Malibu that was sold by Hard Rock Cafe's Peter Mortonor for $110 million in April 2018.
For California, sea level rise equates to daily overland flooding, with about $15 billion worth of properties at risk and some 38,000 affected people. Additional 350,000 people and $100 billion worth of properties are at risk from the daily-emerging groundwater, also due to rising sea levels. The most vulnerable communities to severe flooding include Carlsbad, Mission Bay Park, and the San Elijo Lagoon. While Los Angeles may not entirely submerge, it will be much more costly to sustain and defend the beaches. Many of the affected communities are low-income and limited in mobility, making them helpless in a disaster. Other effects of global warming in California include recent droughts and wildfires that further debilitate the land, people, and the economy in the southern part, threatened by adverse weather from climate change. Southern California is also concerned by coastal erosion effects on its picturesque cliff-sides with bounding ecosystems.
Others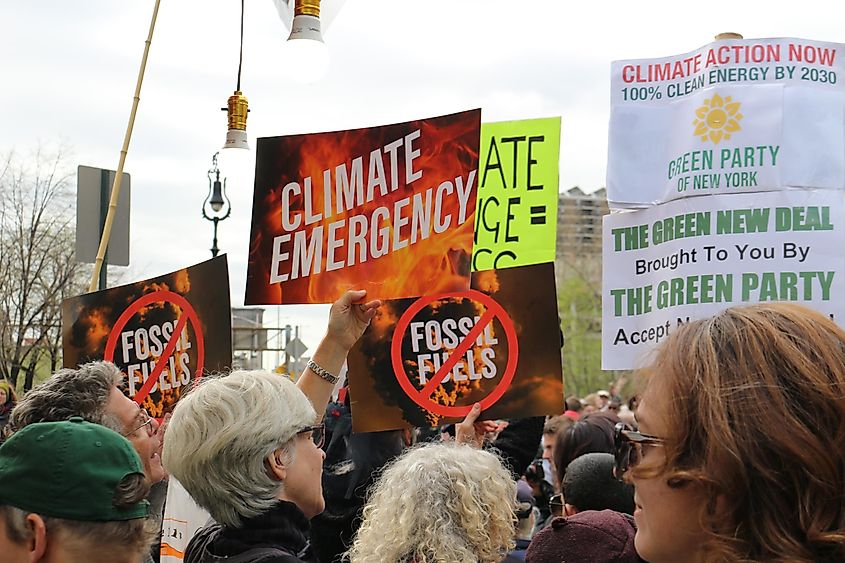 Multiple West Coast communities subject to king tides are expected to face a new "flooding regime," where the ocean will invade the shoreline even at low tide. Consequently, there will be trouble during a high tide, where a single event can drown entire towns and cities along the western coast. The next in danger of submerging include communities with beachfront properties and land under 5 feet above sea level in Hawaii, Massachusetts, New Jersey, New York, and Texas.
The whole of the nation's seaboard will experience a leap in sea level by 2050 that will triple that of the rise in the last century. By 2070 some of the American Midwestern states, such as Arkansas, Missouri, and Iowa, will face the consequences of global warming. Ultimately, all communities, ecosystems, and economies along all nation's coastlines face an alarming and uncertain future.
These are the current and future vulnerabilities in the US regions that face the threat of drowning by climate change and must react immediately. In fact, the entire United States is in a unique and precarious situation, with California's rising sea level and the Western mega-drought conditions. The national sea level is expected to rise by 10 to 12 inches within the next 30 years and eight inches along the West Coast, leading to more frequent and severe coastal floods. It is predicted that over 99 percent of the population in 252 coastal towns and cities in the US would have their homes submerged.
Thus, there must be an urgent and proportionate response from the officials to prevent further sea level rise while bracing for the imminent effects of global warming. Businesses along the coast must also start making smart investments and work with communities to become resilient in the face of the uncertain future.