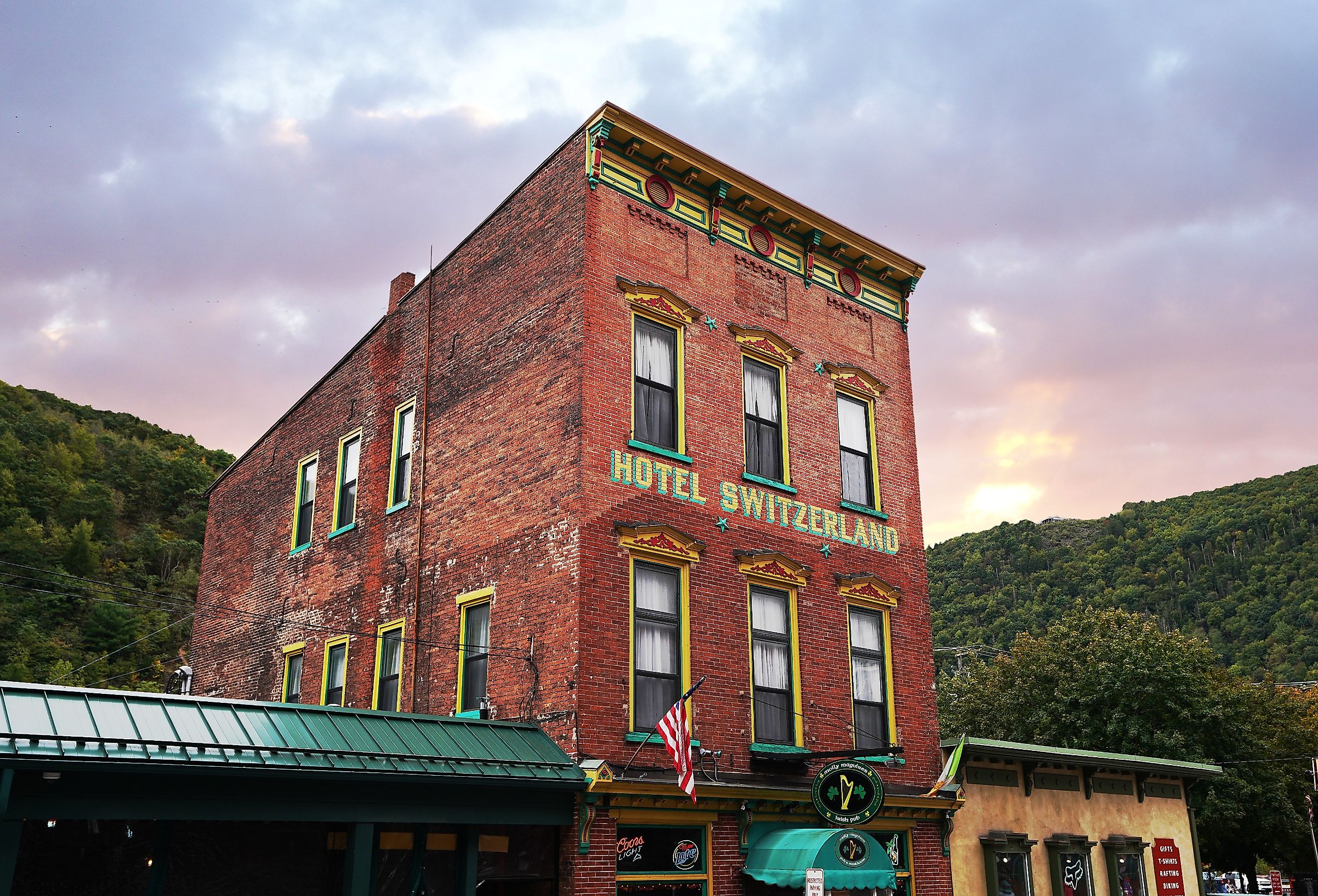 The 8 Most Charming Cities in The Poconos
The Poconos Mountains, also called "the Poconos," are a range of spectacular mountains that traverse northeastern Pennsylvania and cover an area of approximately 2,500 square miles. Within this vast range are forested peaks, cascading ridges, lush valleys, and many sparkling lakes. Mind-blowing gems such as the Columcille Megalith Park, the train ride at Jim Thorpe, and Bushkill Falls, regarded as Pennsylvania's Niagara, for its pristine beauty, may make one imagine being somewhere in Switzerland. Dotting this gasp-inducing expanse are several towns and cities that act as bases from which to explore one of America's most picturesque landscapes. There are no big cities in this region, however. This article reveals the 8 most charming cities in the Poconos.
Honesdale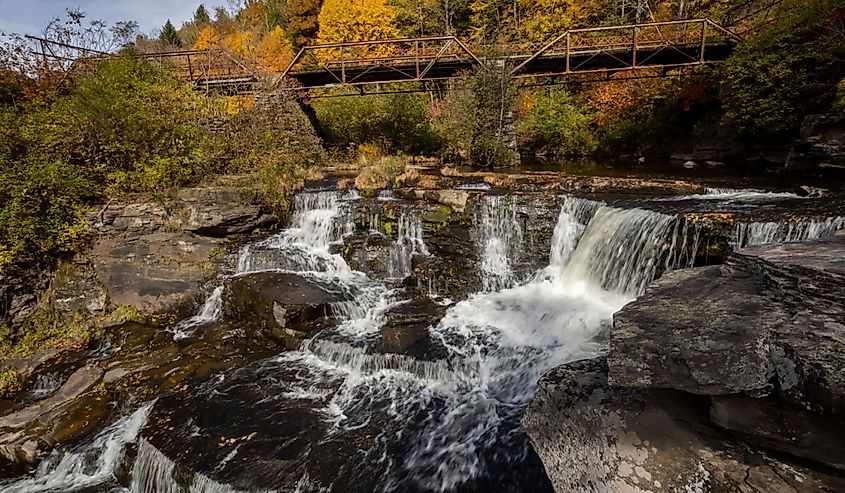 Located at the confluence of the Lackawaxen and Dyberry rivers, Honesdale was named after a man who pioneered the construction of the Delaware and Hudson Canal from the present location of the town—today's Kingston, New York. For up to 70 years thereafter, Honesdale would serve as the western terminus of the canal. The town would soon emerge as a major coal shipping point. To respond to the coal transportation needs, a locomotive known as the Stourbridge Lion would be brought over from England to run on a gravity railroad that had been constructed. It would be the first steam locomotive to run on commercial tracks in the United States. Today, Honesdale is acknowledged as "the Birthplace of the American Railroads." Visitors can see a replica of Stourbridge Lion on Main Street next to the Wayne County Historical Society Museum. For those who make the trip in the fall, the Fall Foliage Train Ride with the river on the left and the spectacular cliffs on the right, is worth every dime.
Stroudsburg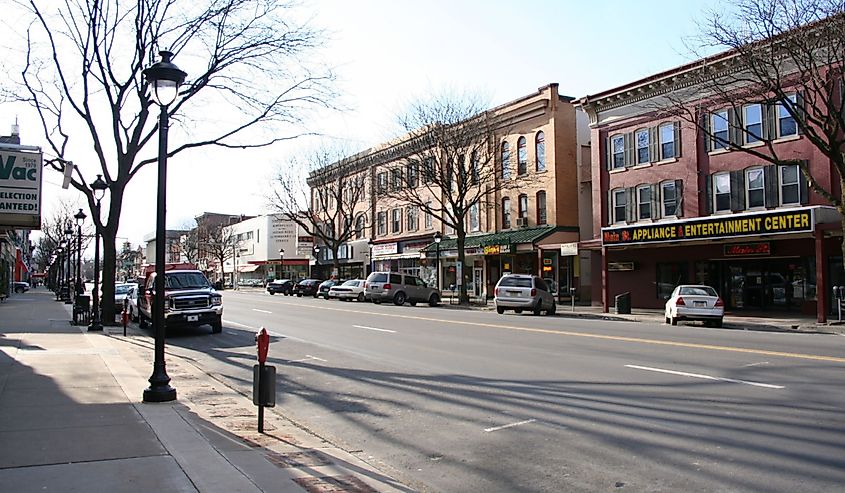 Tucked away about 75 miles west of the Big Apple, Stroudsburg is known for its charming, walkable downtown and its many historic buildings. While the town spans an area of just about two square miles, it punches above its weight when it comes to the number of its offerings. A first-time visitor will want to set foot and then immediately wend his way to the Sarah Street Grill located at 550 Quaker Alley. This property serves delectable burgers, sandwiches, cocktails, sushis, and just about every other delicacy. Close to this funky bar and restaurant is the Sherman Theater, the go-to place for some amazing concerts and shows since 1929. Then again, while it is pretty hard to find a winery located right in town, not so with Stroudsburg. The fittingly-named Renegade Winery, located at 600 Main Street, is complete with a tasting room and is often a welcome escape from the downtown's bustle and hassle. Yet the main draw to this Pennsylvania charmer is that it is right at the doorstep of the Delaware Water Gap, and to the surreal scenery along 40 miles of the Delaware River, the longest free-flowing river east of Mississippi.
Jim Thorpe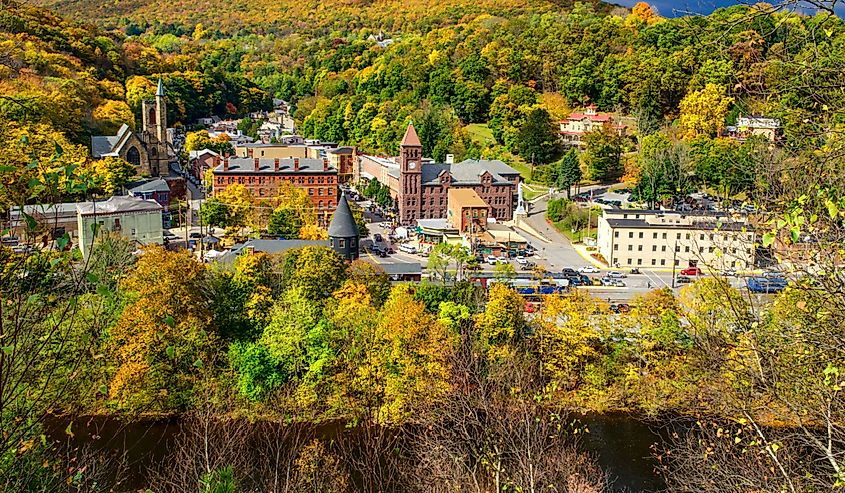 Home to about 4,600 residents, Jim Thorpe is curled up on the Lehigh River, in a valley of the Pocono Mountains—about 22 miles northwest of Allentown. The fact that Jim Thorpe is often called the "Switzerland of America" should pique the interest of any would-be adventurer. True to its moniker, Jim Thorpe's scintillating scenery may make one imagine being lost somewhere in the craggy, ice-capped mountains of Switzerland. The Lehigh Gorge State Park, for instance, named for a deep, steep-walled gorge that is cut through by a river, provides access to several waterfalls, up to 33 miles of trails, rich fishing spots, and numberless water-based activities. Named for the first Native American to win a gold medal for the United States in the Olympics, Jim Thorpe's downtown features 19th-century Victorian mansions, as well as several boutiques, restaurants, and art galleries. In terms of accomodations, one may want to consider the 149-year-old Harry Packer Mansion Inn whose exterior was the inspiration for the Haunted Mansion ride at Disney World.
Milford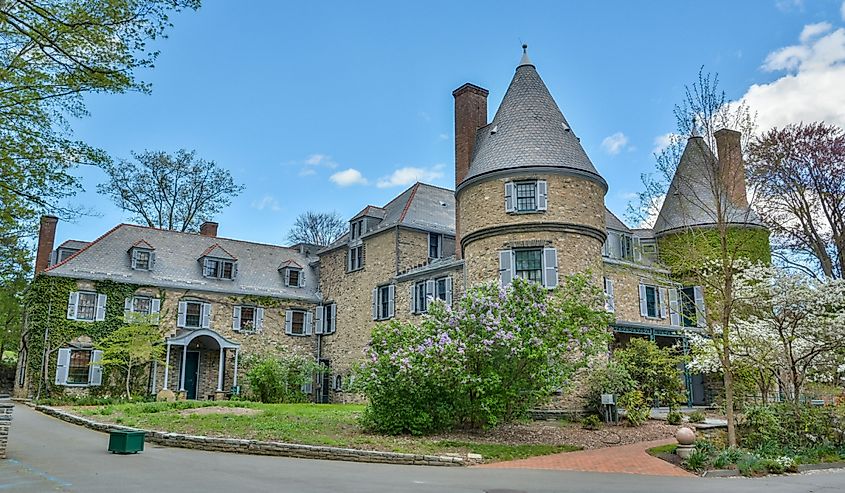 Nestled on the Upper Delaware River, Milford is often regarded as the birthplace of the American Conservation Movement. To have an idea of Milford's conservation heritage, a first-time visitor will want to check out Grey Towers National Historic Site. This spell-binding property was once the home of Gifford Pinchot, the man credited with founding the US Forest Service, and coining the very term "conservation," especially as it applied to natural resources. Whether one will want to saunter along while soaking in the ethereal scenery, admire the beautiful architecture, or enjoy wildlife, a visit to this place will be an overly rewarding experience. Additionally, the town's tree-lined streets, 400 historically significant buildings, and many quaint stores and classy restaurants are also popular attractions here.
East Stroudsburg
Though they are located close to each other and are often confused for the same town, East Stroudsburg and Stroudsburg are not exactly the same. Curled up along Interstate 80 in Pennsylvania's Monroe County about 75 miles northwest of New York, East Stroudsburg is essentially a college town. This is because it is home to East Stroudsburg University of Pennsylvania (commonly shortened to ESU). The town is teeming with a youthful vibe and energy and will be of interest to those who may want to roll with such a crowd. While outdoor adventures abound within and around the town's picturesque precincts, art lovers will need to check out Frazetta Art Museum, the largest collection of Frazetta originals in the world! Furthermore, this is the only art gallery in the region dedicated to science fiction and fantasy works!
Tannersville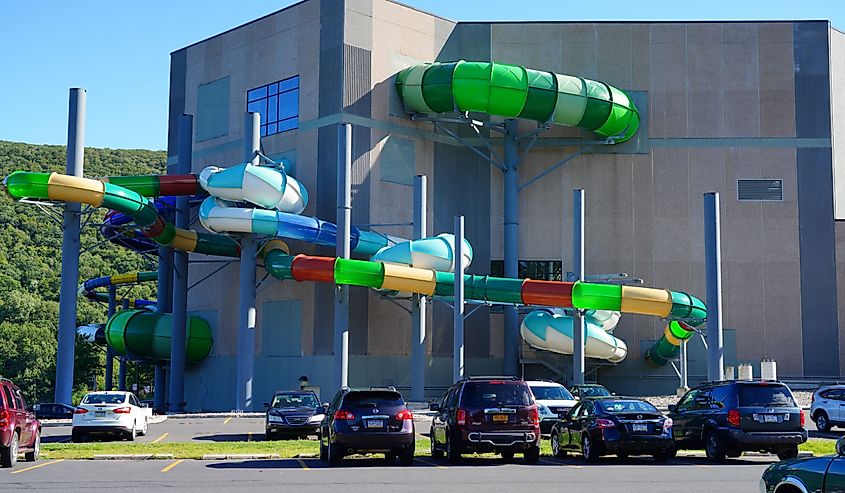 Tannersville is another Poconos charmer that is nestled just about 9 miles northwest of Stroudsburg. While a first-time visitor may want to be airborne on the zip lines at Tannersville's Camelback Mountain Adventures, this charming town boasts many other enticing offerings. If one feels they have had enough adrenaline at Camelback Mountain Adventures, the biggest outdoor adventure park in Pennsylvania, visitors may want to lace up for the Big Pocono State Park where 1,306 acres of stunningly wild scenery are open for exploration. With miles of scenic trails, as well as views that extend to New York, New Jersey, and the heart-stirring vistas around the Poconos Mountains, a trip to the Big Pocono State Park will be an adventure-laden experience.
Hawley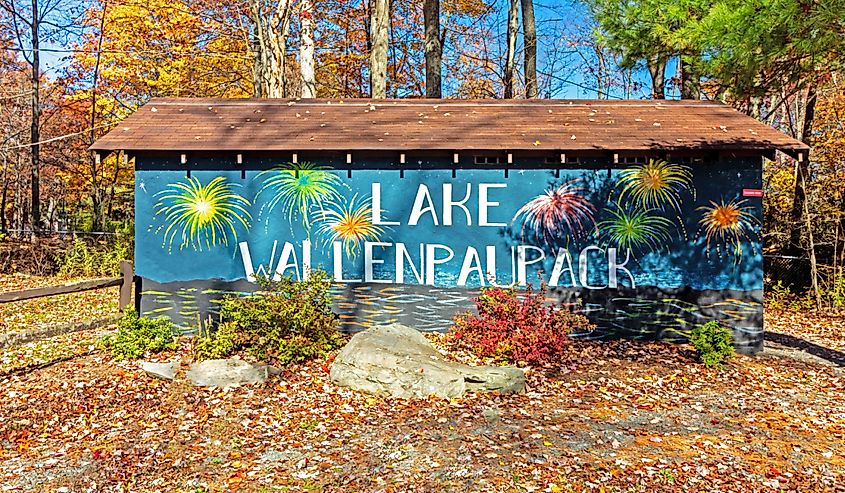 Among the most charming towns in the world are those nestled close to some sparkling lake, some shimmering ocean, or some meandering river. It turns out that Hawley is located near Lake Wallenpaupack, the third-largest artificial lake in Pennsylvania. Whether one will want to plunge for a refreshing swim, harvest some smallmouth bass, striped bass, or walleye, or to just go bobbing about on the sparkling waters of the lake, Hawley will be a good fit. Named for Irad Hawley, the first president of the Pennsylvania Coal Company, the town boasts a rich coal mining and transportation heritage. The town also features several beautiful 19th-century buildings including the 143-year-old Hawley Silk Mill, where first-time visitors can shop, gather, eat, exercise, or just learn something about the town's fascinating history.
Mount Pocono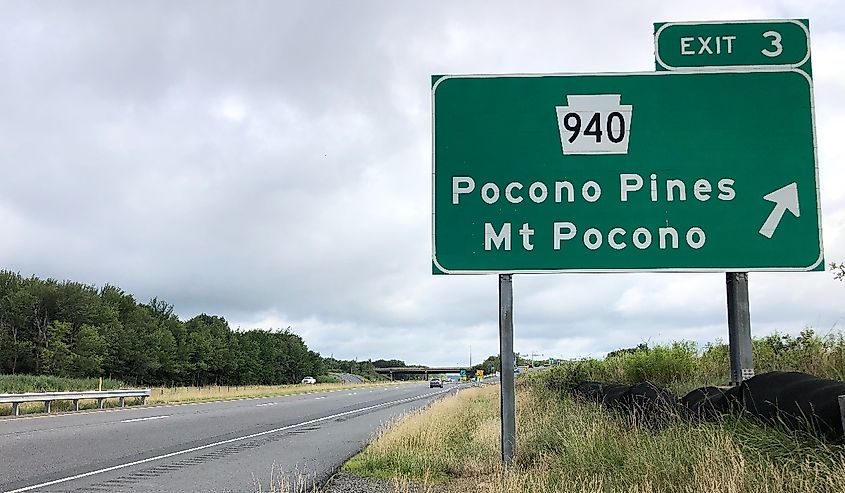 Home to about 3,100 residents, Mount Pocono is another gem that will not fail to cast its enchanting spell upon first-time visitors. Secluded in northeastern Pennsylvania, Mount Pocono is alluringly laid-back, often uncrowded, and amazingly picturesque. While this Pennsylvania jewel is famous for being home to Mount Pocono Festival, the oldest and largest carnival in the Pocono Mountains, going strong since 1926, this town also boasts other charming attractions. A first-time visitor will want to explore the Mount Pocono Campground, for instance, to let kids loose on the sylvan playground or to wander through the scenic nature trail that features spring-fed ponds, shaded woods, and gorgeous vistas— among other delights. Additionally, Memorytown is a rustic barn and incredibly scenic outdoor venue that is arguably the best of its kind in northeast Pennsylvania.
The Takeaway
The Poconos is a vast, incredibly picturesque region that features a range of spectacular mountains in northeastern Pennsylvania. While the Poconos is a large area and spans approximately 2,500 square miles, the cities that dot its landscape are not as large. Yet, while they do not have the glitz of a Chicago or a New York City metropolis, they have an alluring charm that will effortlessly sweep first-time visitors off their feet. From Honesdale to Mount Pocono; Jim Thorpe to Hawley, and many gems in between, cities in the Poconos are some of Pennsylvania's most underrated attractions.