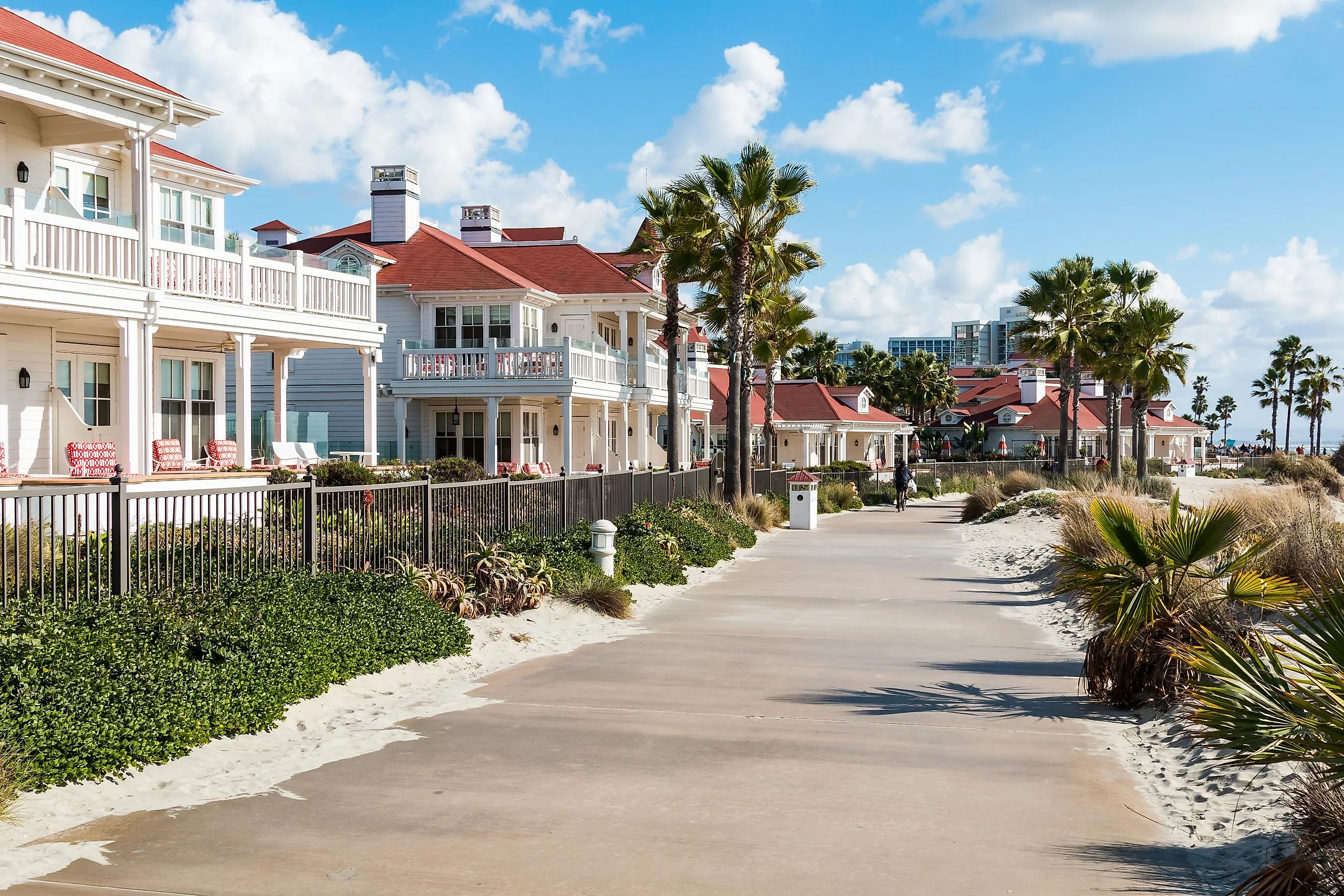 The 11 Most Picturesque Small Towns in Southern California
California is the poster image of paradise—the quintessential vacation destination. When people think of California, they think of wide beaches fringed by powder-soft sand. They think of swaying palm trees and shaded hammocks. They also imagine how the weather is pleasant — and the feeling of the warm sun as it kisses the skin. Yet to a large extent, it is Southern California that most truly captures this romanticized version of the 31st state. Yet besides it pretty beaches, its palm trees, and its pleasant weather, Southern California is home to several picturesque small towns that will leave any first-time visitor awe-struck. Many of these line the curvacious coast of California. But some are further inland.
Idyllwild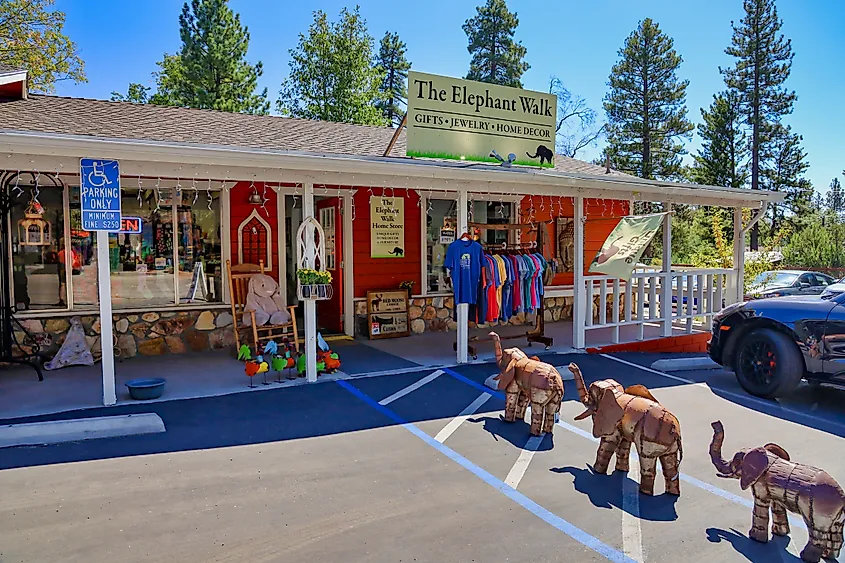 Idyllwild is an under-the-radar California charmer that is tucked away in the heart of the San Jacinto Mountains. Ravishingly quaint and laid back, this town will make for a perfect escape from Los Angeles and its frustrating traffic. Set in a breathtaking backdrop that features enormous boulders, sweet-smelling cedars, and other evergreens, Idyllwild easily leaves up to its name. Impossibly peaceful, this jewel is encircled by several attractions that will pique the interest of any first-time visitor. The sparkling Lake Fulmor, for instance, is minutes away while Idyllwild County Park, an oasis of calm no one will want to miss, can be accessed by foot. But that said, Idylwild star attraction is the San Jacinto National Park whose mind-bending scenery no words can do justice.
Wrightwood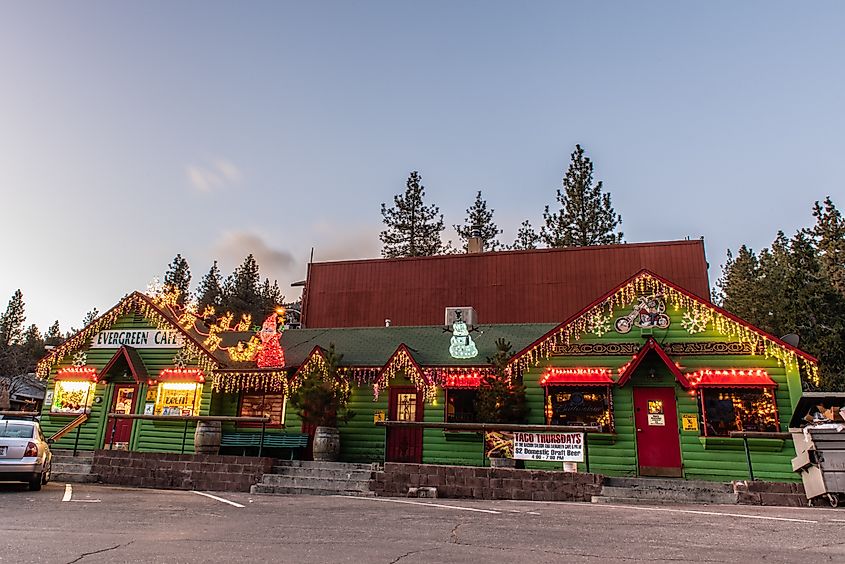 Drawn by the fame of California's spectacular shoreline, many people naturally troop to California's beautiful beach towns. Yet the Golden State is home to a cornucopia of small, mountain towns set in a rural landscape that will leave first-time adventurers completely blown apart. Home to about 4,500 residents, Wrightwood is secreted in the majestic backdrop of the San Gabriel Mountains approximately 90 minutes from Los Angeles. Since the town is shaded with many beautiful evergreens (perhaps its most defining feature), a meal at the appropriately-named Evergreen Cafe will be in order. Conveniently located at 1269 Evergreen Road, this is where to enjoy some juicy, well-seasoned meat or any other delicacy that one craves. Then again, Mountain High Resort, just about three miles away, is consistently among the most sought-after resorts in Southern California.
Crestline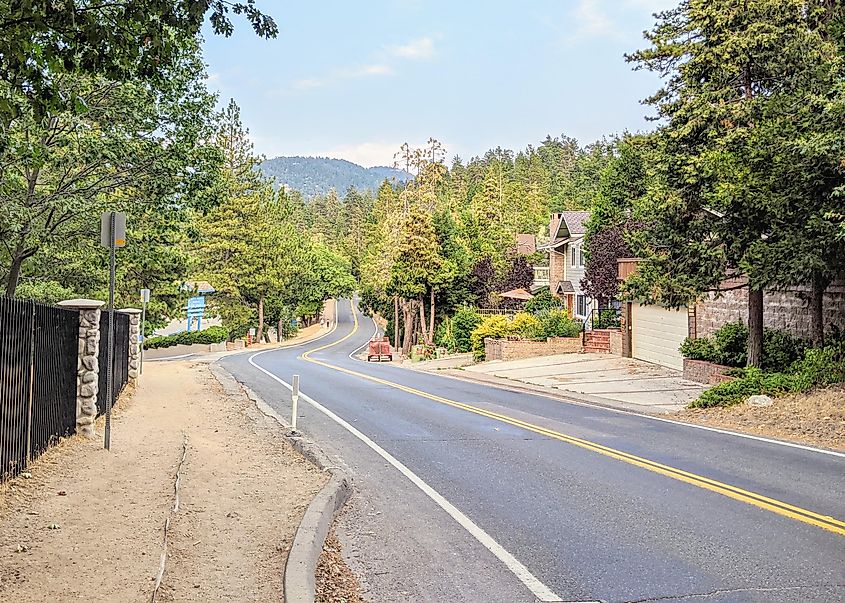 Home to 9,300 residents, Crestline is another California stunner that will make one understand why California is among the most beautiful states in the country. Here is why Crestline is a gem. The town is located within a forest: the San Bernardino National Forest. Then again, Lake Gregory, a shimmering 84 acres of calm that is encircled on all sides by the heart-ravishing solemnity of pines and cedars, is located right in town. Any town would be called "picturesque" if these two elements were its central features. Yet Crestline is choke-full of other attractions. First-time visitors should check out Heart Rock Falls, for instance, a unique waterfall defined by rocks shaped like the human heart. 
Los Alamos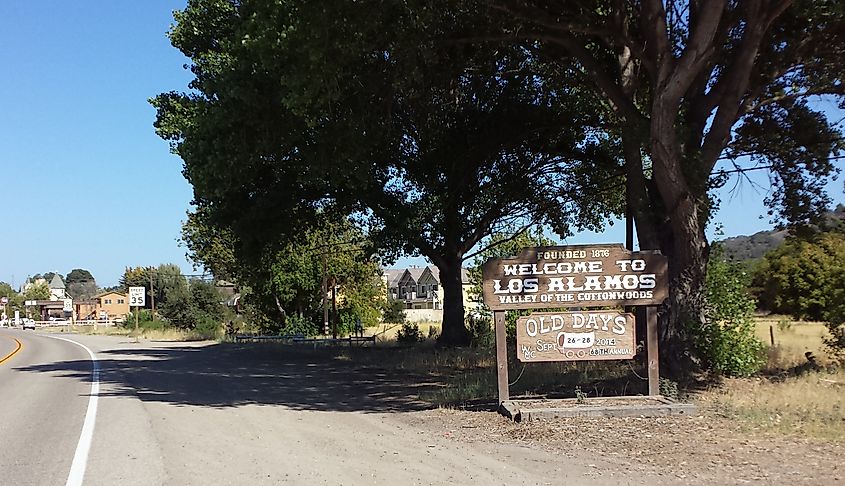 Los Alamos—not "Lost Almost," is another California small town that will effortlessly cast its spell upon any first-time visitor. Curled up in the heart of the Santa Barbara wine country, a three-hour drive from Los Angeles, Los Alamos is as picturesque as a town located in a wine country should be. The town's name is translated as "cottonwoods," in reference to the huge trees lining the banks of the San Antonio Creek — and many other spots in the town's precincts. Hidden in the beautiful Santa Ynez Valley, Los Alamos was previously the hideout of the rich and wealthy who wanted to escape from the public limelight for a while. Today, Los Alamos is many things to many people—including a much sought-after culinary destination. Culinary hotspots include the Bell's, a French-inspired Bistro that makes its peers come out as disappointingly average.
Coronado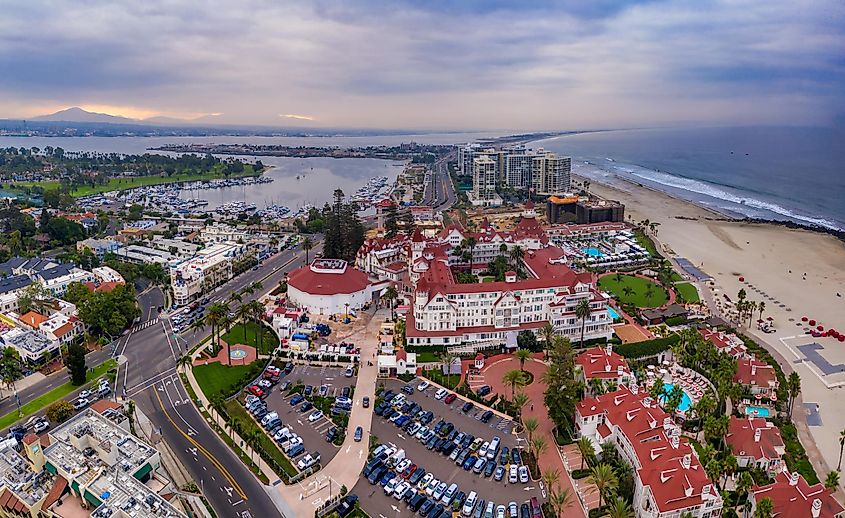 Coronado is a gem whose postcard beauty is the stuff of travel magazine covers. This California stunner is nestled on a beautiful peninsula between San Diego Bay and the deepest ocean on Earth. Home to about 19,500 residents, Coronado plays host to the 135-year-old Hotel del Coronado, a silhouette of Victorian architecture long regarded as among the top resorts on the globe. Patrons may get the chance to sleep where Marylin Monroe once slept—and eat where Franklin Roosevelt once ate. Also, first-time visitors will gasp at the views of San Diego's skyline from such spots as Centennial Park, one of the most visited spots in Coronado. Meticulously groomed, alluringly isolated, and boasting a long, wide beach, few towns in California can hold a candle to Coronado.
Julian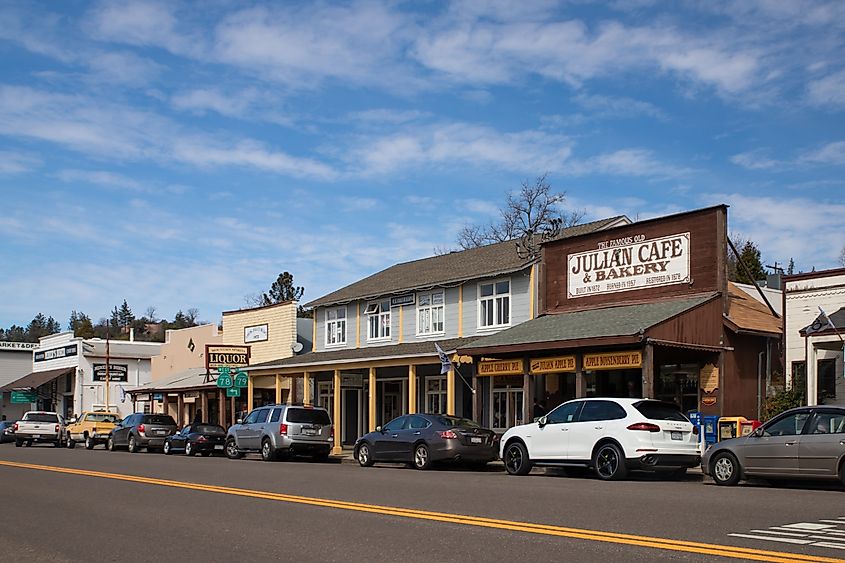 A first-time visitor to the small town of Julian will envy its approximately 1,300 residents who enjoy, not only its mind-bending scenery—but also its mouthwatering apples and apple pies as well. Secreted in the picturesque Cuyamaca Mountains, a mountain range east of San Diego, Julian could also be the friendliest town in Southern California. A stroll through its quaint main street will reveal a decent collection of eclectic shops and casual restaurants that will meet, perhaps even exceed, the expectations of a California vacationer. An afternoon spent at the nearby 9-acre Jess Martin Park, a breathtaking outdoor haven that features a skateboard area, an exercise area and a children's playground— will be an afternoon well spent.
Del Mar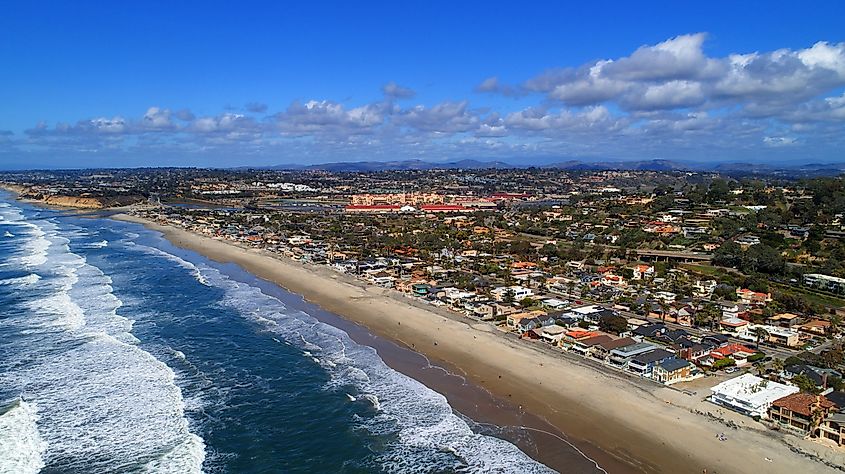 To a first-time vacationer, Del Mar may look like a diamond that all along has been hiding under a rock, waiting to be discovered. Yet in vacation circles, this Southern California charmer is not a secret. Nestled just 20 miles north of San Diego, Del Mar can make for a quick getaway for those in the "Birthplace of California," as San Diego is known. It often does. Visitors always enjoy its vibrant, small-town charm and its upscale, suburban feel — amid an ambience that is part casual; part sophisticated. While Del Mar is the poster image of a California Beach town where beach bums will get a blast, it also provides other amazing outdoor opportunities including hiking—which is something San Diego County is big on. Torrey Pines State Natural Reserve, for instance, styled as "a wilderness area in an urban sea," is within walking distance of Del Mar's downtown.
Avalon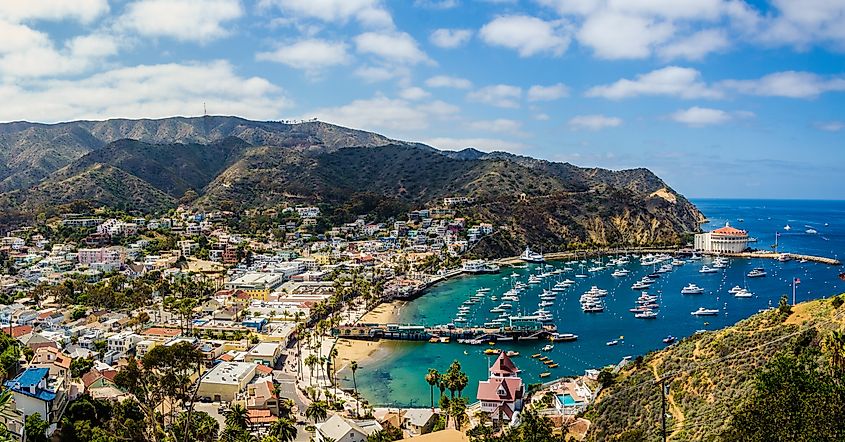 This jewel of a town is curled up on a beautiful bay on the southeast side of California's Santa Catalina Island. The southernmost city in Los Angeles County is home to about 3,200 residents. First-time visitors will enjoy strolling through Avalon's downtown area in a town regarded as among the most walkable in the United States. Framed by impossibly beautiful scenery, a view of the town's rugged surroundings will create a whirlpool of goosebumps in any onlooker. If not short of cash, a first-time visitor should rent a cabana at Descanso Beach Club and embark on a heart-ravishing adventure on a beach encircled by breathtaking scenery at every turn of the eye. For some tasty Mexican dishes, however, Buffalo Nickel, located at 57 Pebbly Beach Rd, will be a must-do.
Borrego Springs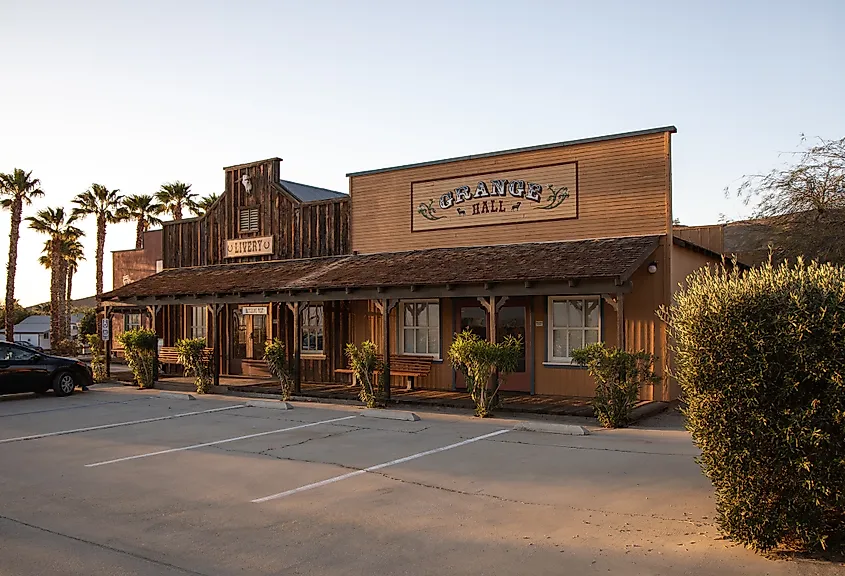 For outdoor enthusiasts, a town located right in the middle of a desert is the stuff of dreams. It turns out that Borrego Springs sits in the heart of Anza-Borrego Desert State Park, the largest state park in California. This vast park alone is enough excuse to visit Borrego Springs. And if this is something someone will want to consider, Fonts Point is a mind-blowing overlook providing spectacular views of the undulating ridgelines that make up the Borrego Badlands. Located approximately three hours southeast of Los Angeles, Borrego Springs is also the perfect dreamscape for flower lovers. The town plays host to an awesome wildflower bloom that any artist will want to put on canvas. Then again, avid stargazers may not find a better venue than Borrego Springs provides.
Solana Beach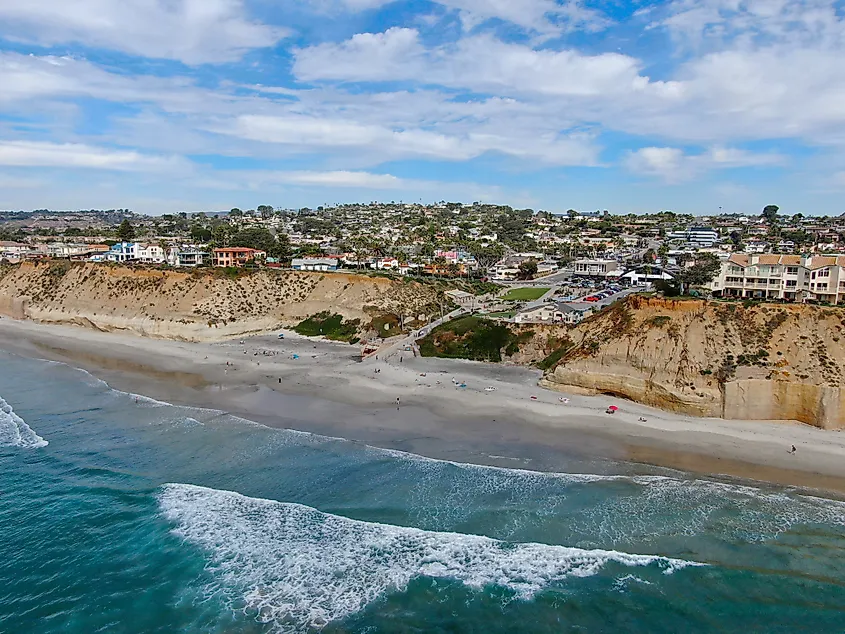 This California stunner is another revelation that should be on every California adventurer's itinerary. Home to 12,600 residents, Solana Beach is located 100 miles south of Los Angeles along San Diego's north coast. While this picturesque town is choke-full of outdoor opportunities, first-time travelers will first want to stroll through its famous Cedros Avenue Design District. Lined with beautiful palm trees, this petite two-and-a-half block plays host to world-renowned architects and interior designers. On a quaint space that features more than 85 shops, avid shoppers will have a blast sampling a world of offerings on display. Art lovers cannot afford to miss the awesome nature photography at the Aaron Chang Ocean Art Galleries. Outdoor lovers, however, will need to explore Annie's Canyon Trail which features a short hike through a slot canyon.
Running Springs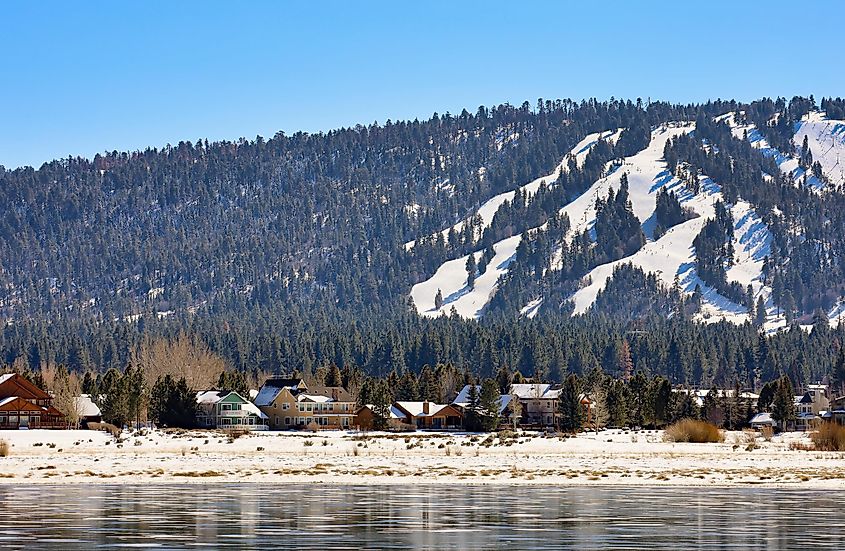 Secreted in the heart of the San Bernardino Mountains approximately 84 miles east of "the City of Angels," as Los Angeles is called, Running Springs exudes the small-town charm that will blow away a first-time visitor. Perched up at an elevation of 6,000 feet Running Springs is the access point to Snow Valley, the oldest continually operating ski resort in Southern California. Located just six miles from Running Spring's downtown, Snow Valley is also known to receive the most natural snowfall in Southern California. If in need of something to bite, Old Country Coffee Shop, located at 32019 Holiday Lane, is a small restaurant that serves tasty delicacies in a quaint, retro ambience that will appeal to many foodies.
The Takeaway
If California is among the most picturesque states in the country, Southern California plays a big part in that reputation. To many, it is the quintessential California—Beach, fun, and all. Yet while cities such as Los Angeles, San Diego, and Long Beach, are major attractions, this part of California is also home to several picturesque towns that vacationers will love discovering. From Los Alamos to Running Springs, and many towns in between, Southern California's small towns are ethereal portraits of beauty.