New Mexico is a must-visit state, housing a diverse collection of historical sites, intriguing art installations, inviting main streets, and gorgeous, enchanting landscapes. Explore the rolling white sands, climb the red rocks, wander the wildflower fields, and hike through the soaring mountainscape. 
Enjoy all the culture and adventure New Mexico has to offer, but don't forget to find time to sit back and relax. Discover some of the most enticing charming beach towns, where you can build sandcastles with the kids, wade in the sparkling waters, or sunbathe on the sandy shores. Plus, learn all about the unique charm that each small town shares, discovering the depth and history of their beauty.
Chama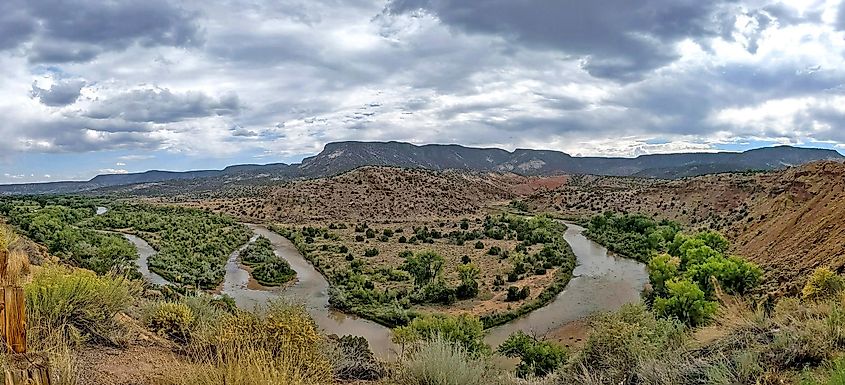 The village of Chama sits high in the Southern Rockies, home to plenty of outdoor adventure, such as the Continental Divide Trail, Sargent's Wildlife Area, or charming RV parks. Enjoy a ride along the Cumbres & Toltec Scenic Railroad, a historic steam train that runs from Memorial Day weekend through October, where you can enjoy everything from sunny skies to scenic views and fall foliage.
Take part in fly fishing at the Rio Chama River or enjoy its sandy beaches and grassy beach camps. You can also hike along the canyon, take in the glimmering sunset views, or rent a cabin for an extra cozy stay. Be sure to stay to catch the Fourth of July fireworks display, or watch the skies take part in some stargazing.
Elephant Butte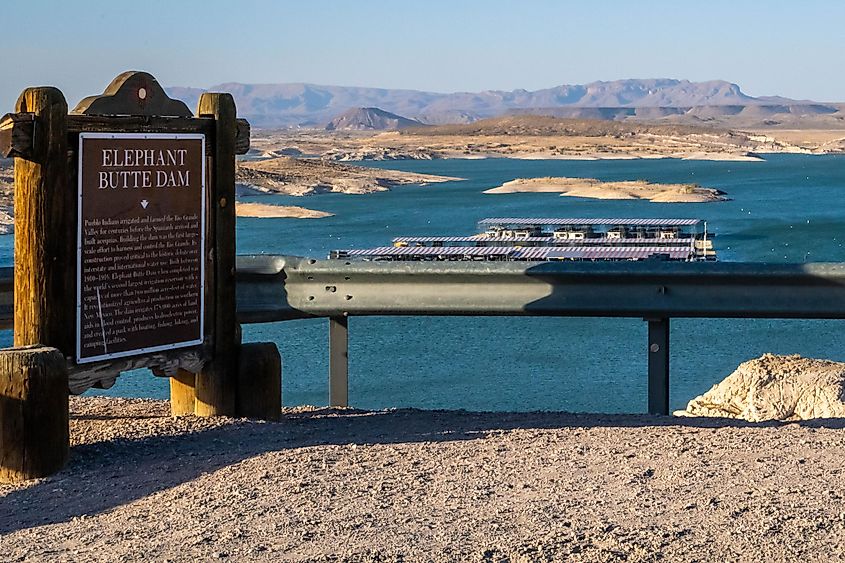 Home to one of the most beautiful lakes in New Mexico, the Elephant Butte Reservoir, the town of Elephant Butte also features the state's largest state park: Elephant Butte Lake State Park. The sandy beach areas are ideal for fishing, swimming, water sports, and even scuba diving. On top of gorgeous beach fronts, you will find cozy campgrounds, welcoming RV parks, picturesque marinas, and watercraft rentals for a fun-filled outdoor getaway.
The town boasts a number of popular events, including a fireworks display on Independence Day, an Annual Chili Cookoff each June, and the Luminaria Beachwalk in December. Golf, biking, and hiking are all popular activities in the area, ensuring you will enjoy plenty of sunshine and fresh air.
Carlsbad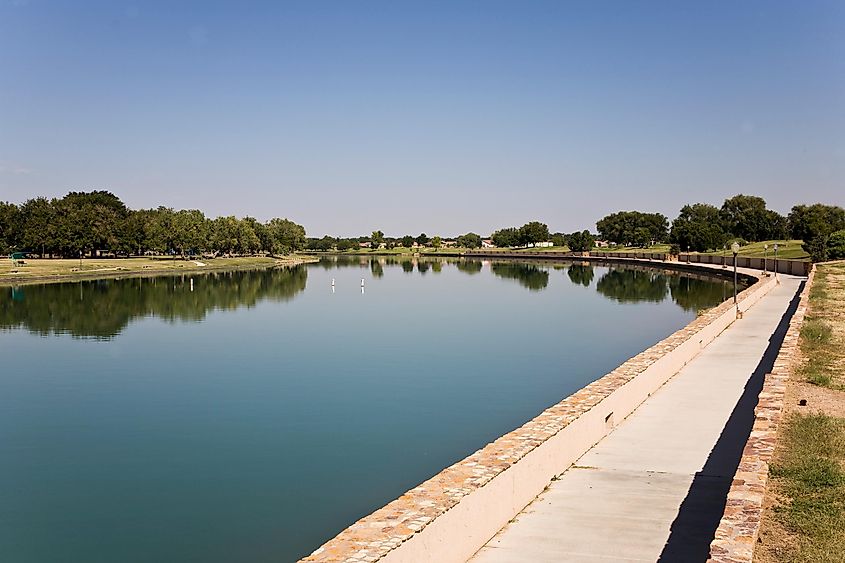 The main attraction of charming Carlsbad is the Carlsbad Caverns National Park, situated within the Chihuahuan Desert and on the shore of the Pecos River. The national park houses over 100 caves and maze-like trails, perfect for a day of adventure and scenic views. Plus, from mid-April to late October, pay a visit to the Bat Flight Amphitheater, where you can learn all there is to know about the creatures and even watch them take flight.
Other attractions include the Living Desert Zoo and Gardens State Park, as well as the Carlsbad Museum and Art Center, where you can visit animals, plants, and discover the history of the area. For a beach vacation, be sure to stop by Pecos River Recreation Area, where you can kayak, paddleboat, and enjoy endless fun in the sun.
Farmington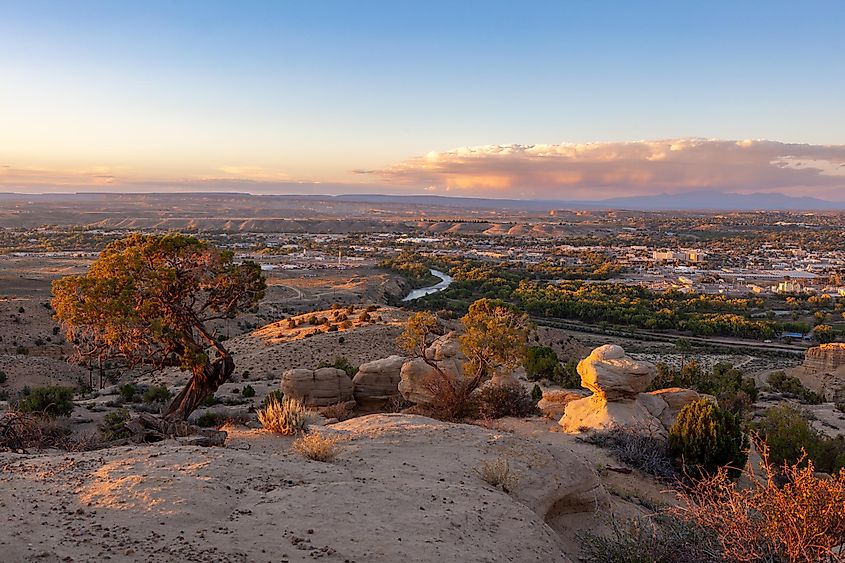 Situated in the San Juan River valley, Farmington features endless outdoor adventure, whether you want to stop by for a day of golf, dive into one of the five lakes, or explore one of the six state parks, such as Mesa Verde National Park, Chaco Culture National Historical Park, or the Aztec Ruins National Monument.
The Beach at Lake Farmington is a picturesque oasis, boasting glorious sandy beaches for days full of family fun. There are plenty of ATV rentals to enjoy a day off-roading, or you can keep things a little more relaxing and go fly fishing on the glistening waters. Mountain biking, hiking, and kayaking are also popular activities. The historic downtown of Farmington features a plethora of art galleries, restaurants, and hotels, as well as seasonal art walks and local businesses.
Tucumcari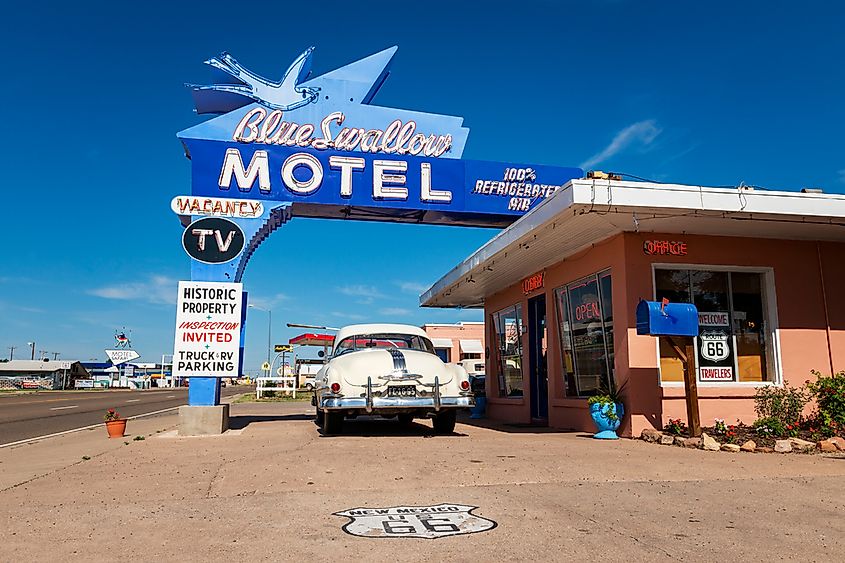 Tucumcari is one of the cutest small towns in New Mexico, boasting an abundance of unique architecture and historic homes that entice you to wander the streets of downtown. The Dinosaur Museum makes it a popular spot for families and fossil lovers alike.
Just outside of Tucumcari is Conchas, which sits on the Canadian River and includes the Conchas Dam Historic District, which earns a spot on the National Historic Register, and Conchas Lake State Park. The area is an outdoor lover's dream, housing scenic coves, awe-inducing canyons, and warm sandy beaches. Bring the kids to build sand castles, a pair of binoculars to watch for birds, and a tent so you can set up camp and enjoy the beauty of the area for several days. You can also strap on your hiking boots and explore the 11 miles of the Conchas River or 14 miles of the South Canadian River.
Roswell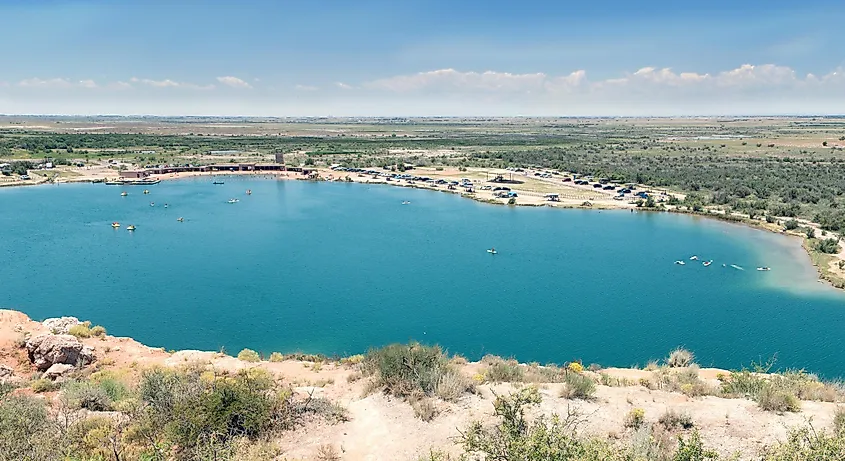 Though Roswell is most well known for its history with the extraterrestrial, being the site of the alleged 1947 UFO crash, the town also houses the Bottomless Lakes State Park, which sits on Pecos River and is the ideal spot for a few days spent adventuring. Relax on the shores and pack a fishing rod for a peaceful afternoon, jump in the water and scuba dive, or hike the grounds and enjoy the beautiful scenery.
Camp out and be sure to pack a pair of binoculars and your camera -- you never know, you might spot an unidentified flying object! The town's streets boast an abundance of museums, galleries, and antique shops that promise memories and souvenirs to bring home.
Santa Rosa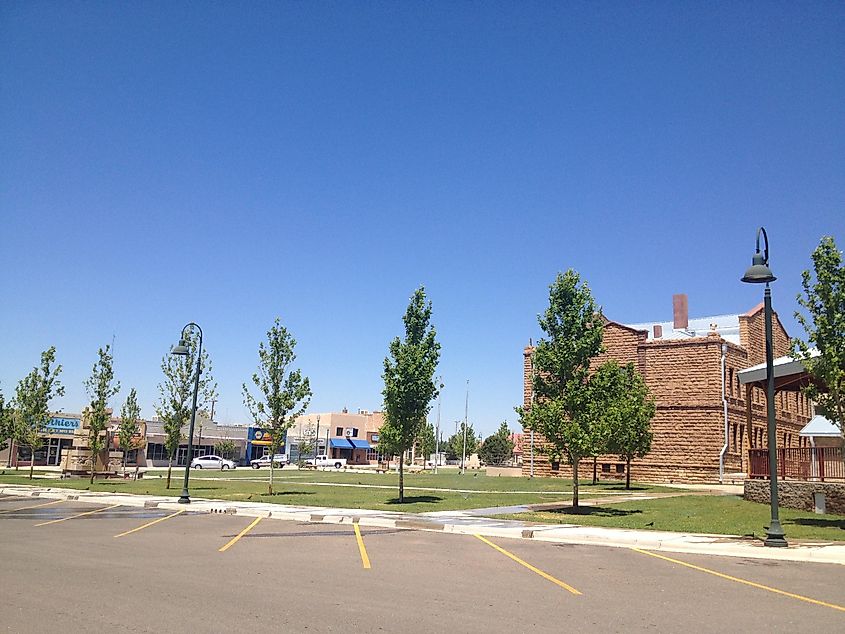 Santa Rosa is one of the coolest towns in New Mexico for a summer vacation, 
The dreamy town houses the Blue Hole, a glimmering natural spring 81 feet deep and 62 degrees Fahrenheit year-round, where you can swim, scuba dive, and chill out. Santa Rosa also sits on the Pecos River, which features beachfront views, and is just next to the town's enchanting historic district and the family-friendly Park Lake. For even more fun in the sun, camp out at Santa Rosa Lake State Park, swimming, biking, and hiking to your heart's content.
Once you explore all the scenery the town has to offer, delve a little deeper into Santa Rosa history at the Route 66 Auto Museum, and you can also enjoy a taste of the old days at a classic-themed cafe.
Eagle Nest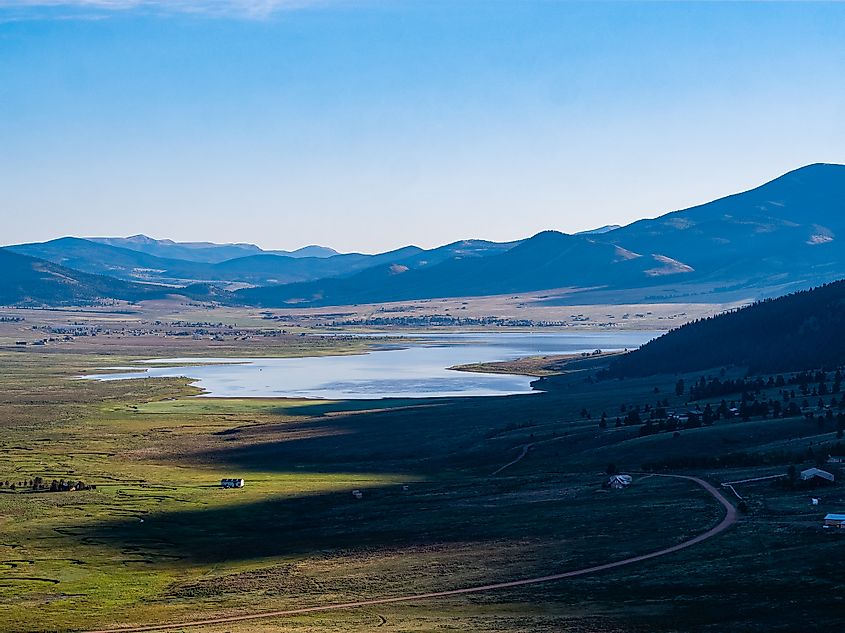 Though it is small, Eagle Nest is a wonderful spot for summer vacations and resort stays. It is well-loved for its outdoor amenities, whether you enjoy camping, fishing, hiking, or water sports. Find solace in a picturesque drive along the 135km long Enchanted Circle Scenic Byway or grab your camping bag and head out to Eagle Nest Lake State Park, surrounded by the high mountains of the Moreno Valley. The state park also houses a collection of beaches, where you can swim, relax, or head out for a day of fishing.
You will also find exciting events year-round, including the EagleFest Music Festival. The mountain town is also home to enticing architecture and old-fashioned design, not to mention numerous antique spots and vintage spots that might be home to your next great find.
Alamogordo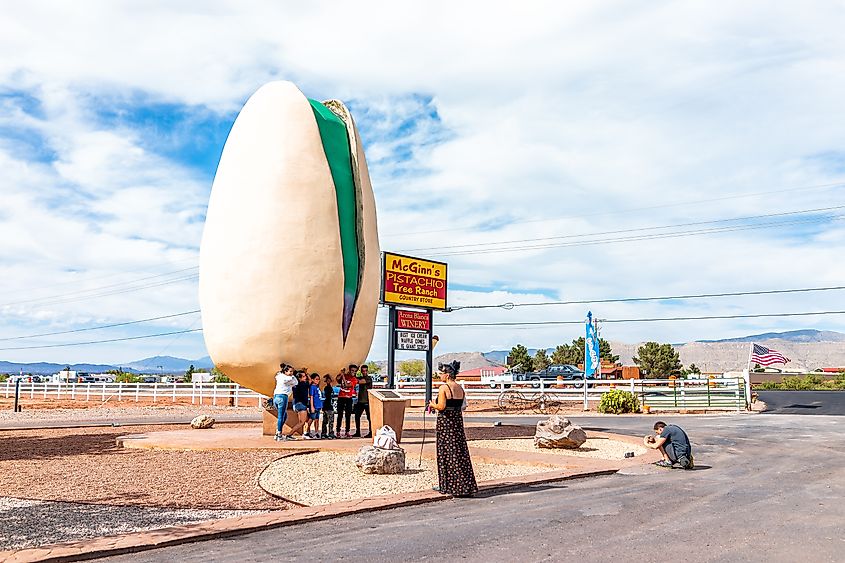 Alamogordo sits in the desert at the base of the Sacramento Mountains and is surrounded by many of the most beautiful sites in New Mexico. The White Sands National Park is just 15 minutes outside of town, home to the rolling dunes of white gypsum, where you can enjoy hiking, biking, camping, and more. Though it is not a beach in the traditional sense, the endless waterless seas boast nothing but beauty and lots of activities to keep you busy.
The Tularosa Basin is also nearby, with an abundance of wineries and nut farms where you can enjoy the scrumptious pairing. The Alamogordo main street district houses plenty of shops, restaurants, museums, and performing arts centers that may pique your fancy.
Visit These Charming Beach Towns
New Mexico is home to some of America's most charming beach towns, but they offer more than just glorious sandy shores. When you are enjoying your summer vacation, do not forget to delve into the unique stories and histories that each town has to offer. Whether you are looking to explore an inviting downtown or discover a new arts and culture community, these small beach towns each have something different that may entice you.