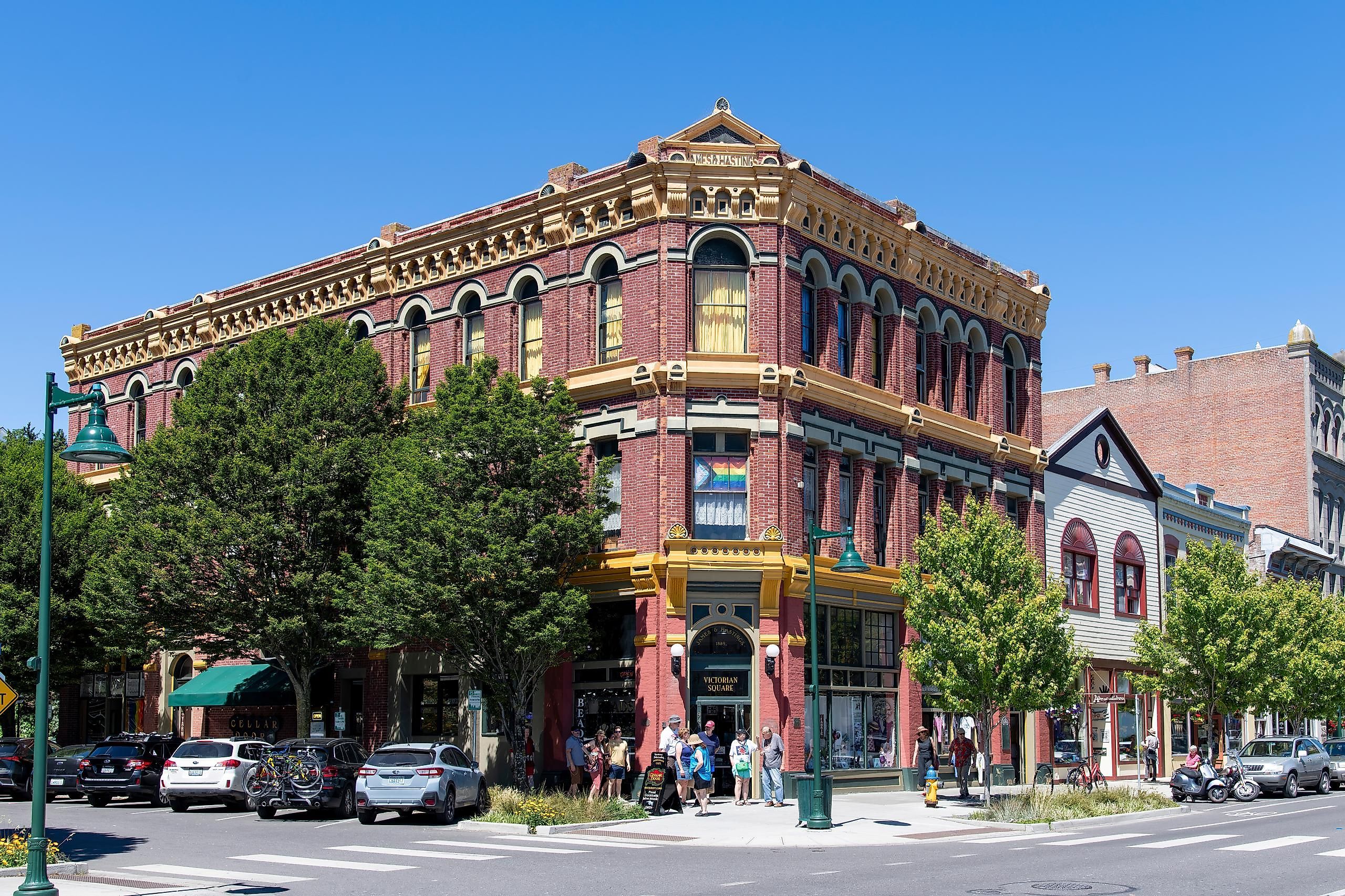 7 Small Towns in Washington to Visit for a Weekend Getaway
Tourists have many options to consider when looking at states to visit for a weekend getaway in the U.S. Of the states all around the West Coast in particular, Washington provides a handful of opportunities that make it stand out from the rest when it comes to natural and historical landmarks. Here are seven small towns in Washington worth visiting for a weekend getaway, no matter how far away one is located.
Woodinville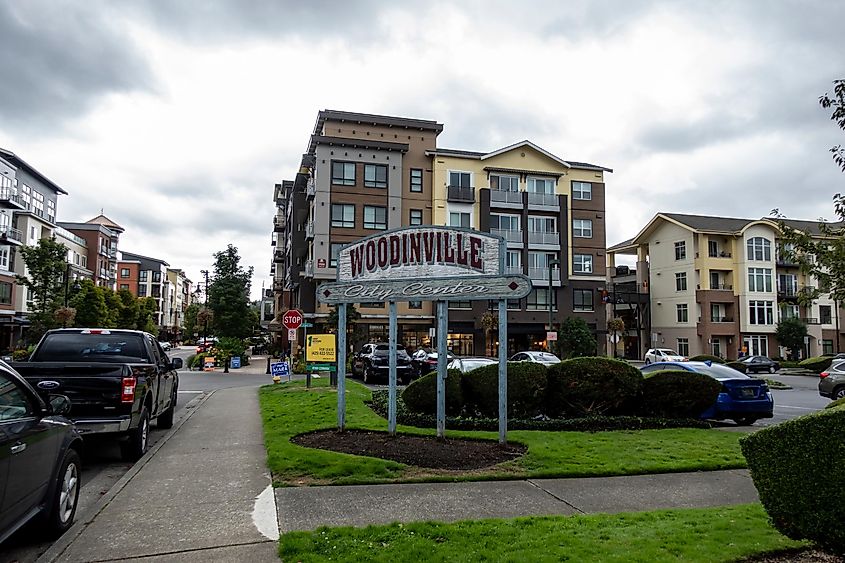 Located in King County with a population of 13,425 residents, this small town provides everything a weekend tourist needs when it comes to beautiful river valleys, brews and wines, and distillery adventures. Travelers in Woodinville may encounter the scenic Sammamish River Valley, which is a core natural element of the Hollywood District thanks to its vivid colors and realism. The valley is also a great spot for travelers who need to settle in at the Willows Lodge, ideal for two to three days of outings nearby. DeLille Cellars and Long Shadows Vintners are perfect for wine-tasters who want to explore local hotspots for fine dining, while the Chateau Ste. Michelle represents a crucial landmark because of its emphasis on the highest quality of wines from the 1930s, allowing it to serve the tourism industry as a focal point of European origins. The Woodinville Heritage Society is a great historical and cultural contributor to the town, as it manifests years of history through its important artifacts, enough to keep weekenders wondering about what it was like to live in the 1970s. For recreational sights, Wilmot Gateway Park and DeYoung Park are notable if tourists desire nature mixed with amusement.
Port Townsend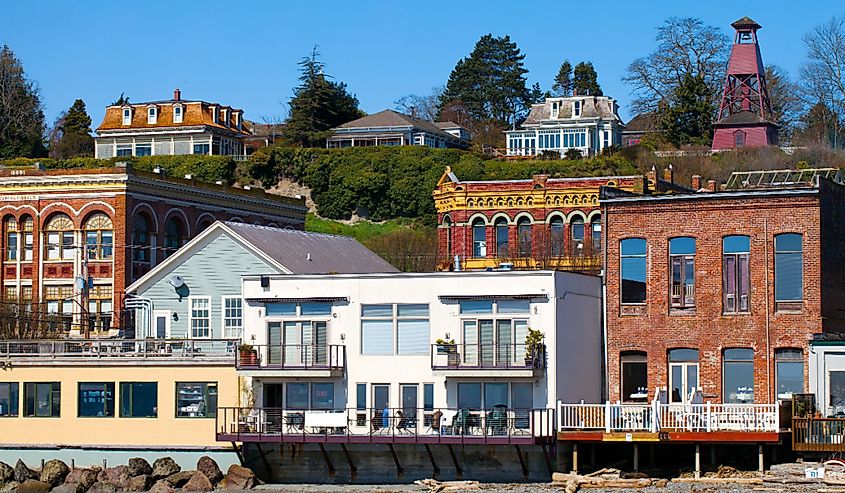 With a population of 10,306 residents on the Quimper Peninsula, Port Townsend is famous for its epitomic Native American roots and Victorian architecture. The town is host to maritime legacy endeavors and allocates plenty of charm to keep weekend tourists active. History buffs can unravel their minds at the Jefferson Museum of Art & History, paying homage to 1890s culture revolving around the Rothschild House and family colonialism, while nature lovers would likely visit Fort Worden State Park, a natural landmark with miles of saltwater beaches and stunning vistas. Romantic travelers will find enchantment in Alchemy Bistro and Wine Bar or at the gazebos in Chetzemoka Park, should one decide to pop the question. As for animal enthusiasts, wildlife cruises are bookable through the Port Townsend Marine Science Center, a central landmark for puffin admirers. The town's public Boat Haven is the most popular public boatyard, adding fish tacos and bakery delights to an already uncommon locale. Port Townsend is a marvel to behold in person, so staying at the Monarch Hotel or the Manresa Castle Hotel are viable options to make this destination worthwhile.
Vashon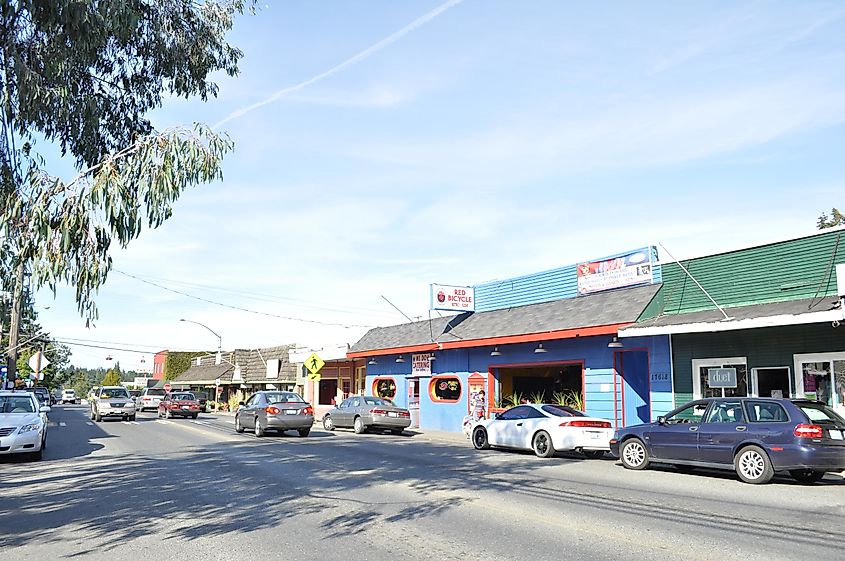 Another King County destination with a population of 10,400 residents, this small town is an island getaway spot for weekend travelers looking to explore Puget Sound. On Vashon Island, tourists can expect to find Bramble House, a historic restaurant locale known for overlooking the ocean and instilling New American culture. A farm table meal at Earthern Bistro cures hungry appetites for a day, while the Point Robinson Lighthouse is vital for weekend tourism if travelers want to experience Point Heyer (also known as KVI Beach) and witness ecological American heritage that was founded in the 1930s. Weekenders seeking shoreline fun will be thrilled to kayak between Point Defiance and Colvos Passage along the northeastern tip of the island, as well as Jensen Point Park for summertime picnics. Tourists hoping to stay indoors for the weekend may prefer to visit the Vashon Heritage Museum, which pays tribute to the Swift Water People, long-time inhabitants of the island for millennia. For lodging choices, consider the Vashon Inn or the Garden Cottages for the most pleasant stay.
La Conner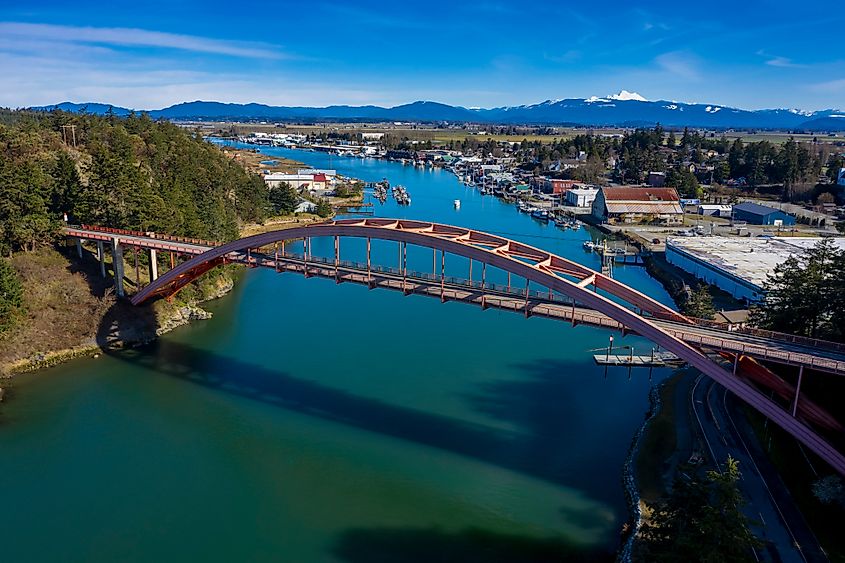 A small town in Skagit County with 968 inhabitants, La Conner is a nice tourist destination with welcoming vibes and educational benefits. The Rainbow Bridge is a connection point to Fidalgo Island, allowing for a seamless sight of the Swinomish Reservation while basking under the sun at Conner Waterfront Park. Travelers wanting to grasp history in the palm of their hands will find enjoyment at the Museum of Northwest Art, which collects, preserves, interprets, and exhibits artwork about the Pacific Northwest, with added emphasis on indigenous communities such as the Coast Salish. Victorian influence can be found at the Gaches Mansion, an 1890s Tudor home-turned-museum national landmark. Goat Island paddlers can absorb sunlight as well and feel the warmth of both oceanside air and friendly communities. Live music festivals are also commonplace as weekend tourists can enjoy acoustic festivities in Gilkey Square, or Channel View Farms for flower basket events in Skagit Valley. This small town caters well to its blend of tranquil viewpoints and cultural upbringing, so booking one's stay at Brenton Street Retreat or the Heron Inn and Day Spa can reinforce a positive experience.
Twisp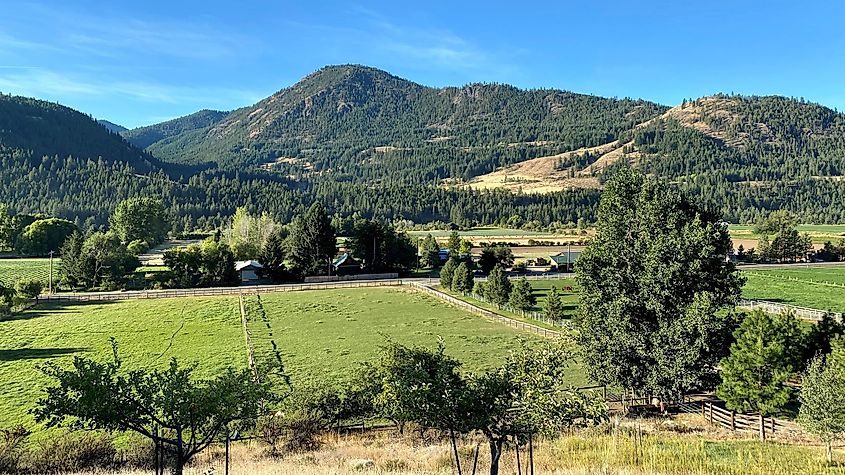 Located in northern Washington's Methow Valley, this Okanogan County town of 1,042 inhabitants is idyllic for its mountainous views and cozy ambiance. The Black Pine Lake Campground is a recognizable landmark for tourists desiring a comfortable retreat among captivating landscapes and small-town communities. Friendly residents typically welcome newcomers to the campsite, while other locales, such as the Shafer Historical Museum, provide more historical and cultural fun while learning about the Valley's suffrage movement of the 1880s. For ice skating hobbyists, Winthrop Rink is quite noteworthy, and the Winthrop National Fish Hatchery is guaranteed to make weekenders feel more in tune with ponds of cute creatures. Tourists looking for a bite to eat can expect lots of options at the Glover Street Market, and not far from there is accessible lodging at Casia Lodge and Ranch and the Twisp Terrace Lodge.
Westport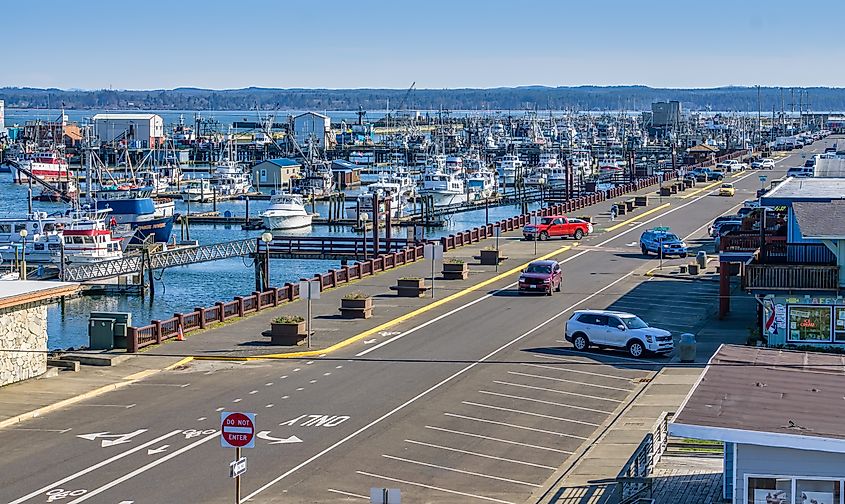 With a population of 2,254 residents in Grays Harbor County, this small fishing town is a rugged yet authentic destination in Washington. Weekend tourism in Westport is best observed through razor clam digging and delicious pizza cuisines. Westhaven State Park offers consistent surfing resort enjoyment for both beginners and experts honing their ocean craft, serving as a testament that this town is the top surfing locale in the Pacific Northwest. Tourists can even climb up the historical Grays Harbor Lighthouse to see a magnificent view found only atop seaside cliffs, striking a balance between the French history of the 1890s and a modern-day masterpiece. The Westport Marina is a definitive seawater observation experience, as guests can expect to see high tide waves crashing against the Washington Coast, making for a lovely evening. Travelers choosing to book their stay for the weekend in Westport may prefer the Breakers Boutique Inn, Silver Sands Motel, or the Marina Cottages for beachfront views.
Bainbridge Island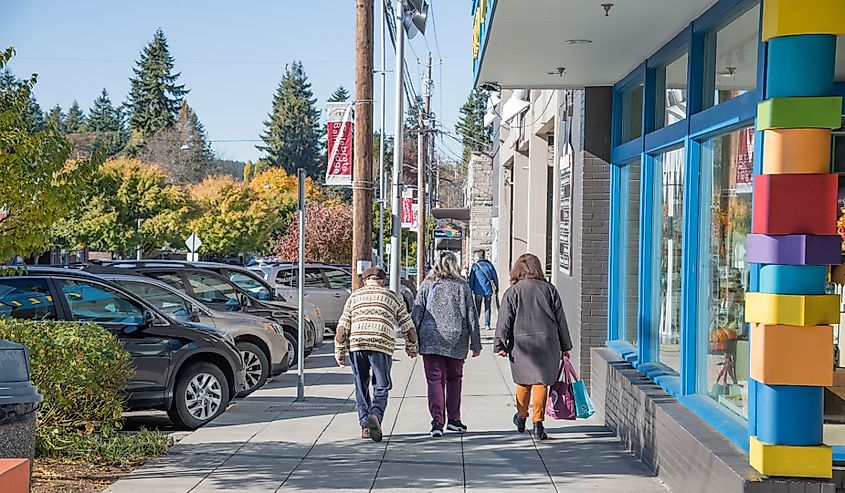 Bainbridge Island, located on the western side of Washington and connected to Seattle by ferry, is a rewarding tourist spot with 24,546 inhabitants. Weekenders interested in eclectic boutiques, artistic perspective, and small-town charm may enjoy the Bainbridge Island Museum of Art, which collects, preserves, and fosters the history of the town through contemporary antiques and guided tours for award-winning local craftsmanship. The Historic Lynwood Theatre is another historical contributor to the town that lends awareness to independent and foreign films, swooning guests with its classical take on modern architecture. Fans of nature can visit Bloedel Reserve, a 140-acre wonder that emphasizes harmonious curated gardens and distinctive paintings. Tourists on the island are also likely to be drawn to the Fay Bainbridge Park, a glorious landmark complete with sweeping views of the Cascade Mountains and the overarching Puget Sound region. Travelers with a penchant for higher altitudes or elevations may even be able to spot Mountain Rainier or Mount Baker in one excursion, resulting in a spectacular sightseeing trip. Those seeking to achieve the best window views can check in at the Waterfront Condo near Pike Place or at the Eagle Harbor Inn for upscale lodging options.
In Conclusion
Putting all of these small towns together, Washington State offers a large variety of sightseeing and tourism in one package. Weekend tourists with an interest in exploring this side of the West Coast may find so much to do in a simple day or two. This list is sure to fulfill any itinerary as it relates to weekend getaways in the Pacific Northwest.