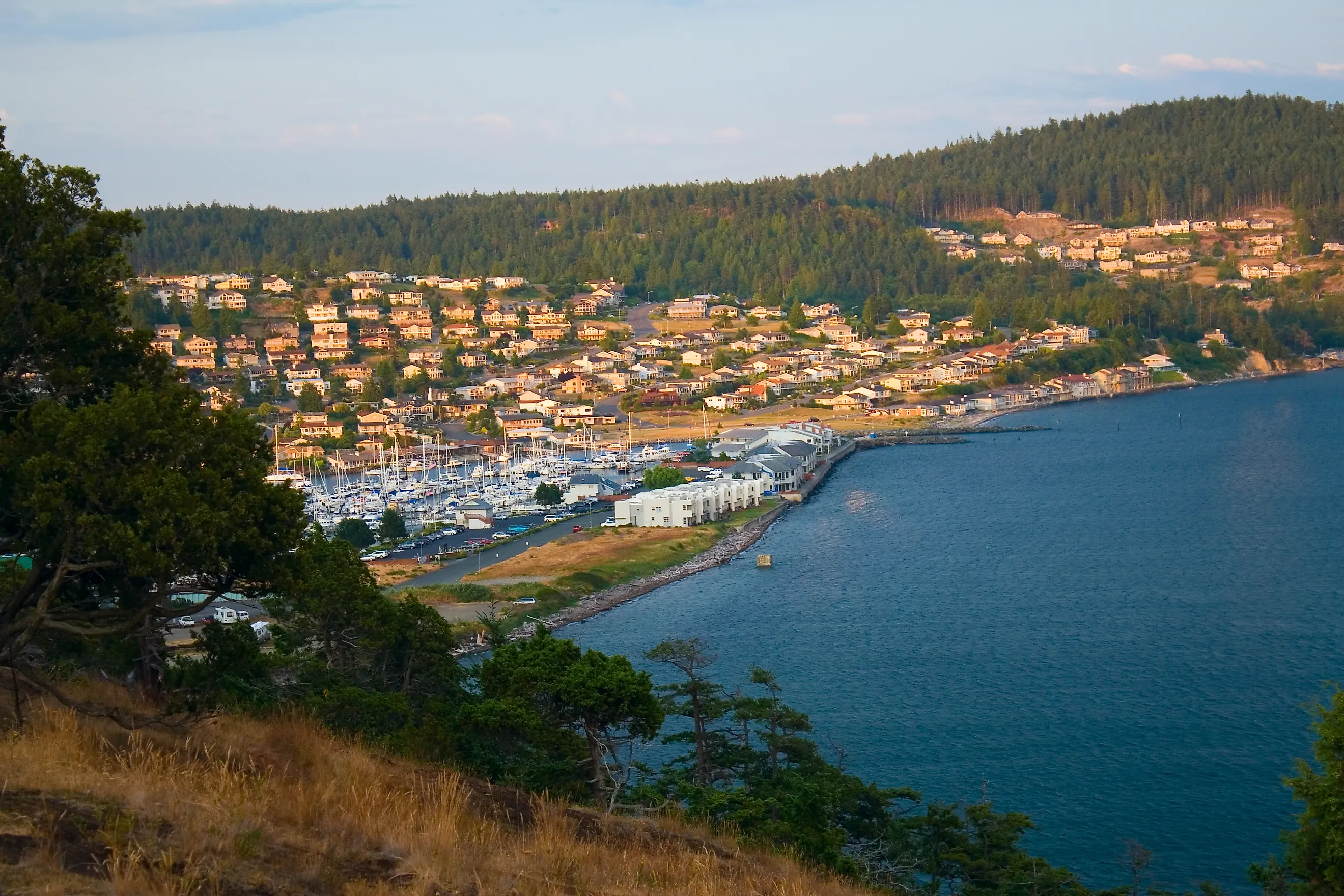 Fidalgo Island is a beautiful island situated in the northern portion of Puget Sound, approximately 60 miles north of the seaport city of Seattle in Washington's Skagit County. The island has been named after the renowned Spanish explorer and cartographer Salvador Fidalgo y Lopegarcia, who explored the island in 1790. Fidalgo Island is well-known for Anacortes - its biggest and only city, which serves as a gateway to the San Juan Islands and Canada's Vancouver Island. One of the United States' most visited islands, Fidalgo Island is well-known for its breathtaking panoramic vistas of the Skagit Valley and surrounding islands, crystal-clear lakes, rugged beaches, serene state parks, and several acres of forestland.
Geography Of Fidalgo Island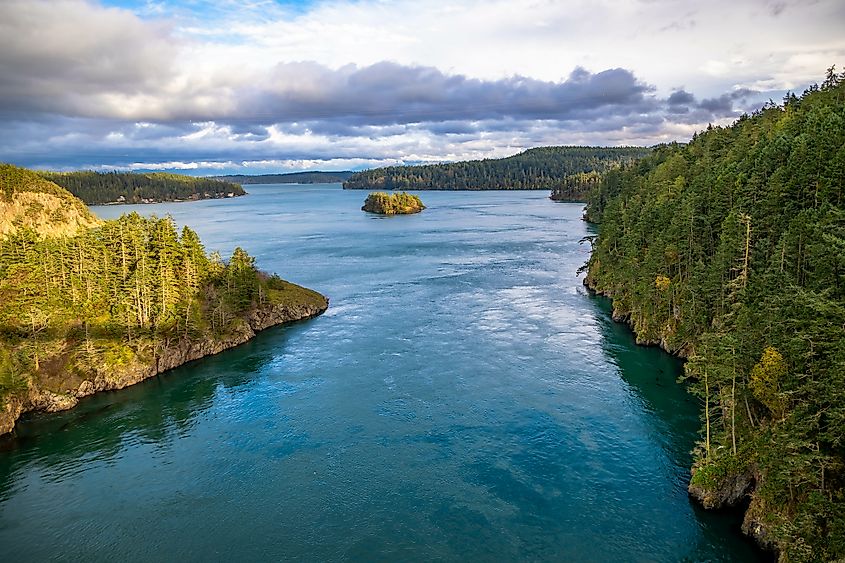 Covering a land area of 41.19 sq. mi, Fidalgo Island is located in the Puget Sound region of the Pacific Northwest, in the northwestern portion of Washington's Skagit County. In the east, the 11-mile-long Swinomish Channel separates the island from the mainland Skagit County, whereas in the south, the Deception Pass separates it from Whidbey Island. Anacortes, the island's only city, covers a total area of 15.53 sq. mi, of which 11.75 sq. mi is occupied by land and 3.78 square miles is occupied by water.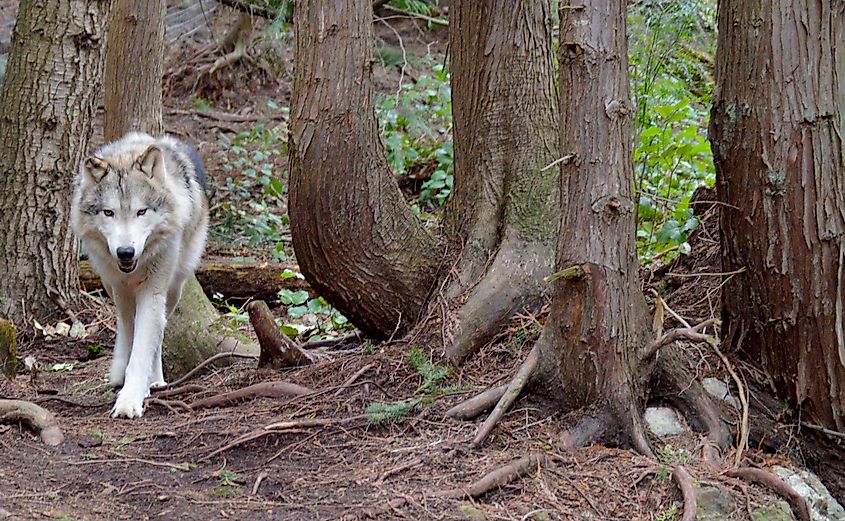 Fidalgo Island has several beautiful lakes, such as Whistle, Campbell, Heart, Mud, Trafton/Crater, Erie, Little Cranberry, and Pass. Placed to the southeast of central Anacortes, Whistle Lake attracts thousands of visitors annually for fishing and swimming activities. Campbell Lake and Lake Erie are the largest lakes on Fidalgo Island that are open to powerboats. Situated to the south of the Anacortes Community Forest Lands, on a public parkland owned by the city of Anacortes, Mount Erie, which rises to an elevation of 1,273 ft, is Fidalgo Island's highest point. The mountain is known for its spectacular views, and a single-lane paved road from the base provides access to the summit.
The Deception Pass Ferry connected Fidalgo Island to Whidbey Island from 1924 to 1935. From 1935 onwards, this ferry route was superseded by the construction of a two-lane Deception Pass Bridge on State Route 20, which presently links Island County's Whidbey Island with Skagit County's Fidalgo Island. Currently, Fidalgo Island serves as the terminal site of the Washington State Ferry that connects the city of Anacortes with Vancouver Island and the San Juan Islands. The State Route 20 Spur then links Anacortes with the rest of Washington.
Climate Of Fidalgo Island
As per the Köppen climate classification, Anacortes on Fidalgo Island experiences a warm-summer Mediterranean climate, with warm, dry summers and cool, rainy winters. The warm season lasts from June 19 to September 16, where August is the year's warmest month, having an average temperature ranging between 70°F and 53°F. The cool season lasts from November 16 to February 26, where December is the year's coldest month, having an average temperature ranging between 38°F and 45°F. Due to its location within the Olympic Mountain rain shadow, Anacortes receives an average of 26 inches of rainfall and 4 inches of snowfall annually. 
History Of Fidalgo Island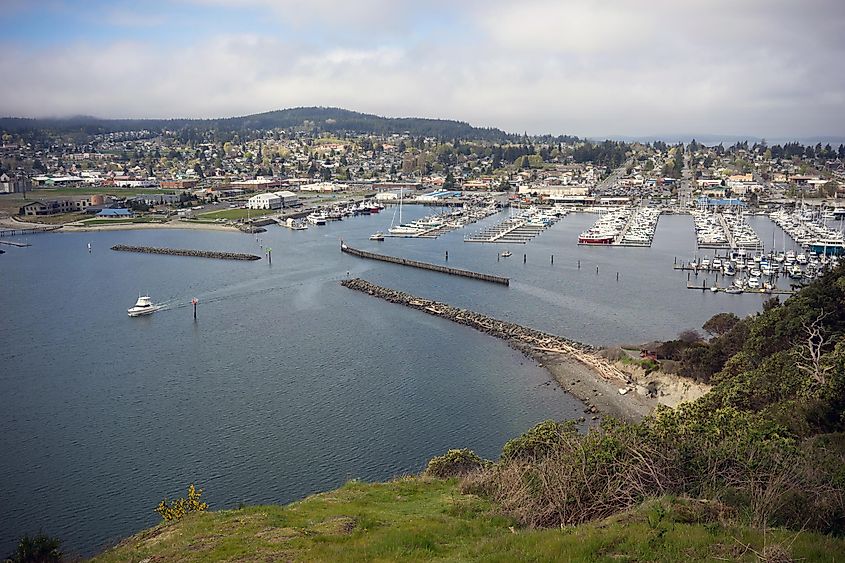 The indigenous Samish and Swinomish people inhabited Fidalgo Island for thousands of years. During this time, Douglas fir and old-growth cedar trees dominated the island's landscape. The Samish tribe members lived in cedar longhouses and maintained a wealthy and sophisticated culture based on harvesting fish, making clothing and baskets from natural materials, and indulging in trading activities. In the late 1700s, the Spanish and British explorers arrived to map the waterways and surrounding islands. In 1790, along with the fleet of the Spanish naval officer Francisco de Eliza y Reventa, the area was explored by Salvador Fidalgo, a well-known Spanish explorer, and cartographer.
The American naval officer Charles Wilkes discovered that the area was an island and not a part of the mainland. He named the island "Perry Island" in honor of the American commander Oliver Hazard Perry, who won the crucial Battle of Lake Erie during the War of 1812. Wilkes also named the island's highest point, "Mount Erie," to commemorate this event. In 1847, while reorganizing the official British Admiralty charts, the British naval officer Sir Henry Kellet renamed the island "Fidalgo" in honor of the Spanish explorer Salvador Fidalgo.
The Fraser River Gold Rush in the 1850s brought many settlers to the area. In 1877, Amos Bowman, a railroad surveyor, moved with his family to the island's northern tip and established the city of Anacortes. The city's promotion as the terminus for the transcontinental Northern Pacific Railroad led to a real estate boom and the city's rapid growth from 1888 to 1890. However, the real estate bubble burst in late 1891 due to a lack of funds from the Oregon Improvement Company, and the city failed to become the railroad terminus as envisioned by Bowman. Fidalgo Island developed as a prominent fishing and lumber center in later years, and Anacortes became an All-America city at the beginning of the 1960s.
Population And Economy Of Fidalgo Island
As per the latest US Census, Anacortes has a population of 17,231 inhabitants with a median age of 48.5 and a population density of 1,498.16 inhabitants per square mile. The top ethnic groups in Anacortes include White (Non-Hispanic) at 87.5%, Two or more races (Non-Hispanic) at 3.38%, Asian (Non-Hispanic) at 2.76%, White (Hispanic) at 2.39%, and Two or more races (Hispanic) at 1.1%.
Anacortes has a median household income of $74,161 and a median property value of $446,000. The economy of Anacortes employs about 6890 people in its various big industries like Health Care & Social Assistance, Manufacturing, and Retail Trade.
Attractions In Fidalgo Island
Deception Pass State Park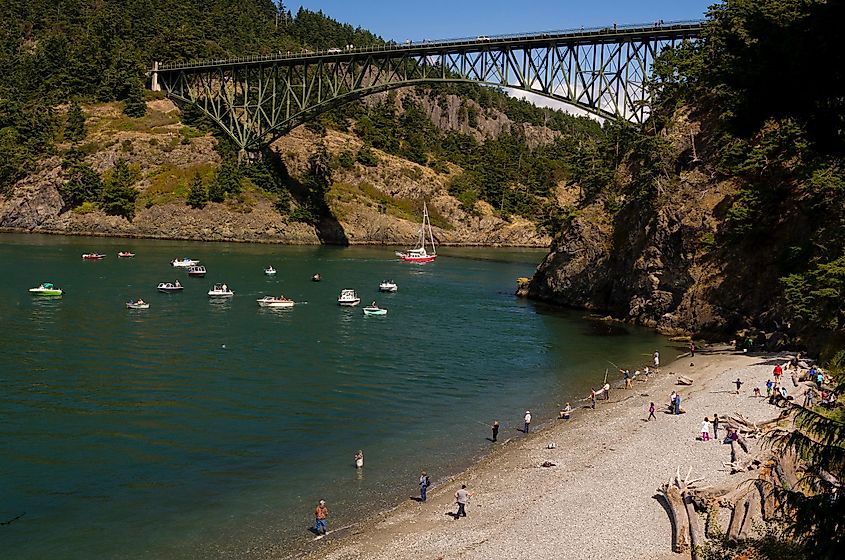 Established in 1923, the 3,854-acre Deception Pass State Park surrounding Deception Pass is one of Washington's most visited state parks attracting more than 2 million visitors yearly. Spread over two islands – Fidalgo Island in the north and Whidbey Island in the south, this marine and camping park feature 33,900 ft of freshwater shoreline and 77,000 ft of saltwater shoreline on three lakes. The rugged cliffs, beautiful coves, campgrounds, and hiking trails make this park a must-visit for residents and tourists alike. In addition, the park's forested areas are home to several avian species, like bald eagles, belted kingfishers, sea ducks, cormorants, grebes, woodpeckers, nuthatches, and many more.
Washington Park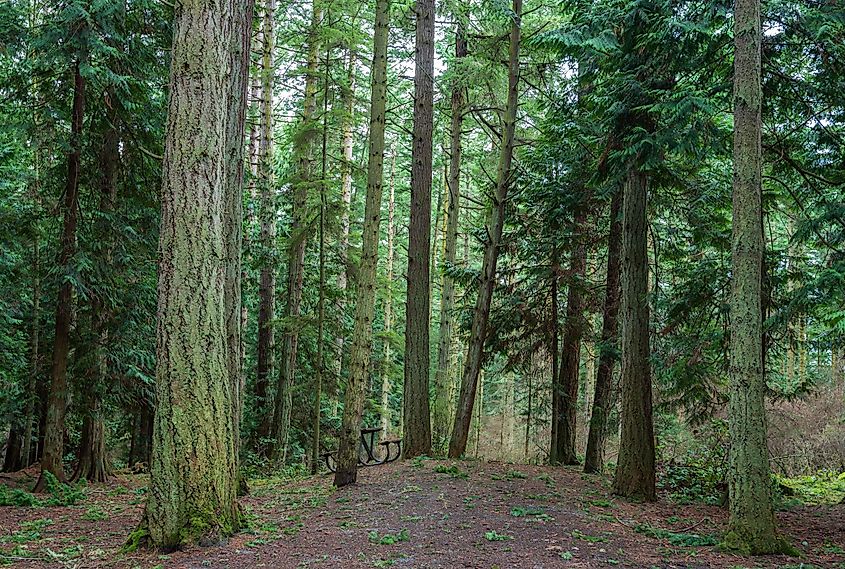 This 220-acre city park is located on a peninsula on Fidalgo Island's northwestern end. The park features campgrounds, a group tenting area, picnic shelters, boat launches, and a parking space. A beautifully paved 2.2-mile loop road winds through the forested hills and meadows of the park, providing amazing views of the San Juan Islands. Washington Park also offers winter birding opportunities, where one can watch many avian species like western grebes, marbled murrelets, common loons, double-crested cormorants, harlequin ducks, red-breasted nuthatches, pileated woodpeckers, etc.
Guemes Channel Trail
The Guemes Channel Trail embraces the northern shoreline of Fidalgo Island. This 3.0-mile-long trail offers great recreational benefits for people of all ages and takes an average of 56 minutes to complete. April to October are the ideal time to visit this trail which is perfect for hiking, running and bird-watching opportunities. In due course, the Guemes Channel Trail is expected to link Tommy Thompson Trail to offer a trail from Washington Park and across Fidalgo Bay to March's Point.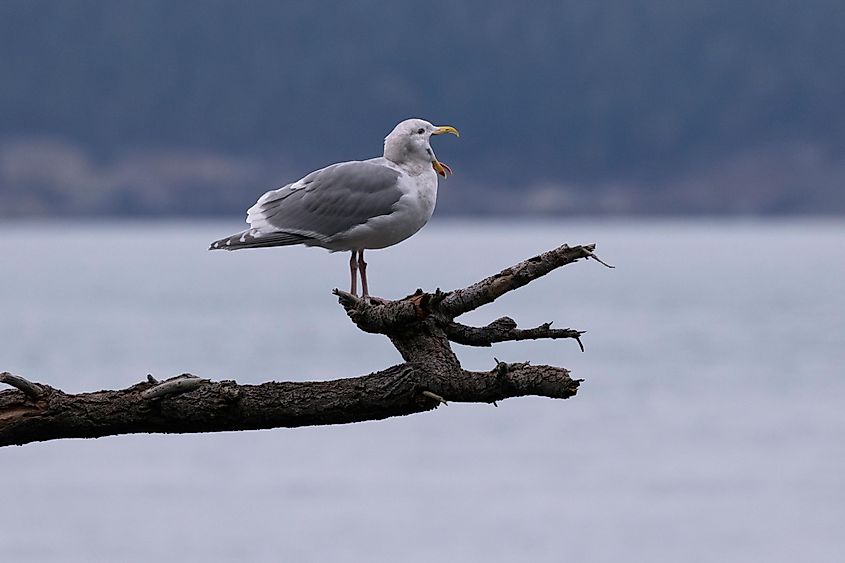 A variety of marine animals are found in the waters off Fidalgo Island. Due to its closeness to the Strait of Juan de Fuca, Fidalgo Island offers whale-watching opportunities. Moreover, Anacortes hosts several festivals, including the Anacortes Arts and Crafts Festival, Waterfront Festival, Spring Wine Festival, Bier on the Pier, and the Skagit Valley Tulip Festival, all of which attract thousands of tourists for a memorable experience at Fidalgo Island every year.